Blankets are often the go to project for beginners and experienced hands alike but have you thought about the little things that could lift yours to the next level? Today, I thought I'd share my best yarn for crochet blankets to help you discover the things I've learnt over the years as both a designer and maker.
There are a few tips and tricks that can turn your blankets into something truly spectacular from making sure you choose the best blanket yarn, to what size to make it and then of course finding the right design to make!
So before we get much further with selecting patterns and so on, let's think about how to choose the right blanket yarn because for me, that's normally where it all begins 🙂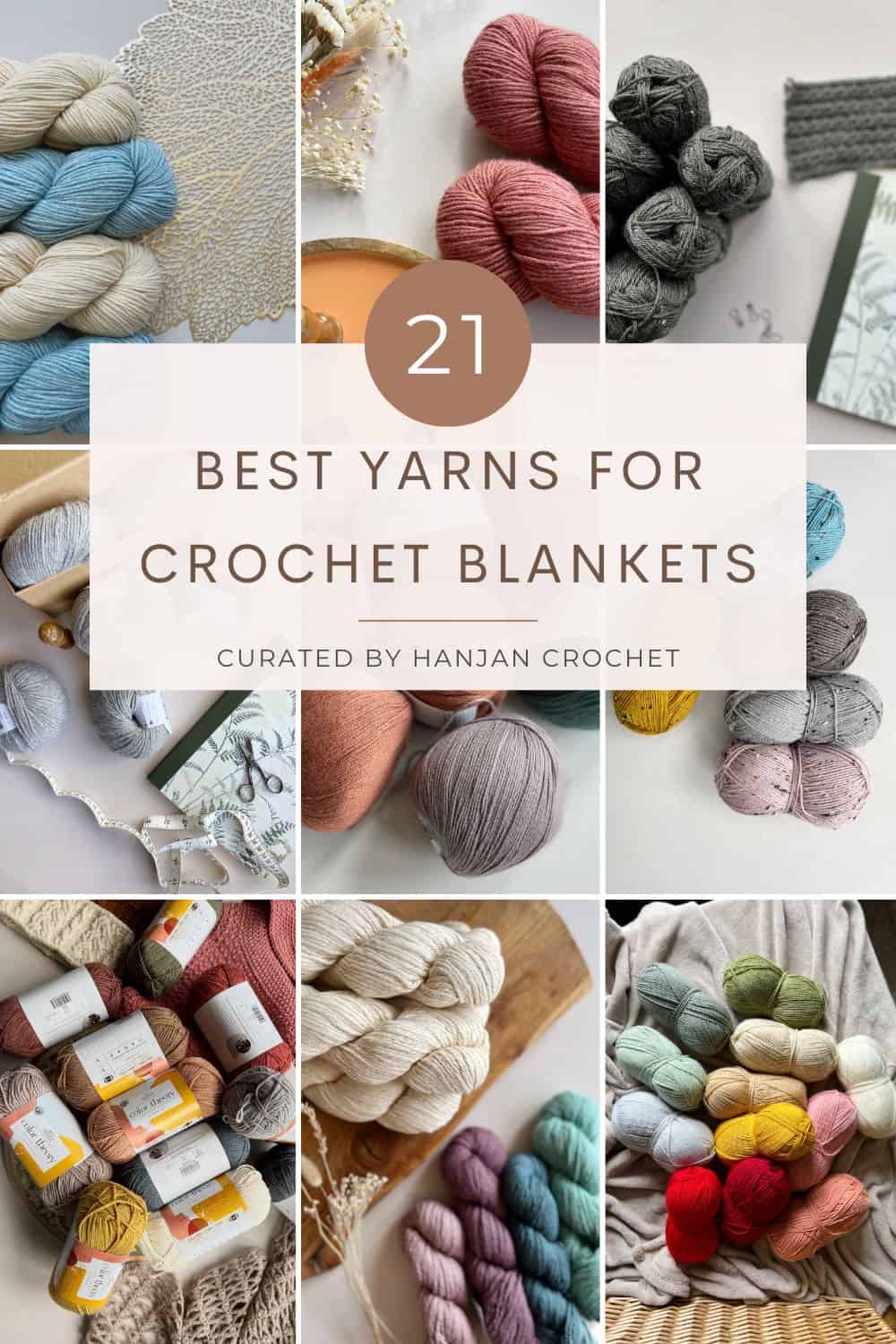 This post may contain affiliate links. Please see my full disclosure and privacy policy for details.
What yarn is best for crocheting blankets?
Before we jump in to looking at my favourite blanket yarns to crochet with we need to have a think about a few things to find exactly the right one for you!
I'm always being asked – what is the most recommended yarn for crochet blankets? Now this question is not necessarily a tricky one to answer but the best yarn for the blanket you choose to make depends on a few things.
My top 5 things to think about that will help us are:
Who is the blanket for?
How will it be used?
What fibre would you like to make it in?
What colours would you like to use for your blanket?
What is your yarn budget?
Let's go through them one by one to help figure out the best yarn to choose!
Who are you making the crochet blanket for?
The first thing I always consider is who your blanket is actually for. I think this has an impact on the best yarn to choose more than anything else.
For example, if you're making for a baby or toddler you are going to want a nice soft yarn that will wash well (because if they're anything like my children they make a mess!) and won't irritate their skin at all. A nice wool mix or acrylic blend that doesn't have too much fluff or fuzz would be great for this.
If perhaps you're making a pet blanket or for heavy use in the home or garden then you're going to need to choose perhaps a cotton or acrylic so that they can be washed time and time again. Blankets made from cotton are great and underestimated in my opinion. They end up being much heavier than other yarns but if you get the drape right you'll love it!
Where and how will your blanket be used?
Another thing to think about is where will your blanket be used? If you're making the blanket for a special occasion or to throw over the end of a bed (where no pets or children will go) then you can be much more adventurous with your yarn choice and maybe go for something more delicate and luxurious.
But if you know that your blanket will be used to build dens and tents with then maybe think about that durable acrylic or cotton yarn again!
What yarn fibre would you like to make the blanket in?
So, as you can see, we've already touched on this because who your blanket is for and where they will use it will definitely impact on the type of yarn fibre you choose. So let's have a look at some of the options:
Is acrylic yarn good for blankets?
I often get asked if acrylic yarn good for blankets and my honest answer is yes. Using a good quality acrylic yarn is my best advice for whoever you are making for. This is for a few reasons:
because it will wash well
you can be sure that nobody will have any sensitivities to it
it will be relatively inexpensive
Is wool yarn good for blankets?
A luxurious wool yarn would make the most beautiful of blankets but just be aware of anyone with specific yarn sensitivities if they are going to snuggle under it.
The other thing to consider for most wool or wool blend yarns is that it will likely be significantly more expensive than an acrylic option and blankets can often use a lot of yarn!
Having said that, for an heirloom baby blanket or gift, or even as a treat to yourself pushing the budget is sometimes the way to go like I did with my Diamond Mosaic Blanket.
Is cotton yarn good for blankets?
As I said, I love making blankets with cotton yarn! They will end up being much heavier than other fibres but that isn't always a bad thing. They are practical and easy to care for and the cotton means you'll have great stitch definition to make your crochet really stand out like in my Happy Herringbone Blanket.
It's a great idea to work a small swatch with the cotton before you commit to making the whole blanket to see what the drape and weight will be like. (This applies for all yarn though really!).
What colours and shades would you like to use for your blanket?
Another thing to consider is does the yarn you'd like to use have the range of colours that work for you?
There are so many amazing yarn colours to choose from now but it is absolutely worth taking the time to figure out if they work for you.
For example if you're making a colourful blanket that needs say 12 colours like my Strawberries and Cream Blanket then does the yarn you've chosen have that many that go together well?
How much does it cost to crochet a blanket?
The last thing to consider is the price of the yarn for your blanket.
Depending on the size of the blanket and the amount of colours you will need between 4 and 20 balls of yarn for most blankets. This can become really expensive so is really worth considering!
Does the yarn fit within your budget or do you need to shop around for something similar? I always have a few blanket yarns planned out and then wait for them to go on sale so I can pop them in my cart as soon as they do!
So, once you've thought about all those things, we're ready to actually start searching for yarn!
Best Yarn For Crochet Blankets
To make life easy for you along with the detail in the post I've also created a FREE downloadable quick reference guide with my top blanket yarns and their details! All you need to do is sign up using the Grow app below and the PDF will be there for you to collect 🙂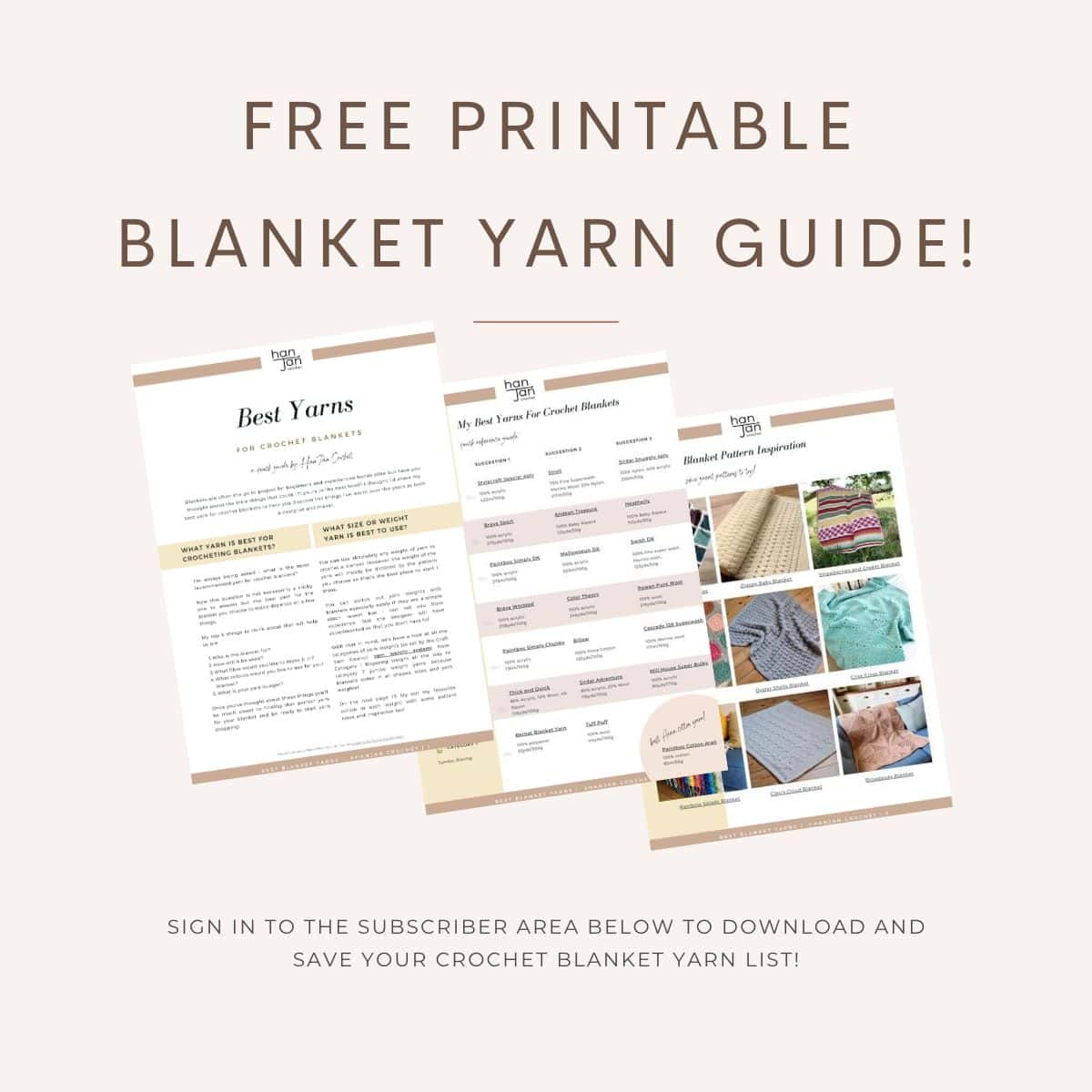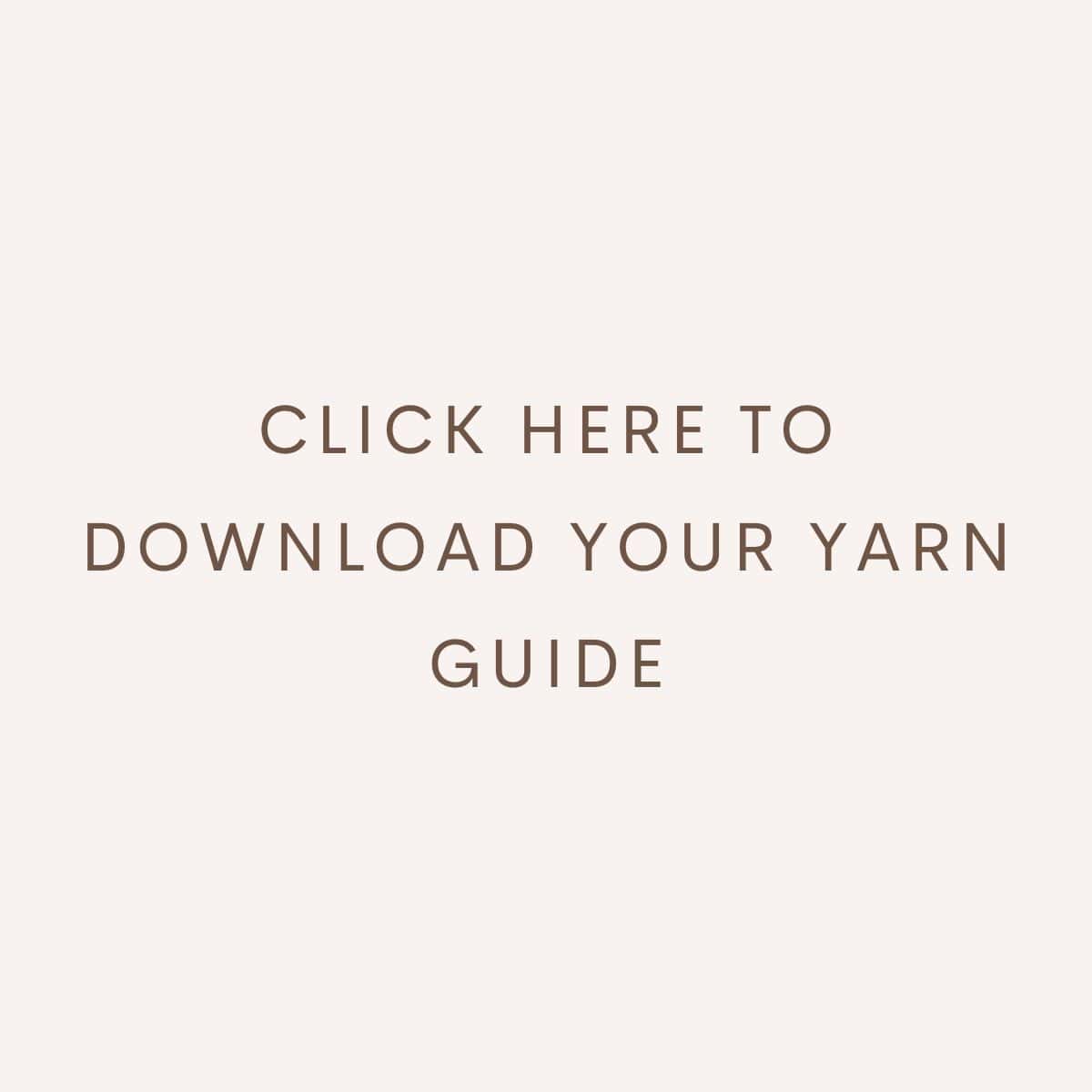 Before we jump to my most recommended yarn for blankets the next thing we need to figure out is what weight yarn is best for blankets?
What size yarn do I need for a blanket?
You can use absolutely any weight of yarn to crochet a blanket. However, the weight of the yarn will mostly be dictated by the pattern you choose so that's the best place to start I think.
You can switch out yarn weights with blankets especially easily if they are a simple stitch repeat but I can tell you from experience that the designer will have experimented so that you don't have to!
With that in mind, let's have a look at all the categories of yarn weights (as set by the Craft Yarn Council yarn weight system) from Category 1 fingering weight all the way to category 7 jumbo weight yarns because blankets come in all shapes, sizes and yarn weights!
Best Fingering Weight Yarn for Crochet Blankets
My top 3 Category 1 fingering weight yarns for blankets are:
Firstly, I love Stylecraft Special 4ply; 100% acrylic, 422m/100g. This would be my best yarn for heirloom blankets and is a great budget choice. It comes in lots of beautiful colours and would make a fabulous choice for my Florence Baby Blanket.
Next up, I really love Stroll by WeCrochet; 75% Fine Superwash Merino Wool, 25% Nylon, 211m/50g. It does have a touch of nylon in it so is lovely for a little stretch and it's my favourite softest yarn for blanket making. I really want to make a version of my Zig Zag Blanket in it!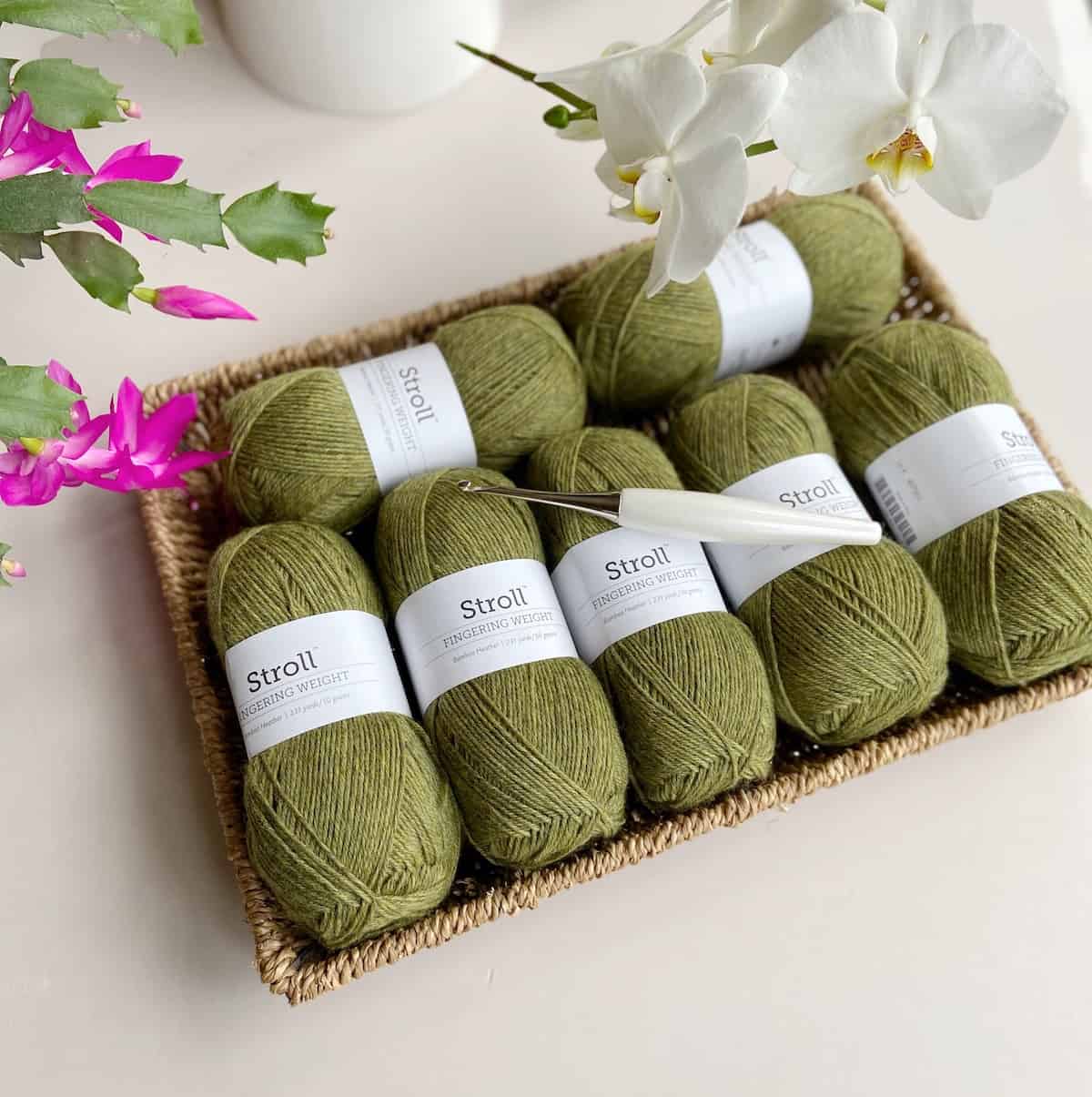 Thirdly, I absolutely love using Sirdar Snuggly 4ply; 55% nylon, 45% acrylic with 226m/100g. I would say it's the best yarn for baby blankets and has a lovely mixed fibre blend that means it washes well and is lovely and soft too. My favourite blanket to make using this is my Cleo's Cloud Blanket – you can easily size up to use either the snuggly 4ply or double knit weight 🙂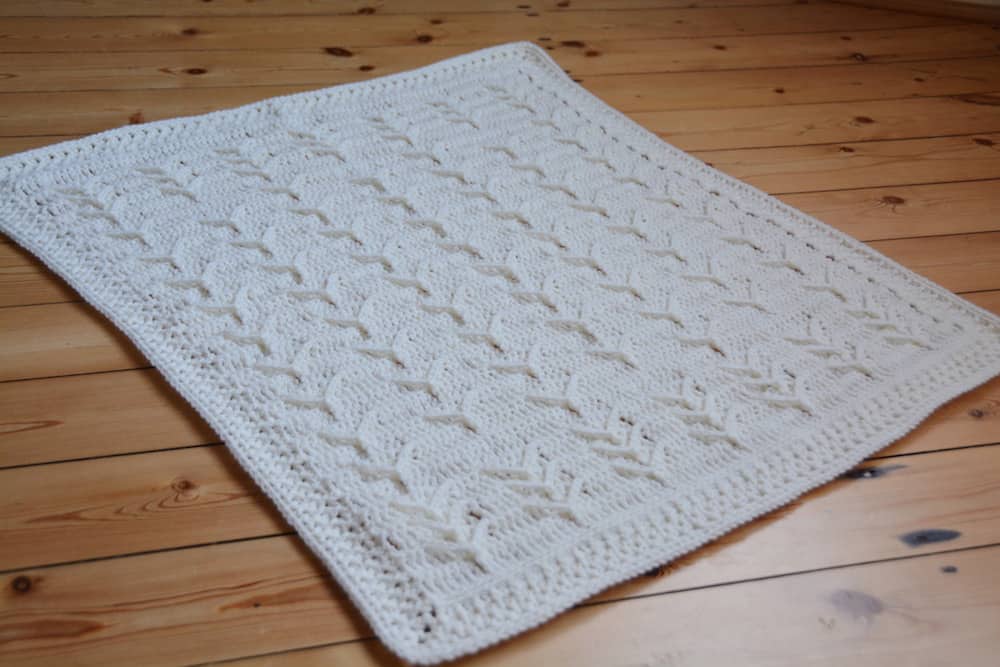 Best Sport Weight Yarn for Crochet Blankets
Now I'll be the first one to admit I hardly ever use Category 2 sport weight yarn for blankets! I have no idea why as it's a great, lightweight choice, especially for smaller baby blankets.
The great news though is that lots of patterns written for Category 3 double knit weight yarns could work really well in sport weight too. You might just need to size up your foundation row a little or know that your version will end up a little smaller overall 🙂
My first sport weight option has to be Brava Sport by WeCrochet; 100% premium acrylic, 273yds/100g. I am currently working up a blanket in this and it's great! It makes a fabulous option for crochet baby blanket yarn, washes really well and has such lovely colours. What more do we need?!
My next option is a very luxurious yarn for a blanket Andean Treasure which is 100% baby alpaca, 110yds/50g and I have't used it for a blanket yet but loved it when I made my Florence Sweater with it and I know it would the best soft yarn for crochet blanket making!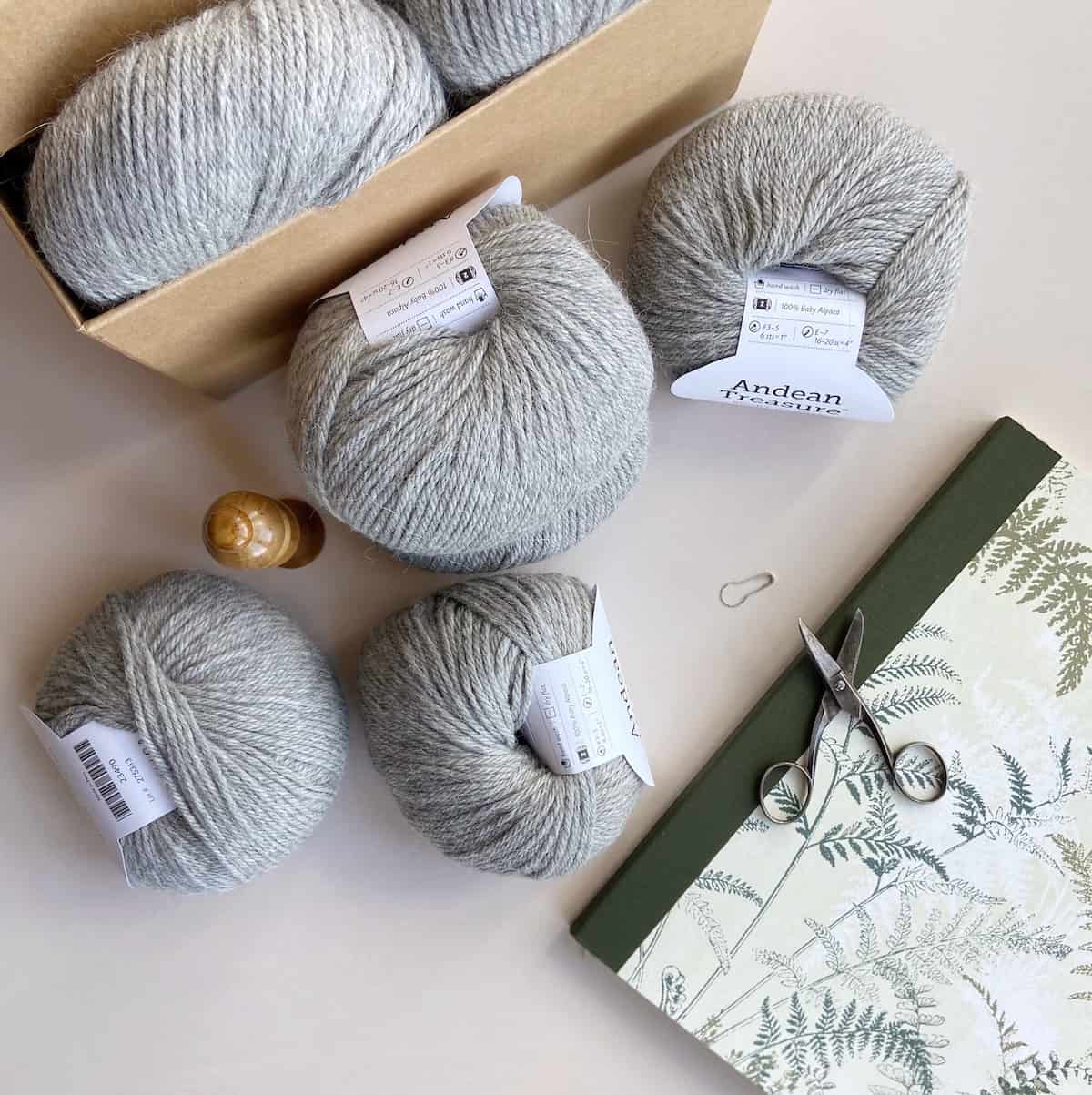 A wonderful mixed fibre and relatively inexpensive yarn for sport weight blankets is also Heatherly which is 80% acrylic, 20% Merino Wool, 328yds/100g so again a great crochet baby blanket yarn. You could definitely use this to make a beautiful version of my Pear Drops Blanket!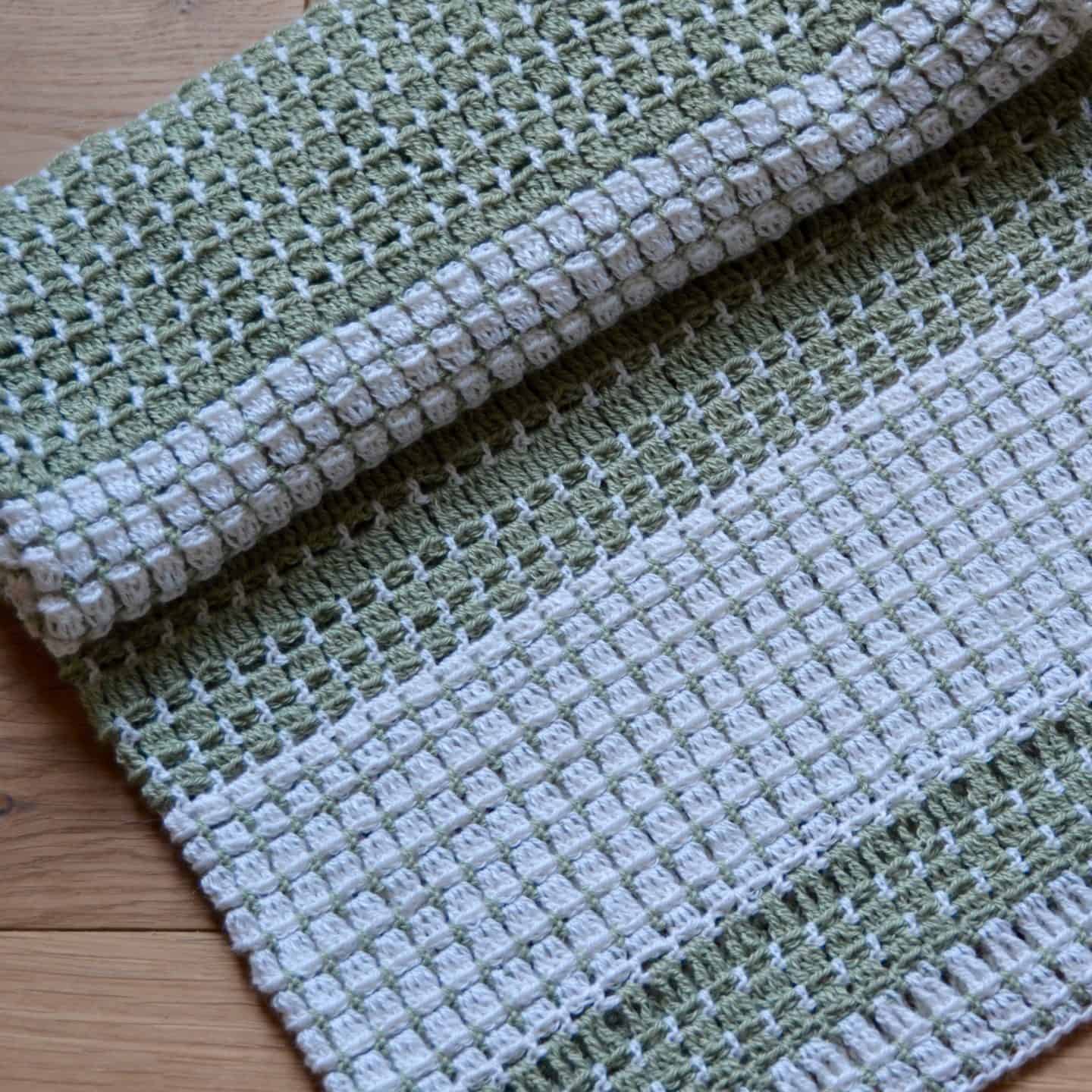 Best Double Knit Weight Yarn for Crochet Blankets
Next up and onto my favourite yarn weight to use for blankets – double knit (Category 3). Over here in the UK we seem to use double knit (DK) yarn much more than elsewhere so you could say I 'grew up' using this weight of yarn and it's always my go-to for blankets.
If I had to choose then I would say that Category 3 double knit is the best size yarn for crochet blanket making. Having said that it's a personal preference depending on what you'd like your blanket to be of course!
I always come back again and again to Paintbox Yarns Simply DK which is 100% acrylic, 276m/100g mostly because of it's great price point and awesome range of colours! I made my Abbey striped baby blanket and Strawberries and Cream sampler blanket with it to give you an idea of how it looks in real life.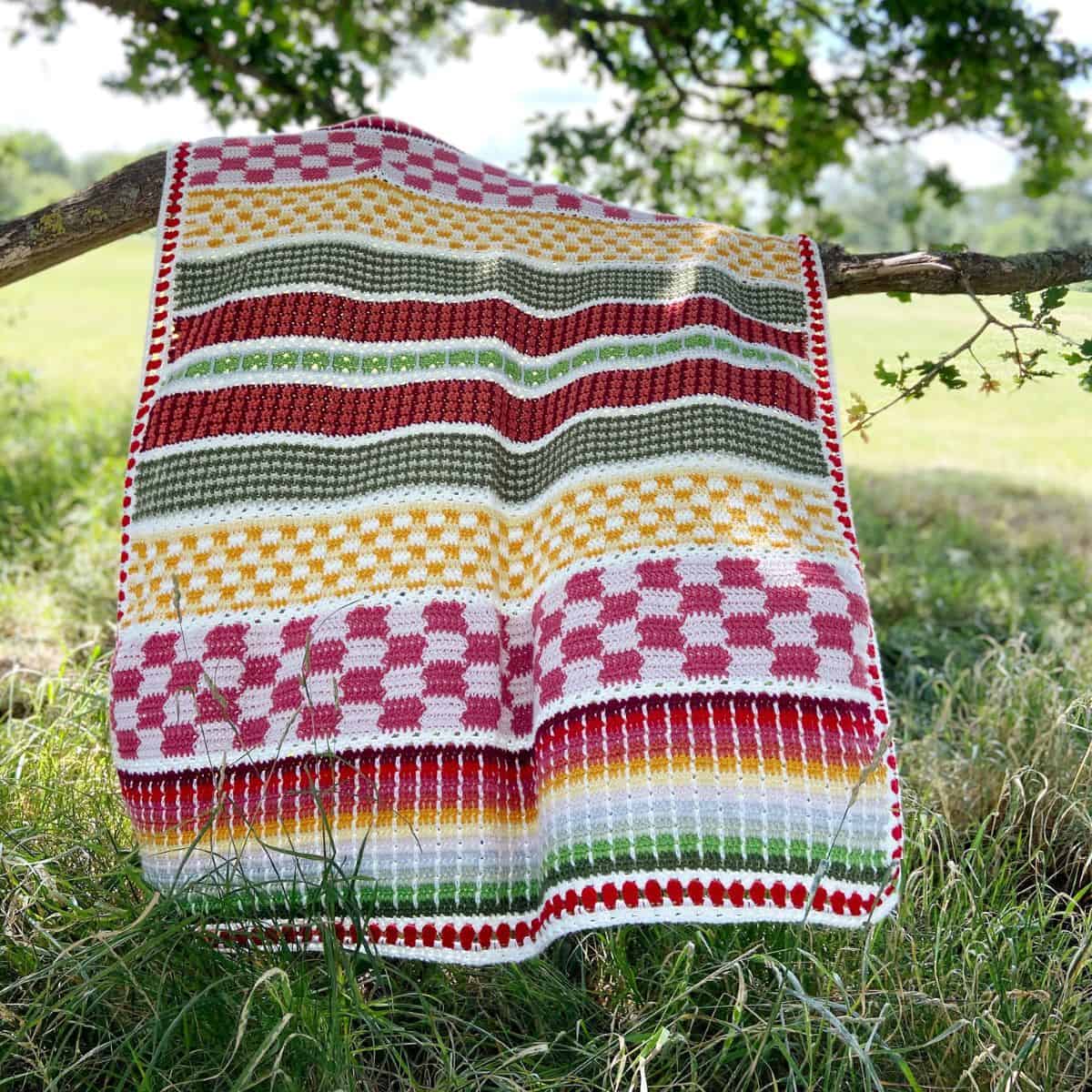 Another great acrylic option for DK yarn is Mellowspun from Mary Maxim which is 100% acrylic, 284yds,260m/100g so a great match or substitute for the Paintbox I mentioned above! I'm currently working a few blankets and garments in this yarn and can't wait to share them with you.
For a really luxurious DK choice I would go for Swish DK which is 100% fine super wash Merino wool, 123yds/50g. It will be more expensive than the acrylic options but is easily the soft yarn for blanket making that I can think of! It comes it beautiful muted and heather shades and I think would work really well for a pattern like my Silver Squares Blanket that has lots of texture in the stitches.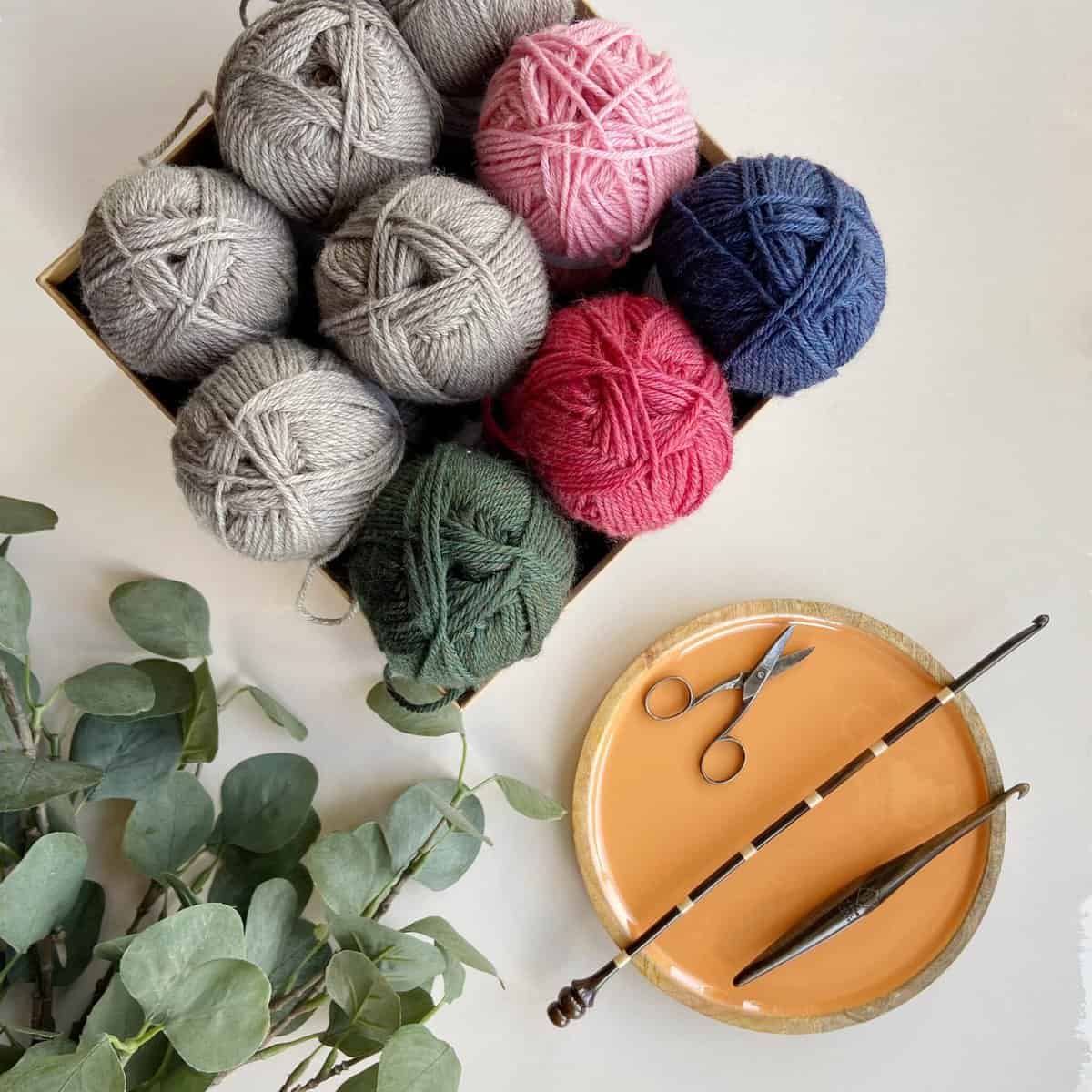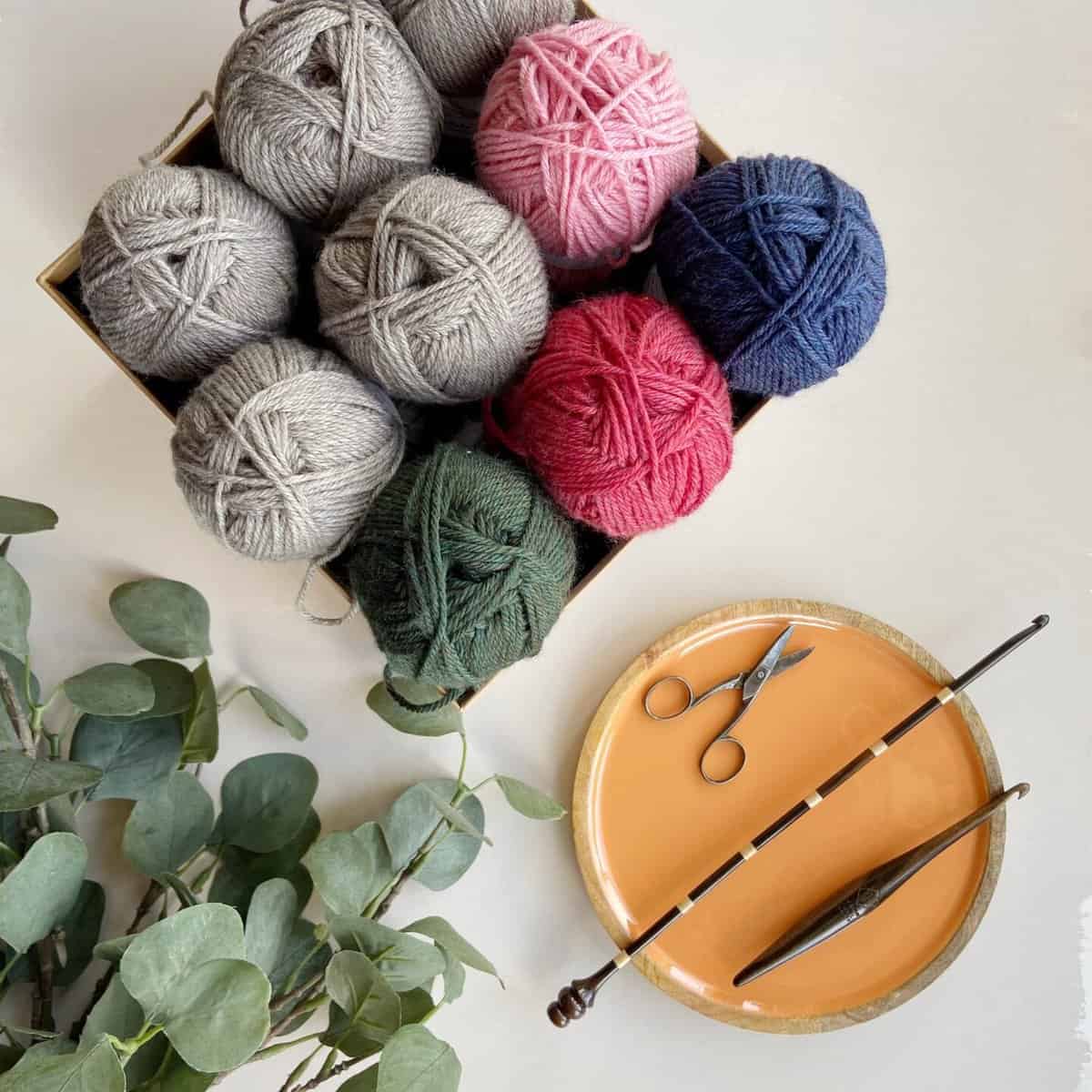 Best Worsted or Aran Weight Yarn for Crochet Blankets
Next up we have Category 4 worsted or Aran weight yarns. Now there is a lot of variation in yarns in this category I find so you really need to check the yardage on labels and see what matches your pattern best before jumping in.
My top worsted weight yarn for blankets is Brava Worsted which is 100% premium acrylic (208yds/100g) and comes in the same fabulous colors as the sport weight version I mentioned before. It has great stitch definition, is budget friendly and is a great thick soft yarn for blankets. I made my Broadquay Blanket with it and it works up so fast too which is another bonus!
I would say that this is the best yarn for beginner crochet blanket patterns as it's easy to crochet with a good size hook which is a great idea for when you're learning.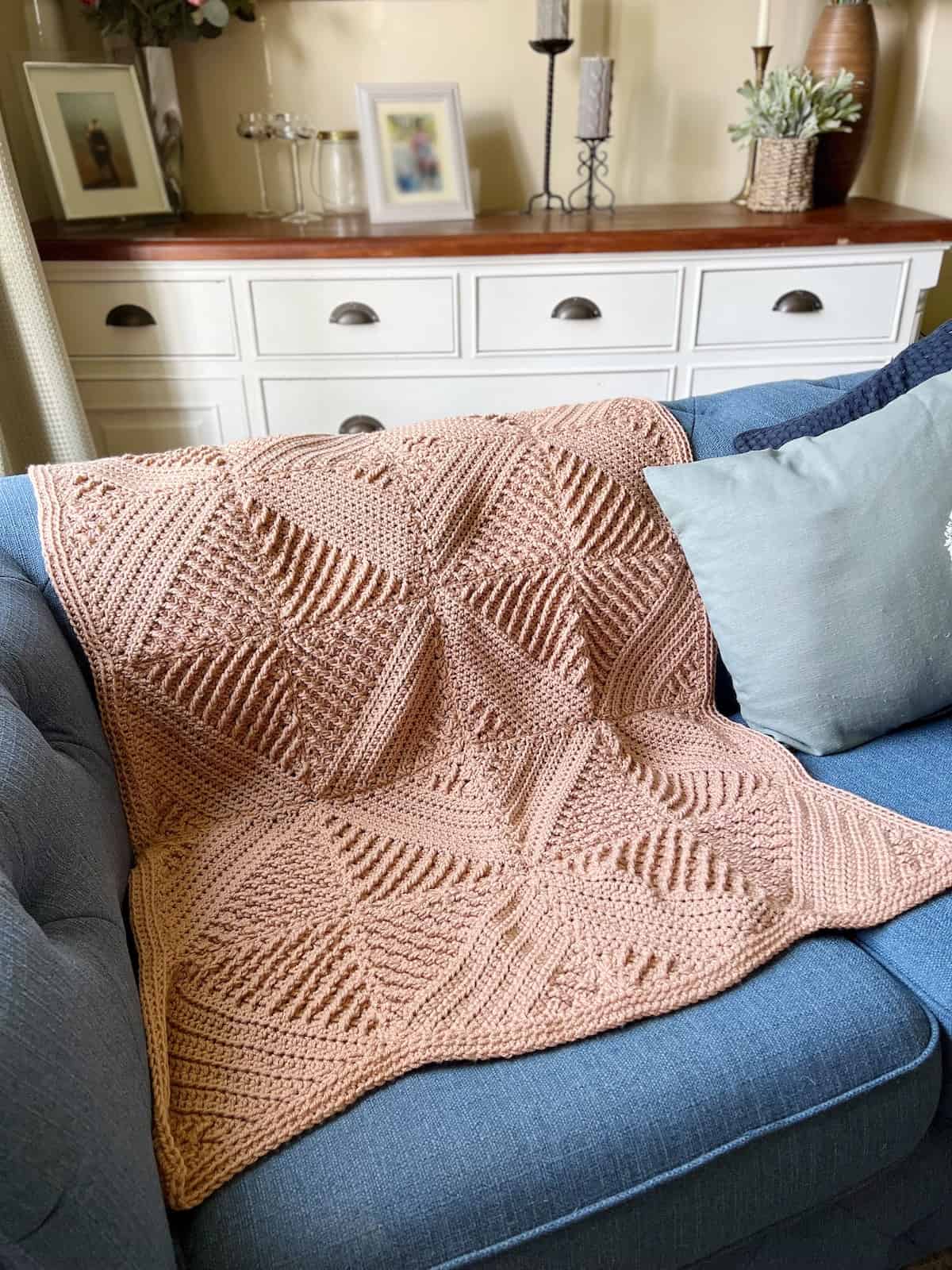 The next worsted weight yarn I'd encourage you to try because of the beautiful colour choices is Color Theory from Lion Brand. It's 100% Acrylic, 225m, 246yds in 100g so you get a little more yardage on it meaning that it might also work well for some double knit crochet blanket patterns. I'm currently using my left overs to make a new Paragon Plaid Blanket in it and it's turning out beautifully!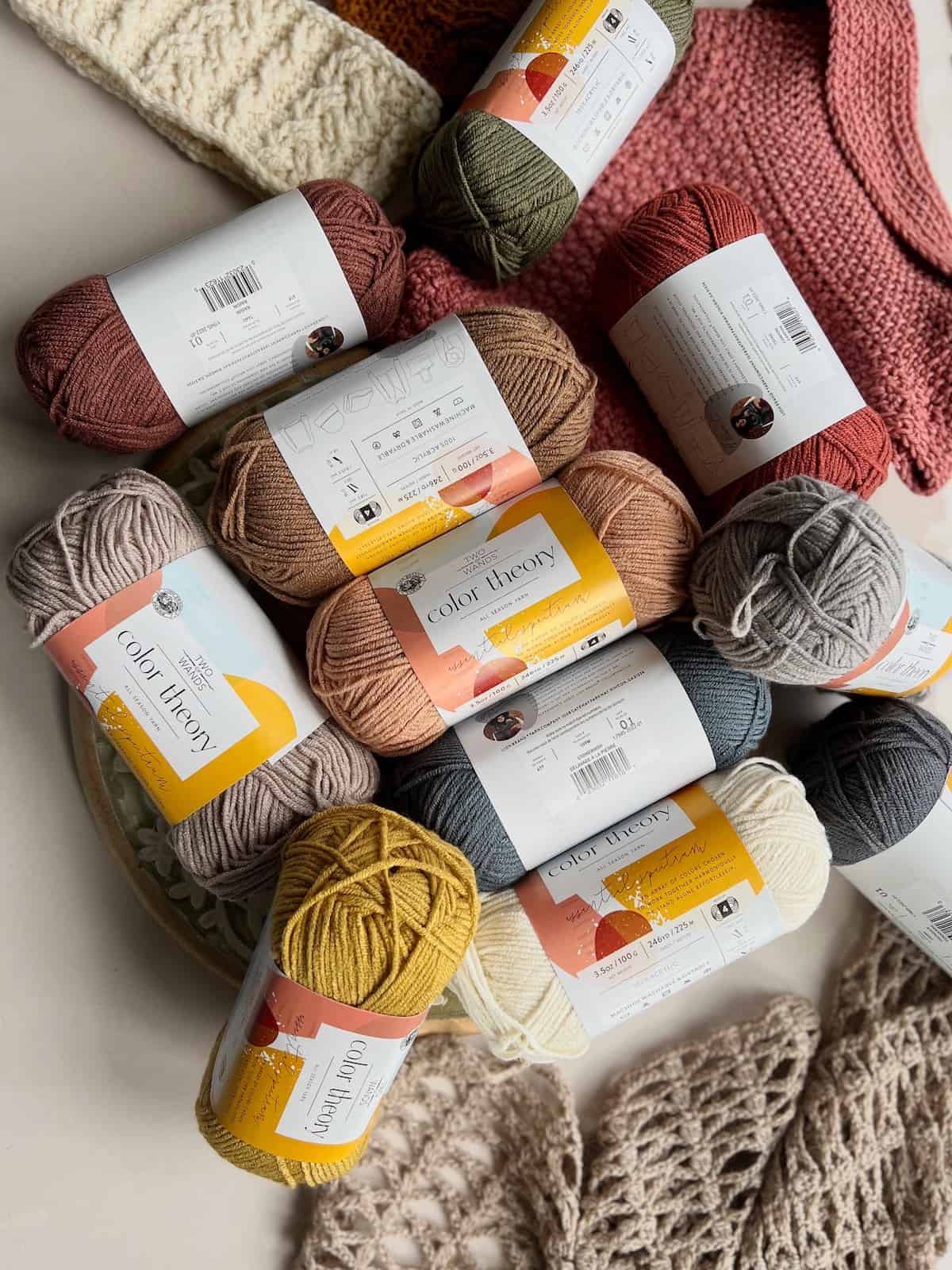 The third option I'd suggest for a Category 4 weight would be Rowan Pure Wool Worsted which as you can guess by the name is 100% wool and 200m/100g. It makes stunning blankets like my Diamond Mosaic Blanket and is great for colorwork patterns.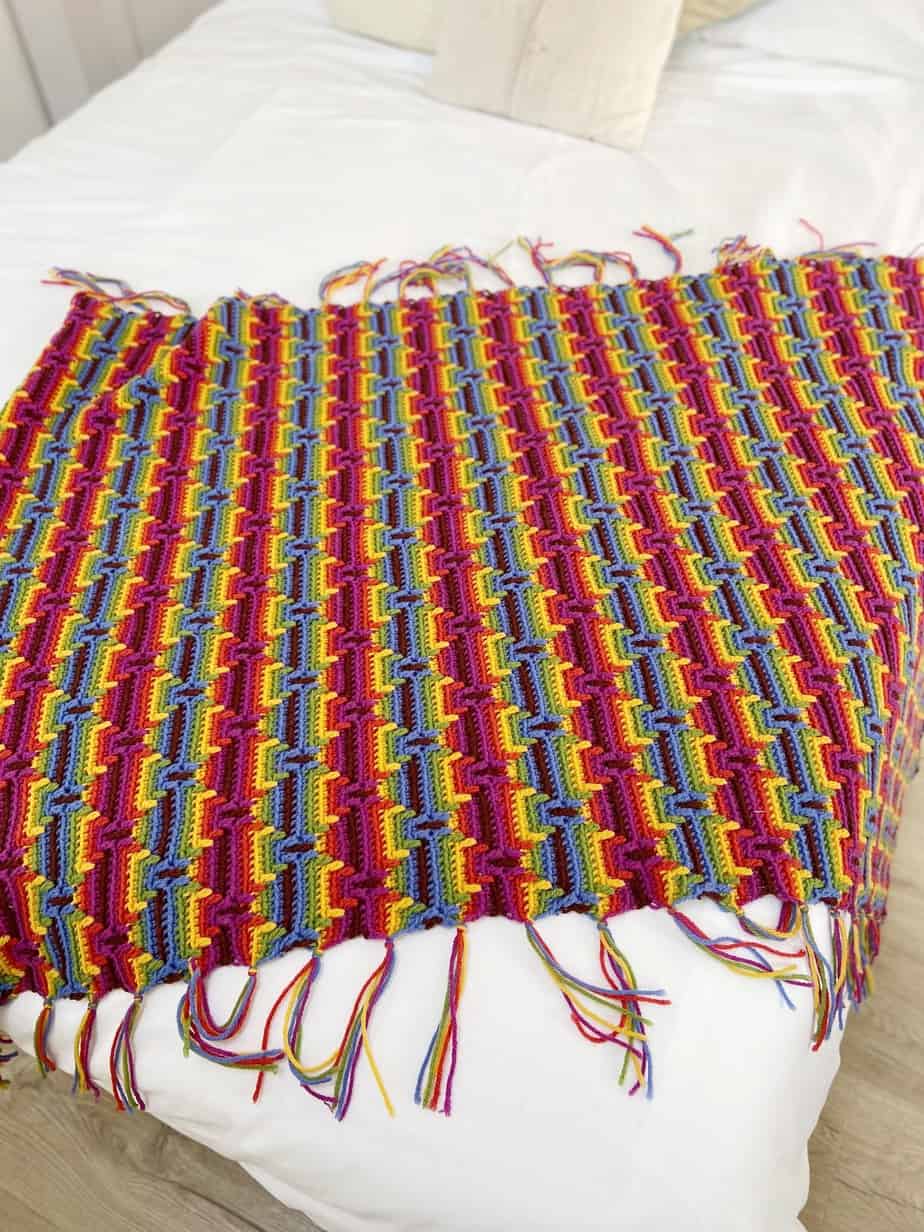 Before we hop to chunky weight I just wanted to mention my favourite cotton yarn for blanket making. As I said earlier using cotton for your blankets will alter the weight, drape and overall feel of them but they can be absolutely stunning and very practical if you get it right!
I would recommend looking at Paintbox Yarn Cotton Aran because of it's great price, colours and it's lovely to work with so is my best yarn for heavy blanket making!
Best Bulky Weight Yarn for Crochet Blankets
Next up we are looking at the best bulky weight (Category 5) yarn for your blankets. I find that the thicker yarns from category 5 up to 7 have so much variation in their yardage and labelling that you really have to check out what you pattern asks for to get it right!
My go to bulky yarn for blankets is Paintbox Simply Chunky which is 100% acrylic and 136m/100g with the same great colours as the rest of the Paintbox range. I used it to make my Super Alexa chunky blanket and honestly couldn't believe how quickly I made it!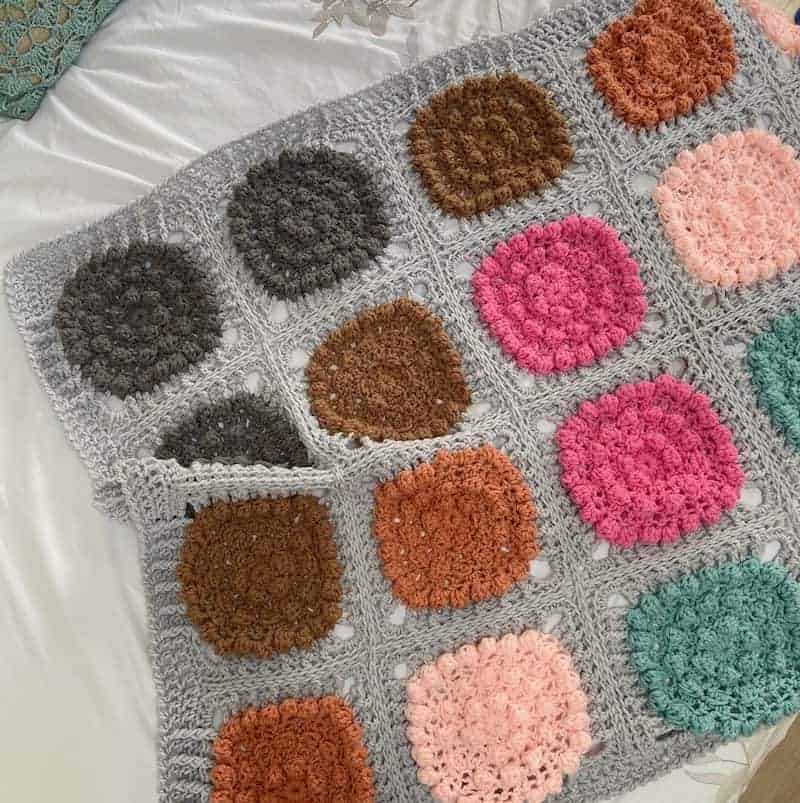 The next option for bulky yarn I have is perhaps not an obvious choice but I loved how Billow yarn from WeCrochet turned out with my Billow patchwork blanket pattern. It's 100% Pima Cotton with 120yds/100g and goes thick and thin throughout the skein creating the most wonderful tactile blanket. It is a yarn that you'll really need to care for but it is well worth it I think!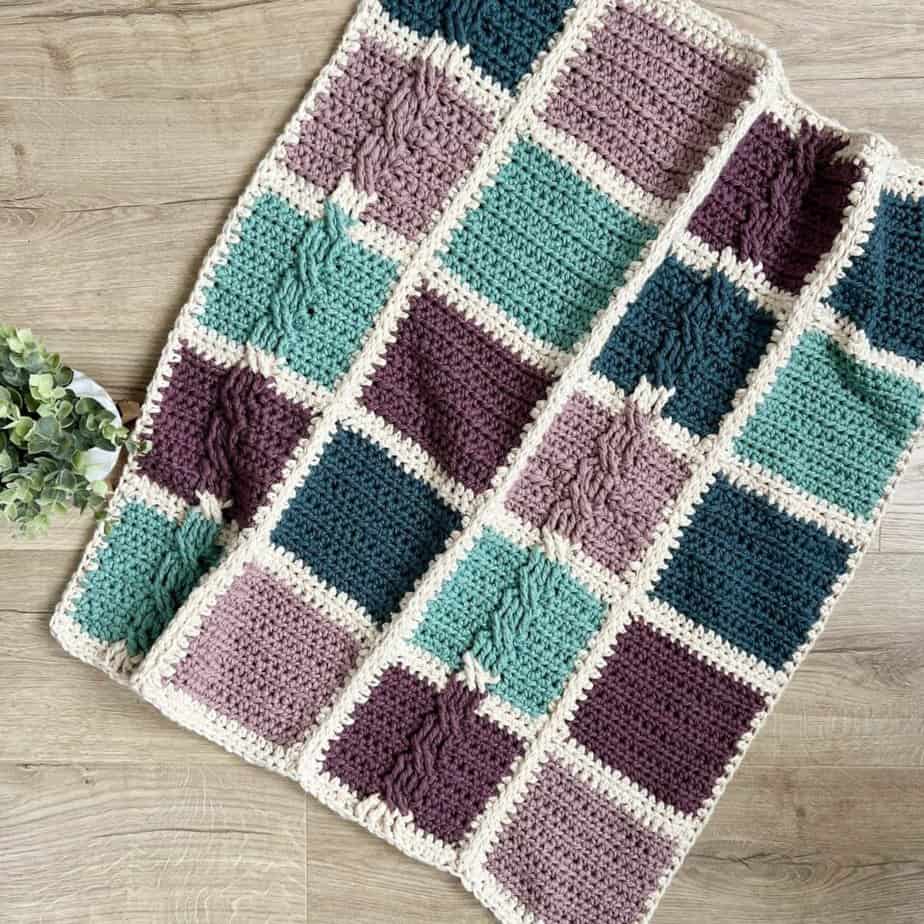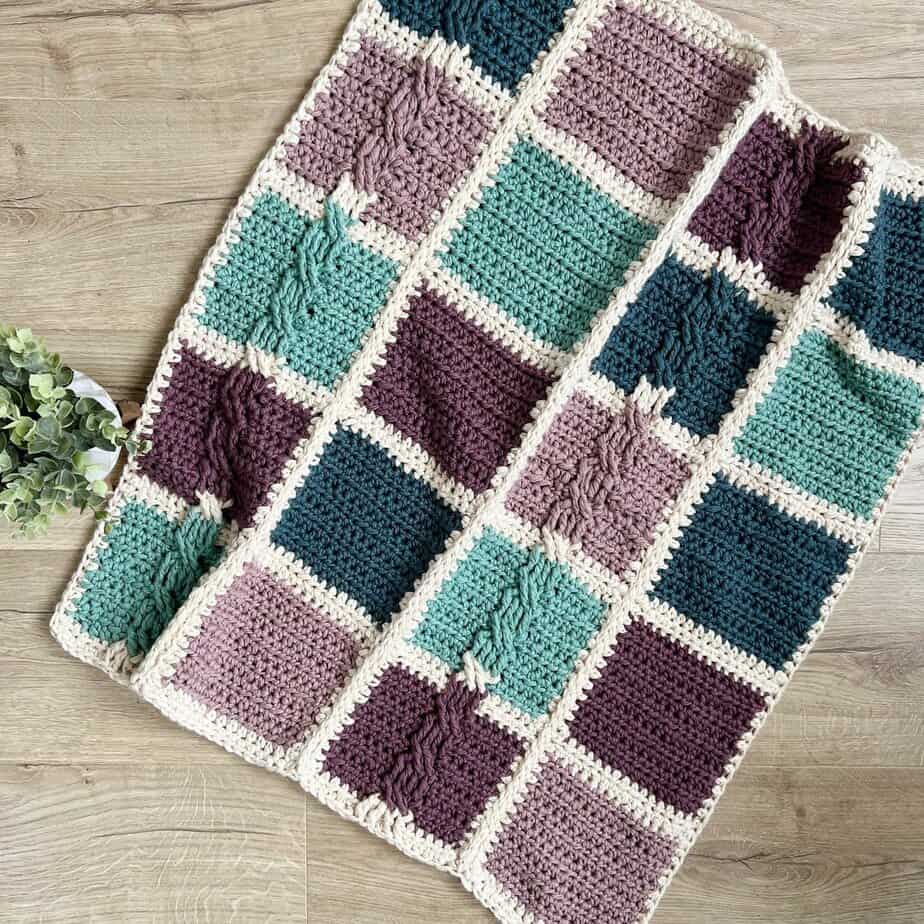 The last option for this weight I'd like to mention is Cascade 128 Superwash which is 100% Merino wool, 117m/100g and great for soft and cozy blankets! It is all wool fibre content though so just make sure to take good care of it 🙂
Best Super Bulky Weight Yarn for Crochet Blankets
So now we are onto Category 6 super bulky yarns which are so great for quick and easy blankets! I haven't published any blanket patterns in this weight of yarn but I have made them for our home and as quick gifts – they are so easy if you are pushed for time!
I've used these before and love them:
The thing to say about these thicker yarns is that you will need to make sure to adjust your hook to get the drape you really want and to be mindful that you don't get as much colour choices as you do with some of the finer yarns.
Having said that they are great yarns for quick, thick and heavy crochet blankets that are really modern and on trend at the moment!
Best Jumbo Weight Yarn for Crochet Blankets
At last! We've made it to Category 7 jumbo weight yarns! Now, there are lots of options out there but I don't want to recommend anything I haven't tried myself so I just have 2 for you 🙂
Firstly, I love Bernat blanket yarn (as I know so many others do!) because it has that gorgeous velvet look and feel to it! It's 100% polyester and machine washable too so great for practical big blankets.
The second option is Tuff Puff from WeCrochet which is 100% wool and has the luxurious texture of roving wool so makes a real statement piece but one that is an investment that you really need to take care of. I made a throw using it though and love it!
Conclusion
So there we have it! My 21 best yarn for crochet blanket making choices! I hope that you've found some that you love in here and that it helps you decide on exactly the right one for your project.
Remember that there is a fine balance between price, fibre, colour and weight that you need to get right but as long as you love it then that's all that matters!
Crochet Blanket Patterns to Try
If you fancy a browse then here are all of my blanket patterns for you get stuck into! If you are a complete beginner (or just love a nice easy stitch repeat) then make sure to look at my collection of easy crochet blanket patterns for beginners too.