The simplest designs are sometimes the best and this super chunky knit-look crochet throw is no exception. Perfect to snuggle under or haphazardly drape over the sofa this chunky block coloured throw will add a touch of classic simplicity to your home.
Until I designed this I'd never used such a chunky hook before – a massive 20mm/S one! It takes a bit of getting used to but the best bit is that once you get going you will have a throw made in a flash! Hurrah for big hooks I say.
The throw is perfect for beginners as it only uses UK double crochet and half treble stitches or US single crochet and half double crochet stitches (the pattern uses both UK and US terminology so you can pick whichever you feel most comfy with).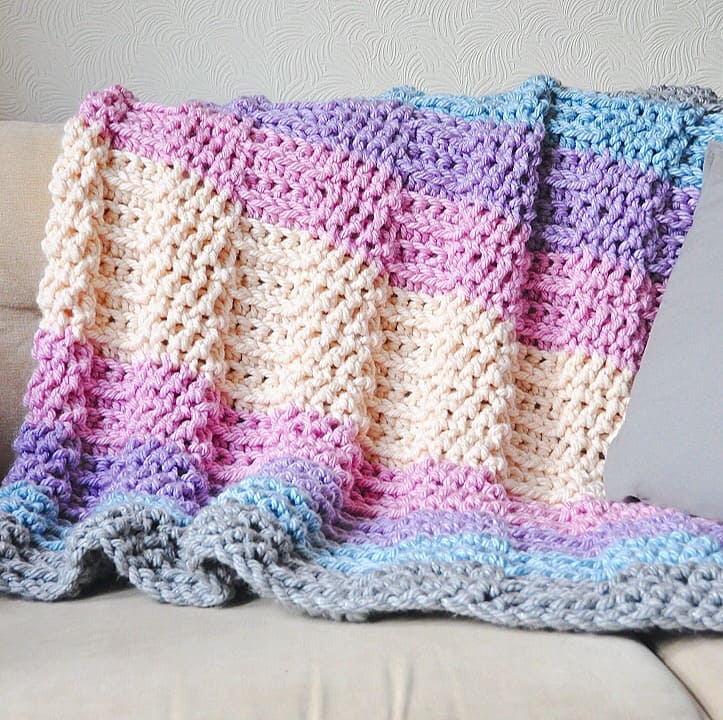 The pattern is here free for everyone to enjoy. You can buy an ad-free PDF version of it here.
Add the pattern to your queue on Ravelry here.
This post contains some affiliate links so any clicks from you help support me to bring more free patterns each week.
The Yarn
I used Red Heart Grande Metallic but if you can't get hold of any then I'd suggest some Cygnet Yarns Seriously Chunky Metallics which is just as lovely.
Both yarns are seriously chunky and you will need 10 balls stop create the throw in colours of your choice. I went for 2 balls each of
Smoke #1400, Glacier #1510, Wisteria #1530, Mulberry #1705, Straw #1115 in the Red Heart Grande Metallic for my throw.

Materials
Along with the yarn you will also need:
A 20mm/S crochet hook
Needle
Scissors
Tension
5htr/hdc and 4 rows = 10cm by 10cm over pattern
Finished Size
The finished blanket measures 100cm by 100cm
Glossary/Abbreviations
ch – chain,
ss – slip stitch,
st- stitch ,
BL – back loop,
FL – front loop,
rep – repeat
UK TERMS: dc – double crochet, htr – half treble
US TERMS: sc – single crochet, hdc – half double crochet
Notes
The ch1 at the beginning of a row does not count as a stitch.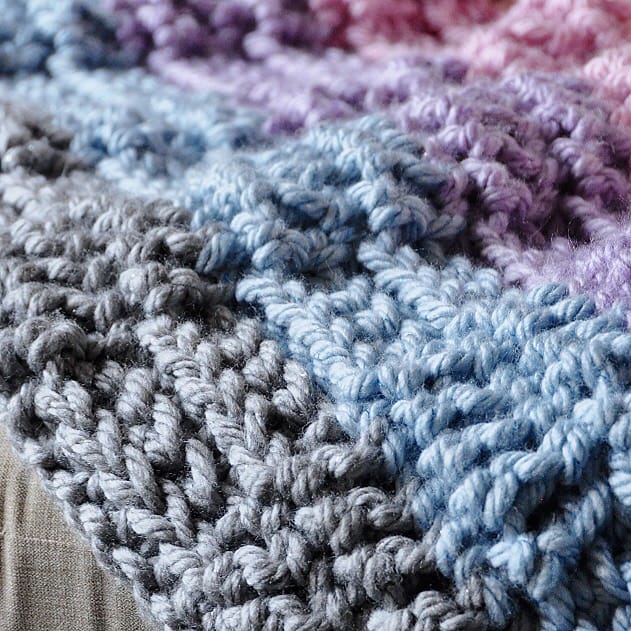 The Pattern
UK TERMS/US TERMS
Foundation chain: Using Smoke, ch51 (multiple of 10 + 1)
Row 1: RS: htr/hdc in 2nd ch from hook and next 4, dc/sc in 5, *htr/hdc in 5, dc/sc in 5, rep from * across [50]
Row 2-4: ch1, *htr/hdc in BL of 5, dc/sc in FL of 5, rep from * across
Rows 5-8: using Glacier, rep Row 2
Rows 9-12: using Wisteria, rep Row 2
Rows 13-16: using Mulberry, rep Row 2
Rows 17-24: using Straw, rep Row 2
Rows 25-28: using Mulberry, rep Row 2
Rows 29-32: using Wisteria, rep Row 2
Rows 33-36: using Glacier, rep Row 2
Rows 37-40: using Smoke, rep Row 2
Fasten off.
That's all there is to it! Just a few simple stitches to give a really cute and interesting stitch pattern.
I absolutely love to see completed projects so make sure you add your completed projects to Ravelry here or use #hanjancrochet and tag me over on Instagram so I can find you.