The Cherry Blossom Wrap Cardi is an easy summer crochet cardigan pattern using just beginner stitches and 2 easy lacy panels.
The simple lace crochet stitch gives the most wonderful drape and elegance to the garment which is prefect for throwing on over any summer outfit whether it's to go to the wedding or to the beach!
So, a crochet cover up pattern for your bikini, lace wedding cardigan or an easy crochet wrap to throw on over jeans like me – what would you use it for?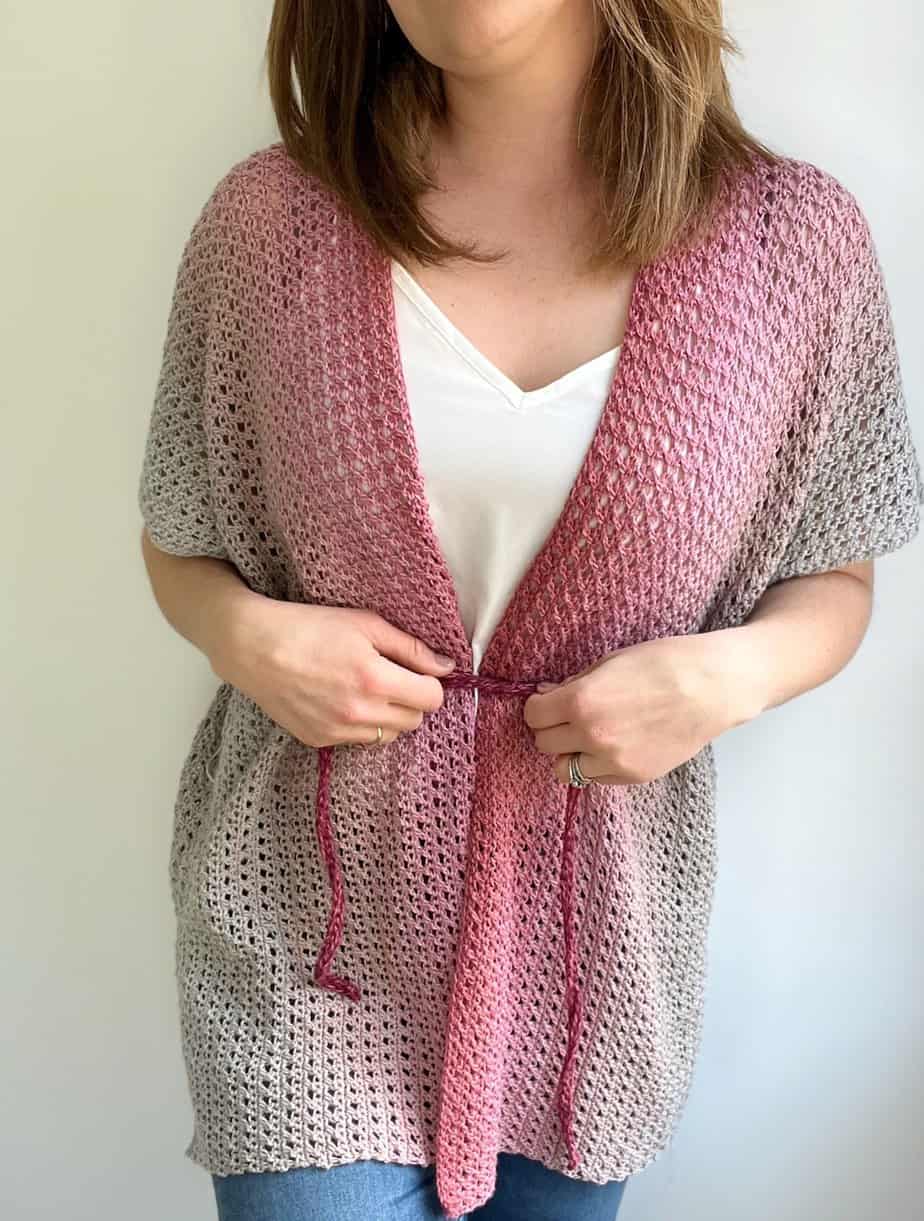 Scroll down for the free pattern, or purchase an ad-free, printable PDF version here:
This post may contain affiliate links. Please see my full disclosure and privacy policy for details.
About this Lightweight Crochet Cardigan Pattern
If you're anything like me then easy to make and easy to wear are both on my crochet checklist when deciding on my next project.
The next thing on my list is 'would I actually wear that?'. I encourage everyone to really think about this because it's so important to make sure you'll get as much use out of your precious crochet project as possible.
So if you're after a short sleeved crochet cardigan in fingering weight yarn that's perfect for warmer days that uses a simple crochet stitch and construction then this is the one for you!
Even better, the construction of the cardigan is super easy. You just need to make 2 large rectangles and seam a portion of them together to create the back seam. Then you can join the sides if you like or leave them loose.
Can I make it into a lace summer crochet ruana instead?
Absolutely! If you'd prefer to make yours into a summer crochet ruana (where you can literally throw it on over everything) then just don't seam the sides as the pattern tells you and leave them open.
I think this works perfectly as an alternative for a warm weather crochet cardigan and is really easy to wear over dresses and swimwear alike.
Here's how it looks as a crochet ruana when you leave the sides open. The fabulous folks at Inside Crochet Magazine photographed it like this 🙂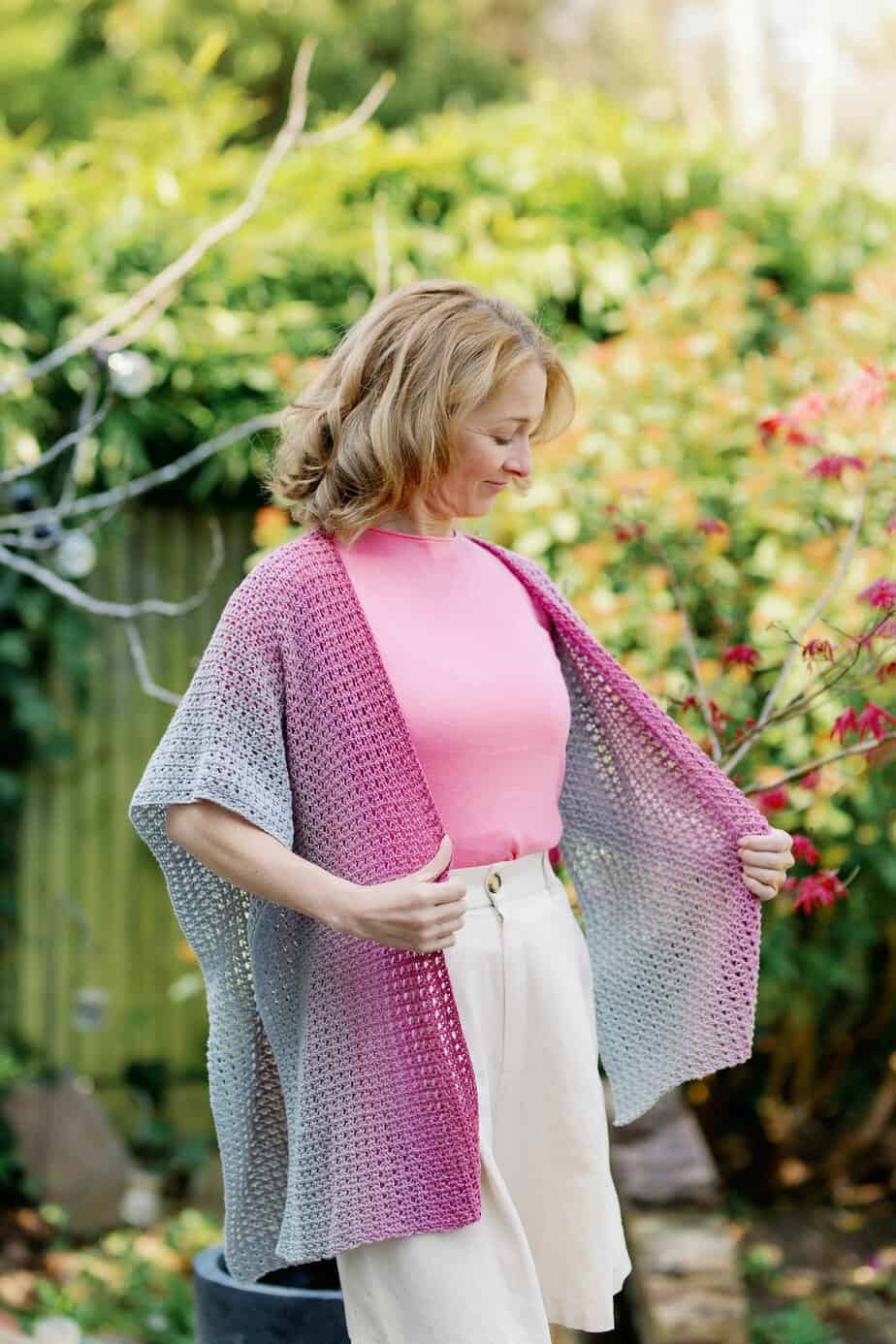 Making Summer Crochet Garments
If you are new to making crochet garments (or even if you're not!) then I'd love you to read about how to make your perfect crochet wardrobe. Planning and preparation is key and there are loads of tips and tricks that will save you time (and frogging!) here.
If you're not ready to make a full garment but like the idea of lightweight lace then you might like my lace crochet cape pattern too!
Yarn
To make the lightweight crochet cardigan I used Scheepjes Whirl 4ply, 60% cotton, 40% acrylic, 220g/1000m, Slice 'O' Cherry Pie 753.
You will also need some Scheepjes Whirlette for larger sizes, 4ply, 60% cotton, 40% acrylic, 100g/455m, Crushed Candy 892.
Ball breakdown for each size:
XS-M = 2 balls of Whirls
L/2X = 2 balls of Whirls and 1 Ball of Whirletts
3X/5X = 2 balls of Whirls and 2 Balls of Whirletts
I often get asked about ideas for alternative yarns. Here are some that I think would work really well for this cardigan in various price ranges:
Chroma Fingering Yarn 70% super wash wool, 30% nylon, 396yds, 362m/100g
Lindy Chain 70% linen, 30% Pima cotton, 180yds, 165m/50g
Schachenmayr Organic Cotton 100% cotton, 170yds, 155m/50g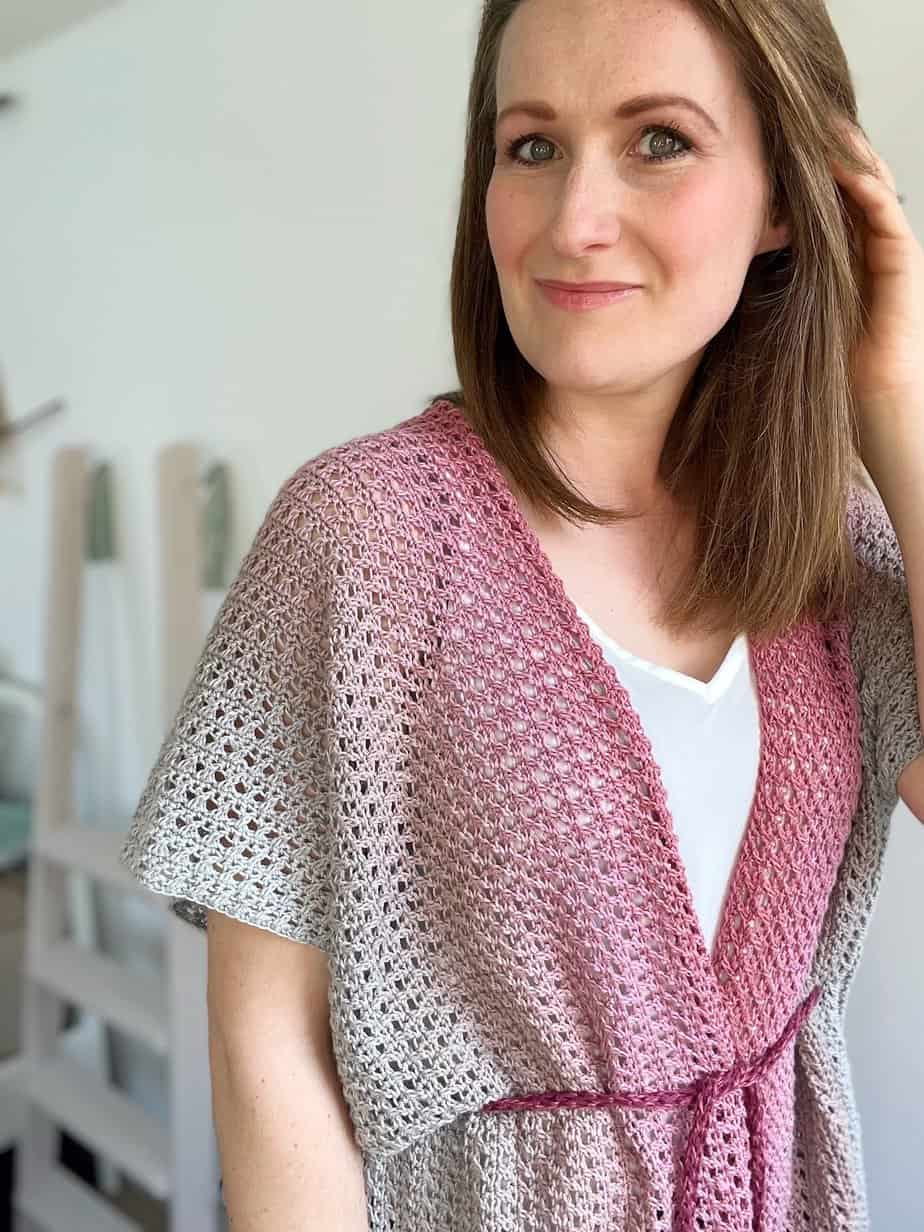 Tension and Sizing
The short sleeved cardigan is designed for a loose, oversized fit to wrap around you and secure with the tie. The sizing brackets are broad because of this.
Size Label
To fit bust (inches/cm)
Garment bust (inches/cm)
Length (inches/cm)
Yarn Balls Required: Whirls
Yarn Balls required:
Whirlettes
XS-M
28-38/ 71-96
55/140
28/71
2
0
L-2X
40-50/ 102-127
66.5/169
28.75/73
2
1
3X-5X
52-60/ 132-158
77.5/197
29.5/75
2
2
Work 17sts and 14 rows in the set pattern repeat to measure 10 x 10cm/4 x 4in using 4mm hook, or size required to obtain tension.
Materials
Along with your yarn, you will need the following:
Pattern Options
Get this crochet pattern free in this blog post in US terms – just scroll down! You can also purchase an ad-free, printable PDF with added extras in my pattern stores: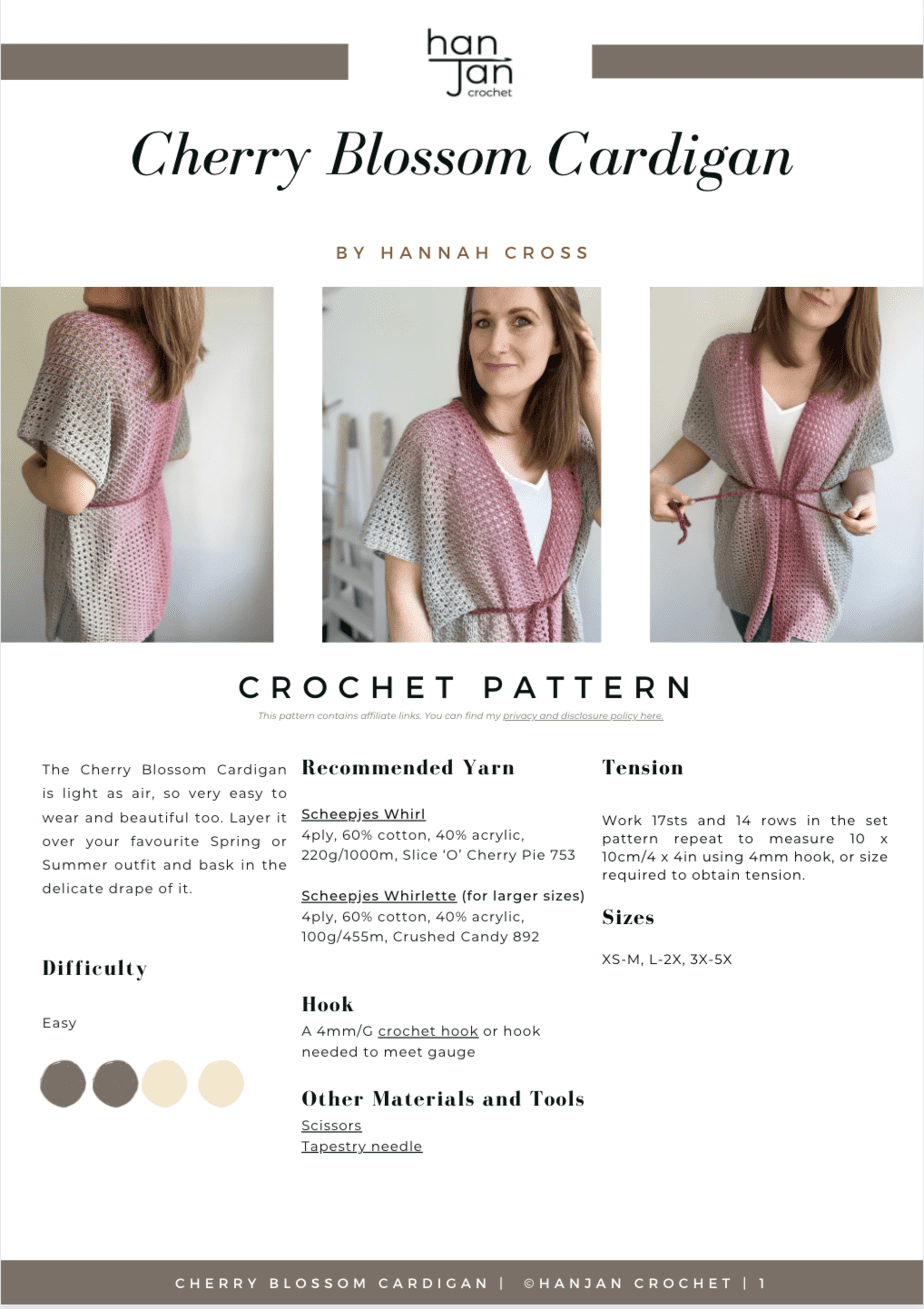 Purchase and Print
Get the ad-free, printable PDF with added extras in my pattern stores:
Don't forget to join HanJan Crochet to receive regular discount codes (and more free patterns!) and Pin this simple, lightweight cardigan pattern to your crochet Pinterest board!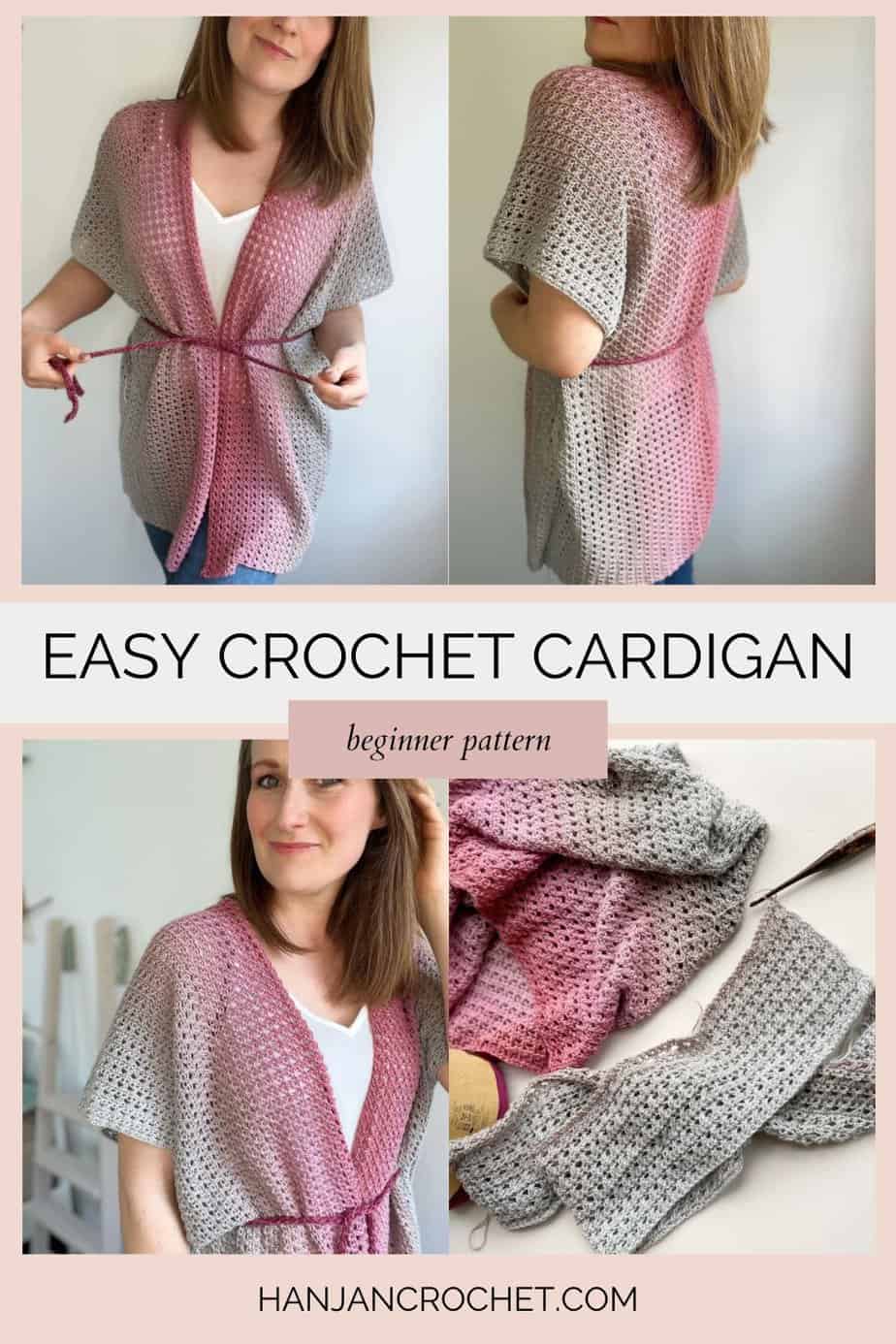 Glossary and Abbreviations
ch(s) – chain(s)
ss – slip stitch
RS – right side
WS – wrong side
sk – skip
Crochet Stitches
| | |
| --- | --- |
| UK Crochet Terminology | US Crochet Terminology |
| dc – double crochet | sc – single crochet |
| tr – treble crochet | dc – double crochet |
| htr- half treble crochet | hdc- half double crochet |
Special Stitches
To get the open feel of lace without being complicated I went for a crossed double crochet stitch for the entire design.
The stitch gives such a stunning drape to the fabric (meaning you get yourself a beautifully lightweight crochet cardigan pattern to wear) but it also allows the colour changes in the yarn to shine.
It might look tricky but if you can work a US double crochet (UK treble crochet) then you can absolutely do this stitch!
You just need to create a space for the 'crossed' stitch to come into so you do that by skipping a stitch, working a stitch into the next one and then going back into the stitch you skipped. Hey presto, you've got a set of 2 crossed over crochet stitches!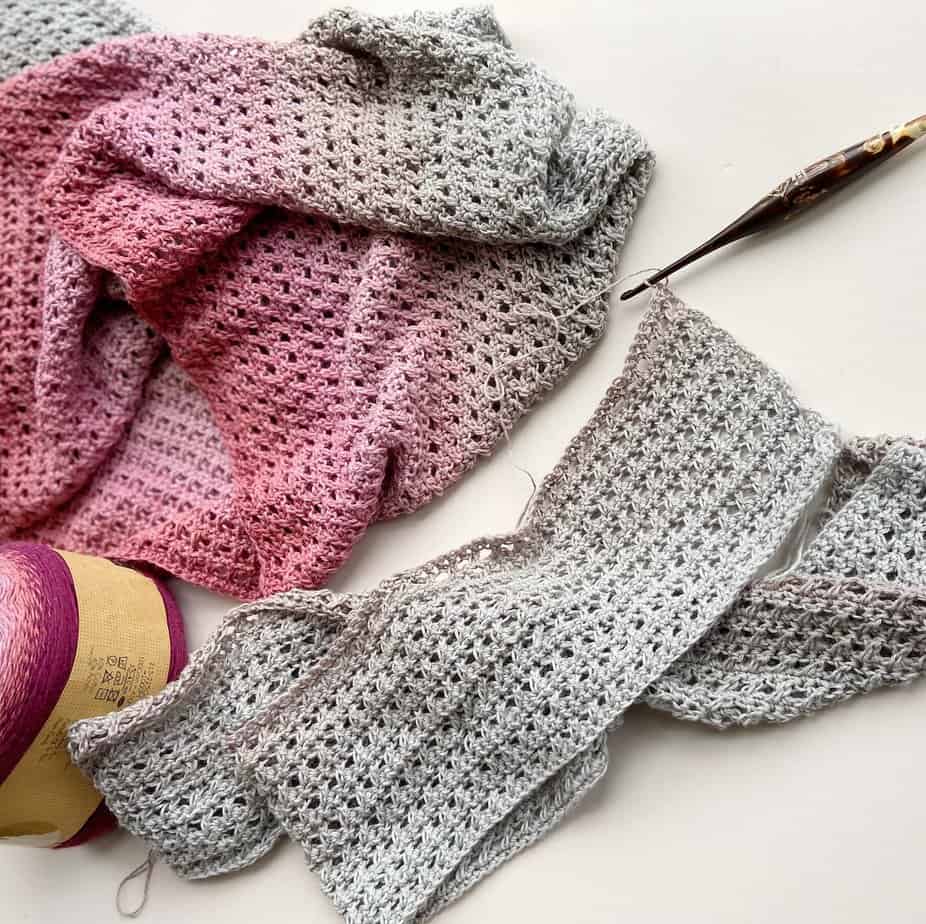 Cherry Blossom Cardigan Pattern Notes
The garment is constructed with 2 matching panels that are seamed together at the back.
The front and sides are left open or seamed (whichever you prefer) and it is secured with the tie which you can slot through the stitches or tie around the entire garment depending on how you would prefer to wear it.
Each panel is made with a separate ball of yarn to ensure the colour changes are the same and then seamed with the coloured sections matching as shown.
For the larger sizes, use the Whirlette to complete the panels making sure that the colour grades nicely.
A 1ch at the beginning of a row does not count as a stitch.
A 3ch at the beginning of a row does count as a stitch.
Summer Crochet Cardigan Crochet Pattern
US Crochet Terminology
Make 2 matching panels as follows.
Foundation chain: 241, (249, 257)ch
Row 1: sc in 2nd ch from hook and each across [240, (248, 256) sc]
Row 2: RS: 3ch, *skip next st, dc in next st, working behind st just made, dc into skipped st; rep from * to last, dc in last.
Row 3: 1ch, sc in each across.
Rows 2 and 3 set the pattern.
Rows 4 – 49 (59, 69): Repeat the pattern.
Lightly block the panels before seaming.
Lay the panels together so that the colour matches as shown in the images.
Working along the long edge, join using a slip stitch seam for 114 (118, 122) stitches on the wrong side of the work to create back seam.
If you would like to join your side seams: join sides with a slip stitch seam or whip stitch on the wrong side for as much or as little of the side as you would like.
You can really customise the look by making the armholes as deep as you like. Alternatively, you can leave them as they are and have open sides.
Weave in ends and block seam lightly.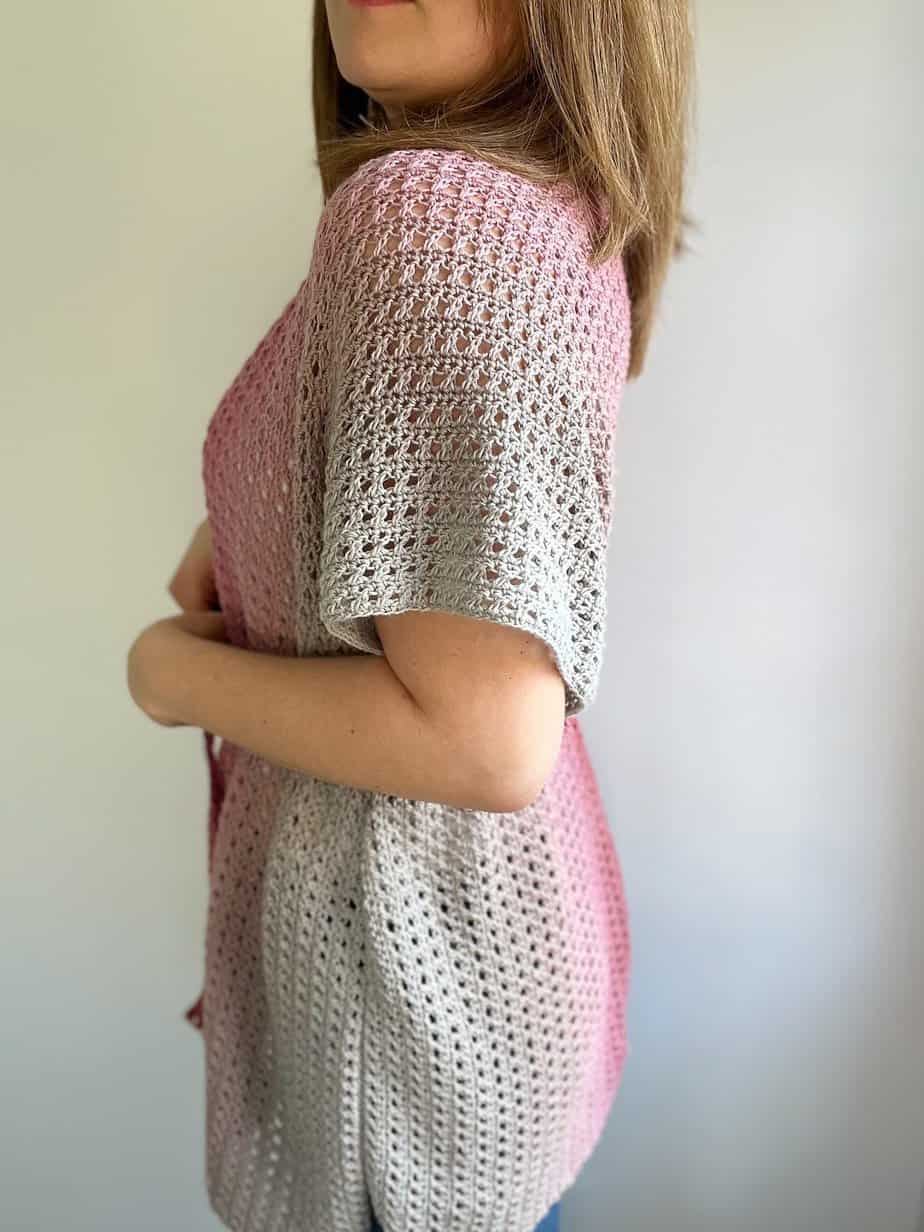 To create the tie:
Using both the working end of the yarn and the centre of the yarn ball, double up your yarn to make the tie.
Foundation chain: 351 (401, 451)
Row 1: hdc in 2nd ch from hook and each across.
Weave in ends and block lightly.
Thread tie through the cardigan wherever you would like it to be and tie to secure.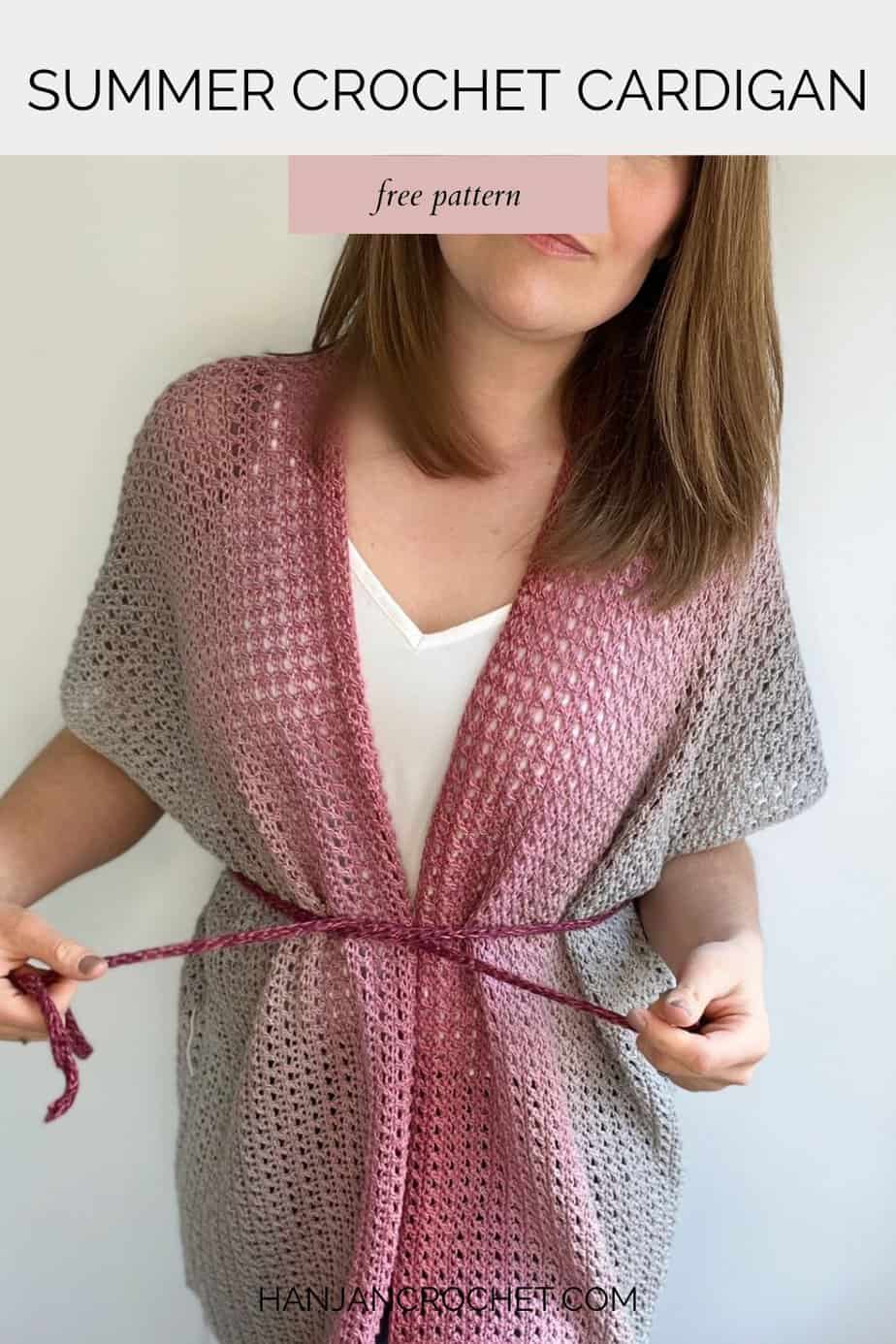 Join HanJan and Share Your Crochet!
It's an honour to be able to create and share my free crochet patterns with you. I'd love to stay connected and send you regular discount codes and free patterns! Please sign up for my subscriber list to get a free gift right now!
I look forward to seeing your finished crochet projects, especially this easy crochet pattern, so please share them with me in the HanJan Crochet Facebook group or on Instagram and tag #hanjancrochet.
Or share your projects on Ravelry or LoveCrafts!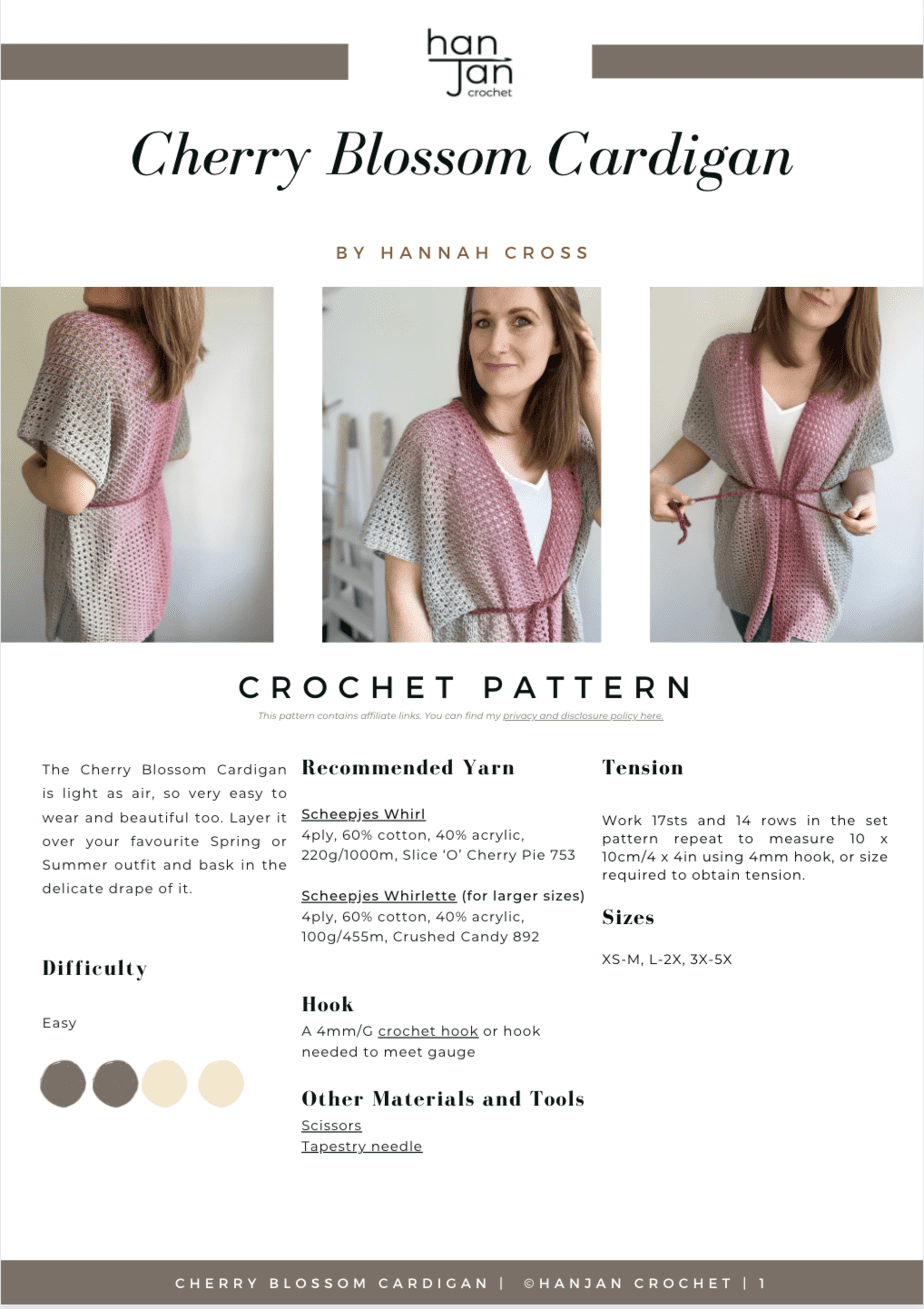 Purchase and Print
Get the ad-free, printable PDF with added extras in my pattern stores:
More Crochet Patterns You Might Enjoy
If you enjoy making lightweight summer crochet garments here are a couple more patterns and tutorials you would enjoy crocheting!
Or if you have the garment making bug then you'll love this collection of easy crochet cardigan patterns for beginners!