Using Colour in Crochet –
A complete online course to find YOUR confidence with colour
The ultimate way to discover, explore and understand colour so that you can confidently use it in every project!
Do you wish you could find the perfect colour combinations for your projects every single time?
I'm here to Help and take the mystery out of choosing colours!
No more wasting money on yarn colours that don't work together
No more precious time spent worrying about how to balance the colours within a project
No more abandoned projects because the colours feel wrong
Find your colours. Find your confidence.
It's time to invest in your understanding of the fundamentals of colour so that you can plan and create a winning combination each and every time.
With a focus on blankets we can use the same knowledge and principles to plan ANY project your heart desires


Do you feel overwhelmed by choosing colours for your crochet?
You are most certainly NOT ALONE!
Figuring out how to choose colours can be a task that people often dread.
That's why I've created Using Colour in Crochet – a huge resource that will help you get not only get your colours but your yarn choice, colour sequence and technique right too!
Transform the way you use colour in blankets and so much more!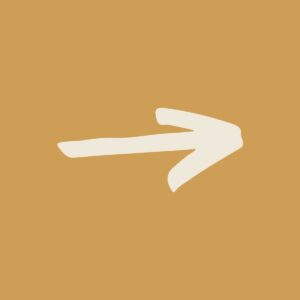 Hey, I'm Hannah!
I have been designing crochet patterns for over a decade and have always adored experimenting with colour in crochet. It wasn't until recently that I realised that this is something that lots of people are really nervous about!
What if the combination doesn't work? What if the balance is off? How do I choose complimentary colours for my decor? How do I know if they will clash? What are the rules for colours? Do I have to follow them?!
So many questions and so difficult to get it right!
I know that for many this has been a stumbling block to even starting a crochet project. Finding the courage to try out a combination of colours or indeed a colourwork technique can be so daunting!
Well, I'm here to help get it all figured out and give you the confidence to choose and then use any colours you like.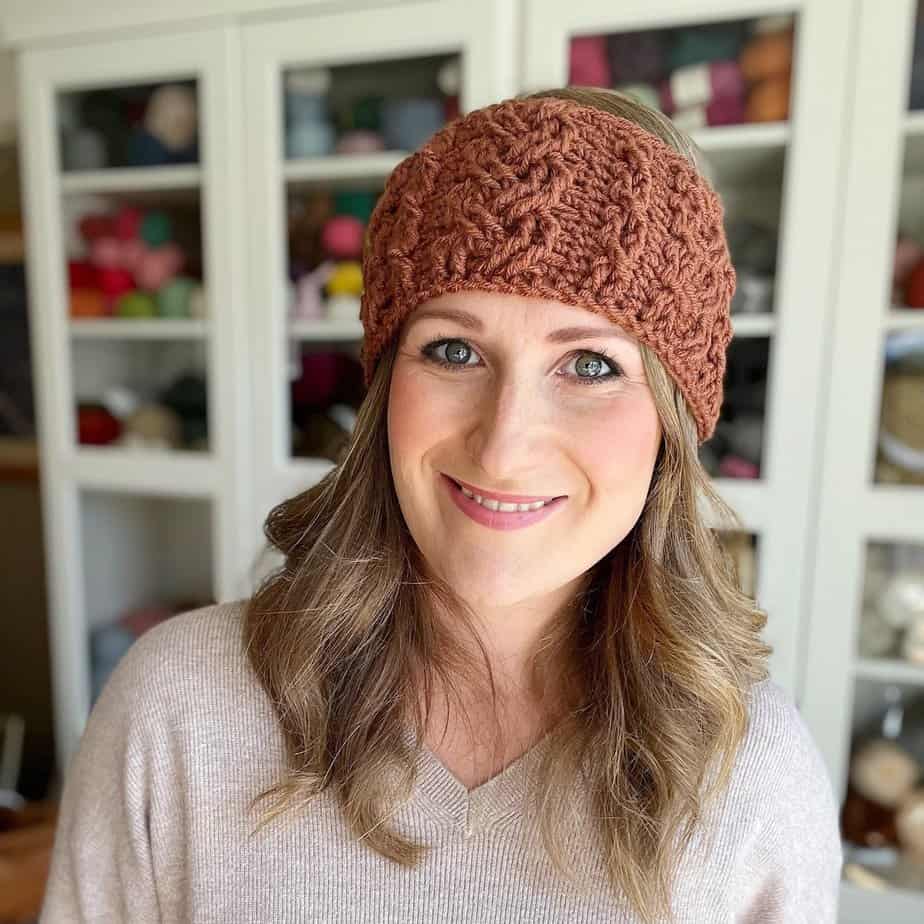 Using Colour in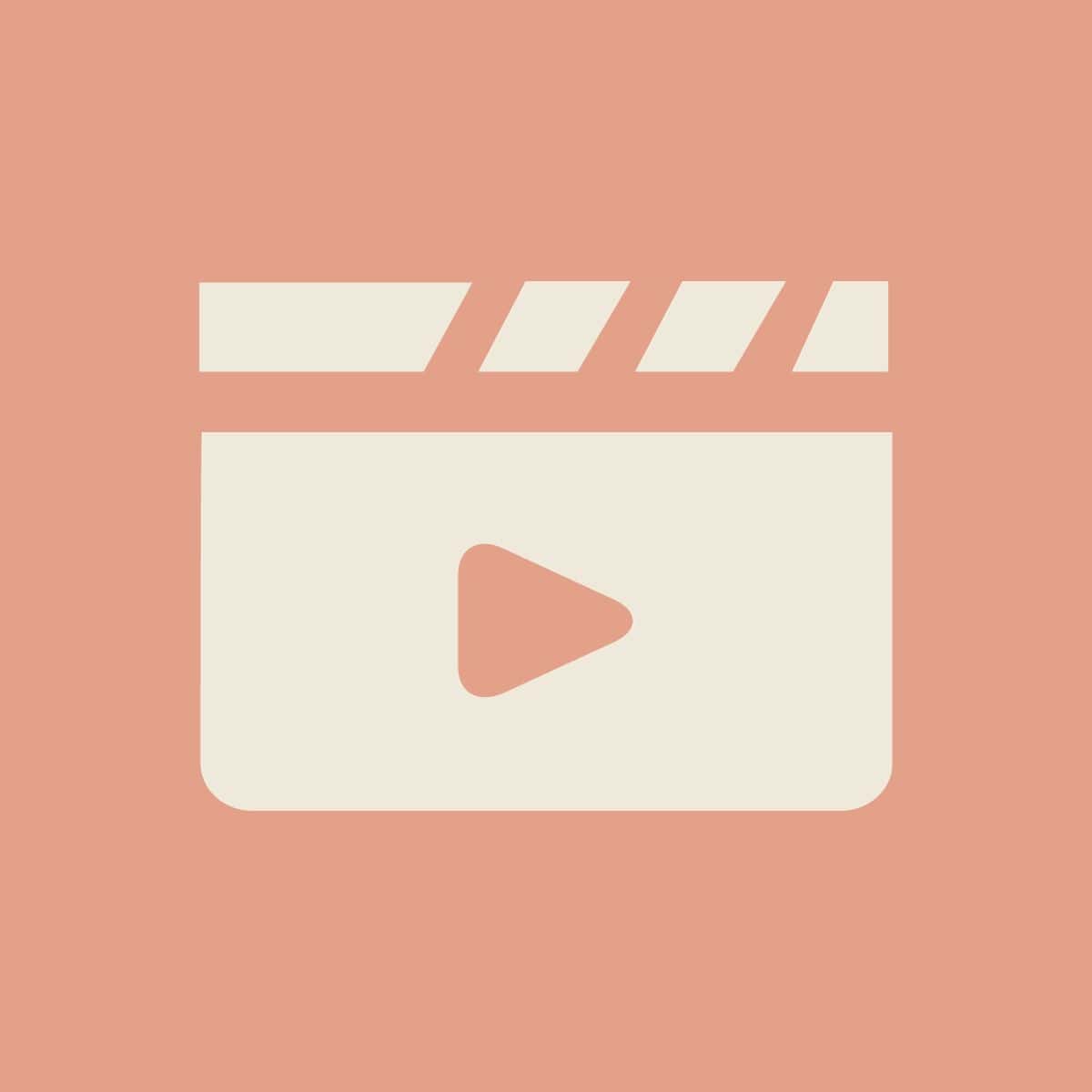 1. Online Video and Written Course
Join me for 9 Modules including 30 lessons to cover everything from colour theory to yarn choice, colourwork techniques to blanket planning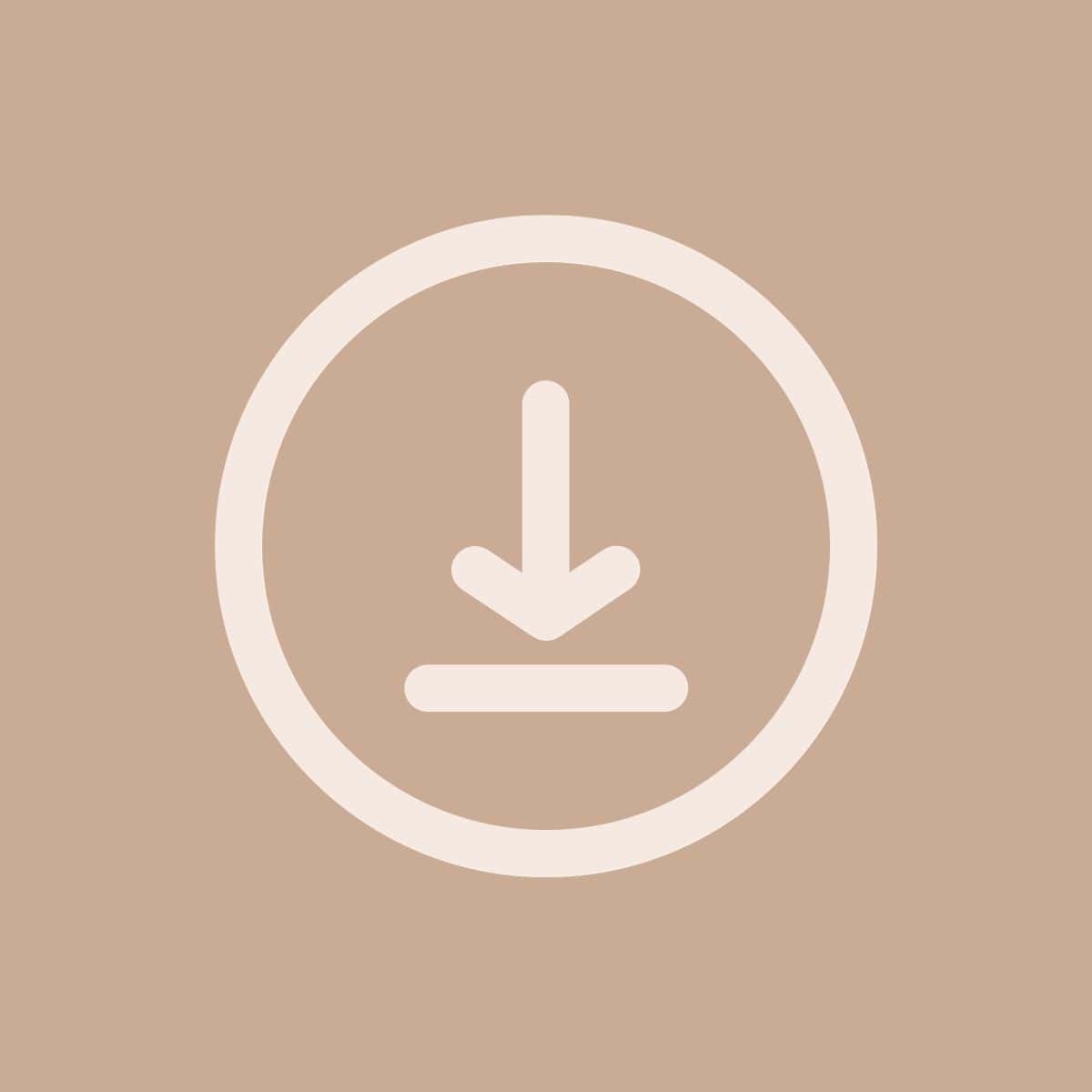 2. Course Ebook, Workbook and Downloads
Download, print and keep your comprehensive course Ebook and Workbook to use on the go. Print as many planner pages as you need!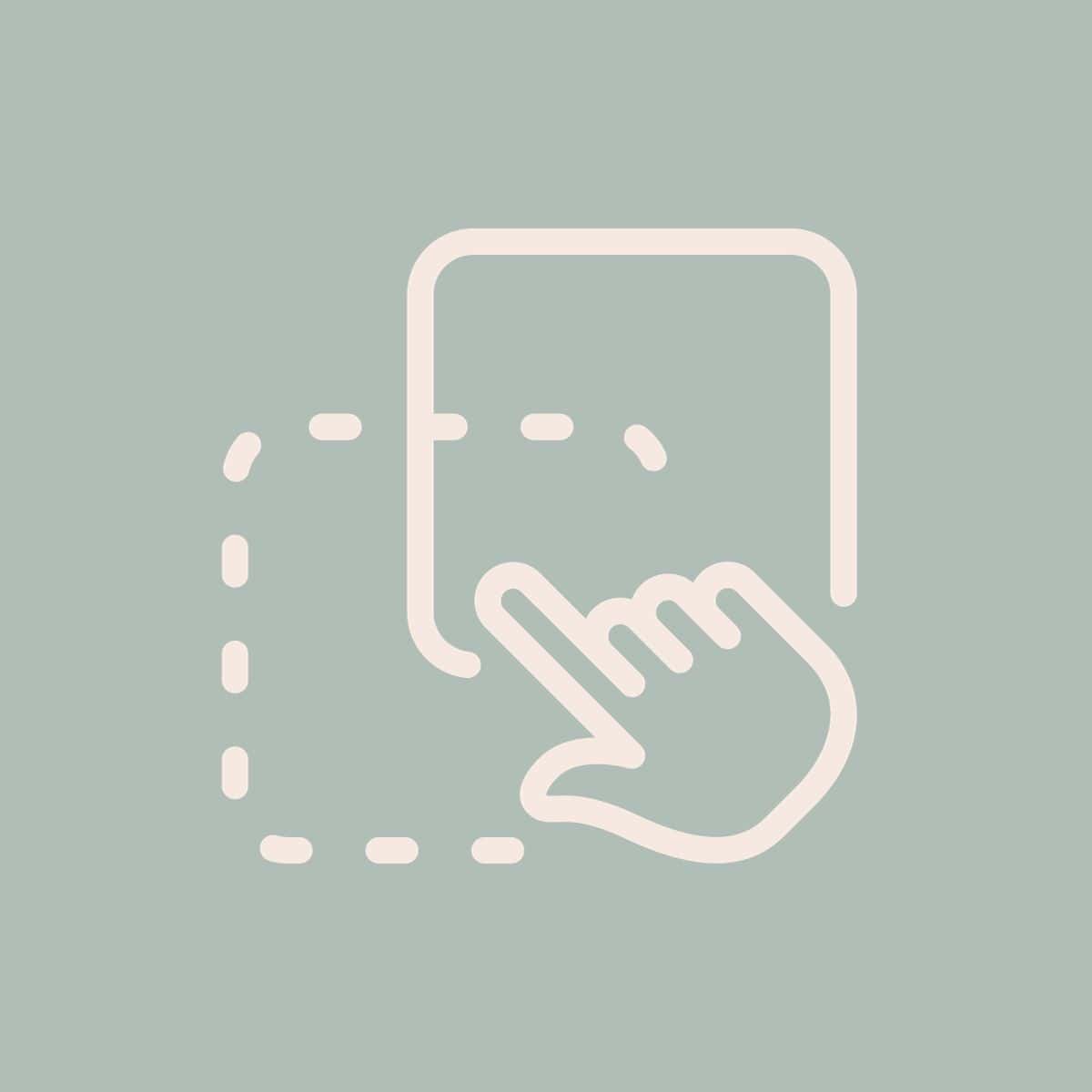 3. Interactive Workbook and Planners
With full video instructions create your own version of the workbook to digitally add your colours, pictures and yarn inspiration to plan like never before!
blankets and more!
Why are we focussing on blankets?
Colour theory and crochet techniques is such a vast topic that I thought it best to narrow our projects down for now!
You can of course apply all of these principles and ideas to ANY crochet project that you like. In fact, I can't wait to hear what you try them out on 🙂
For now though, blankets are the perfect place to demonstrate how all the theory and techniques work to combine colours and stitches.
Complete Course Contents
Let's take a deep dive and see exactly what's included in the course, Ebook and Workbook!
Click on each section below to discover what you'll find in the course…

The ultimate crochet course to understand, explore and plan for success with colour!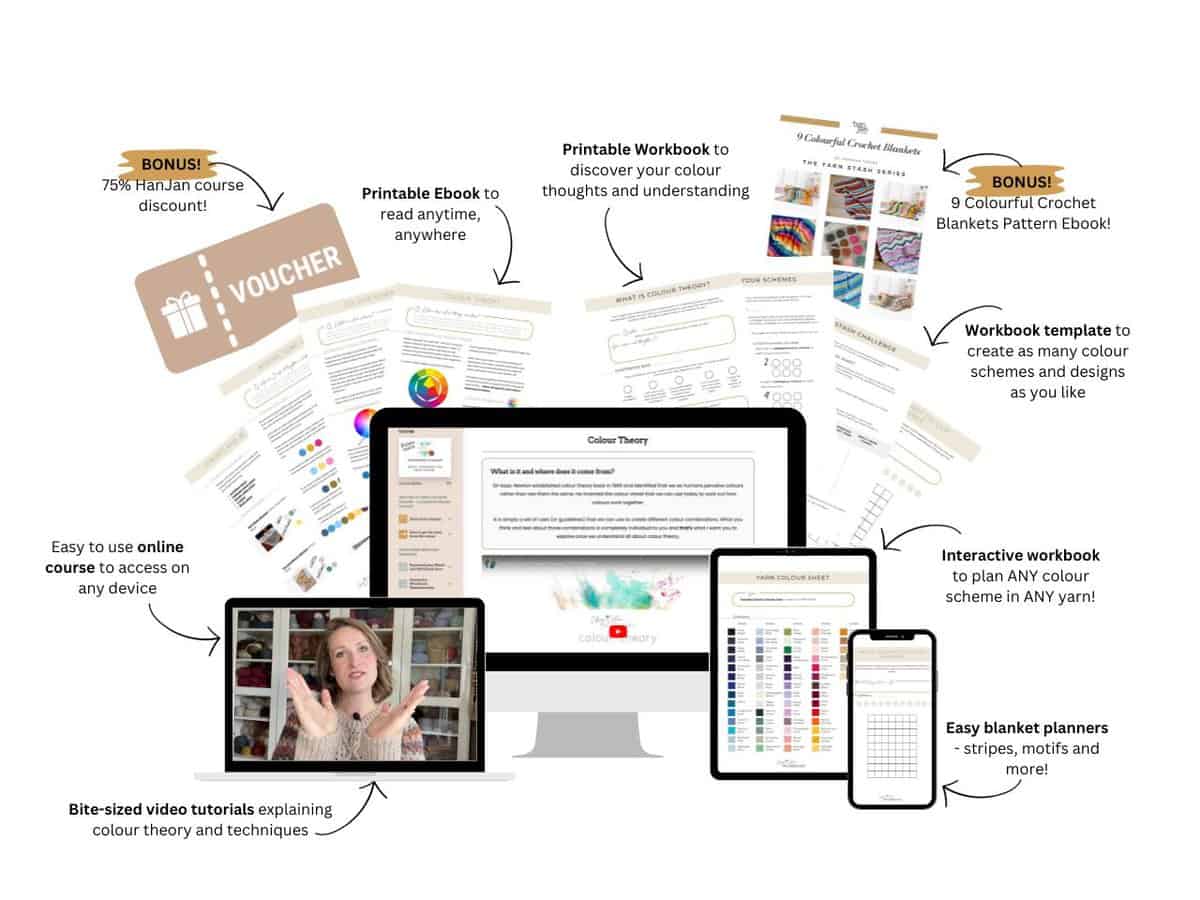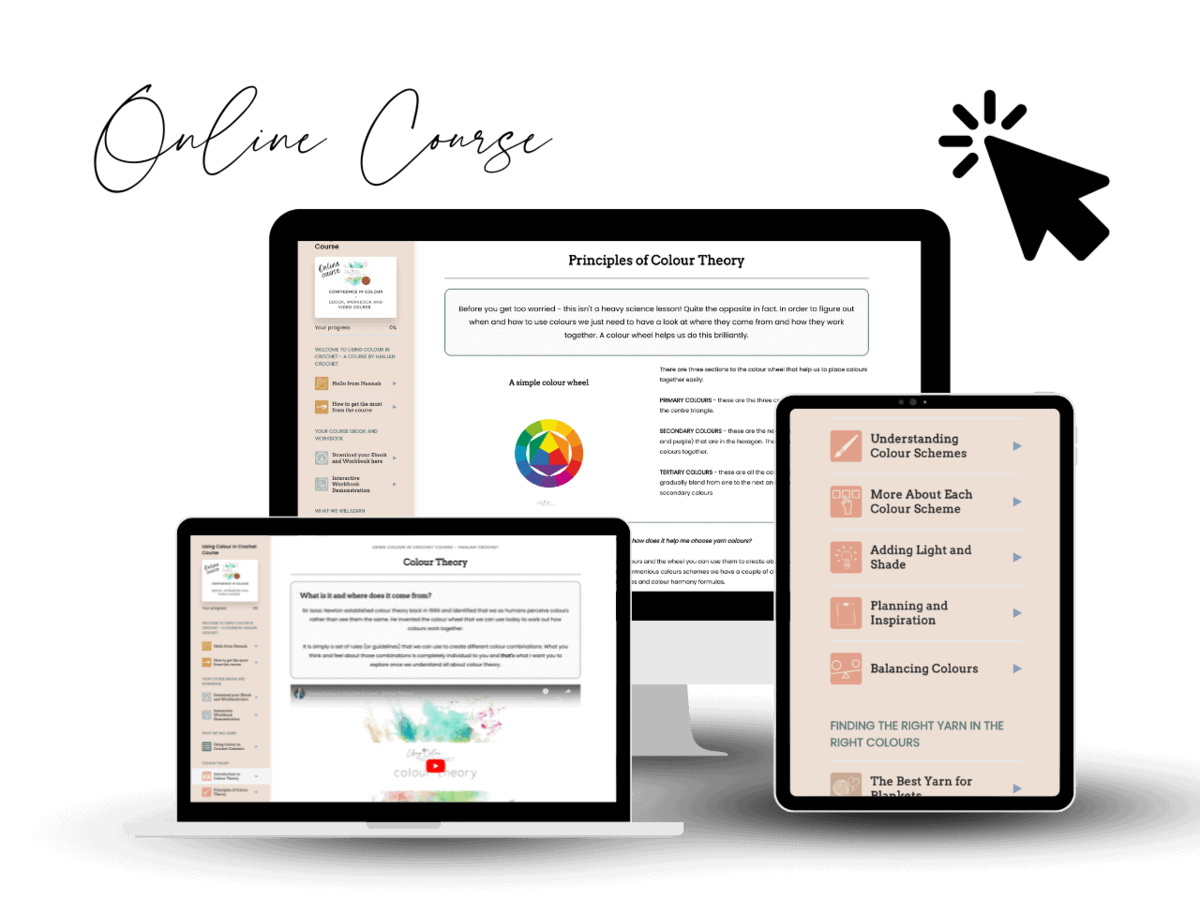 Everything at your fingertips. Forever.
Let me welcome you to the HanJan Crochet membership area to access your entire online course with LIFETIME access to all the lessons to work through at your own pace.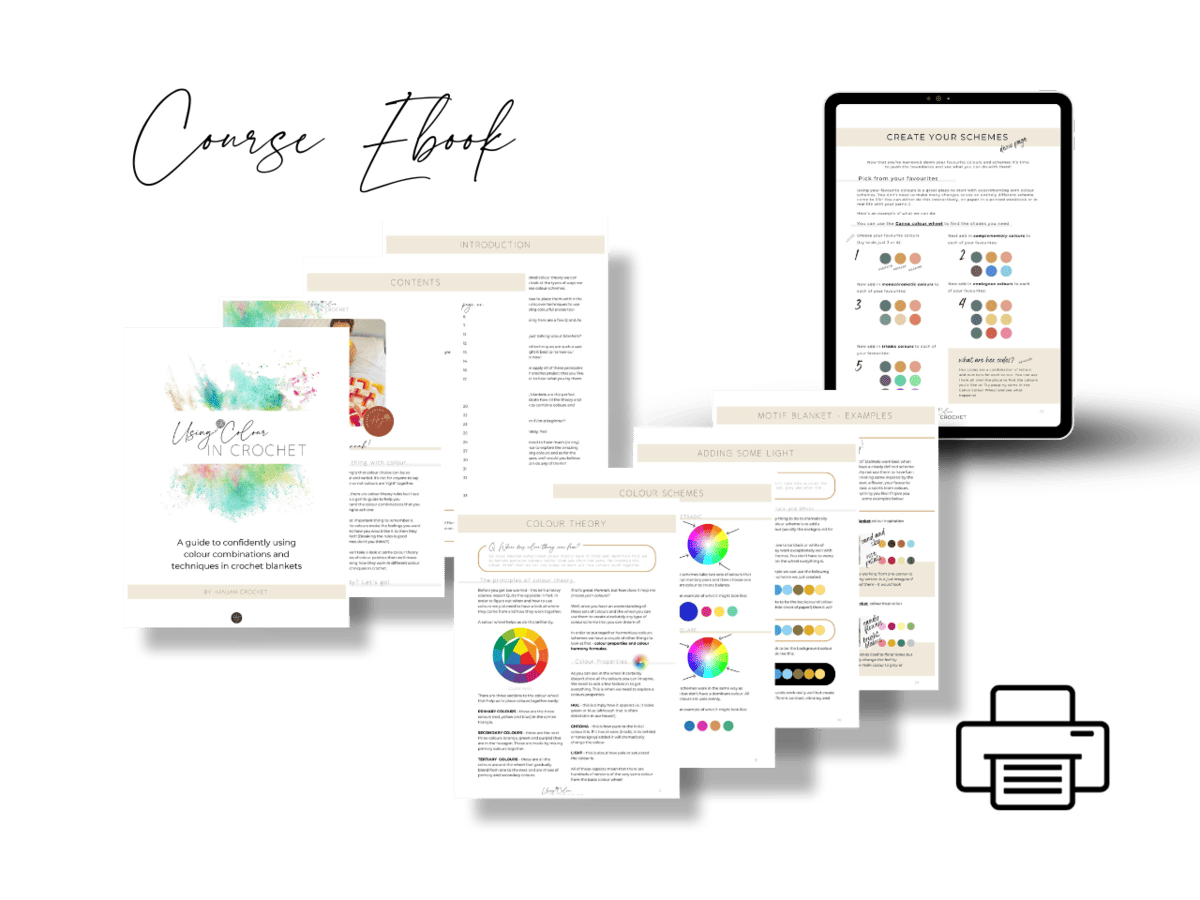 Download and print
Get stuck into your course Ebook that contains all the information in the lessons and more! Download and print or use on your device to be able to read anywhere and everywhere.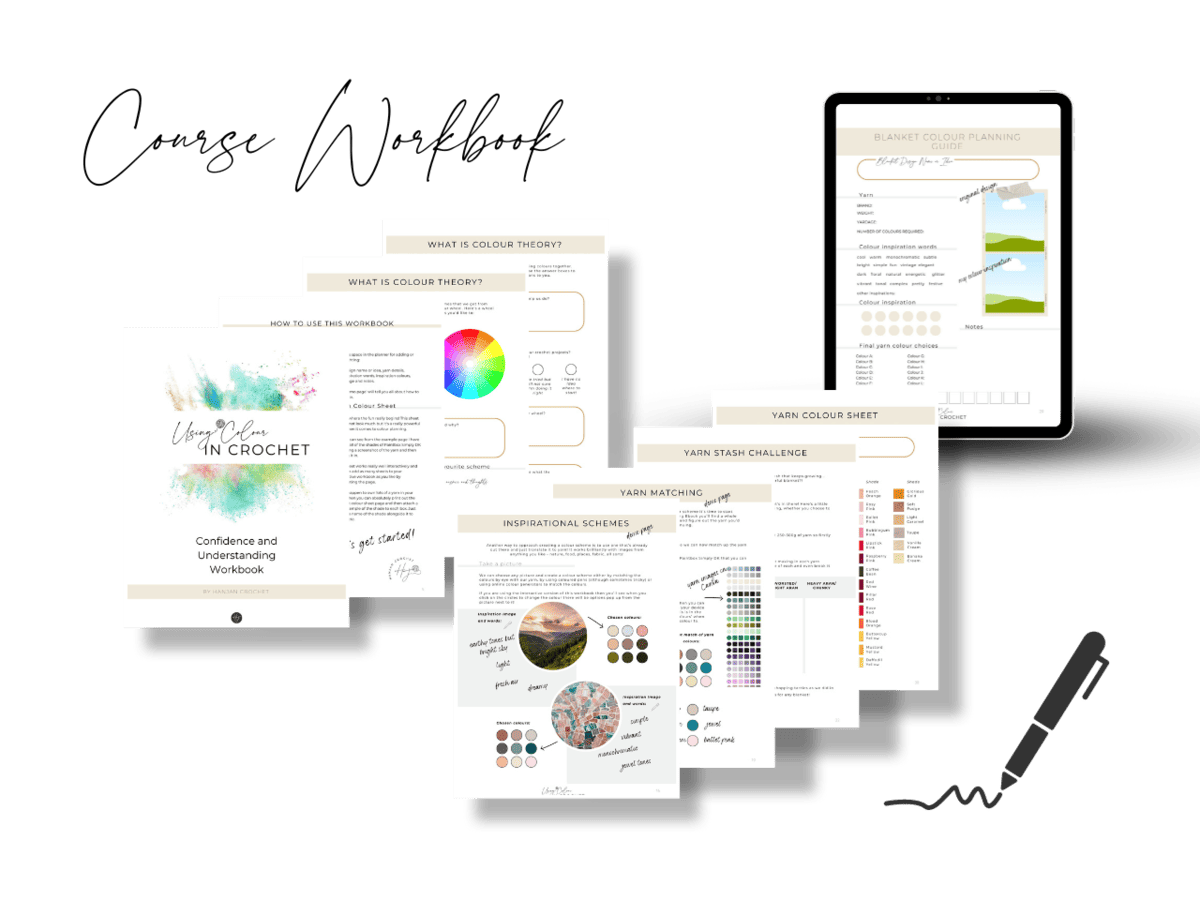 Learn, explore and plan
Use your course Workbook to find out exactly what colour means to you and find the tools to start easily planning colour schemes that REALLY work, match them to yarns that you actually want to work with and create breathtaking designs in minutes.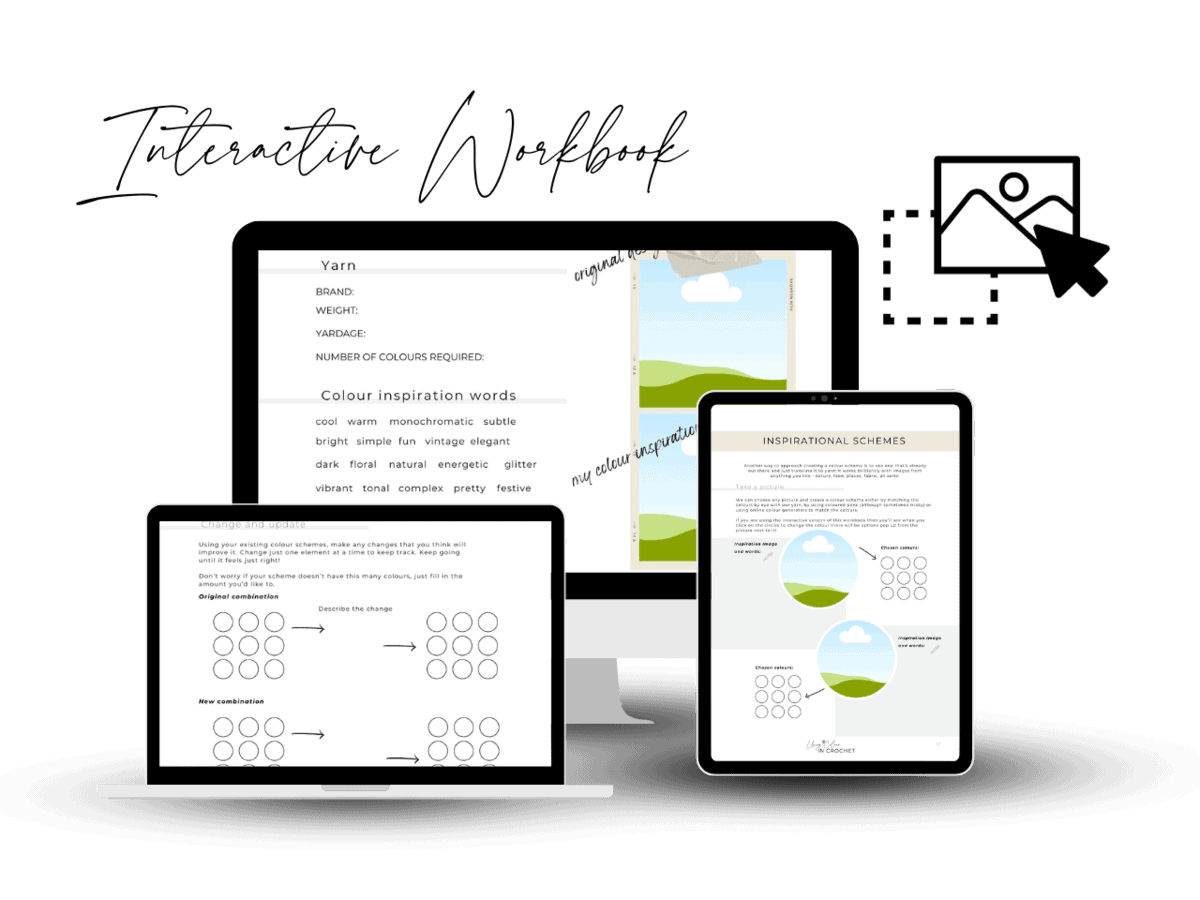 Plan for every project with ease!
Have endless fun creating colour schemes and designs using the Interactive Workbook on any device! With an easy 'drag and drop' format you can add any image or colour to see what works for your ideas and save so much time and worry by making sure your colours work before you even begin!
Join me to learn more about all this!
With a focus on blankets we can use the same knowledge and principles to plan ANY project your heart desires
Get ready to…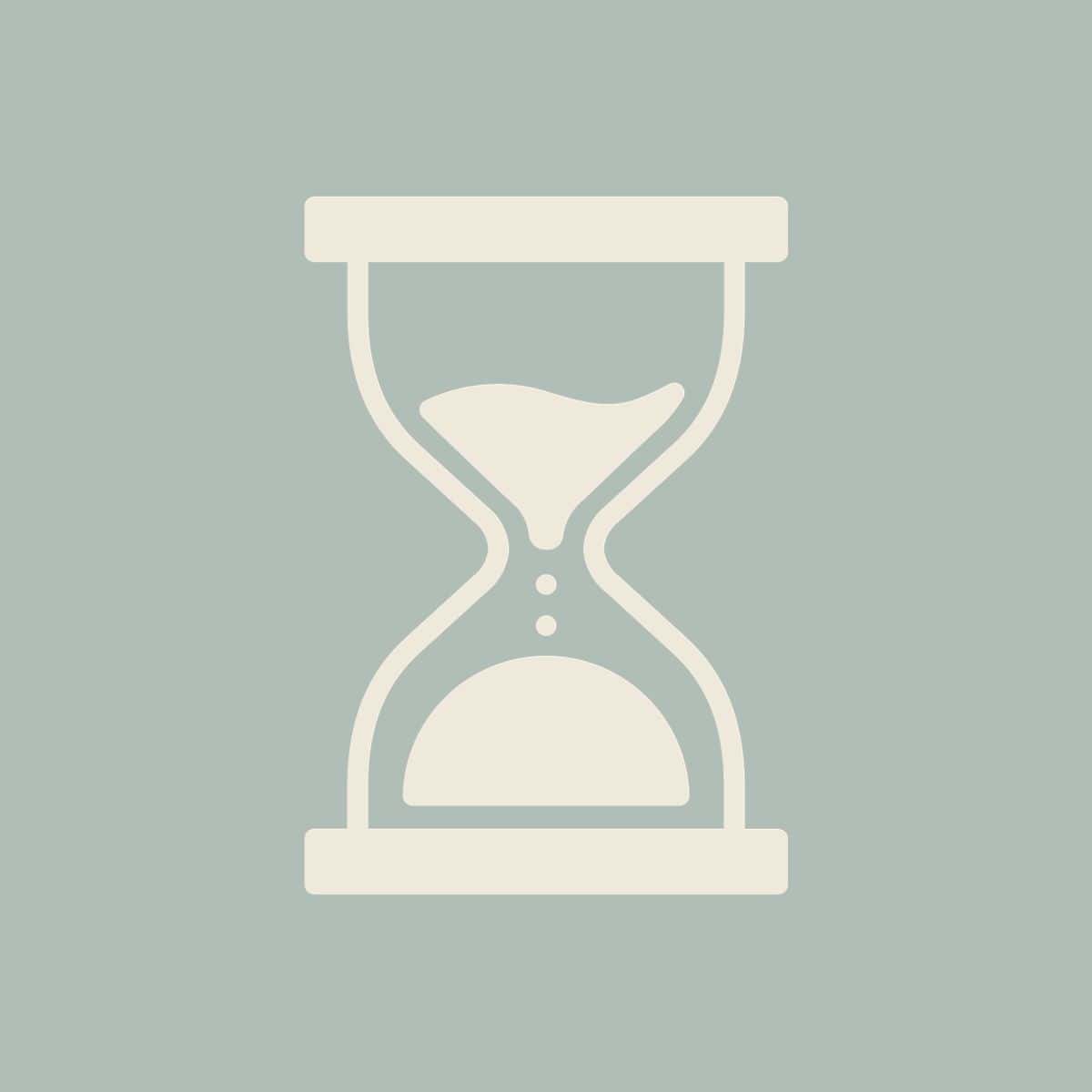 get back your time
Stop spending countless hours trying to figure out the colours and yarn to use for every project you make.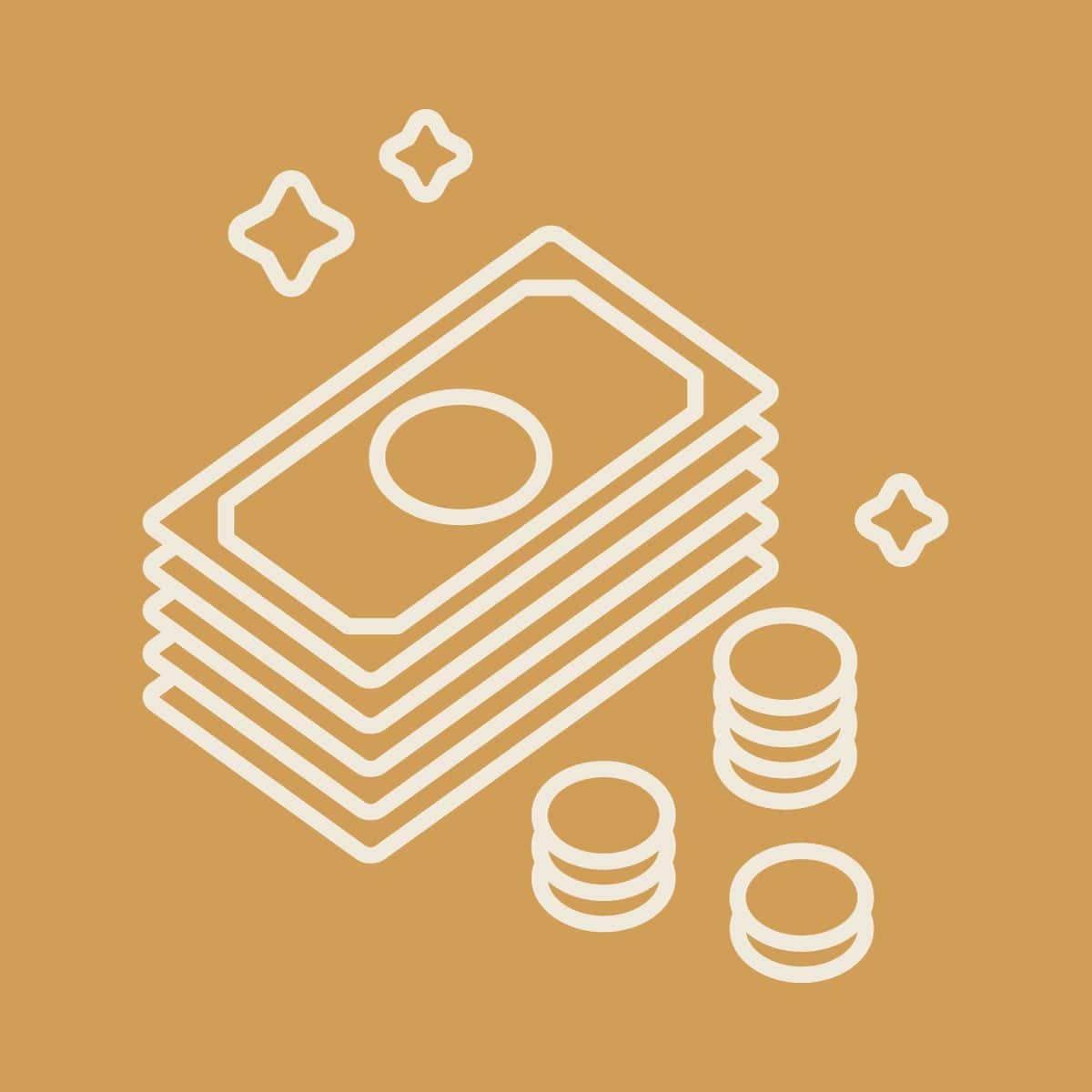 save money
No more disappointment when you discover you've wasted money on yarn colours that don't work!
Did I mention it will be fun too?!
Come and join me to learn find, choose and combine colours in the perfect yarn for each project!
Sign up for a further $50 off today! >>>
Not sure if it's for you?
No worries! I offer a money back guarantee if you are not 100% satisfied.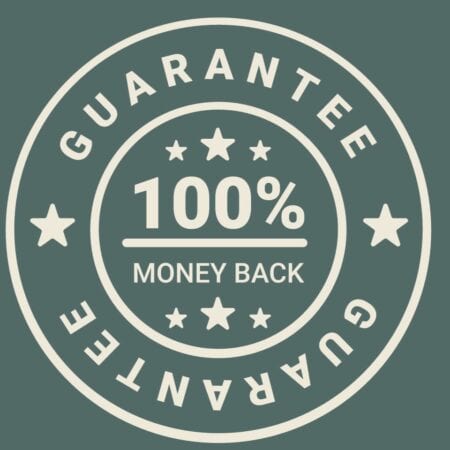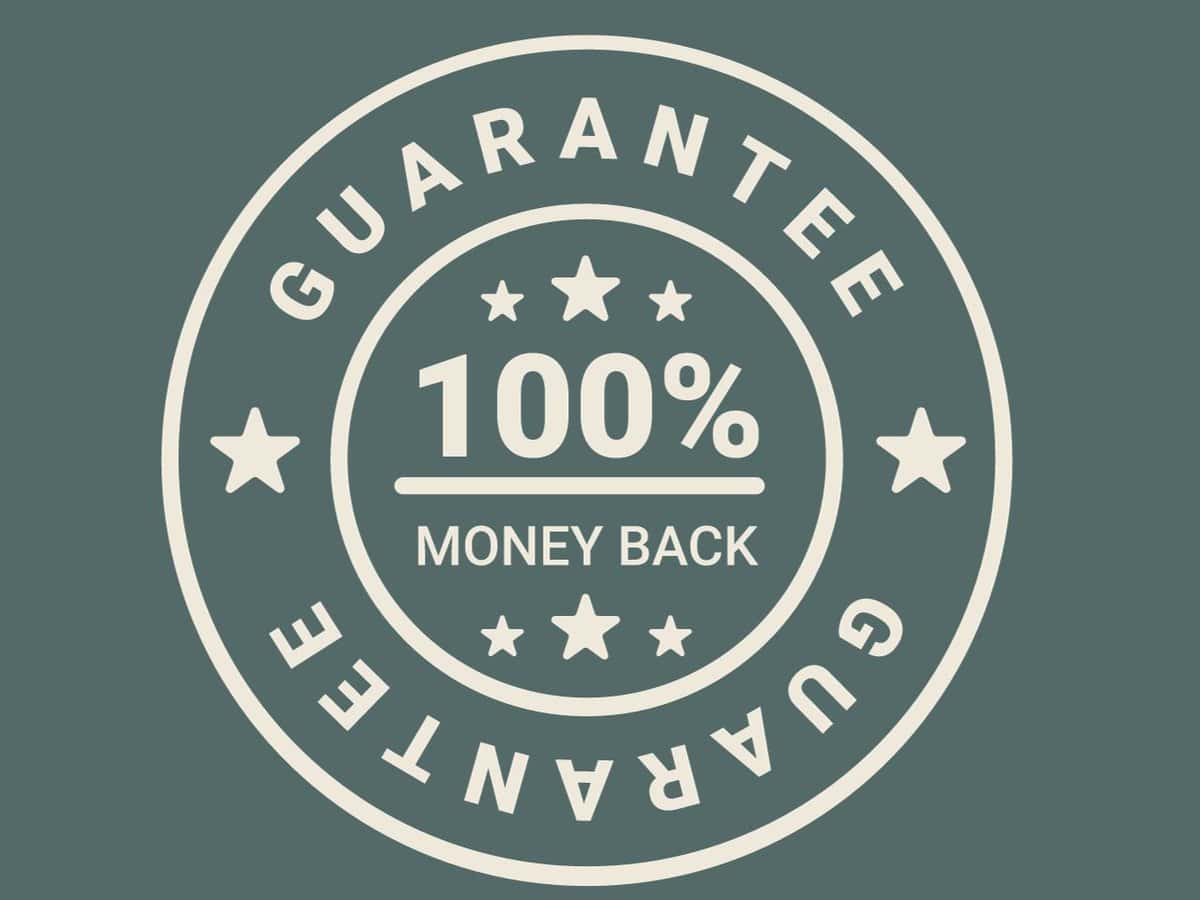 I want you to be delighted with your course and gain a huge amount of knowledge and confidence from it.
If this isn't the case then simply email me within 5 days of purchase for a full refund.
FAQs
How will I get to the course and it's content?
As soon as you order you will be asked to create a login for the HanJan Crochet Members area. Once you login you'll be able to view the course and access your downloads.
Where do I find the Ebook and Workbook?
The Ebook and Workbook are linked within the course. You'll find a whole module on where to find them. From there you can download, save and print them on any device that you like.
How long will I have access to the course?
FOREVER! You are purchasing lifetime, unlimited access to the course so that you can work on it anytime you wish at your own pace.
How do I use the interactive workbook?
The interactive workbook might not be like anything you've used before but don't worry! I created a step by step video tutorial within the course to show you how it's done.
Who can I contact with any questions?
I am more than happy to answer any questions you might have – contact me on hannah@hanjancrochet.com and I will get back to you as soon as possible.
Is this course suitable for beginners?
Absolutely! Understanding and using colour is a fundamental skill that you can learn and continue to develop at any point in your crochet experience (meaning that even if you've been crocheting for years you can still do it too!).
Can I use the knowledge for anything or is it just blankets?
You can use the theory that we learn in the course and apply it to absolutely ANYTHING! Any crochet project, knitting, embroidery, home decor, wedding planning, your wardrobe – anywhere that there is colour, this will all apply 🙂