Today I'm excited to share the step by step tutorial for the Cabbage Patch Crochet Stitch I used to create The Oolong Blanket.
Last year I was lucky enough to work with the team at Deramores to design a blanket collection to encourage people learning to crochet, those wanting a simple mindful project, or just people wanting inspiration to use up some of their stash!
All of the patterns are completely free to download as PDFs from the Deramores site but I know that lots of people love picture tutorials so I've put some together to accompany the free patterns.
The stitch is a really simple 2 row repeat that creates a beautiful lace-like texture with the most gorgeous drape and feel.
It uses simple stitches with a little twist (a crossover stitch that I'll explain later) to give the lovely texture. So if you can crochet a treble stitch (UK) or double crochet (US) then you can definitely do this!
If, like me, you love making blankets but you're a beginner and not sure where to start then I have 6 easy crochet blanket patterns for beginners that you might enjoy. It talks all about yarn choices, hooks and much more to set you in the right direction.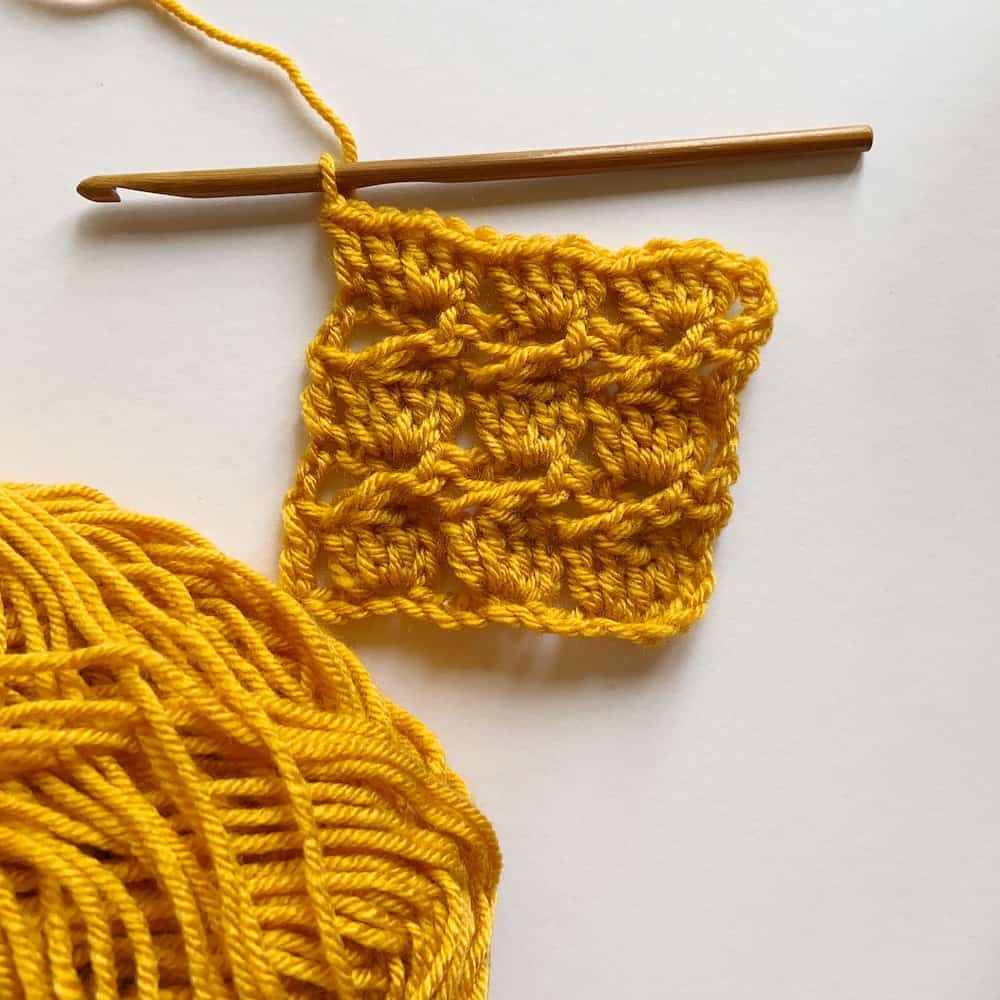 This post may contain affiliate links. Please see my full disclosure and privacy policy for details.
Both the Oolong Blanket and the Lapsang Blanket create the 'Beginner' Afternoon Tea Collection and are both great fun to make. You can also purchase a yarn pack that has enough in it to make both blankets but if you'd just like the PDF then make sure you select 'digital pattern only' on the drop down menu.
Download the Oolong and Lapsang Blanket free pattern PDF.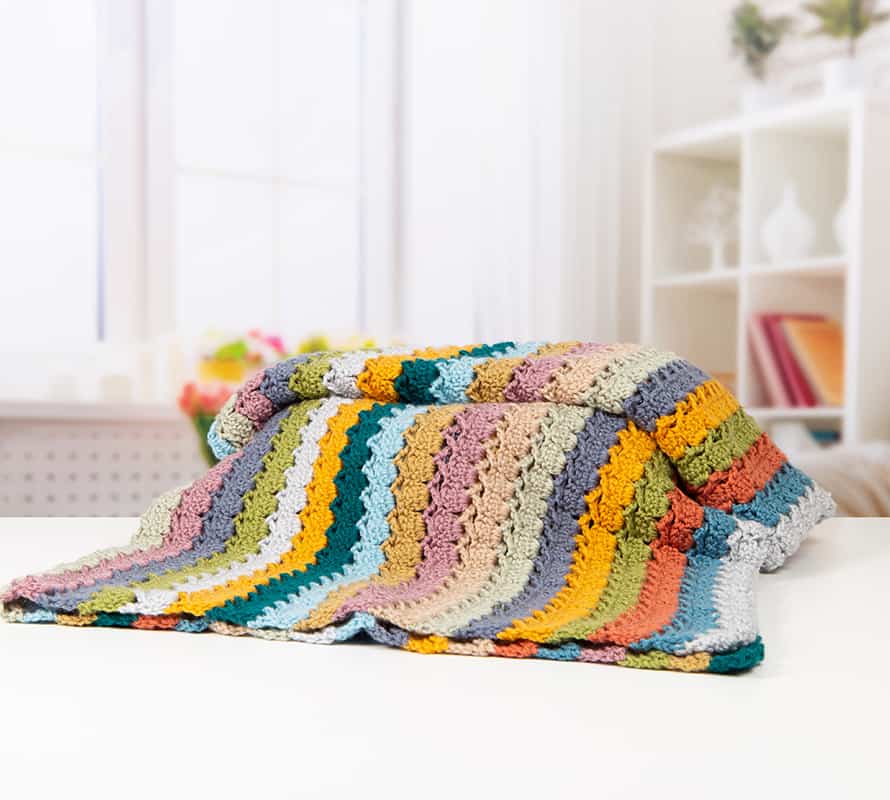 The Cabbage Patch Crochet Stitch
As with most things in crochet people work things in slightly different ways. I'm absolutely ok with that and hope you are too. So this might not be exactly how everyone does this stitch but this is my take on it. I really hope you enjoy learning it.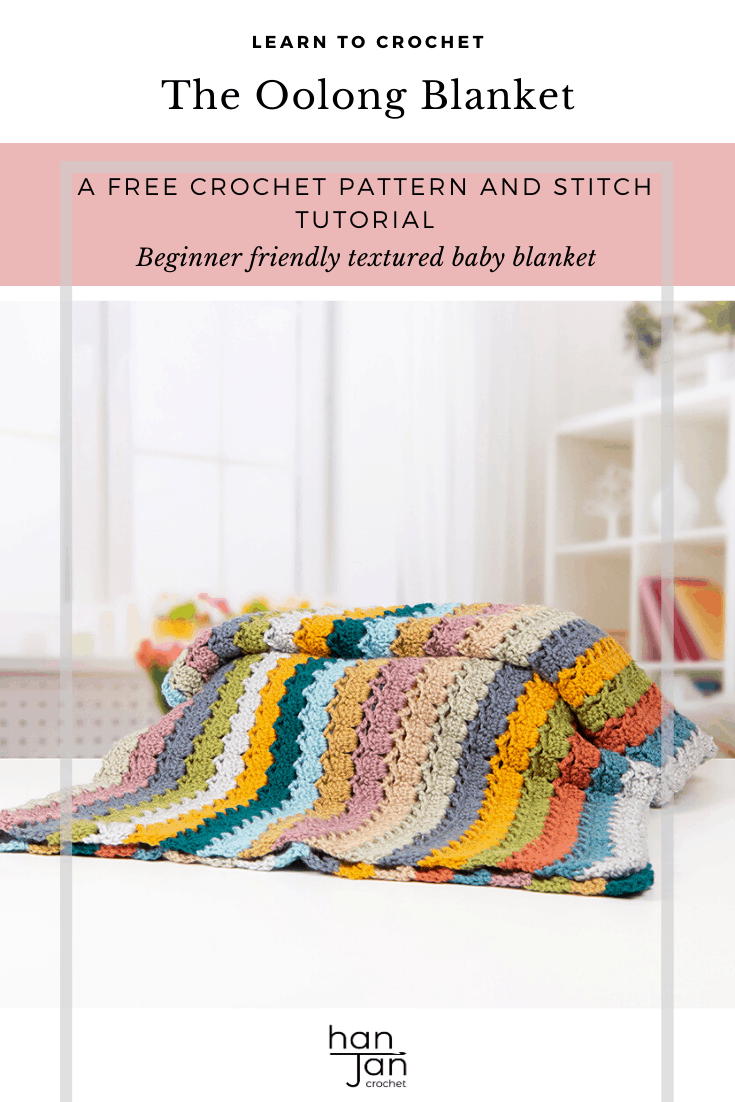 Throughout the tutorial I will talk in standard UK crochet terms but will add the US version in brackets too.
To begin, you need to work a chain of any multiple of 4+3.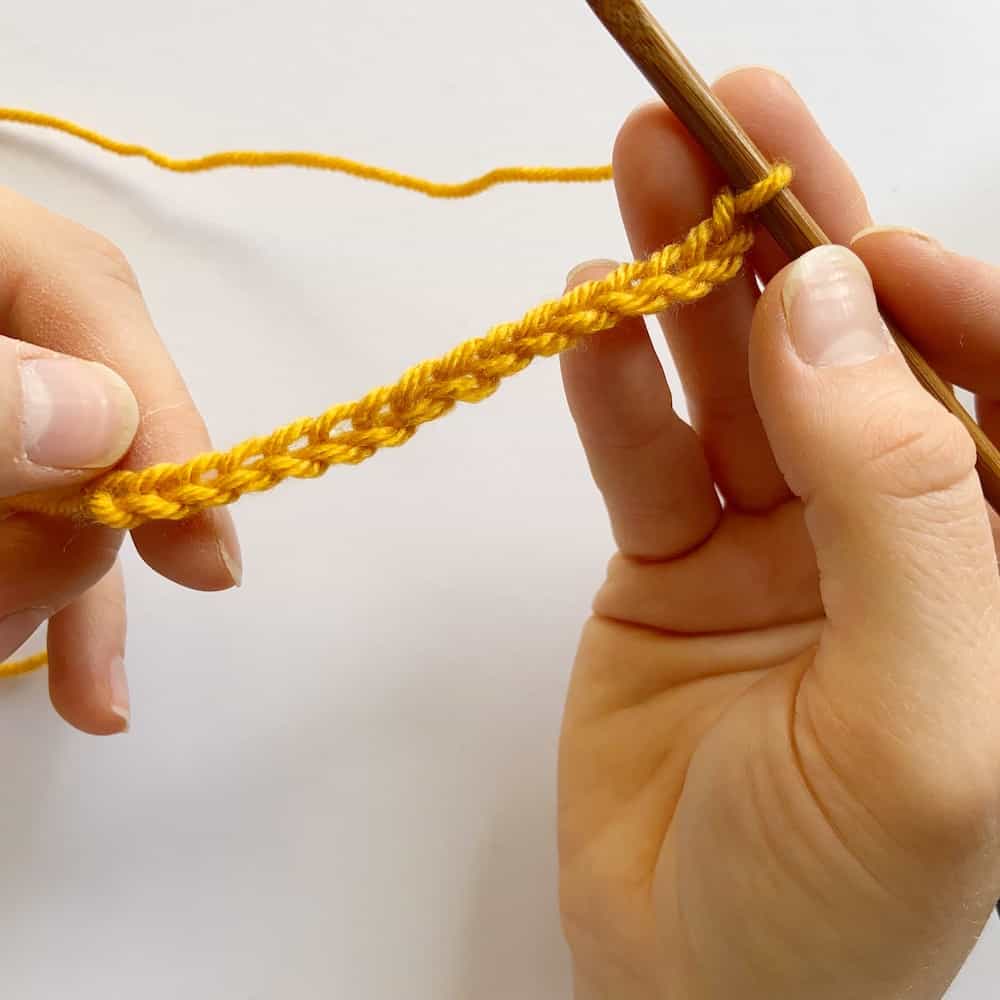 2. Once you foundation chain is complete, you need to work 4tr (4dc for US) into the 5th chain from your hook.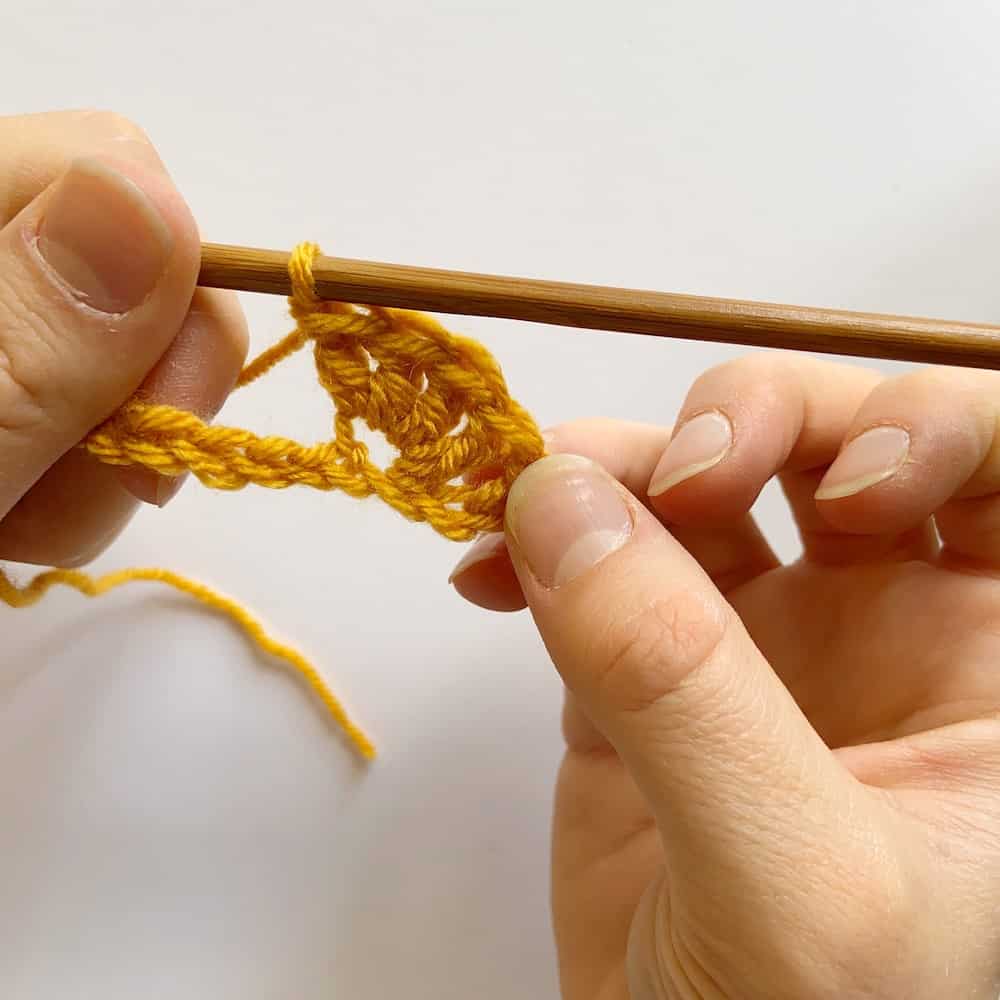 3. Now skip 3 chains and work 4tr (4dc for US) into the next chain.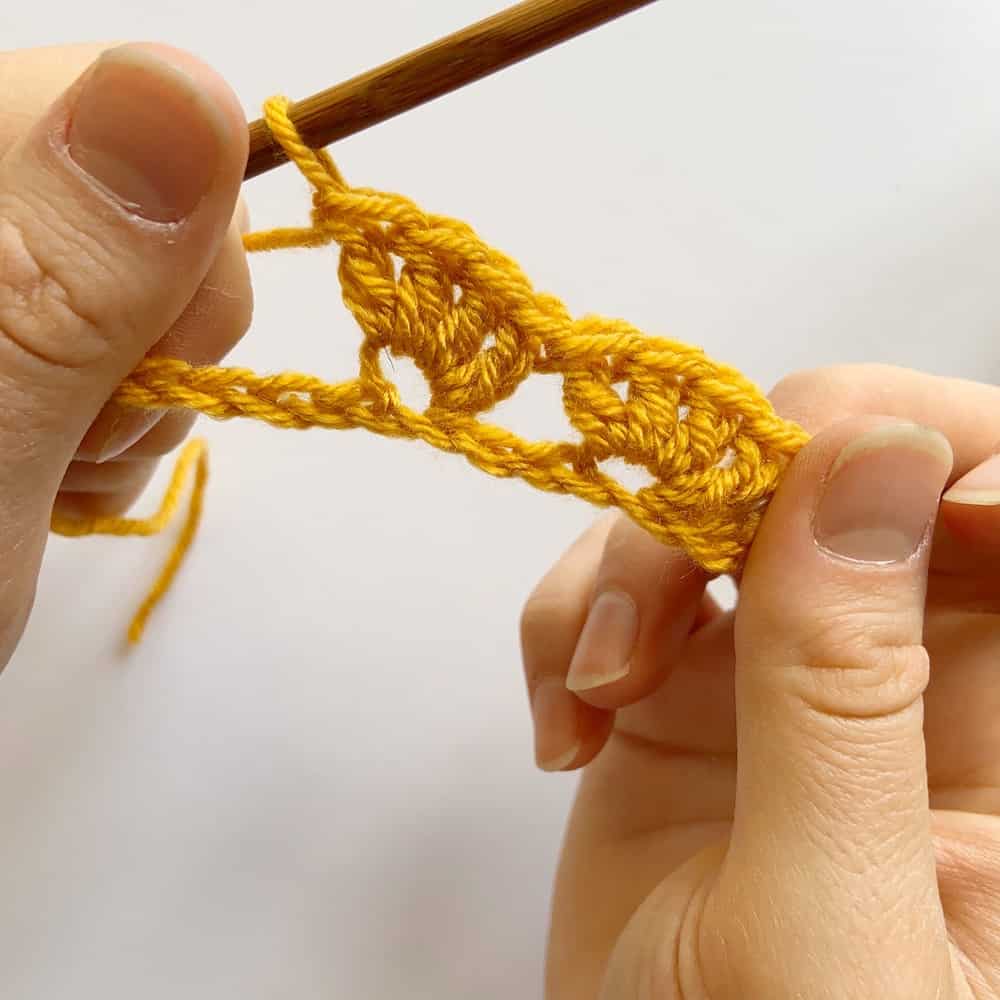 4. Carry on with step 3 until you get to the last 2 chains and work a treble (double crochet in US) in the last chain.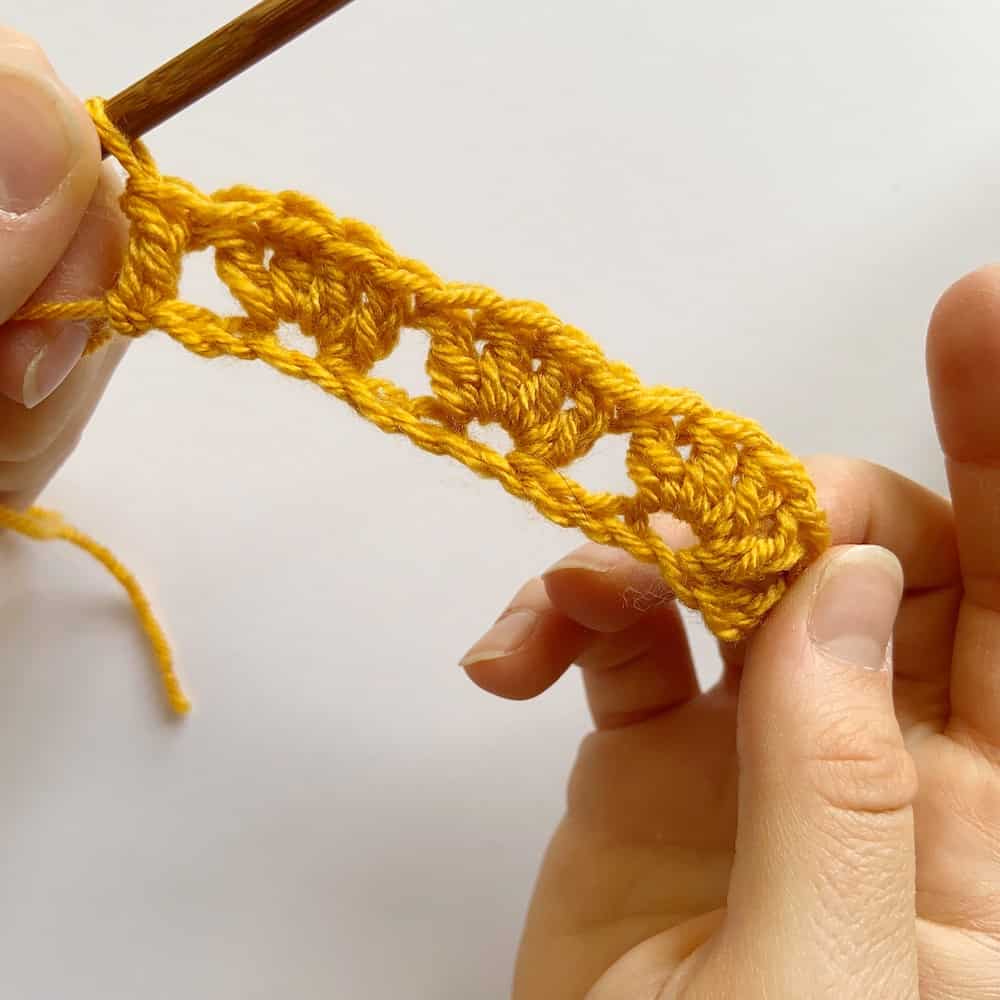 5. Turn to start the next row and chain 3 (this counts as a stitch).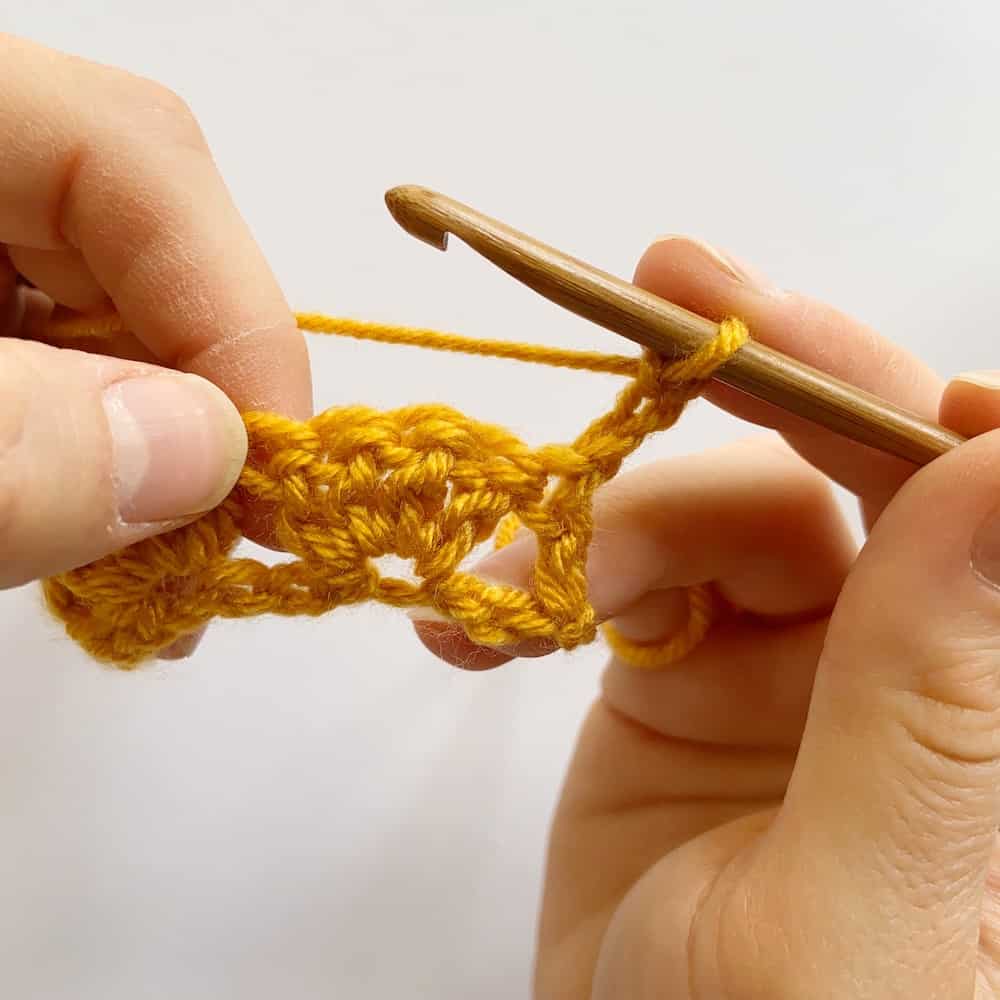 6. Next you need to work a cross2tr (cross2dc in US). This isn't as tricky as it sounds I promise! To start, looking at the first set of 4 stitches here, skip 3 of them and then work a treble (double crochet in US) into the 4th stitch.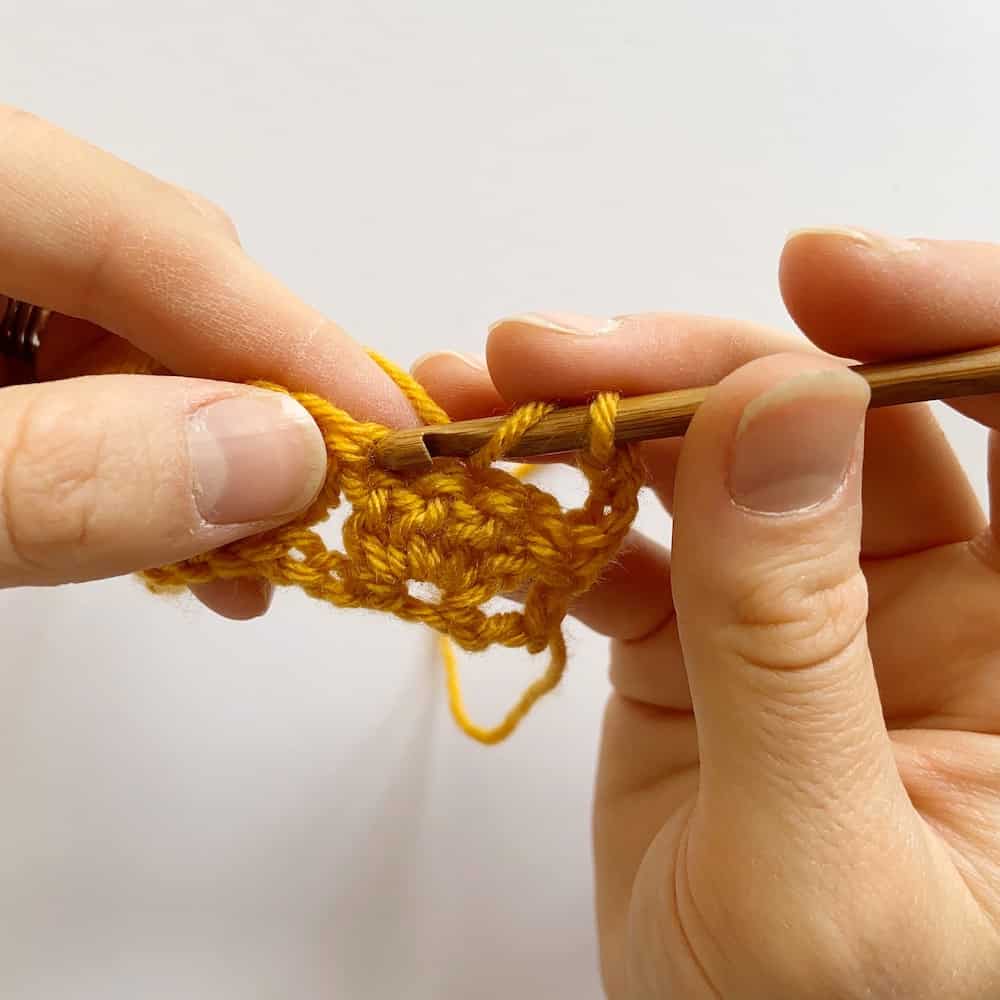 7. This shows you where to work this stitch.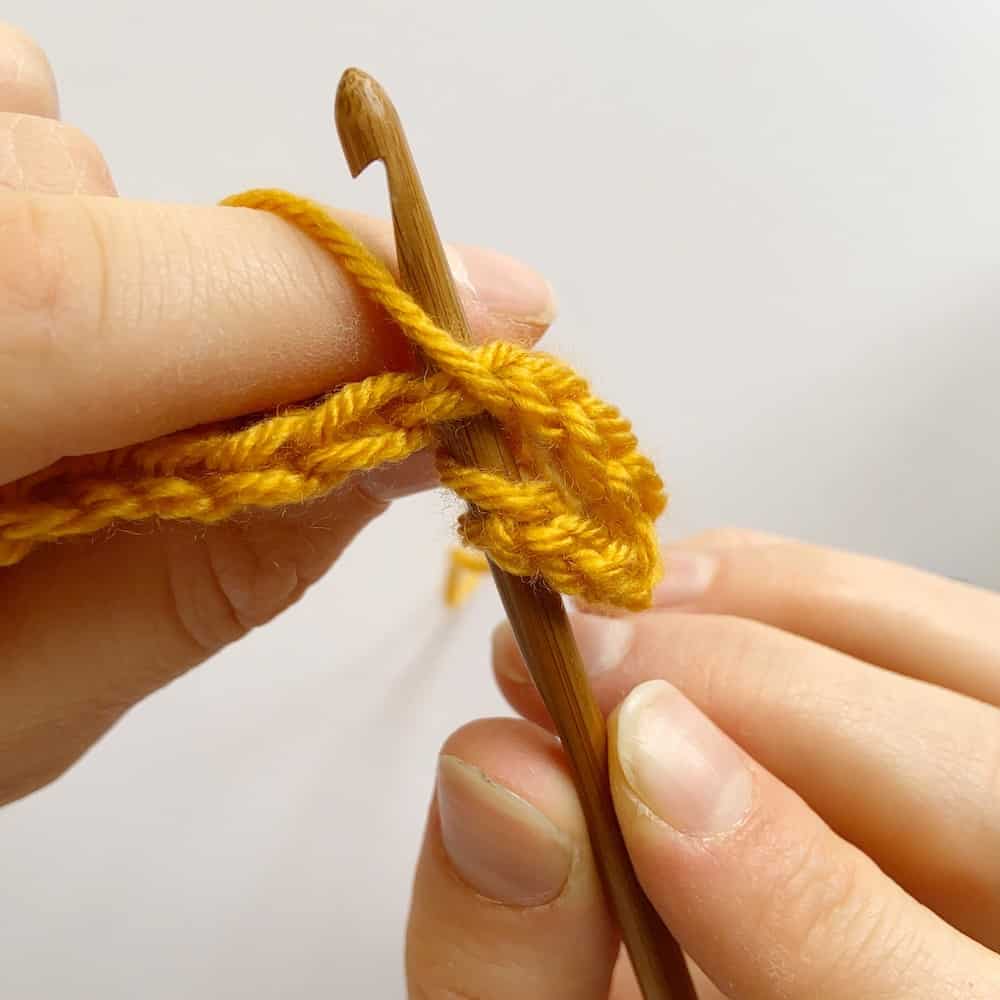 8. Another shot to show this stitch position – it's so important to get this right!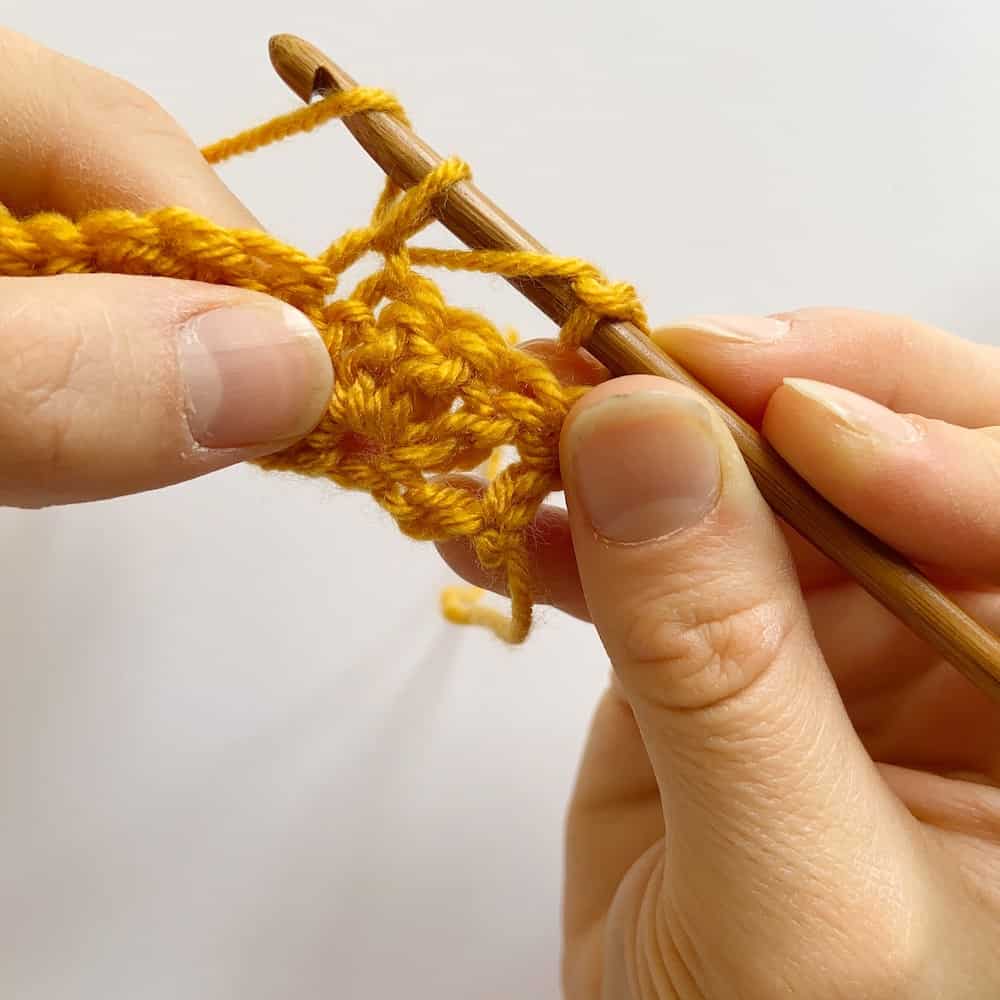 9. The completed stitch with 3 skipped stitches behind it.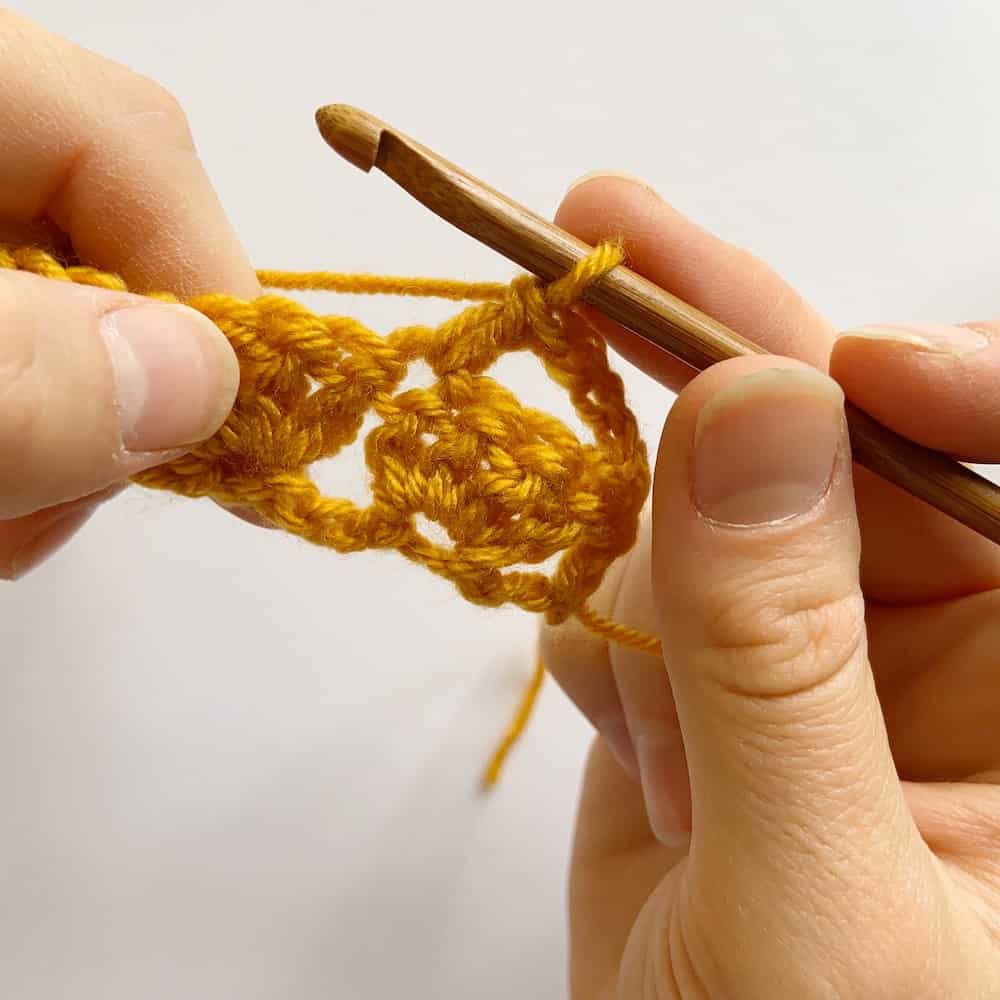 10. Now, you need to chain 2.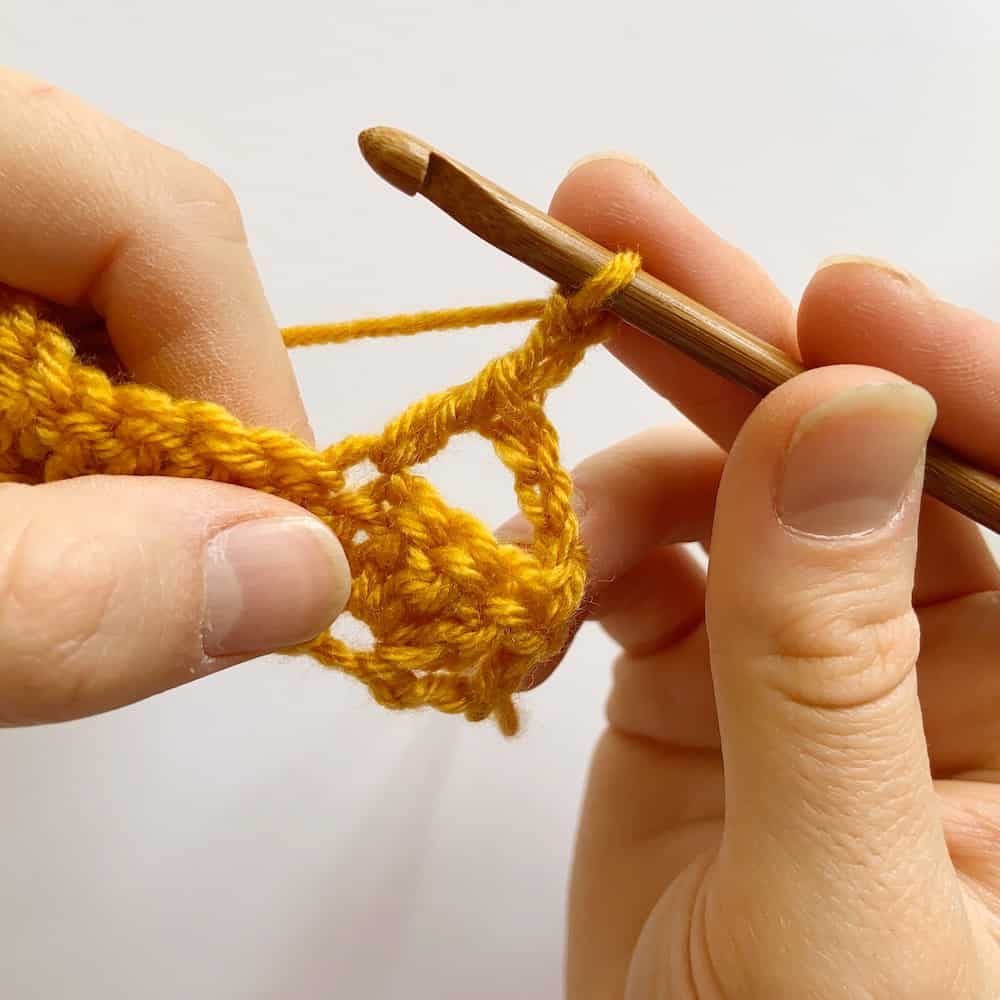 11. So now comes the strange feeling bit – work a treble (double crochet in US) into the first skipped stitch. This feels like you are going back on yourself (you kind of are really) but I promise it's right. This stitch will sit behind the last stitch you just made (so that they cross over).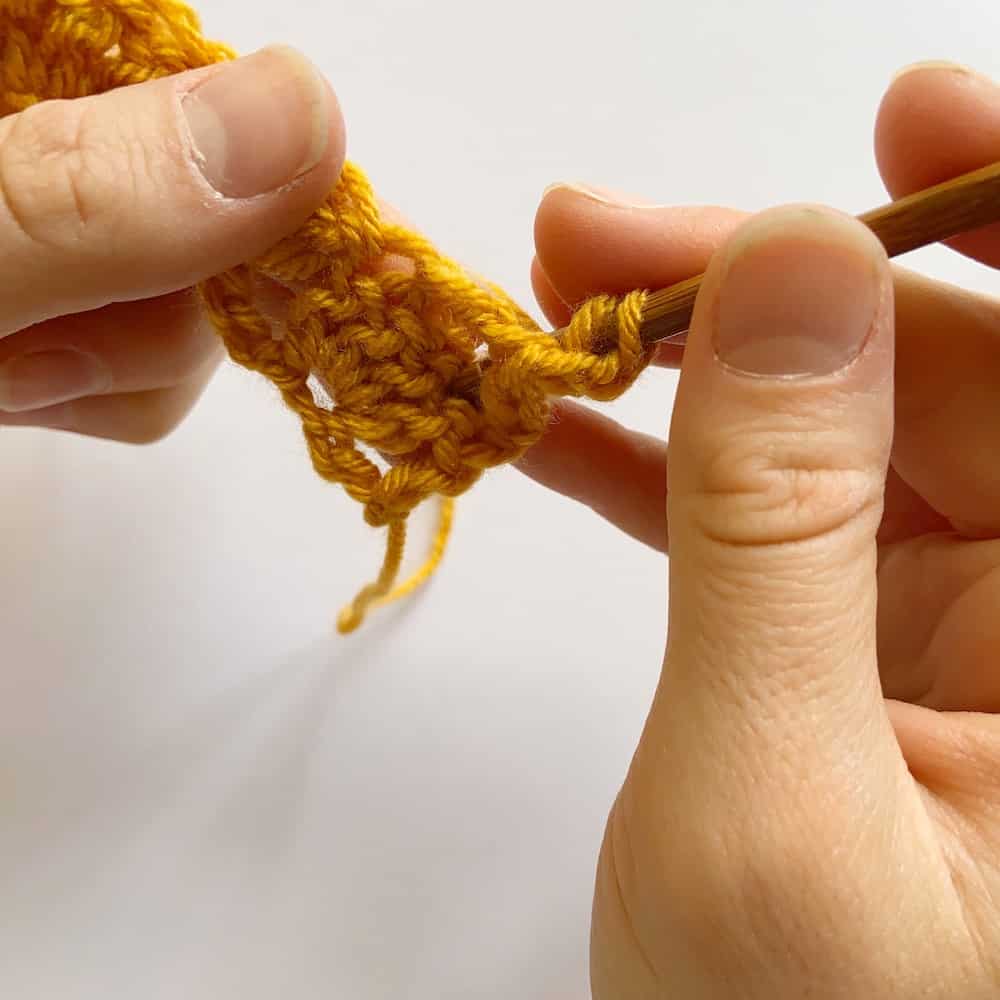 12. This is what making this stitch looks like from above.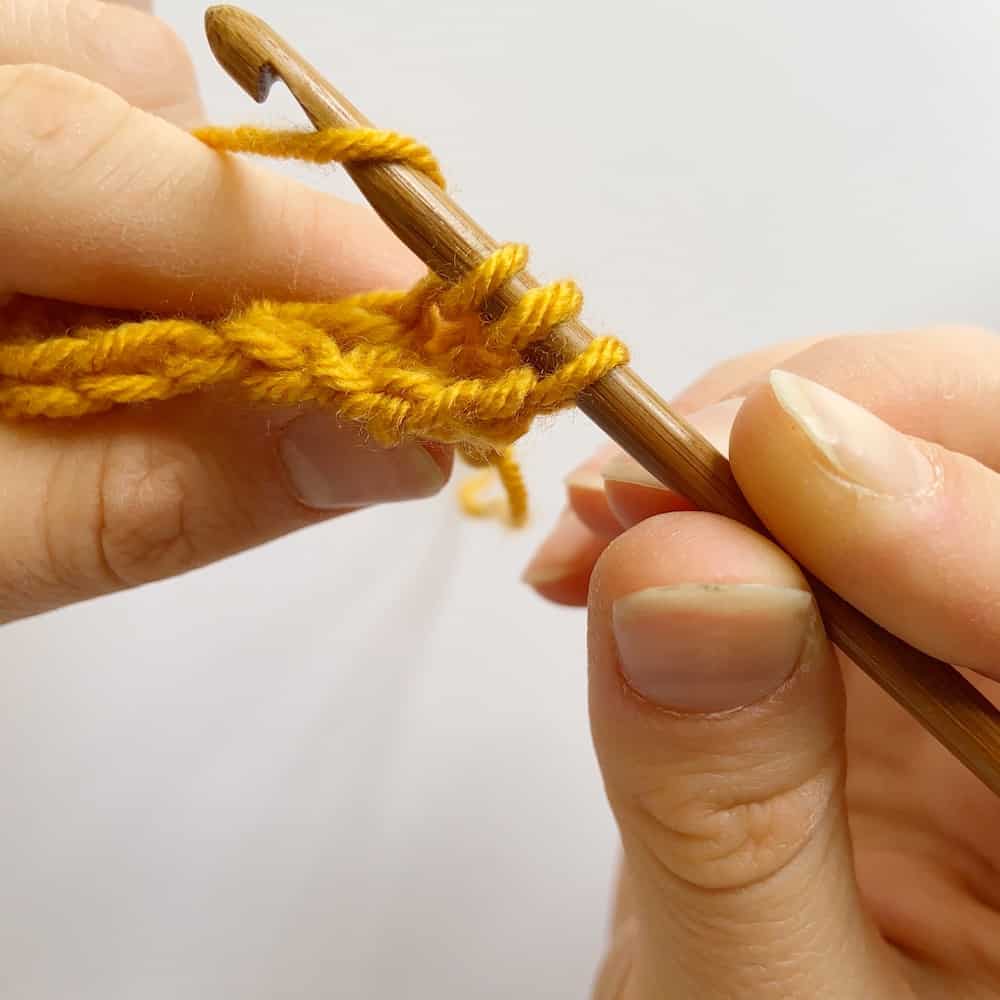 13. This is the stitch completed – they cross over now.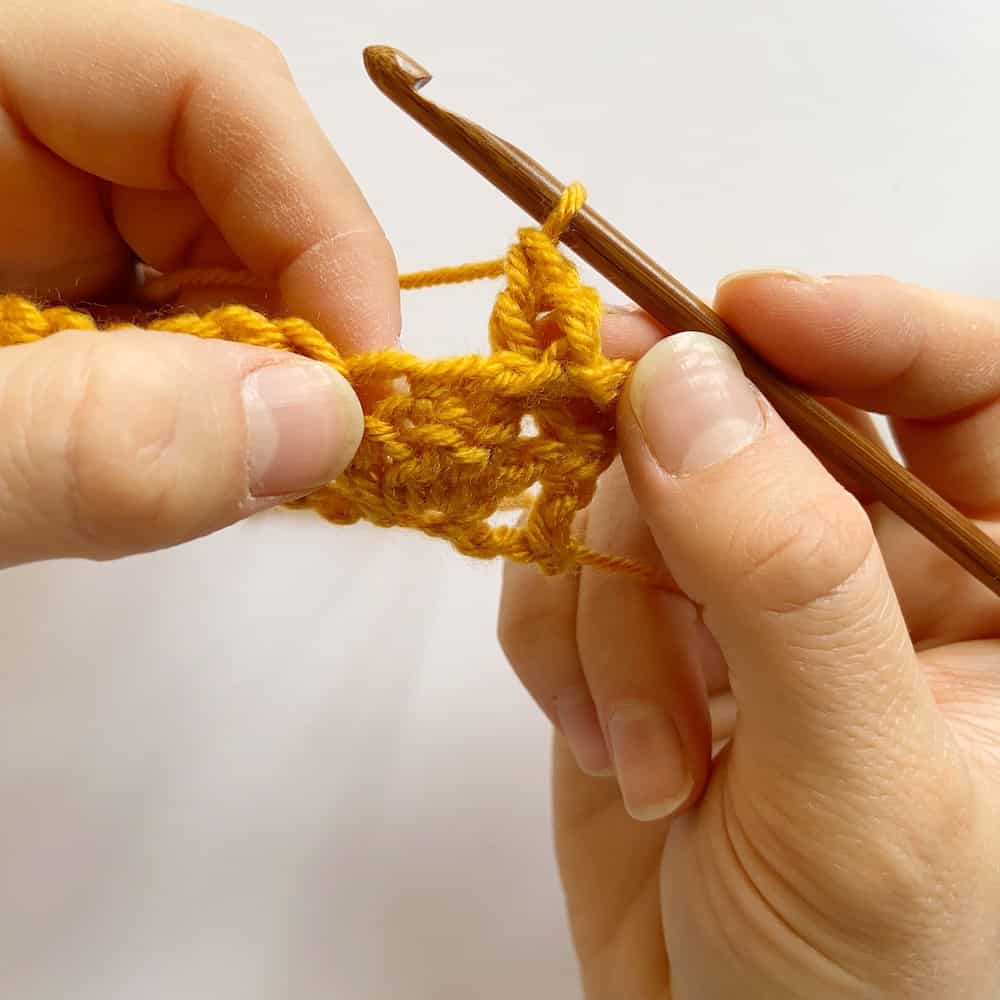 14. Carry on working a cross2tr (cross2dc in US) along the row. Finish the row by working a treble (double crochet in US) in the last stitch.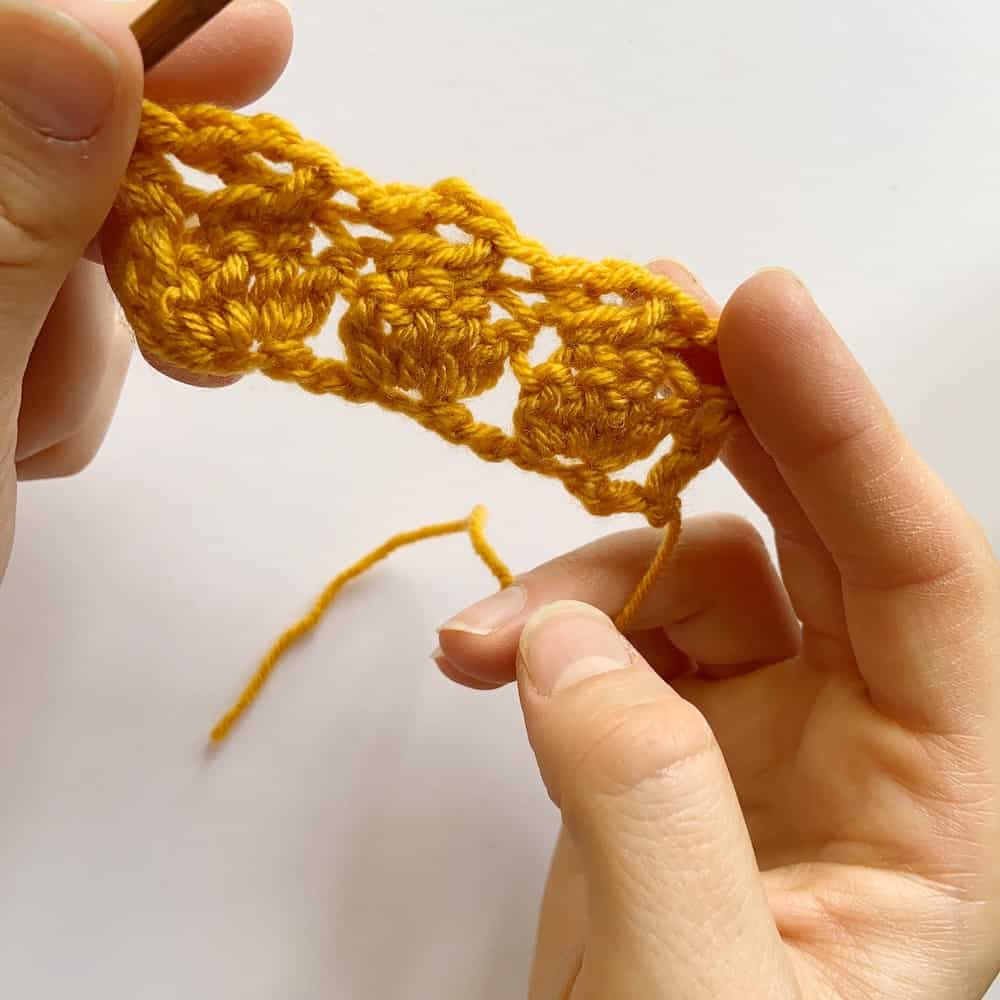 15. Turn to start the next row, chain 3 (counts as a stitch). Now you need to work 4 treble (4 double crochet in US) into each of the chain 2 spaces of the last row.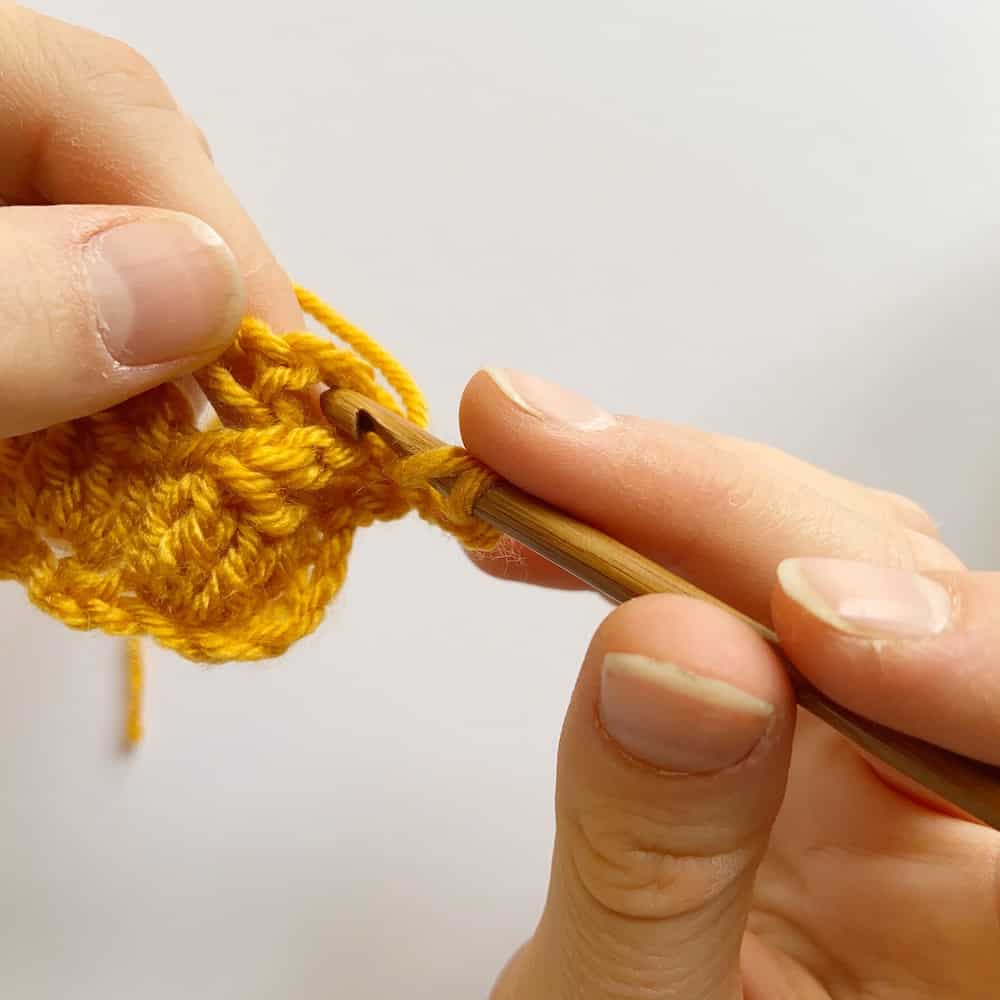 16. 4 treble (4 double crochet in US) in each chain 2 space.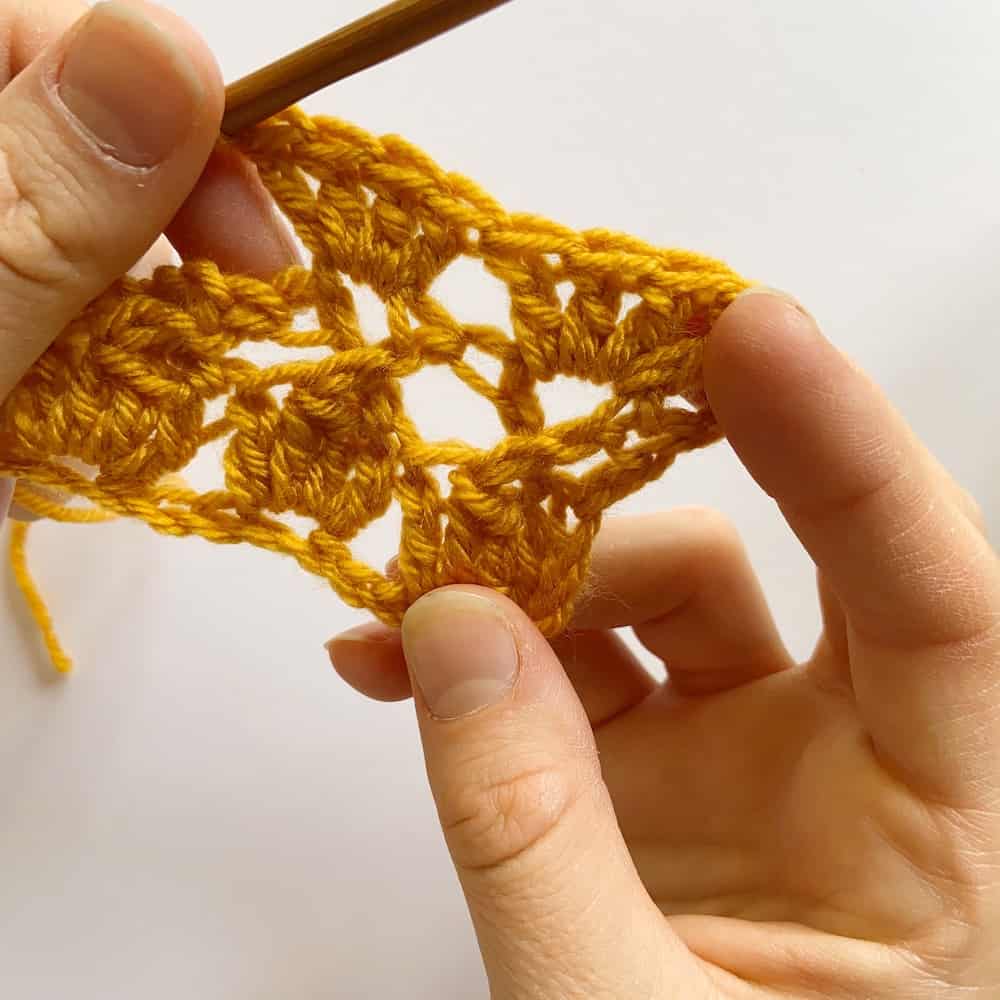 17. Finish the row with a treble (double crochet in US) in the last stitch.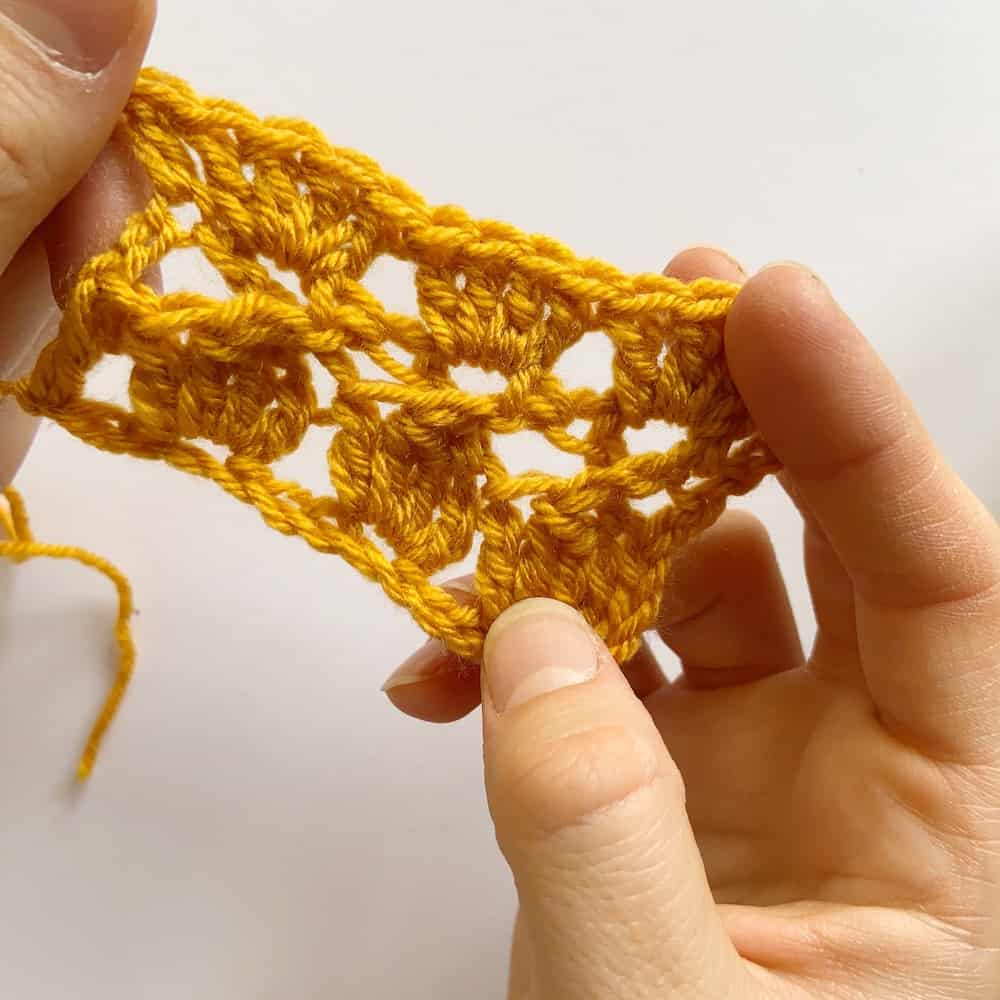 18. Now you just need to repeat the last two rows for as long as you would like to create the stitch pattern.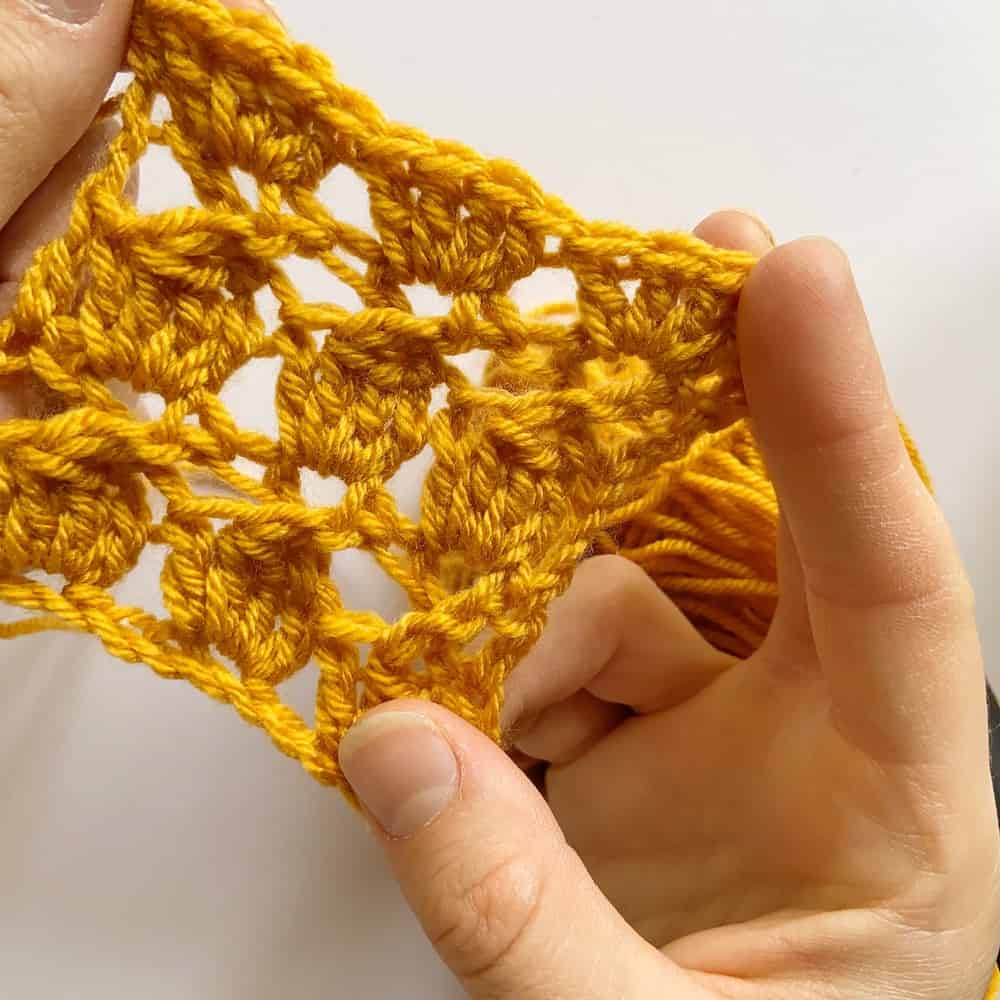 I really hope you've enjoyed learning this stitch and it's given you inspiration to use it for something new and exciting!
Don't forget to pop over and download the whole blanket pattern for free here!
Still to come in the Afternoon Tea Collection – The Assam and Darjeeling Blankets and their stitches too.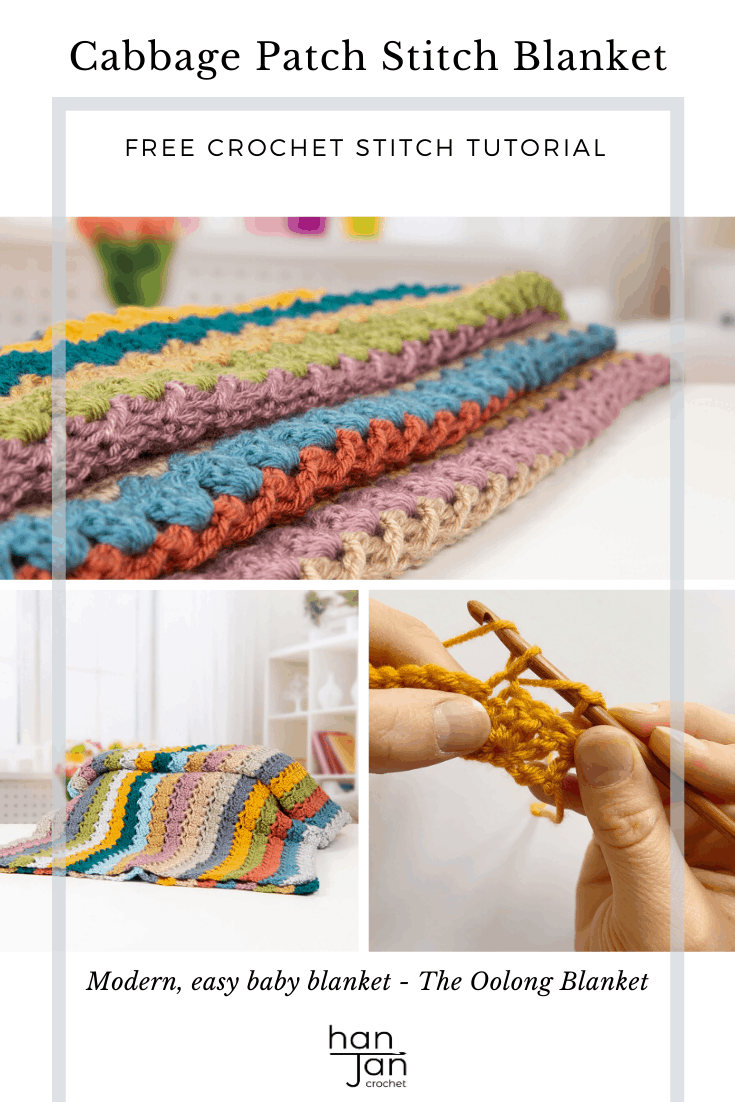 More stitch tutorials and patterns
Now that you've mastered this you might like to try some others. I have a whole collection of free stitch tutorials and blanket patterns on my blog so just visit the links and see what you fancy making next.
If you love blankets and colour the you might also love my new eBook!
9 Colourful Crochet Blankets
Perfect for yarn stash busting!
The ebook includes:
9 colourful crochet blanket patterns
Charts and tutorials
Choosing colour masterclass
Tips and tricks for yarn and tools
Exclusive HanJan Crochet voucher
and much more!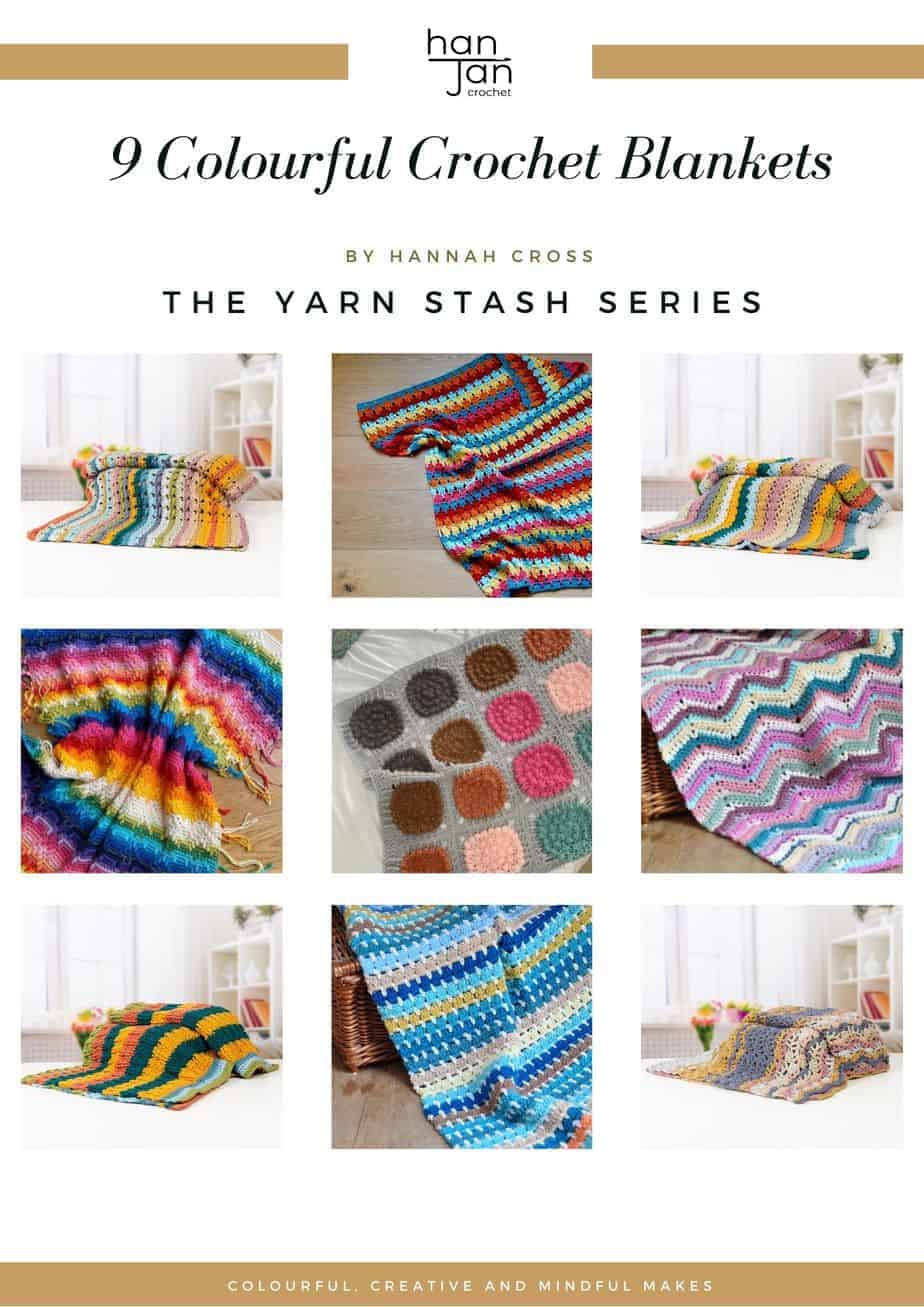 These are some of my favourites that I thought you might like. They are all suitable for beginners and they all lend themselves really nicely to make blankets, scarves, garments, you name it!
The best part about the Larksfoot Stitch is that it grows soooooo quickly! You'll have a blanket made in no time at all. It's easy, fun and it's dropped down stitches give a little bit of a twist to add something to the colour mix and texture.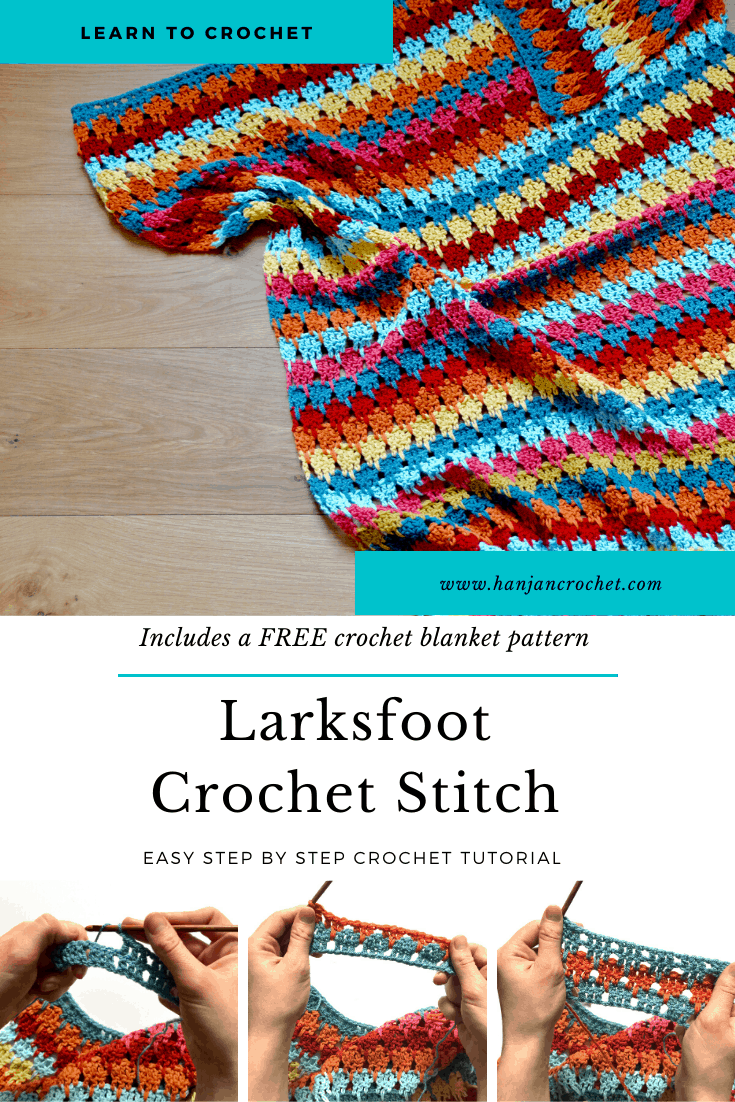 It's a really easy stitch but slightly different from a traditional cable stitch as you only work across the stitches to create the cable and not into the skipped stitch.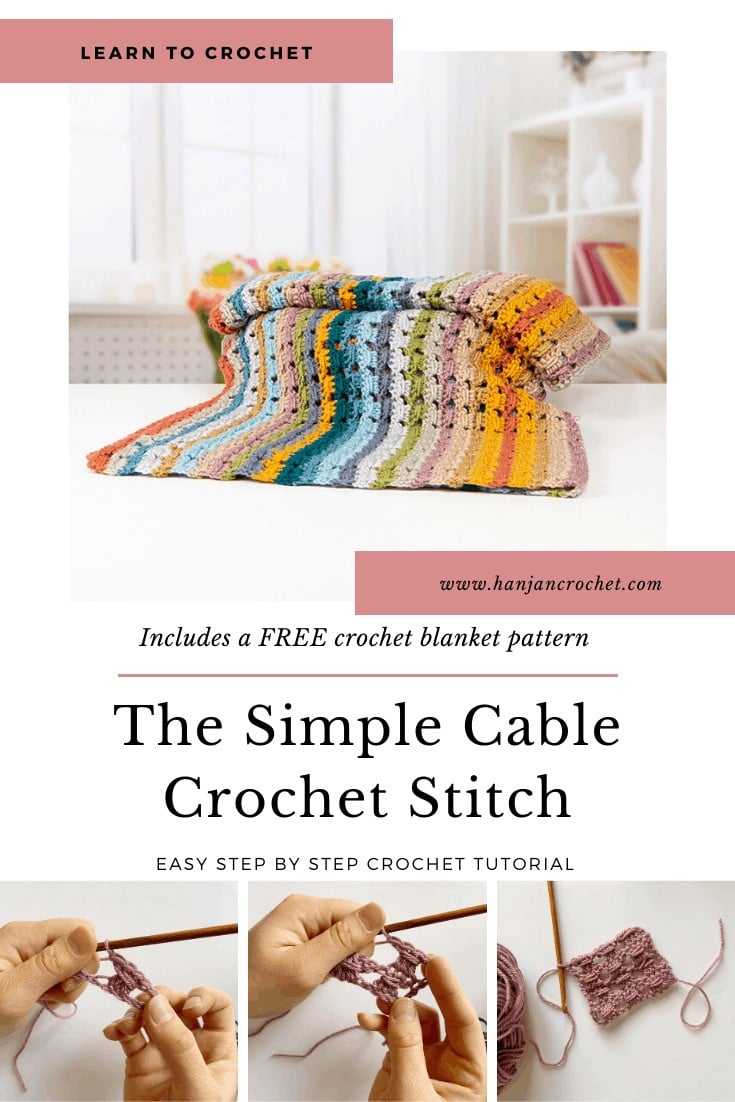 Learn to crochet the V stitch with this step by step crochet tutorial for beginners. A perfect stitch for baby blankets, home decor, scarves and cardigans this is a classic crochet stitch which everyone can learn.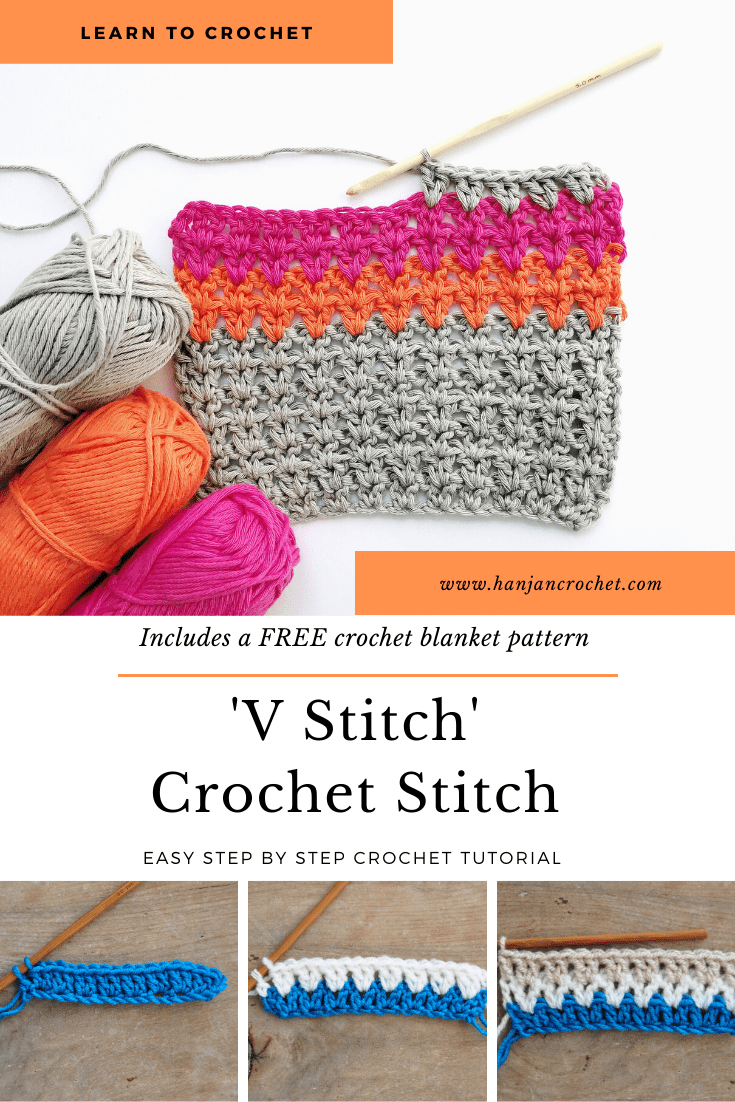 Learn to crochet the granny block crochet stitch with this easy step by step crochet tutorial for beginners. A twist on the classic crochet granny square, the granny block stitch is worked in rows instead of rounds and so is much easier to master. The free crochet blanket pattern and stitch tutorial are in both US and UK crochet terms.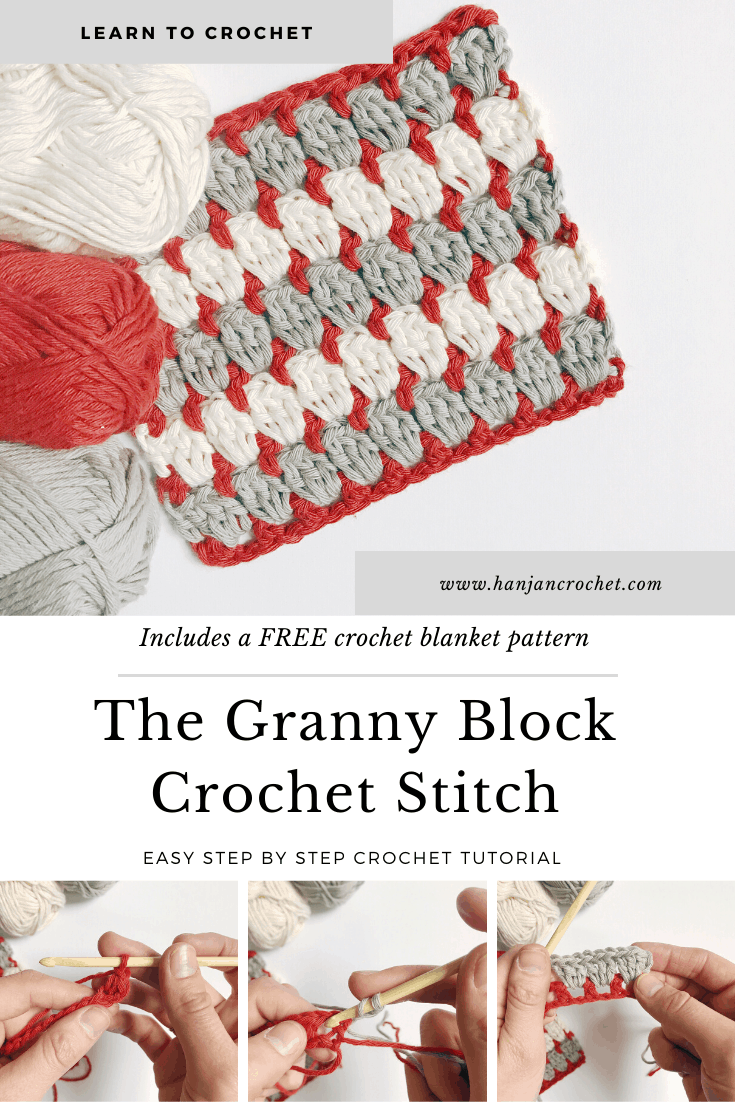 The Ripple Stitch is such a crochet classic that everyone needs to learn! It has a really easy repeat and such a soothing rhythm that you'll be addicted before you know it. You can really play around with colours to make this modern or classic so easily.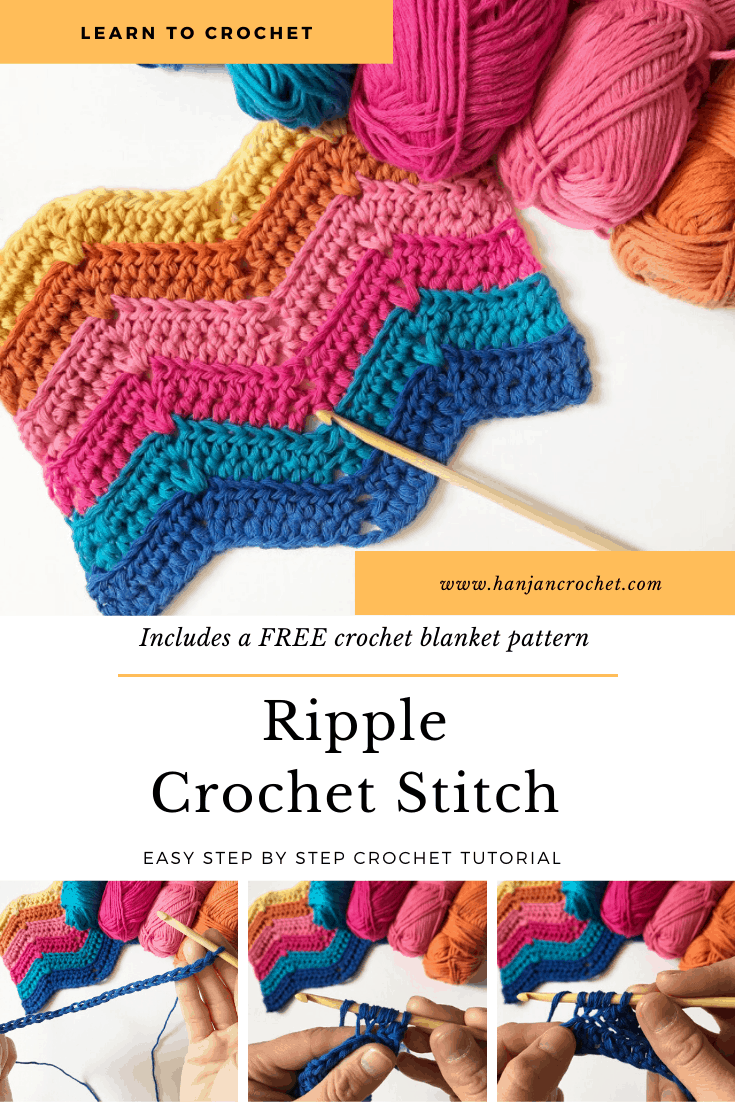 Thank you so much and I'll be back soon with more! Hannah x