Today I'm sharing my top easy crochet blanket patterns for beginners for you to enjoy!
I learnt to crochet about a decade ago when I had some knee surgery that meant I couldn't be mobile for six weeks and I needed to keep myself busy. My Mum suggested that an easy crochet blanket would be the perfect place to start!
At the time I lived in a one-bedroom first floor flat with just stairs for access so I had no way of getting downstairs to get out and about and so I decided I should focus on something new and positive while my body healed from the surgery.
I was amazed at how a hook, some yarn and learning some basic crochet stitches could produce something so magical!
Read on to find out how to sign up and get your free copy of my beginner crochet blanket pattern eBook worth $12!
I'd always been crafty as a youngster and my Mum is amazing at anything crafty she turns her hand to and so I asked her to teach me to crochet. I have her to thank for everything HanJan and especially for my love of easy crochet blankets!
I had a few friends expecting babies at the time and so I thought I could knock up a few granny square blankets to celebrate their new arrivals. Boy, have I knocked up a few crochet blankets since then! There's still nothing I love more than making a baby blanket!
I thought I'd take the chance to share my experience with learning to crochet and let you know my top 6 easy crochet blanket patterns for beginners to learn to crochet.
Plus, I would love to share my Colourful Crochet Blanket Ebook with you today! Just scroll down to find out where to unlock the exclusive PDF and download it 🙂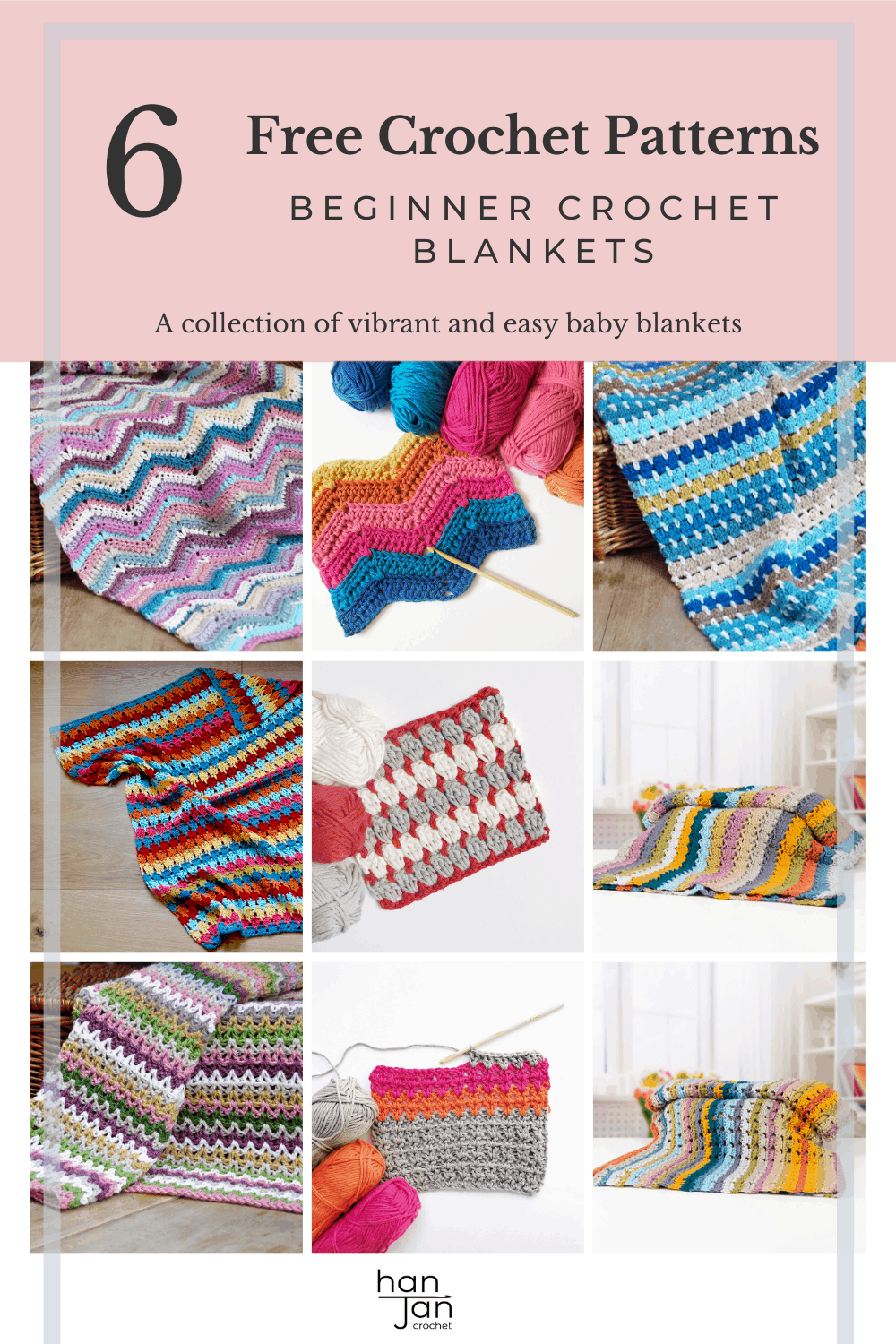 Getting Started with easy crochet blankets
At first it felt awful and I hated it. I didn't know how to hold the hook, my Mum went waaaaay too fast (bless her) and it just didn't make any sense to me. Fortunately, I had the time and energy to persevere and slowly but surely it came to me. My muscle memory started to kick in and those tight awkward chains started to flow and I could finally work my stitches into them without having a massive argument with them!
I would say it took at least 4 or 5 blankets for me to feel comfortable with my technique so don't despair, it will happen! It's like anything in life where practice makes perfect and all that jazz.
So my best advice for anyone starting out learning to crochet is to be kind to yourself. Don't beat yourself up if your first few (or more than a few) attempts don't work out. Keep going. It will happen.
I didn't know anyone else who crocheted and so I just copied my Mums technique which is pretty similar to throwing your yarn in knitting so to pure crocheters it looks really weird. Sorry. That's how I crochet. I would encourage everyone to just find what works for you.
Don't worry about how you hold your hook or your yarn, just find what's comfortable for you. When you find the perfect way you'll know and the muscle memory you develop will mean you'll find it hard to do it any other way! Or at least I do!
Why start by crocheting a blanket?
Lots of people ask me what the best things are to crochet for beginners. Controversially I usually say blankets. Most people I know are fans of scarves, dishcloths, cushions and other smaller projects but I think you should just go for it with a decent sized blanket. There are a few reasons for this.
Firstly, repetition. If you choose a blanket with a really simple repeat for the pattern then you won't only be learning how to crochet but you'll be learning about your hook and yarn positioning and action, you'll develop an even tension and eventually, you'll get lost in the mindfulness of the blanket. The moment you get lost in it is the best feeling – it means you're there. Your hands know what they are doing and you can pop on your favourite box set and crochet away.
Secondly, blankets. I mean who doesn't love a blanket?! They are a perfect gift, or to keep for yourself. They are something to be really proud of and admire. I never tire of making blankets, afghans or throws and I know so many others are like me too.
What you need to start
Starting a project is really simple, you just need a crochet hook and some yarn.
Once you get started you'll figure out what your favourite size of hook is. Mine is a 5mm, always has been! Either wooden, resin, bamboo or metal ones are great, I love my Dot Hooks with ergonomic handles but my Mum uses metal, it's entirely up to you.
When choosing yarn I'd go for something like double knit or worsted weight yarn. It's not too big that you feel like you're wrestling and not so small that you feel like you can't see the stitches.
Finding the right yarn for your crochet blanket projects can be tricky sometimes, especially if you're just starting out. It depends on so many things like fibre content, yarn weight, budget, colour choices and more.
I've put together a guide for the best yarn for crochet blankets to help you discover the things I've learnt over the years as both a designer and maker that help me choose the perfect one.
You'll also need some sharp embroidery scissors (they don't have to be fancy ones) and a needle with a big eye to thread your yarn through. That's it! Literally all you need to get going.
Here come the easy crochet blanket patterns for beginners!
These are some free patterns that you might like to try to get to grips with crochet, each of them comes with a step by step tutorial to get you going.
If you'd like to get the patterns in more detail (and a few more besides) all together in my ebook 9 Colourful Crochet Blanket Patterns then you'll get a load of added extras in it from me too! I've added charts, sizing options and so much more. I am so excited to have been able to put the collection together and am so excited to see what you make!
Just sign up below to unlock the PDF as a little gift from me to you.
<
Click on the image below and the PDF will appear in a new tab for you to download: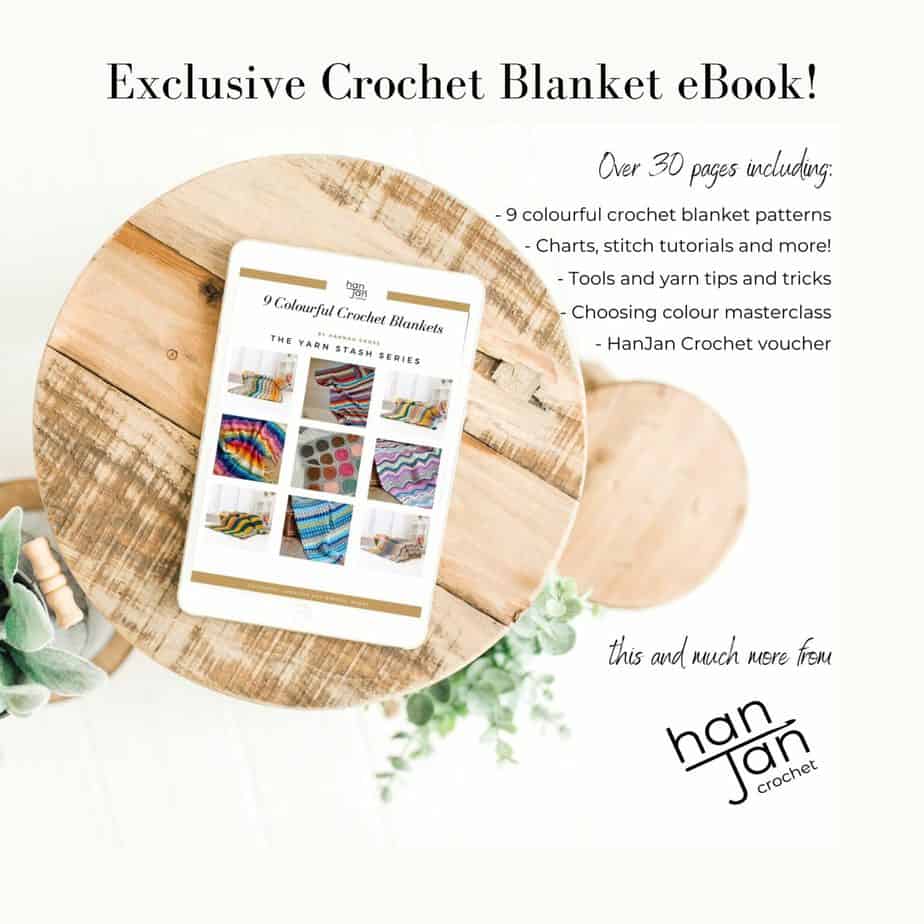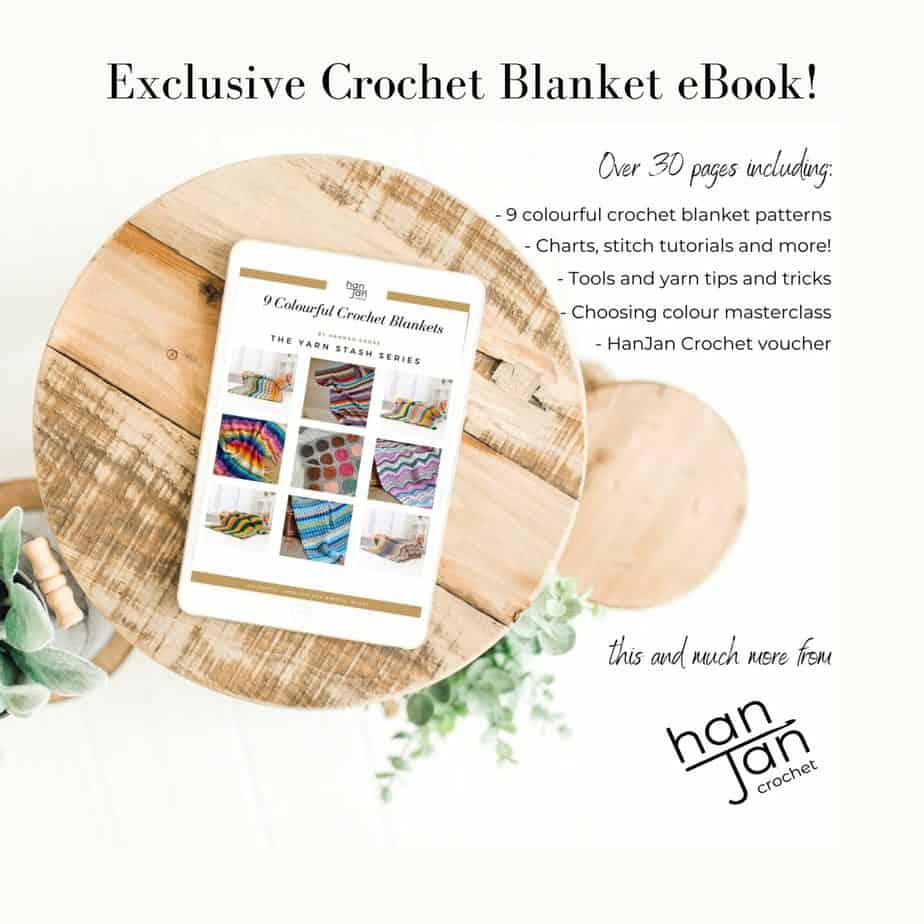 /div>
---
Alternatively you can view the crochet blanket patterns on the blog supported by ads – here's where you'll find them: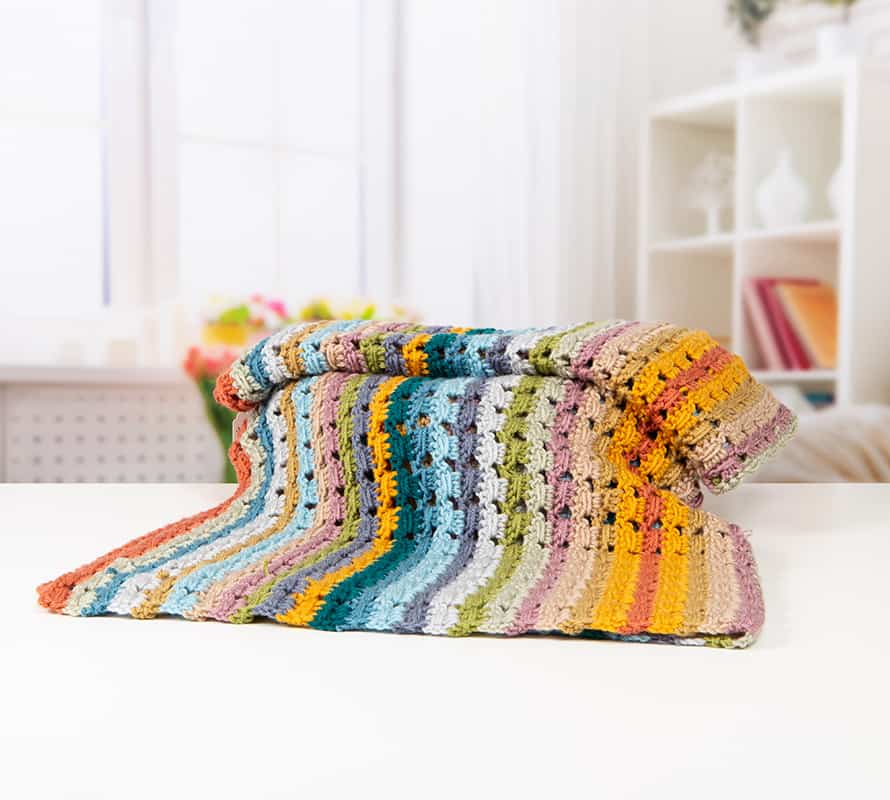 The Lapsang Blanket uses a really simple crochet cable stitch that is so easy to learn and creates the most beautiful drape.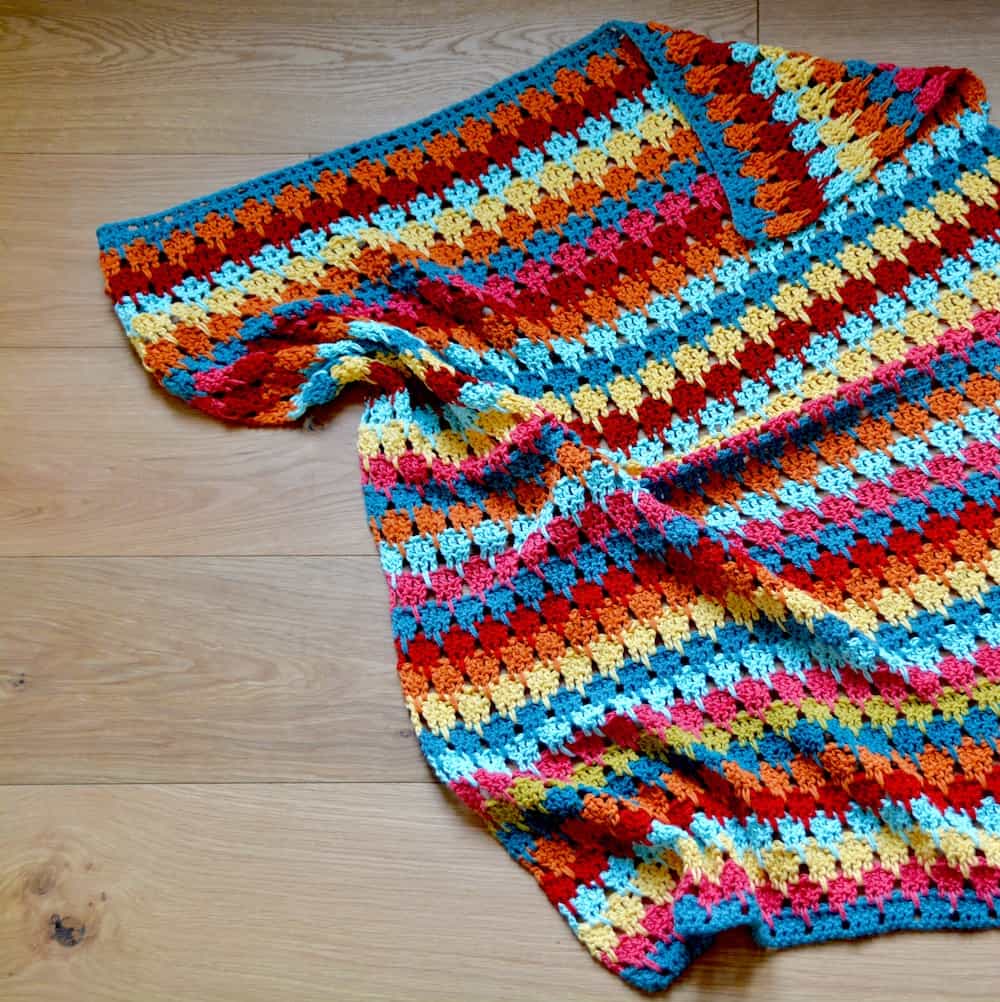 The Larksfoot Blanket is perfect for anyone that fancies a go at something a bit different to a traditional Granny type blanket.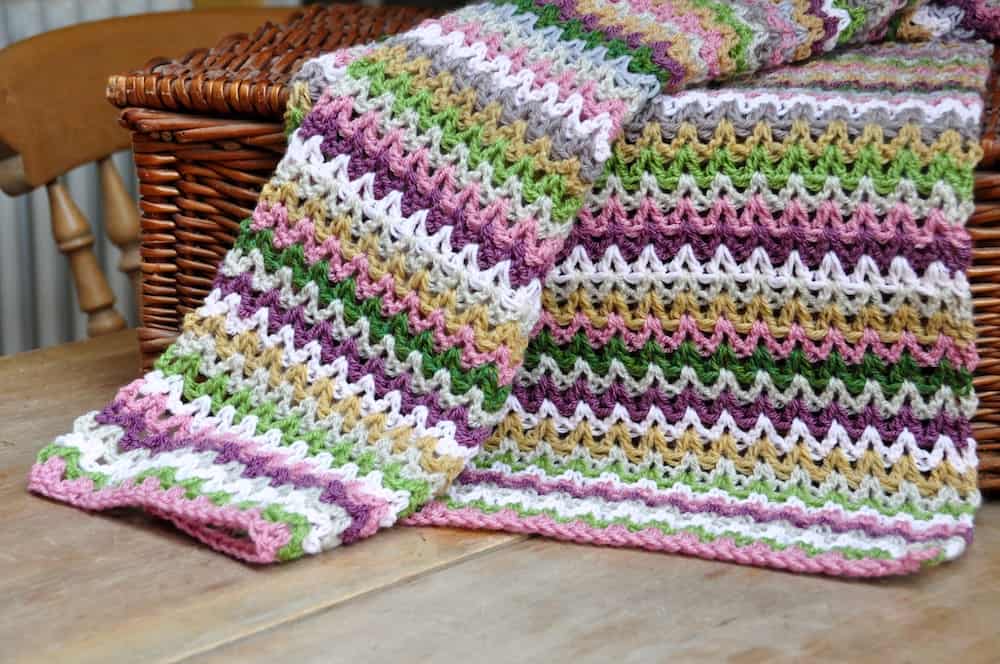 This one is for anyone that would love a soft and delicate look but with a super simple pattern. The stitches line up to create little 'V' shapes, hence the name.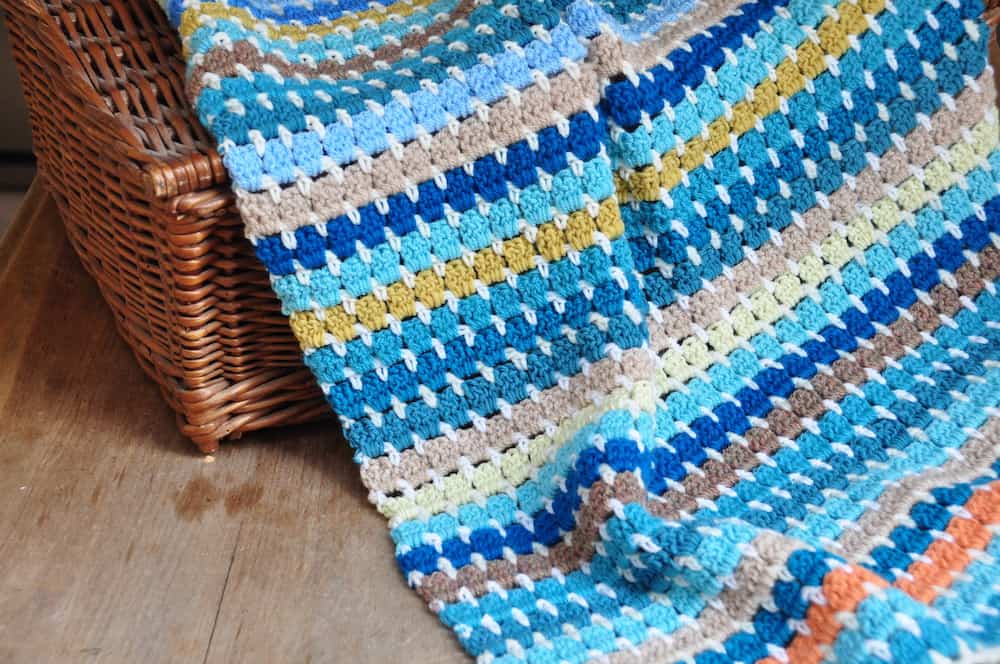 This is another twist on the traditional Granny blanket but instead of going round and round you work in rows which makes it much easier to keep track of where you are!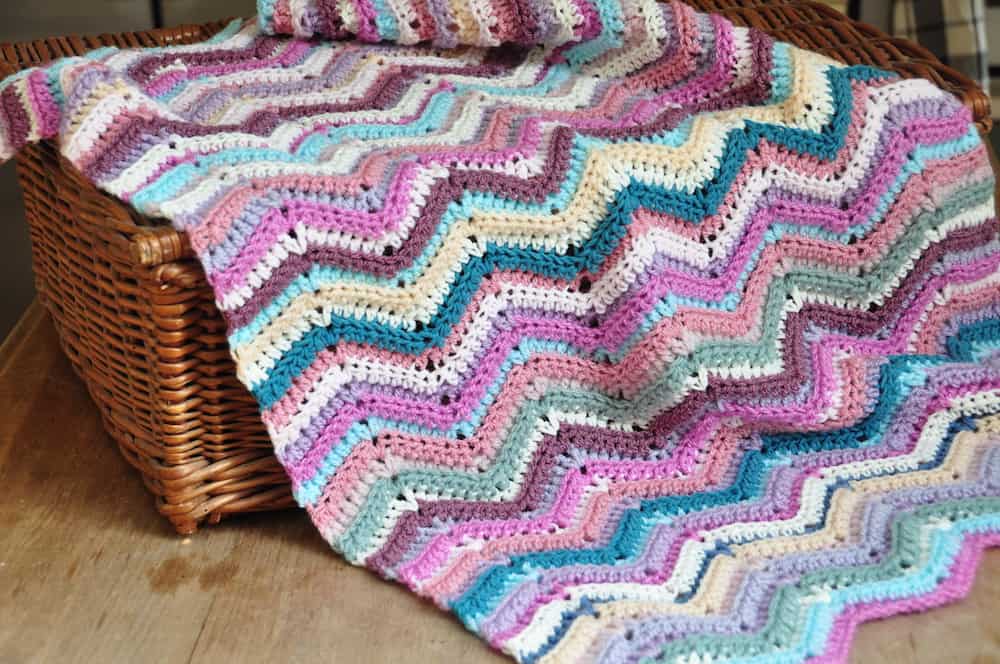 This one is a bit more complicated than the rest but is absolutely doable for any beginner! I promise!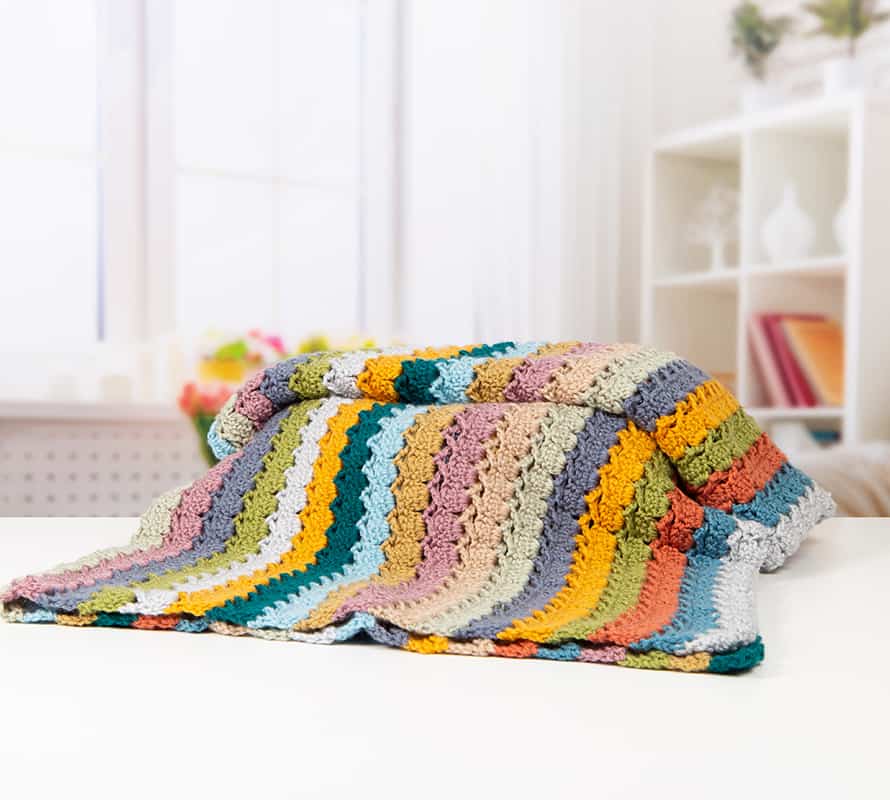 The Oolong Blanket uses the really cute Cabbage Patch stitch to give a really textured look that looks far trickier than it is!
More Crochet Blanket Patterns
If you are in need of more crochet blanket ideas then I have great news – I have loads more easy crochet afghan patterns for you!
I love creating patterns that might look tricky but in reality are quite simple. So whether you are a beginner crocheter or not, you can enjoy all of these patterns.
I really hope you've found some inspiration here for learning to crochet with my top easy crochet blanket patterns for beginners and are looking forward to getting going with your first project! Whatever you choose to make just remember to be patient, persevere and above all enjoy it!
My first attempts were by no means relaxing but I guarantee when you find your rhythm you will love every minute of it.
I've just thought of another striped crochet blanket pattern that you might love too!
I'd love to stay connected with you so please do sign up for my subscriber list if you'd like to. Looking forward to hearing from you and sending you your free gift!
Thank you so much for being here to share in my free crochet patterns and supporting my blog. It's such an honour to be able to create and share my craft with you.