Life has been a little crazy at HanJan recently and I apologise for not being around much! My latest free pattern is here though with a brand new stitch tutorial and everything you need to get making a beautiful and easy Ripple Stitch Blanket.
This blanket really is a classic that anyone can tackle. All you need is a bunch of your favourite coloured yarns – as many or a few as you like – and you're away. Using a simple repeat this is the perfect beginner projectto practise your technique and tension.
The pattern is here free for everyone to enjoy.
This post contains some affiliate links so any clicks from you help support me to bring more free patterns to you.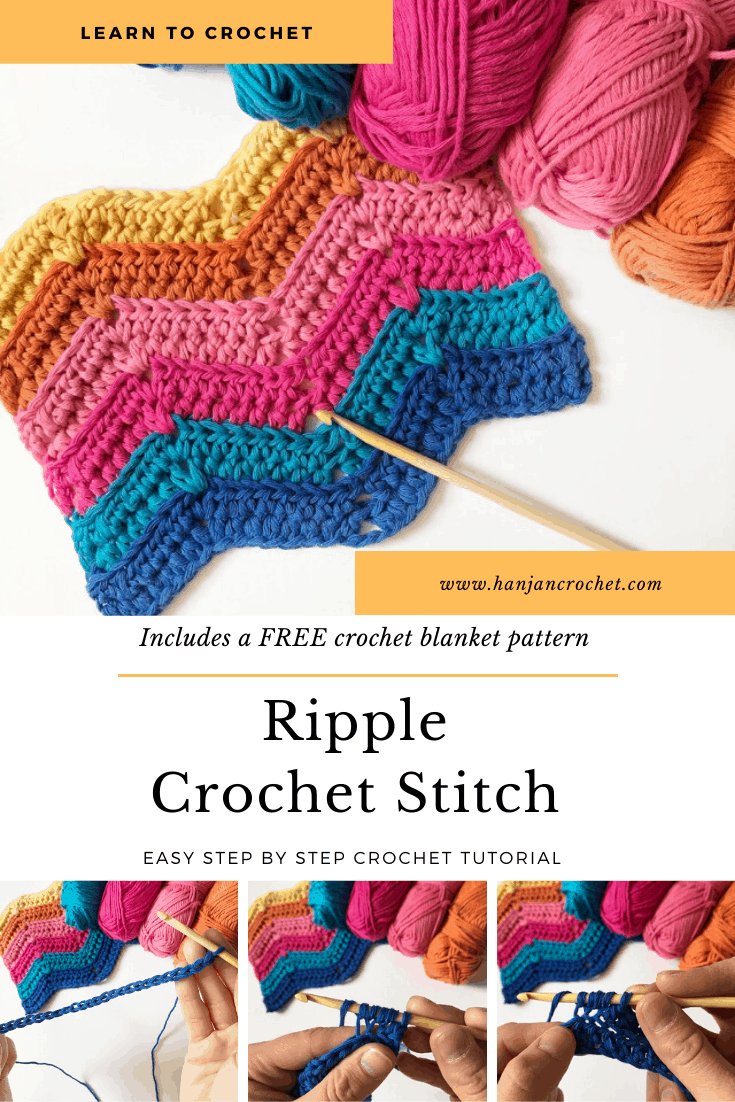 The Blanket
The Ripple Stitch Blanket is a must for anyone learning to crochet or for a pro looking for a quick stash-busting project. You can adapt the starting chain to make it any size you like and you can let your imagination run wild with colours, I changed on every row but I think some blocks of colour would look fabulous too.
Yarn
For the blanket I used a combination of yarns from my stash but if you'd like to use a similar palette then I've been so lucky to team up with Deramores to bring you a yarn pack for this blanket! Just follow the link to get the kit and pattern PDF with 10% off!

Materials:
Along with the yarn you will also need:
A 6mm/J Crochet Hook
A tapestry needle
A pair of scissors
Finished Size:
The finished blanket measures 75cm by 52cm
Tension:
16st and 8 rows = 10cm by 10cm over pattern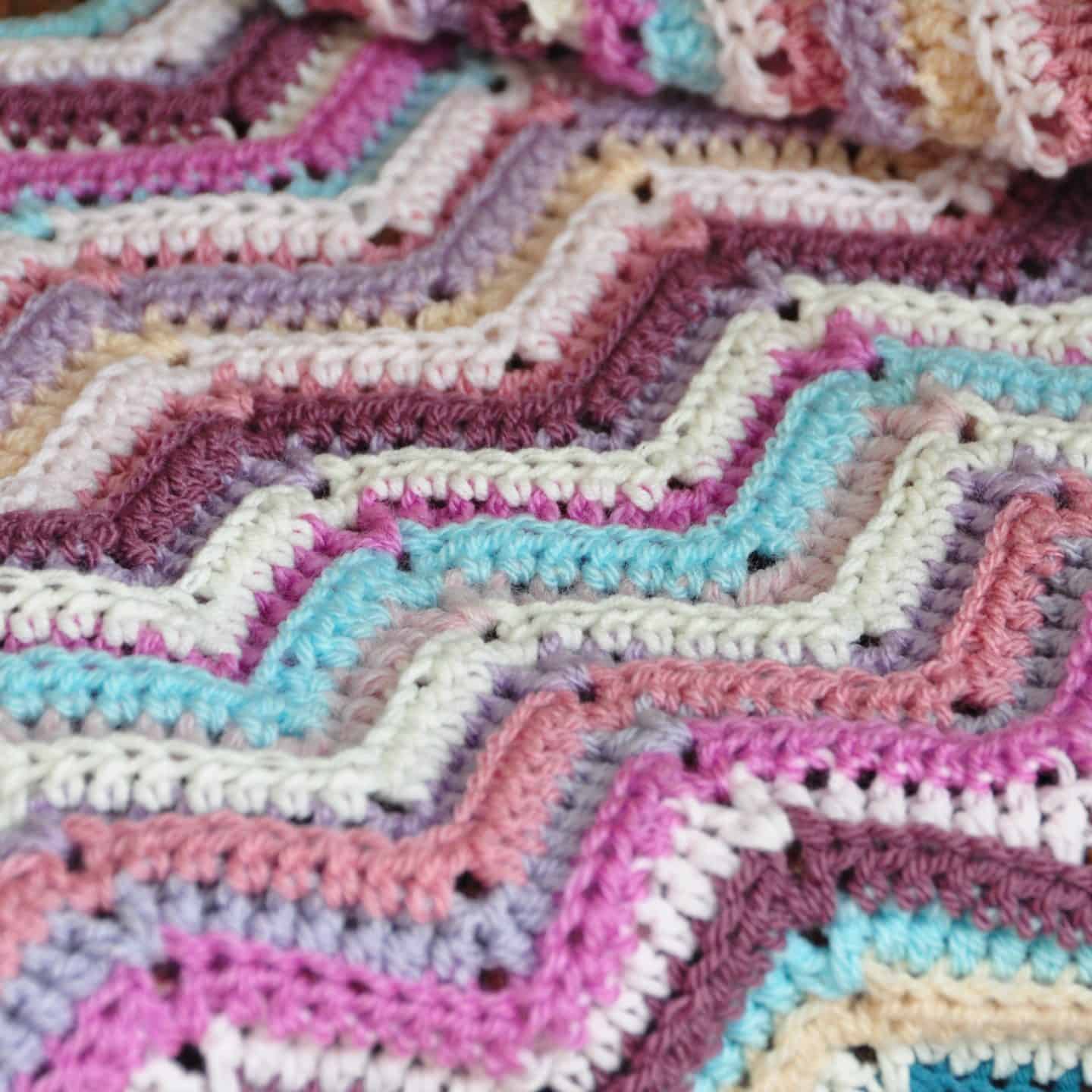 Glossary:
UK terms/US terms
ch(s) – chain(s)
sk – skip
RS – right side
BL – back loop only
rep – repeat
st(s) – stitches
ss – slip stitch
tog – together
htr – half treble (hdc – half double crochet)
I've also really excitedly been nominated for a British Craft Award so if you could spare a few moments and would like to vote for me then please click here or on the image below. Thank you!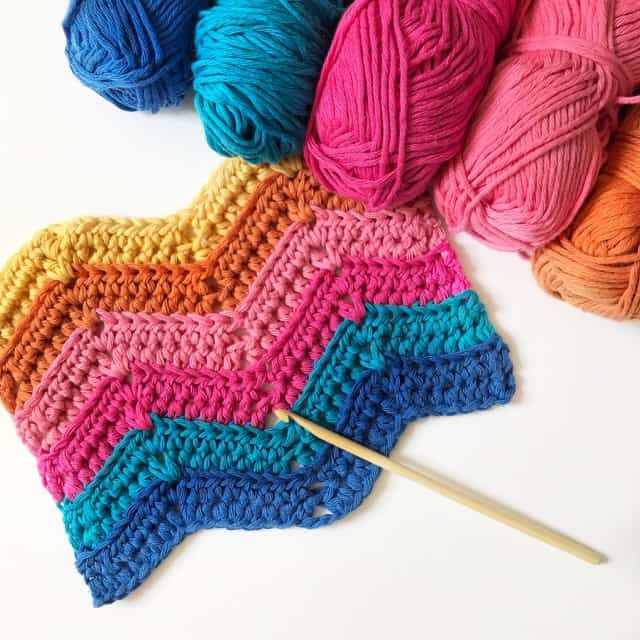 The Pattern:
Foundation chain: ch85 (or any multiple of 17)
Row 1: htr in 4th ch from hook, htr in 5, (htr, ch1, htr) in next, htr in 7, *skip 2st, htr in 7, (htr, ch1, htr) in next, htr in 7, rep from * across
Row 2: Work in BL only for this row – ch1, htr, htr2tog, htr in 5, (htr, ch1, htr) in ch1-sp, *htr in 7, skip 2st, htr in 7, (htr, ch1, htr) in ch1-sp, rep from * across to last 8, htr in 5, htr2tog, htr in last
Rows 3-60: Repeat Row 2
To finish either weave in the ends or tie them to create tassels.
Photo Tutorial:
I absolutely love to see completed projects so make sure you add your completed projects to Ravelry here and use #hanjancrochet and tag me over on Instagram so I can find you!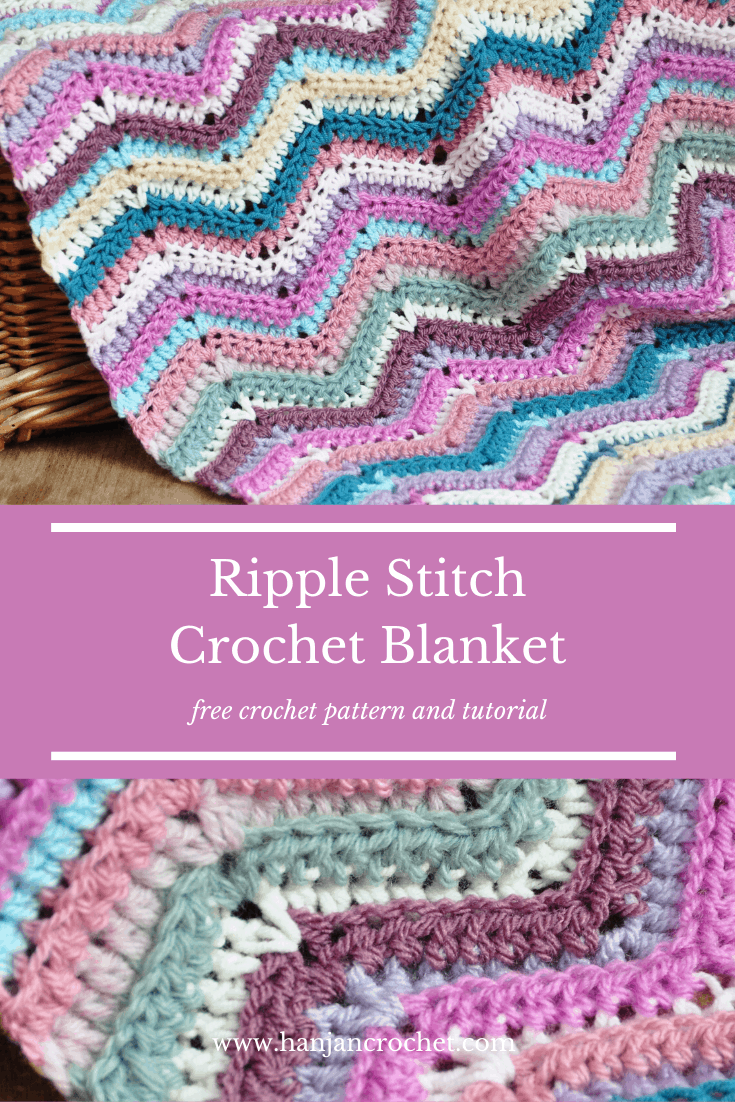 I'd love to stay in touch with you and let you know when my new free patterns and tutorials launch. Pleas do subscribe and join HanJan Crochet to hear all of my latest news!
More Stitch Tutorials and Patterns
Now that you've mastered the Ripple Stitch you might like to try some others. I have a whole collection of free stitch tutorials and blanket patterns on my blog so just visit the links and see what you fancy making next.
These are some of my favourites that I thought you might like. They are all suitable for beginners and they all lend themselves really nicely to make blankets, scarves, garments, you name it!
It's a really easy stitch but slightly different from a traditional cable stitch as you only work across the stitches to create the cable and not into the skipped stitch.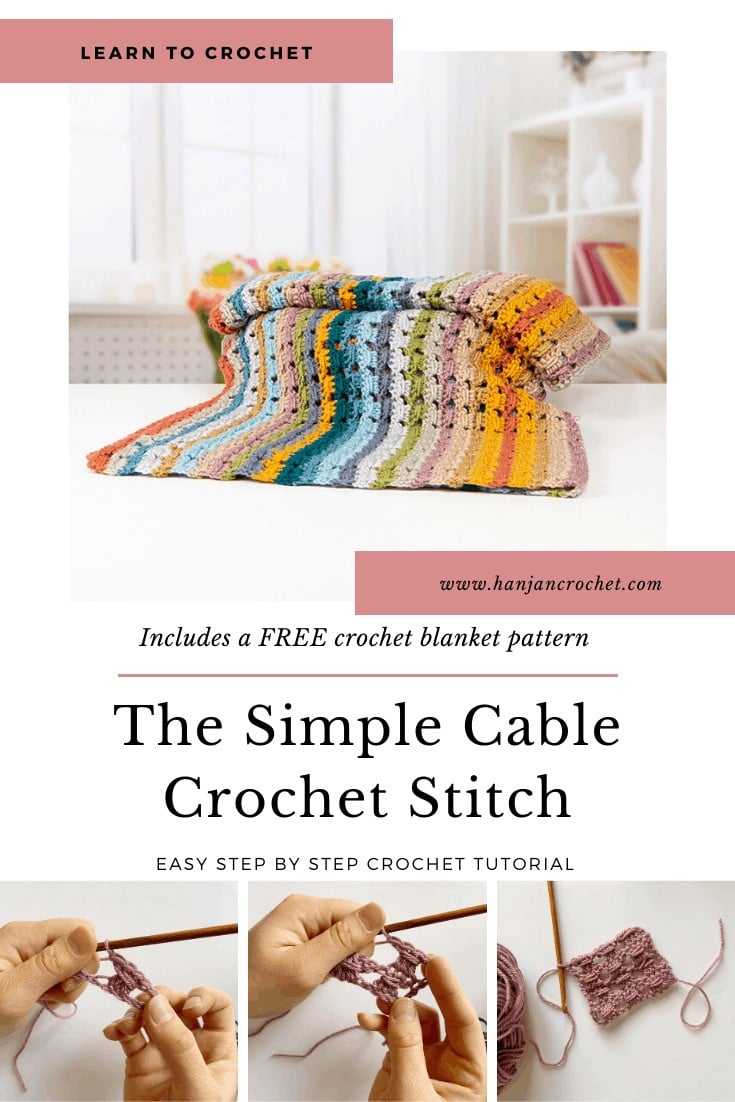 The stitch is a really simple 2 row repeat that creates a beautiful lace-like texture with the most gorgeous drape and feel. It uses simple stitches with a little twist (a crossover stitch) to give the lovely texture. So if you can crochet a treble stitch (UK) or double crochet (US) then you can definitely do this!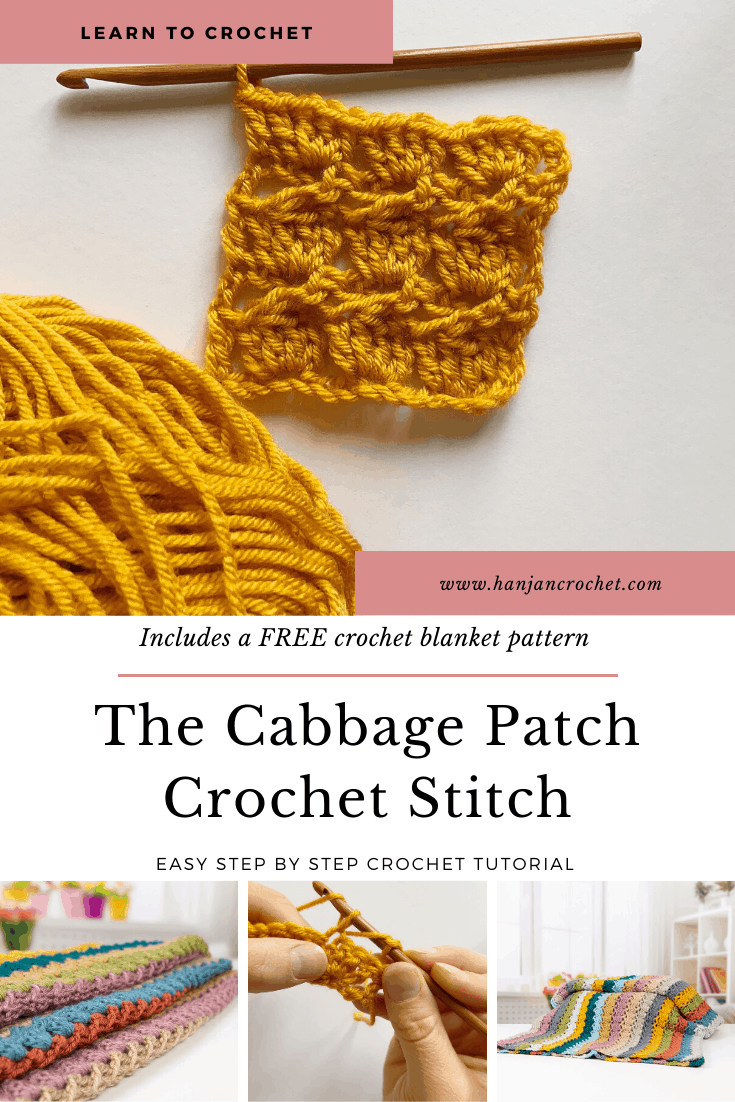 Learn to crochet the V stitch with this step by step crochet tutorial for beginners. A perfect stitch for baby blankets, home decor, scarves and cardigans this is a classic crochet stitch which everyone can learn.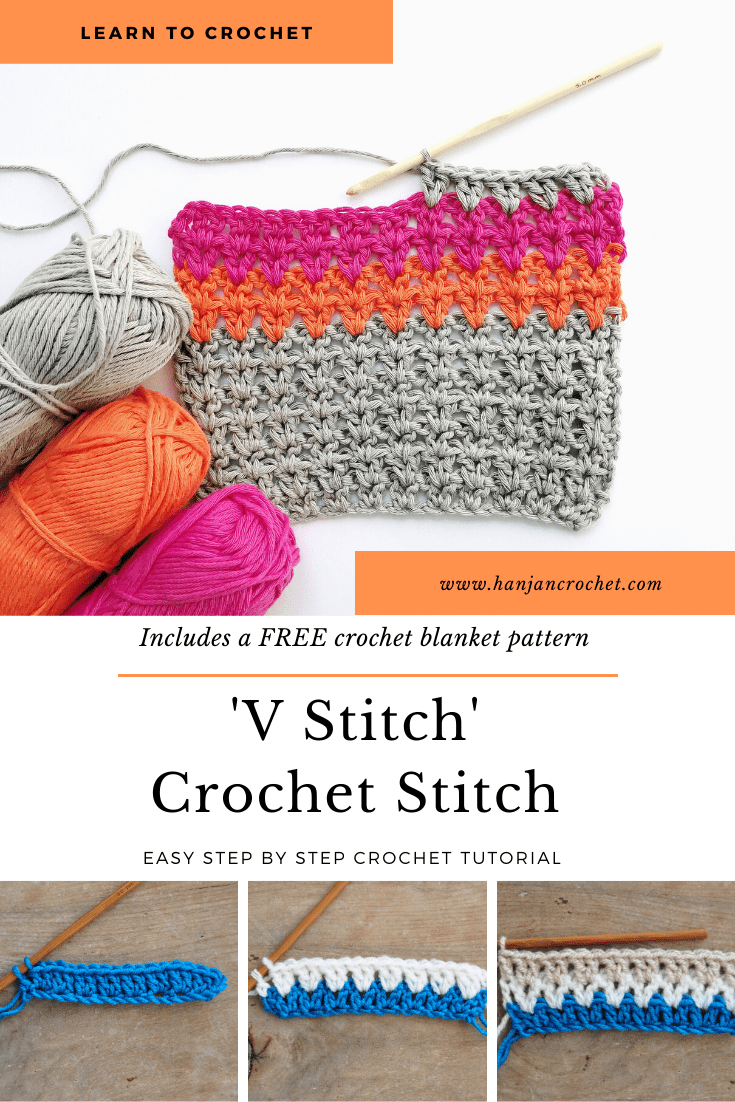 The best part about the Larksfoot Stitch is that it grows soooooo quickly! You'll have a blanket made in no time at all. It's easy, fun and it's dropped down stitches give a little bit of a twist to add something to the colour mix and texture.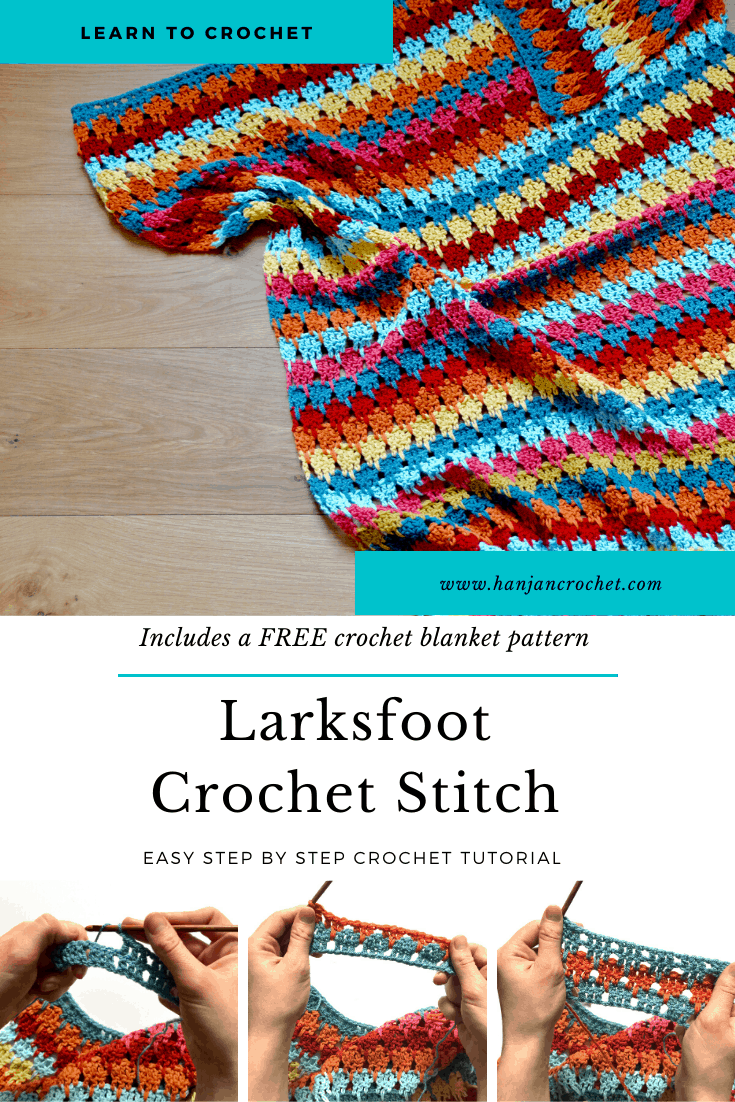 Learn to crochet the granny block crochet stitch with this easy step by step crochet tutorial for beginners. A twist on the classic crochet granny square, the granny block stitch is worked in rows instead of rounds and so is much easier to master.