A stunning patchwork crochet blanket pattern, the The Billow Blanket is made with bulky yarn so is quick, easy and fun to crochet too!
Constructed from 4 long rectangles of half double crochet stitches (2 of which have an optional easy crochet cable stitch running through them), you don't have lots of squares to join at the end, only a couple of long panels and you're done!
A wonderful piece of crochet home decor to add to your collection, a great yarn stash buster project and makes a perfect beginner bulky baby crochet blanket too.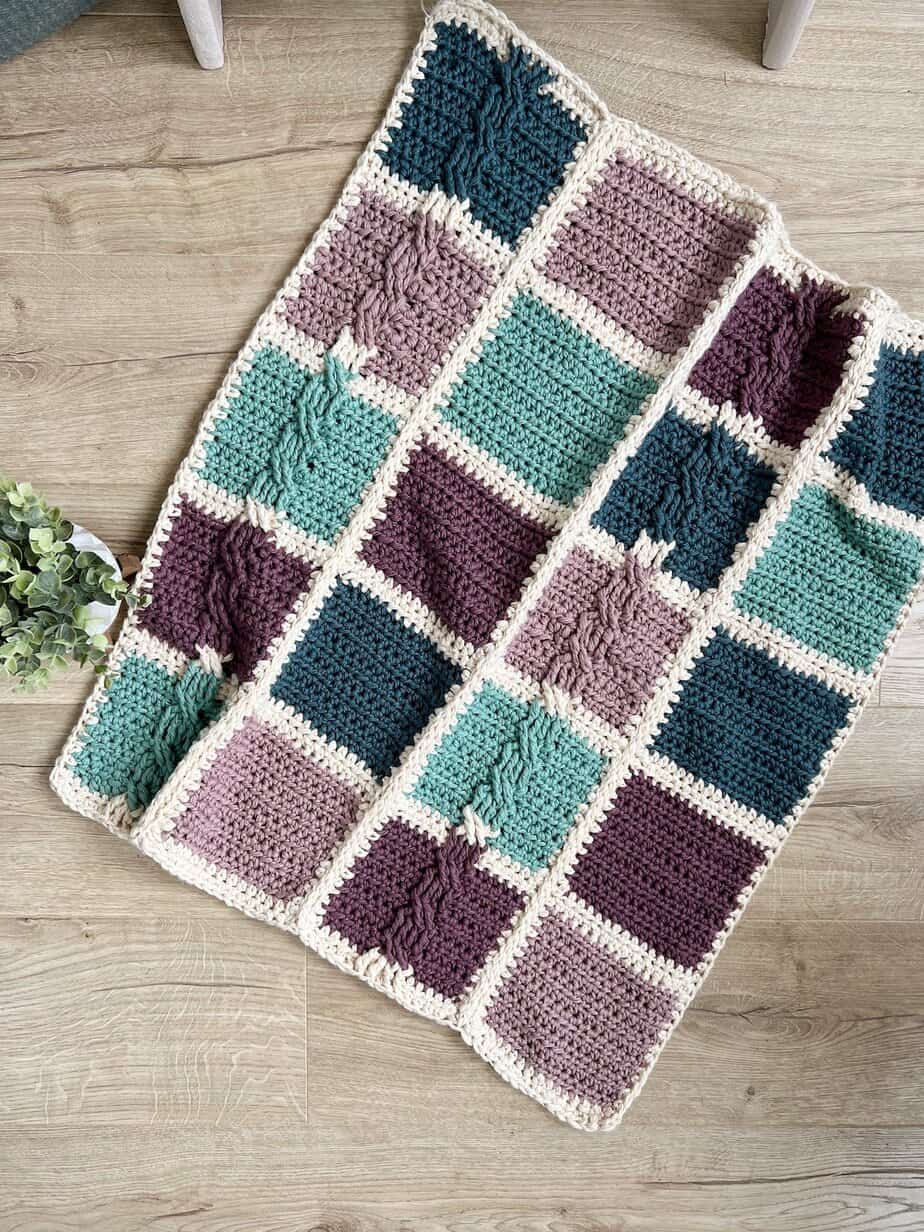 This post may contain affiliate links. Please see my full disclosure and privacy policy for details.
Scroll down for the free Patchwork Crochet Blanket Pattern in this post, or purchase an ad-free, printable PDF version here. The PDF includes both UK and US crochet terminology and a colour planning chart for you to customise yours to match your home and style perfectly:
About this patchwork crochet blanket pattern
I love nothing more than a quick bulky crochet blanket pattern to work on in and around other crochet projects.
This patchwork cable blanket might look tricky but it's just four long strips of simple stitches (mainly half double crochet) joined together. So that makes it perfect for beginners and better yet, it's in bulky weight yarn so works up in a flash!
Working the four long strips means you only ever work with one colour per row so no tangles and it even makes it portable enough to take out and about with you!
It's the perfect make to use up some of that yarn stash you've got too!
Other blankets that make great crochet yarn stash buster projects
I'm a huge fan of finding crochet projects to use up your yarn stash and this is what this design was for me.
I used the Billow yarn in it for another project that only used a little of each of the colours and loved the yarn so much I was desperate to make something else with it!
I think that particularly with yarn like this that is an investment you need to make sure you use every last yard that you can. Here are some other yarn stash buster projects that I've designed –
Easy Motif Square Crochet Blanket – great for a pop of colour too.
Larksfoot Stitch Crochet Blanket Pattern – I even used different yarn weights from my stash in this!
Happy Half Double Crochet Herringbone Blanket – so soothing and repetitive.
Striped Baby Crochet Blanket Pattern – perfect for beginners too.
I also have a great set of easy beginner crochet blanket patterns that would work so well for busting that yarn stash too!
Should I make it as a bulky baby crochet blanket?
I know that lots of people shy away from making crochet blankets for babies in bulky weight yarn but I think that it can work really well!
My children have always had a big collection of blankets to choose from and they both have a bulky crochet blanket that we used on super cold days when we were out and about in their pram and now they are older they are at home sitting on the end of their bed as a runner.
I've designed this blanket in a size that will sit nicely over a child's lap or at the end of a bed but the great thing about the strips in the design is that you can make them as long as you like and make as many as you like to completely change the dimensions of your blanket!
Yarn
To make the Patchwork Crochet Blanket I used Billow Yarn (Bulky Weight) by WeCrochet which is 100% Pima Cotton, 120yds, 110m/100g.
You will need approximately 500g/600yds/550m of yarn to make the same size blanket.
If you'd like to match the colour way used here, see chart below.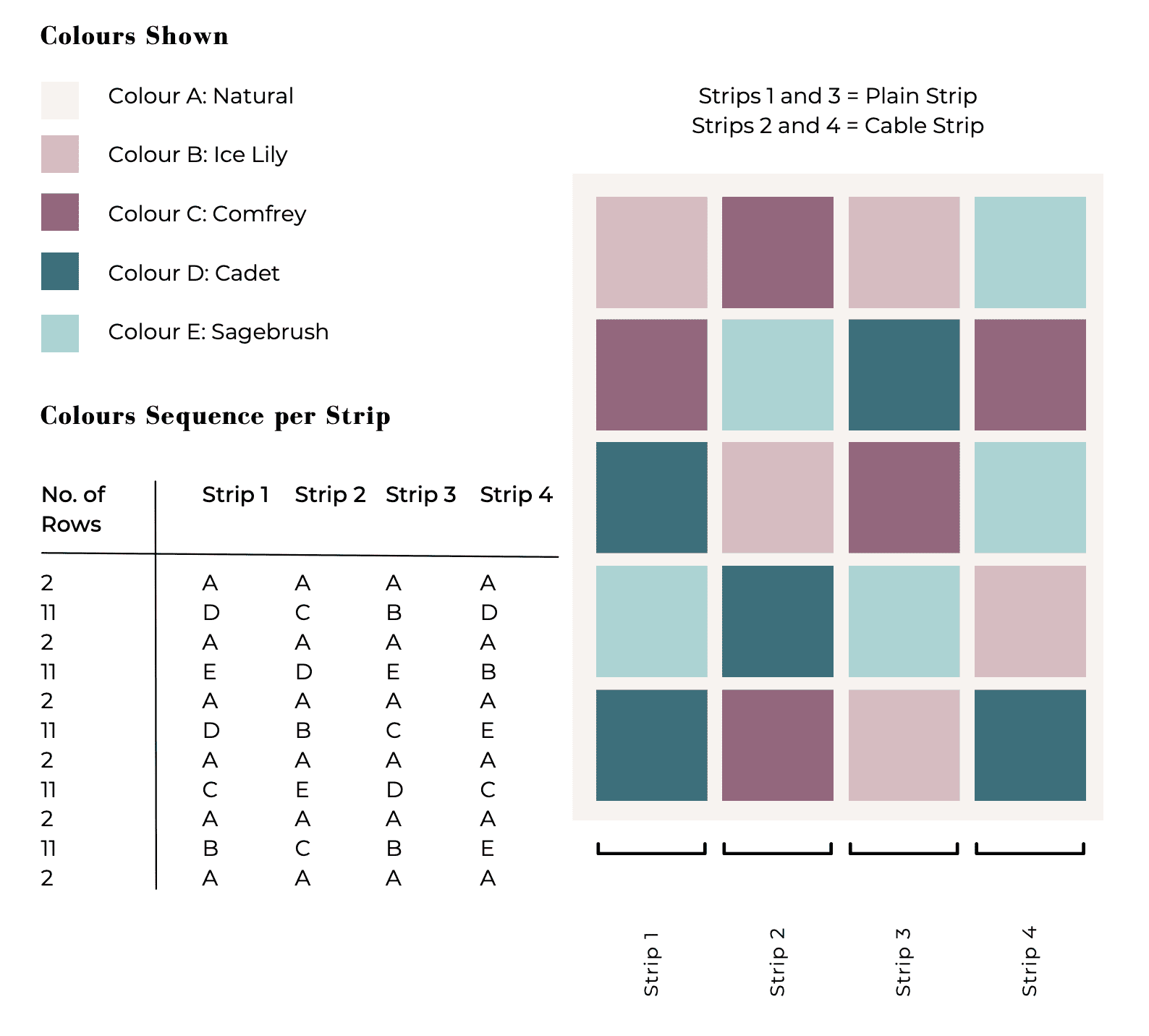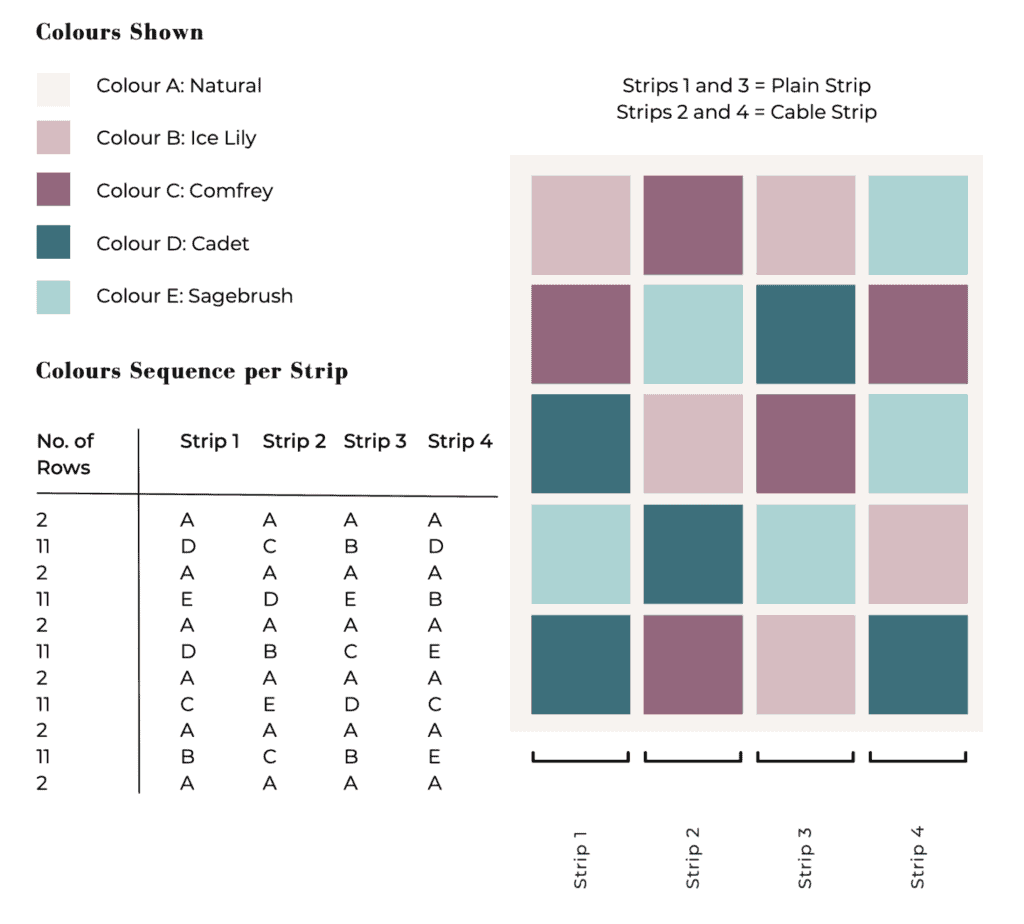 You can use any colour combination you like of course but here's the one I chose above. I used approx. 120yds/100g of each colour.
I often get asked about ideas for alternative yarns. Here are some that I think would work really well for this blanket in various price ranges and fibres as that's something to think about depending on who you are making it for:
Cascade 128 Superwash 100% Merino Wool, 117m/100g
Paintbox Yarns Simply Chunky 100% Acrylic, 136m/100g
Brava Bulky (Bulky Weight Yarn) by WeCrochet 100% Acrylic, 136yds, 110m/100g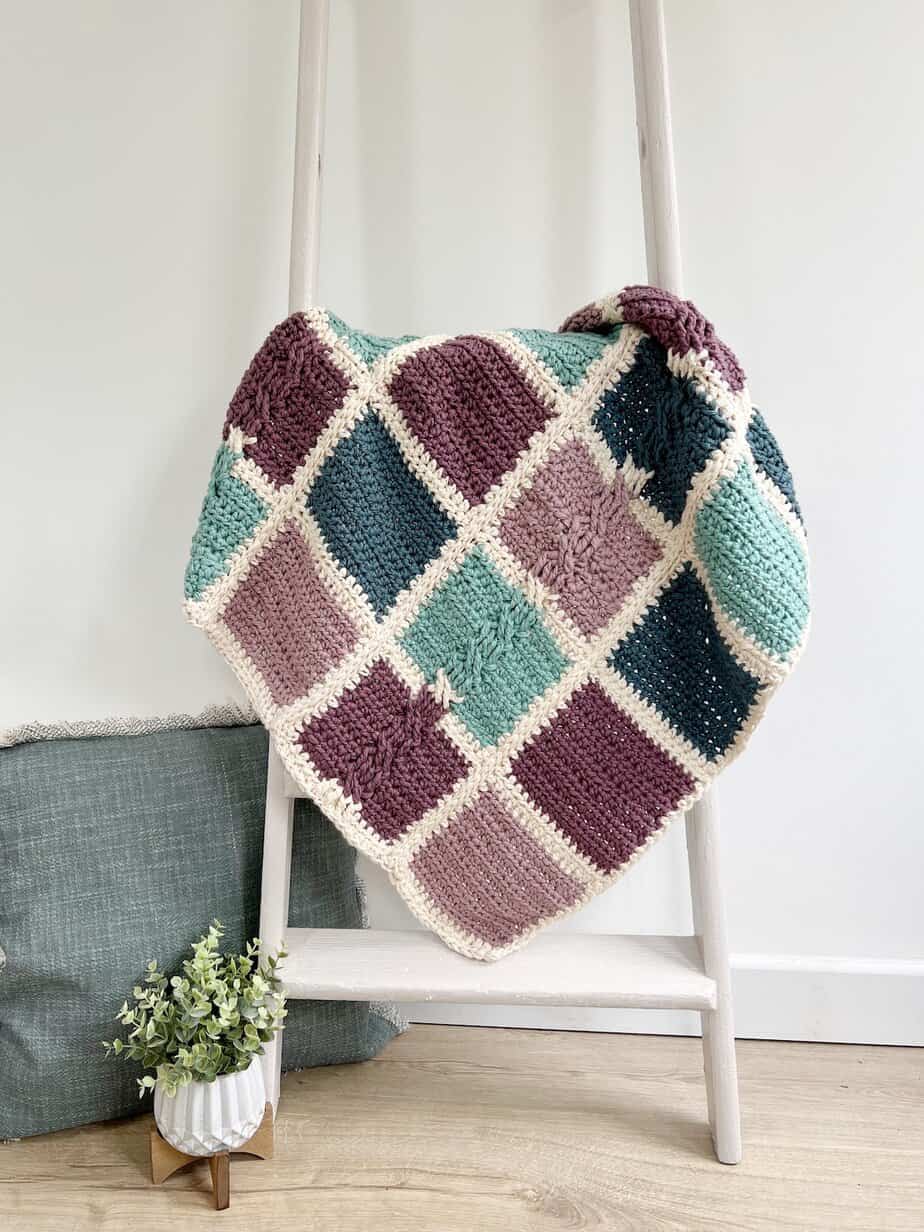 Tension and Sizing
The finished patchwork cable crochet blanket measures 68cm by 74cm.
10sts and 9 rows of hdc stitches = 10cm by 10cm.
Materials
Along with your yarn, you will need the following:
Pattern Options
Get this bulky crochet blanket pattern free in this blog post in US terms – just scroll down! You can also purchase an ad-free, printable PDF with added extras in my pattern stores:
Purchase and Print
Get the ad-free, printable PDF with added extras in my pattern stores: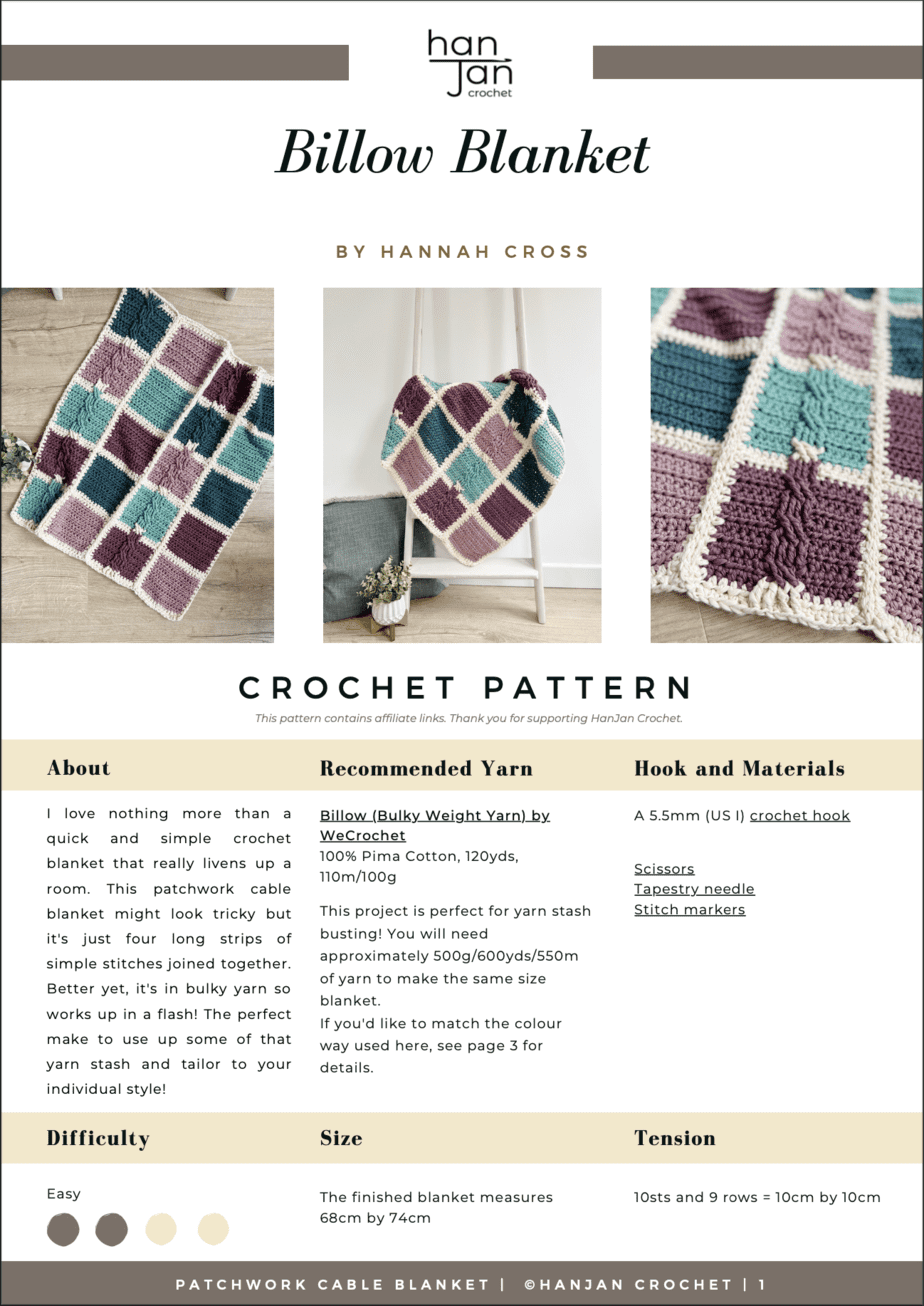 Don't forget to join HanJan Crochet to receive regular discount codes (and more free patterns!) and Pin this simple, lightweight crochet cardigan pattern to your crochet Pinterest board!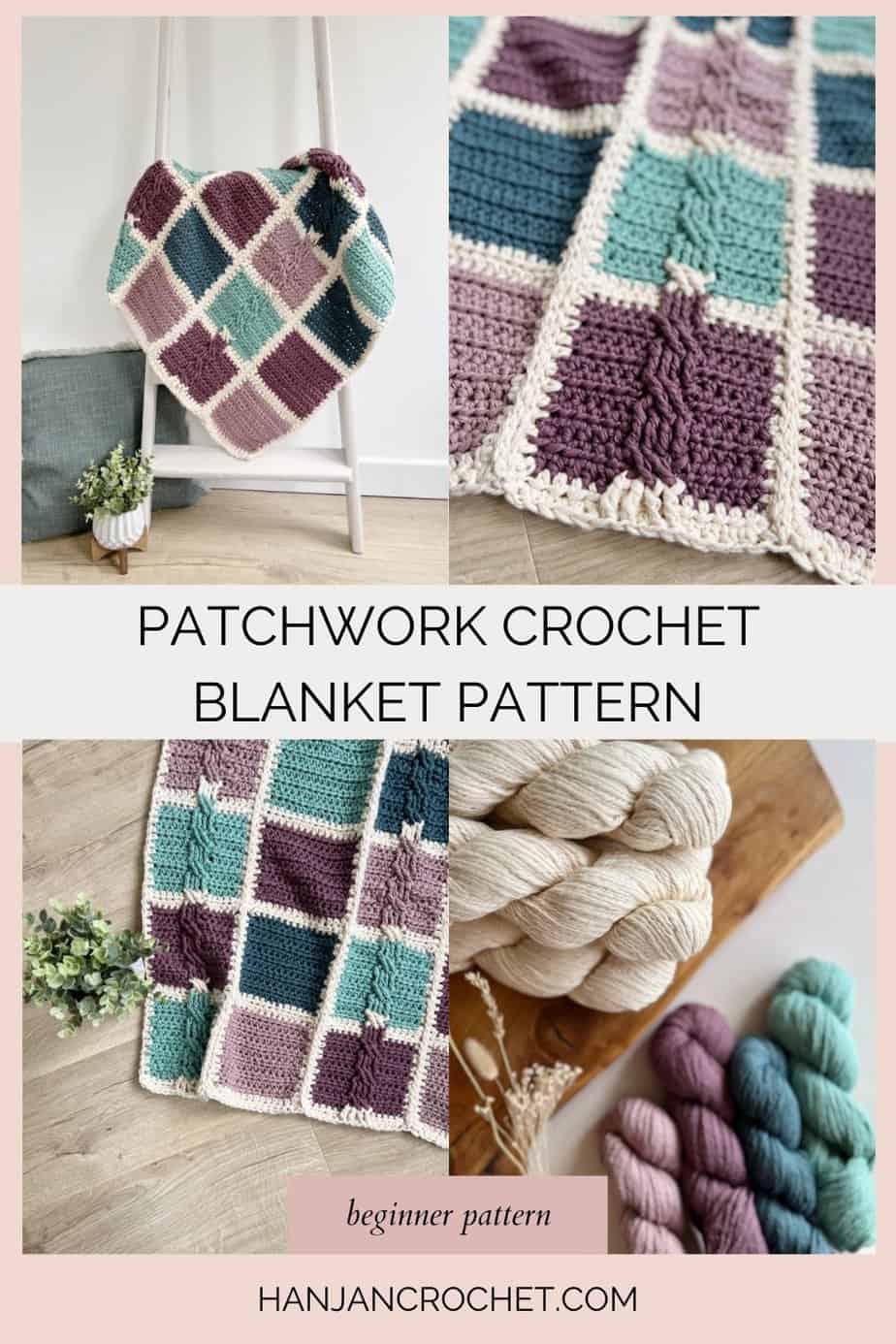 Glossary and Abbreviations
ch(s) – chain(s)
ss – slip stitch
st(s) – stitch(es)
sk – skip
FP – front post
RS – right side
rep – repeat
Crochet Stitches
| | |
| --- | --- |
| UK Crochet Terminology | US Crochet Terminology |
| htr- half treble crochet | hdc – half double crochet |
| dtr – double treble crochet | tr – treble crochet |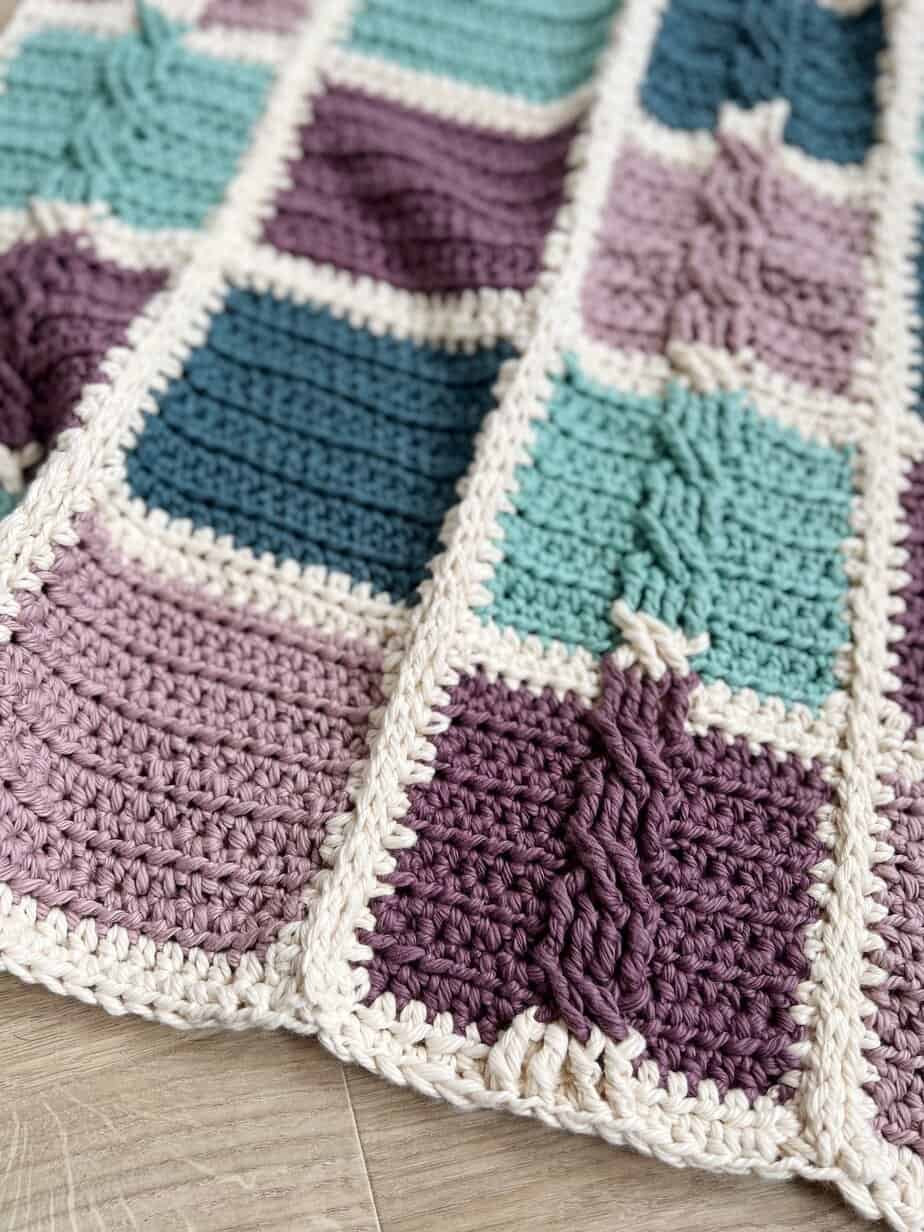 Billow Blanket Pattern Notes
A ch1 at the beginning of a row does not count as a stitch.
Turn your work at the end of each row.
Construction
The blanket is constructed from four long Strips of crochet. Each Strip changes colour at various points to create the patchwork effect.
A row of stitches is added to each long side of the Strips.
The Strips are then joined together with a slip st seam to the front to create the entire blanket.
You need to make 2 Plain Strips and 2 Cable Strips to match my blanket but of course you can do whatever combination you like!
Billow Blanket Crochet Pattern
US Crochet Terminology
Use the colour chart provided above or create your own – (one is included in the PDF version of the pattern if you'd like it) to know when to change colours throughout the Strips.
Begin by making Strips 1 and 3 as follows:
PLAIN PATCHWORK CROCHET BLANKET STRIP
Foundation chain: using A, ch16.
Row 1: RS: hdc in 2nd ch from hook and each across [15].
Row 2: ch1, hdc in each st across. Change colour according to chart.
Rows 3-13: ch1, hdc in each st across. Change colour to A.
Rows 14-15: ch1, hdc in each st across. Change colour according to chart.
Rows 16-67: Repeat Rows 3-15 following the colour sequence on your chart.
CABLE CROCHET BLANKET STRIP
Foundation chain: using A, ch16.
Row 1: RS: hdc in 2nd ch from hook and each across [15].
Row 2: ch1, hdc in each st across. Change colour according to chart.
Row 3: ch1, hdc in next 5 sts, FPtr in next 2 sts two rows below, hdc in next st, FPtr in next 2 sts two rows below, hdc in next 5 sts.
Row 4: ch1, hdc in each st across.
Row 5: ch1, hdc in next 5 sts, skip next 3 sts, FPtr in next 2 FPtr sts two rows below, working behind the last 2 sts, hdc in 3rd skipped st, working in front of the last 3 sts, FPtr in previous 2 FPtr sts two rows below, hdc in next 5 sts.
Row 6: Repeat Row 2
Row 7: Repeat Row 3
Rows 4-7 create the set cable pattern.
Rows 8-67: Repeat the set cable pattern, changing colours according to the colour chart.
BORDER EACH STRIP
With RS facing, join A to the side of the first Row of a Strip. Working into the sides of the Rows, hdc in each along [67].
Repeat this for both long sides of each Strip.
JOINING THE STRIPS
Before joining the Strips I would recommend blocking them to size. This will make seaming them together much easier and will give your blanket a much better finish.
Once blocked, lay your Strips out with RS facing you as per the chart.
Using A and a slip stitch seam (or whatever joining method you prefer), join along the long edges of the Strips to create the finished blanket.
Weave in ends.
Block lightly again to finish.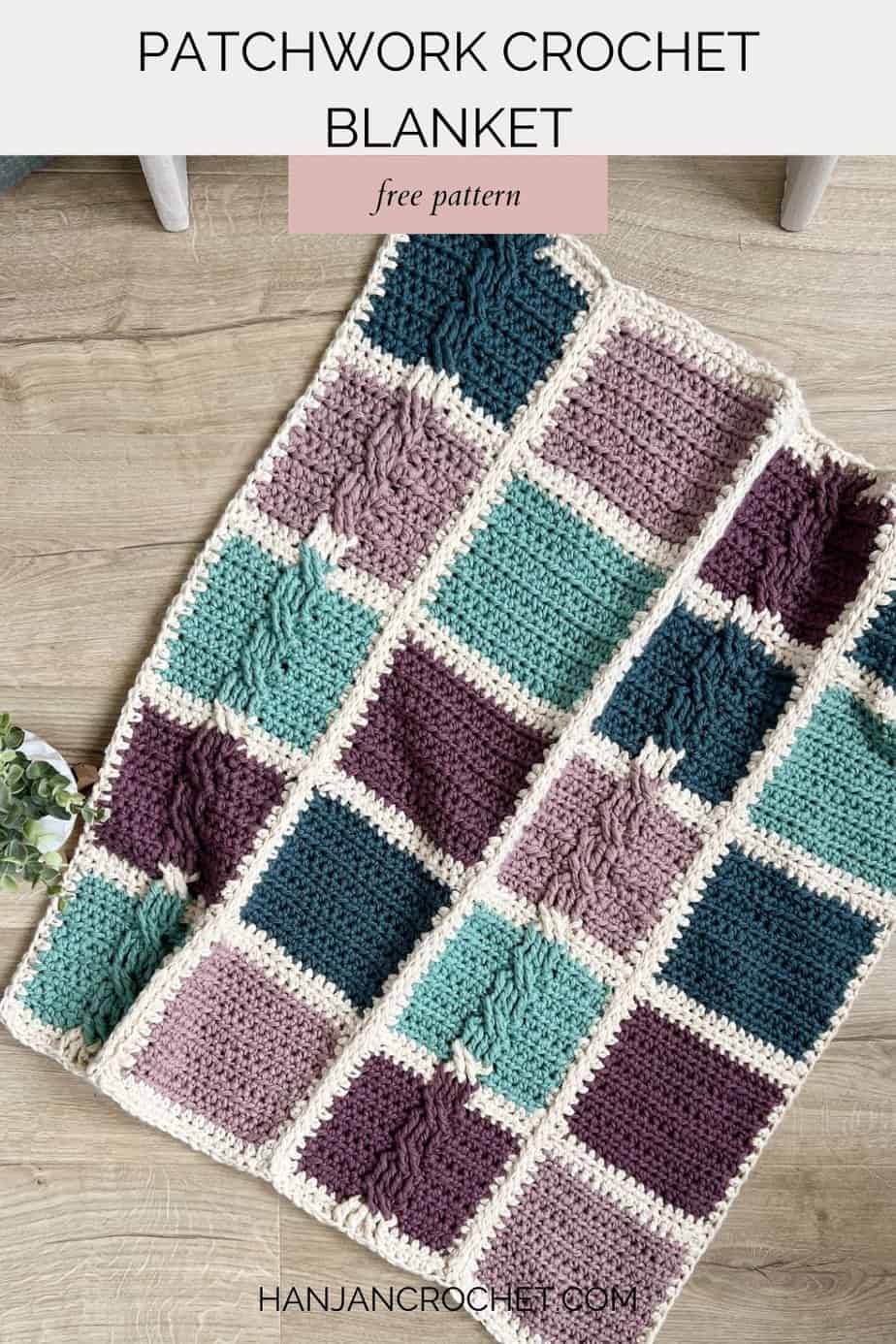 Join HanJan and Share Your Crochet!
It's an honour to be able to create and share my free crochet patterns with you. I'd love to stay connected and send you regular discount codes and free patterns! Please sign up for my subscriber list to get a free gift right now!
I look forward to seeing your finished crochet projects, so please share them with me in the HanJan Crochet Facebook group or on Instagram and tag #hanjancrochet.
Or share your projects on Ravelry or LoveCrafts!
Purchase and Print
Get the ad-free, printable PDF with added extras in my pattern stores: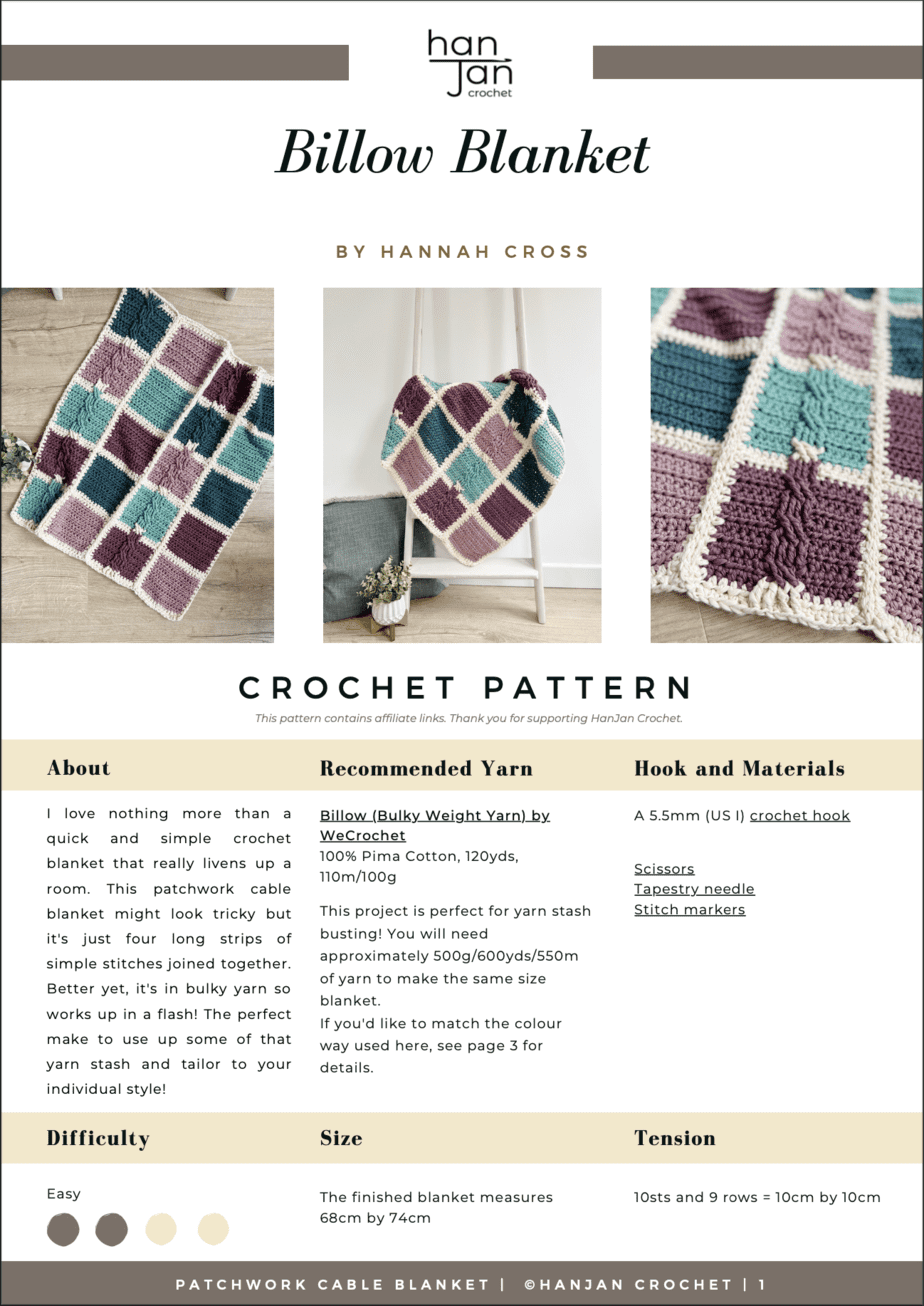 More Free Colourful Blanket Crochet Patterns
If you enjoy making colourful crochet blanket patterns here are a couple more patterns you might enjoy crocheting!