Anyone who knows me knows that I have this thing for designing baby blankets. It's something I used to be a bit shy about but I'm completely the opposite now. I'm so proud that I started off life as HanJan making and selling my blankets and then my designs and now I'm at the amazing stage that I can share them with you for free so that everyone can enjoy them as much as I do!

For me, baby blankets are the ultimate because they are super quick to make (I get bored/distracted easily), they don't use that much yarn so you can treat yourself to some gorgeous stuff and whoever you give them to they will treasure them forever.
The Retro Baby Blanket is made in soft, washable yarn and fun retro colours, and this basketweave stitch blanket is a must for any new arrival.

Made from a central panel and a cute textured edging, the blanket grows in no time at all.
The pattern is here free for everyone to enjoy. You can buy an ad-free PDF version of it here.
Add the blanket to your queue on Ravelry here.
This post contains some affiliate links so any clicks from you help support me to bring more free patterns each week.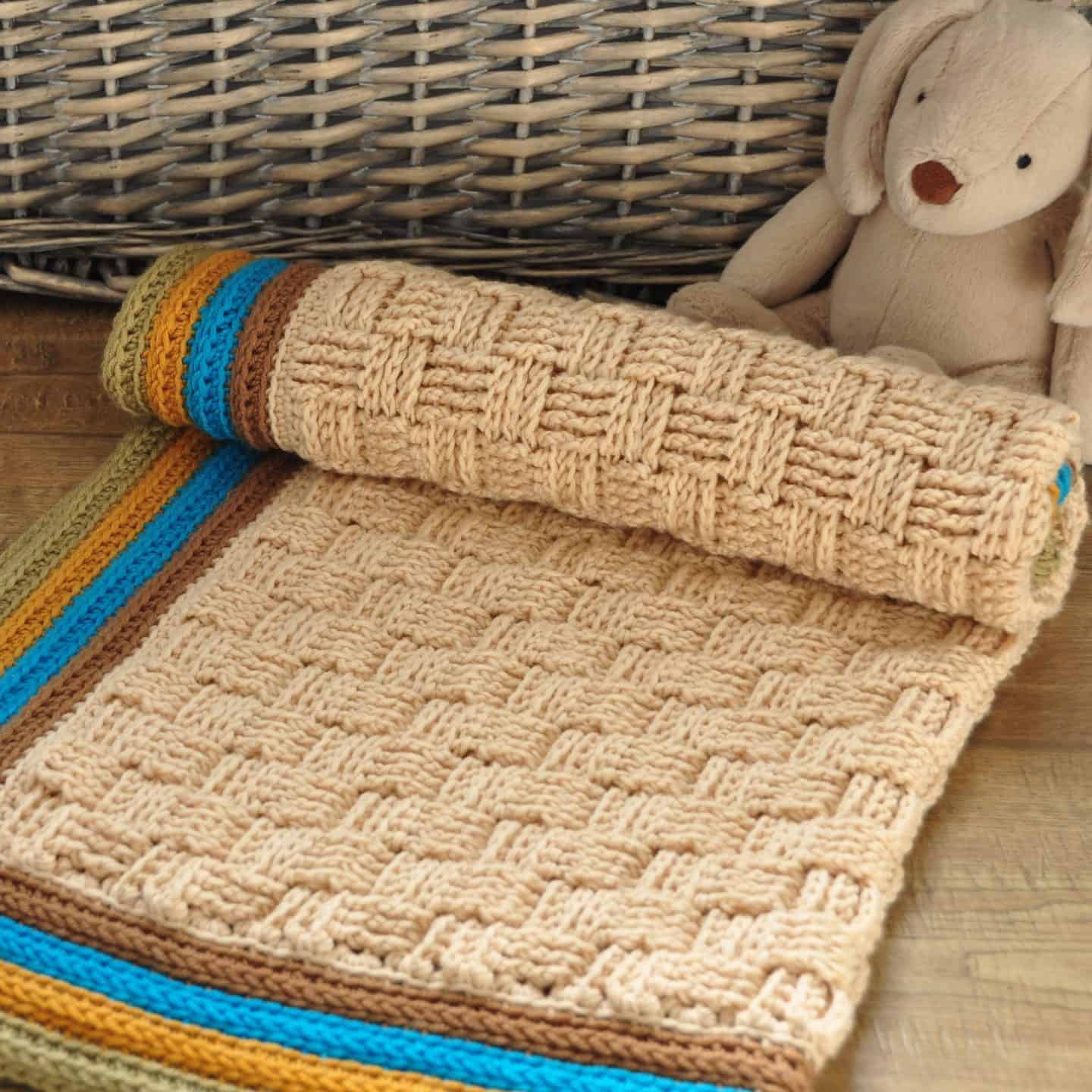 The Blanket
The Retro Blanket is a beautifully simple take on the basketweave stitch with a textured border to give a pop of colour. It's perfect for either boys or girls for the on trend gender-neutral look at the moment.
The Yarn
I used Scheepjes Merino Soft for the blanket as it's the squishiest and most beautiful yarn for anything baby.
You will need:
Scheepjes – Merino Soft DK – 25% Microfibre, 50% Wool, 25% Acrylic, 50g/105m
5 balls – Da Vinci 606
1 ball each of – Braque 607, Soutine 615, Van Gough 641, Renoir 624

Materials
Along with the yarn you will also need:
A 6mm/J crochet hook
Needle
Scissors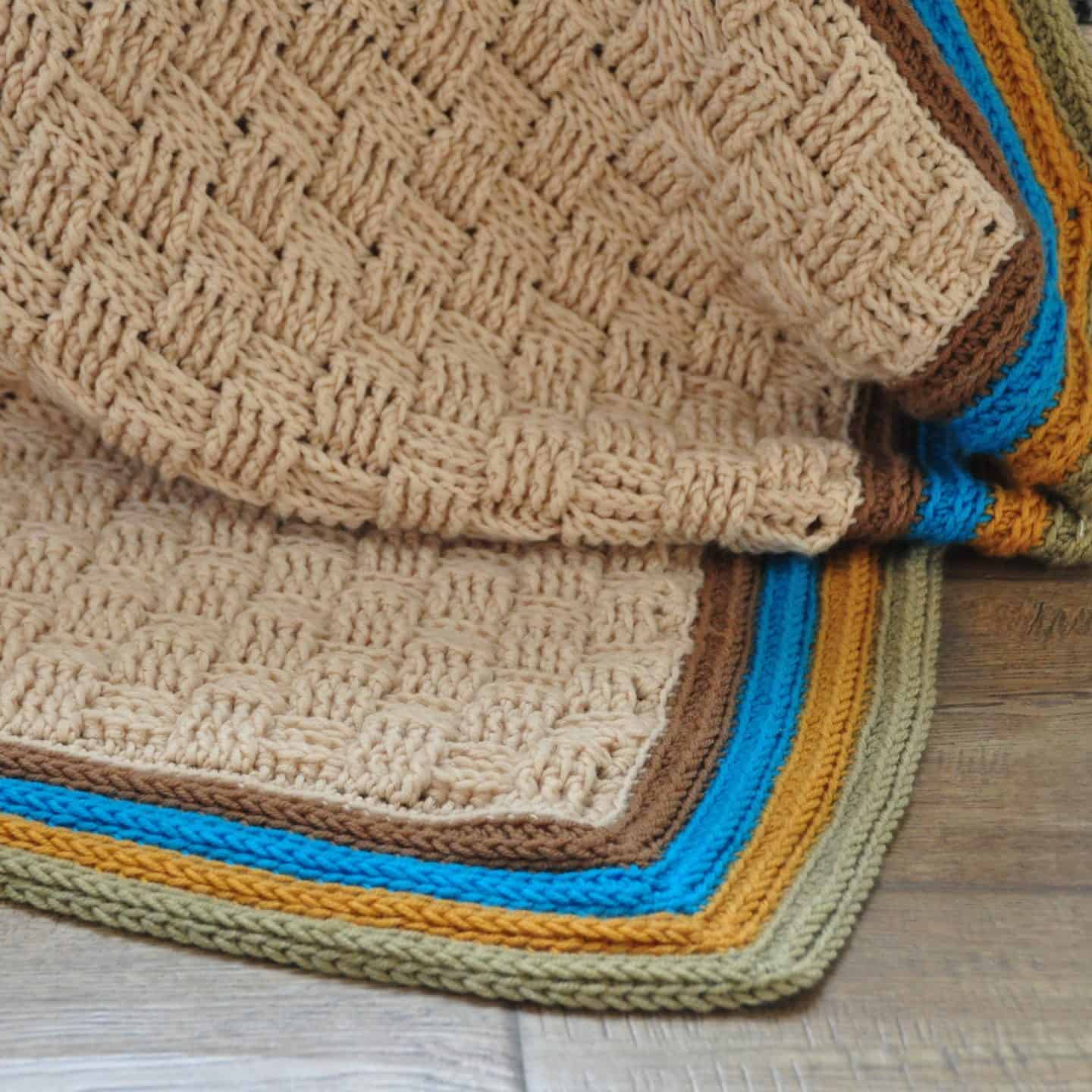 Finished Size
The finished blanket measures 82cm by 94cm
Tension
15st and 11rows = 10cm by 10cm but is not essential for this project
Glossary/Abbreviations: Standard UK terms (Standard US terms)
ch(s) – chain(s)
sk – skip
RS – right side
WS – wrong side
FP – front post
BP – back post
rep – repeat
st(s) – stitches
ss – slip stitch
dc – double crochet (sc – single crochet)
htr – half treble (hdc – half double crochet)
tr – treble (dc – double crochet)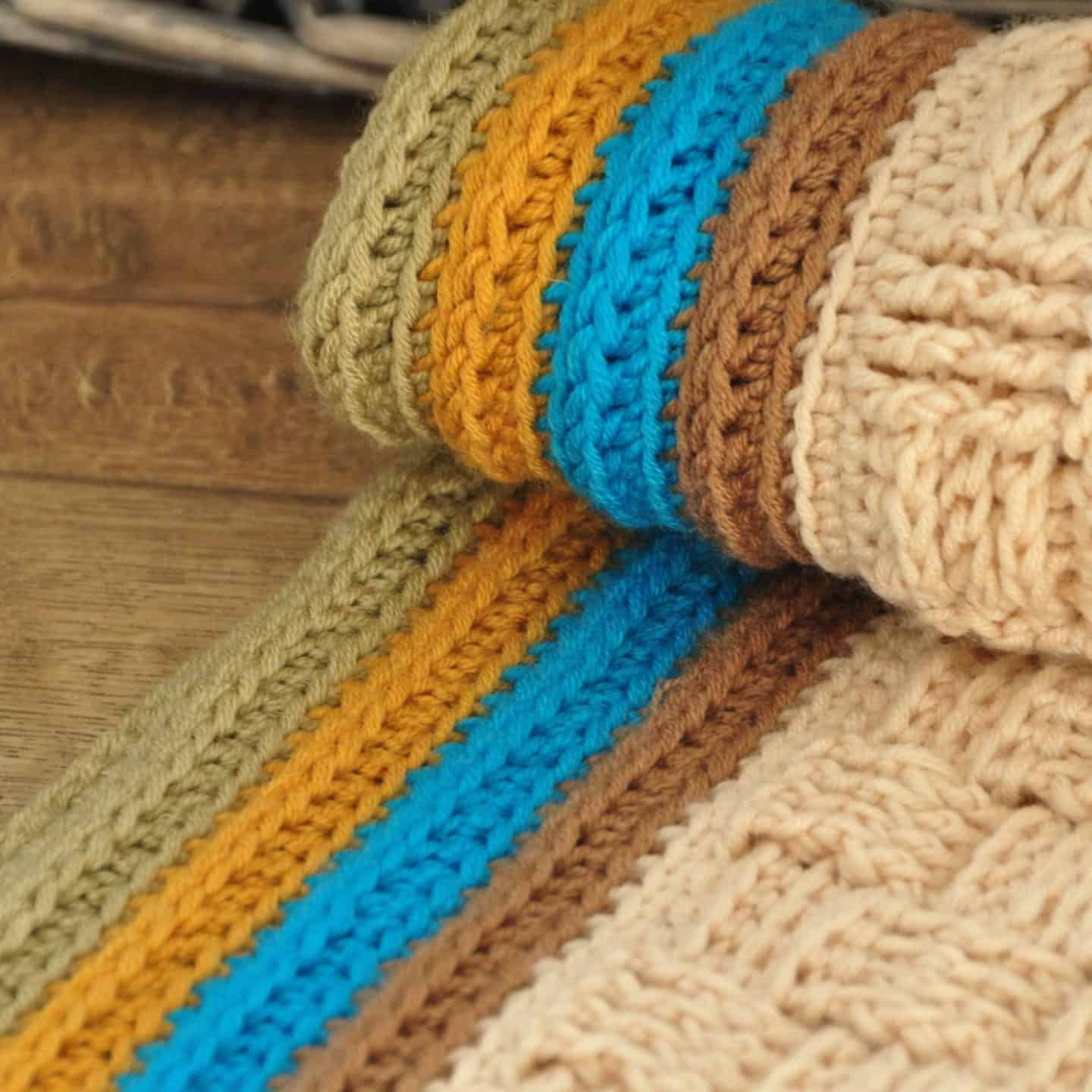 The Pattern
Using standard UK terms –
Foundation chain: Using Da Vinci ch82 (multiple of 8 + 2)
Row 1: RS: tr in 4th ch from hook and each across [80]
Rows 2-4: ch2 *FPtr around each of the next 4, BPtr around each of the next 4, repeat from * to end.
Row 5-7: ch2 *BPtr around each of the next 4, FPtr around each of the next 4, repeat from * to end.
Rows 2-7 create the pattern.
Rows 8-67: Repeat the pattern.
Rows 68-70: Repeat Row 2.
Now continue in rounds around the edge of the centre panel.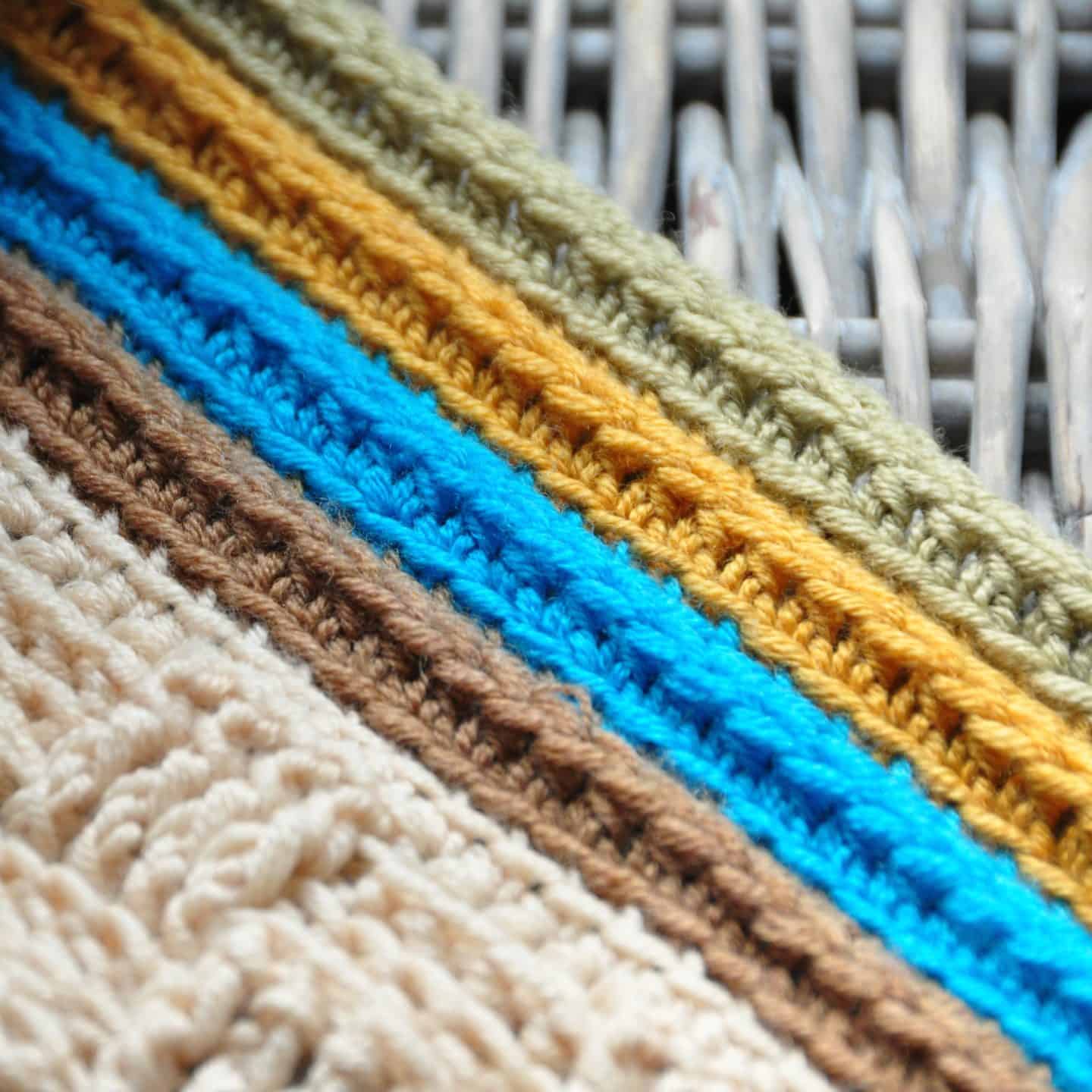 BORDER:
Round 1: Using Da Vinci ch1, 3dc in each corner st, dc in each st along edges, ss in 1st st to join, change to Braque
Work in BL only from now on.
Round 2: ch1, 2dc in each corner st, dc in each st along edges, ss in 1st to join
Round 3: ch1, htr in each st, ch1 at each corner
Round 4: ch1, 3dc in each ch1-corner sp, dc in each st along edges, ss in 1st to join
Rep rounds 2-4 three more times, working 1 rep in Soutine, 1 rep in Van Gough, 1 rep in Renoir.
Fasten off.
I absolutely love to see completed projects so make sure you add your completed projects to Ravelry here or use #hanjancrochet and tag me over on Instagram so I can find you