I'm not sure if you've picked up on it yet but baby blankets are still my favourite thing to crochet. I love that the possibilities are endless, that they don't always take as long as you think and that they'll be cherished forever. Our little boy has a massive stash of precious blankets that have been made for him and we take at least one everywhere we go. So here's another free and super easy baby blanket crochet pattern for you to enjoy and make again and again in whatever colours take your fancy.
The pattern is here free for everyone to enjoy. You can buy an ad-free printable version here.
This post contains some affiliate links so any clicks from you help support me to bring more free patterns each week.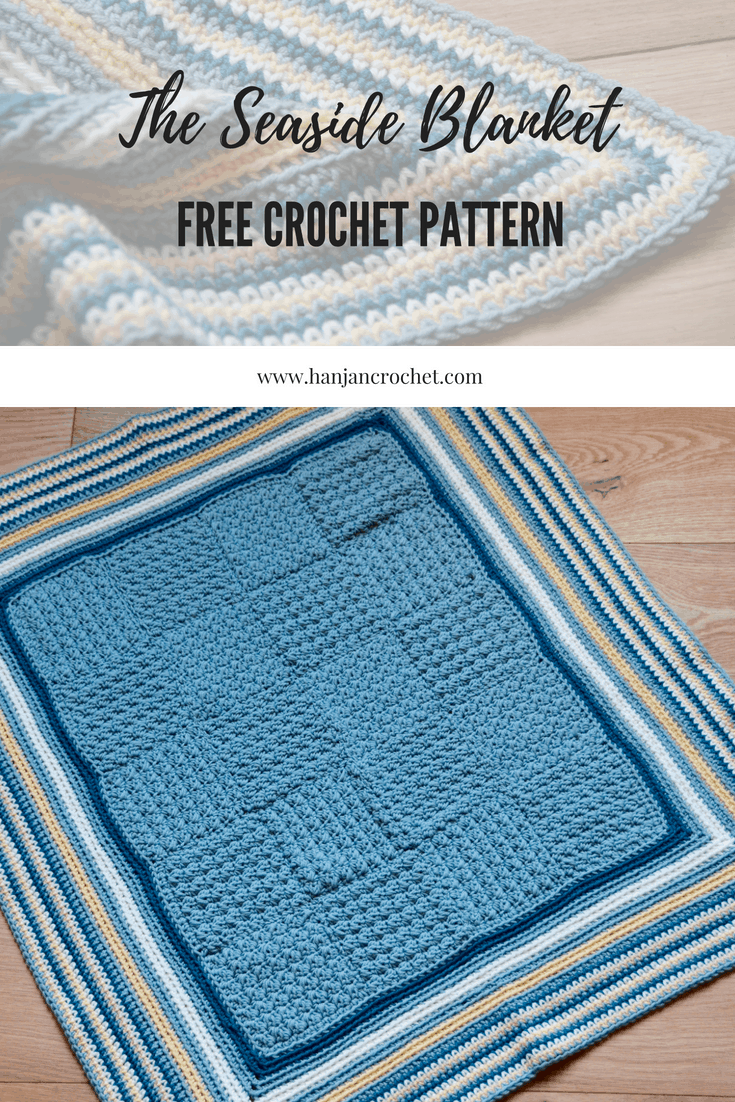 The Blanket
The Seaside Blanket is a must to celebrate any new arrival or to size up and treat yourself to. The twisting of squares creates a beautiful centre panel texture like the waves of the sea and and the pops of colour around the border are just perfect to remind you of deck chairs, sand and ice cream!
Construction
The magic of this blanket is the texture you get from all the little square motifs. They are all exactly the same but then to join them you just simply rotate each one as you join so that the pattern detail is facing a different way each time. It's a really easy way to achieve a huge amount of texture and interest without having to do anything too complicated!
The deep border of the blanket is then worked in rounds after you join the centre squares and uses a combination of sc/dc in back loops and in the centre (waistcoat stitch) too.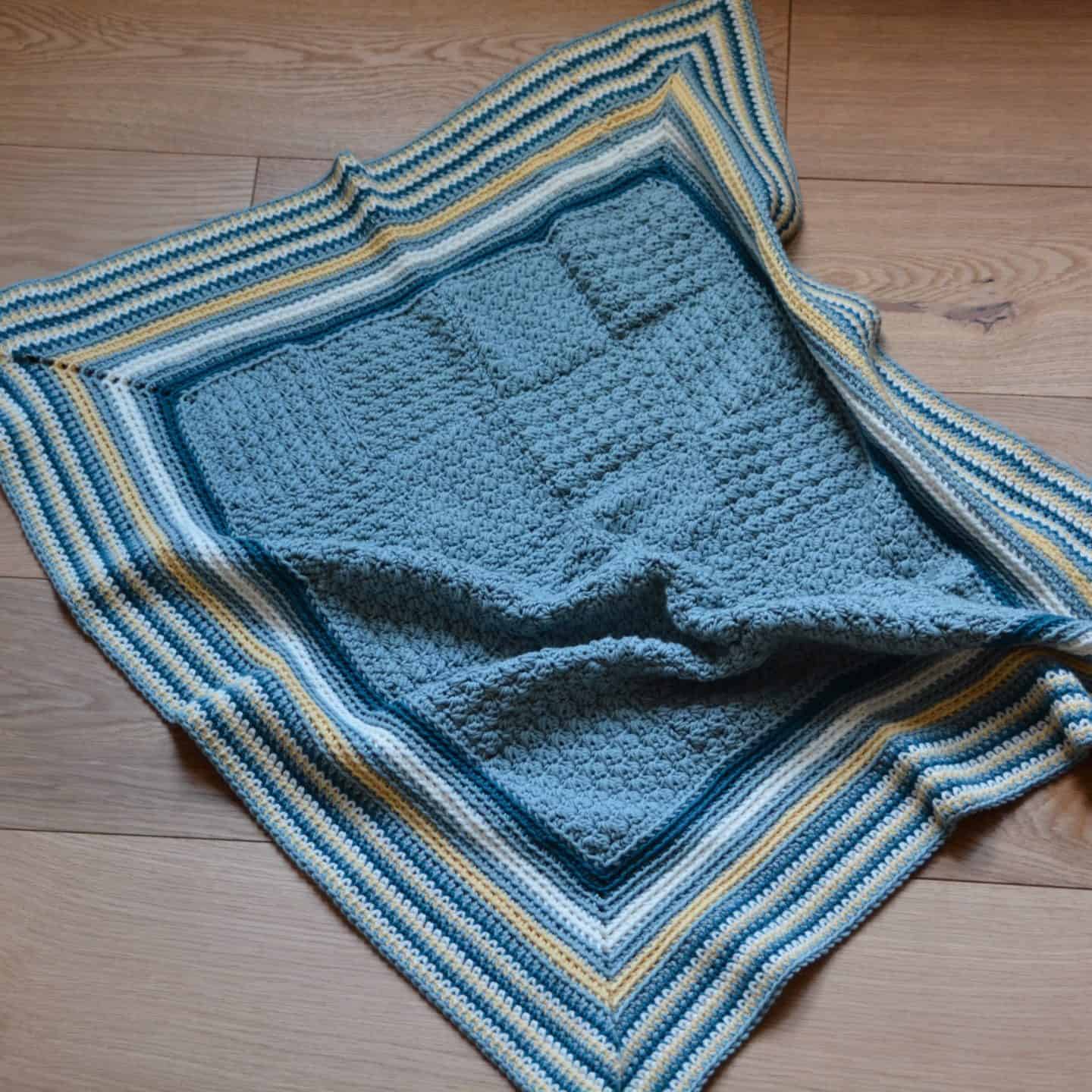 Yarn
For the blanket I chose to use Drops Merino Extra Fine which is just amazing for showing stitch definition and is perfect for a blanket with a lovely drape to it. You will need the following amounts and colours:
Drops – Merino Extra Fine 100% wool 50g/105m
6 balls of Greyish Green (15)
1 ball each of Light Yellow (24), North Sea (28) and Off White (01)

Materials:
Along with the yarn you will also need:
A 6mm/J Crochet Hook
A tapestry needle
A pair of scissors
Finished Size:
The finished blanket measures 86cm by 72cm
Tension:
15st and 13 rows = 10cm by 10cm over pattern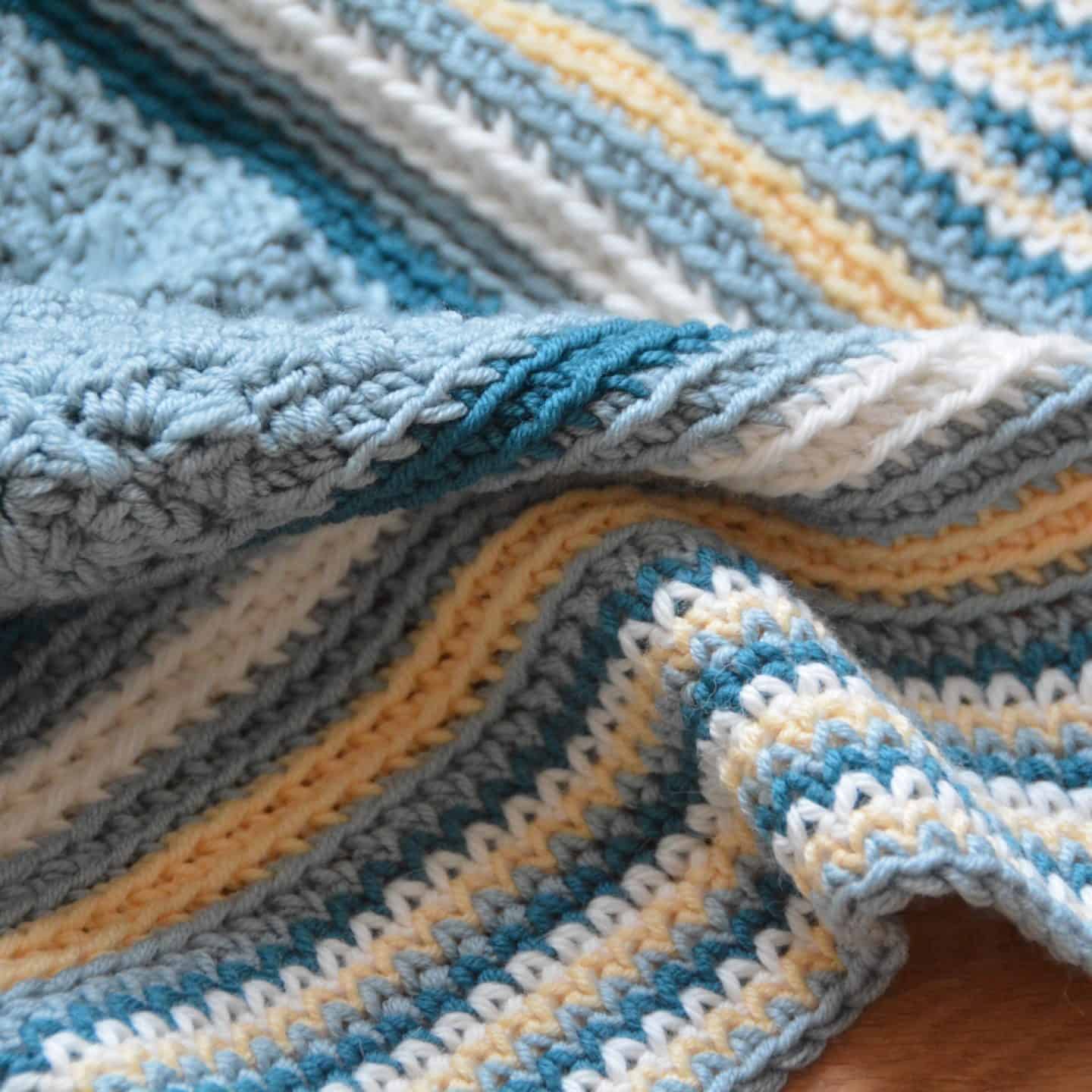 Glossary:
UK terms/US terms
ch(s) – chain(s)
sk – skip
RS – right side
WS – wrong side
rep – repeat
st(s) – stitches
ss – slip stitch
dc – double crochet (sc – single crochet)
htr – half treble (hdc – half double crochet)
tr – treble (dc – double crochet)
Pattern Notes:
The ch1 at the beginning of a row/round does not count as a stitch.
Centre Panel:
Make 20 of the following squares in Greyish Green
Foundation chain: ch16
Row 1: RS: (dc/sc, tr/dc) in 2nd ch from hook, *skip st, (dc/sc, tr/dc) in next, rep from * to last 2, skip st, dc/sc in last [15]
Row 2: ch1, (dc/sc, tr/dc) in first st, *(dc/sc, tr/dc) in next st, rep from *, ending with a dc/sc in last st
Rows 3-13: Repeat Row 2
Block all squares then sew together in a 5 by 4 formation, rotating each square you join to make the angle of the pattern different. This doesn't have to be exact, just as long as two squares next to each other aren't facing the same direction, as suggested below.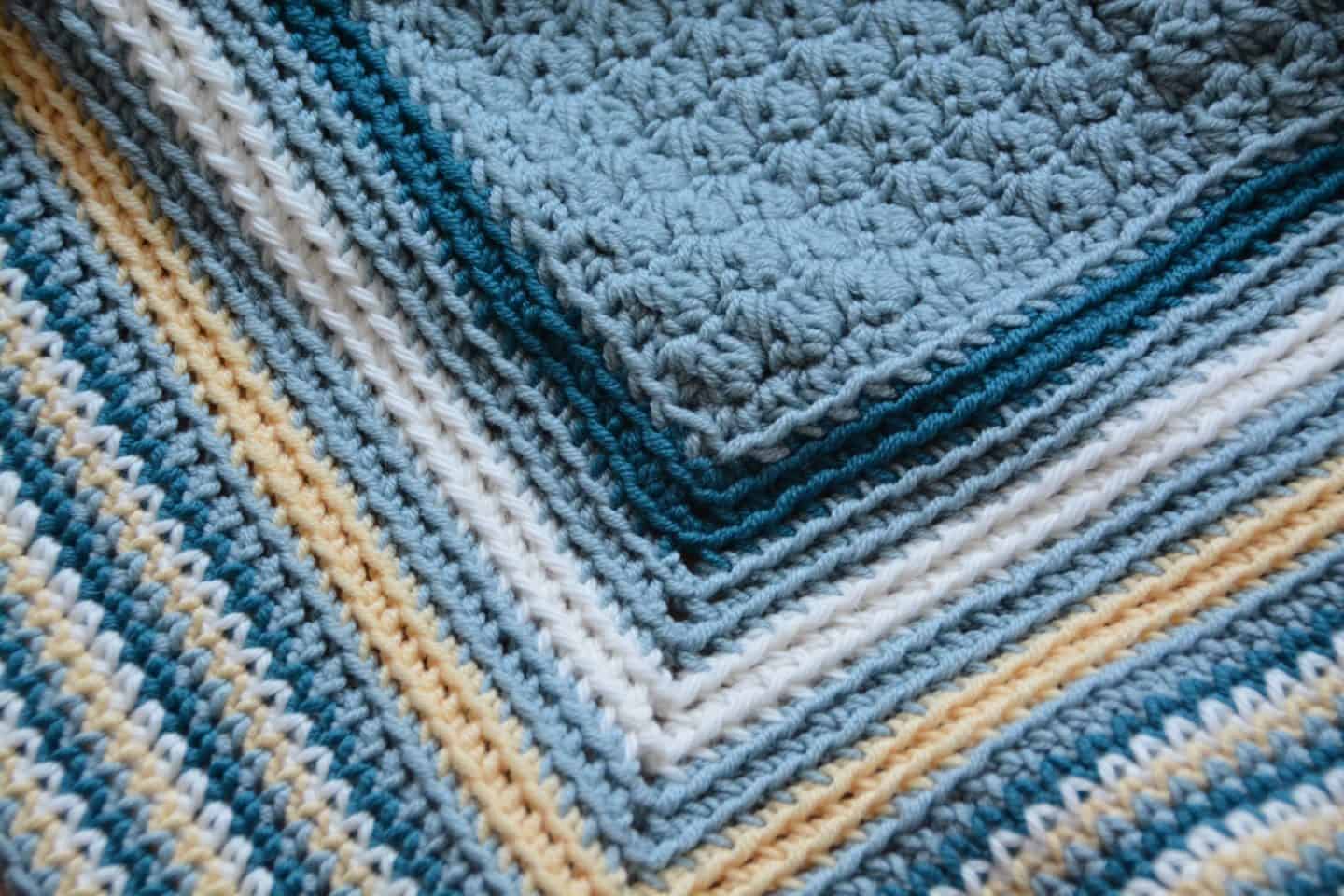 Border:
With RS facing, join Greyish Green to any corner before a short edge
Round 1: ch1, 15htr/hdc along side of each individual square, ch1 at each corner, ss in 1st to join [short sides = 60, long sides = 75, corners = 4, total = 274]
Work in BL only for next 11 rounds in the following colour sequence: North Sea x2, Greyish Green x2, Off White x2, Greyish Green x2, Light Yellow x2, Greyish Green x1
Rounds 2-12: ch1, htr/hdc in each around, (htr/hdc, ch1, htr/hdc) in each corner ch1-sp, ss in 1st to join
Work the next rounds in the following colour sequence: *Greenish Grey, North Sea, Off White, Light Yellow, rep from * two more times, finish with Greenish Grey
Rounds 13-25: ch1, dc/sc in centre of each stitch to form a V, (dc/sc, ch1, dc/sc) in each corner ch1-sp, ss in 1st to join. (This stitch technique is called Waistcoat Stitch – click here for a free tutorial on exactly how to do it.)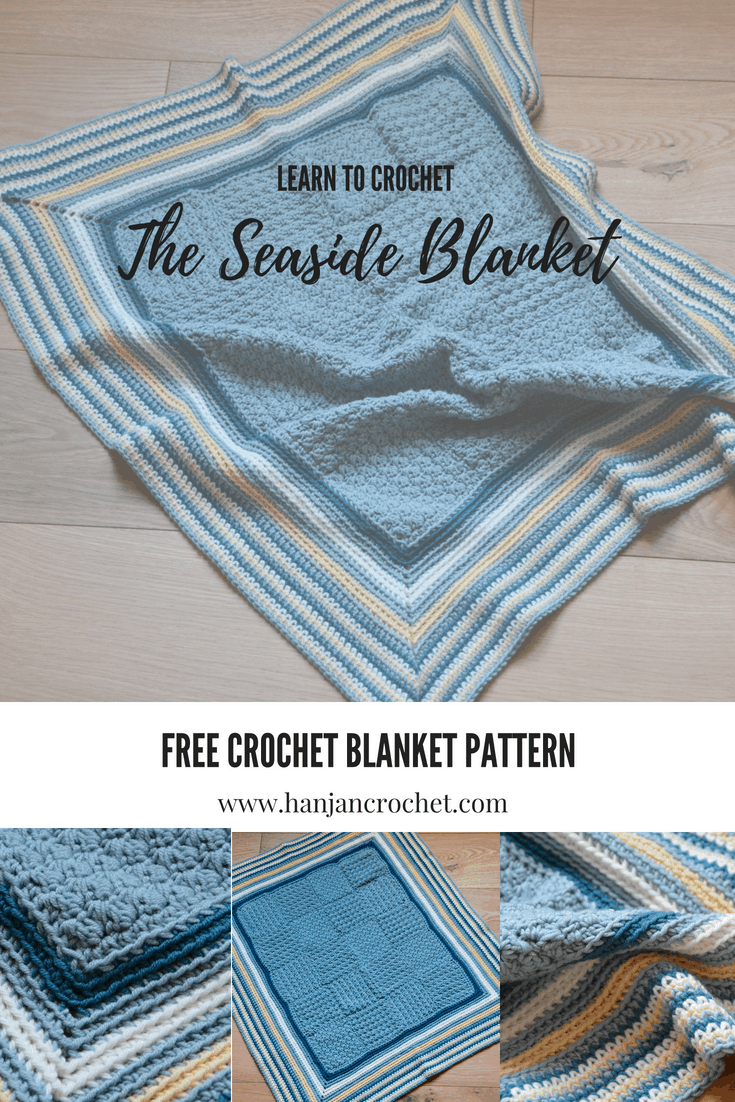 Share your projects with me!
I absolutely love to see completed projects so make sure you add your completed projects to Ravelry here and use #hanjancrochet and tag me over on Instagram so I can find you!