The thing I've always loved designing and making is a precious heirloom crochet baby blanket. There's something so very beautiful about creating a handmade gift for a new baby that makes it feel so very special and heartfelt.
I know that every single crochet baby blanket I've ever made has been crocheted with love and excitement for the new arrival. Over the years I've created many a colourful and fun crochet blanket pattern but today I'm here to share a collection of more classic crochet blanket patterns with you.
Whether you're looking for something to suit any decor, neutral to suit any baby gender, or to be as sophisticated and stylish as a newborn royal baby, I've got six crochet baby blanket patterns that I hope will do all of that and them some!
3 of the patterns are also available as free patterns on my website but if you'd like an ad-free version of all of them then I've created a pattern bundle that saves you 60%! That's 5 crochet baby blanket patterns for just £4.00! (The Stripe Blanket is available separately on Ravelry too).
Get the heirloom crochet blanket pattern bundle here!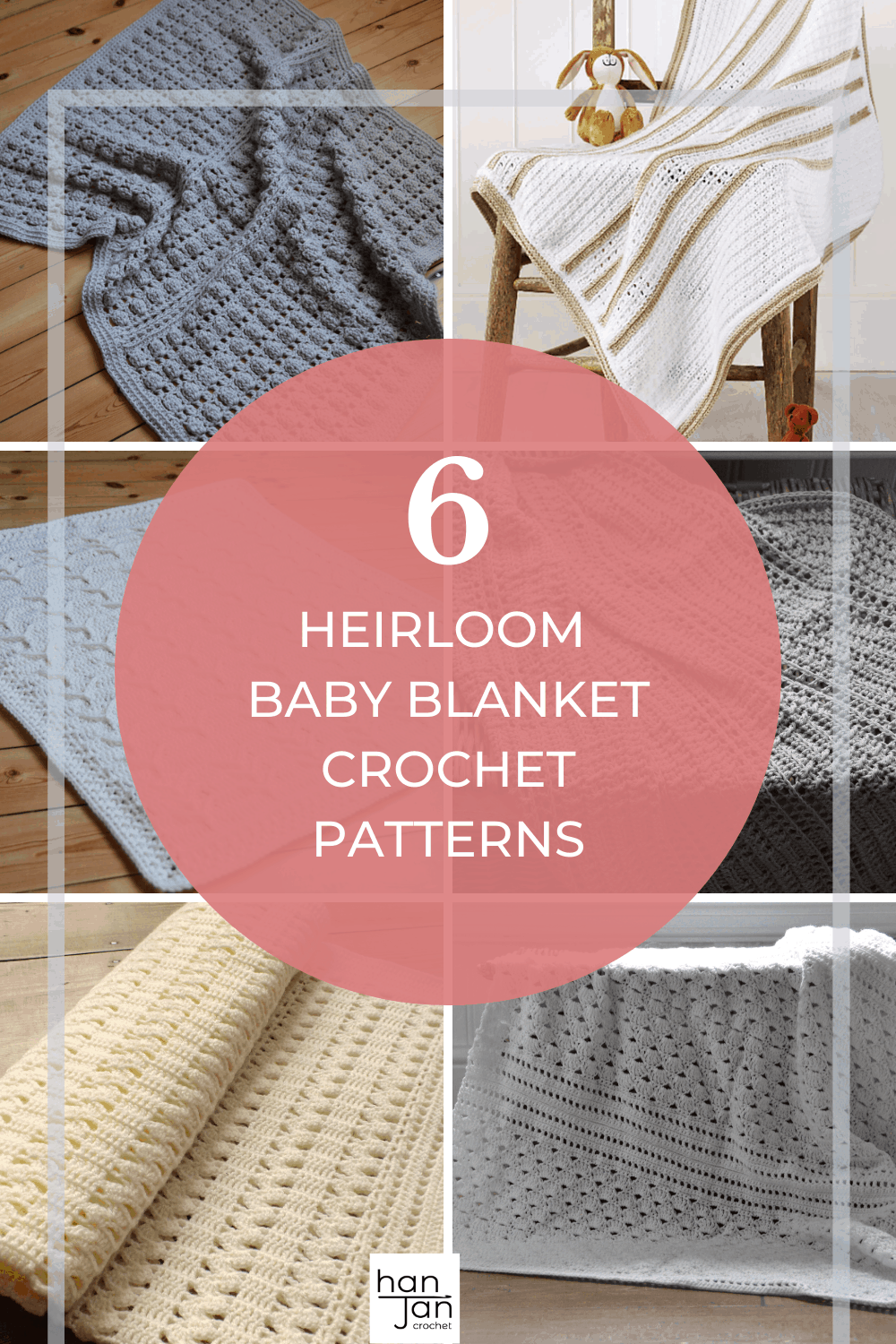 I'd love to stay in touch with you to find out more about you and your crochet and also to share my new free crochet patterns and tutorials. If you'd like to, you can sign up below – I can't wait to meet you!
Heirloom Crochet Baby Blanket Pattern Collection
I really hope you enjoy these crochet baby blankets! I have made all of them countless times and love making them still!
Find the Heirloom Crochet Baby Blanket Pattern bundle here!
Colourful Crochet Baby Blanket Patterns
If crochet baby blankets are something you love to make (I mean, who doesn't?!), then you might enjoy these:

The Larksfoot Blanket – free pattern and PDF download
Baby Blooms Blanket – paid pattern and yarn kit also available
The Granny Block Blanket – free pattern and PDF download
Quick, Stashbusting Baby Crochet Patterns

Baby Bunny Hats – free pattern
Slip Stitch Beanie – free pattern
Pumpkin Beanie Hat – free pattern
HanJan Crochet Blanket Kits
I'm so happy to be able to offer everyone the chance to not only get the patterns for my blankets but to get the yarn kits for them too!
Here are just a few of them you might like (lots of them have free PDFs of the pattern that you can download even if you don't purchase the kit!)
Join HanJan and Share Your Crochet!
I'd love to stay connected with you so please do sign up for my subscriber list if you'd like to.
Looking forward to hearing from you and sending you your free gift!
Thank you so much for being here to share in my free crochet patterns and supporting my blog. It's such an honour to be able to create and share my craft with you.
I'd love to see your finished crochet projects and so please share them with me in one (or all!) of the following ways –