The Time to Bloom Blanket is a celebration of flowers and geometry! A stunning hexagon crochet blanket pattern that has floral notes, deep borders and a whole lot more.
Using just beginner crochet stitches, you can make this blanket using any colour combinations you like. The detailed floral motif centres are surrounded by simple stitches then joined to created a quilt like blanket that you can treasure forever.
If you've ever wanted to push your crochet skills and learn to create new shapes (hello hexagons, half hexagons and quarter hexagons!), get a professional join to motifs and crochet floral borders then this is the blanket for you!
I am delighted to be hosting a crochet along for this blanket is July 2023 🙂 If you haven't got your ticket yet (free and paid options available) then you can sign up here.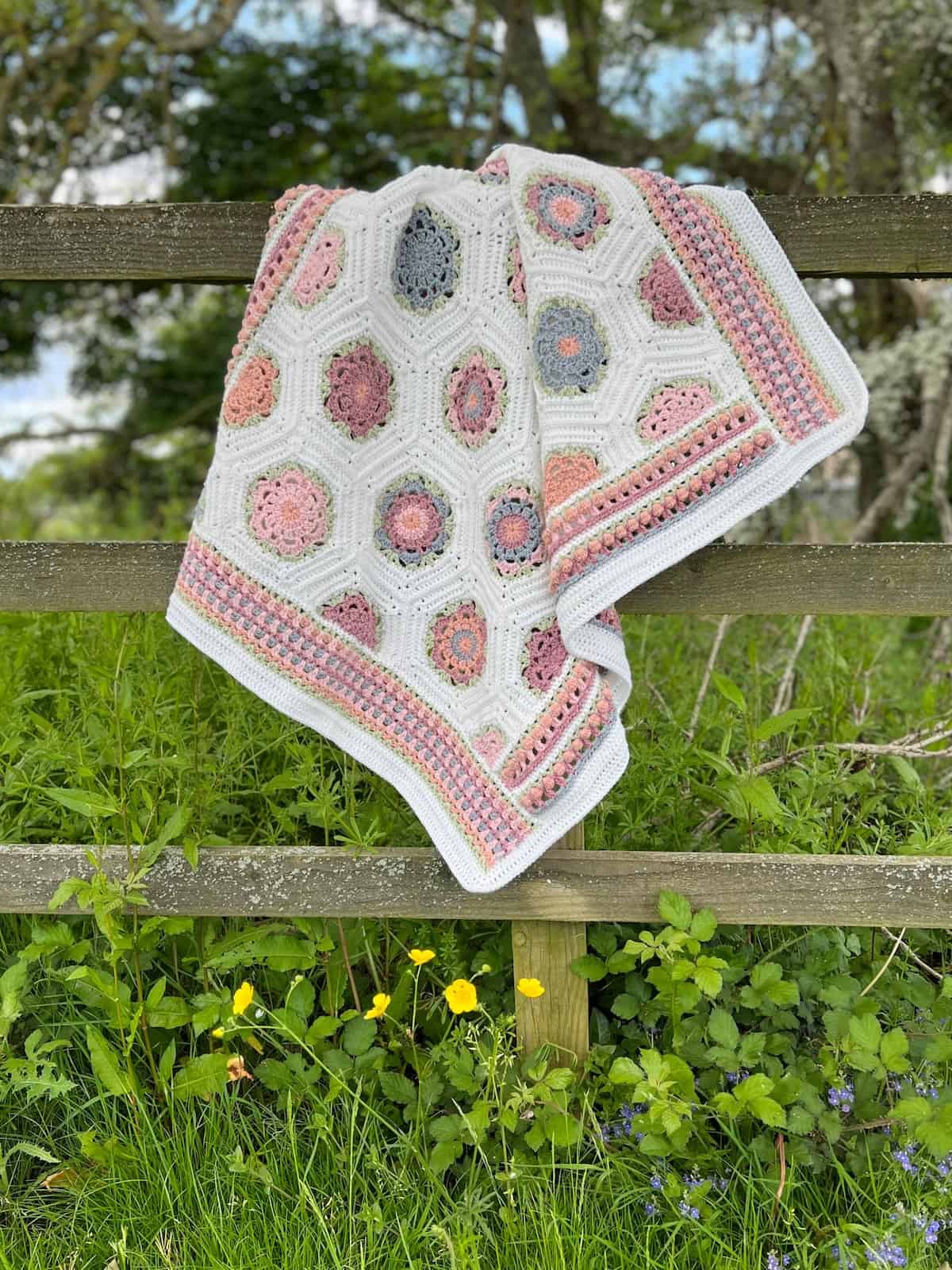 This post may contain affiliate links. Please see my full disclosure and privacy policy for details.
Scroll down for the links to the free to view Time to Bloom crochet pattern (it is spread across 4 posts as it would be so long otherwise!), or purchase the 25 page PDF Ebook or the full online crochet course with bonus videos, downloads and more to help you conquer making this beautiful blanket.
About this hexagon crochet blanket pattern
I have always been a fan of a crochet blanket made from motifs because they are so portable, flexible and seem to grow quickly!
If like me you sometimes need a project that you can work on piece by piece rather than intimidating rows of hundreds of stitches then this is perfect for you.
The story behind this design is quite a personal one but I'm so happy to share it with you as I know lots of us have times of struggle in our lives.
The Time to Bloom Blanket came into being at a point where I was ready to give up on crochet and designing.
In fact, I was pretty much ready to give up on most things.
My son Elliot was 2 and Oliver just 5 weeks old when my husband had emergency brain surgery to save his life. From that moment I was consumed by debilitating panic attacks that stopped me from doing most things, including crochet.
One day I found the strength to pick up my hook and yarn and design a crochet hexagon motif. I popped it on the empty dining table.
The next day I made another and laid it next to the first. I continued to do this step by step, one motif at a time. I spent an age putting the pieces of the puzzle together but sure enough the blanket grew.
The design evolved and I grew in confidence that my love of crochet would return. And it did. It really did.
Years on I want to share this pattern and love of crochet with you.
I want you to know that even though it might just be a blanket, just crochet, it can be much more powerful than that.
Whether you want to join to learn new crochet skills, to enjoy the mindfulness of making something in manageable sections or, if like me, you need to make something to piece yourself back together then I'd be delighted to have you join.
The design explores all sorts of techniques using just beginner stitches and so is the perfect project for everyone to make!
Just remember one thing though – be kind to yourself.
Step by step, piece by piece, we will make it there together.
Why is a crochet hexagon blanket good to make?
If you had asked me years ago when I first began to crochet I would have told you I couldn't think of anything worse than making lots of hexagons (or any shape in fact) and crocheting them together to make a blanket!
But as the years have gone by I've realised that lots of us begin large crochet projects that never get finished because they seem so overwhelming.
With motifs this isn't the case. You can make 1 or 2 of these hexagons in an evening and feel a sense of accomplishment and pride. It is a great way to gain skills and repeat the same motif again and again to develop your technique.
Not only that but:
They are really portable making them great holiday projects
They often use a mixture of colours making them perfect for your yarn stash
They often have recurring stitches and shapes so that you can build on your confidence as you make
They look amazing!
Have I convinced you yet?
How is the blanket made?
As you can see from the diagram below, the blanket is designed with 5 different hexagon motifs: full hexagons, 2 half hexagons and 2 quarter hexagons (Motifs 1-5). These are crocheted together to form the body of the blanket and bordered by 4 panels worked directly onto the blanket and a final border.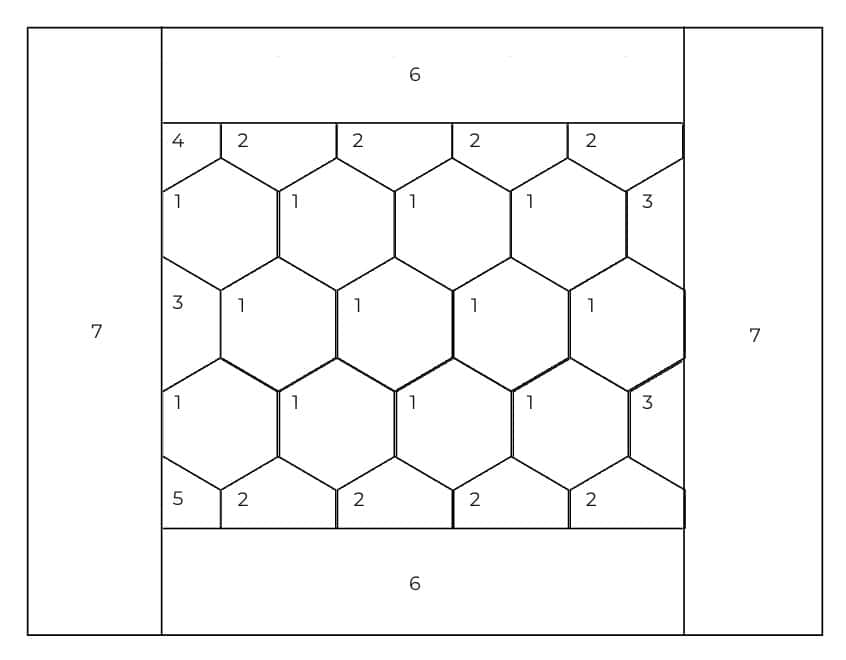 Full Hexagon Motif
Long Edge Half Hexagon
Short Edge Half Hexagon
Quarter Hexagon (version 1)
Quarter Hexagon (version 2)
Floral Crochet Border Panels (version 1)
Floral Crochet Border Panels (version 2)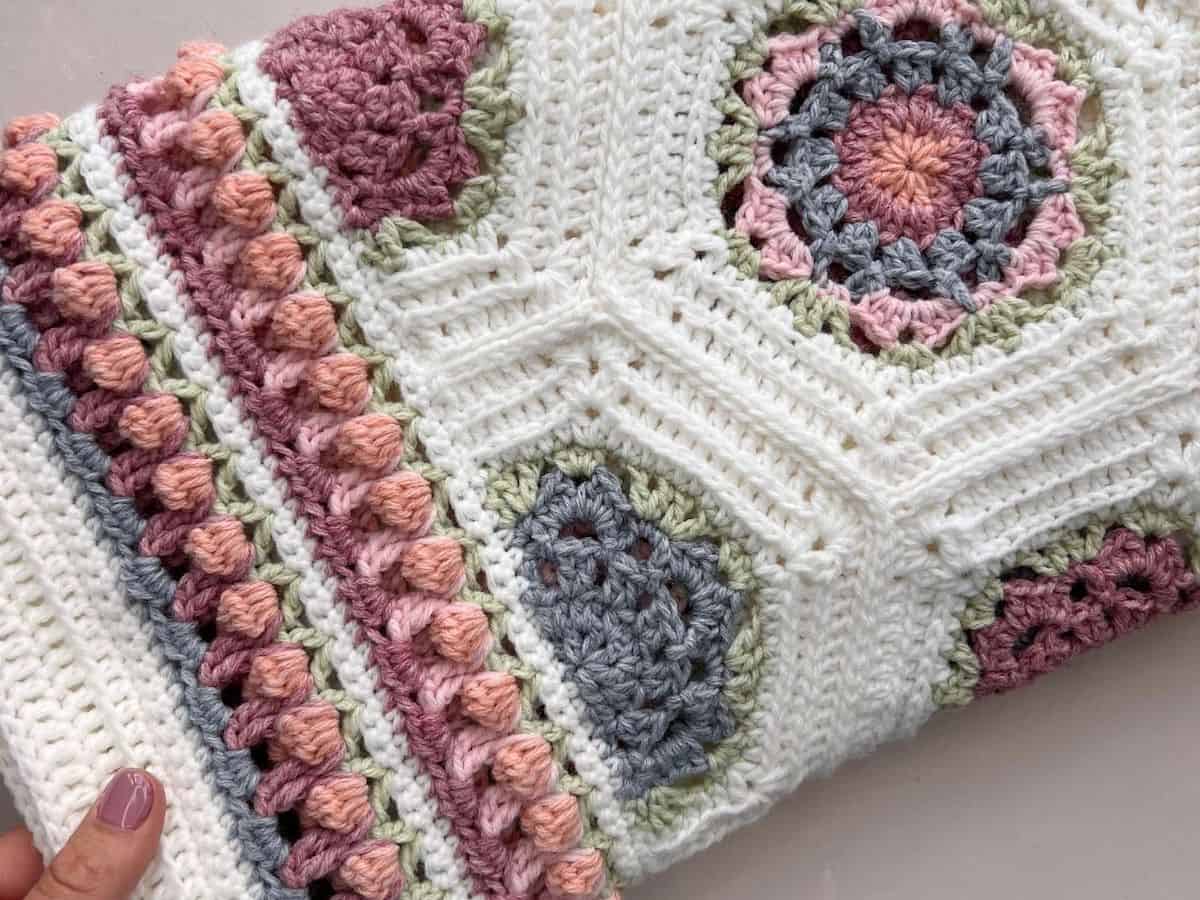 This post will give you all the yarn and sizing details that you need plus the links to where to find each part of the pattern.
Join the crochet along!
I am thrilled to be hosting a crochet along for this blanket in July 2023! Thousands of people have signed up already and have their yarn good to go but please don't worry if you have't got your ticket yet – there is still plenty of time to join!
If you choose to view the pattern for free on the blog throughout the CAL then you'll find a new section released each week from 3rd July. There will be 4 weeks of releases and then you can work on your blanket as you'd like to.
Join the Time to Bloom CAL!
Find out about the free and paid VIP options here:
If you have already signed up for your free ticket then read on to find the details and links for each part of the pattern.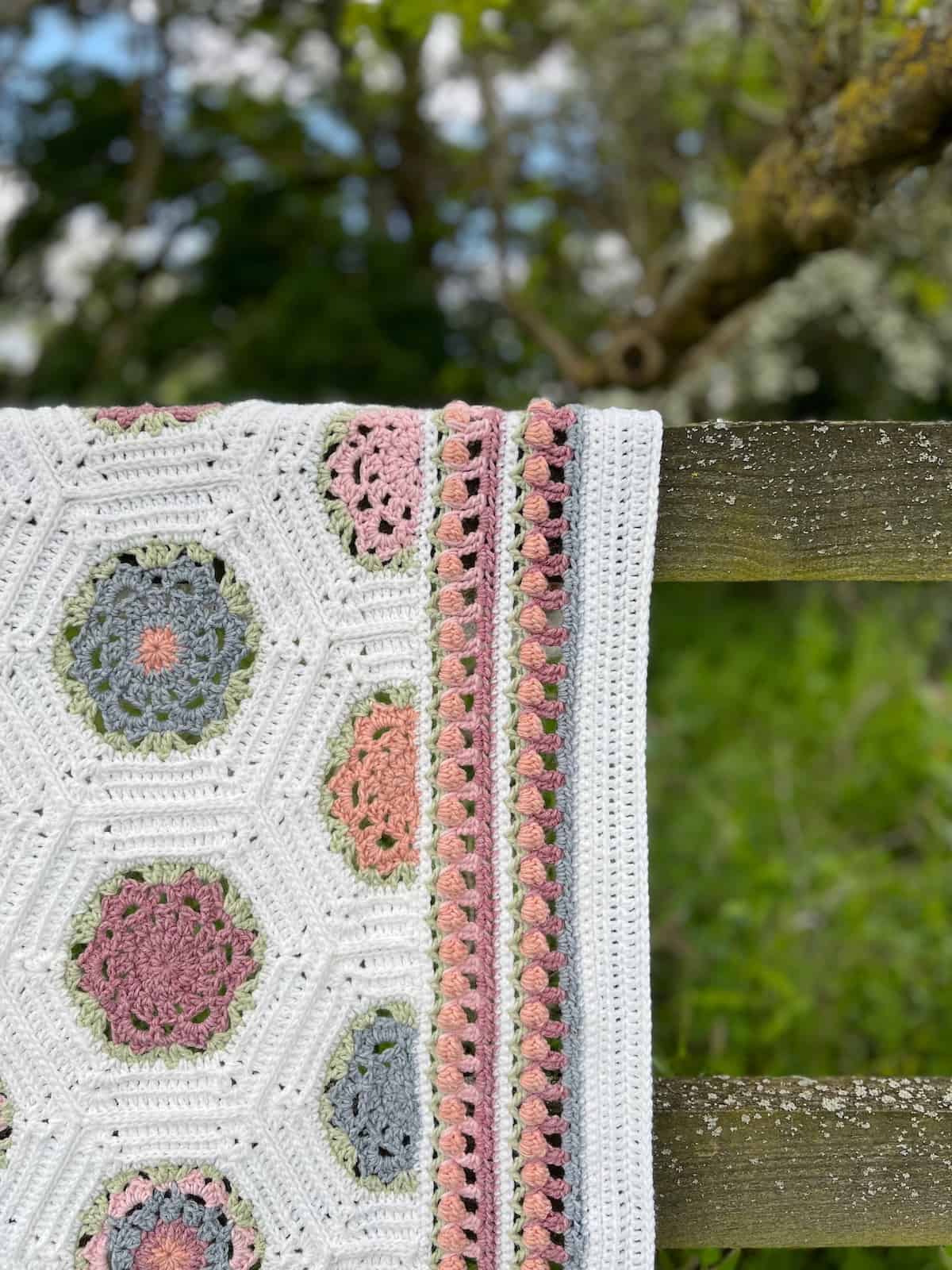 Can I find everything all in one place?
Absolutely. I know that the free to view version doesn't work for everyone so I've created an entire ad-free course that you can purchase and enjoy lifetime access to. All in one place, forever.
Here's a peek of all the extras you get with the course: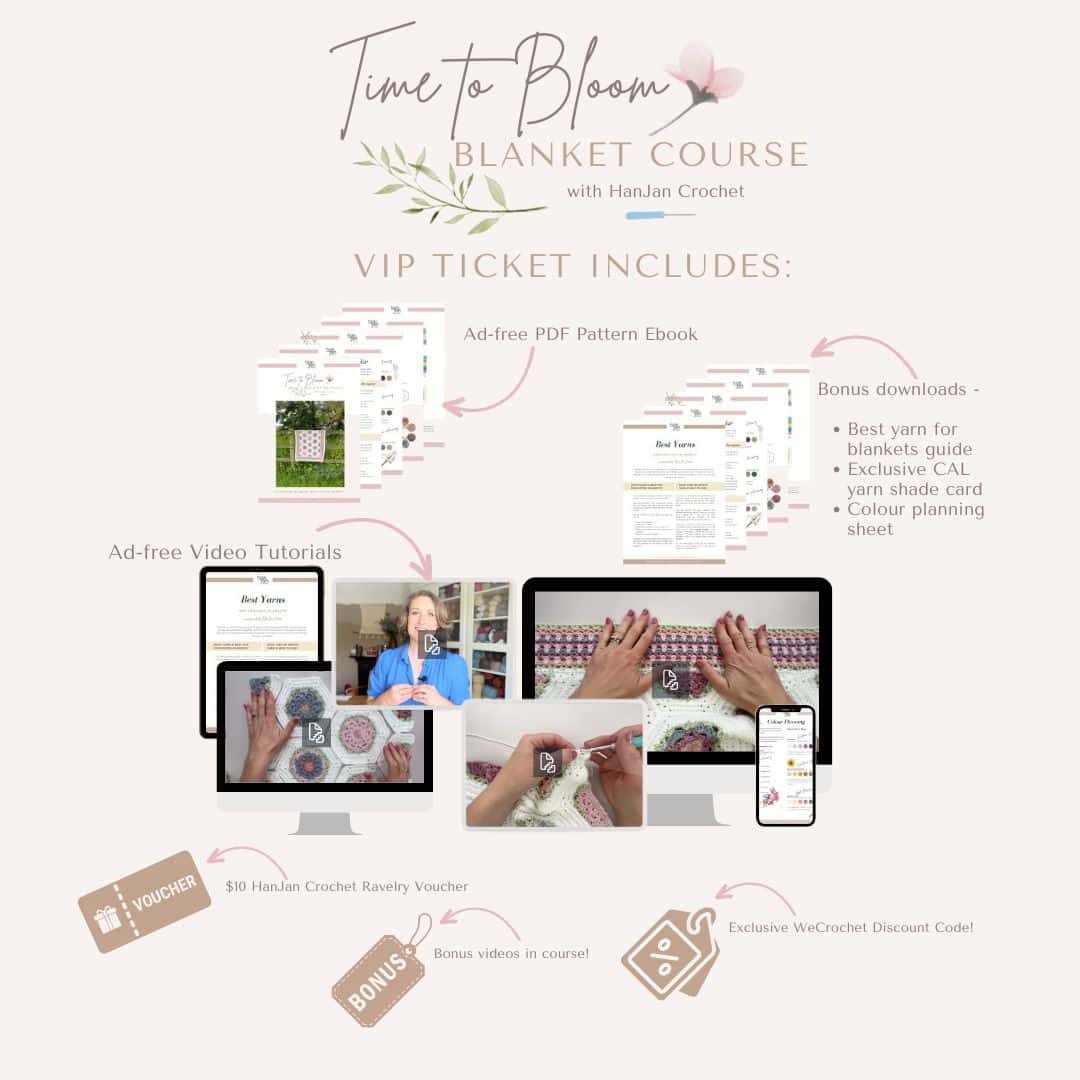 Yarn
To make the blanket I used Heatherly Sport from WeCrochet, It's 80% acrylic, 20% Merino Wool, 328yds(300m)/100g and beautiful to work with.
I was lucky enough to work with WeCrochet to create four different yarn packs using various yarns and colours to suit lots of budgets. They all have a floral feel to them and I can't decide which I love best!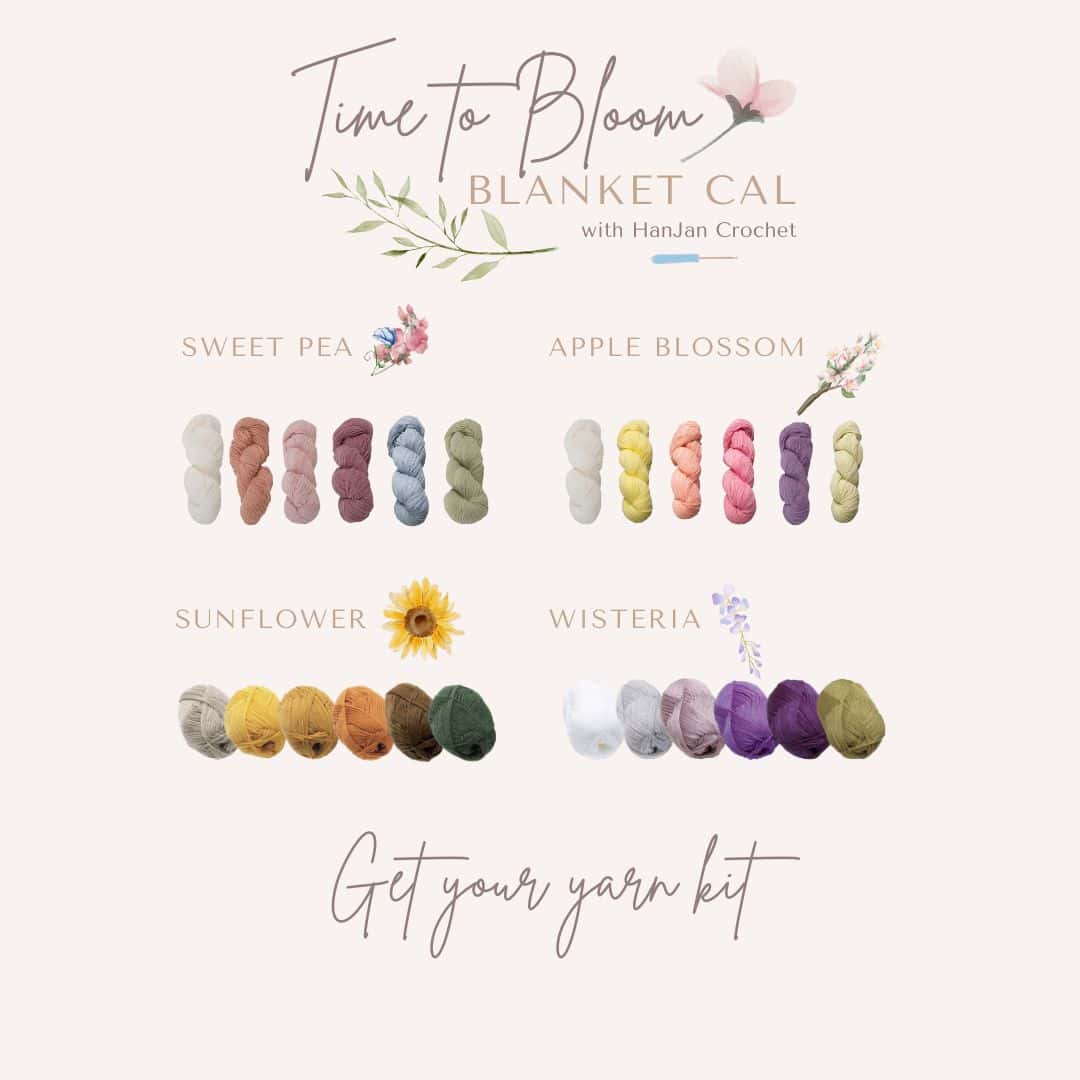 Sweet Pea, Apple Blossom, Sunflower, Wisteria
Please note that you will currently have to build your Sweet Pea and Apple Blossom kits and replace Snowflake with another Heatherly shade OR Brava Sport in White.
For my sample I use the Sweet Pea kit containing the following colours:
A: Snowflake; 3 balls, approx 822m/900yds
B: Peach Fuzz; 1 ball, approx 275m/300yds
C: Sweetheart; 1 ball, approx 275m/300yds
D: Sweet Bing; 1 ball, approx 275m/300yds
E: Bedtime; 1 ball, approx 275m/300yds
F: Key Lime; 1 ball, approx 275m/300yds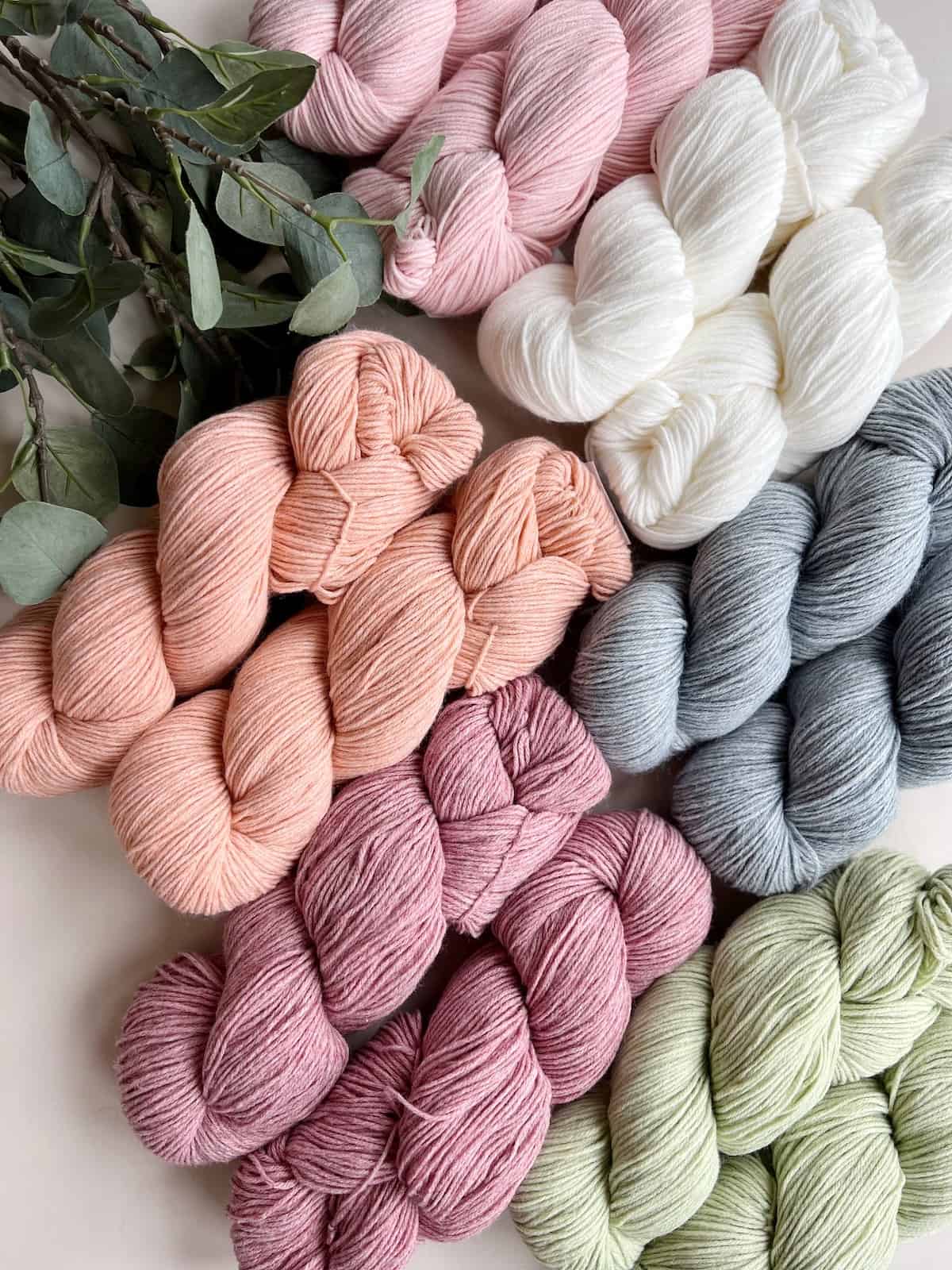 The Apple Blossom kit contains the following colours in Heatherly Sport:
A: Snowflake, B: Lemonade, C: Ice Pop, D: Juice Box, E: Lilac, F: Cardamom
The Wisteria kit contains the following colours in Brava Sport:
A: White, B: Dove Heather, C: Seraphim, D: Freesia, E: Mulberry, F: Fig
The Sunflower kit contains the following colours in Wool of the Andes Sport:
A: Mink Heather, B: Semolina, C: Turmeric, D: Pumpkin, E: Chestnut, F: Forest Heather
Tension and Sizing
The finished hexagon crochet blanket measures 84cm by 102cm (33″ by 40″).
Motif 1: the full hexagon motif (scroll down to find part 1) is used as the gauge swatch and measures 7″ (17.75cm) from point to point.
Instructions for how to resize and customise the blanket are included in the PDF Ebook and Course.
Materials
Along with your yarn, you will need the following:
Prefer to get the ad-free PDF?
Get the ad-free, printable PDF Ebook here: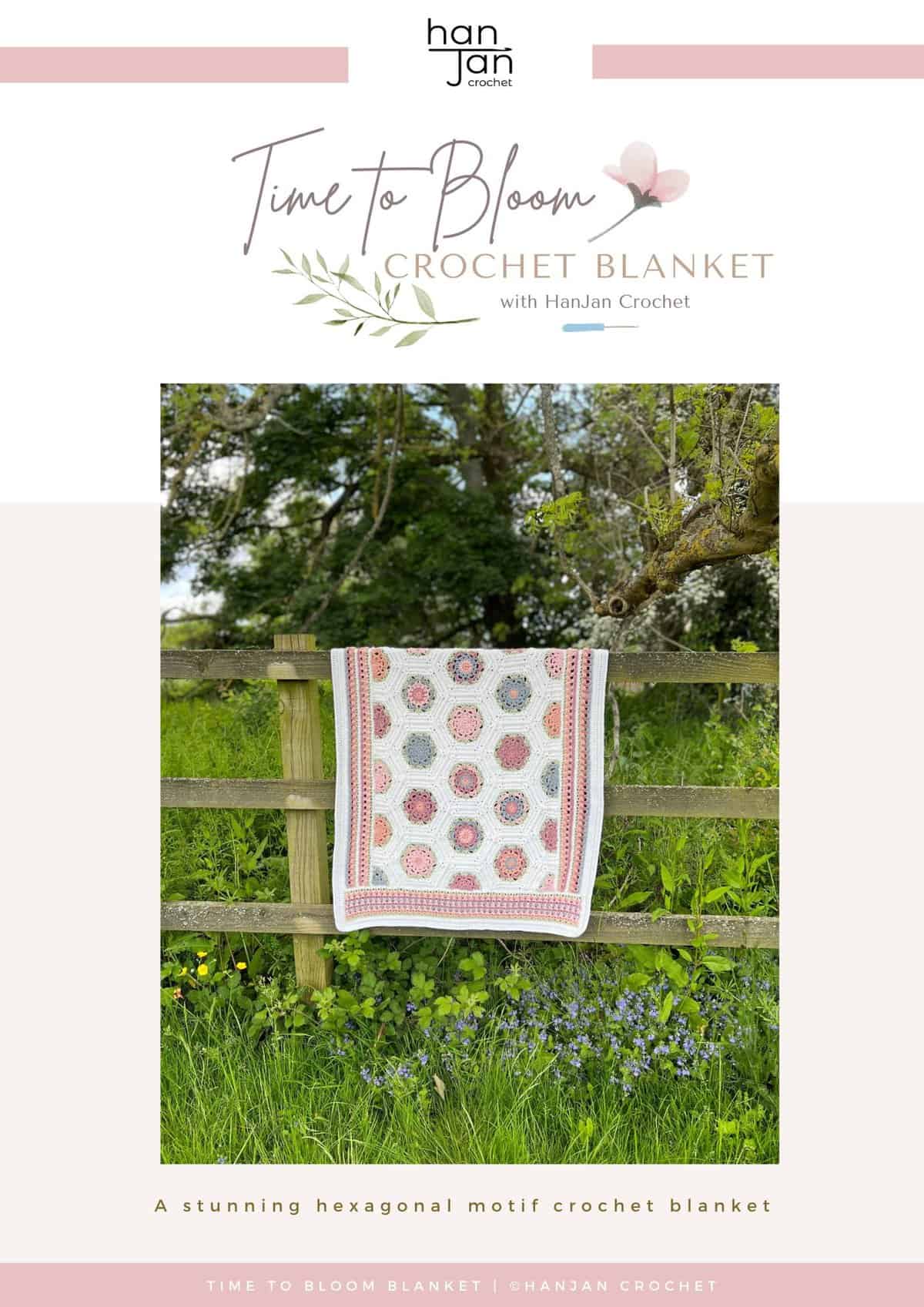 Don't forget to join HanJan Crochet to receive regular discount codes (and more free patterns!) and Pin this hexagon crochet blanket pattern to your crochet Pinterest board!
Glossary and Abbreviations
ch(s) – chain(s)
ss – slip stitch
st(s) – stitch(es)
RS – right side
rep – repeat
sp – space
yoh – yarn over hook
BLO – back loop only
Yo sl st – yarn over slip stitch
Crochet Stitches
Single crochet (sc)
Half Double Crochet (hdc)
Double Crochet (dc)
Treble Crochet (tr)
Special Stitches
4 double crochet cluster stitch (4dc-cl)
Yarn over, and insert the hook into the next stitch.
Yarn over and pull up a loop.
Yarn over again, and pull the yarn through two loops on the hook, rep from Step 1 three more times in same stitch.
Yarn over again, and pull the yarn through all loops on the hook.
Standing Stitches
Standing stitches make a great alternative to turning chains. They are created by working the stitch in 'mid air' as you begin the row or round. Make sure to check out the video tutorial to see how I do them.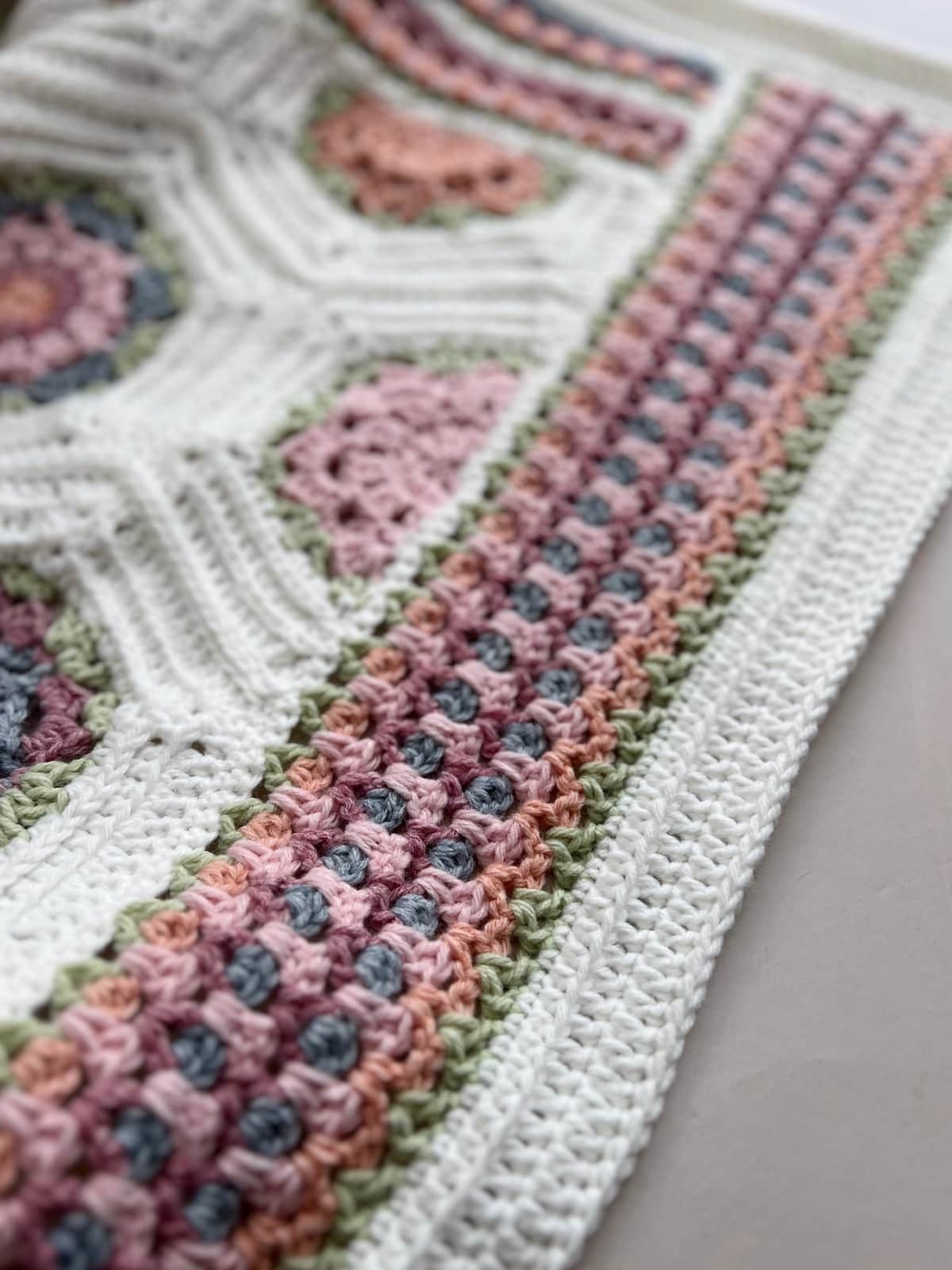 Pattern Notes
The pattern is laid out in separate parts for each Motif and Section.
You can begin each Motif with a magic ring or ch2 and work into the 2nd ch from hook, whichever you prefer.
A ch1 at the beginning of a row does not count as st.
Stitch counts are given in [ ] at the end of each round. If no stitch count is given, then the count is the same as the previous round.
Construction
The centre of the blanket is worked in motifs that are laid out as per the diagram above.
The motifs are then joined using a flat slip stitch seam (or sewn if you prefer). See my guide for joining crochet hexagons for a step by step tutorial.
The side panels are then added in rows that turn at the end of each row.
The border is then added around the edge of the blanket in rounds without turning your work.
Time to Bloom Blanket Crochet Pattern Sections
WEEK 1: 3rd July 2023
MOTIF 1: Full Hexagon Motif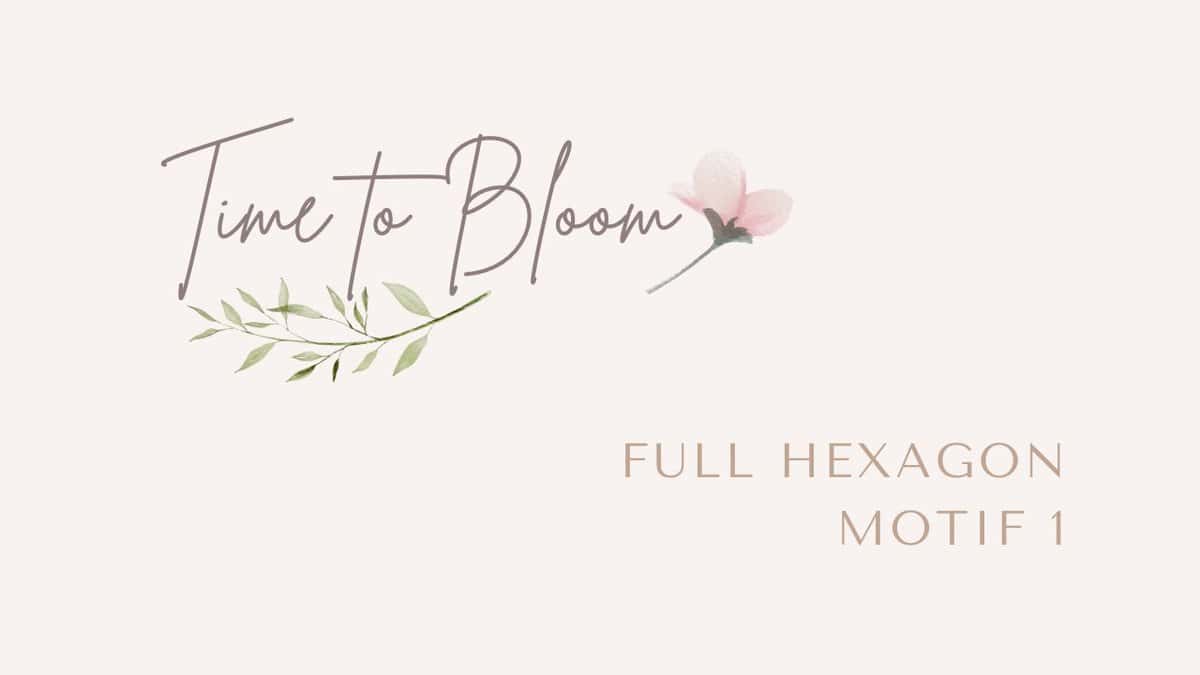 Find the written pattern for Motif 1 here: Full Hexagon Motif.
You need to make 12 of these as detailed in the blogpost.
WEEK 2: 10th July 2023
MOTIF 2 & 3: Long and Short Edge Half Hexagons
MOTIF 4 & 5: Quarter Hexagons Versions 1 & 2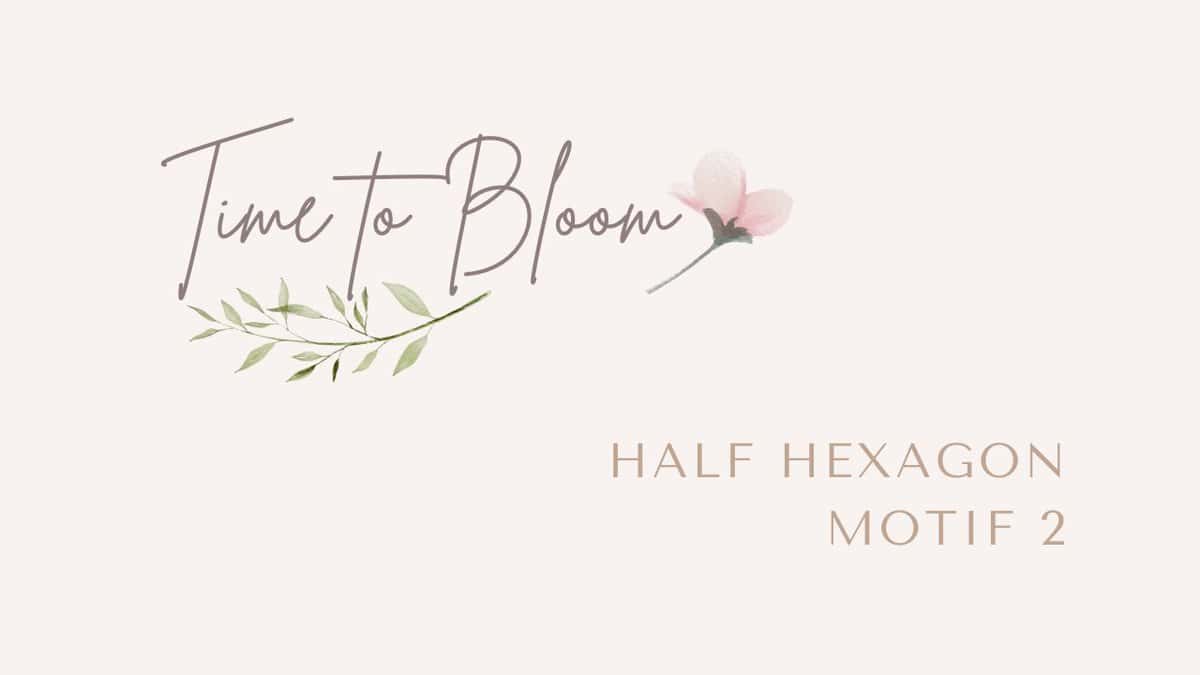 Find the written pattern for Motif 2 here: Long Edge Half Hexagon Motif.
You need to make 8 of these as detailed in the blogpost.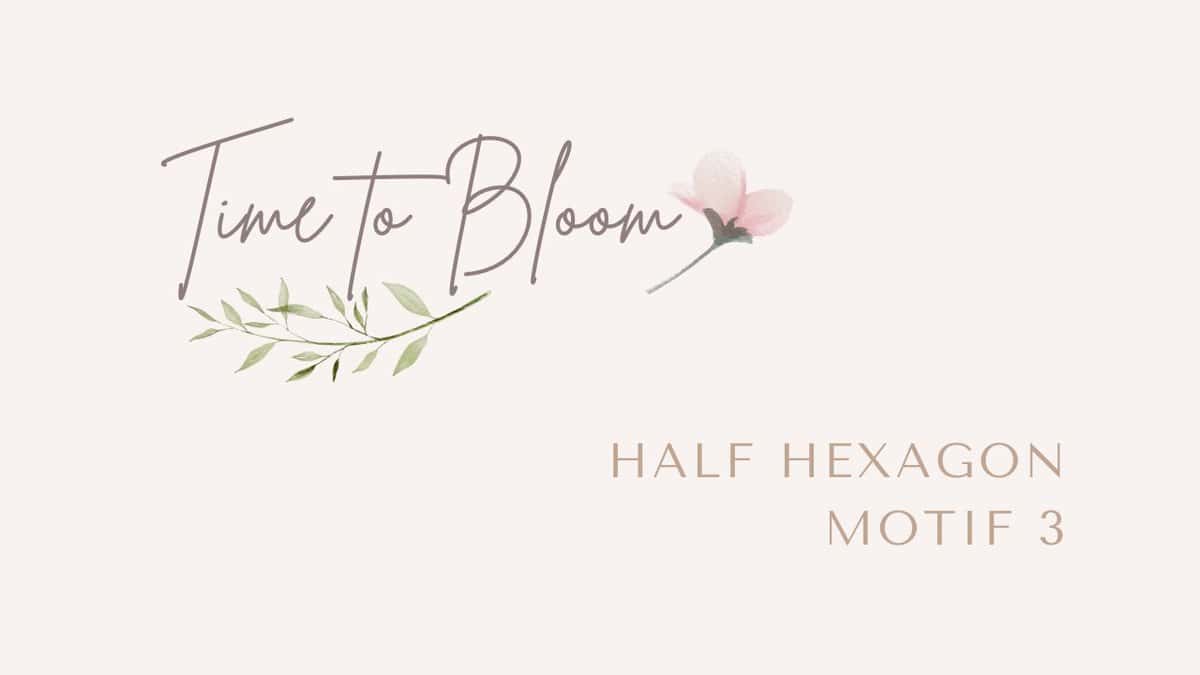 Find the written pattern for Motif 3 here: Short Edge Half Hexagon Motif.
You need to make 3 of these as detailed in the blogpost.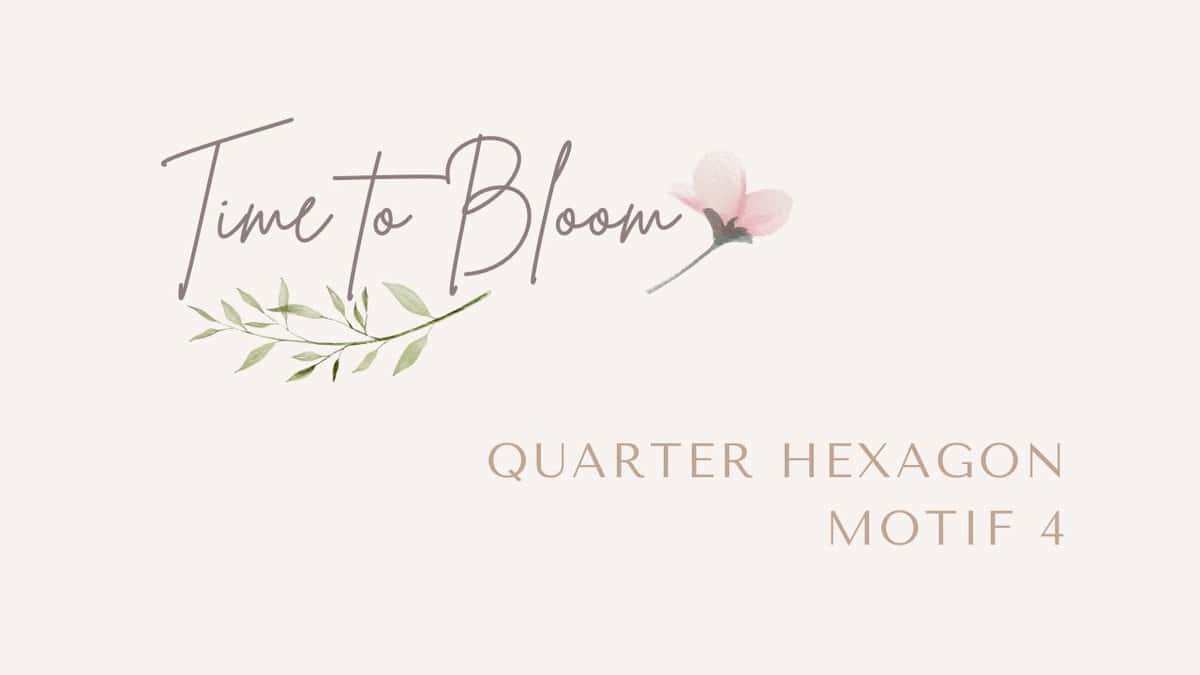 Find the written pattern for Motif 4 here: Quarter Hexagon Version 1
You need to make 1 of these as detailed in the blogpost.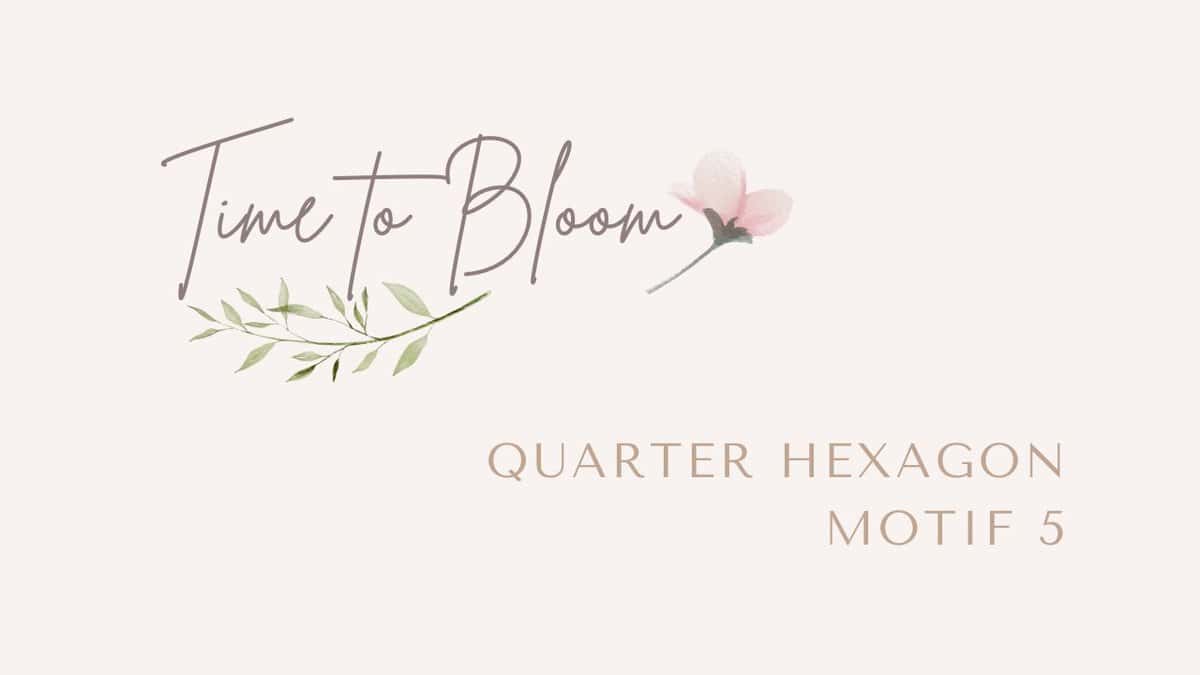 Find the written pattern for Motif 5 here: Quarter Hexagon Version 2
You need to make 1 of these as detailed in the blogpost.
WEEK 3: 17th July 2023
JOINING THE HEXAGONS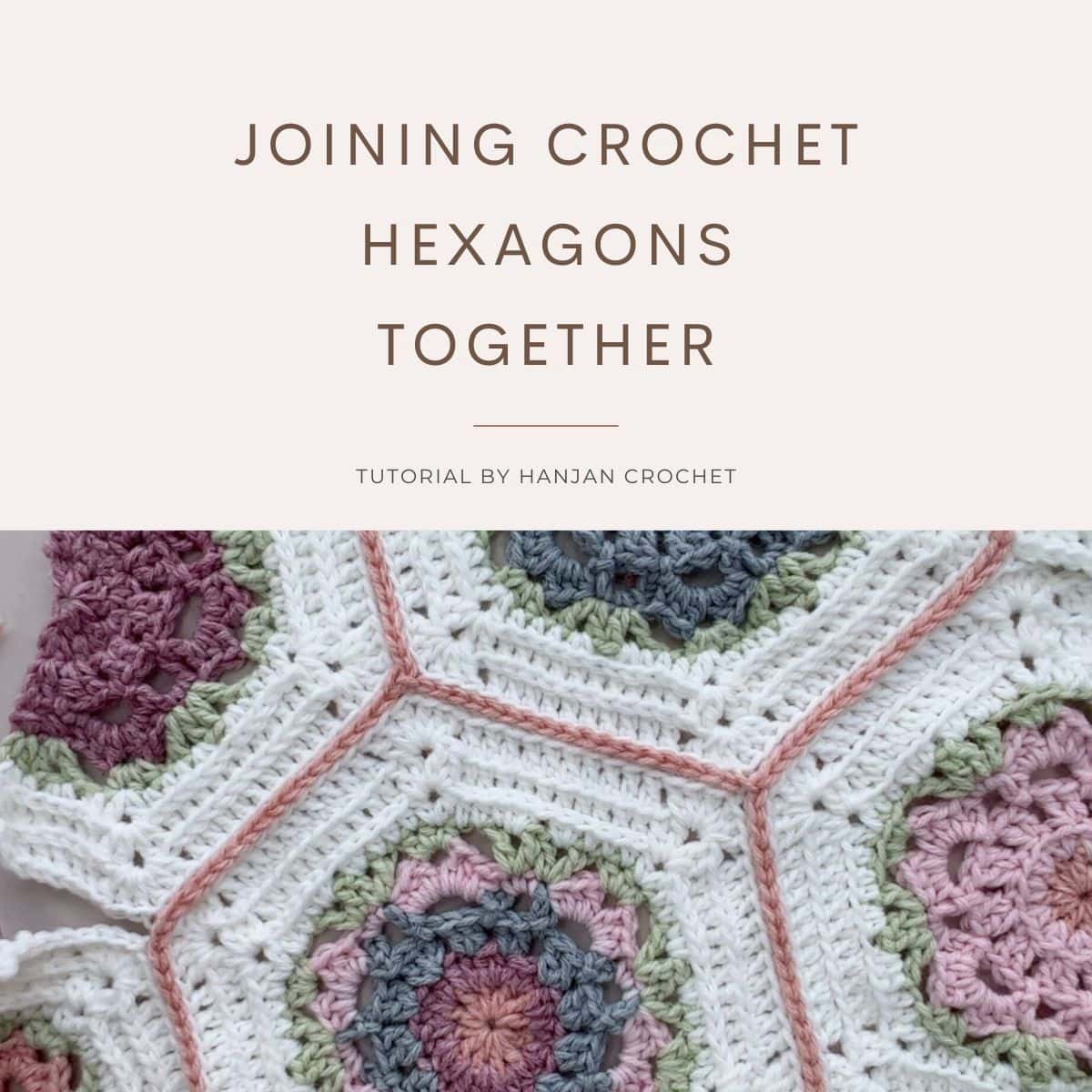 Find the written tutorial for Joining here: Joining crochet hexagons together
SECTIONS 6 AND 7: Floral Panels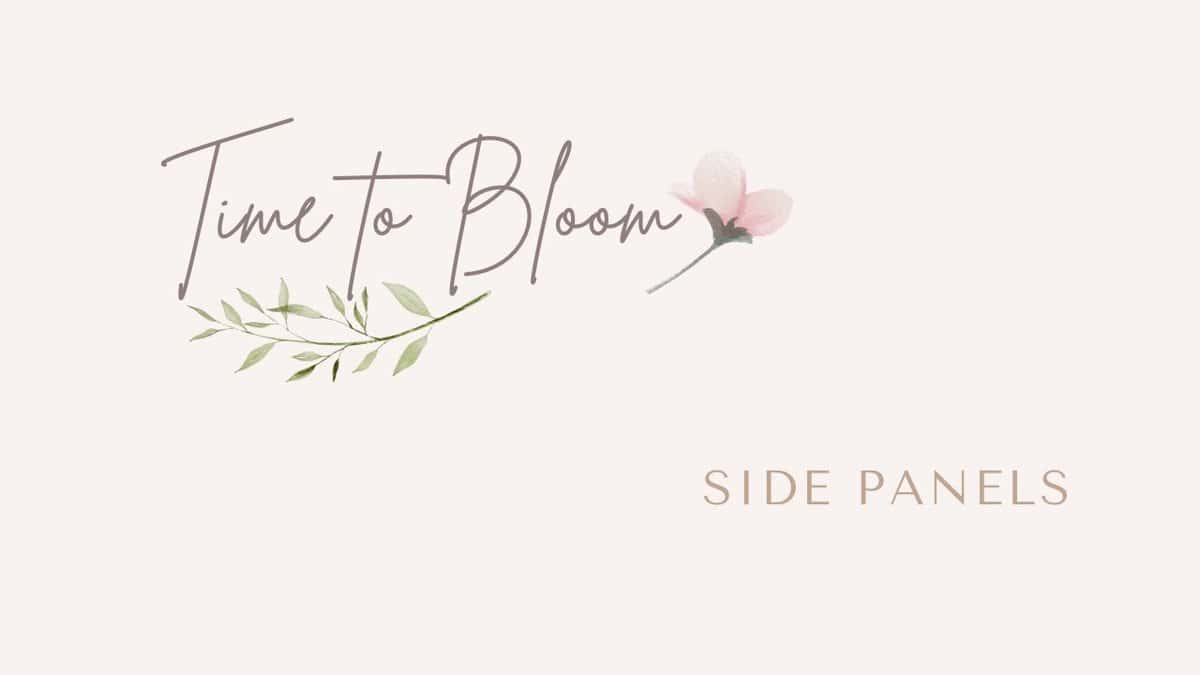 Find the written pattern for panels 6 and 7 here: Crochet flower border pattern
WEEK 4: 24th July 2023
FINAL BORDER: Border
Find the written pattern for the Final Border here: Crochet Blanket Border
Prefer Lifetime Ad-free Access?
Come and join me for the Time to Bloom course and get extra videos, tutorials, downloads and more!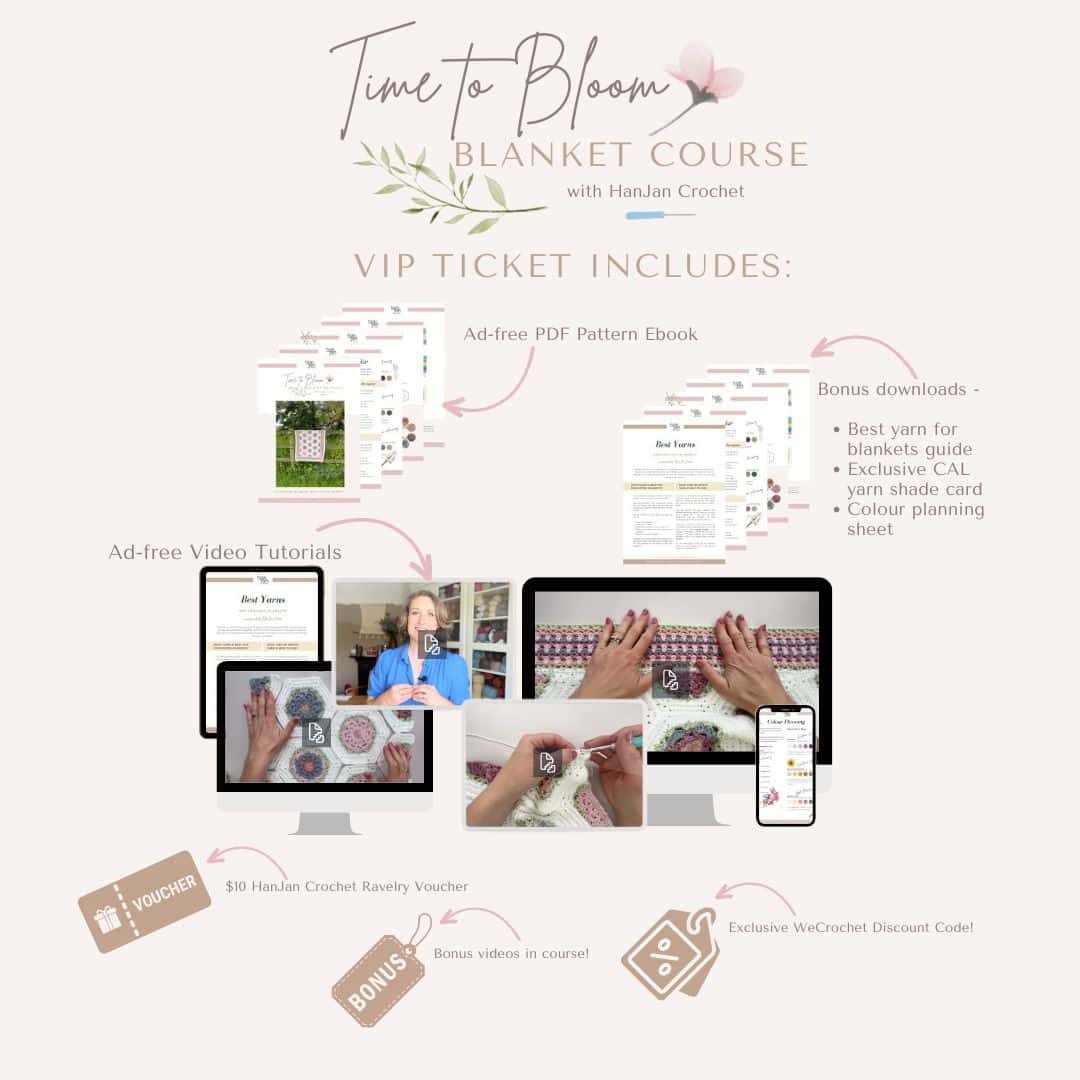 Join HanJan and Share Your Crochet!
It's an honour to be able to create and share my free crochet patterns with you. I'd love to stay connected and send you regular discount codes and free patterns! Please sign up for my subscriber list to get a free gift right now!
I look forward to seeing your finished crochet projects, so please share them with me in the HanJan Crochet Facebook group or on Instagram and tag #hanjancrochet.
Or share your projects on Ravelry or LoveCrafts!
More Free Colourful Blanket Crochet Patterns
If you enjoy making colourful crochet blanket patterns here are a couple more patterns you might enjoy crocheting!
I also have a great set of easy beginner crochet blanket patterns that would work so well for busting that yarn stash too!