This easy striped baby crochet blanket pattern is perfect for any new arrival but comes in five sizes so you can make it any size and colours you like for your home too!
The blanket uses simple crochet stitches so is beginner friendly and a great first project. The striped pattern on the blanket also means it is perfect for using up some of your yarn stash and personalising it to whoever or wherever you are making it for.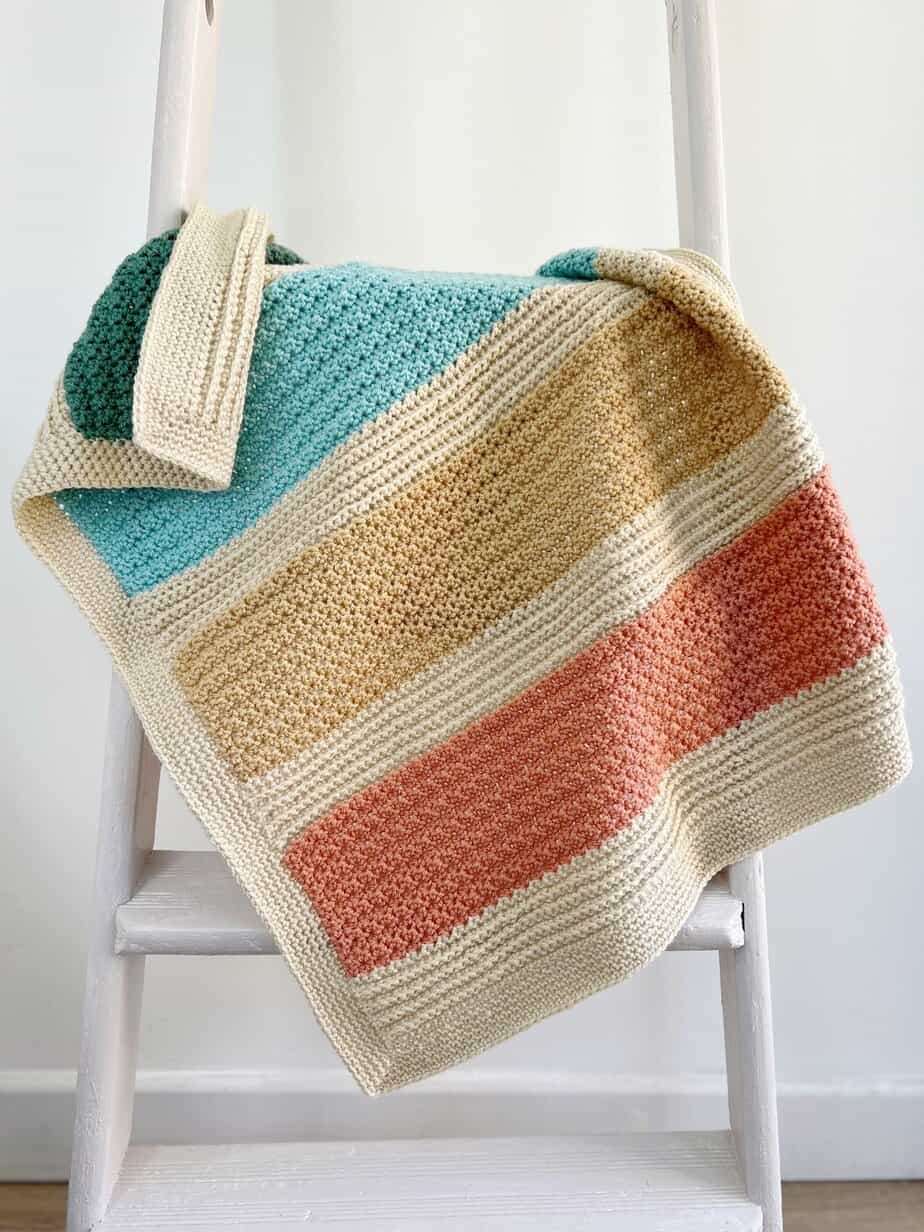 Scroll down to find the free crochet version of the striped baby blanket crochet pattern, or purchase an ad-free, printable PDF version here with the additional sizes included:
This post may contain affiliate links. Please see my full disclosure and privacy policy for details.
Can a beginner make this striped baby blanket crochet pattern?
Yes! Absolutely. This blanket pattern is beginner friendly because it uses simple crochet stitches (even though it might look tricky) and goes back and forth in rows so is nice and easy to keep your stitch count.
The chunky colour stripes are also great as they get you to practise your skills for changing colour and yarn but not too often so there aren't that many ends to weave in!
I have always thought that baby blankets are the best crochet patterns to begin with and that's why I put together 6 easy crochet blankets for beginners as a great place to start with lots of tips including about how to crochet striped crochet blankets like this one.
I'm so proud to say that this blanket was created by my Mum – the Jan of HanJan!
She was making another of my blankets and fell in love with these 2 stitches that were used and so reworked them into a brand new striped crochet afghan to gift to two babies that were arriving soon!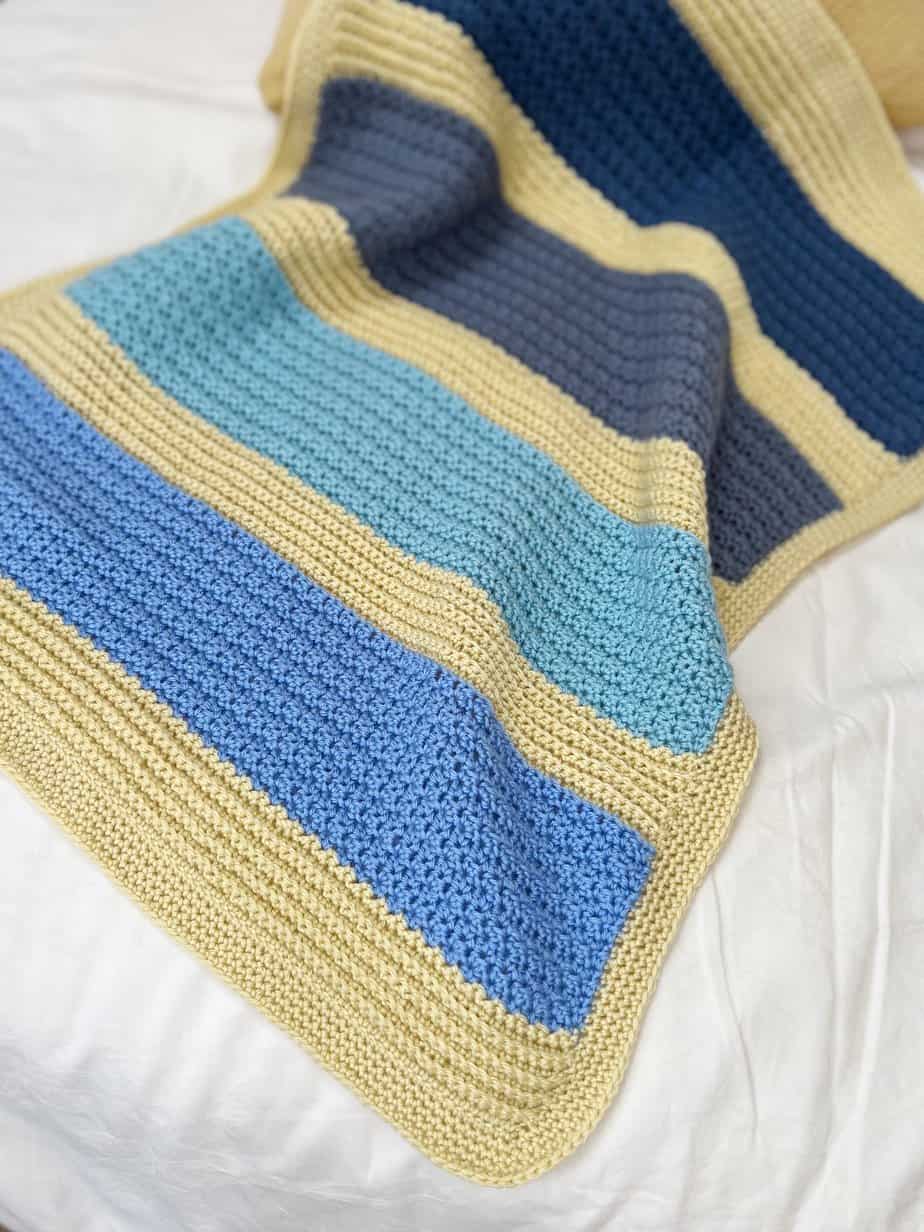 How do you crochet striped blanket like this?
If you look at the images you'll see that there are only two types of crochet stitches and sections used in the stripe blanket.
The first section uses your main colour and is worked in the back loops only of the stitches to create a ribbed appearance and add lots of lovely texture to the blanket.
The striped section of the blanket is a mix of single crochet and half double crochet that you can work in whatever colour sequence you like.
Each colour stripe of the blanket has a rib section before the next stripe. Then the whole blanket is bordered with a simple edge to finish.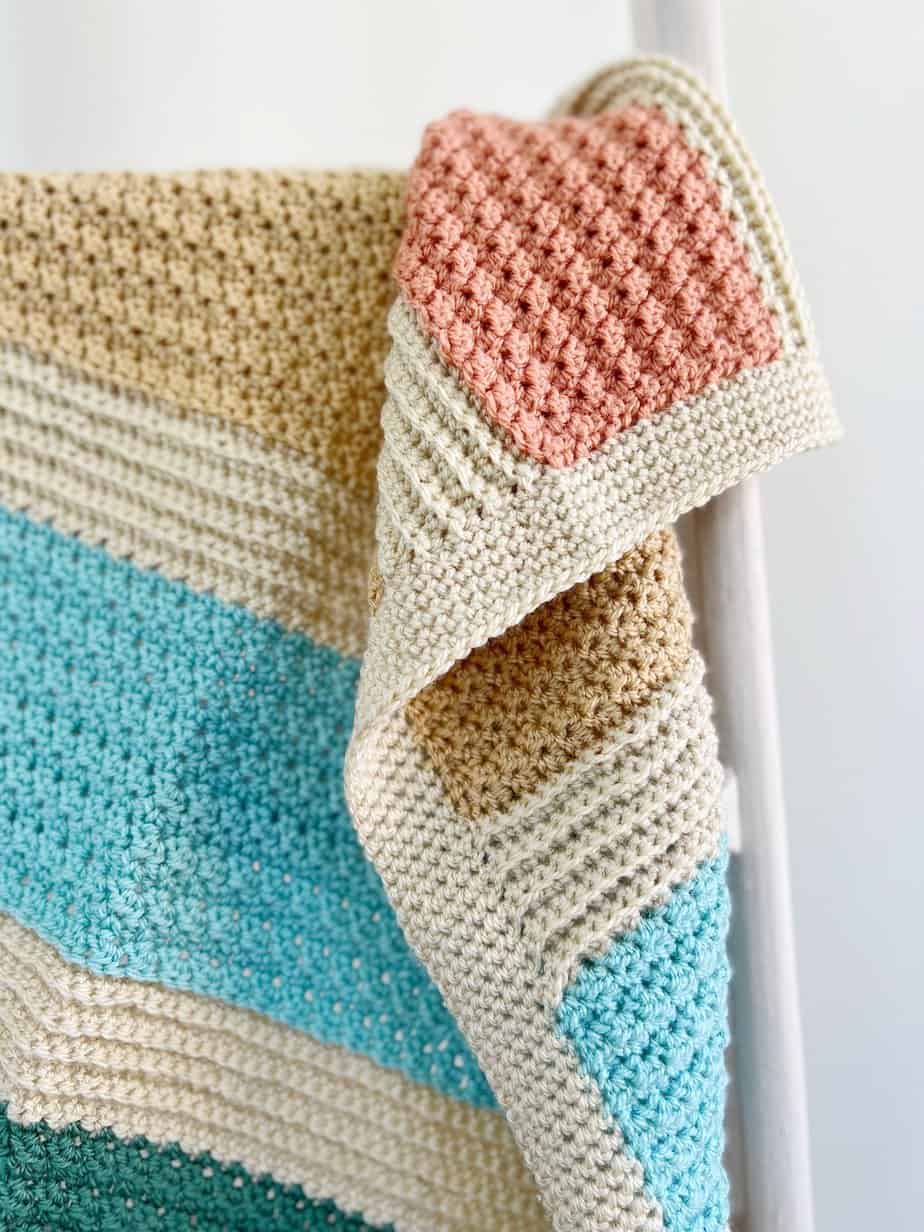 Yarn
To make the modern striped crochet blanket we used Paintbox Simply Double Knit, 100% Acrylic, 276m, 302yds/100g.
You can use any colour sequence that you like but we used a combination of 5 colours. A, B, C, D and E.
We chose ones that we thought would work well for a modern striped crochet blanket and so have steered away from typical shades used for baby crochet.
For yarn quantities you will need approximately 1.5 time the amount of A and an even amount of the remaining colours for the blocks.
For example – the smallest size used a full 100g ball and the remaining colours approx 75g.
Mum made 2 versions that you can see here and used the following colours for each:
Blue version: A: Banana Cream, B: Dolphin Blue, C: Washed Teal, D: Deep Sea Blue, E: Midnight Blue
Coral and Green version: A: Vanilla Cream, B: Slate Green, C: Washed Teal, D: Light Caramel, E: Vintage Pink
I often get asked about ideas for alternative yarns and so here are some great options that I think will work really well for a baby crochet blanket:
It's also really important to look for a yarn that gives great stitch definition for this pattern. The textured stitch patterns that it uses looks at their best when the yarn shows it off.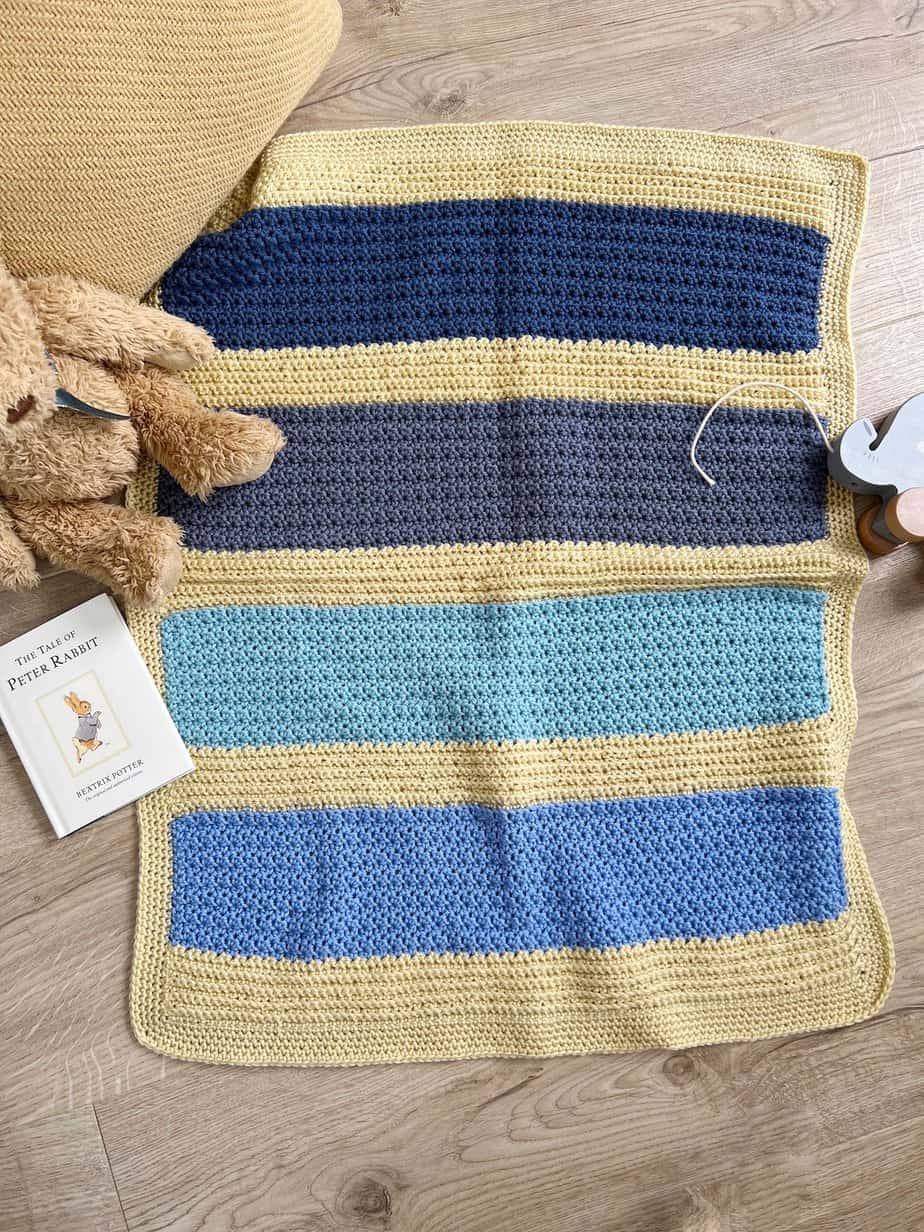 Tension and Sizing
The free striped baby blanket crochet pattern measures approx 23″ by 31″ (58cm by 78cm).
The premium PDF version of the pattern includes sizing details for 4 other sizes up to single bed cover too.
18 sts and 20 rows measure 10cm x 10cm (4″ x 4″) over single crochet in the back loop only using a 4.5mm hook, or size needed to obtain correct tension.
Materials
Along with your yarn, you will need the following:
Pattern Options
Get this stripy baby crochet blanket pattern free in this blog post in US terms – just scroll down to find it in this blogpost! You can also purchase an ad-free, printable PDF with added sizes and options in my pattern stores:
Purchase and Print
Get the ad-free, printable PDF with added extras in my pattern stores: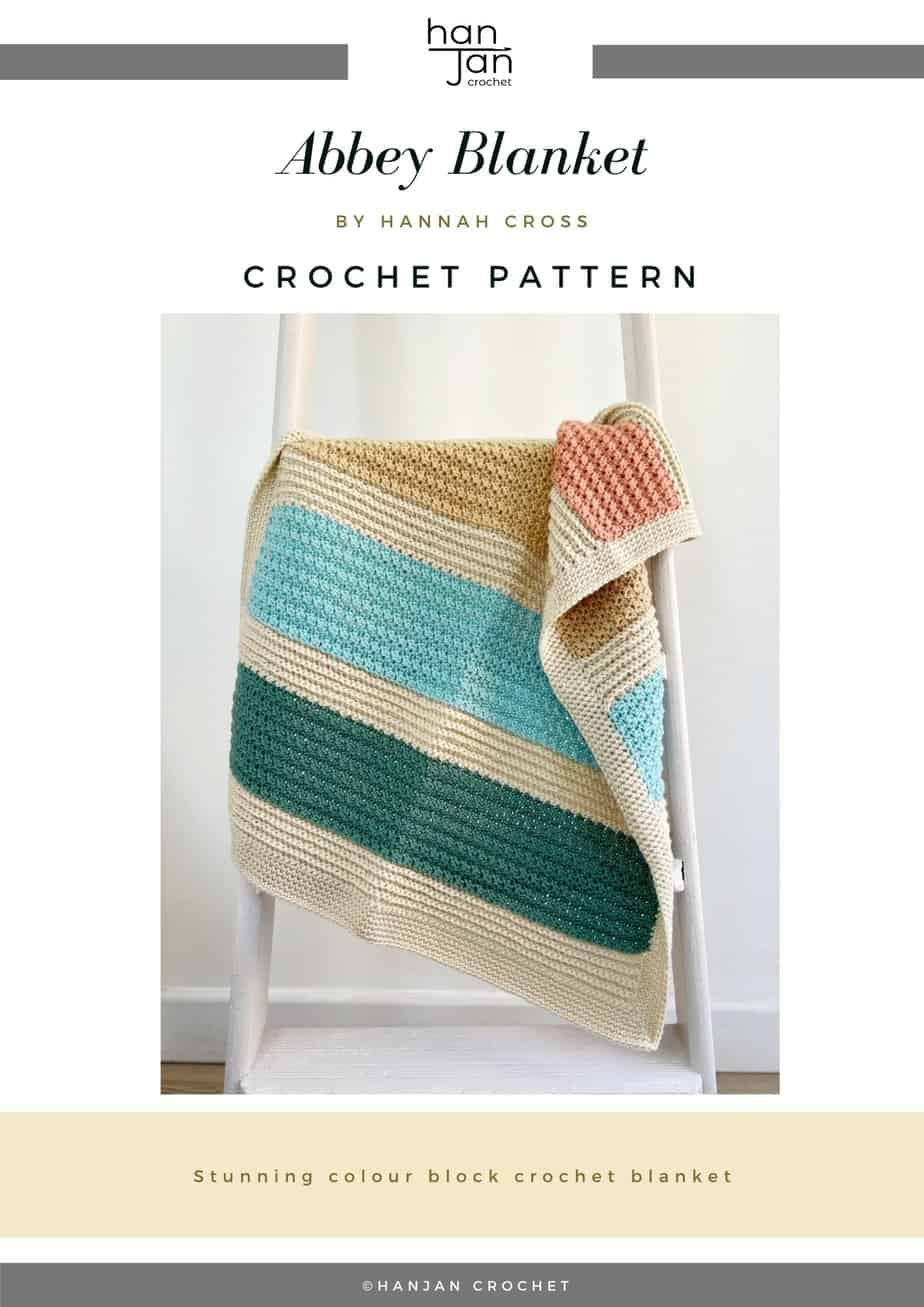 Don't forget to join HanJan Crochet to receive regular discount codes (and more free patterns!) and Pin this free baby blanket crochet pattern to your crochet Pinterest board!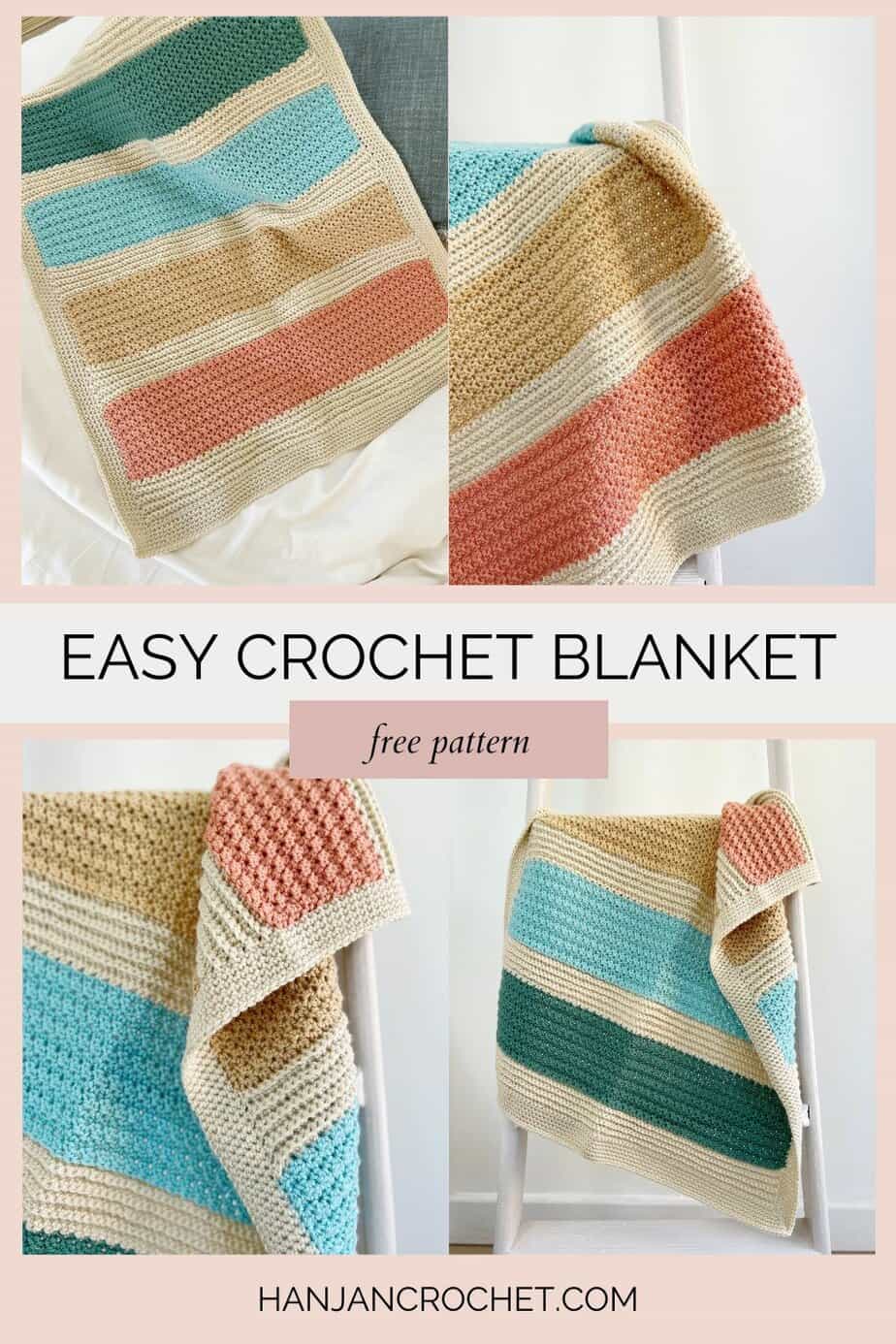 Glossary and Abbreviations
ch(s) – chain(s)
sp – space
ss – slip stitch
RS – right side
WS – wrong side
sk – skip
rep – repeat
yoh – yarn over hook
blo – back loop only
flo – front loop only
Crochet Stitches for the easy striped crochet blanket
The stitches used in the blanket are as follows:
sc – single crochet (UK dc – double crochet)
hdc – half double crochet (UK htr – half treble crochet)
Pattern Notes
A ch1 at the beginning of a row or round does not count as a stitch.
Turn at the end of each row.
The pattern is written in standard US crochet terms.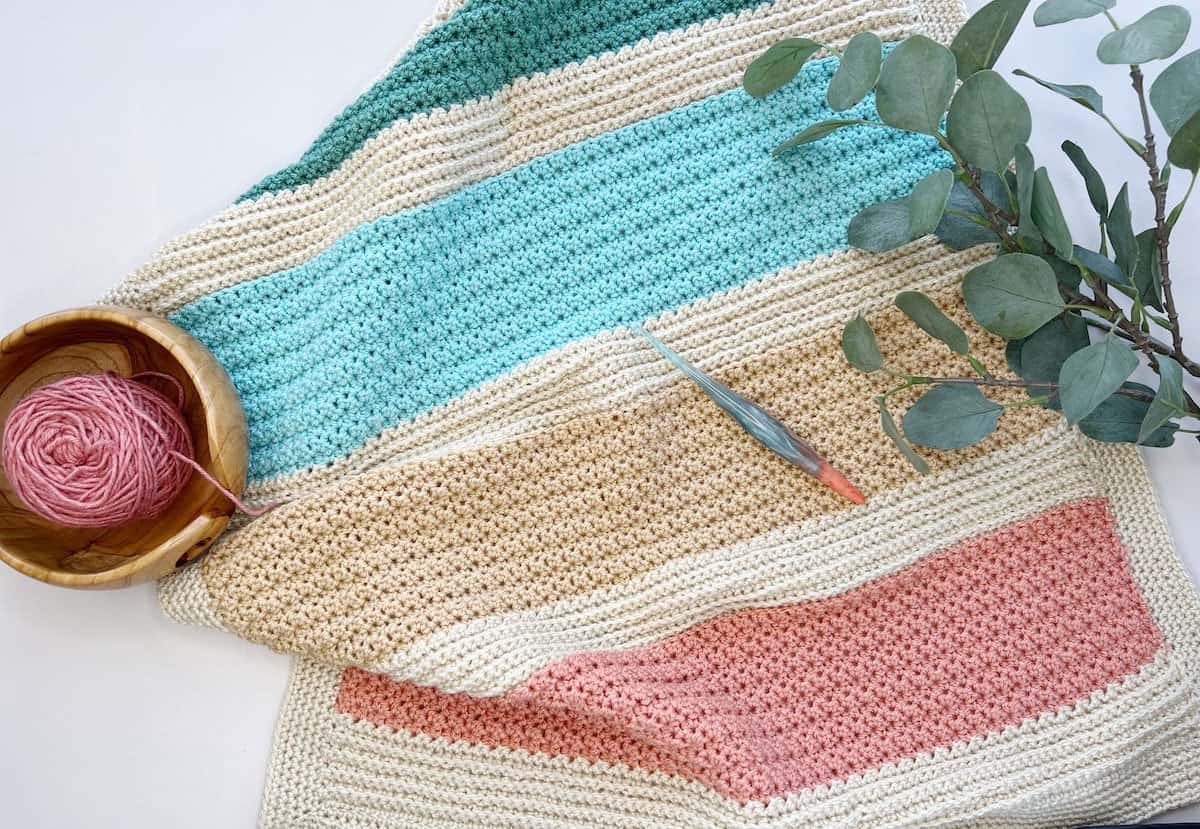 Striped Baby Blanket Crochet Pattern
US Crochet Terminology
Colour sequence – change colour after each section using the images as inspiration.
SECTION 1
Foundation chain: ch94
Row 1: WS: sc in 2nd ch from hook and each across to end. [93]
Row 2: RS: ch1, sc in blo of each st across to end.
Rows 3-10: Repeat Row 2.
SECTION 2:
Row 1: WS: ch1, sc in next st, *skip next st, (sc, hdc) in next st; rep from * across to end.
Rows 2- 14 Repeat Row 1.
REPEAT SECTION 1 – 10 rows.
REPEAT SECTION 2 – 14 rows.
REPEAT SECTION 1 – 10 rows.
REPEAT SECTION 2 – 14 rows.
REPEAT SECTION 1 – 10 rows.
REPEAT SECTION 2 – 14 rows.
REPEAT SECTION 1 – 10 rows.
Fasten off.
Total number of rows: 106
BORDER:
Turn to RS facing and work around the blanket in rounds now.
Round 1: RS: ch1, *sc in each st along short edge, ch1, rotate to work along long edge, sc in side of each row, ch1; rep from * around, ss in 1st st to join.
Round 2: ch1, sc in each st around, (sc, ch1, sc) in each ch1-sp at each corner, ss in 1st st to join.
Rounds 3-6: Repeat Round 2.
Fasten off.
TO FINISH
Weave in ends and block to measurements.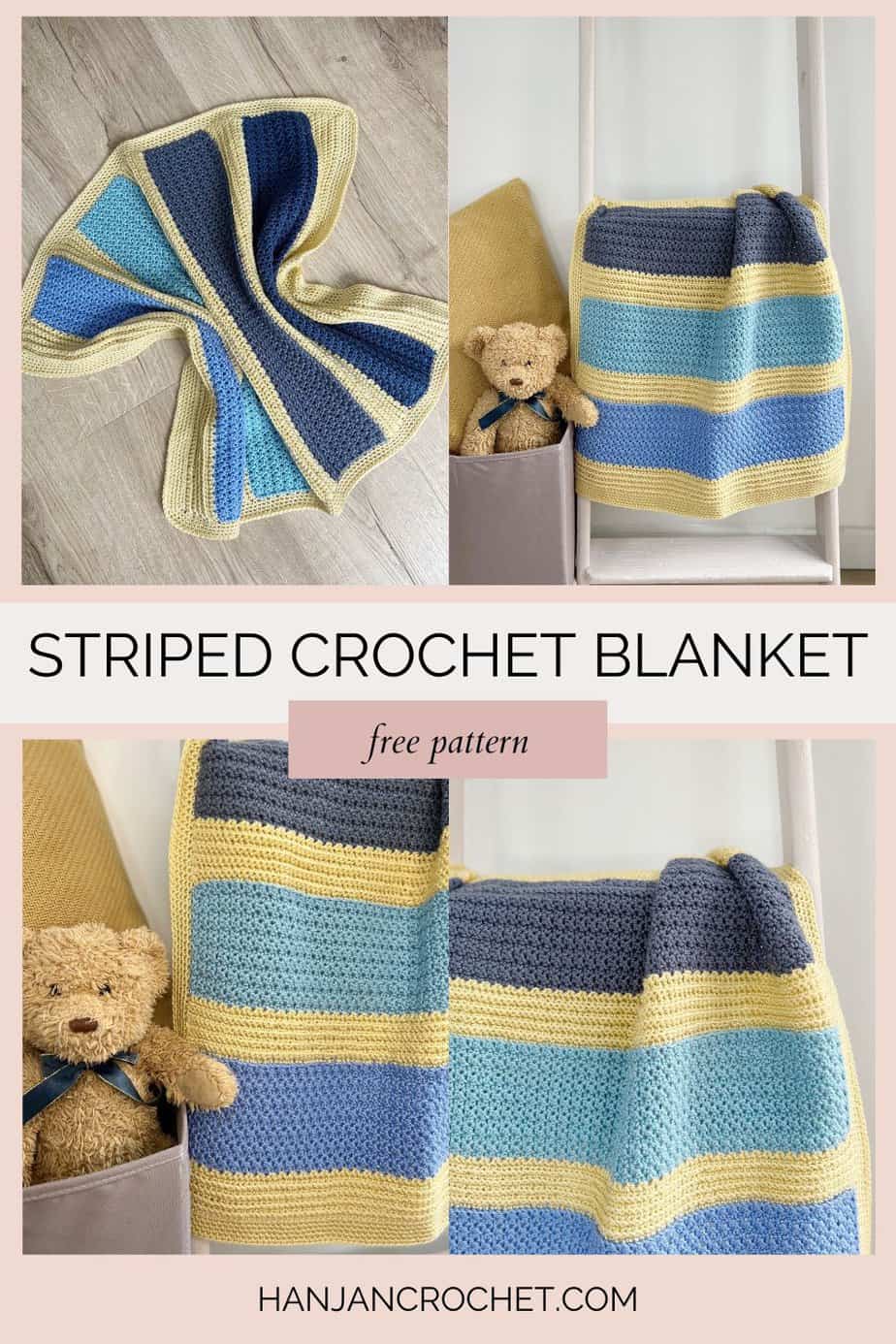 Join HanJan and Share Your Crochet!
It's an honour to be able to create and share my free crochet patterns with you. I'd love to stay connected and send you regular discount codes and free patterns! Please sign up for my subscriber list to get a free gift right now!
I look forward to seeing your finished crochet projects, especially this easy crochet pattern, so please share them with me in the HanJan Crochet Facebook group or on Instagram and tag #hanjancrochet.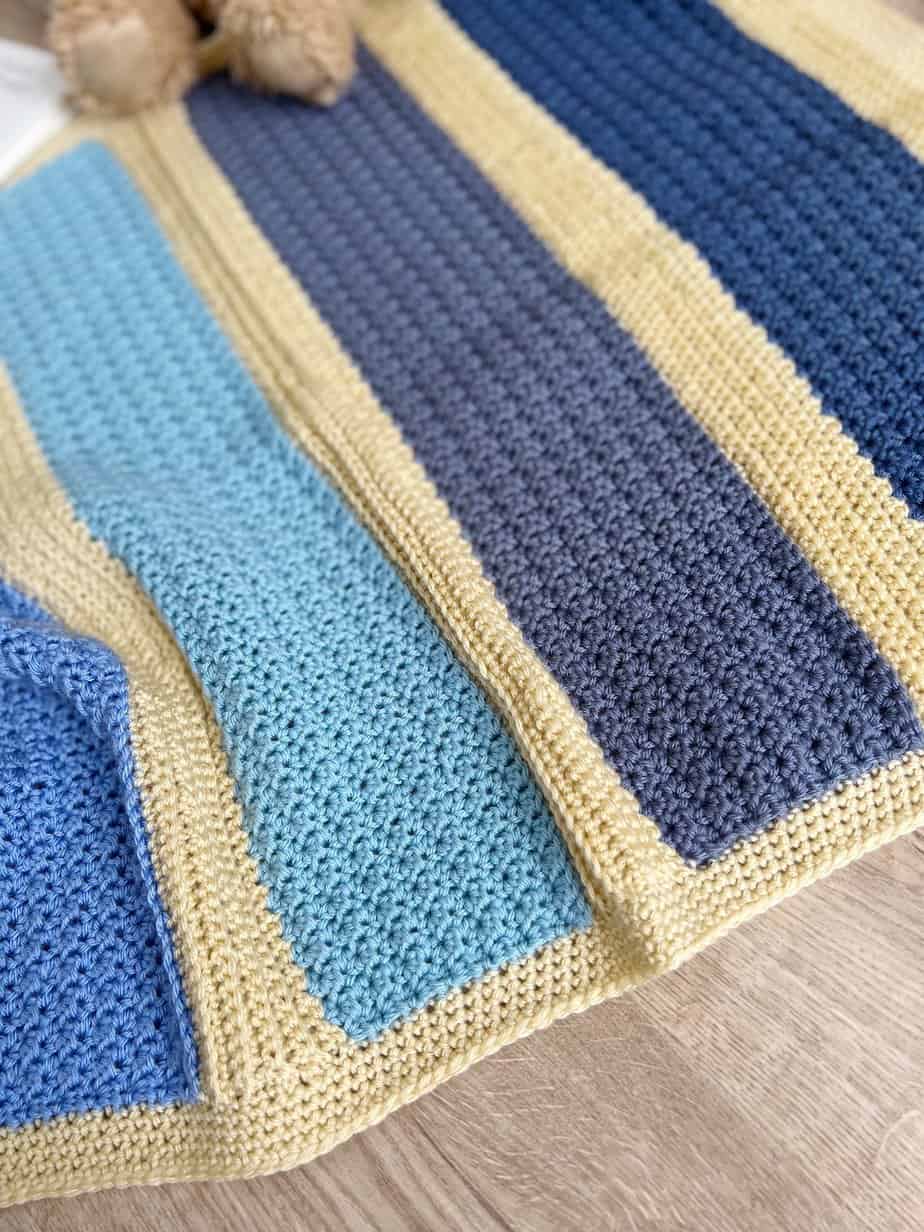 Purchase, download and print
Get the ad-free, printable PDF with added extras in my pattern stores: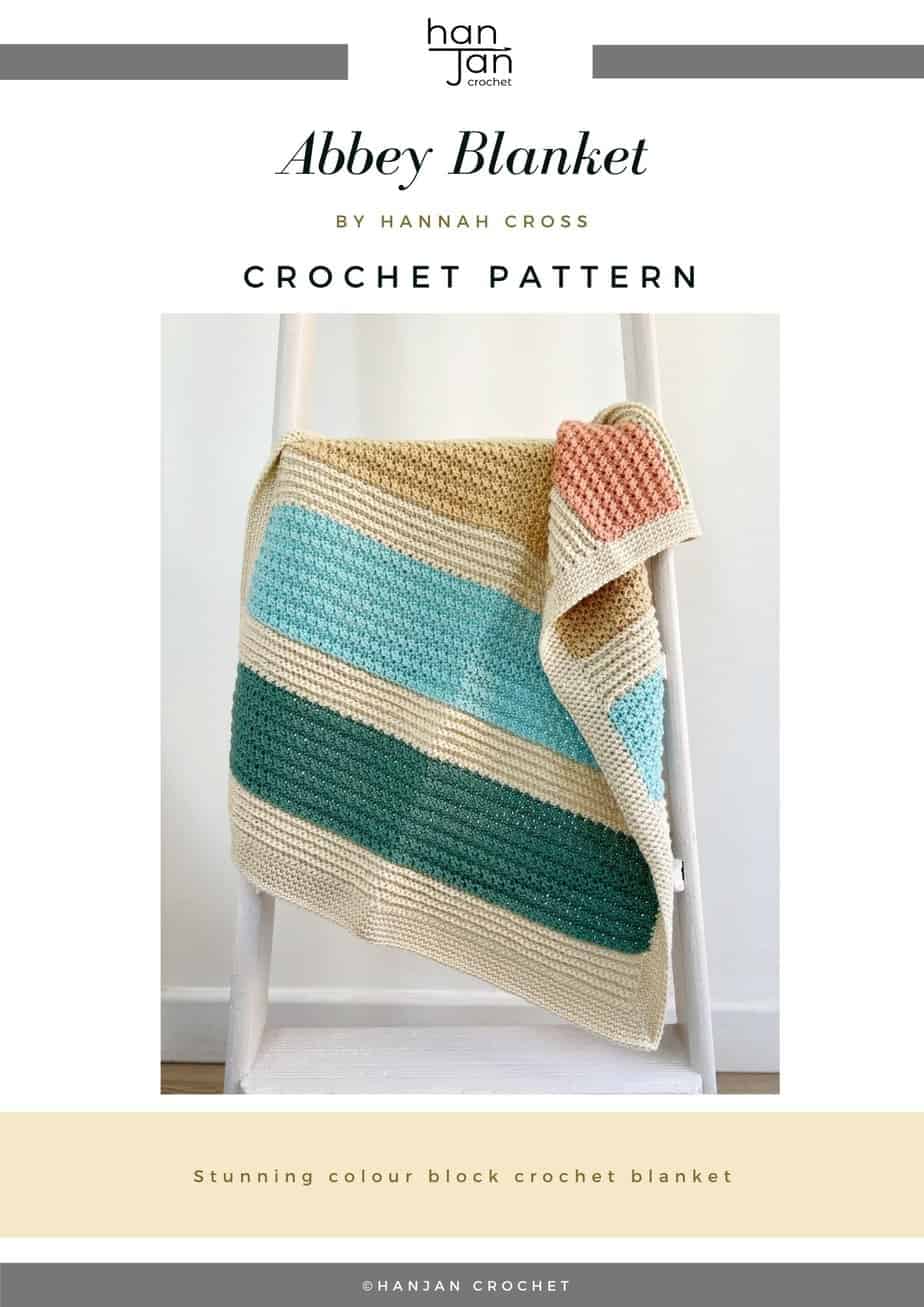 More Colourful and Striped Baby Crochet Blankets you might enjoy
If you enjoy crocheting baby blankets whether striped or just colourful then here are a few more of my designs you might enjoy crocheting!