This corner to corner (c2c) Christmas crochet blanket pattern is one like no other – you can personalise it with any name you like! If that's not enough it's also the perfect size to transform into a crochet present sack for someone special too.
Made using the corner to corner crochet technique, the pattern includes charts and tutorials to make a 'Ho Ho Ho' version if you don't want a personalised crochet blanket, but also has all the instructions you need to add any name you like to it!
Make as the perfect snuggly personalised crochet blanket, or surprise the whole family on Christmas morning with new present sacks, the choice is yours!
You can get your copy here: c2c Christmas Crochet Blanket pattern or read on to find out more about it and how it works.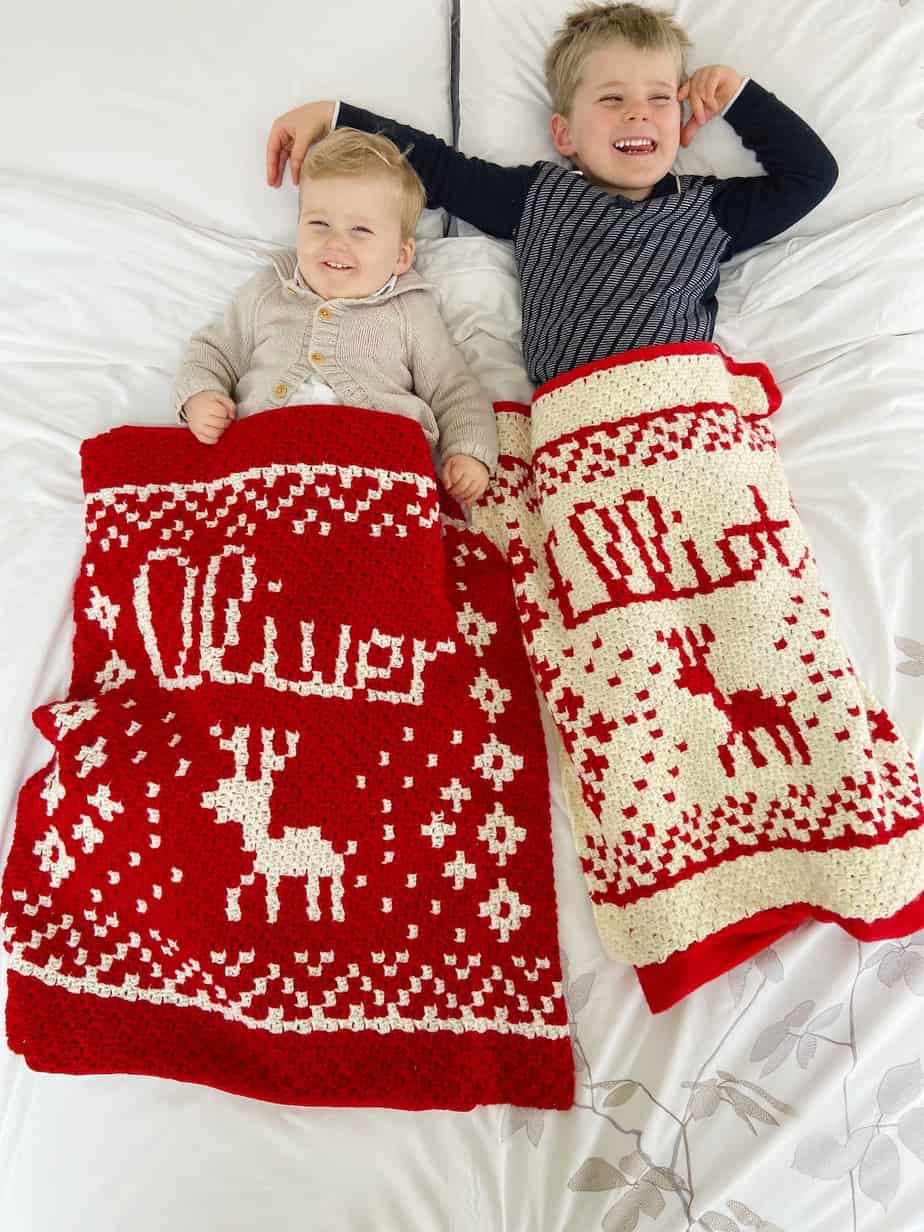 About the c2c crochet blanket pattern
As you can see from the images – I made these one for my two boys and they love them! I initially made Elliot's as a blanket but then realised it was the perfect size for a personalised crochet present sack!
It was so easy to just attach to an existing plain sack that I had at home and then of course Oliver needed one when he came along too.
Whether you fancy them as a Christmas blanket or as a present sack the crochet part of the pattern will be exactly the same. If you haven't used the corner to corner (c2c) crochet technique before then you should definitely try it!
I've written a whole beginners guide to corner to corner crochet to help explain how you can magically work in diagonal rows to make a square or rectangle of any size you like (it really is so clever!).
I also have a video tutorial about how to change colour neatly in corner to corner crochet that might be helpful to check out too.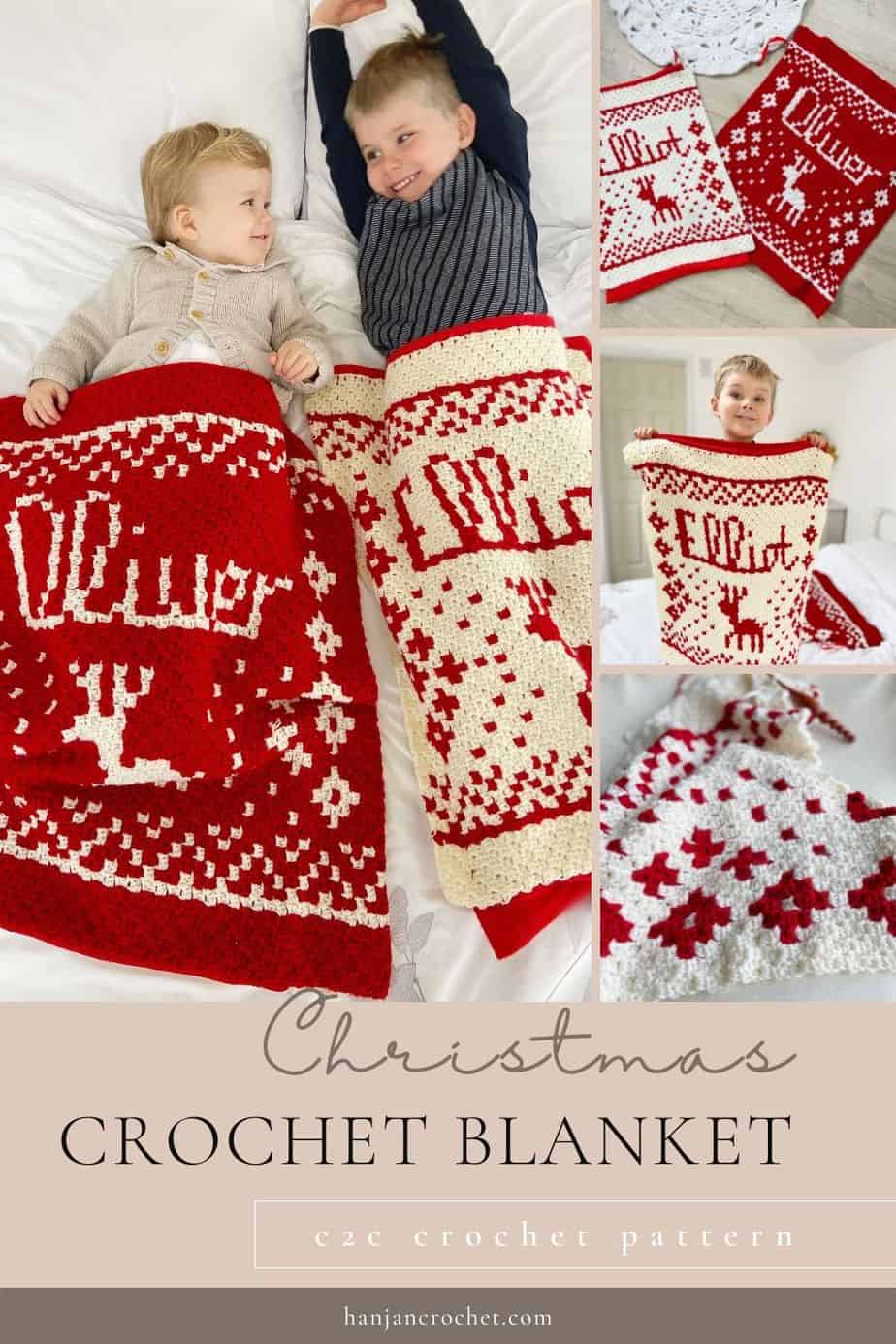 The Personalised Christmas Blanket Tension and Sizing
The finished blanket (or sack cover) measures 84cm by 84cm but of course you can adapt it and extend the chart if you'd like to, or you could switch your yarn weight and hook size too.
The gauge is 7 c2c blocks and 7 c2c blocks = 10cm by 10cm (4X4 in) using a 5mm crochet hook (the one in the progress picture is my Alpha Crochet Hook from Furls), or size needed to obtain correct tension.
Yarn for the c2c blanket
In all honesty I have no idea what yarn I used to make Elliot's version of the blanket! I knew when I made one for Oliver though that I would love to release the pattern so I made sure to write it down!
To make the Christmas blanket (which I turned into a present sack) I used Brava Worsted by WeCrochet (100% acrylic, 100g/218yds) yarn which has so many fabulous colours to choose from and is also easy to care for.
You will need approximately:
Yarn A: White, 5 balls (880m)
Yarn B: Wine, 2 balls (220m)
A great alternative yarn with lovely colour choices is Paintbox Yarns Simply Aran which I love working with too.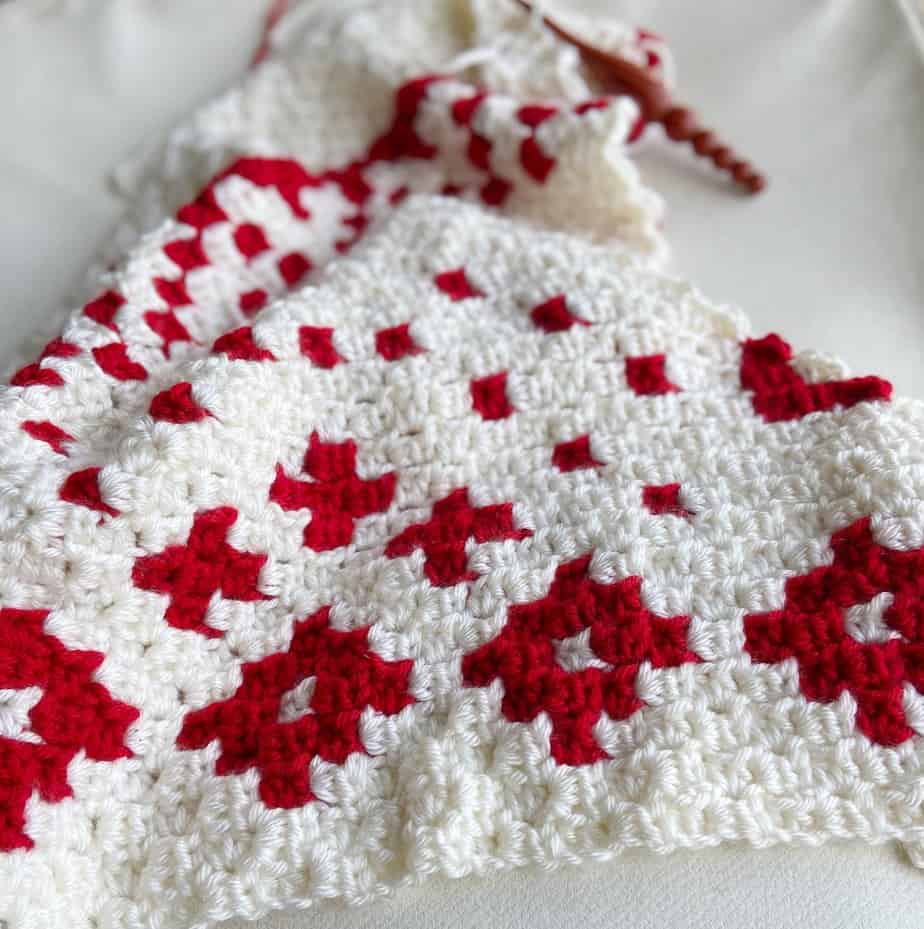 Crochet Stitches
The c2c crochet blanket pattern uses the following crochet stitch:
| | |
| --- | --- |
| Standard UK Crochet Term | Standard US Crochet Term |
| htr – half treble | hdc – half double crochet |
The traditional or perhaps we should say, original corner to corner method uses a UK treble/US double crochet in blocks of 3 stitches but I also love using the UK half treble/US half double crochet in sets of 2 stitches too!
I find that it adds a fabulous amount of texture to the project and is just as fun to do.
How to personalise your Christmas Crochet Blanket
So, you are good to go with the c2c technique but how do you add your name to the chart?!
Inspired by the cross stitch patterns I used to follow when I was a child I knew there had to be a way of adding a section to the blanket that you could just adapt to add in the letters that you need and I managed it!
The pattern includes a whole upper and lower case alphabet of letters for you, a chart to add your name to and then a section of the pattern to tell you how to pop your name chart into the actual blanket pattern.
It does involve a pen and paper and a bit of drawing it out (or you could definitely do it in a spreadsheet if you prefer!) but I really think it's worth it.
If you are stuck at all of would like any help with this then please just let me know, I'd be so happy to help.
Also, if you have a super long name to add then let me know too and we can work it out!
If the thought of adding a name brings you out in a cold sweat though don't worry – I've added a full chart and colour changes for a simple 'Ho Ho Ho' version that you can use instead.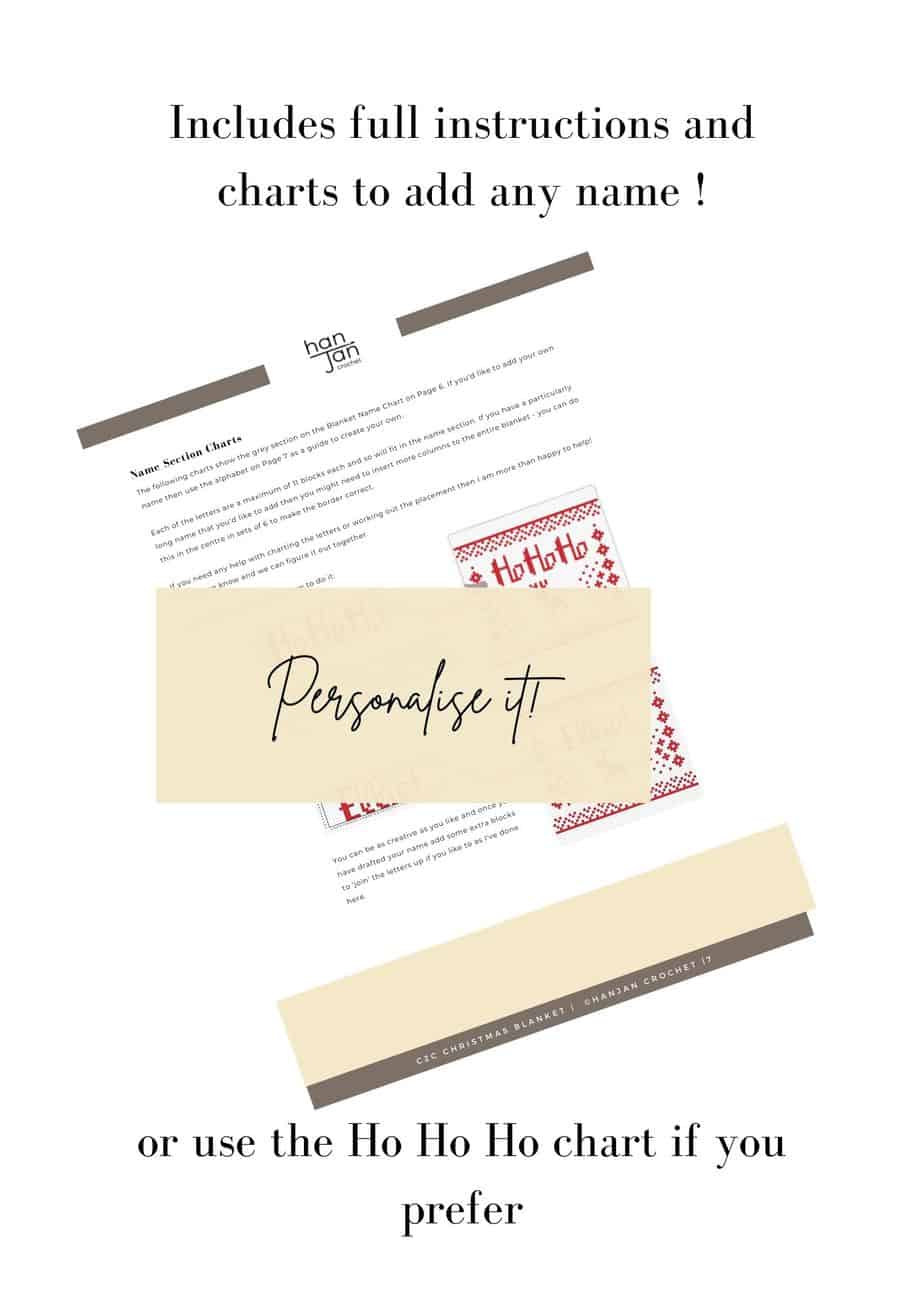 Let me show you how!
Get the pattern with charts and instructions for you to add any name you like!
How to turn your Christmas Blanket into a Present Sack
It might sound strange from someone as crafty as me but I didn't actually make the present sack to add the blanket to for my versions!
I absolutely could have done (and so could you) out of two rectangles of material or felt and a simple drawstring but I just went with a ready made one that was roughly the right size. It was probably because I was in such a hurry to get them done in time to put the presents in them!
How to get the c2c Christmas Blanket Pattern
I've added the pattern to all of my stores so you can choose which platform works best for you –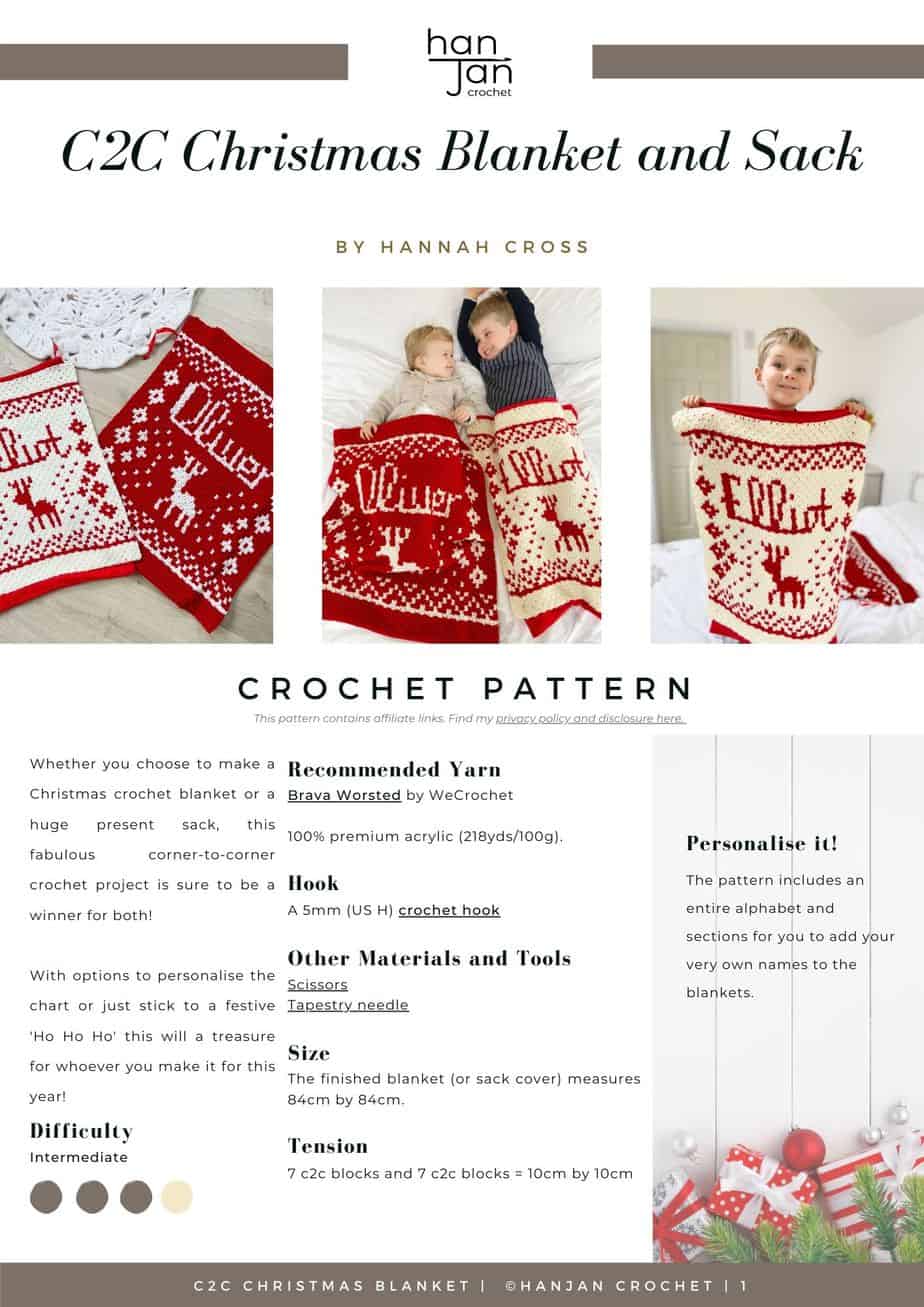 Purchase and Print
Get the ad-free, printable PDF with added extras in my pattern stores:
Join HanJan Crochet and Share Your Crochet!
I'd love to stay connected with you so please do sign up for my subscriber list if you'd like to. Looking forward to hearing from you and sending you your free gift!
Thank you so much for being here to share in HanJan Crochet. I have lots of free crochet patterns you might enjoy too. It's such an honour to be able to create and share my craft with you.
I'd love to see your finished crochet projects and so please share them with me in one (or all!) of the following ways: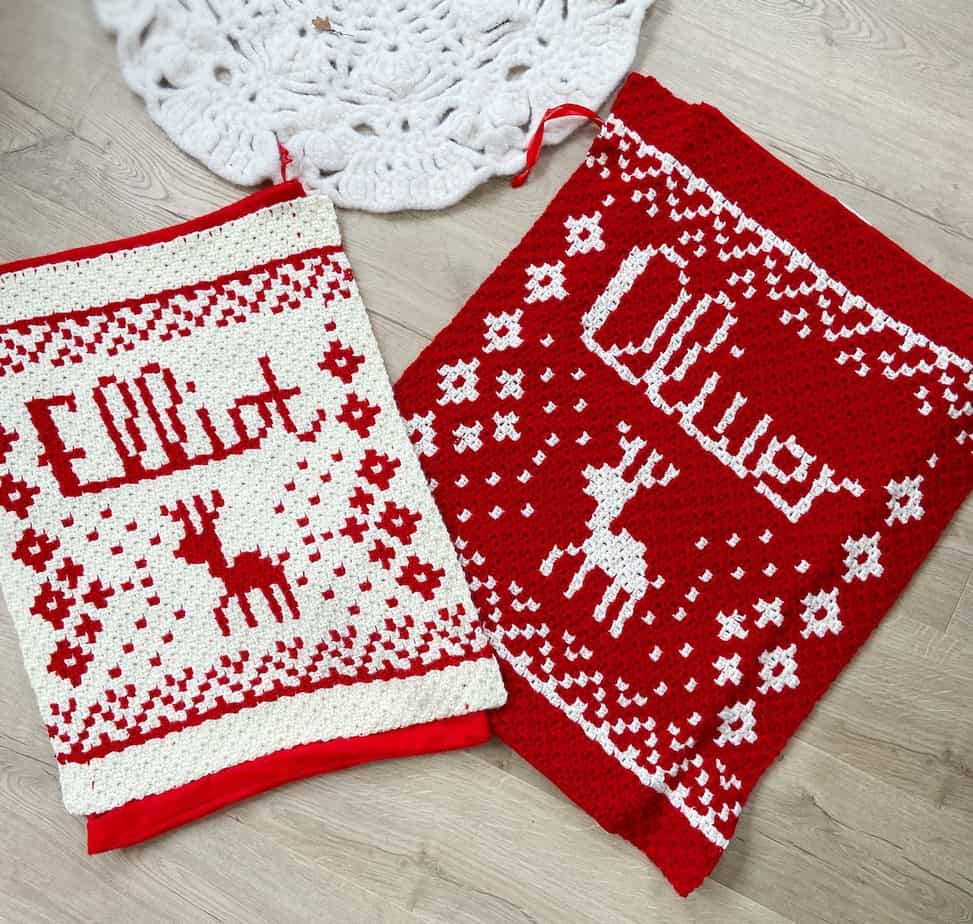 What are you going to make next?
If you enjoy c2c as much as me or all things Christmas then I have lots more designs that you might enjoy!
If corner to corner is your thing then why not try these:
Martha's Retro C2C Crochet Apron Pattern – geometric, vintage and fun
C2C Crochet Scarf Pattern – The Diamond Trees Scarf
Or if Christmas is more your thing then how about these:
Christmas Crochet Gnome Pattern – super cute crochet Santa
The Crochet Snowflake Wreath – Free Crochet Pattern
Reindeer Crochet Baby Booties – Free Crochet Pattern
Do let me know if you make your version of the Christmas Crochet Blanket – I'd love to see it!