The Orange Blossom Scarf is a simple summer project worked using just one stitch, the herringbone double crochet. The easy filet stitch repeat creates an elegant scarf crochet pattern that you can wear all year long but is especially perfect for summer.
The long rectangular scarf is worked in straight rows with the yarn held double through a larger hook, allowing it to be both quick and easy to make. It drapes effortlessly, the breeze passes right through without stifling you, making it comfy and perfect to wear with any outfit.
You can wrap it around a few times if you want to feel warmer or drape it delicately around your shoulders for a classy look.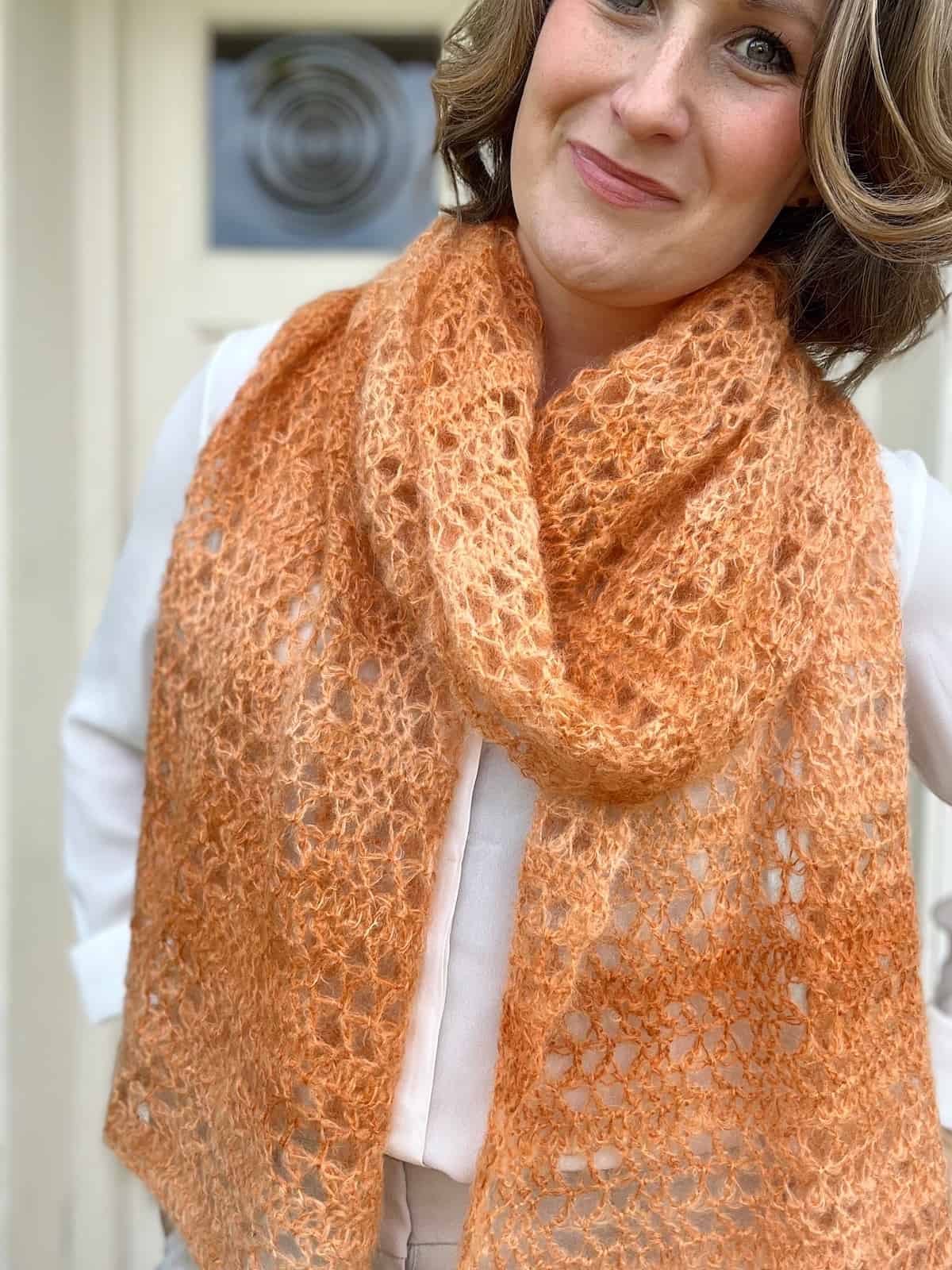 Scroll down and sign in to find this crochet summer scarf pattern, or purchase an ad-free, printable PDF version here:
More about this elegant scarf crochet pattern
This is a beginner friendly pattern made up entirely with herringbone double crochet stitches. You can make it for anyone and with any type of yarn although I love how it feels and looks with mohair yarn.
I used a larger hook than required which gives it an extra soft and squishy texture. There are holes too due to the filet crochet technique I've used making this a very breathable fabric.
If you've been looking for a light summer crochet scarf, this is it! Scarves aren't just a winter accessory — you can glam up your outfits with them all year round.
How to make a filet crochet scarf like this
The instructions are easy to follow and you can customise the scarf however you'd like in terms of both length and width.
It's worked flat in rows by starting off with a chain that determines the width. If you want your scarf to be extra long or slim, you can make adjustments.
To customise the width of your scarf, begin with a foundation chain that has a multiple of 7 and then plus 2. For example, my scarf starts with 51 ch (that's 49 plus 2).
To customise the length of your filet scarf, work as many or as few repeat of the set pattern as you like. By adding more length, you can wrap it around your neck more for a warm piece.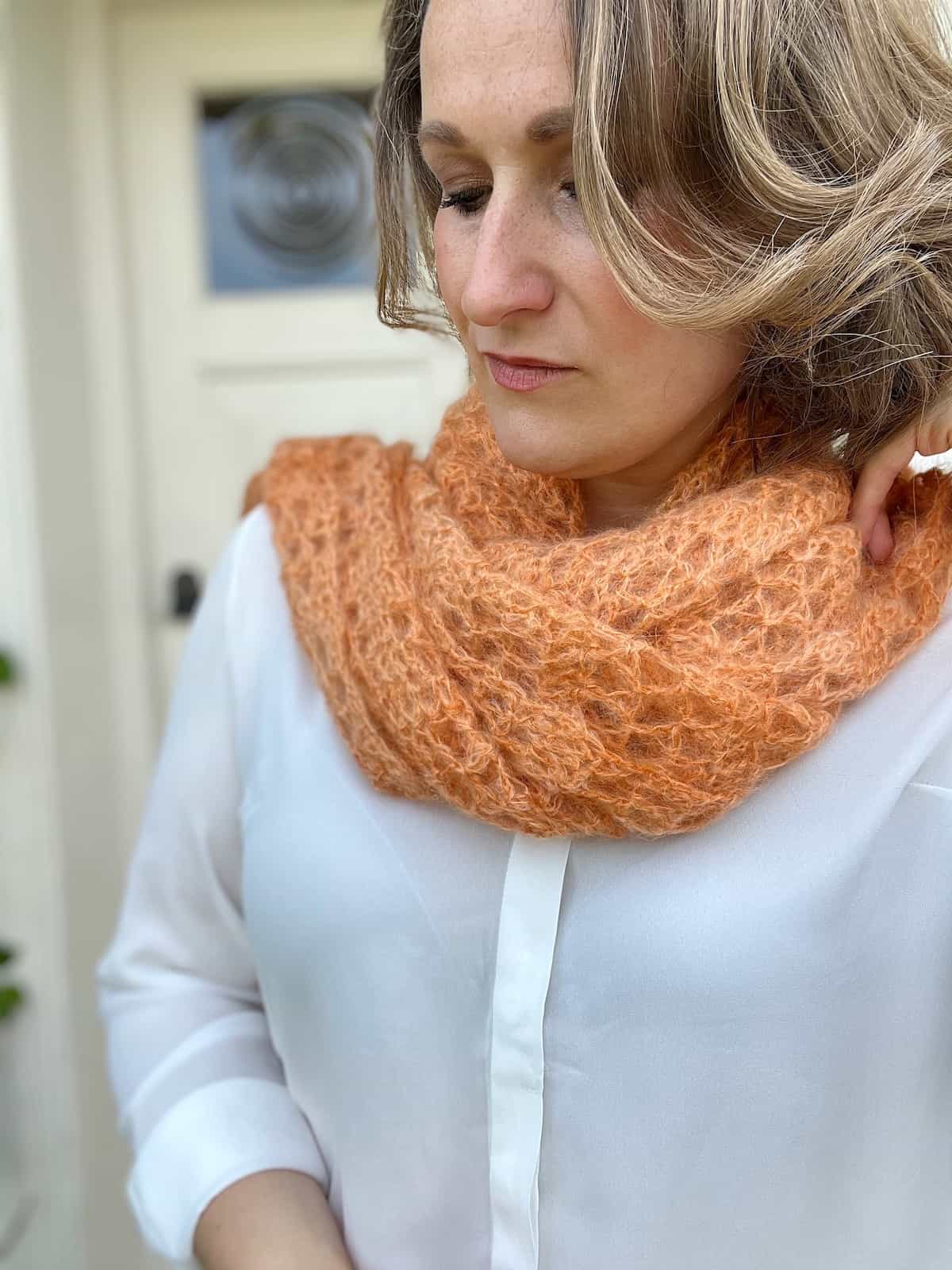 Yarn
To crochet this modern crochet scarf pattern, I used Rowan Kidsilk Haze (70% Mohair, 30% Silk, 230yds, 210m/25g). I needed 6 balls of my chosen colour which was Golden Poppy (683) and held the yarn doubled throughout.
You can use any similar weighted lace yarn for your project. Some great options are:
I think mohair yarn is perfect for this project and if you're using it for the first time, you'll easily get the hang of it with this simple crochet scarf pattern.
Materials
Along with your yarn, you will need the following:
Don't forget to join HanJan Crochet to receive regular discount codes (and more free patterns!) and Pin this lightweight crochet scarf free pattern to your Pinterest board!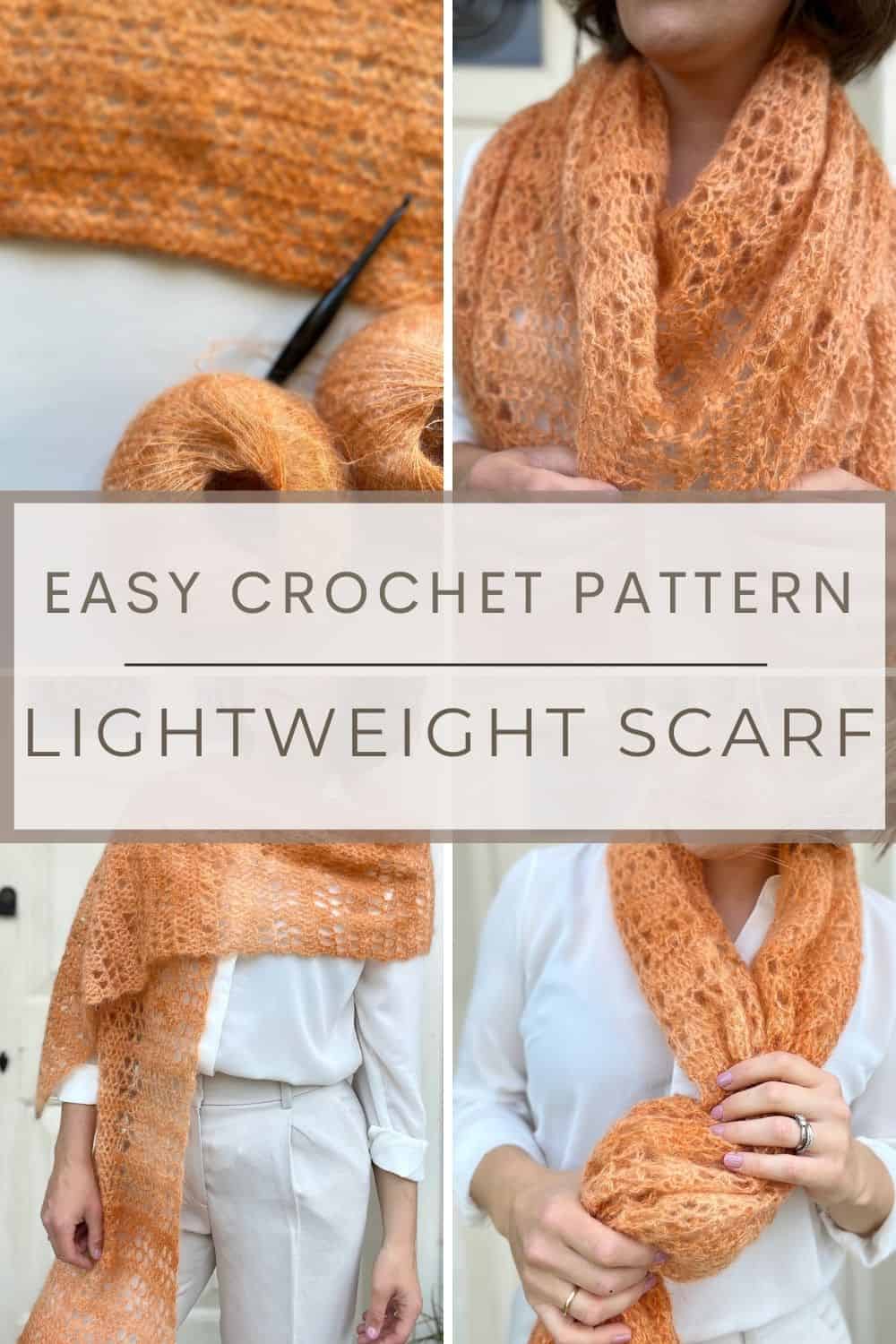 Glossary and Abbreviations
ch(s) – chain(s)
sp – space
RS – right side
WS – wrong side
sk – skip
rep – repeat
yoh – yarn over hook
st(s) – stitch(es)
Stitches
The scarf pattern uses the following crochet stitches:
dc – double crochet (UK tr – treble crochet)
Special Stitches
This lightweight crochet scarf free pattern is made by using the herringbone double crochet stitch as well as the filet crochet technique.
Here are a few suggestions of all the different things you can create with filet crochet (and you can search my blog for more inspiration too):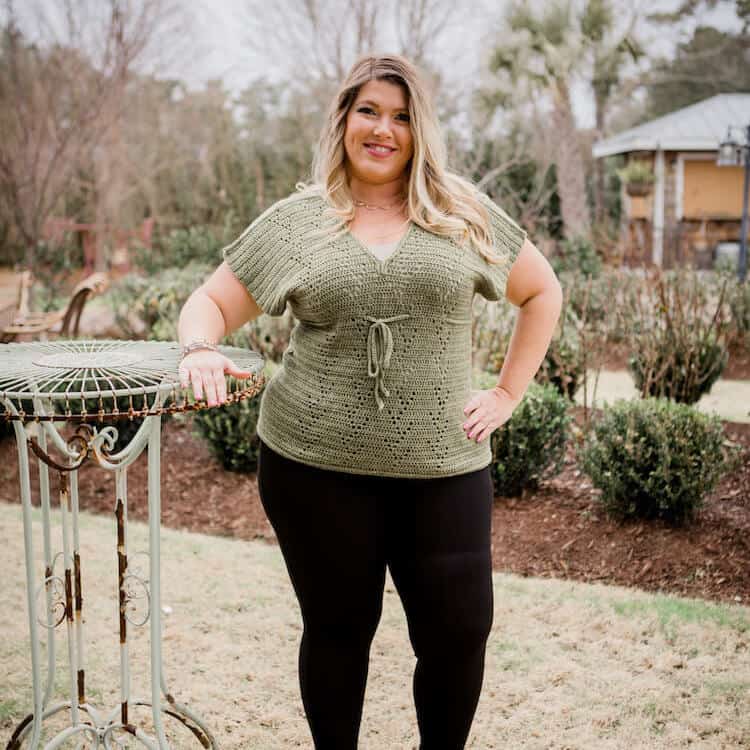 HBdc – herringbone double crochet
How to make a herringbone double crochet stitch:
Yarn over, insert hook into stitch, yarn over and pull through stitch (3 loops on the hook) pull 1st loop though the 2nd loop on the hook. Yarn over and pull though 1 loop (2 loops on the hook). Yarn over and pull though both loops on the hook.
Video Tutorial
Watch a video tutorial for the mohair scarf pattern here: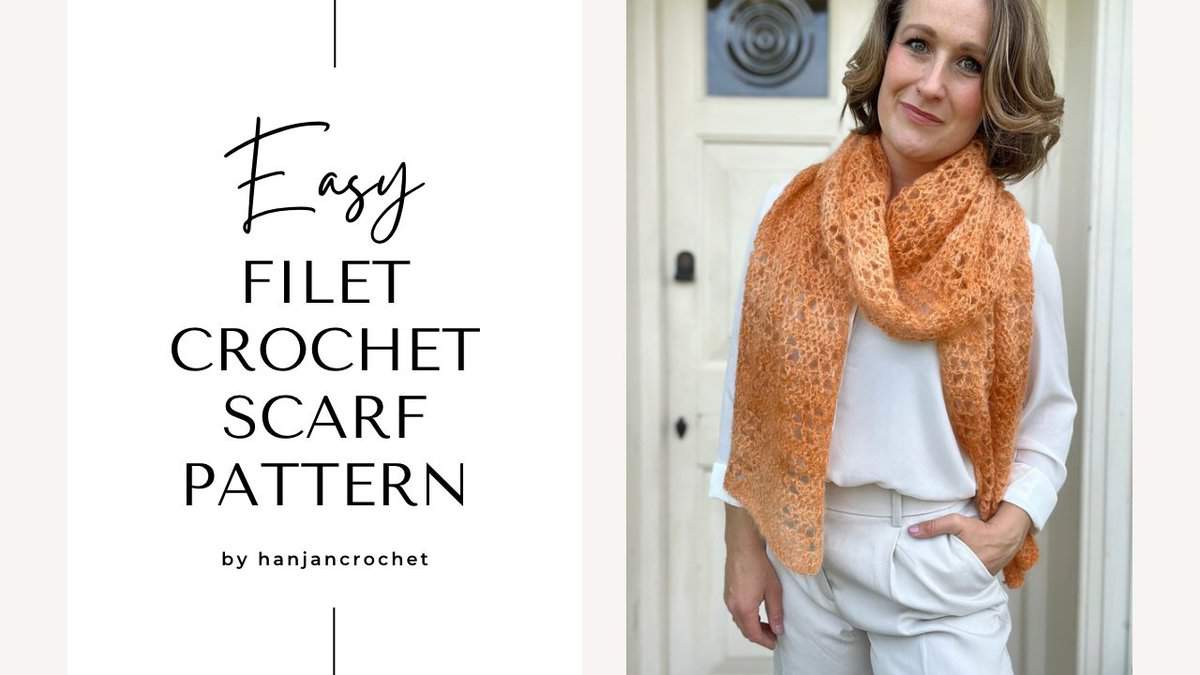 Pattern Notes
The pattern is written in standard US crochet terms.
The scarf is made in rows and you will turn at the end of each row.
A ch2 at the beginning of a row does not count as a stitch.
Use yarn doubled throughout.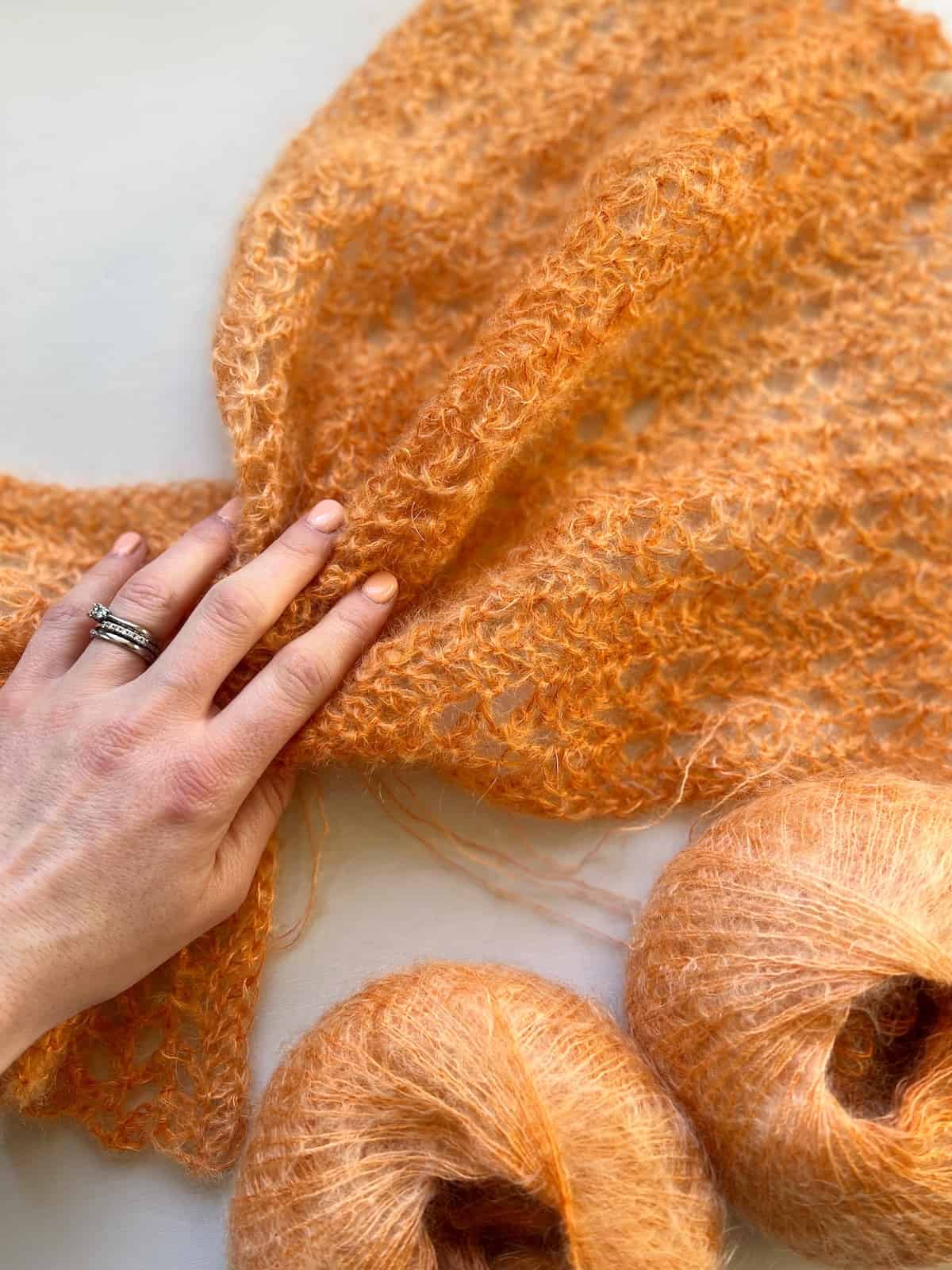 Gauge and Sizing
The gauge for the filet crochet scarf is 10 sts and 6 rows = 4" by 4" but gauge isn't essential as long as you are happy with the drape of your fabric.
With the yarn and hook I used, the finished scarf measures 49cm by 202cm ( 19.25" by 79.5") when blocked.
Pattern Options
Get this crochet pattern free in this blog post in US terms – just scroll down to find it in the exclusive members area! You can also purchase an ad-free, printable PDF in US terms with added extras in my pattern stores:
Purchase and Print
Get the ad-free, printable PDF with added extras in my pattern stores: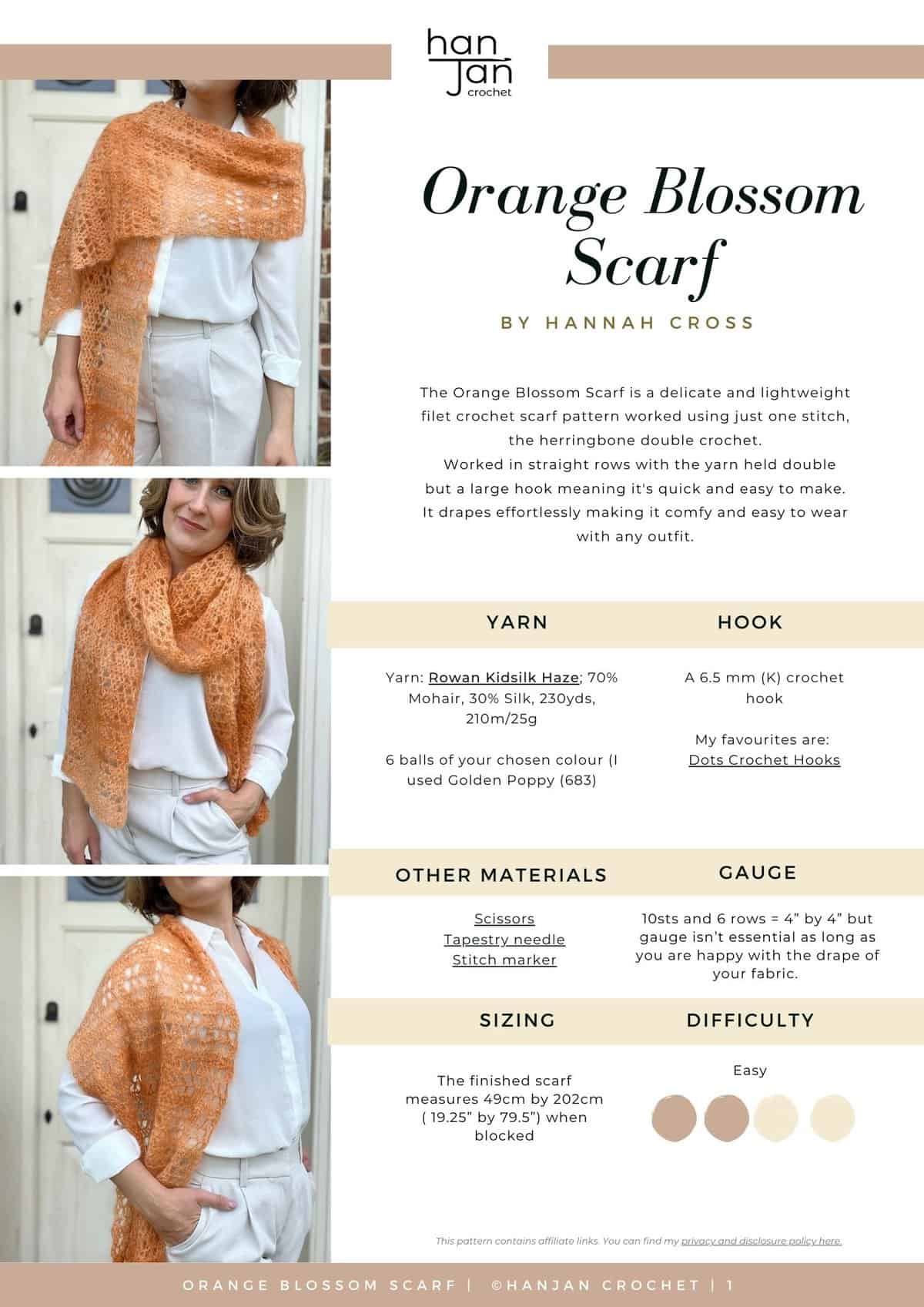 Free Elegant Scarf Crochet Pattern
To unlock Exclusive Content on the HanJan Crochet Blog, all you need to do is click the box below and the Grow.me app will pop up, allowing you to enter your email and create a password.
Once you've created an account, every time you see Exclusive Content on my blog (or any others that use Grow), simply login to your Grow account. Be sure to switch to the login screen to enter your login credentials.
If you forget your password, click the "forgot password" link and follow the prompts. Please note that I'm unable to assist with resetting Grow passwords or accessing your Grow account, so be sure to save your login information in a safe place.
Thank you for subscribing and for joining me at HanJan Crochet! I hope you enjoy the exclusive content available on the site and I can't wait to see what you create 🙂
US Terminology
Foundation chain: ch51
Row 1: RS: HBdc in 3rd ch from the hook and each across [49]
Row 2: ch2, * HBdc in next 2 sts, ch1, skip next st, HBdc in next st, ch1, skip next st, HBdc in next 2 sts; rep from * to end.
Row 3: ch2, *(HBdc in next st, ch1, skip next st) three times, HBdc in next st; rep from * to end.
Row 4: Repeat Row 2.
Row 5: ch2, HBdc in each st to end.
Rows 2-5 create the set pattern.
Rows 6-121: repeat the set pattern.
Fasten off and weave in all ends to complete.
Chart
If you're more of a visual learner, I have a helpful chart that'll guide you through the set pattern.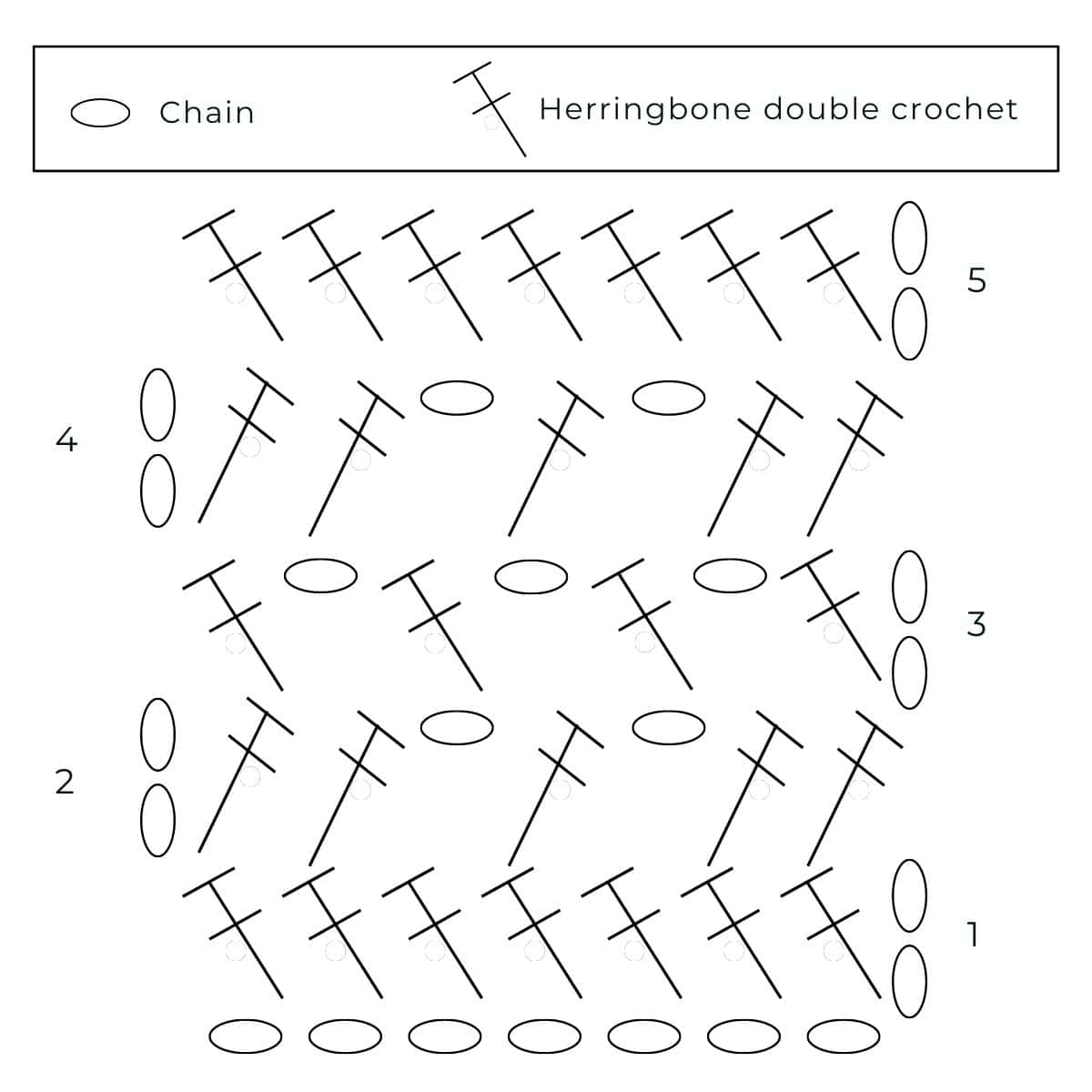 Join HanJan and Share Your Crochet!
It's an honour to be able to create and share my free crochet patterns with you. I'd love to stay connected and send you regular discount codes and free patterns! Please sign up for my subscriber list to get a free gift right now!
I look forward to seeing your finished crochet projects, especially this easy crochet pattern, so please share them with me in the HanJan Crochet Facebook group or on Instagram and tag #hanjancrochet.
Purchase and Print
Get the ad-free, printable PDF with added extras in my pattern stores: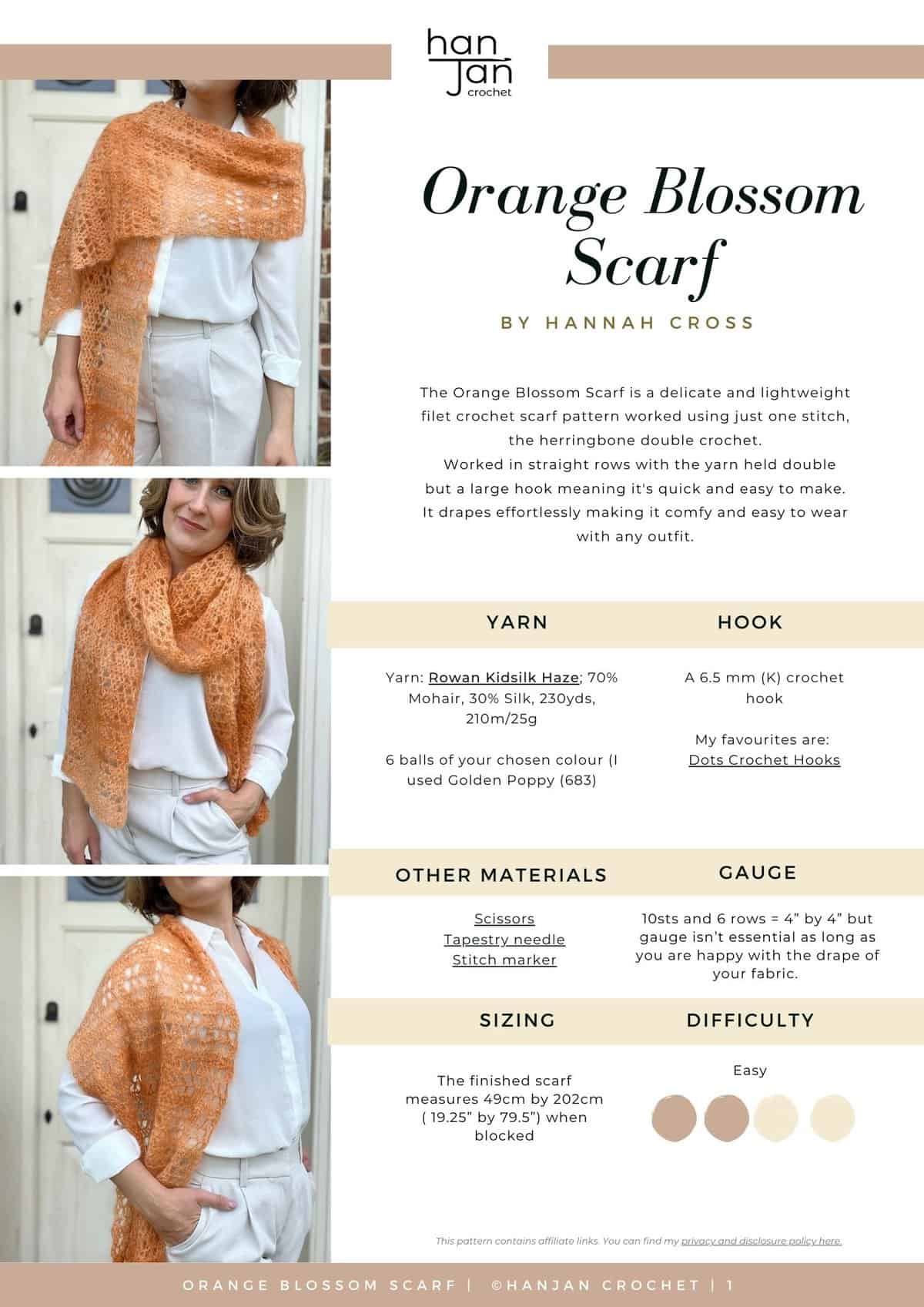 More Crochet Scarves and Shawls for Summer You Might Enjoy
If you enjoy making crochet scarves for summer to style up your outfits, here are a few more you patterns you might like to make!