Since I began designing I've always wanted to create a set of patterns that inspire people to really go for it and experiment with stitches, colours, textures, sizes, yarn weight and hook sizes. This is what I hope the Yarn Stash Series will do. The stitches are all super simple, the yarn can be whatever you fancy, the more the better I say and I've used the same size hook (5mm/H) for them all but you can mix it up however you like.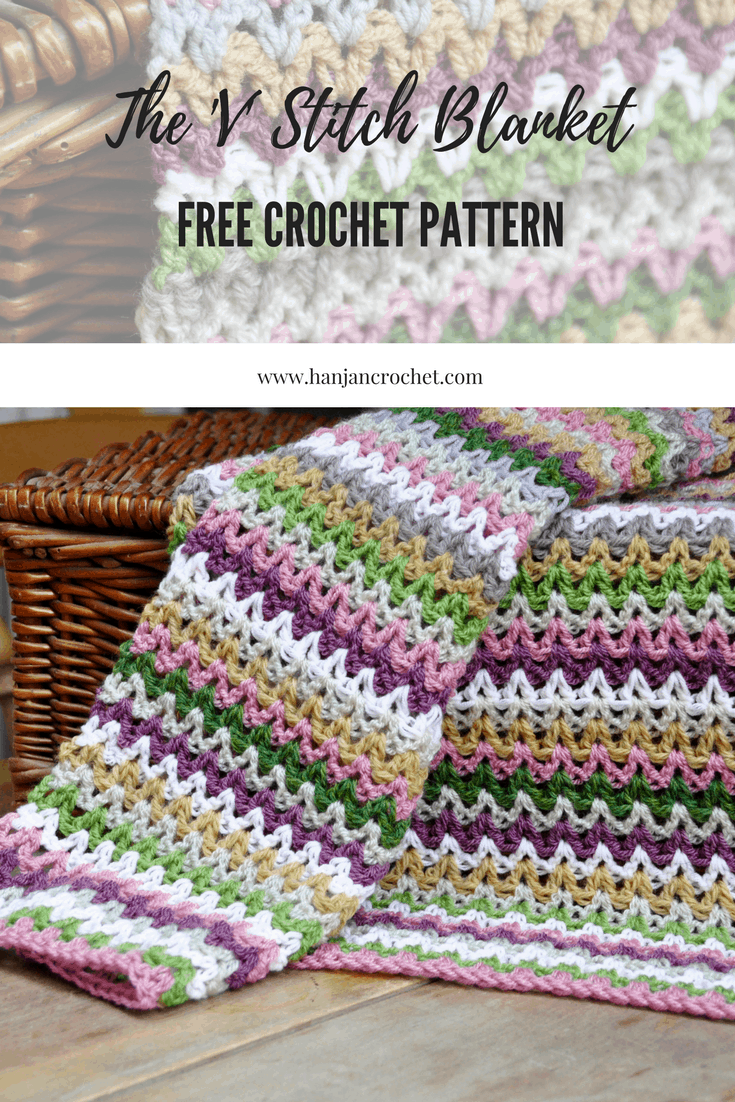 First up, we have the 'V Stitch Blanket' – this stitch is so trendy at the moment and gives a beautiful drape and texture to any work. You can download the whole PDF on Ravelry, or keep reading for a full tutorial and pattern here.
This post contains affiliate links so anytime you click it helps me to keep bringing free patterns to you.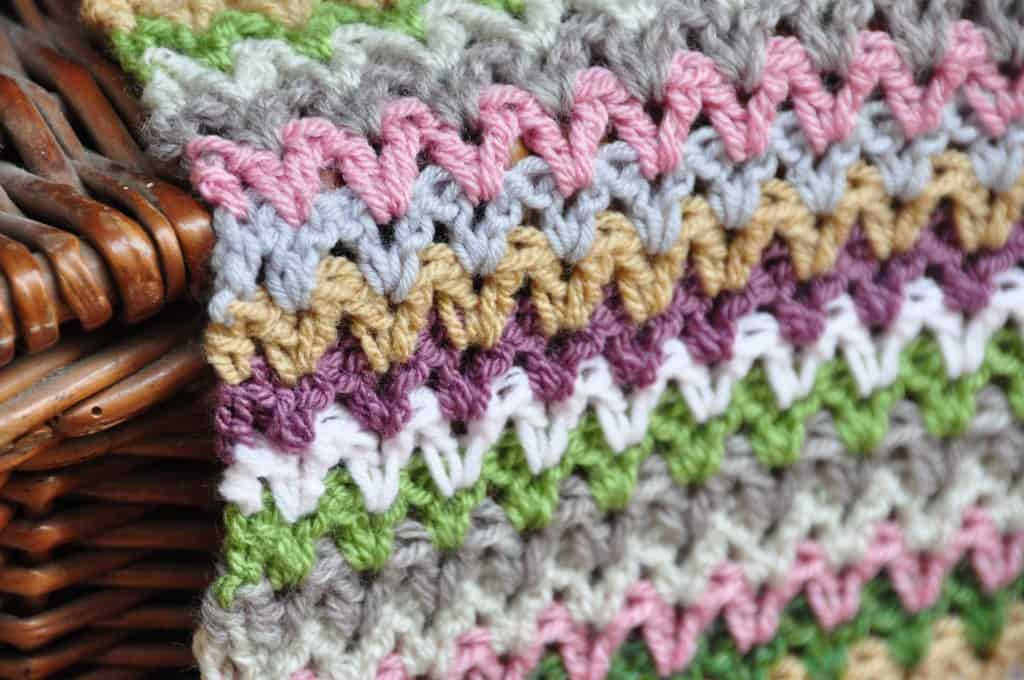 The Yarn
You can use any yarn you like for your blanket but I would recommend a double knit or worsted weight yarn.
I've been so lucky to team up with Deramores to bring you a yarn pack for this blanket! Just follow the link to get the kit and pattern PDF with 10% off!

Pattern
So, here comes the nitty gritty, how do you actually crochet the V Stitch? It's a really simple repeat that only needs you to know how to work a chain and a treble (UK) or double (US). From now on, I'll use UK terms.
Foundation chain: 79 (any multiple of 2+1)
This is how many chains you need to make a pattern repeat like this work – pick any multiple of 2 and then add 1 more and you're good to go. For the blanket in the pattern I started with a chain of 79 and I got a blanket that is 65cm wide.
Row 1: 2tr in 4th ch from hook, *skip 1, 2tr in next, rep from * to last, tr in last [76]
If you read crochet patterns out loud they actually sound like gibberish, my husband does it to annoy me sometimes, so I completely get that this probably makes now sense to lots of people. I remember how cross I got with patterns that I couldn't read but then I also remember the absolute amazement when suddenly I realised I'd taught myself to read what felt like a new language! Amazing!
This first row is setting you up for the whole blanket so take time to make sure you are happy with your count and tension and the rest will be a breeze. What the row actually says if you don't read gibberish yet is:
Work 2 treble stitches into the 4th chain away from your hook (the first 3 chains then become a stitch in the row), skip the next chain along, work 2 treble stitches into the next chain. Then, it tells you to repeat the instructions from * (the little * tells you where to go back to, a bit like when you read music, but some designers use brackets or other symbols so just check on that before you get going), so that's all you have to do, keep working: skip 1, 2tr in next, skip 1, 2tr in next, skip 1, 2tr in next…. all the way along to the last chain. To finish the row off you just need to work a treble in that last chain and you're done.
Here's what it should look like: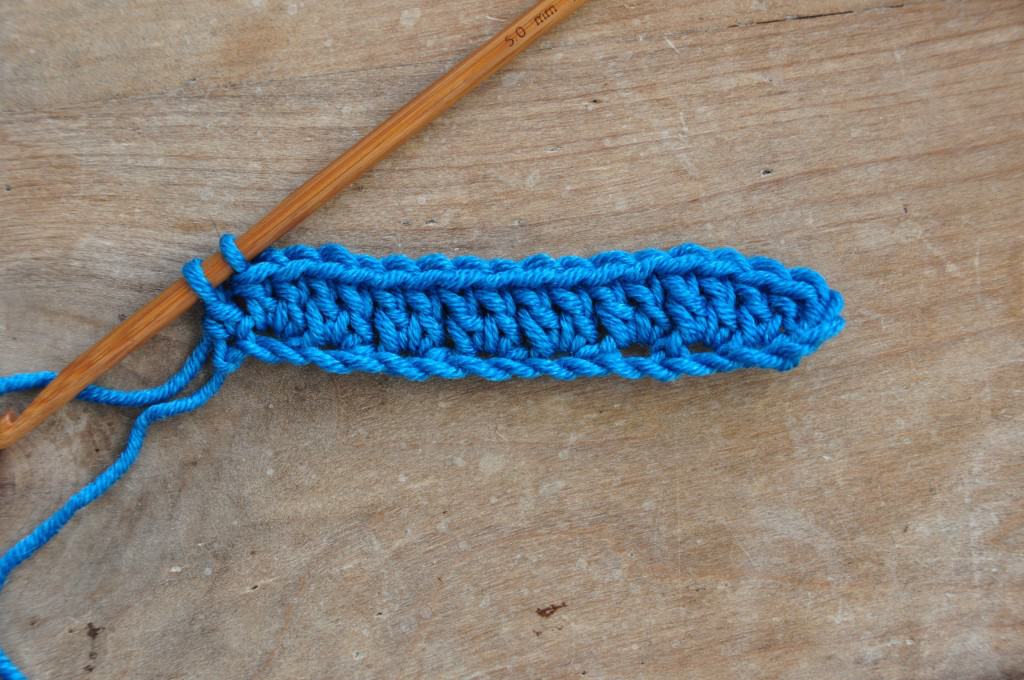 Row 2: ch3 (counts as st) *2tr in between each set of 2tr to create the 'V' stitch, repeat from * across to last, tr in last.
This row is slightly less gibberish don't you think? All you need to do is work 3 chains to start with (this becomes the first stitch in the row) then you work 2 trebles in between each set of 2 trebles that you worked on the row before. Then you have the magic repeat sign again * so do the same over and over until you get to the last stitch, work a treble in the last stitch and you're done!
Now it should look like this: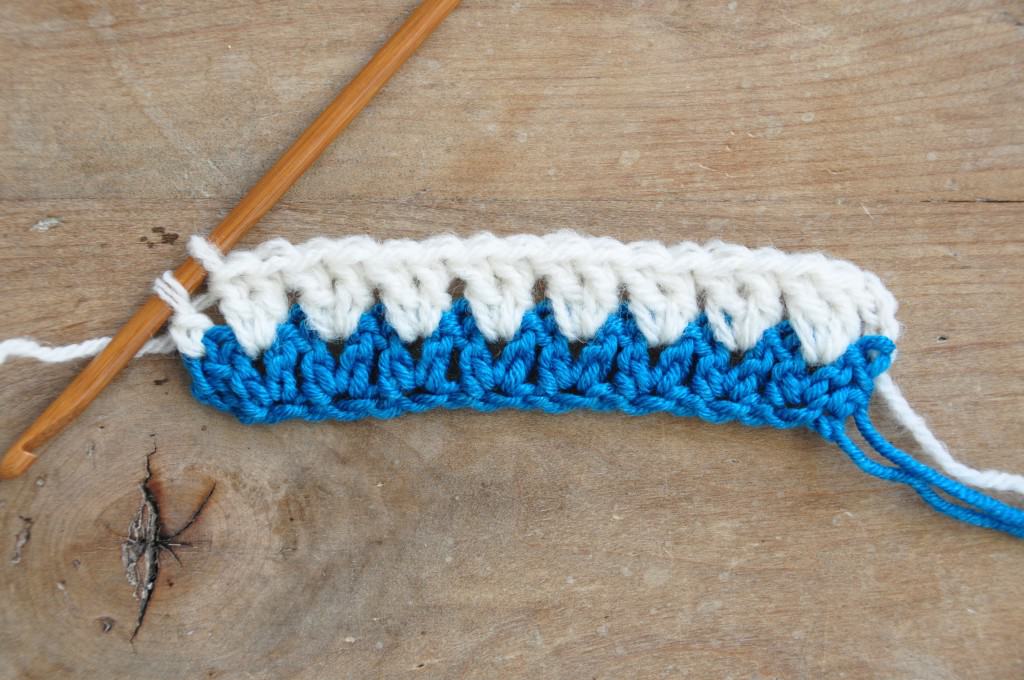 Rows 3-60: Repeat Row 2 changing colour at the end of each row or whenever you fancy.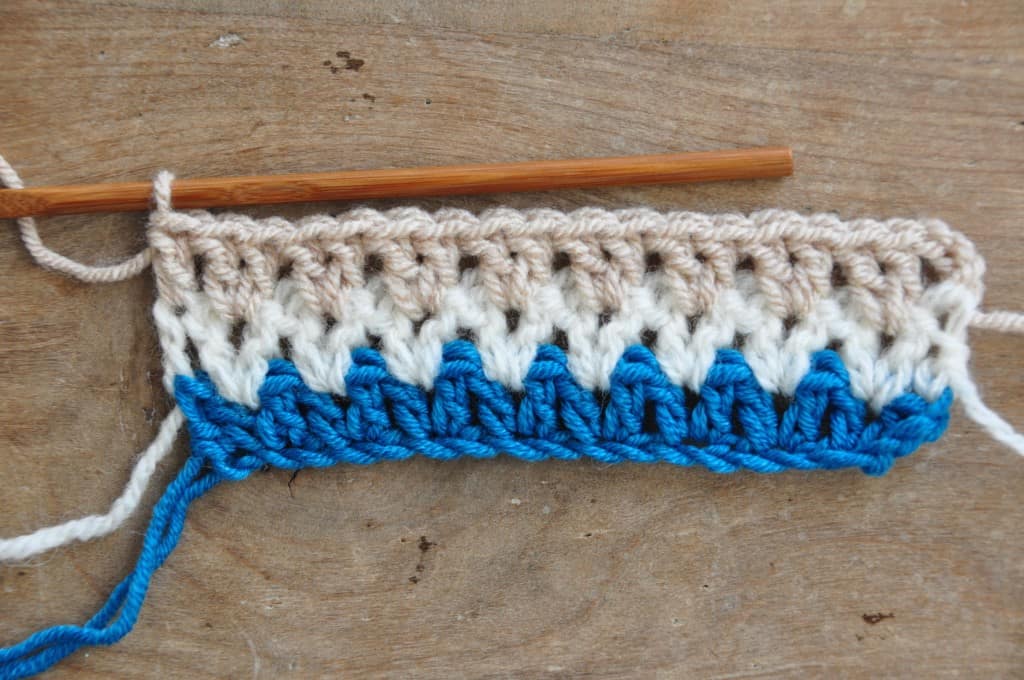 That's it! All there is to it.
There's also a little video tutorial of this stitch for you here:
I'd love to see any pictures of the blankets you make so make sure you share them with me on Instagram.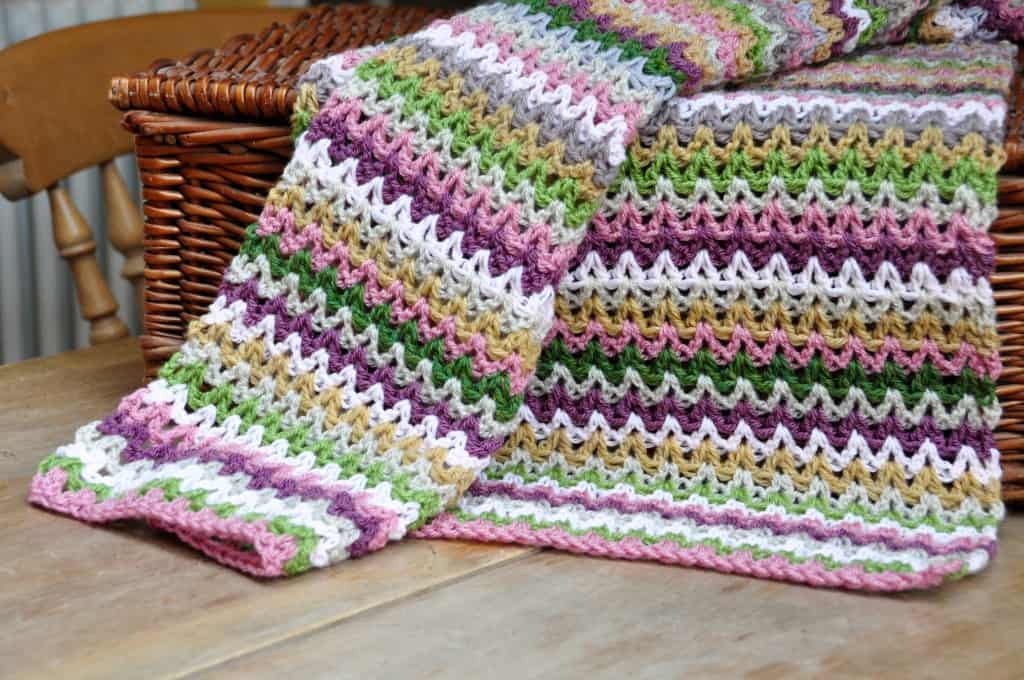 I'm off to get back to my yarn stash and some more stitch tutorials – ripple, sedge and granny block are all coming your way soon!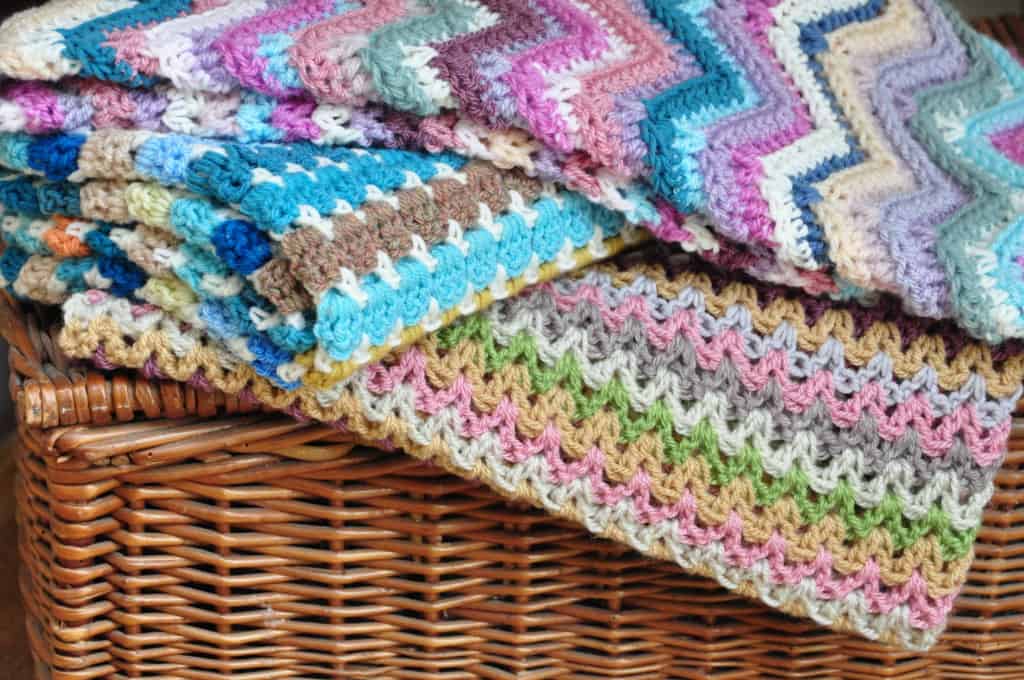 More stitch tutorials and patterns
Now that you've mastered the V Stitch you might like to try some others. I have a whole collection of free stitch tutorials and blanket patterns on my blog so just visit the links and see what you fancy making next.
These are some of my favourites that I thought you might like. They are all suitable for beginners and they all lend themselves really nicely to make blankets, scarves, garments, you name it!
It's a really easy stitch but slightly different from a traditional cable stitch as you only work across the stitches to create the cable and not into the skipped stitch.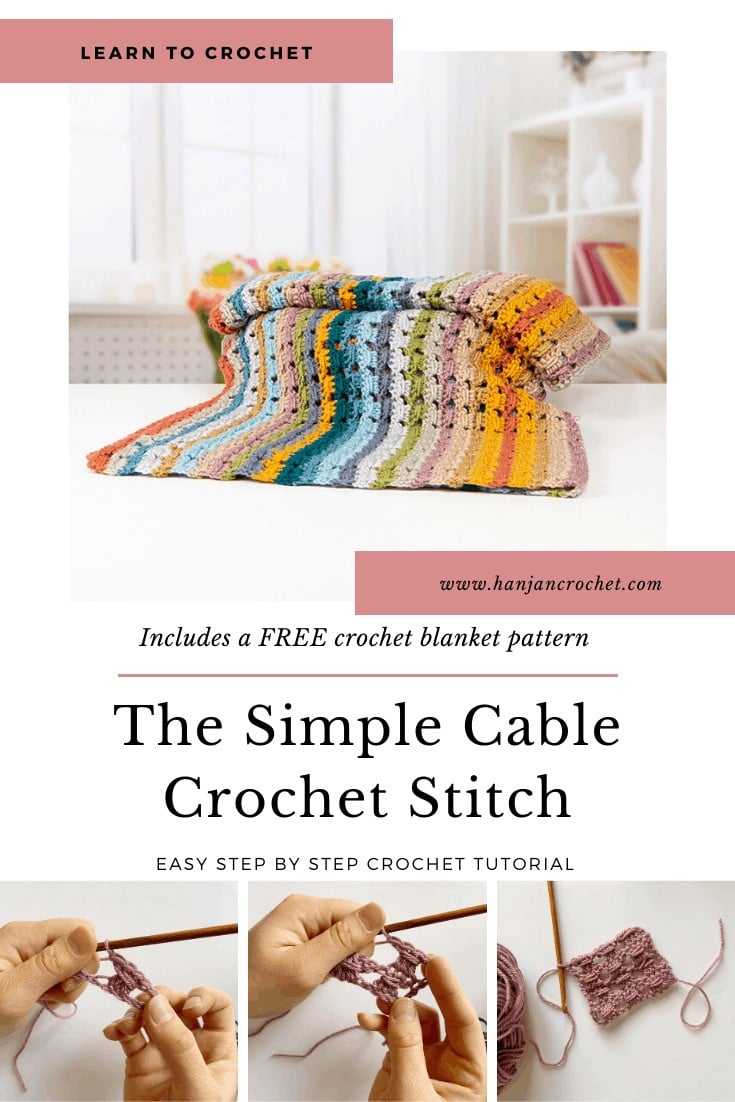 The stitch is a really simple 2 row repeat that creates a beautiful lace-like texture with the most gorgeous drape and feel. It uses simple stitches with a little twist (a crossover stitch) to give the lovely texture. So if you can crochet a treble stitch (UK) or double crochet (US) then you can definitely do this!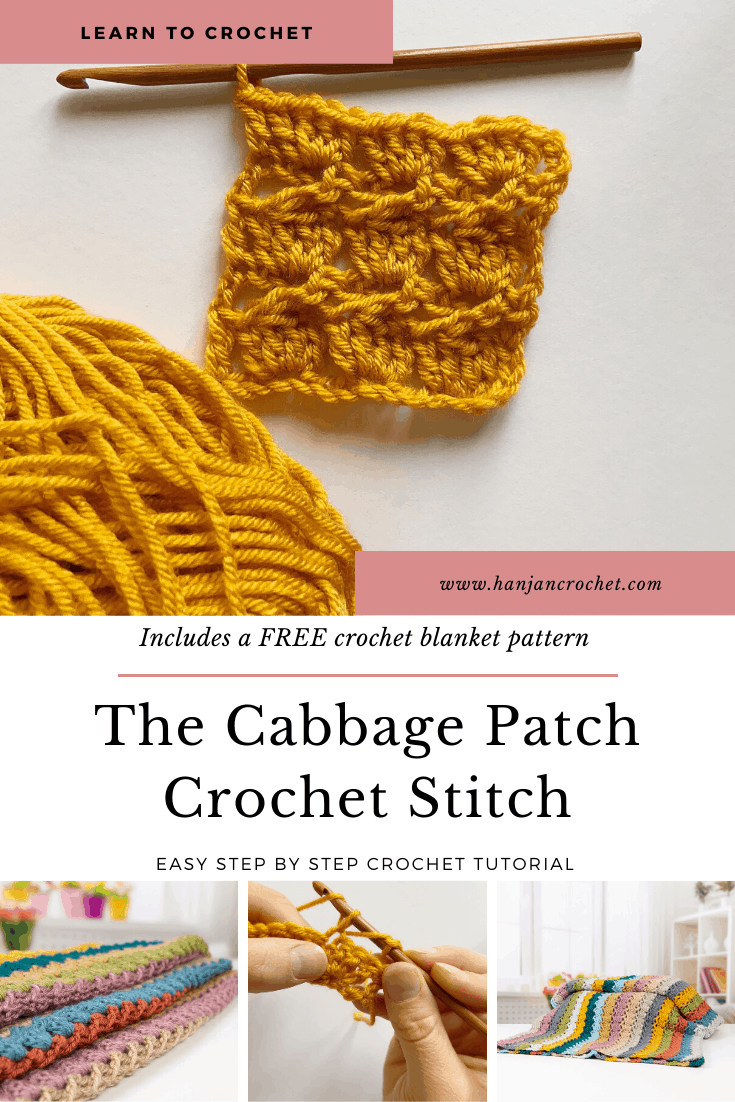 Learn to crochet the V stitch with this step by step crochet tutorial for beginners. A perfect stitch for baby blankets, home decor, scarves and cardigans this is a classic crochet stitch which everyone can learn.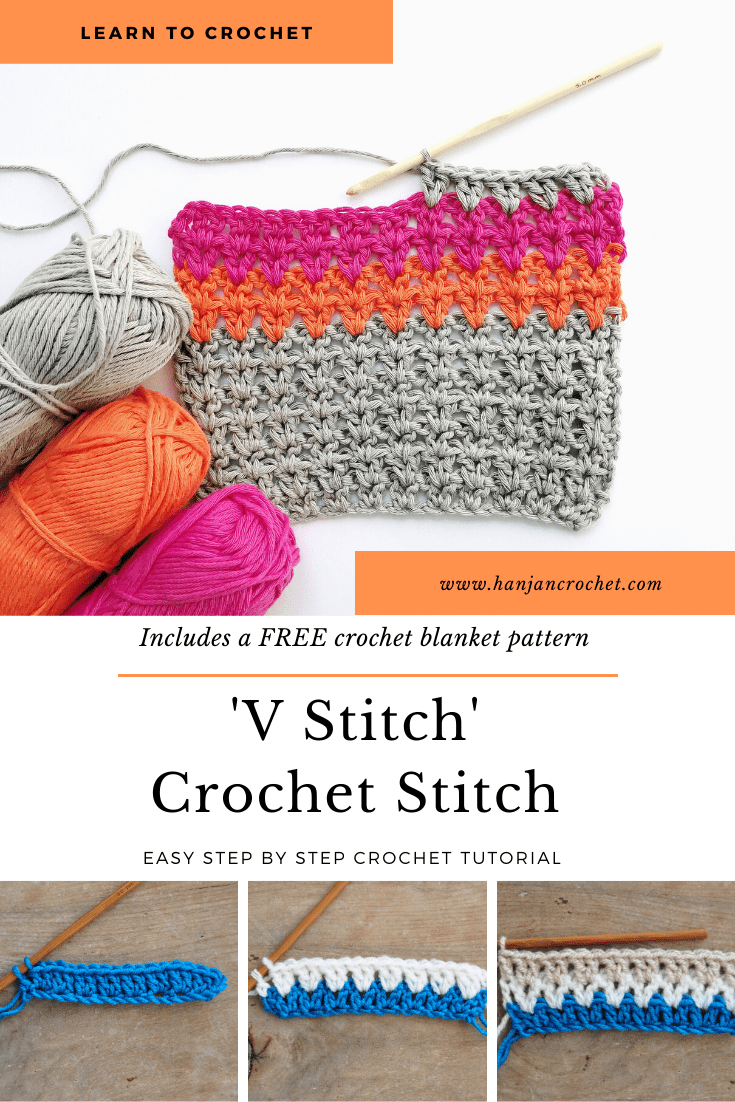 The best part about the Larksfoot Stitch is that it grows soooooo quickly! You'll have a blanket made in no time at all. It's easy, fun and it's dropped down stitches give a little bit of a twist to add something to the colour mix and texture.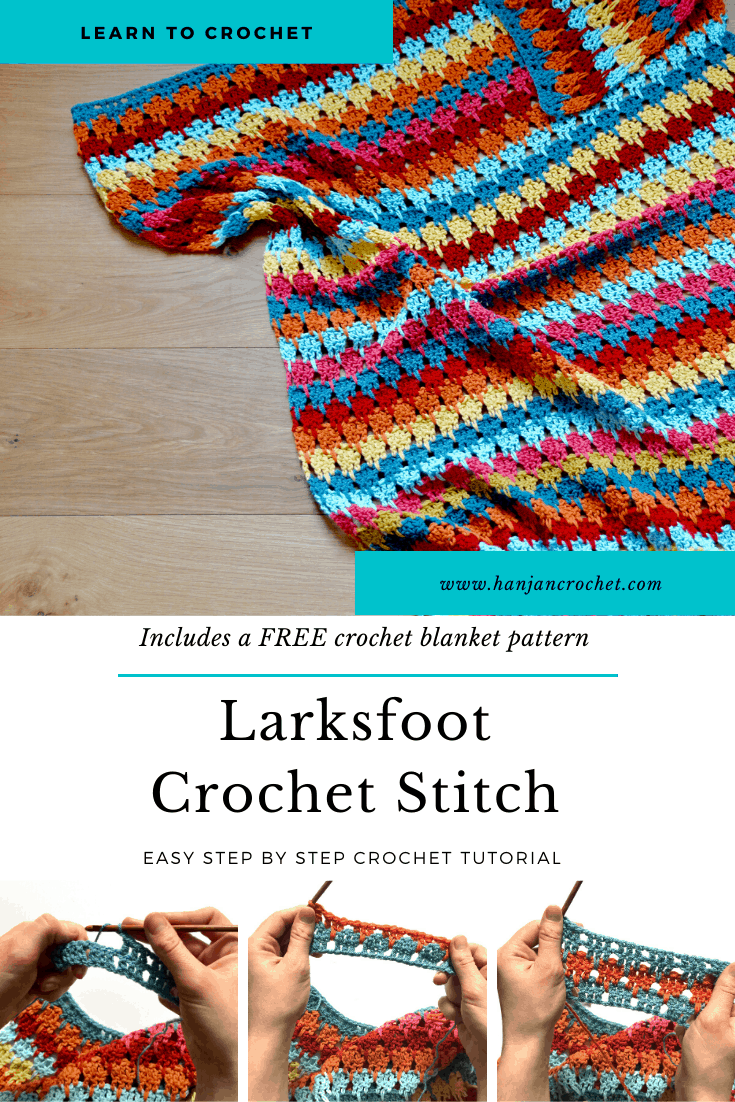 The Ripple Stitch is such a crochet classic that everyone needs to learn! It has a really easy repeat and such a soothing rhythm that you'll be addicted before you know it. You can really play around with colours to make this modern or classic so easily.