Learning beginner crochet stitches is great fun and today we're looking at how to half double crochet stitch.
A US half double crochet stitch is written as a hdc or HDC in crochet patterns and is one of the most common crochet stitches that you learn after mastering the chain stitch and single crochet (sc).
In UK crochet terms it's called a half treble crochet / htr (more on that later!) and in my opinion is one of the most beautiful and easy crochet stitches you'll find because it's so adaptable.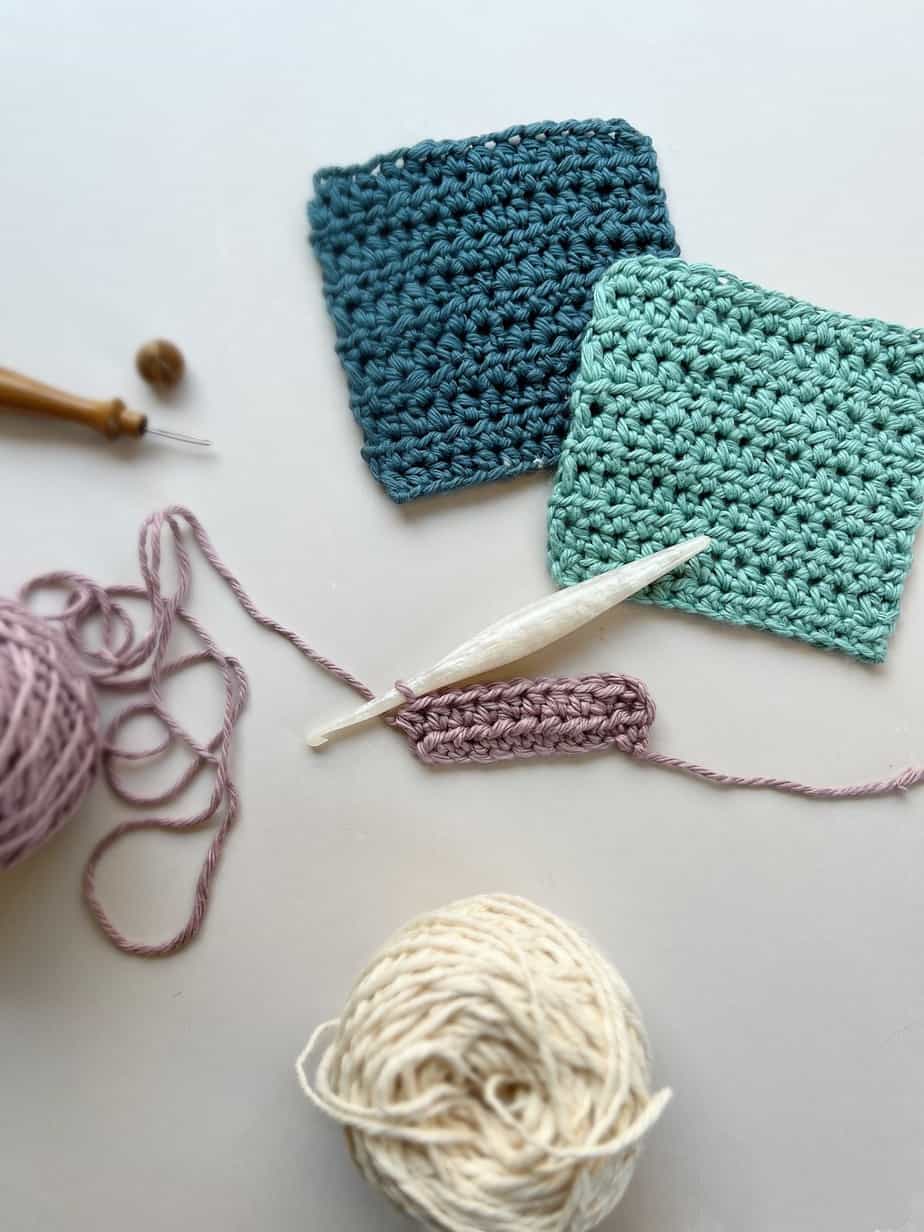 This post may contain affiliate links. Please see my full disclosure and privacy policy for details.
What is a half double crochet stitch?
A half double crochet is an easy crochet stitch that sits between the height of the single crochet (US) and double crochet (US). That mean it's taller than a single crochet but slightly shorter than a double crochet.
The biggest difference between it and the single crochet is that you need to add a 'yarn over' before you pop your hook in the stitch.
The fabric that it creates is lovely and textured without any holes and is great to use for all sorts of projects. You can also be really creative with the hdc as it has three loops rather than two for you to crochet in and so can create amazing texture.
Is half double crochet the same as half treble?
Yes. A half double crochet stitch is exactly the same as a half treble stitch.
The term half double crochet is used in US crochet terminology and the term half treble stitch is used in UK terminology.
As frustrating as it is to have different names for the same stitch the process of making it is exactly the same so all you need to do is check whether the pattern that you're using has UK or US crochet terms before you begin and you'll be fine.
For the remainder of the tutorial I'll refer to the stitch as a half double crochet / hdc.
How do you crochet a hdc stitch?
Let's get right to it and look at how to work the half double crochet stitch.
Firstly, let's look at the description of the process and then have a closer look at some pictures.
How to make a hdc stitch –
Yarn over and insert your hook into the next stitch you'd like to work in.
Yarn over and pull up a loop through the stitch you've chosen (you'll have 3 loops on the hook).
Yarn over and pull through all the loops on your hook.
Because you completed the stitch by pulling through all 3 loops on the hook you'll see that you get an extra or special third loop. This is referred to as the 3rd loop of the hdc and is what makes it so unique from other crochet stitches!
Step by step half double crochet for beginners
Supplies you'll need
I used Billow by WeCrochet for the tutorial photos which is a lovely, soft bulky weight yarn, 100% cotton, 120yds/100g but you can use any yarn that you like. If you're a beginner I'd recommend using a category 4 or 5 weight yarn so you can see your stitches easily.
You'll need a corresponding crochet hook for the yarn you choose. I'm using an ergonomic crochet hook here and it's a 6mm size.
The only other things you'll need is a pair of sharp scissors and a tapestry needle to weave in your ends if you'd like to save your swatch.
1. Yarn over
Yarn over your hook to begin your hdc stitch.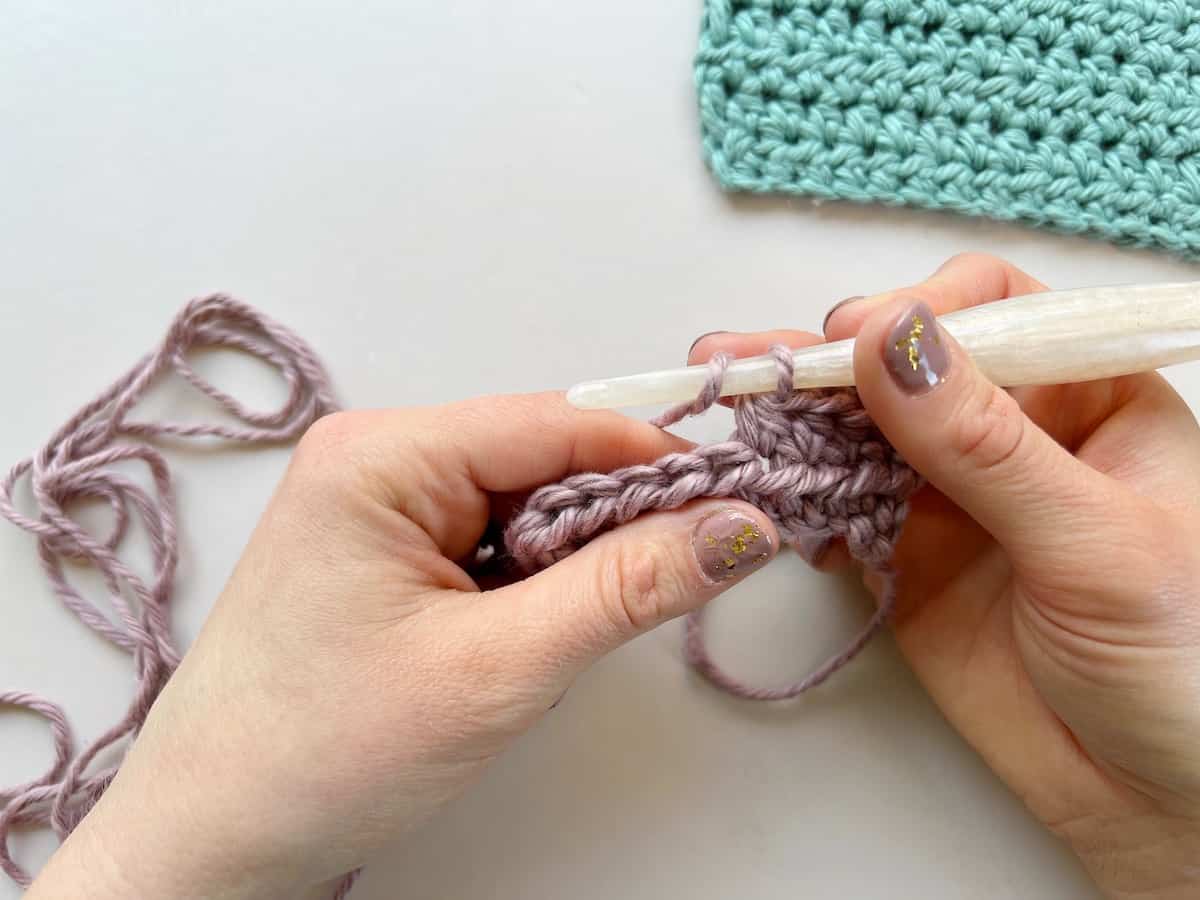 2. Insert hook into next stitch
Insert your hook into the next stitch making sure to go through the front and back loops but not the extra 3rd loop that you can see here facing you.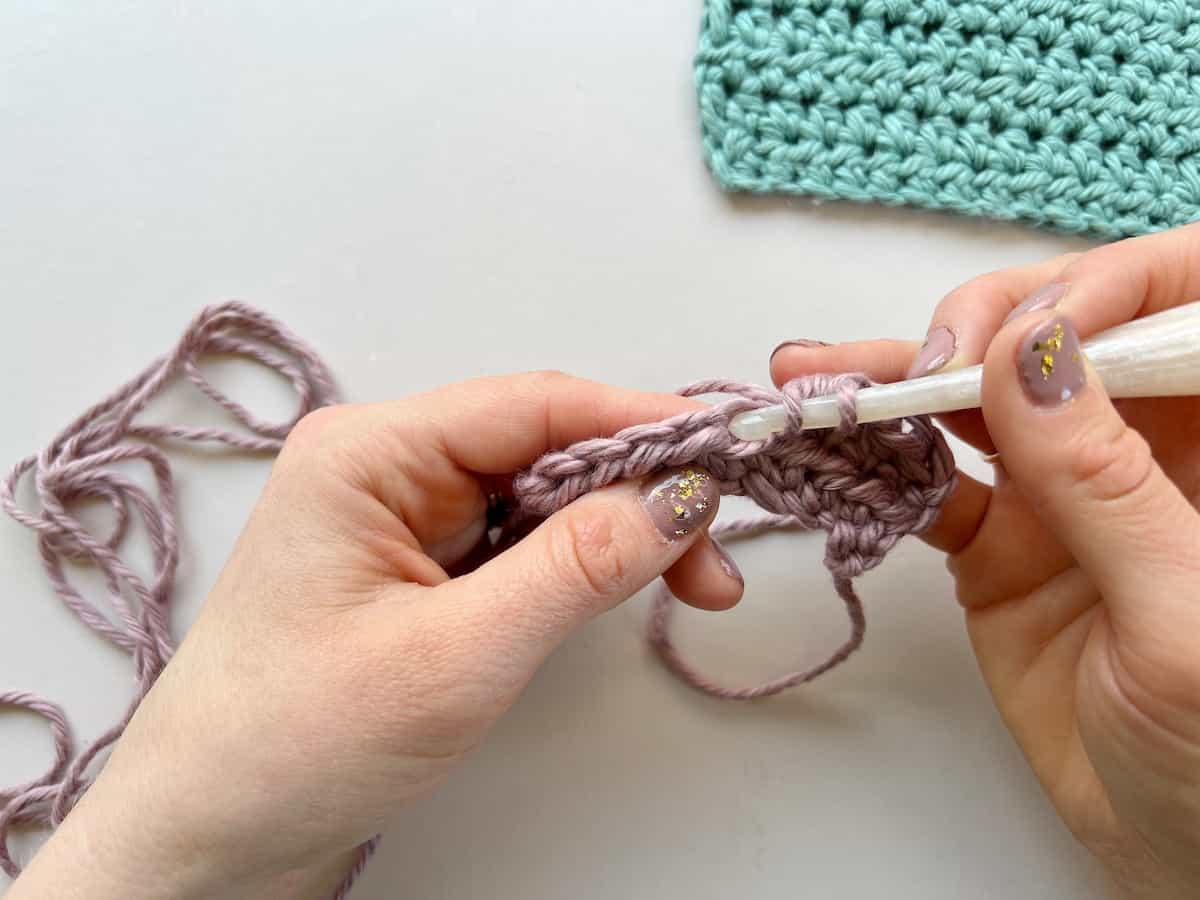 This is how the stitch will look from above with the front and back loops of the stitch sitting on top of your hook.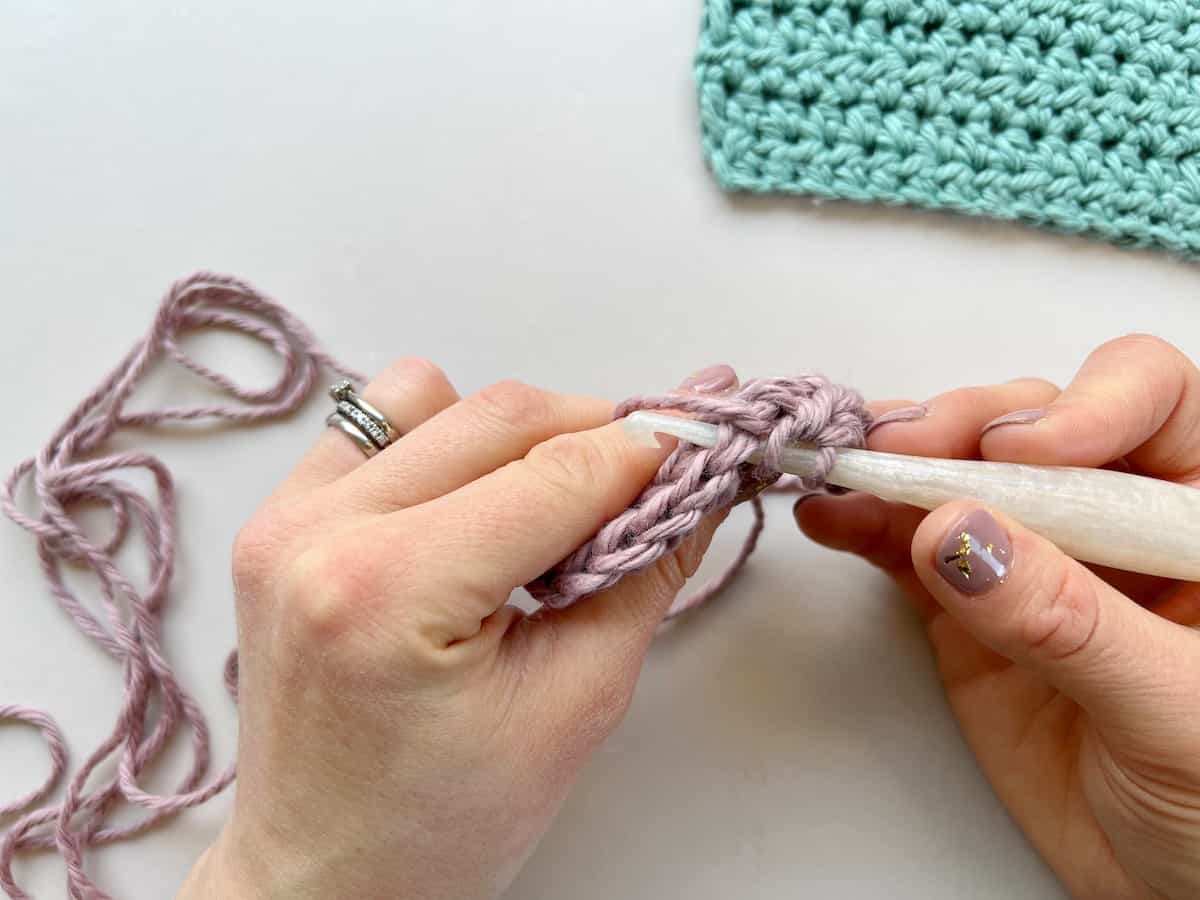 3. Yarn over and pull up a loop
Yarn over your hook again and pull up a loop through the stitch. This will give you 3 loops on your hook now as shown below.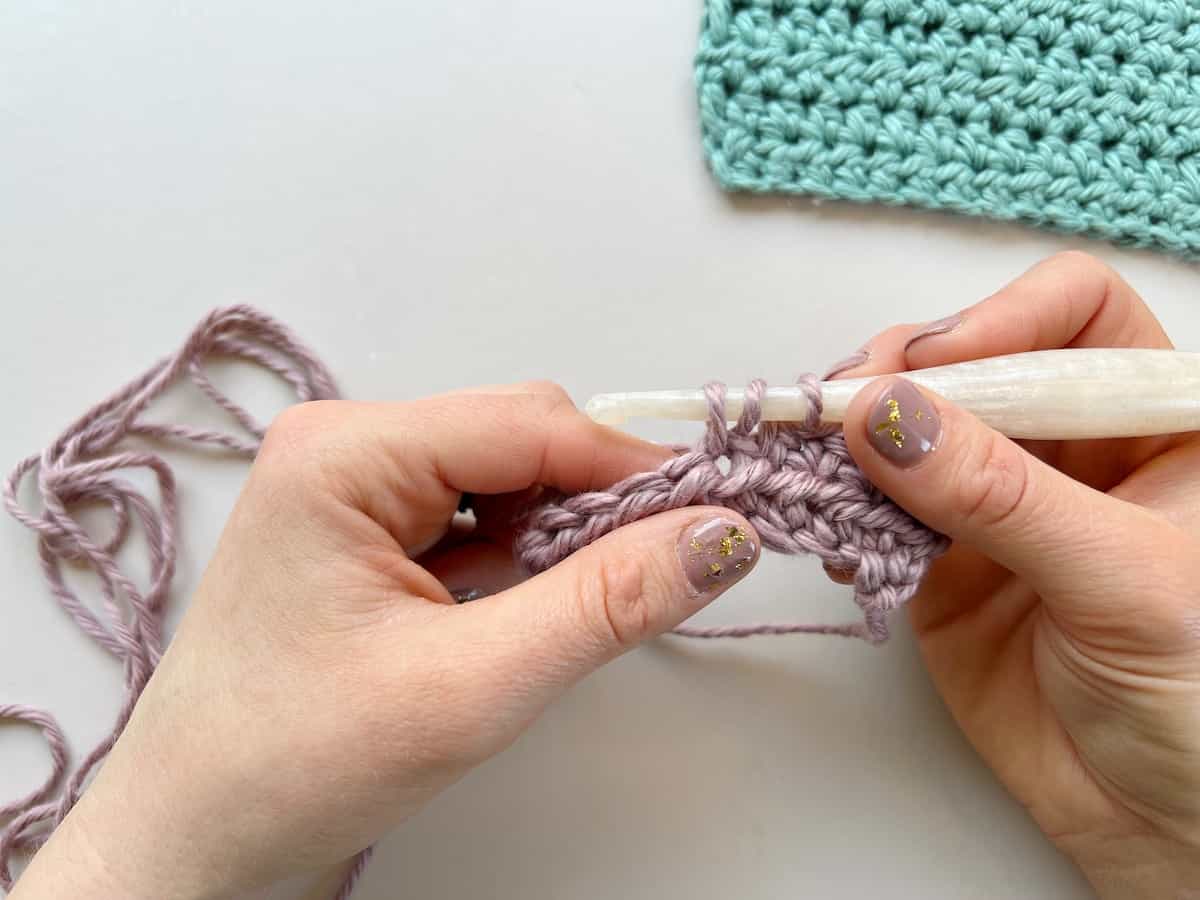 4. Yarn over and pull through 3 loops
Yarn over your hook again and pull through all 3 loops on your hook to complete the hdc stitch.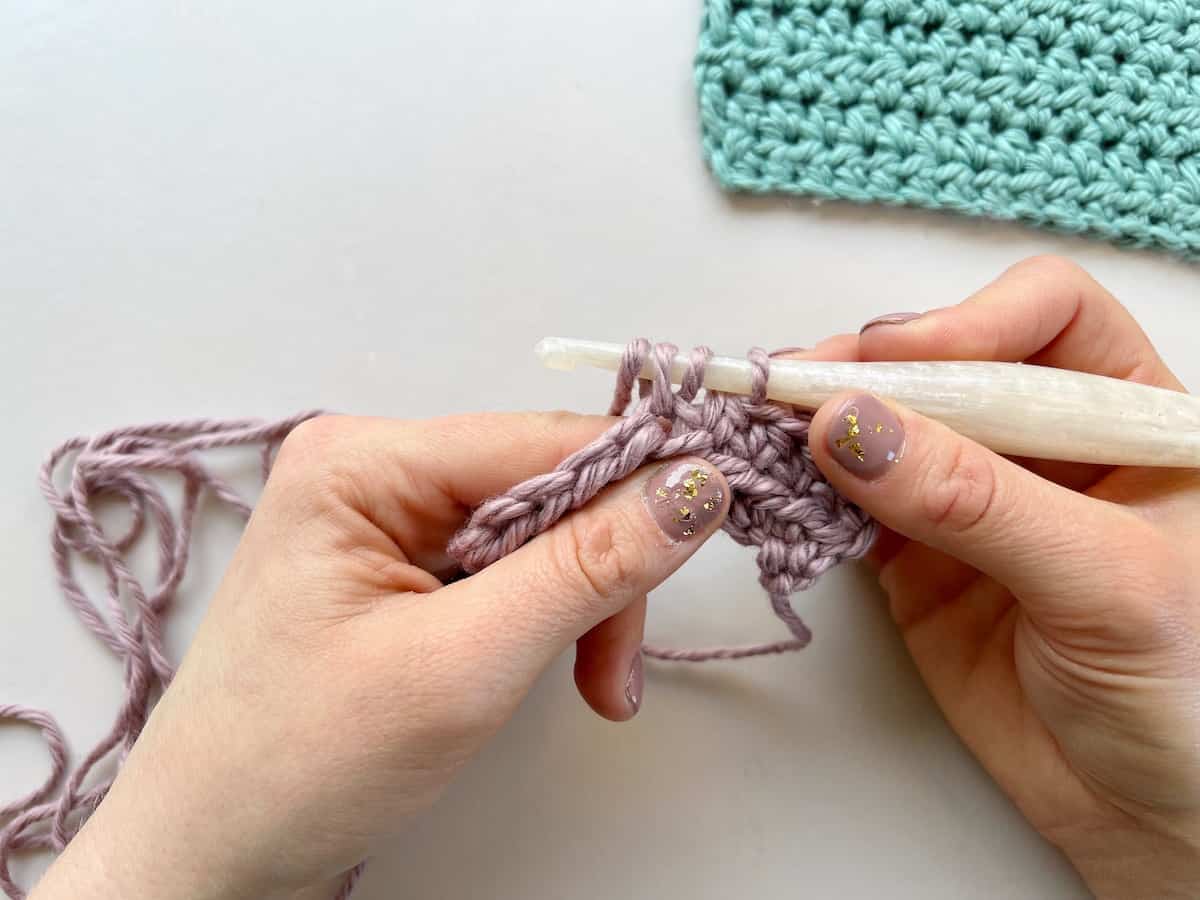 A completed half double crochet stitch
This is what your completed stitch will look like: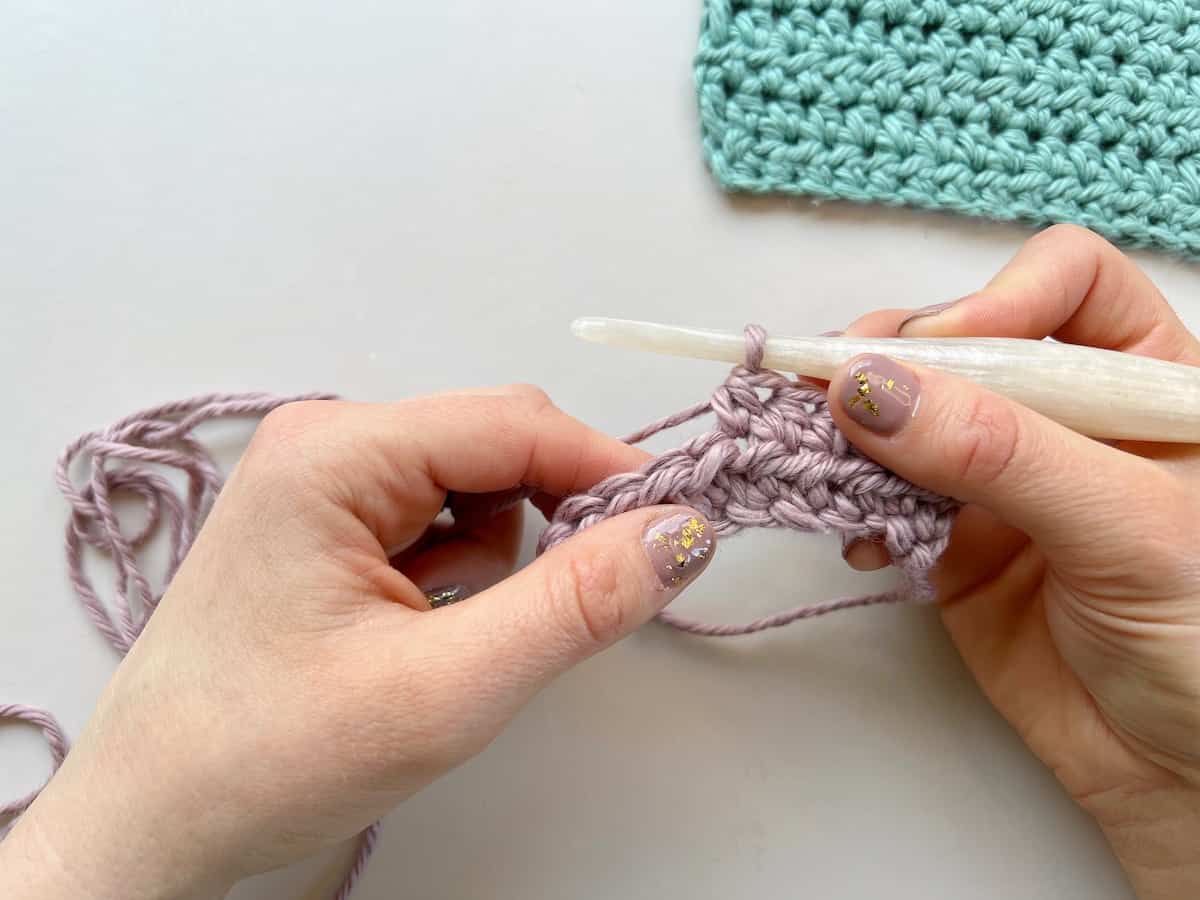 How to work a row of half double crochet at the beginning of a project
If you are working a project from the beginning you'll need to work a slip knot and a chain to start with. I'll show you how to do this in the following steps.
1. Make a slip knot on your hook
Create a slip knot to begin our swatch by wrapping the yarn around your fingers and pulling a loop through to secure on your hook.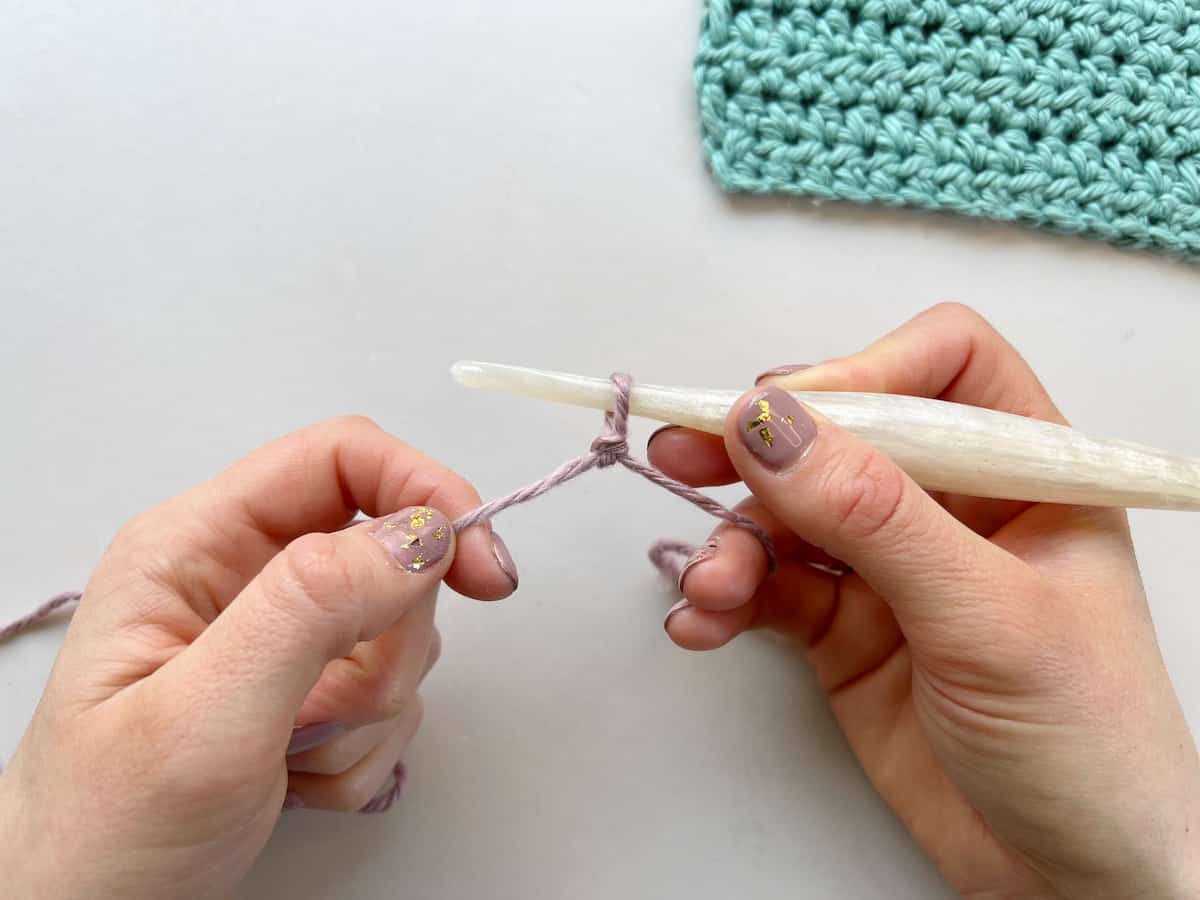 2. Work a chain of any number
Now work a chain of any number to set the width of your hdc swatch. Yarn over and pull up a loop to create each chain stitch.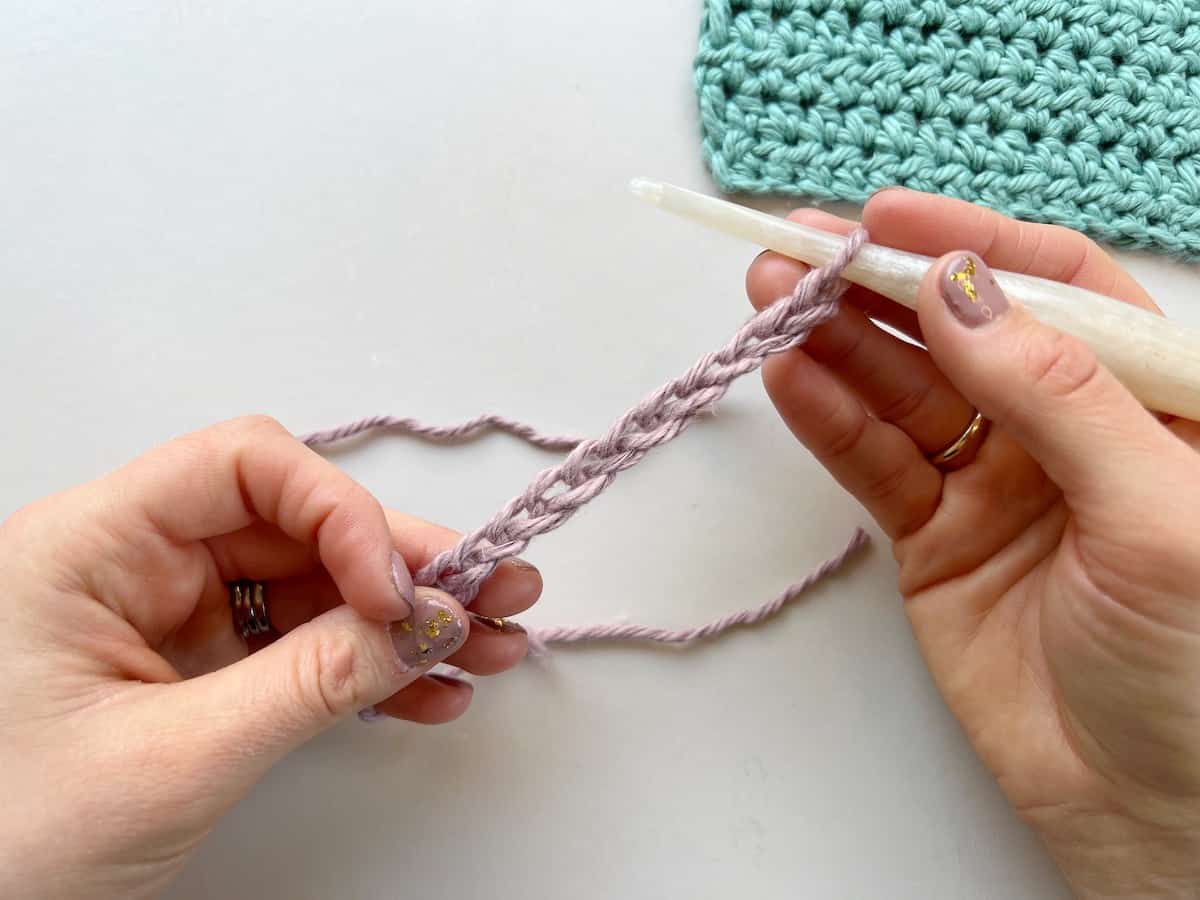 3. Yarn over and find the 2nd chain from the hook
To begin your first hdc stitch, yarn over as shown and find the 2nd chain from the hook. This is the chain that we will work the first stitch into. It is the one just above my thumb in the image.
Some people suggest working into the 3rd chain from the hook but I've never found this to be quite the right height so always work into the 2nd chain. It's completely up to you of course – have a go and see which you prefer!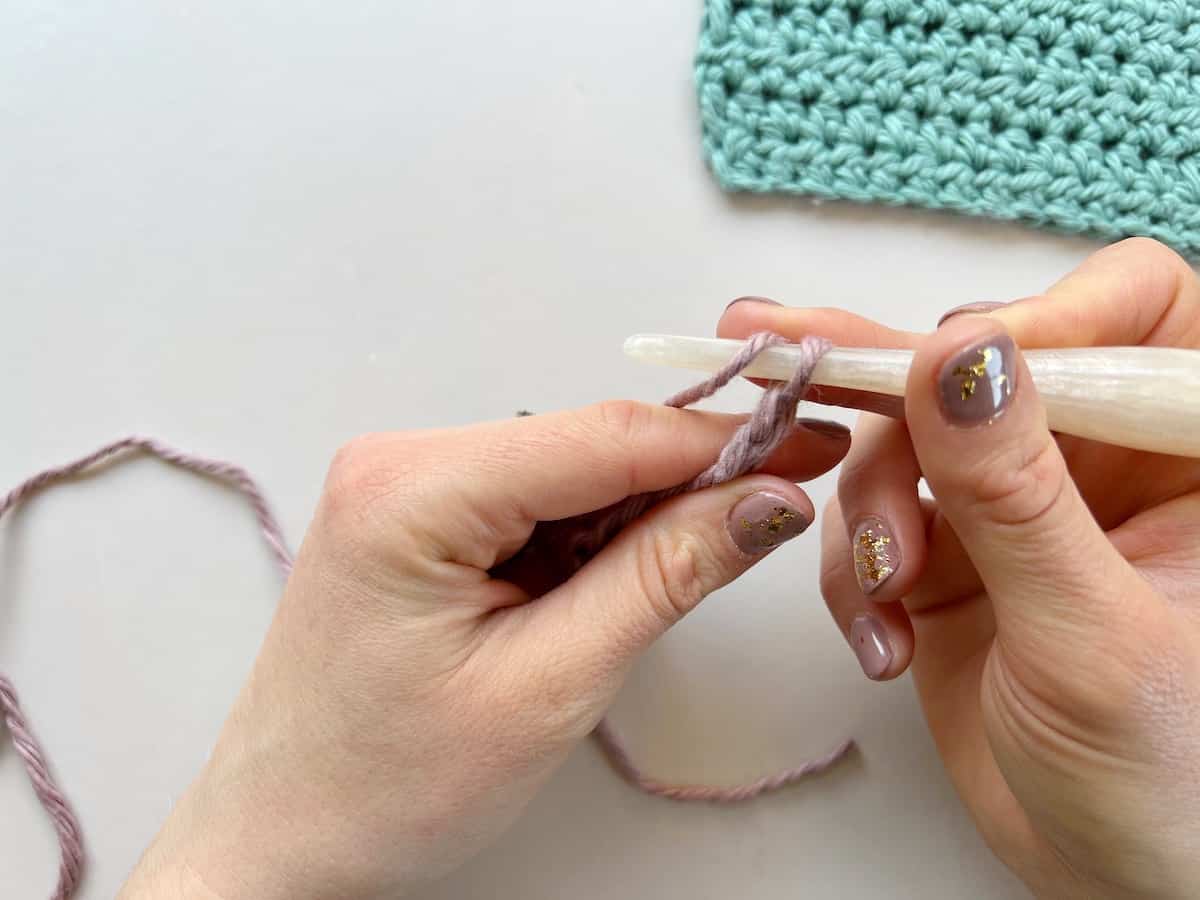 4. Insert the hook into the chain
Once you've found the 2nd chain from the hook, insert your hook into it.
Top tip – I always like to work into the 'back bump' of my chains rather than the front. It gives you a much neater finish on the edge of your projects. To find the back bump of a crochet chain just rotate the work to find the ridges at the back. Each of those is a stitch to work into as you would normally.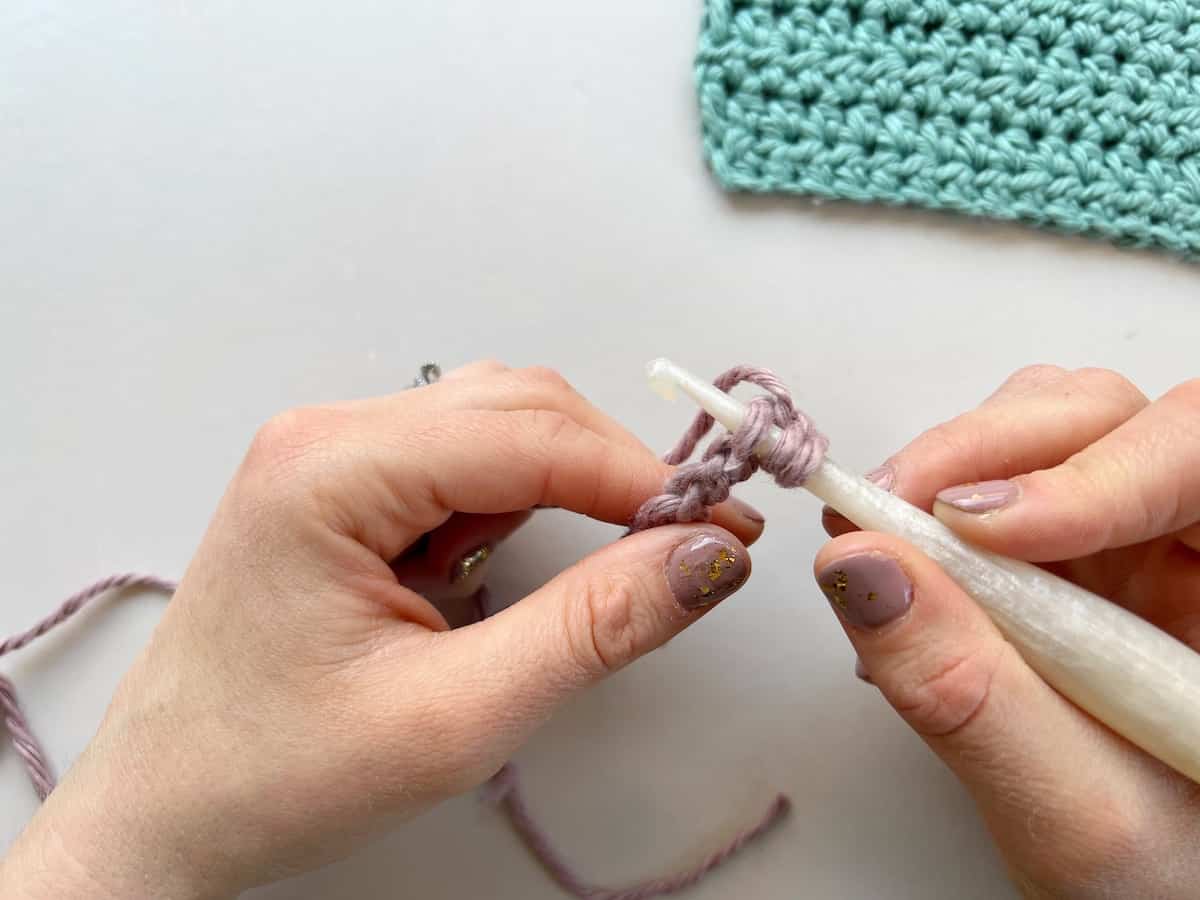 5. Yarn over and pull up a loop
Yarn over and pull up a loop through the back bump of your chain.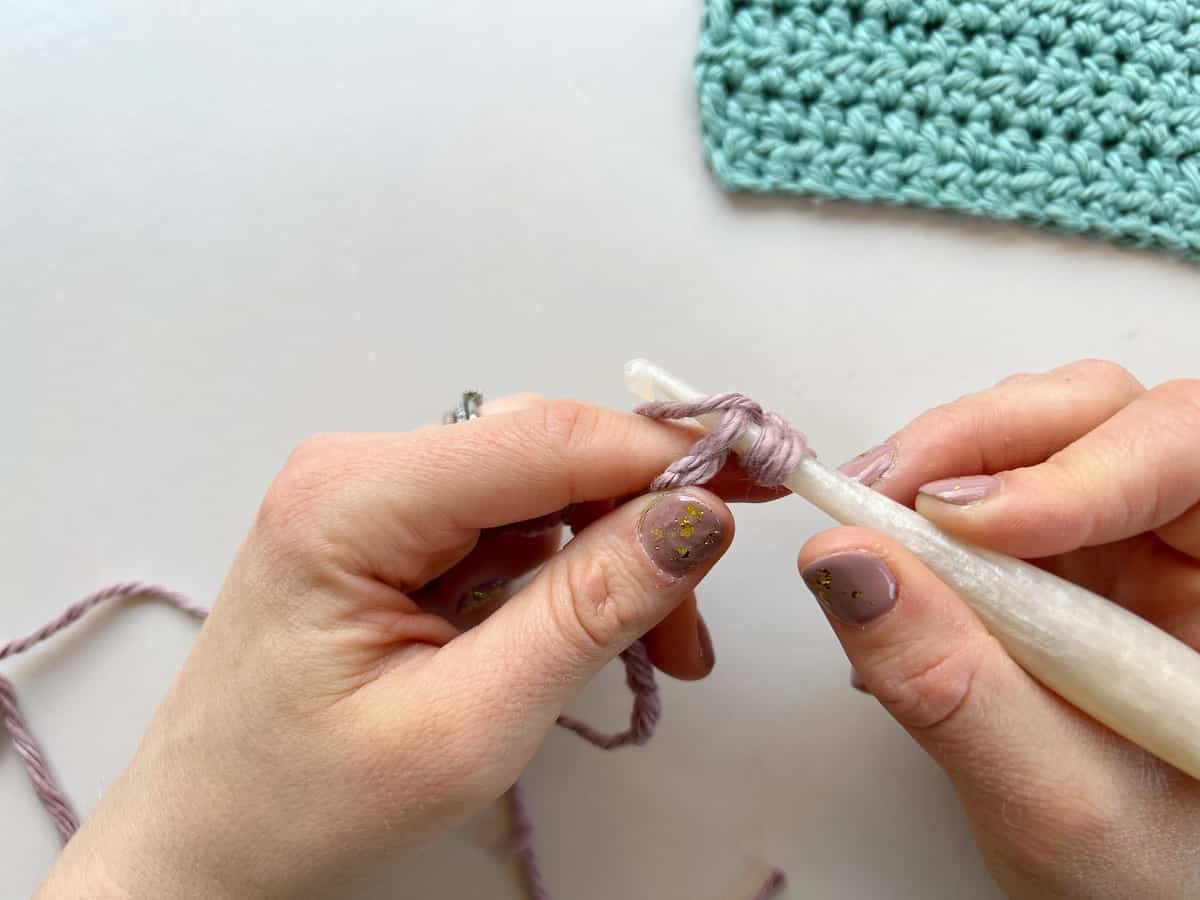 6. Check you have three loops on your hook
Now it's time to check that you have three loops on your hook. This is essential to make sure that the stitch gets that extra (3rd) loop.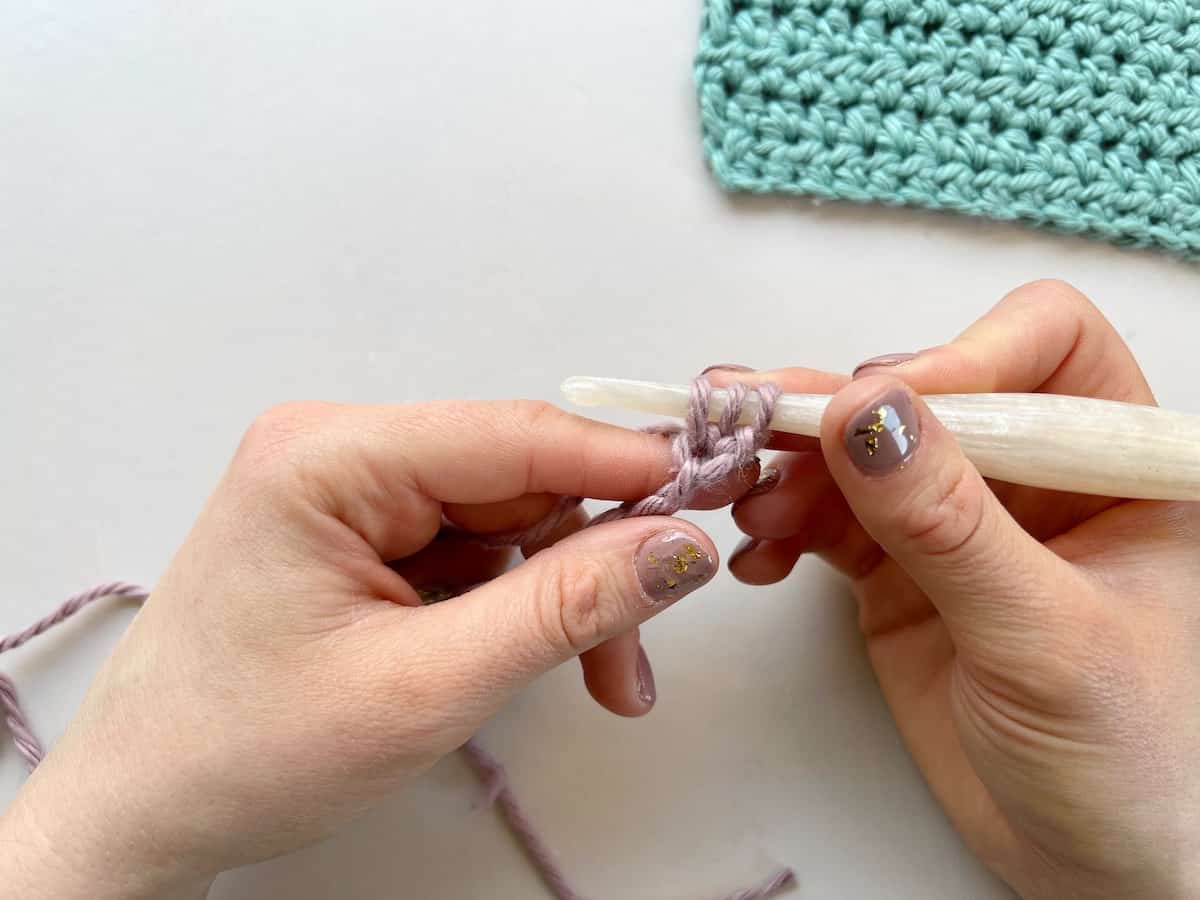 7. Yarn over and pull through all three loops
To complete the stitch you need to yarn over and pull through all three loops on the hook.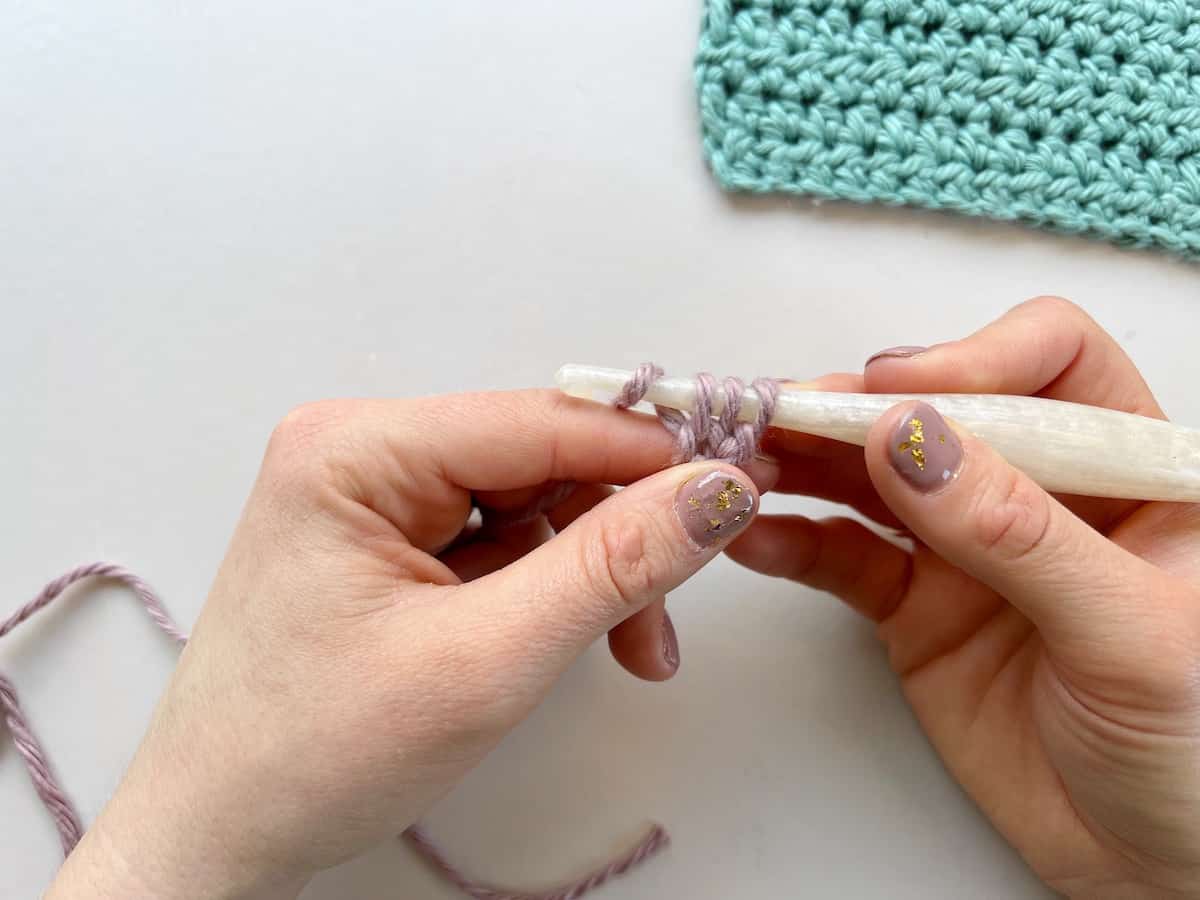 8. Completed hdc in a crochet chain
This is how your first hdc stitch into a chain will look.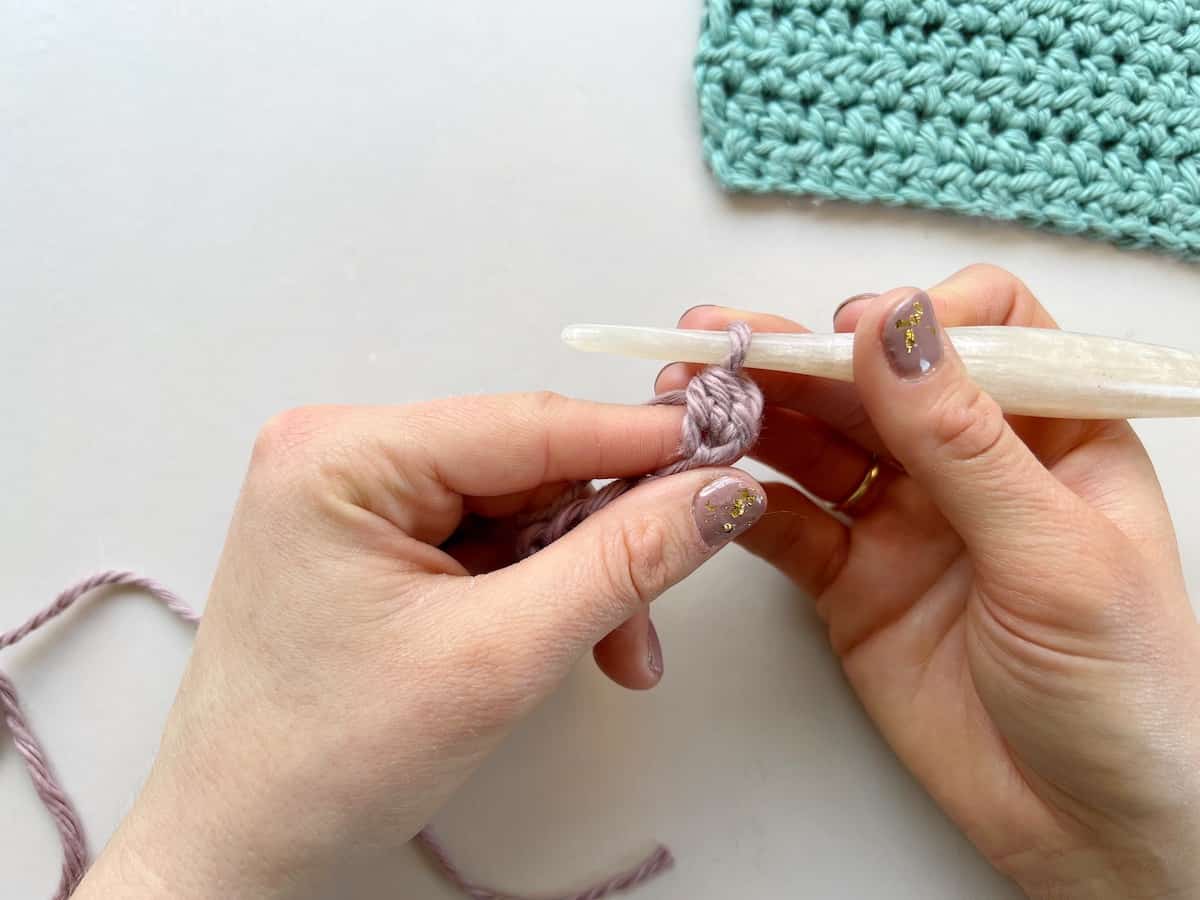 9. Continue to work along the chain
Repeat the process along the entire length of your chain and then you'll be ready to turn and work the next row.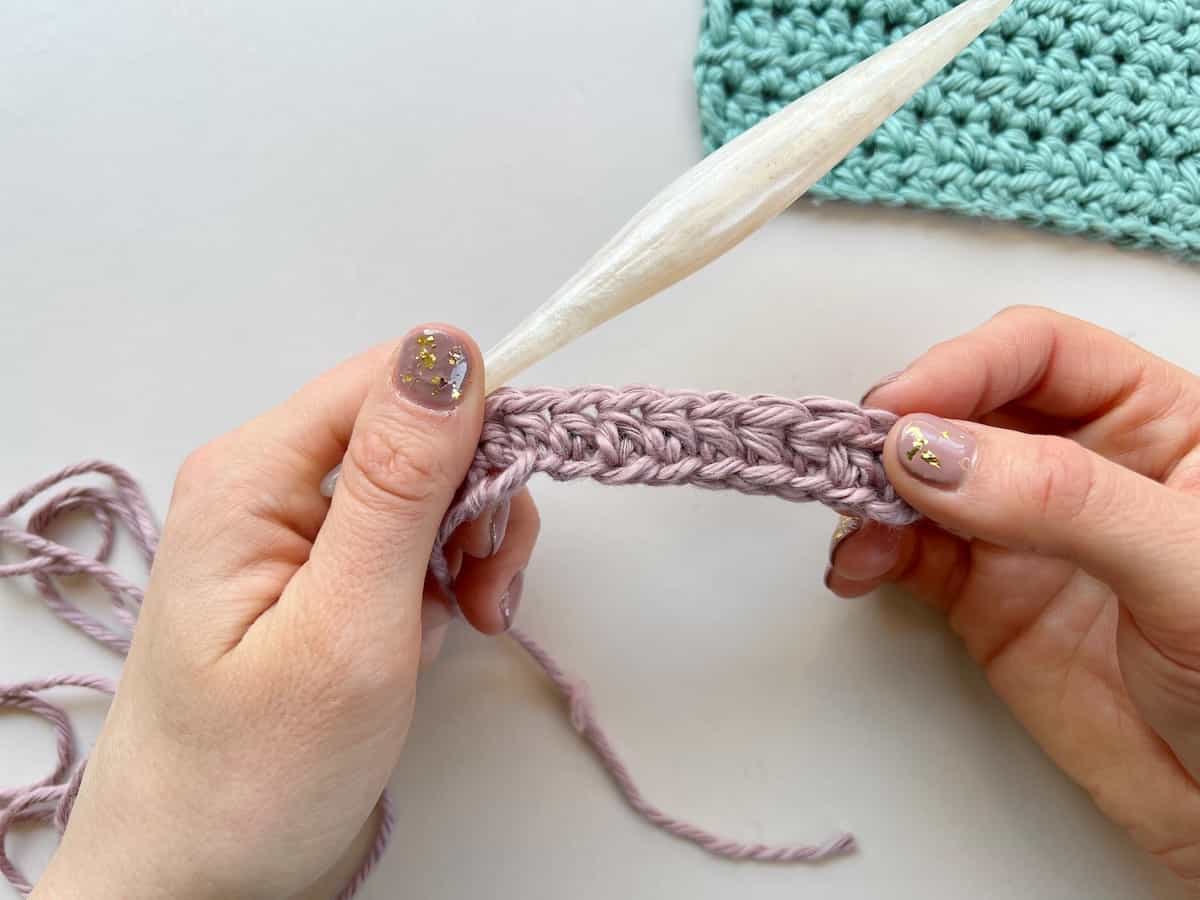 I often get asked if there's an alternative to working a foundation chain to begin projects (I know they can be tiresome!) and the answer is yes! If you'd like to start your projects in a different way then you could try working a row of foundation half double crochet stitches instead.
Foundation crochet stitches can really help to maintain tension in a project and are great to use for larger projects like blankets or garments to avoid long chains that can easily become too tight.
Video Tutorial
If you'd like to see a half double crochet stitch video tutorial then you can watch it below –
Now that you know exactly how to work the stitch, here are a few more questions I thought you might have and my top tips for the hdc:
How many turning chains should a hdc stitch have?
The subject of how many turning chains you need for a hdc can be the source of great debate and I would say it depends!
I always work a ch1 turning chain for either a row or round of hdc but there are plenty of people that would say to work 2 chains and there are those that would say none at all!
The point of a turning chain is to bring the start of your row or round to the height you need for your stitch and so if you can achieve that with a ch1, ch2 or without a chain then do what works for you.
Another option is to work stacked crochet stitches at the beginning of a row or round instead of a chain and your first stitch. The stacked hdc stitch becomes the first stitch and gives a really neat finish to your edges but is a little more tricky than a turning chain to do.
Can I work a hdc in rows and rounds?
You can work a hdc stitch in either rows or rounds making it great for all sorts of projects.
The best bit for me is that you can get such a different texture using exactly the same stitch by just changing the direction that you work in.
It looks great in rows worked back and forth because you get the detail of that third loop showing.
In rounds worked on the right side it looks completely different because your loops will be facing the other way! So many options to choose from for such a basic crochet stitch.
How do I work a half double crochet decrease?
Working a decrease in half double crochet is nice and straightforward and can be done in rows or rounds.
Start working a stitch but on the last yarn over don't complete as you normally would (i.e. don't pull through all 3 loops on the hook). With the 3 loops still on your hook begin a stitch in the next stitch and then on the final yarn over of that stitch you pull through all of the loops on the hook.
It is written as hdc2tog in US terms and htr2tog in UK terms. It takes 2 stitches and decreases to leave you with just 1.
The technique is the same as you would use for decreasing most crochet stitches and you can decrease more than 2 stitches at a time if you like e.g. hdc3tog depending on what the pattern needs you to do.
How do I work a half double crochet increase?
Increasing half double crochet stitches is really simple too!
Working into the stitch you'd like to increase in, complete a hdc. Working back into that same stitch complete another hdc. That will squash 2 stitches into 1 and you will increase your stitch count.
You can increase by any number that you like or as many as the pattern needs.
How can I create more textured crochet stitches with a hdc?
As I've mentioned, the hdc has a wonderful extra loop called the 3rd loop that gives you so many options to play with crochet texture!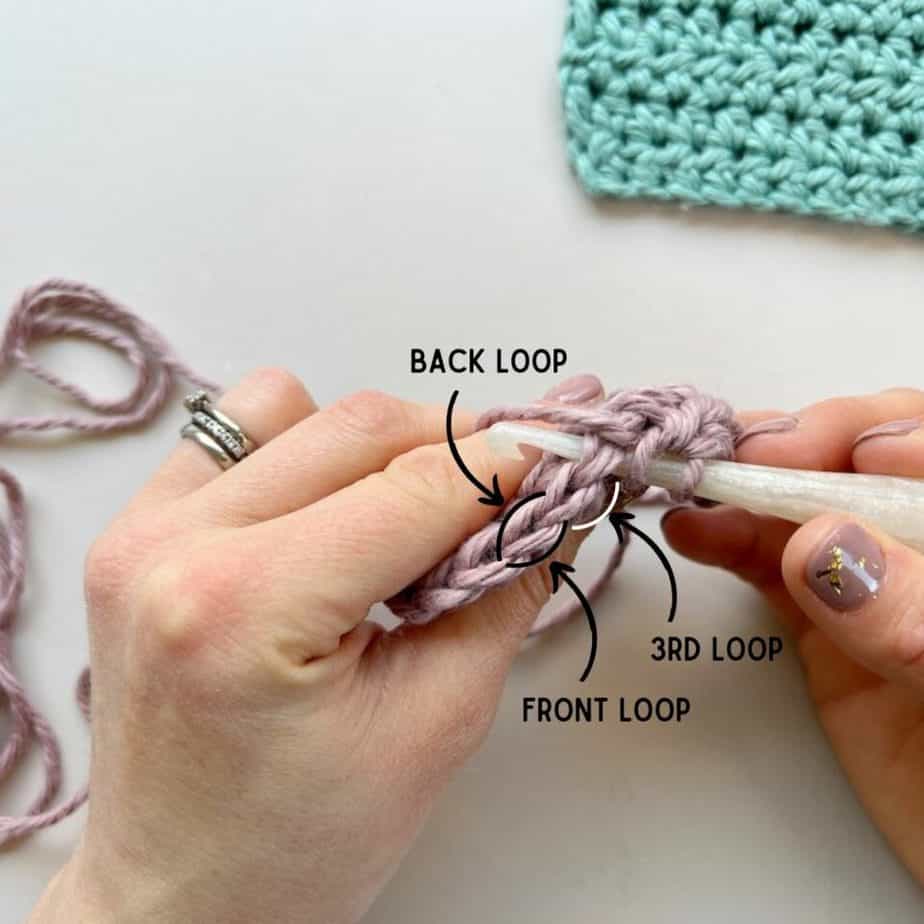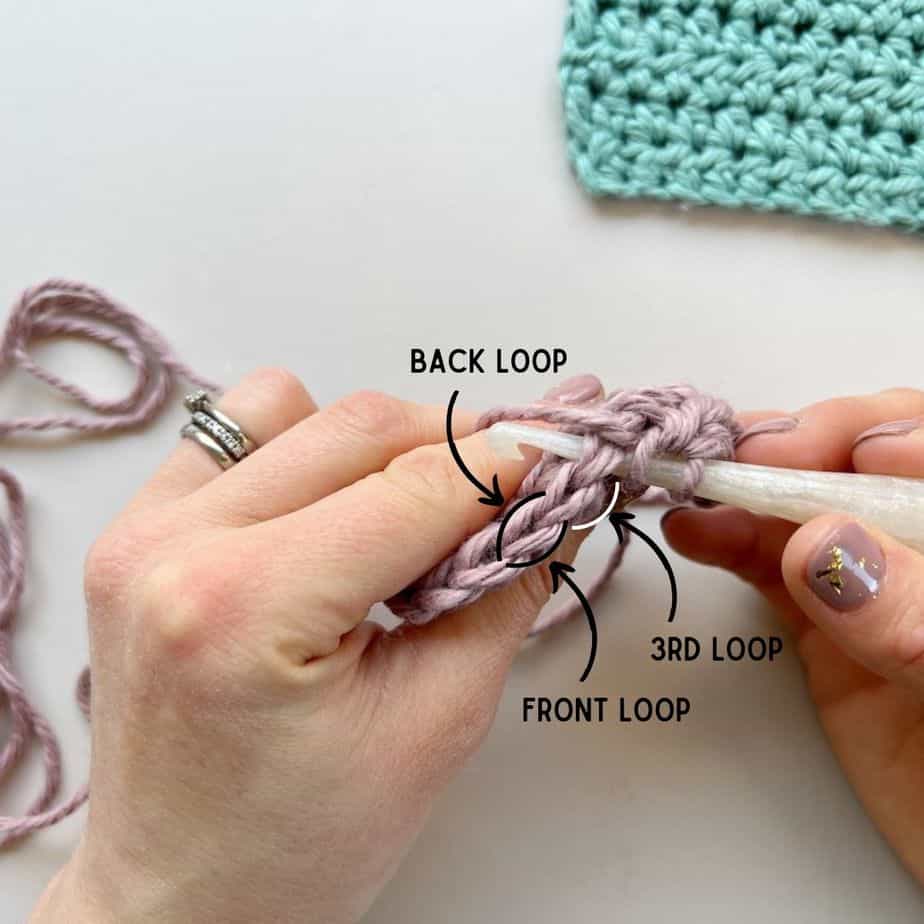 I am a huge fan of working a back loop only hdc (especially in ribbing) as it pushes the other 2 loops forward to create an almost knitted fabric look. This works nicely in rows or rounds.
Similarly you can use the front loops of the stitches to create a less dense fabric with the back and 3rd loops on either side.
When working in rows I really like using the 3rd loop of the stitches to make the other loops pop out on the other side of your fabric.
In rounds the 3rd loop is easy to get confused about I find and so just make sure to check in your pattern exactly which loop they are classing as the 3rd loop.
If you're feeling really adventurous then you can work any combination of the three loops to create a pattern of perhaps ' front loop, back loop, 3rd loop' and so on. My most popular fingerless crochet mitt pattern uses this idea and I love it!
You can also work one of my favourite versions of the stitch – the herringbone half double crochet. It has just one tiny difference in the stitch and looks completely different! It's the stitch I used in my herringbone moss stitch crochet headband which is super popular too.
How else can I use a hdc stitch?
Other than in the main body of a pattern my next favourite place to use a hdc stitch is in a crochet rib.
It just feels like the perfect height and stretch when you use the back loops. It grows nice and quickly and is really comfy to wear too.
I really love experimenting though and for lots of my crochet ribs you'll find that I use a hdc mixed in with something else like a single crochet or a slip stitch, that can really make it look special too!
My top tips for the hdc
Don't pull your yarn too tight on your stitches. Consistency is key especially in terms of the height of your stitches.
Always check you have 3 loops on your hook before completing your stitch otherwise it will be too short or too tall.
Make sure to pull up the last stitch of a row to the height of the others, it's very easy to make this one a little shorter if you're not careful.
Always keep in mind where your right and wrong sides are and therefore where your front, back and 3rd loops are. It's really easy to get confused!
Enjoy it! The hdc is one of my favourite crochet stitches because it's so repetitive and meditative without being boring. Relax into the rhythm of it and enjoy 🙂
What projects can I use a half double crochet stitch for?
I almost forgot the most important part! What crochet projects is a hdc stitch best for?
It's an awesome stitch for blankets (especially baby blankets), garments (especially ones for cold weather), hats, scarves, pillows, baskets – pretty much anything you like.
Here are a few of my designs that use it:
Cross Cable Crochet Pillow Pattern – this uses corner to corner hdc stitches
Mirabilis Crochet Cardigan – this has hdc puff stitches and so much texture
Quick and Easy Crochet Hottie Cover – this uses a combination of hdc and sc stitches in the round.
Florence Sweater – the sleeves and side details are all hdc in this design.
Widcombe c2c Crochet Hat – this uses blocks of 2 hdc stitches for a fun c2c project.
I hope you've enjoyed learning how to half double crochet with me! I'd love to know if you decide to make any of patterns using it or if you create your own! You can sign up to become a member of HanJan Crochet and I'll let you know about all the fabulous crochet adventures, offers, lives and more too!
See you there!
Learn Some More Crochet Stitches With Me
If, like me, you're eager to learn all the crochet stitches and techniques you possibly can then I'd love you to take a look at my crochet stitch tutorials – here are some of my favourites though:
Pin It For Later