If you've just purchased (or inherited) your first crochet hook and ball of yarn and are unsure of how to where to start, this is for you. I've rounded up 35 easy crochet stitches for beginners which include both the basics as well as some very unique stitches you can include in your projects.
Often, people will say that crochet beginners can only work really simple stitches row after row but I'm here to tell you that even though some of them look tricky, if you find the right tutorial and teacher then even with just basic knowledge you can absolutely create all of these easy crochet stitches.
There's a variety of easy tutorials including videos, pictures, written instructions, and charts. All of the instructions are given clearly with great detail to help you figure out how to achieve the stitch and most importantly what to use it in!
Alongside the tutorials, some of the designers have mentioned projects and easy patterns you can make which is great for practice!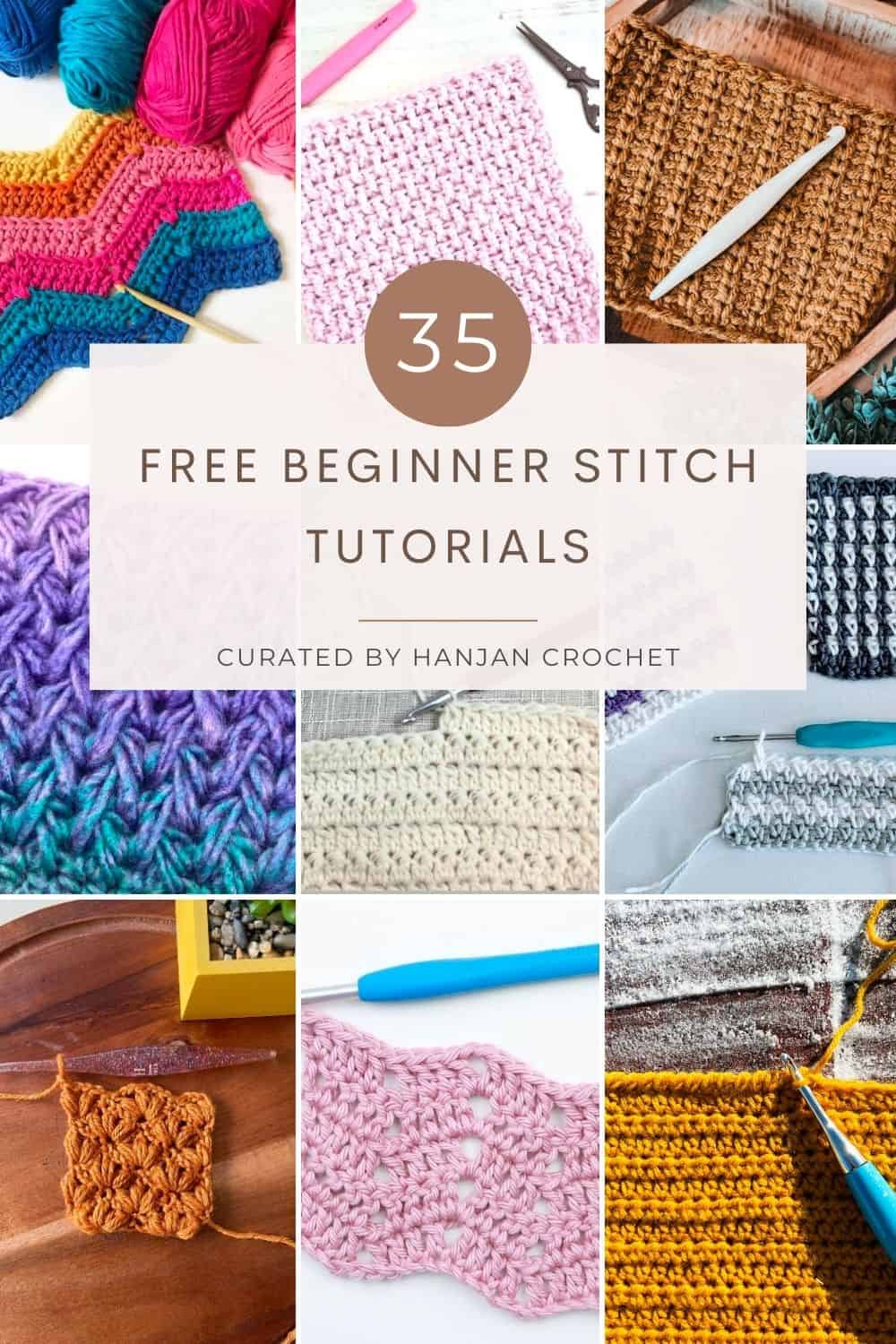 Which crochet stitches should I learn first?
Looking at a big long list of stitches and tutorials might seem intimidating so it's best to break them down into stitches that just use one stitch (like the half double crochet) and then ones that involve a number of stitches in a simple repeat to create the final pattern (like the larksfoot stitch).
If you haven't ever picked up a crochet hook then don't worry! All of the tutorials and instructions for crochet stitches are from designers that I know have broken the process down for you. There will either be step by step pictures or a video tutorial to guide you through.
What materials do I start off with?
While yarn and crochet hooks are something that will definitely vary from project to project, other essentials you might need whilst learning crochet stitches include:
Scissors to break your yarn.
Stitch markers which are helpful for keeping count of stitches (some of the tutorials are worked over specific multiples)
35 Easy Crochet Stitches for Beginners – The List
Here are some fabulous crochet stitches for beginners that I've found. While you're going through them, you'll be introduced to amazing crocheters who have libraries full of patterns for you to try out.
A lot of those patterns feature the stitch they're teaching. So if you've found favorites, be sure to browse their website for more you can do with them.
Easy Crochet Stitches for Beginners
Conclusion
How many of these easy beginner crochet stitches did you know about and which ones have you learned already? I'd love to hear stories about your experiences!
Don't forget to join HanJan Crochet to receive regular discount codes, hear about all my new patterns first and get exclusive access to events!