Have you ever ordered or even better been gifted any crochet kits? I can't get enough of them! I'm here today to share with you just why I think crochet kits with yarn are the best thing in terms of value for money, what my favourites are from my friends at Deramores and why getting one (or some!) is a great idea.
For so many of us crochet is our little escape from the real world. It helps us with our health and well being beyond measure and so I wonder why we always feel so guilty about 'treating' ourselves to yarn? If I've had a stressful day in my hospital job the first thing that I do to destress when I'm home is pick up my crochet. It works wonders for me. It's so important to stay well and so I really don't think we should ever feel bad about giving ourselves the opportunity to relax and unwind with our crochet.
Whatever stage of crochet your'e at, sometimes choosing the pattern, matching the yarn, selecting colours, it can all be a bit much. Especially if life is really hectic for you or like me you're a real procrastinator! I have yarn that I bought years ago in a cupboard that I always mean to use but never have and so getting a crochet kit is a great idea if you want to get something absolutely ready to dive into as soon as it arrives.
When it comes to crochet kits, there are so many to choose from! Today I'm focussing on my favourite blanket crochet kits from Deramores (who offer world-wide shipping, yay!) but am planning on sharing more ideas from lots of other places that create kits too in the future.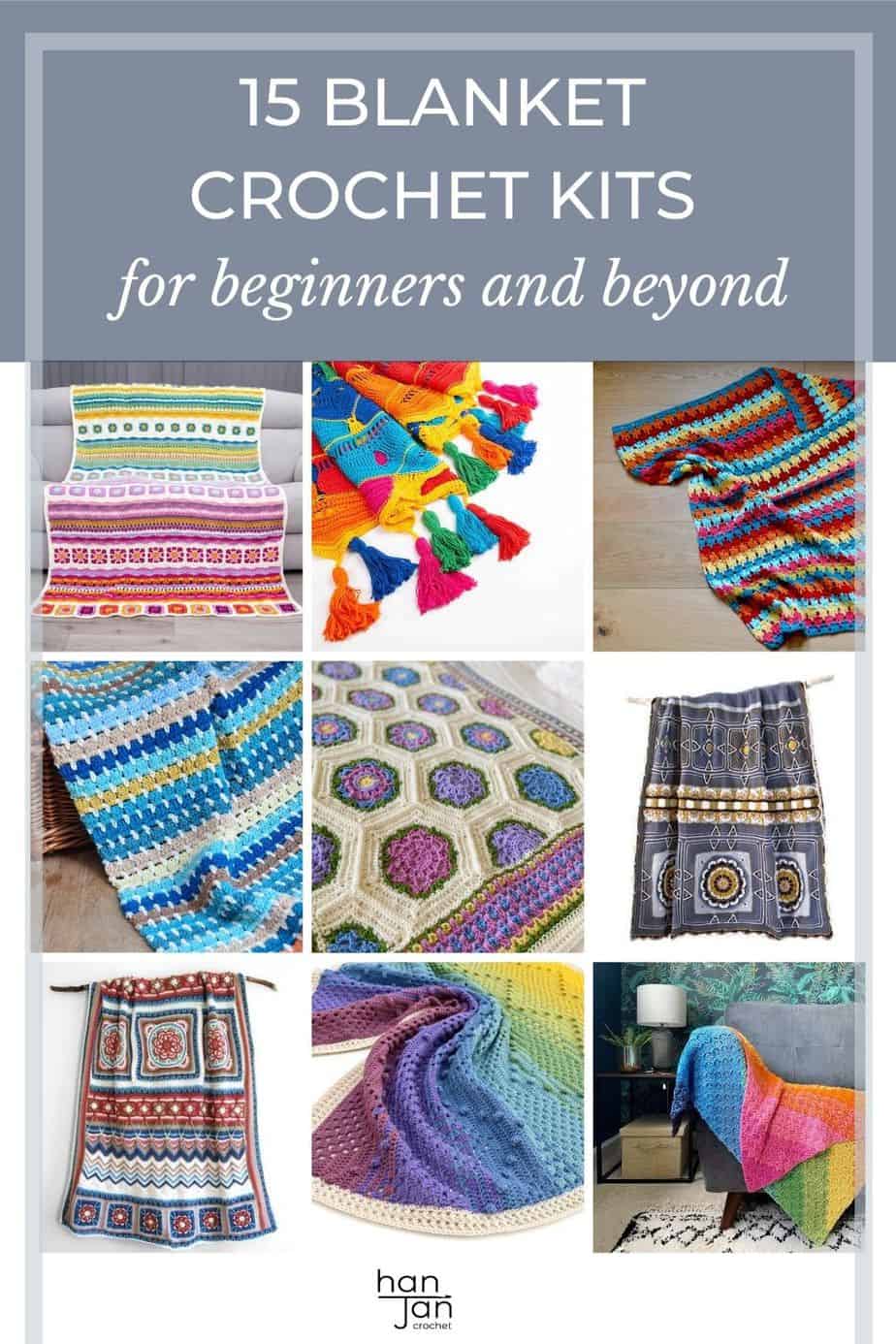 Why should I get crochet kits?
The answer to this for me is simple.
1. They save you money as the yarn is normally discounted within the kit.
2. They help you stop worrying about ordering enough yarn/deciding on a pattern/working too much out.
3. They almost always come with the pattern included for free (and often the hook and notions too).
Will I have enough yarn?
Absolutely! All the crochet kits with yarn that I've encountered come with plenty of yarn and some of them that use lots of colours even have extra patterns to give you ideas for using up any leftovers. Plus you then have some extra to add to your yarn stash too!
I have created quite a few blanket crochet kits for beginners and you get almost twice the amount of yarn you need in them because of the amount of colours used so they are perfect if you are after some extra yarn to boost your stash.
Which kit do I choose?
Choosing your crochet kit can be tricky as there's so much choice but I would say, like with any crochet project, think about these things:
What would you really enjoy making?
Are you hoping for a mindful, relaxing make or something that really stretches your skills? (Either is great of course!)
Who are you making it for? Is it a gift or just a piece for you to learn new techniques with?
What colours are you drawn to? (Lots of kits have a few colour options).
What skill level are you at? There are crochet kits for beginners, intermediate, advanced and so make sure you check to make sure you're happy.
How big is the project/how much time do you want to spend on it? Think about whether it's a long term project or a short term one etc.
Above all, choose something that you really want to make and you will always love it!
To help you decide I've found a few of my favourite blanket crochet kits from Deramores to give you an idea of what's out there. They always sell out fast but you can always just ask to be notified as soon as stock comes in and then be the first to grab one!
15 Best Blanket Crochet Kits for Beginners and Beyond
I'd love to know if you go for one of the kits! Please do let me know. I also enjoyed researching the kits so much that I'll be back soon with some ideas for garments, accessories and homeware kits too! If there's anything you'd like to see in particular then just let me know, I'd love to help.
Join HanJan and Share Your Crochet!
I'd love to stay connected with you so please do sign up for my subscriber list if you'd like to. Looking forward to hearing from you and sending you your free gift!
Thank you so much for being here to share in my free crochet patterns and supporting my blog. It's such an honour to be able to create and share my craft with you.
I'd love to see your finished crochet projects and so please share them with me in one (or all!) of the following ways –