The Chloe Tabard is a stunning crochet sleeveless top pattern that is is a feast of texture with the simplest of crochet stitches. Using a simple two row repeat and a vertical, side to side construction, it's so much simpler than it looks.
Create a fitted sleeveless top by sizing down or go up a few sizes to an oversized poncho, the choice is yours!
In sizes XS to 5XL, a full video tutorial and easy to follow construction diagrams you'll find everything you need even if you're not experienced in crochet garment making.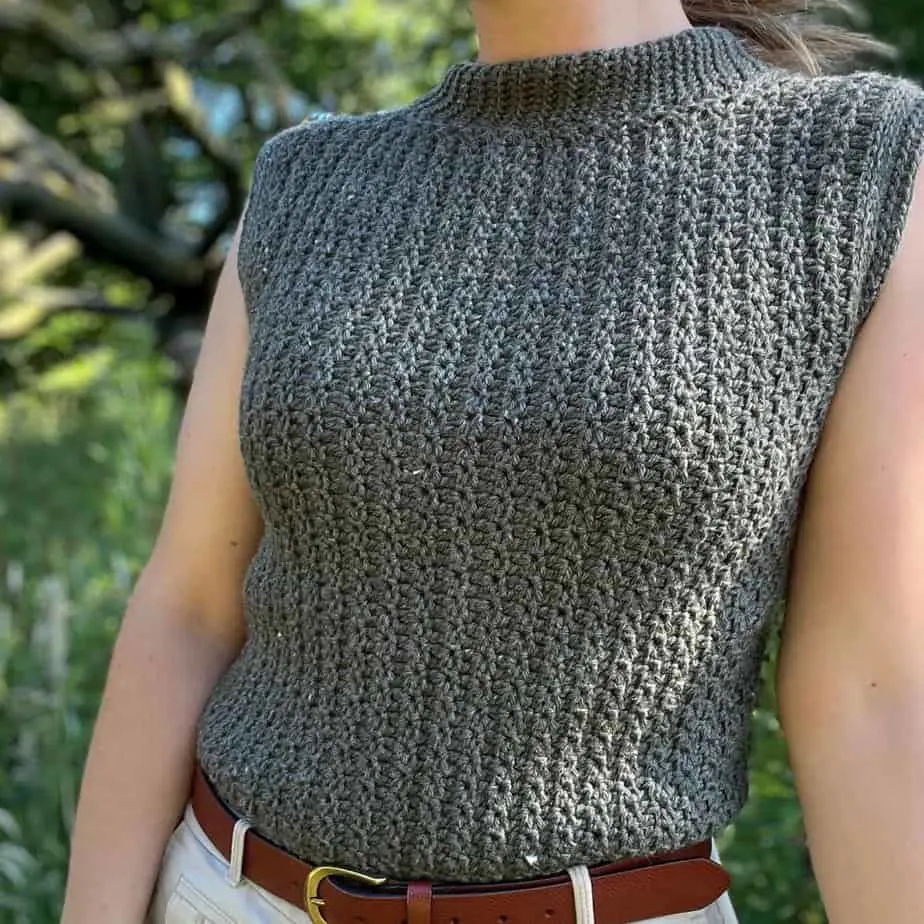 This post may contain affiliate links. Please see my full disclosure and privacy policy for details.
You can purchase an ad-free, printable PDF version in my stores here:
The pattern is also featured in Issue 3 of Studio Crochet magazine alongside 6 other stunning patterns.

About this Crochet Sleeveless Top Pattern
At the beginning of the year my niece Chloe asked me to design and make her a crochet tunic top in olive green that she could wear over skinny jeans and leggings. So I set about the task.
Whilst I was designing I thought I'd just try it on myself (knowing that it was much smaller than my measurements) and I loved how it looked!
The top I made for Chloe was 4 inches smaller than my body so it had a good amount of negative ease but the stitch and yarn meant that it stretched beautifully and created a really stunning close fitting crochet sleeveless top pattern!
Chloe will still get her top of course and I'll add a photo of what it looks like on her so you can get the idea of the original concept too.
As you'll see from the range of images you can do all sorts with this top. Here are some ideas:
go down a size or two to make this top to be tight fitting and tucked in
worn outside with a tie around the waist
stick with your regular size for a few inches of positive ease
go up a few sizes and add ties to sides for a tabard style poncho
I have also created a child and baby crochet vest pattern of the Chloe top so you can make it from newborn baby size all the way to 5XL adult!
Here I am wearing it tucked in with 4 inches of negative ease (so it's smaller than my measurements). It makes a great crochet tank top pattern that you can throw on with shorts in the summer!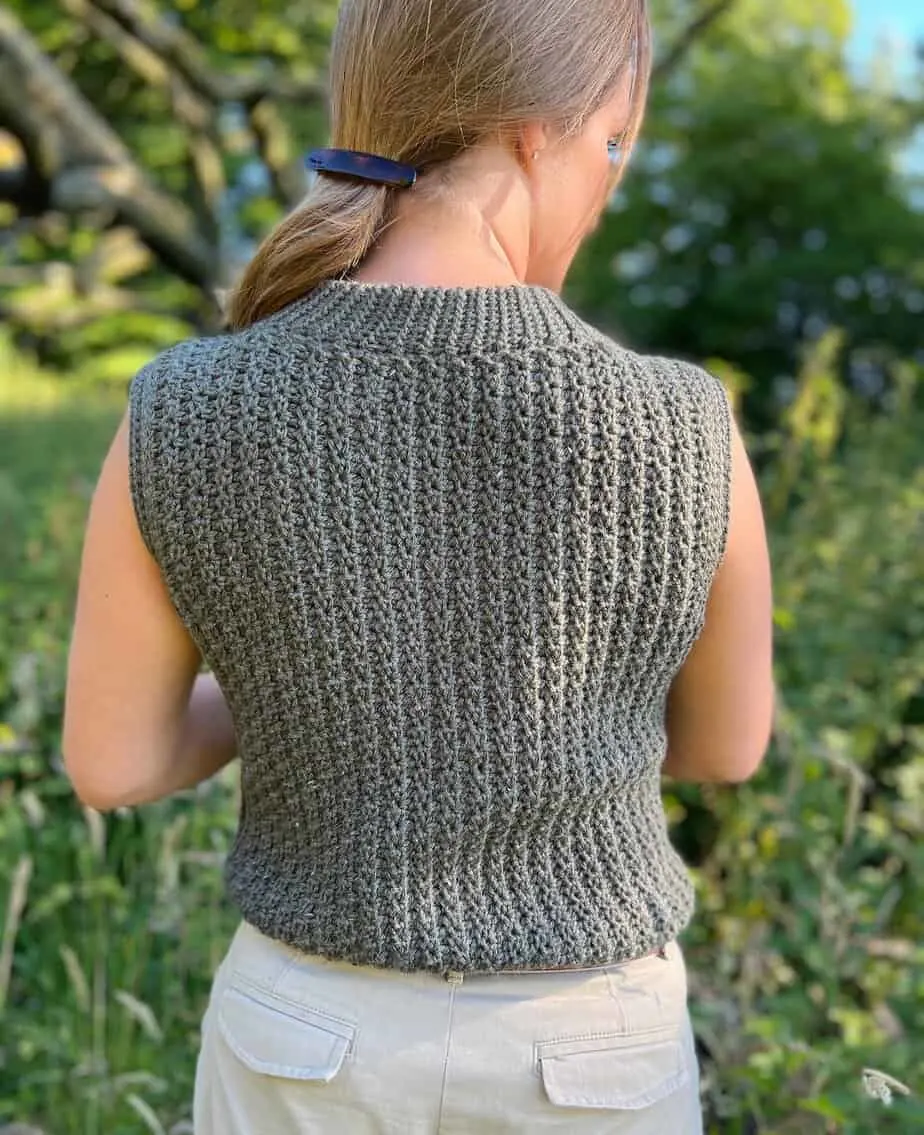 How to make a side to side crochet top
Recently I've been really enjoying designing crochet garments using the side to side construction. My Harris Sweater which is a great crochet sweater pattern for beginners is an example of this method too.
The sideways crochet method means that you work in long vertical rows and this stylish crochet top can be worked all in one piece. The only seams are down the sides unless you want to leave it as a poncho then there are no seams at all!
This method means that you can't really try it on as you go though so you need to be sure that you choose the right size to make first and that you meet the gauge before beginning.
Here are some more side to side garments you might enjoy:
Here I am wearing the negative ease version again but without it tucked in and using the optional waist tie. Now it makes a really lovely crochet tunic top instead.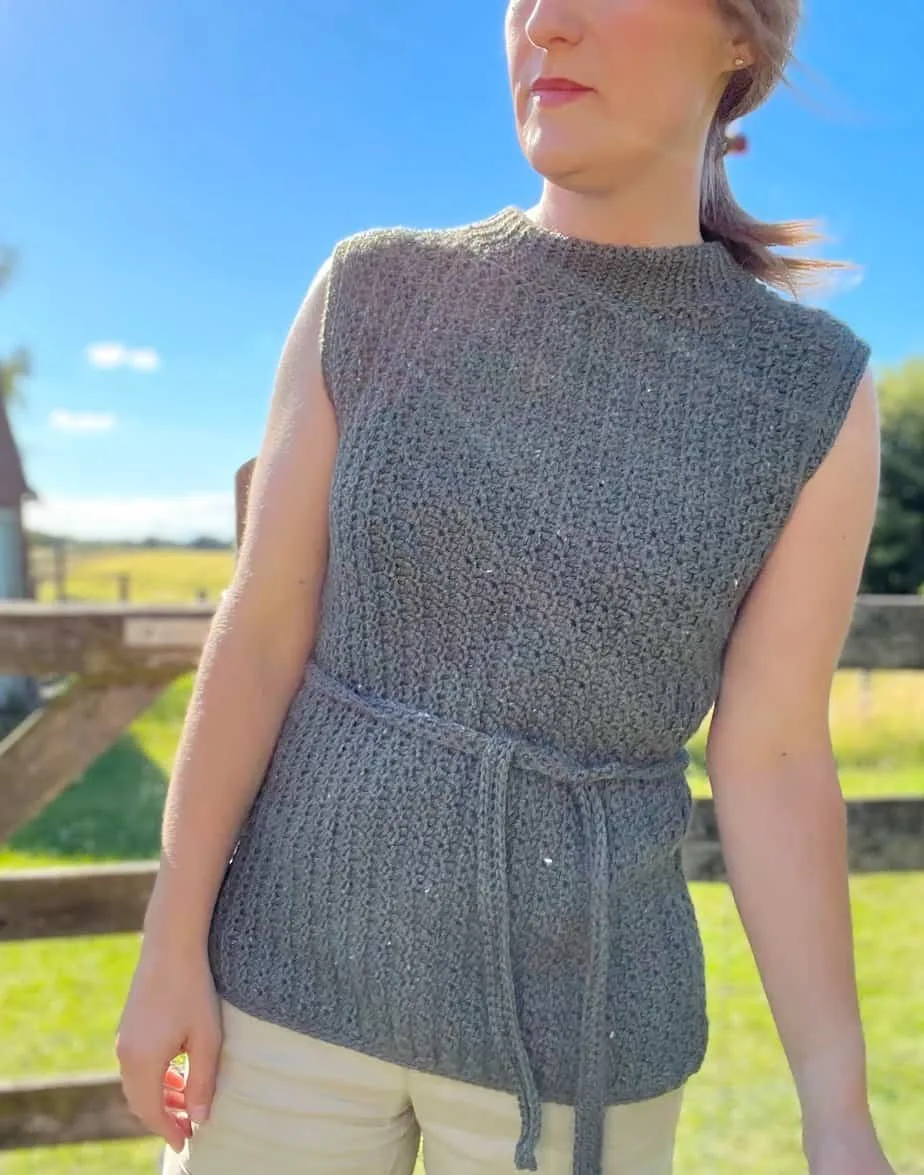 Yarn for the Stylish Crochet Top
To make the stylish crochet top I used Merino Silk by King and Eye; 80% Merino, 20% Silk; 110m / 120yds/50g.
Yarn Quantities: XS (S, M, L, XL) (2XL, 3XL, 4XL, 5XL)
Approximate yds – 1080 (1170, 1340, 1495, 1585) (1665, 1865, 2045, 2135)
I often get asked about ideas for alternative yarns. Here are some that I think would work really well for this crochet pattern in various price ranges:
The sample show in cream with ties and un-seamed sides is worked in Heartland by Lion Brand; 100% Acrylic; 252yds / 230m/140g.
Another great alternative yarn choice is Swish Worsted by WeCrochet; 100% Superwash Merino Wool; 110yds / 100m /50g.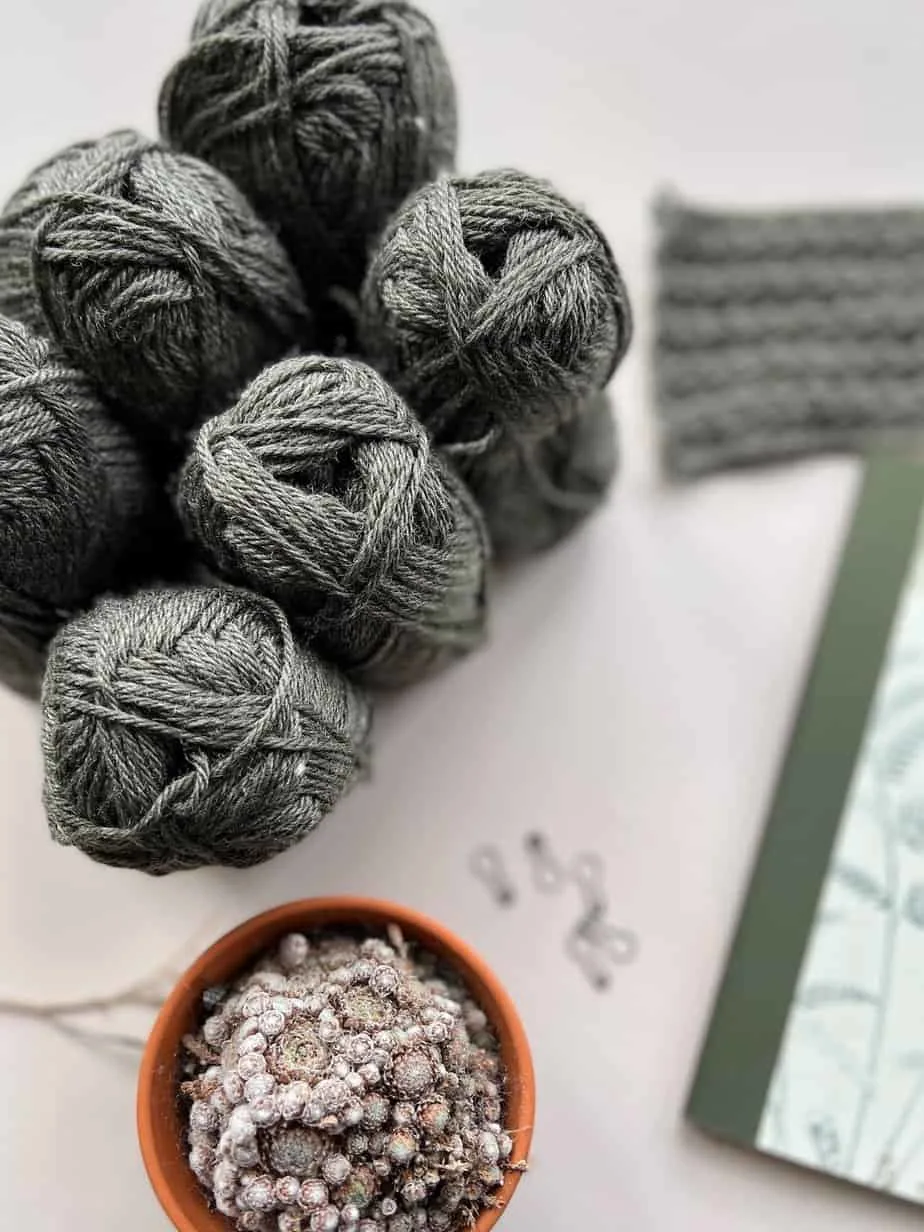 Tension and Sizing
The pattern contains a full schematic and sizing details but this might help you decide which size to make too.
The crochet sleeveless top pattern is designed for sizes XS to 5XL with the following finished garment measurements:
XS (S, M, L, XL) (2X, 3X, 4X, 5X)
Width: 17 (18.5, 21.5, 23.5, 25) (26.5, 28.5, 31.5, 32.75) inches
Length: 25 (25, 25, 25.75, 25.75) (25.75, 26.5, 26.5, 26.5) inches
Armhole Depth: 7.75 (8, 8.75, 9, 9.5 (10, 10.5, 11, 11.5) inches
Garment circumference: 34.75 (37.75, 43.5, 48, 50.75) (53.75, 58, 64, 66.75) inches
So, if for example you want yours to fit how the green version does on me then you need to measure your chest circumference and make the size that it about 3-4 inches smaller than your measurement.
If you want a loose fitting crochet top then choose the size that is 3-4 inches bigger than your measurement.
Don't worry about what the size label tells you. Make the one that will give you the fit you want.
Gauge: 15 sts x 11 rows = 4″ x 4″ / 10 cm x 10 cm measured over main set pattern (blocked).
Materials to make the crochet top
Along with your yarn, you will need the following:
Pattern Options
You can purchase the ad-free, printable PDF in US terms with added extras in my pattern stores:
Purchase and Print
Get the ad-free, printable PDF with added extras in my pattern stores: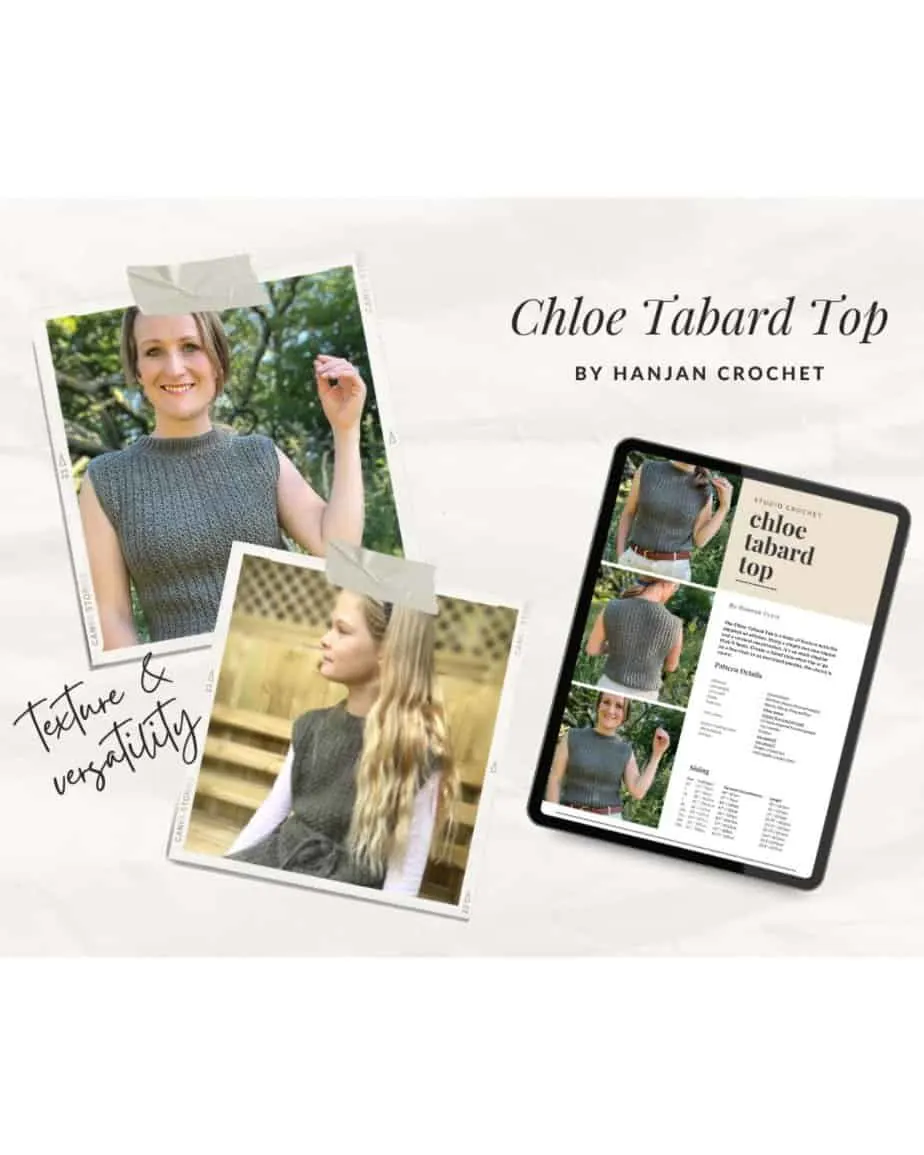 Don't forget to join HanJan Crochet to receive regular discount codes (and more free patterns!) and Pin this crochet sleeveless top pattern to your crochet Pinterest board!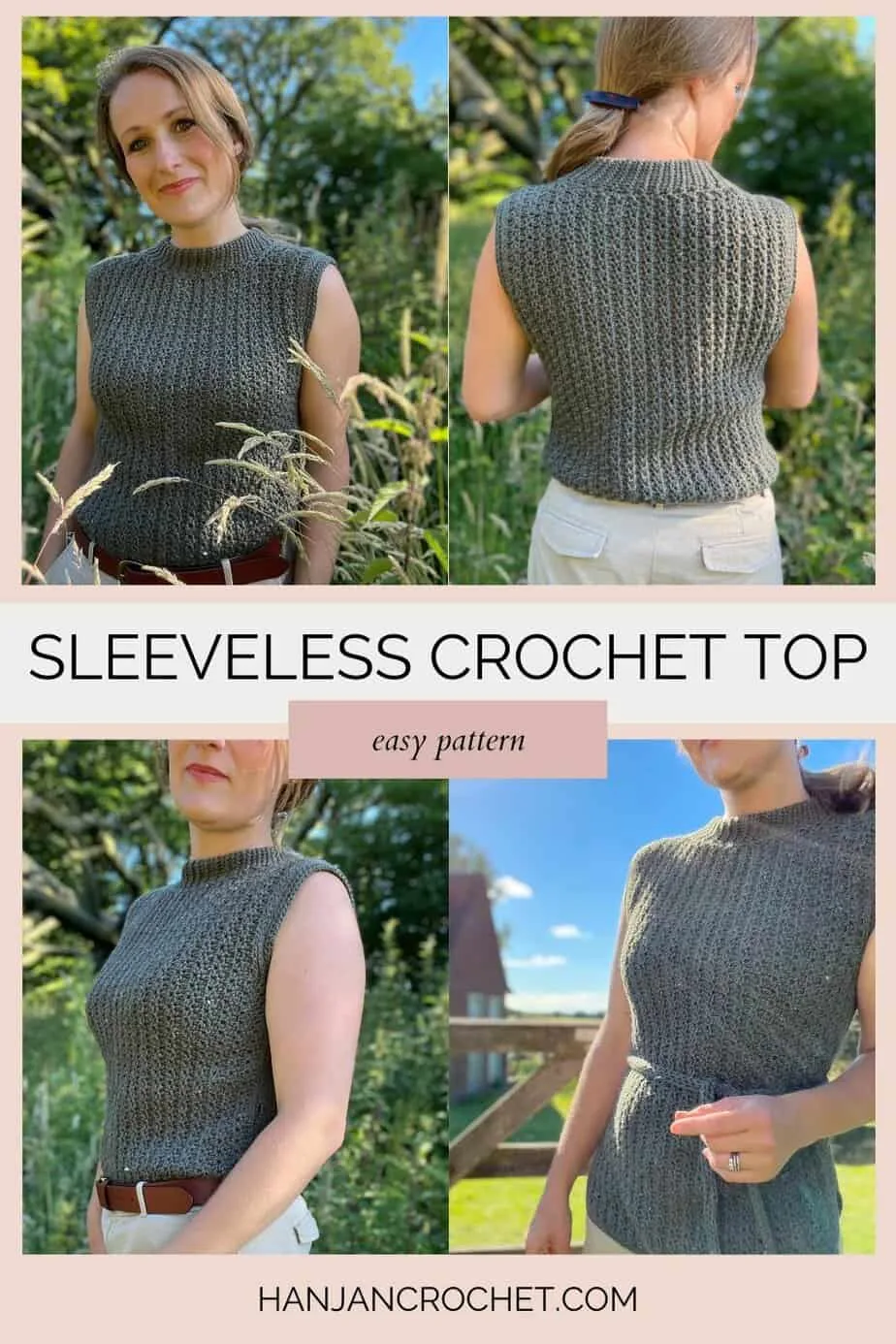 This is me wearing the size up version as a poncho. I can't decide which I like best!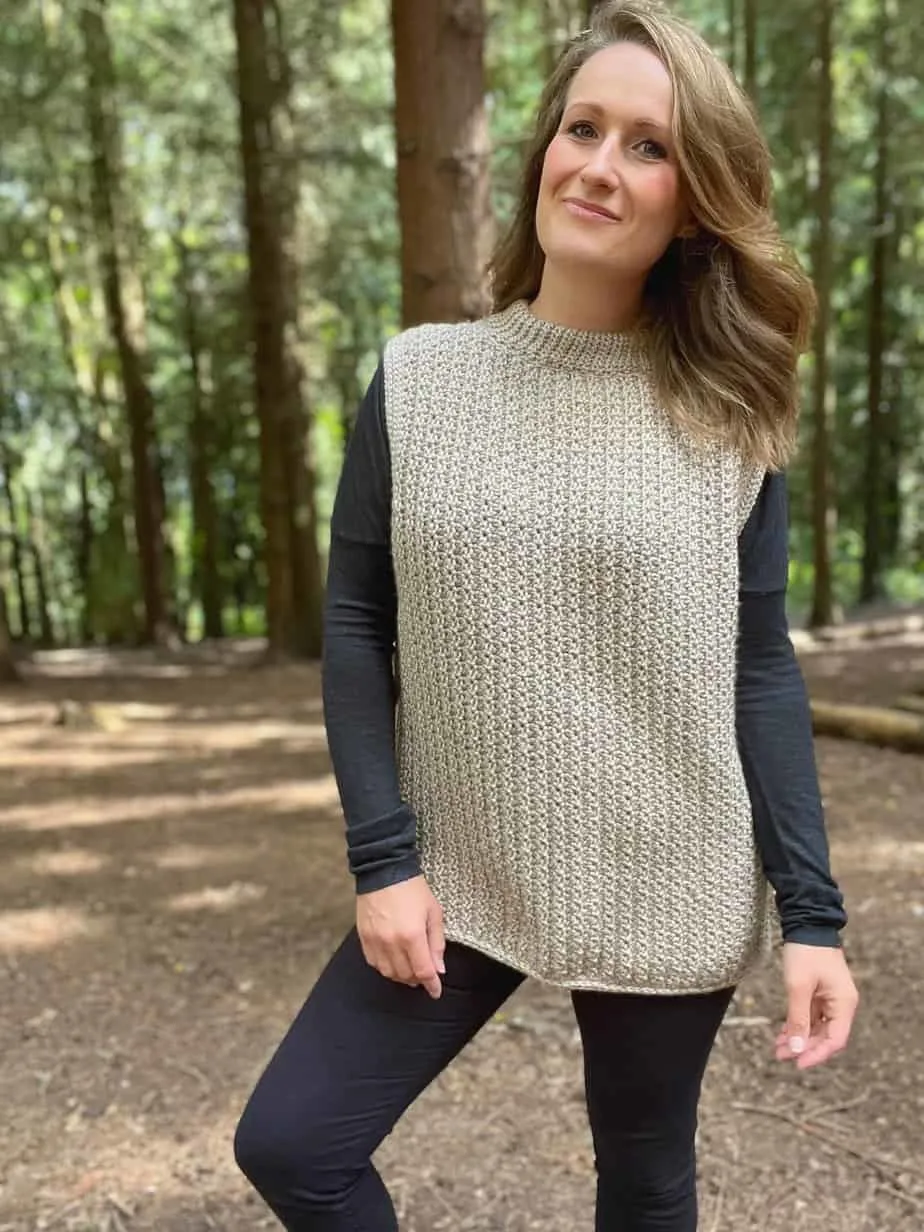 Glossary and Abbreviations
ch(s) – chain(s)
sp – space
ss – slip stitch
RS – right side
WS – wrong side
sk – skip
rep – repeat
yoh – yarn over hook
Crochet Stitches
| | |
| --- | --- |
| UK Crochet Terminology | US Crochet Terminology |
| dc – double crochet | sc – single crochet |
| htr – half treble crochet | hdc – half double crochet |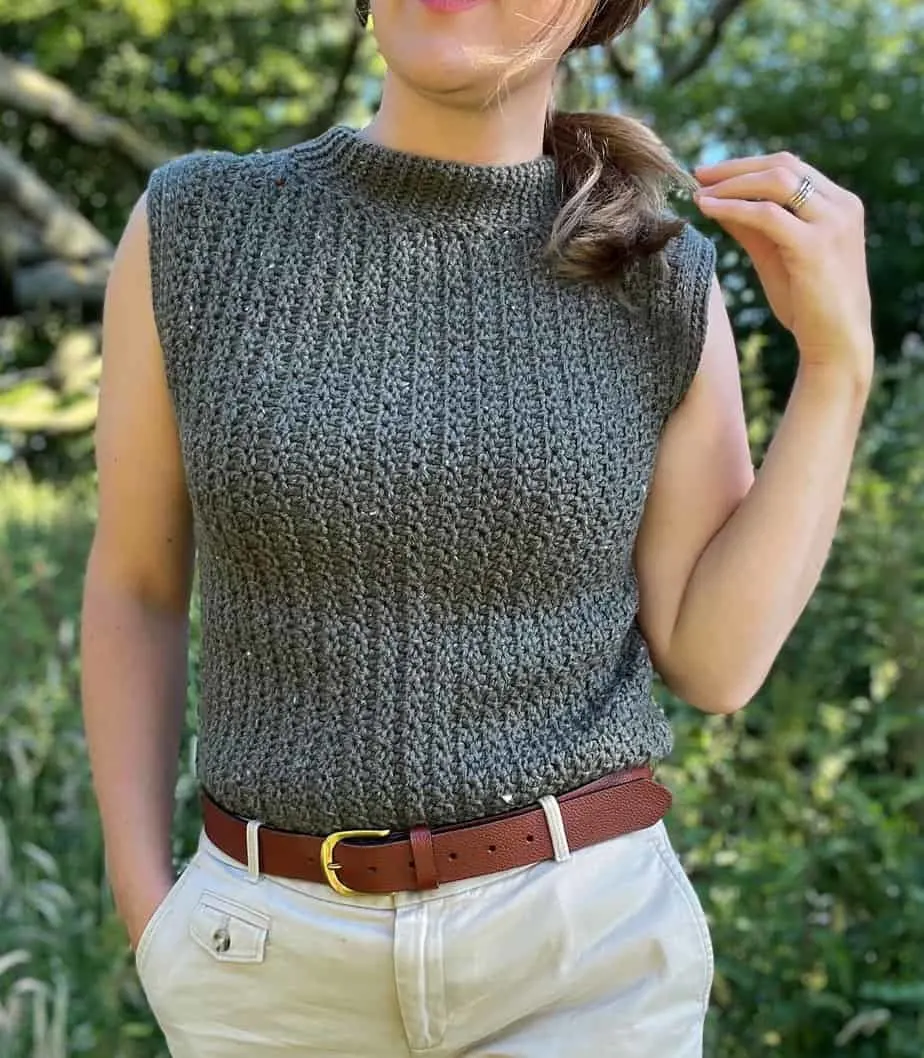 Special Stitches
3rd loop:
Extra loop created on hdc from the yarn over. When working in rows this will be the first loop you come to when looking at the stitch.
Exhdc | extended half double crochet:
Yoh, insert your hook, yoh and pull up a loop, yoh and pull through one loop, yoh and pull through remaining three loops.
Foundation Half Double Crochet (fhdc)
Step 1: Ch 2, yarn over, insert hook into second ch from hook, yarn over and pull up a loop. [3 loops on hook]
Step 2: Yarn over and pull up another loop i.e. ch 1. This creates the first "chain" in your foundation row. [still 3 loops on hook]
Step 3: Yarn over and pull through all three loops to complete the first fhdc.
Step 4: Next stitch and subsequent stitches: Yarn over, insert hook into "chain" created in Step 2, yarn over and pull up a loop. [3 loops on hook]
Step 5: Yarn over and pull up another loop i.e. ch 1. This creates the next "chain" in your foundation row. [still 3 loops on hook]
Step 6: Yarn over and pull through all three loops to complete the next fhdc.
Repeat Steps 4, 5 and 6 as required.
Video Tutorial for the crochet top pattern
You can watch a full video tutorial of me making the cream version of this crochet top here: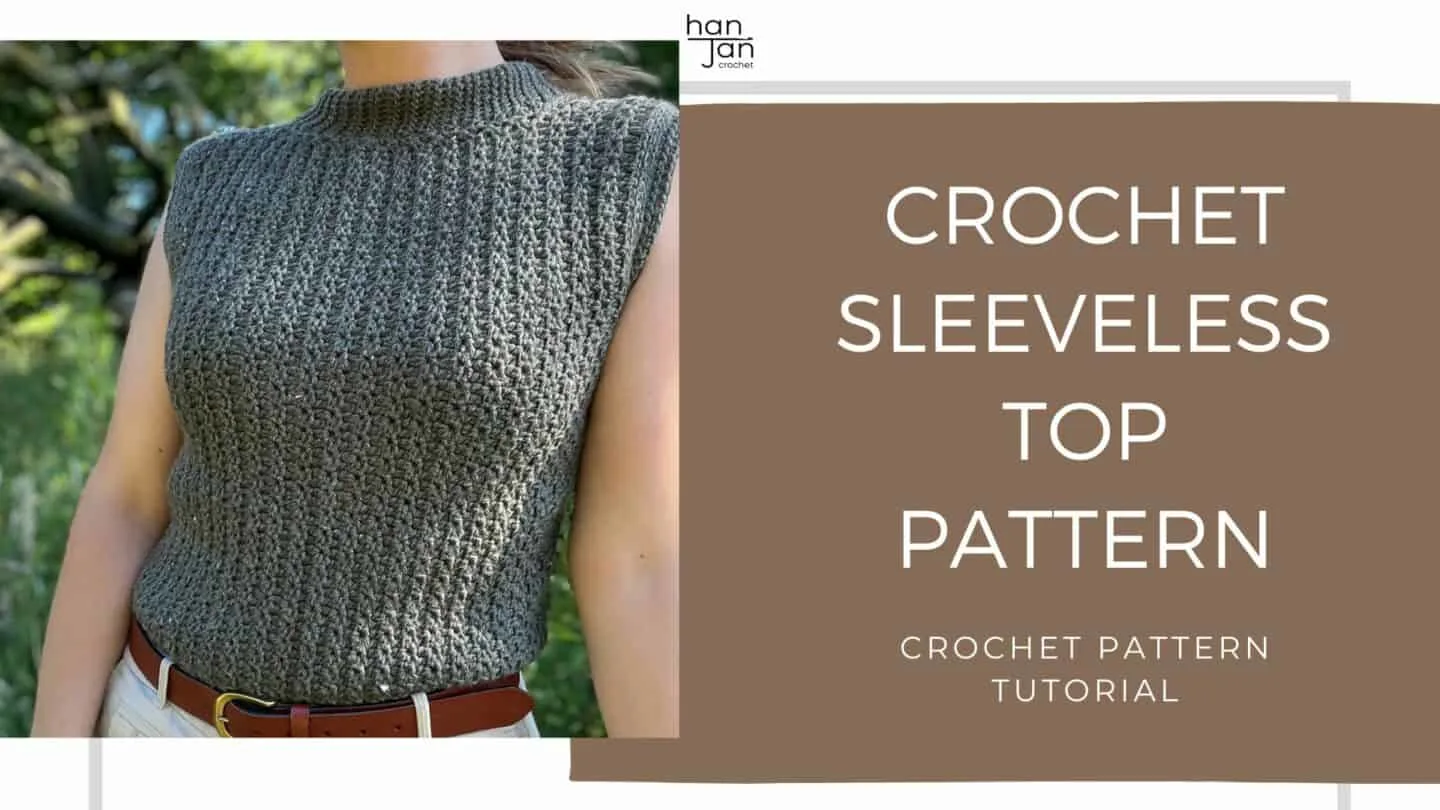 Chloe Crochet Top Pattern Notes
Ch 1 at the start of a row does not count as a st.
Turn at the end of every row.
Instructions are given for the smallest size, with larger sizes in parentheses ( ) e.g. XS (S, M, L, XL) (2X, 3X, 4X, 5X).
If an instruction does not apply to a size, it will appear in the sizing sequence as a dash (-). Here is an example for something that does not apply to sizes S, L and 4X: 89 (-, 89, -, 89)(89, 89, -, 89).
Stitch counts are given in [ ] at the end of each row. If no stitch count is given, then the count is the same as the previous row.
Here is Chloe wearing her finished top 🙂 She absolutely loves it and I think she looks fabulous in it!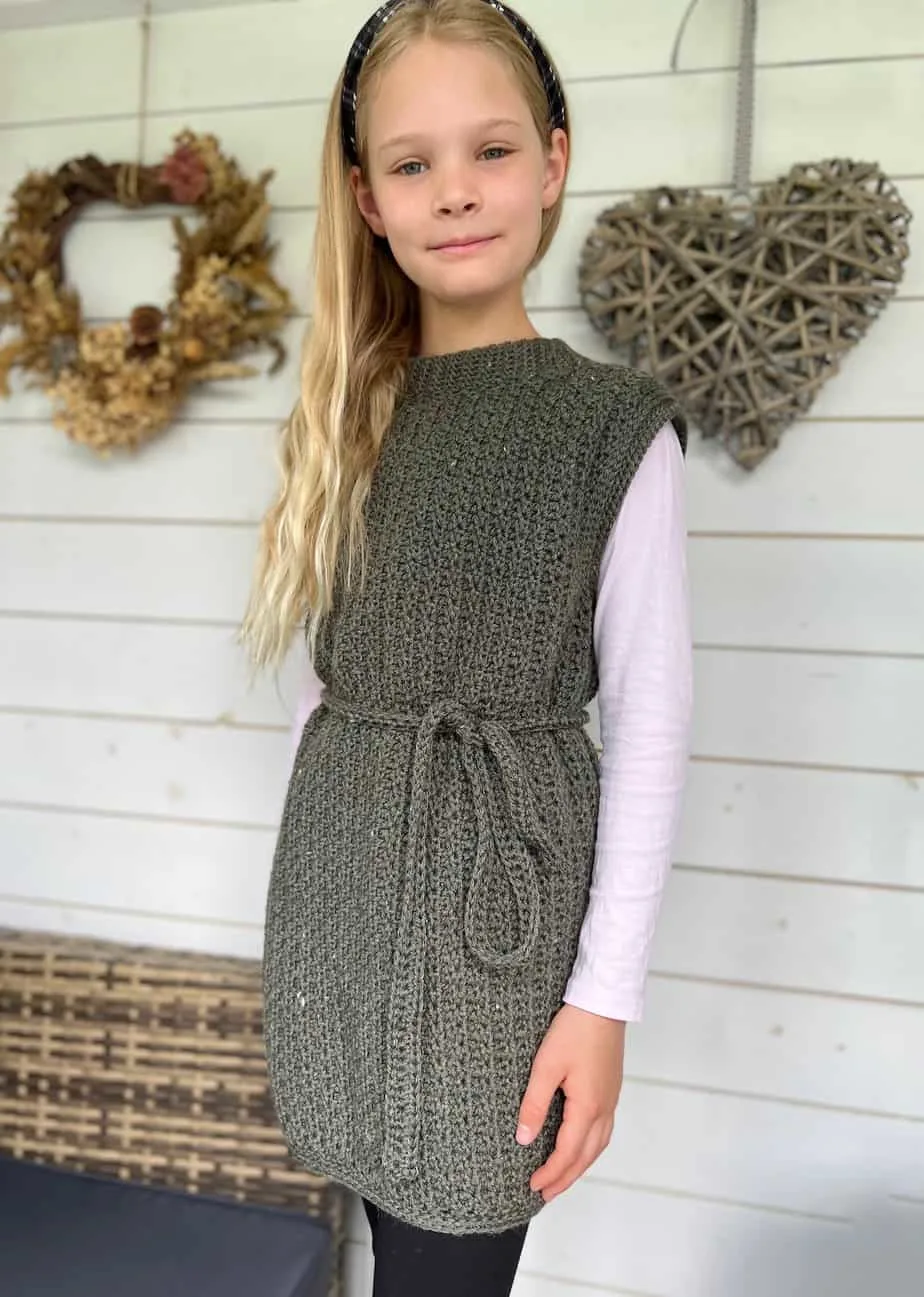 Join HanJan and Share Your Crochet!
It's an honour to be able to create and share my free crochet patterns with you. I'd love to stay connected and send you regular discount codes and free patterns! Please sign up for my subscriber list to get a free gift right now!
I look forward to seeing your finished crochet projects, especially this easy crochet pattern, so please share them with me in the HanJan Crochet Facebook group or on Instagram and tag #hanjancrochet.
Purchase and Print
Get the ad-free, printable PDF in my pattern stores: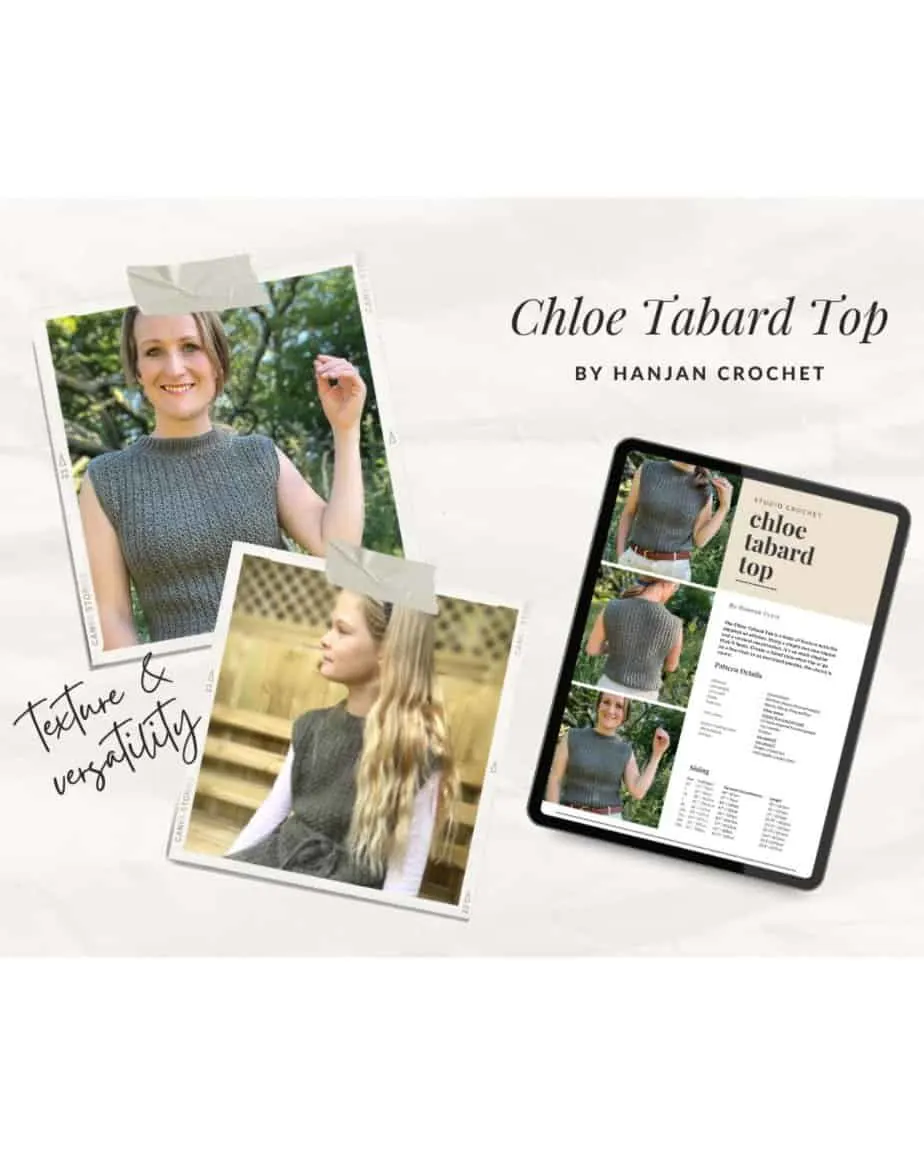 Don't forget to share your projects on Ravelry!
More Crochet Patterns You Might Enjoy
If you enjoy making sleeveless crochet tops and ponchos here are a couple more patterns and tutorials you would enjoy crocheting!
The Eyelet Lace Tee is is great beginners crochet top pattern that is worked in two panels with some delicate details at the neckline.
The Hawthorne Tee isn't technically sleeveless but is a lovely short sleeved V neck crochet top that has cute little sleeves that you can adjust to be any length. It's worked from the top down so easy to adjust as you go.
The Easy Peachy Cover Up is longer than a top so you can use it as a crochet bikini cover pattern but again, you could easily adjust it to be shorter if you like.
Lastly, the Cherry Blossom Cardigan is a stunning sleeveless crochet cardigan pattern that is made from just two rectangles so perfect for beginners too!