The Harris Collection is the ultimate in easy crochet sweater patterns for beginners and better yet – it has a beginner crochet cardigan version included in it too!
Using just one basic crochet stitch the pattern is designed for everyone as it comes in child sizes (newborn baby to age 10) and adult sizes (XS to 5XL) and you can make a sleeveless pullover, cardigan or sweater version!
In all, there are 48 different versions of this modern crochet garment pattern that you can make within just this one PDF!
With subtle armhole shaping for a set in sleeve and gentle forearm shaping for the perfect fit, you can be sure that this design will look stunning on everyone.
With added instructions for customising, construction, seaming and gauge you'll find everything you need to make a fabulous crochet garment perfect for beginners.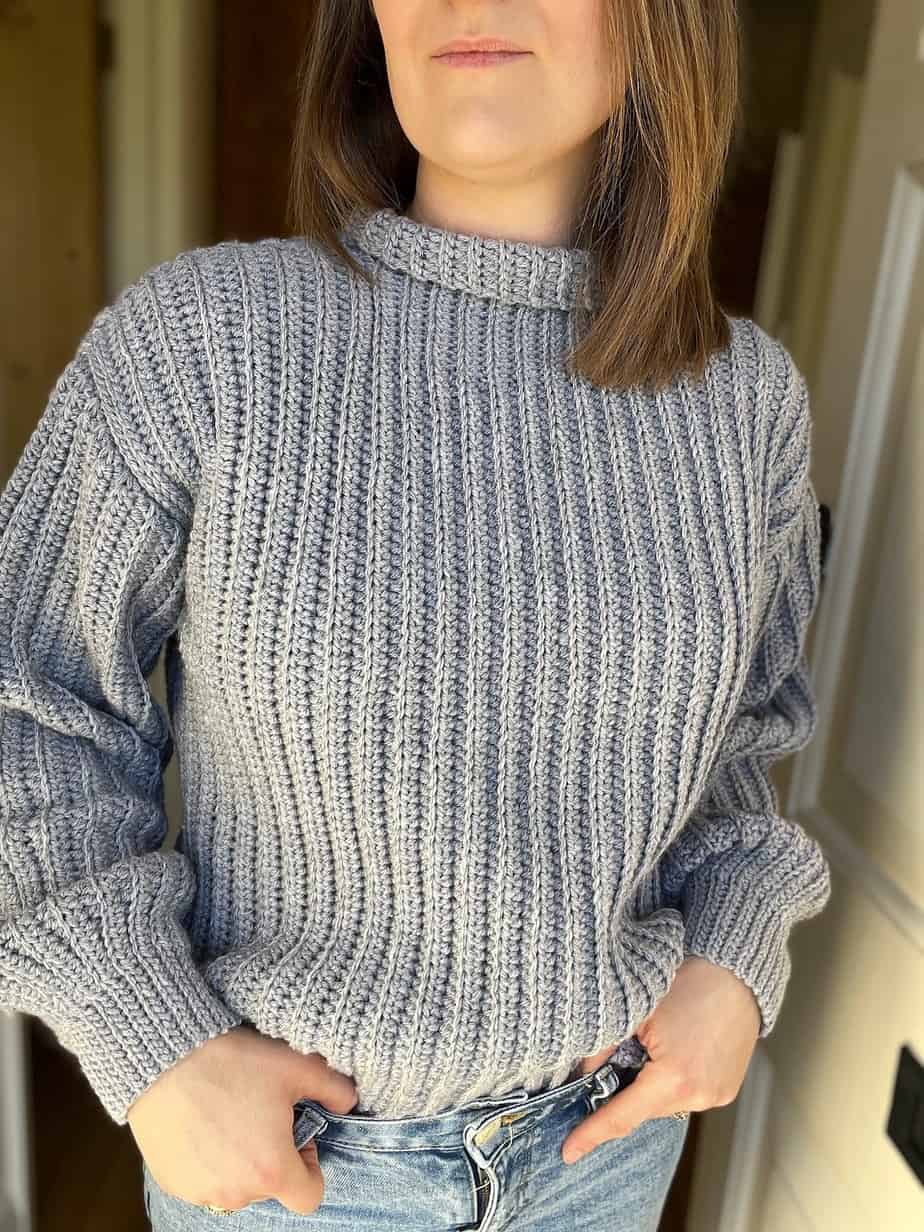 This post may contain affiliate links. Please see my full disclosure and privacy policy for details.
How to get the easy crochet sweater and cardigan pattern
You can purchase a printable PDF version of the Harris Collection in my stores to download and print.
Find the pattern here: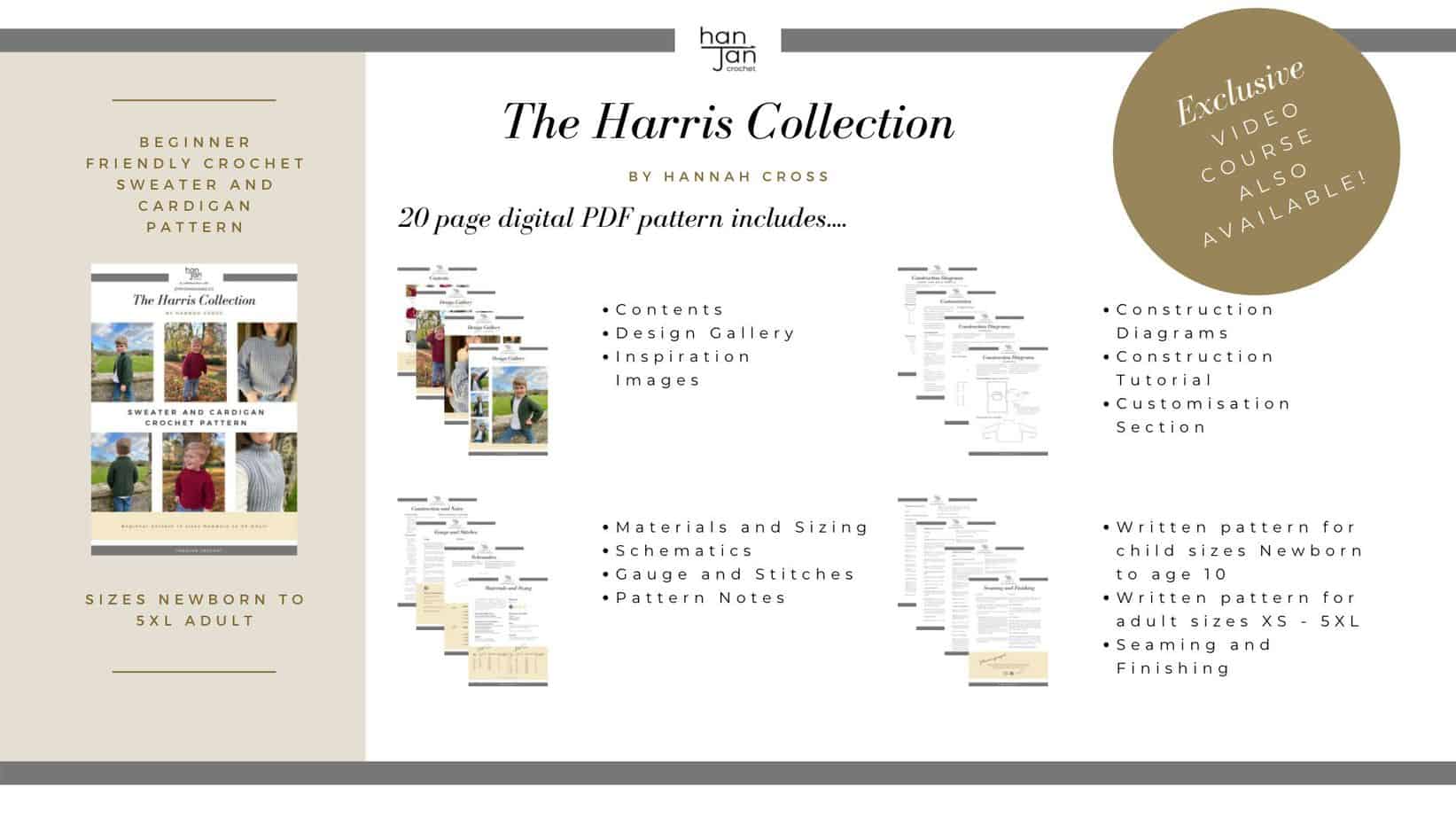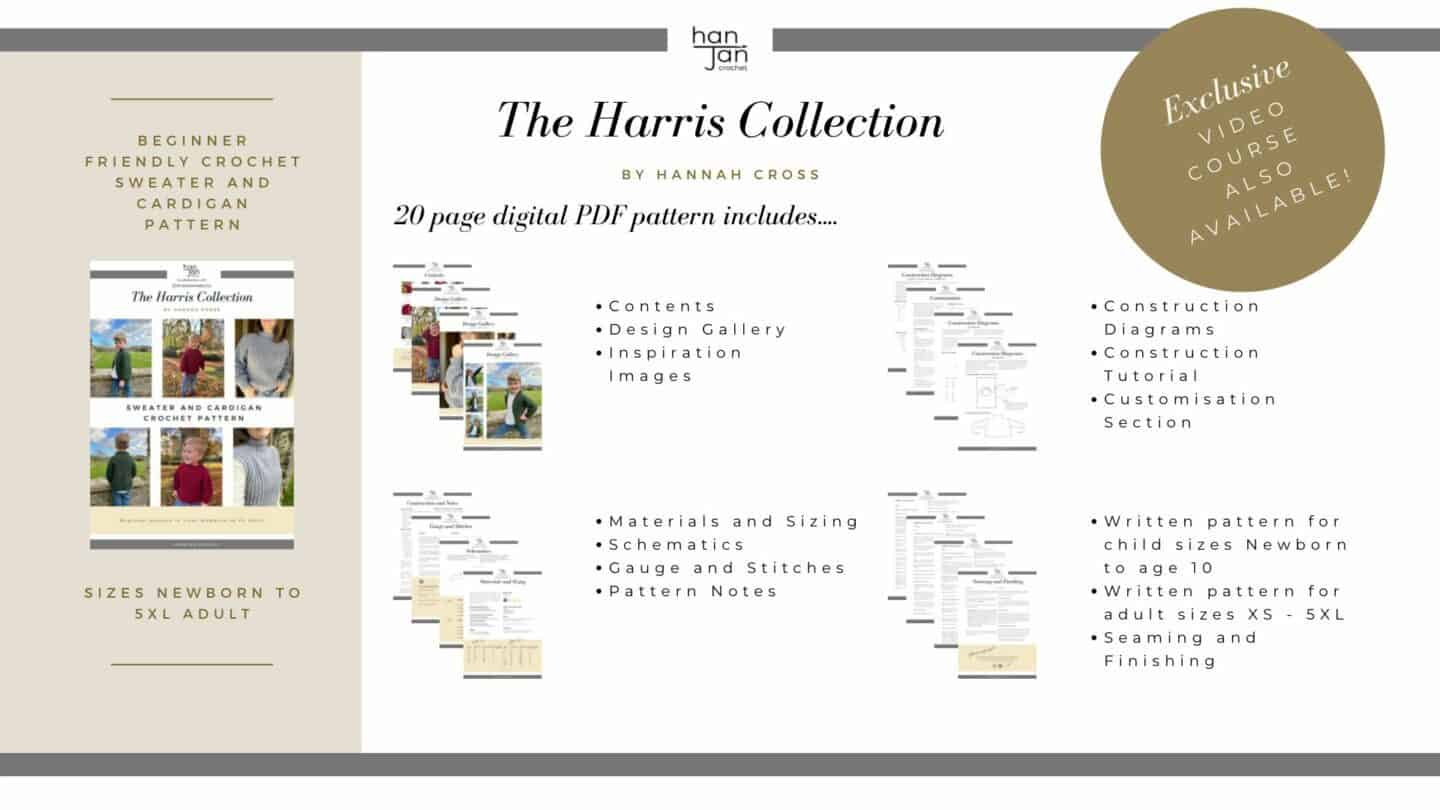 About the Harris Collection – the perfect beginner crochet garment pattern
To start off we'll look at what we're covering in this post to make sure that you have everything you need to decide on which version to make and my tips and tricks to help you get the most out of the pattern.
Firstly, we'll cover some frequently asked questions about crochet sweater and cardigan making. I know garments can be a daunting thought so we'll cover some of the things that might help.
Then we'll look at what the pattern sizing details are so you can choose the right size to crochet and also figure out how much yarn you'll need.
I'll let you know what yarn I used for the project and some great alternatives you could try.
Following that I'll point you in the direction of where you can get the pattern or enrol for the online crochet course (I'm so excited about that!).
And of course, there will be lots of pictures of me and my sons wearing the crochet sweaters and cardigans as a picture speaks a thousand words and I want you to know what they look like on both adults and children!
Are easy crochet sweater patterns for beginners really that easy?
The thing that prompted me to design the Harris Collection is that I found it really hard to find really nice crochet sweater patterns that are actually easy but also all of these things:
great for beginners
a classic yet modern style
shaped (at the armholes and cuffs)
suitable for any age
suitable for absolutely everyone to wear
I'm of course certain that there are easy crochet garment designs out there that cover all of these bases but I just couldn't find one that I was happy enough to make and so I went about creating one.
Can I crochet a sweater as a beginner?
Absolutely. Yes!
I often get asked can a beginner crochet a sweater (or any garment really) and my answer is always yes.
Some people will say that it depends on the construction of the garment but I don't always hold with that idea. It's one of the things to think about but shouldn't put you off making something.
Here are a few examples of different garment constructions for you:
Garments can have aspects of more than one construction, so for example the Harris Collection is a side to side construction with set in sleeves. If you enjoy this construction then you might also like this child crochet cardigan pattern with a rolled or flat collar option.
If you're new to crochet garment making please don't worry! I have a fabulous guide on how to start your perfect crochet wardrobe and also learn garment making with 12 free crochet top patterns for different skill levels.
The thing with garments is that they often have a few elements that scare people (and that are easy to trip up on if you don't get them quite right).
My best advise if you are a beginner who wants to crochet a sweater or cardigan would be firstly to make sure that you know and can work the individual stitches in the pattern (that's why I only chose the UK half treble / US half double crochet for this design).
Secondly, I'd think about whether you understand and know about gauge. This is how you'll know whether your sweater will turn out the size that it say s it will in the pattern.
Thirdly, (possibly most importantly) think about whether you would actually wear it! There's no use spending time making something if you wouldn't wear it or know someone to give it to who would.
I wouldn't worry too much about the construction of the garment as I firmly believe that if you have a well written pattern and instructions and if you've ever sew or crocheted a hat, mitts or cowl together then a garment will be just fine.
Would it work as a men's crochet sweater pattern?
Most definitely! I know that it would work brilliantly as a men's crochet sweater pattern as there are already chaps out there wearing them!
Quite a few of my testers made a version for a man in their life and I'm currently making one for my husband too. I've deliberately added a good amount of length and ease to the sizes as men's standard sizes are generally different to women's.
The great thing though is that if you do want to make this crochet sweater for a man then you can easily adapt the sleeve length and body length to suit them if you'd like to. If you would like any help with figuring that out just let me know and I'll be happy to help.
Will you crochet the cardigan, sweater or pullover ?
So, the final thing to think about is which version you'll make! The cardigan, sweater and pullover are equally easy to crochet as they use the same elements joined together, you'll just need to make 2 front panels instead of 1 if you want to crochet a cardigan.
Here are a few images of each of the different versions to help you choose: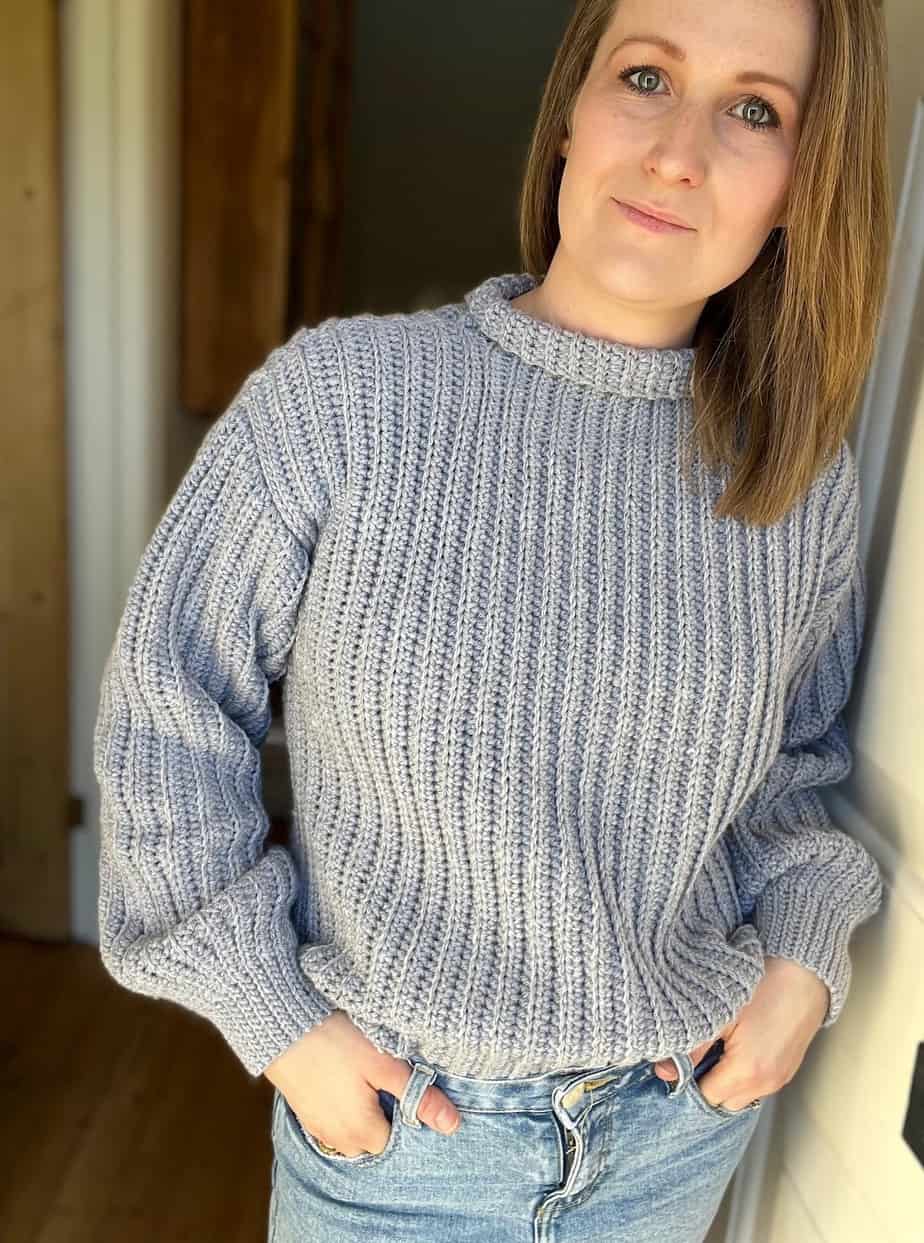 If you love the pullover version and the side to side construction then I also think you'd love my Chloe Tabard Top which is a great crochet sleeveless top pattern for summer with an easy crew neck line or the child and baby crochet vest pattern that matches!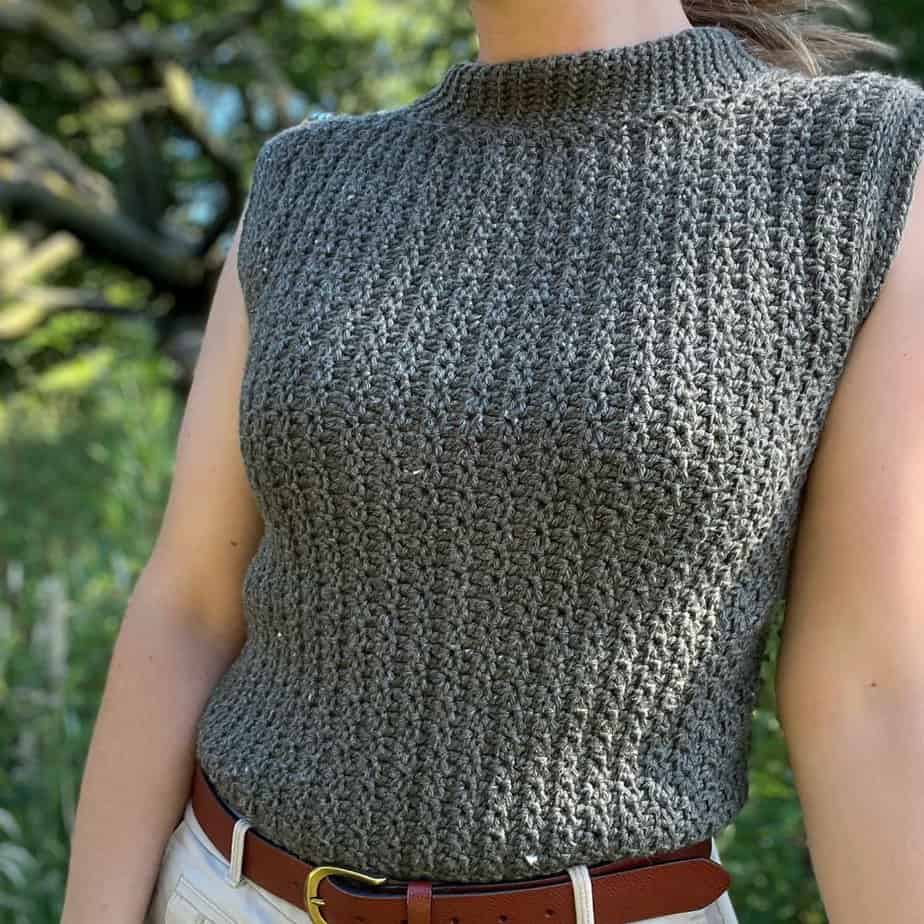 If you don't have time to make this right now then pin it for later using this image –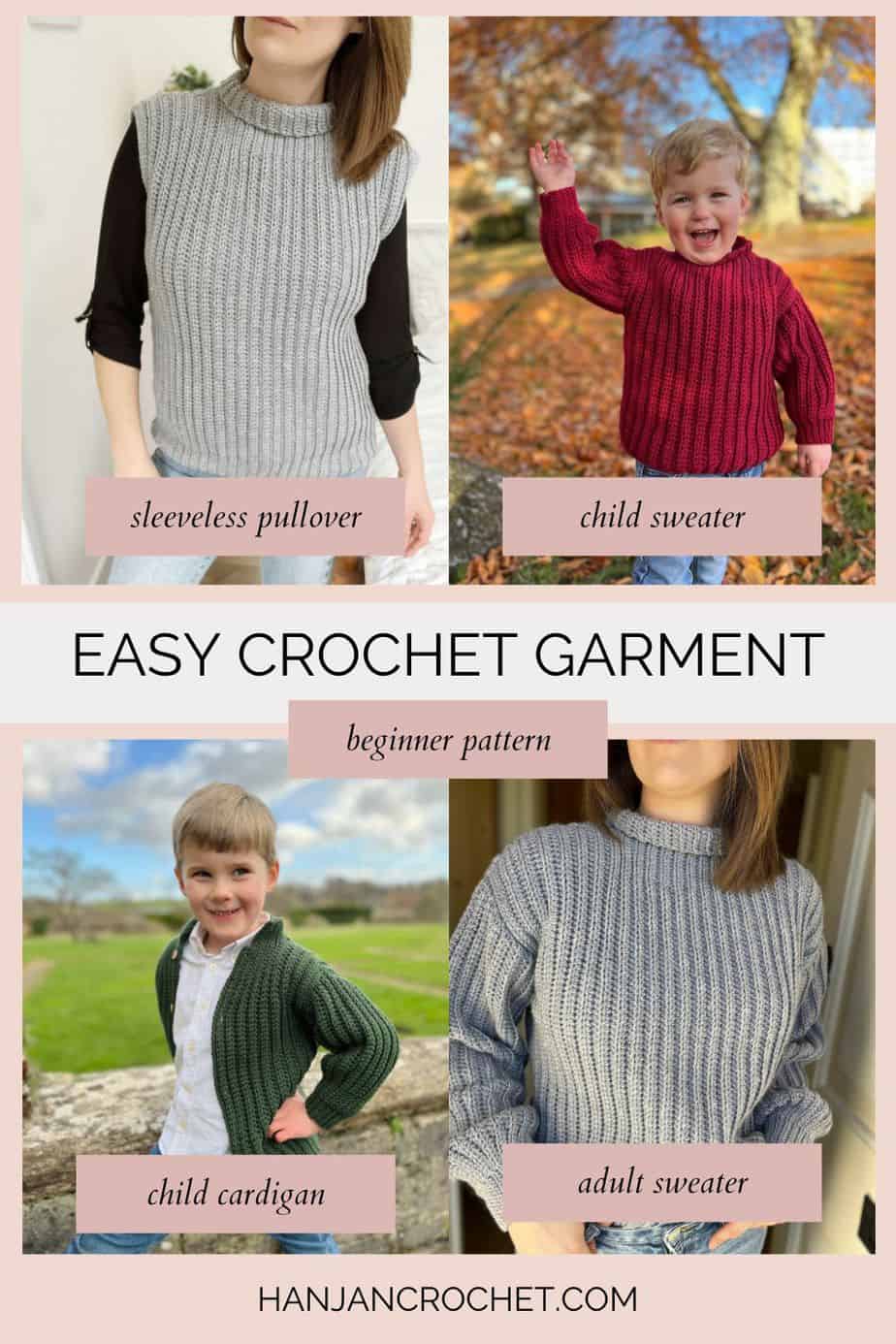 Yarn and quantities
To make my samples for the Harris Collection (I made quite a few as you can see!) I used Sirdar Country Classic Worsted yarn. It is 50% wool, 50% acrylic, 199m, 218yds/100g.
It's really lovely to work with, is at a great price point for the fibre and wears so well.
You will approximately need the following amounts of yarn for each size to crochet the sweater and cardigan (you'll need slightly less if you want to make the sleeveless version of course):
Child Sizes
Child sizes: 0-6 months, (6-12 months, 1-2 yrs, 3-4 yrs, 5-6 yrs, 7-8 yrs, 9-10 yrs)
To fit chest: 43 (46, 53, 58.5, 63.5, 67, 71)cm
Yarn required (balls): 2 (2, 3, 3, 4, 4, 5)
Yarn required (approx): 300 (375, 475, 560, 660, 760, 890) metres
Adult Sizes
Adult sizes: XS (S, M, L, XL) (2XL, 3XL, 4XL, 5XL)
To fit chest: 76 (86, 96, 106,117) (127, 137, 147, 157)cm
Yarn required (balls): 7 (8, 8, 9, 10) (10, 11, 12, 13)
Yarn required (approx): 1200 (1290, 1460, 1640, 1730) (1825, 2040, 2210, 2300) metres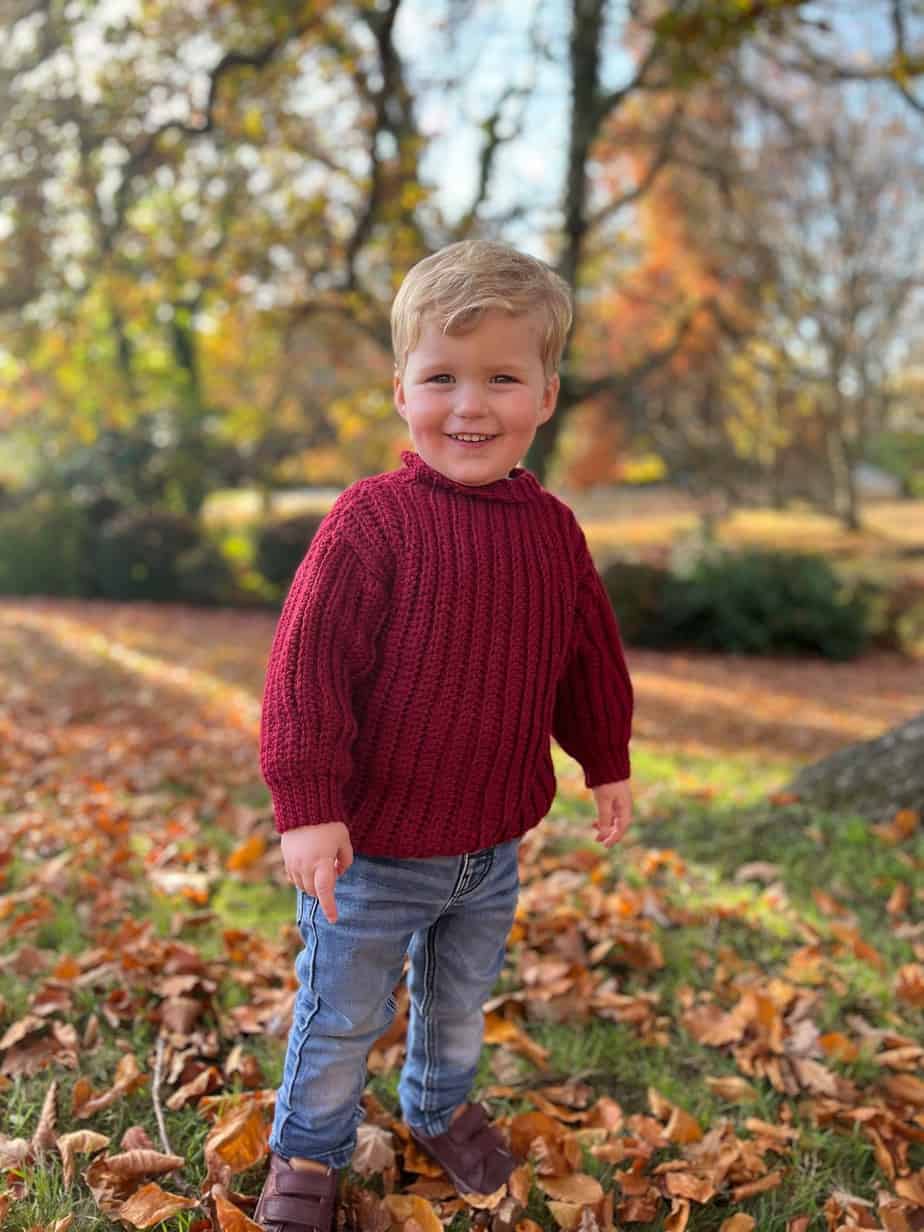 Choosing yarn is so important (and fun!) but I know it's great to have options depending on your budget and who you are making for – here are some great alternatives I've found.
Whatever yarn you choose, just make sure to check your gauge before starting your project as they will all be slightly different.
Alternative Yarn 1
100% Superwash Merino Wool (110yds/50g)
This is a fabulous worsted weight yarn that washes well, feels soft on the skin and comes in beautiful colours.
Alternative Yarn 2
100% wool, 200m/100g
This yarn is another fabulous 100% wool choice that creates a stunning drape but perhaps not as suitable for little ones.
Alternative Yarn 3
100% premium acrylic (208yds/100g)
A wonderful choice of yarn in terms of budget and fibre content for anyone sensitive to wool.
Tension and Sizing
The crochet garment pattern comes in child sizes 0-6 months, (6-12 months, 1-2 yrs, 3-4 yrs, 5-6 yrs, 7-8 yrs, 9-10 yrs) to fit chest measurements of 43 (46, 53, 58.5, 63.5, 67, 71)cm and adult sizes XS (S, M, L, XL) (2X, 3X, 4X, 5X) to fit chest measurements of 76, (86, 96, 106, 117) (127, 137, 147, 157) cm.
As boring as they are to make, gauge swatches will be the difference between an ill-fitting garment and a stunning one that makes you look and feel amazing!
As you can see from the pictures the crochet garment is designed to have positive ease (meaning it's bigger than your body measurements) and so make sure you match the gauge otherwise it might not fit as you'd like.
The tension for this sweater is 11 rows and 15sts over main pattern = 10cm by 10cm.
Work a gauge swatch as given in the pattern and then block it lightly before measuring to make sure you meet the gauge.
If you have more stitches in your swatch than the tension states, try changing to a bigger hook.
If you have less stitches in your swatch than the tension states, try changing to a smaller hook.
Materials
Along with your yarn, you will need the following:
Glossary and Abbreviations
Ch – chain
Sts(s) – stitch(es)
Rep – repeat
RS – right side
WS – wrong side
blo – back loop only
Ss – slip stitch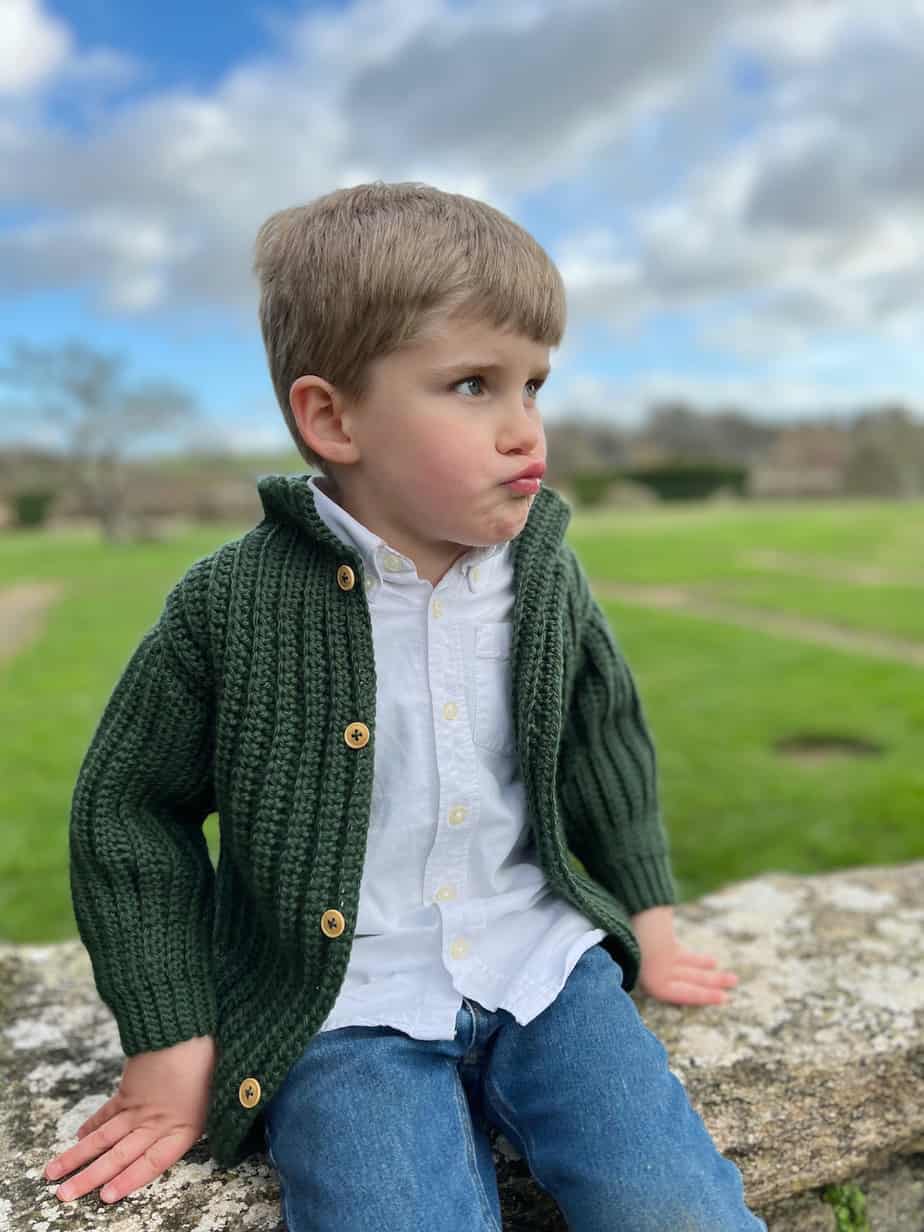 What crochet stitch is best for a sweater?
In my opinion, there isn't a better stitch than the US half double crochet (UK half treble) for a great crochet sweater.
There are a few reasons for this being my stitch of choice. A hdc is the perfect beginner crochet stitch that's easy to master and become consistent at (your fabric will look beautiful if your stitches are even). Plus, it has lots of options to create a lovely texture whilst forming a warm and cosy fabric that you really want to wear!
So, you might have guessed it – this beginner crochet garment pattern uses the following crochet stitch:
| | |
| --- | --- |
| Standard UK Crochet Term | Standard US Crochet Term |
| htr – half treble crochet | hdc – half double crochet |
Yes! You read that right!
It really only uses the UK half treble / US half double crochet stitch.
The pattern has the stitch referenced in UK terms but as there's only one stitch it's very easy to switch out to US terms.
The nature of the htr/hdc stitch means that you have lots of lovely loops to choose from to work in to create the ribbed texture you can see.
All of the shaping in the garment happens with slip stitches used around the collar, armholes, at the bottom cuff and at the forearms so nice and easy too!
I just love how it creates a fabric that looks like knitted rib stitch with crochet stitches 🙂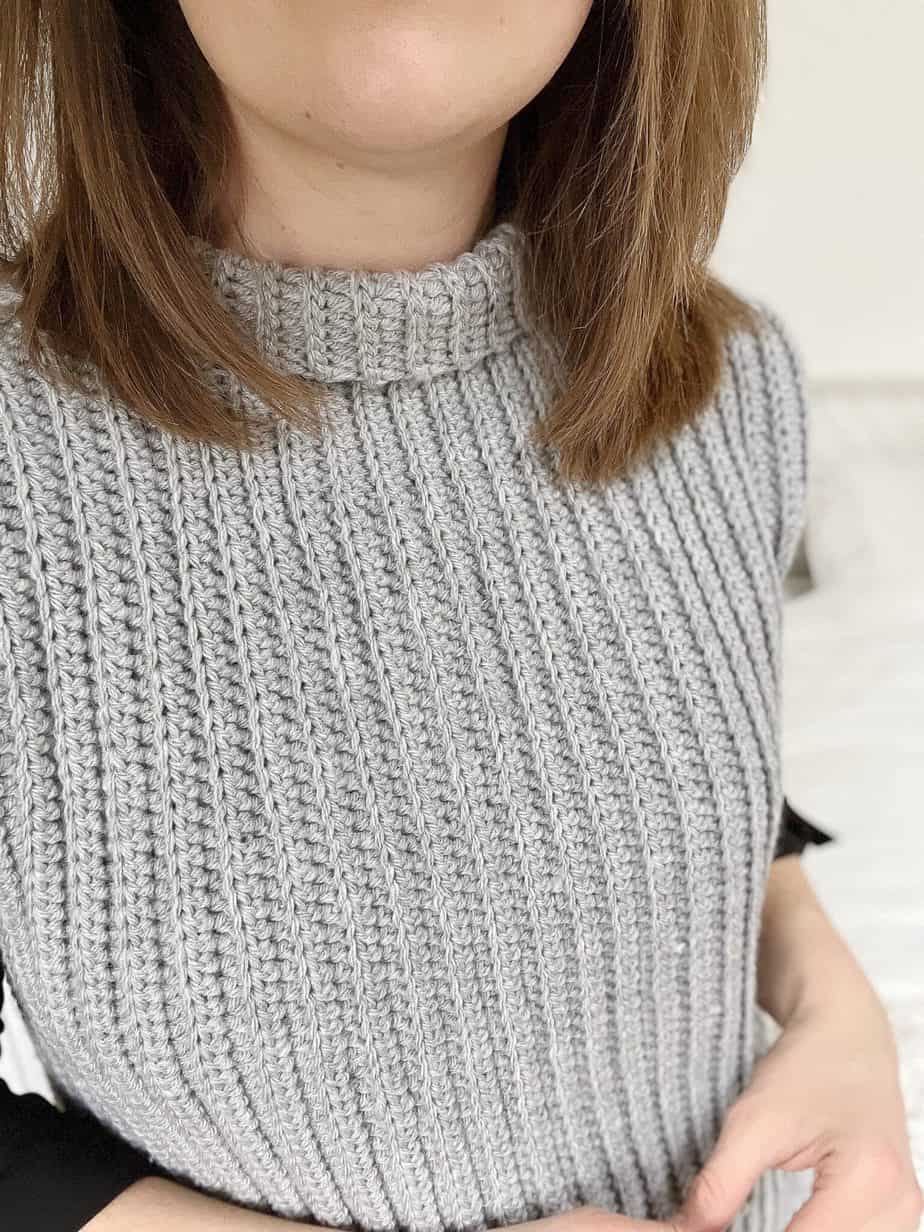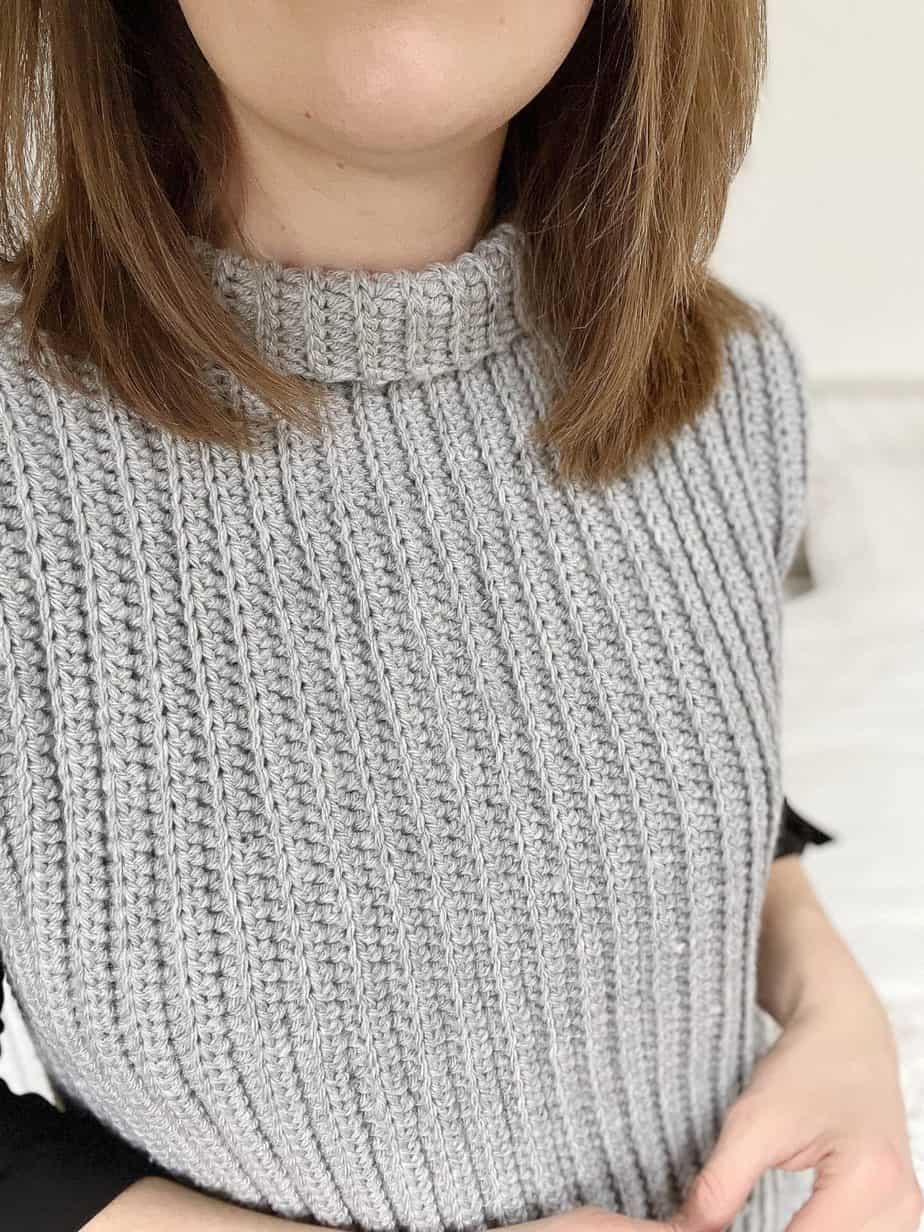 Join HanJan and Share Your Crochet!
I hope you've enjoyed taking a peek at my Harris Collection and my take on an easy crochet sweater pattern for beginners that can also be a cardigan or pullover! I'd love to know if you decide to make it! You can sign up to become a member of HanJan Crochet and I'll let you know about all the fabulous crochet adventures, offers, lives and more too!
Pattern Options
Other great crochet garment patterns to try
I am starting to get quite the collection of crochet garment designs in my library – I love coming up with new constructions and stitch patterns to use for them. Here are some of my favourites you might enjoy too.
Or if you have the garment making bug then you'll love this collection of easy crochet cardigan patterns for beginners!