Where can you find great free crochet summer top patterns? I realised that this is something I wish I had been able to find when I first started to learn garment making and so today I'm going to share with you a whole load of free and paid patterns along with my best advice for crocheting garments.
I had only been crocheting for a few months when I decided to try and learn garment making and I know now it's something I should have read up about it and thought more about before starting! It was a complete disaster because I didn't do the essential things I'm going to talk about today. I didn't choose a pattern I really wanted to make, it was waaaaaay too hard for me, I didn't have the right yarn and I didn't make a gauge swatch.
Now you can see why it was a disaster!
To get you started I've also got a fabulous voucher code for you to get 10% off your order from LoveCrafts to celebrate 'Indie June' – see below for details (Ts & Cs apply).
Click here to Pin this article for later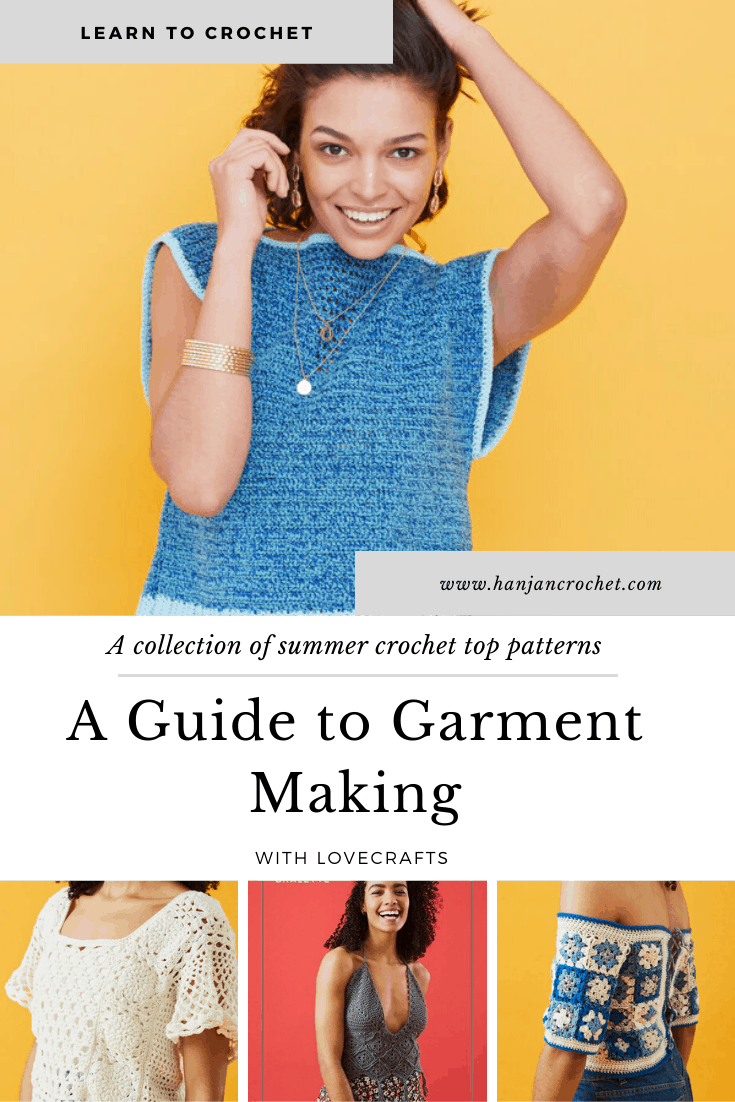 Crochet Garments – where to start
Something that used to hold me back with crochet garments was fear. Fear that I wasn't 'good enough' to crochet garments, fear that they wouldn't fit, that they would look clumsy and handmade, that I'd hate them, that others would hate them and most importantly that I wouldn't even wear them! I know that lots of people feel the same way and the only tip I can give for getting oner this is literally just to have a go.
So what if it doesn't turn out exactly as you'd like? You'll learn something from the process and be better next time. So what if it's not an awesome fit? Once you are more confident you can go back and change it. So what if you don't wear it? You can always gift it to someone or donate to charity.
I encourage everyone who wants to try to learn garment making to give it a go, once you start you'll wonder why you were so worried!
Choosing the right garment pattern
When it comes to choosing the best pattern, I think you need to first and foremost go with your instinct. Do you like it? Would you wear it? These for me are the most important questions. If the answer is yes then you should consider the following:
Check it works for your skill level – like anything in crochet if you're a beginner and try something really advanced you'll struggle and get frustrated. Similarly if you're experienced and choose something too simple you're likely to get bored.
Check the shaping and the making up – is there lots of shaping that will making adjusting trickier? If so, perhaps look for something simpler. Is it seamed or seamless? Does it have billions of ends to weave in? (I hate ends!)
Even if you're experienced if you haven't tried garment making before then I'd stick with something fairly simple. This is why crochet summer tops are so great. Most of them are a couple of simple shapes easily seamed together. Easy to make and easy to wear.
Once I've shared a few more tips I'll get to my best pattern recommendations (including 12 free crochet summer top patterns to download!).
Choosing the right yarn
Make sure you choose the right yarn as there's nothing worse than clothing that feels scratchy, itchy, heavy, or just plain uncomfy. Summer tops are awesome as most work brilliantly in simple cotton. There are so many to choose from in all sorts of yarn weights (just make sure you check your pattern and work a gauge swatch to check). You can find some beautiful cottons that would work really well for light and easy to wear summer tops.
Always work a gauge swatch!
Swatching for gauge is such a boring task when all you want to do is just get on with the actual pattern but it's absolutely vital when it comes to garments. It doesn't really matter if you're making a blanket and it turns out a bit bigger than you planned or a hat that's a teeny bit tighter than it ought to be. A few centimetres out in every direction on a garment and goodness me you'll know about it!
Before you start making, look carefully at the pattern to see exactly which size would suit you best then work your swatch. If your swatch is good then you'll come out with exactly the right size garment, easy as that! If your swatch is a little off then don't worry – either change up or down a size of hook depending on whether you need it to be bigger or smaller and experiment until you get the gauge right. Spending a bit of time doing this really will pay off, I promise.
I'd really love to stay in contact and let you know more about everything HanJan including free patterns, stitch tutorials, round ups and more. If you'd like to join me at HanJan, it would be an honour to have you. Just sign up below (and you'll also get a free PDF of one of my most popular patterns!)
Adjust the pattern to fit you perfectly
Funnily enough we're not all built the same and so two people who wear the same size look completely different in the same thing! The beauty of making for yourself is that you can adjust the garment to fit just how you'd like it to. Most patterns (especially simple ones) have instructions on where and how to make things longer/shorter, how to increase/decease armholes, lengthen/shorten sleeves and so on. This is a skill that comes with practise but if you start with just gently adjusting the sleeve seams or neckline and then try it on you will see a real difference in fit.
Blocking has never been so important
I am the first to admit I've skipped many a blocking in my crochet career thus far…..It's just so tedious isn't it?! But, if you block your garments I guarantee it will transform them into something absolutely spectacular! The blocking process really doesn't need to be that tricky or fancy, any pins and base will do as long as you can lay it flat and leave it there for a while.
Now that you know what you're looking for it's time to go ahead and pick your pattern! Below I'll share my top patterns I've found on LoveCrafts (12 of them are free to download) and the rest are from designers I know create awesome patterns that you will love. I really hope you find something you enjoy!
Click here to Pin these patterns for later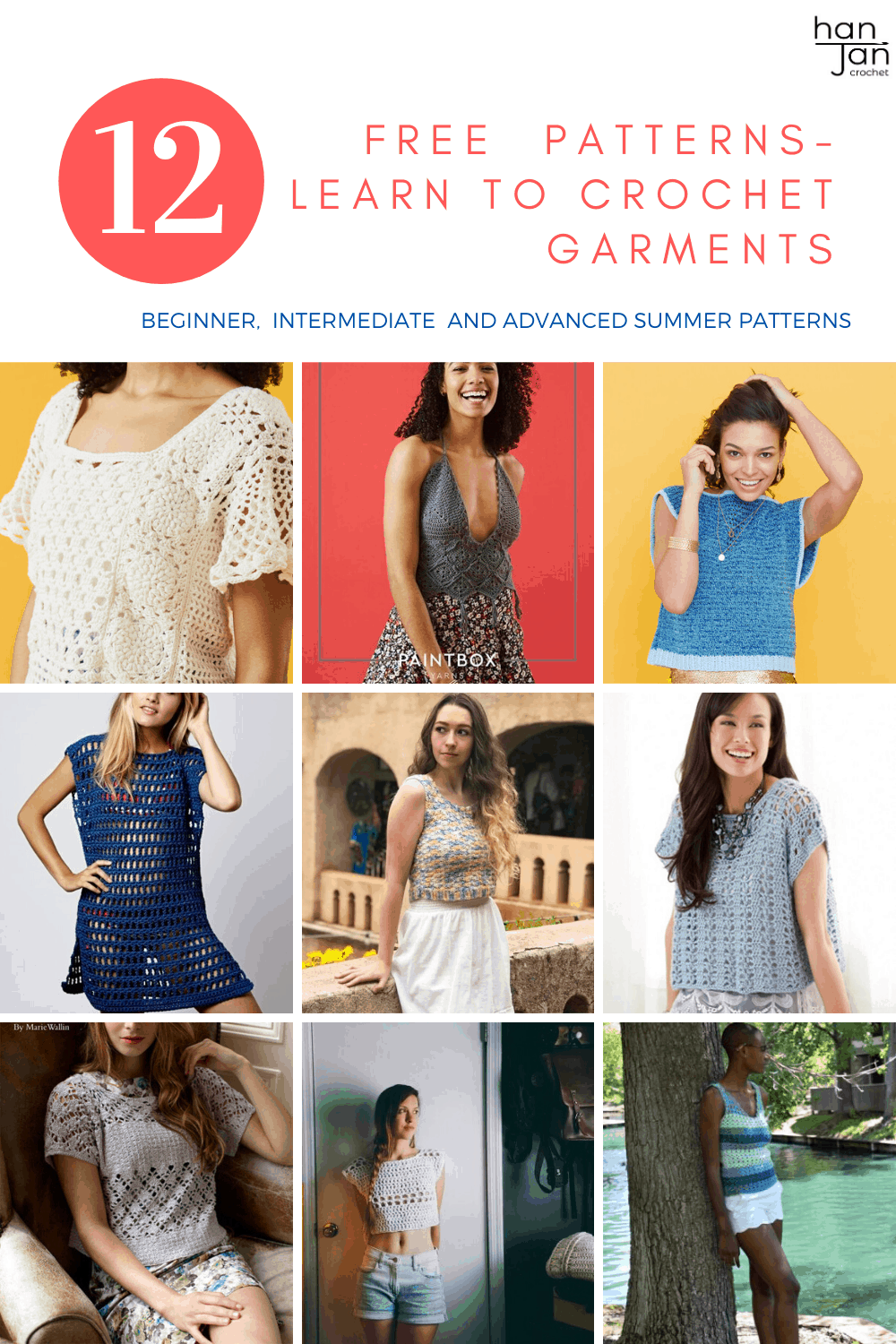 5 Beginner Free Crochet Summer Top Patterns
These five patterns are the perfect way to start learning with garments. They are quick, easy and are all simple to adjust the size to fit your shape.
Celebrate Indie June with 10% off your order
In support of Indie June my friends at LoveCrafts have given me a special voucher code to get you 10% off! All of the patterns in this post can be found either for free or as paid patterns over at LoveCrafts and you can treat yourself to 10% off your order too, just use the code: HANJAN10 when you checkout. (The code is only valid for the month of June 2020)
Visit LoveCrafts to use your code: HANJAN10
There's a few T&C's to keep in mind:1 use per customer
1 use per customer.
You must be logged in to the LoveCrafts website
Minimum £$€10 spend
Must be purchasing at least one paid pattern from an independent designer, 10% will be deducted from all other physical products in your basket (that aren't excluded).
Excludes: sale items, gift cards, DMC stranded cotton and die cutting machines, indie patterns.
5 More Beginner Crochet Patterns to Learn Garment Making
5 Intermediate Free Crochet Summer Top Patterns
If you're a fairly confident crocheter then I'd really encourage you to push yourself an go for an intermediate pattern. There are some beauties out there, here are just a few to get you started:
5 More Intermediate Crochet Patterns to Learn Garment Making
Advanced Free Summer Crochet Top Patterns
Just in case you're a crochet pro then I've got a couple of ideas for you too!
A sweet and delicate 4ply lace tee shirt by Rowan. With lace at both the neckline and body, this top can easily translate to evening wear with skinny jeans and heels too.
Inspired by the messy patches of spring wild flowers and tattered vintage lace over wooden tables, this beautiful, over-sized, lace top is gorgeous for layering! Featuring four classic crochet motifs, the Datura Bloom Top has sweet ruffled bell sleeves and deep square neckline. Dress it up for evening, or wear it with jeans or shorts for coffee.
Time to get crocheting!
Hopefully I've managed to give you some tips and enough pattern inspiration to choose something that you really want to make and that you feel excited about wearing too!
Once you've chosen your pattern and got your yarn (check that stash, I bet you've got something lovely lurking in there waiting to get used!), you can crack on with your swatch.
Once you're happy with your tension, get going with your top! Most of all, enjoy the process, take your time and don't be afraid to tweak things here and there to see what a difference it makes to the fit. Good luck!
In case you missed it earlier – I'd really love to stay in contact and let you know more about everything HanJan including free patterns, stitch tutorials, round ups and more. If you'd like to join me at HanJan, it would be an honour to have you. Just sign up below (and you'll also get a free PDF of one of my most popular patterns!)
Looking forward to Autumn - more free crochet patterns
I don't know about you but I love Autumn and can't wait to crochet for it! If you've got the garment making bug then here a few of my free Autumn/Fall crochet garments that you might enjoy:
An easy beginner friendly pattern that is just one big sqaure seamed at the sides for sleeves. So simple and easy.
An intermediate pattern because of the shell stitch lace panels but a super easy construction of a simple rectangle joined at the shoulders with 3 large buttons.
Another intermediate pattern with front post stitch detail and a little shaping for the shoulders. Made in glorious chunky yarn though so it works up really fast!