Have you ever wanted to make crochet garments and start your very own crochet wardrobe but don't know where to start?
I think that lots of us struggle with confidence when it comes to making crochet to wear and so today I'm delighted to introduce my friend and fellow designer Fran Morgan to the blog to share her guide on how to make perfect crochet garments. She promises us that it's not as tricky as it may seem and that absolutely anyone can do it!
Fran is going to walk us through reading the details of a garment crochet pattern to make sure we get it right and then I'd love you to read up on choosing the best garment pattern for you (which also talks about choosing the right yarn too).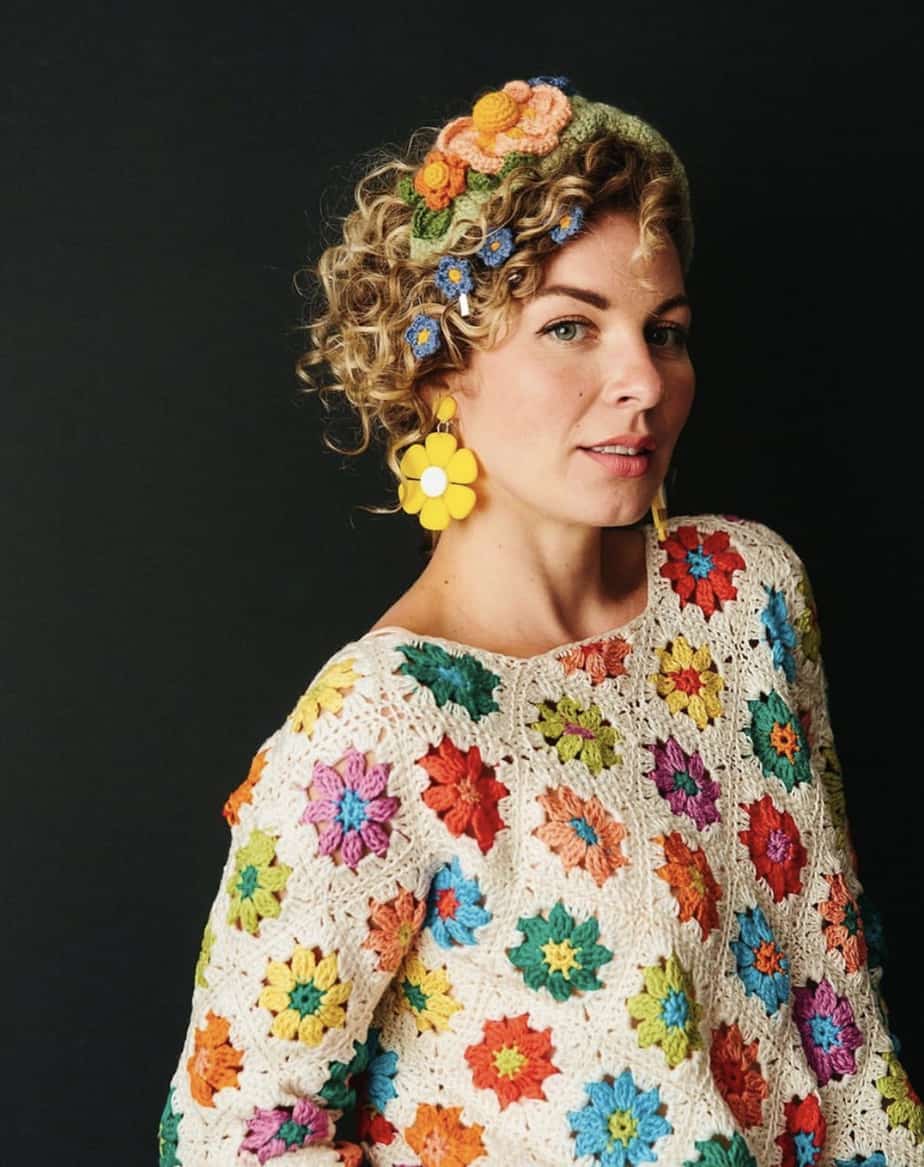 More About Fran and Designing Crochet Garments
It all started when Fran was six or seven and her mother taught her to knit. She made clothes for all of her dolls and teddy bears and she also loved to sew, so would make the entire outfit.
When Fran left school she bought a sewing machine and every Saturday she would make a new outfit to wear out that night and also taught herself to crochet too.
Forty years later Fran began knitting for her local wool shop and from there went on to become a knitwear and crochet designer. Her crochet garments and other designs are regularly featured in Simply Knitting, Simply Crochet, Inside Crochet and also in her own online stores too.
I am delighted to welcome her here today to teach us what we need to know about creating a beautiful crochet wardrobe for ourselves. Over to you Fran….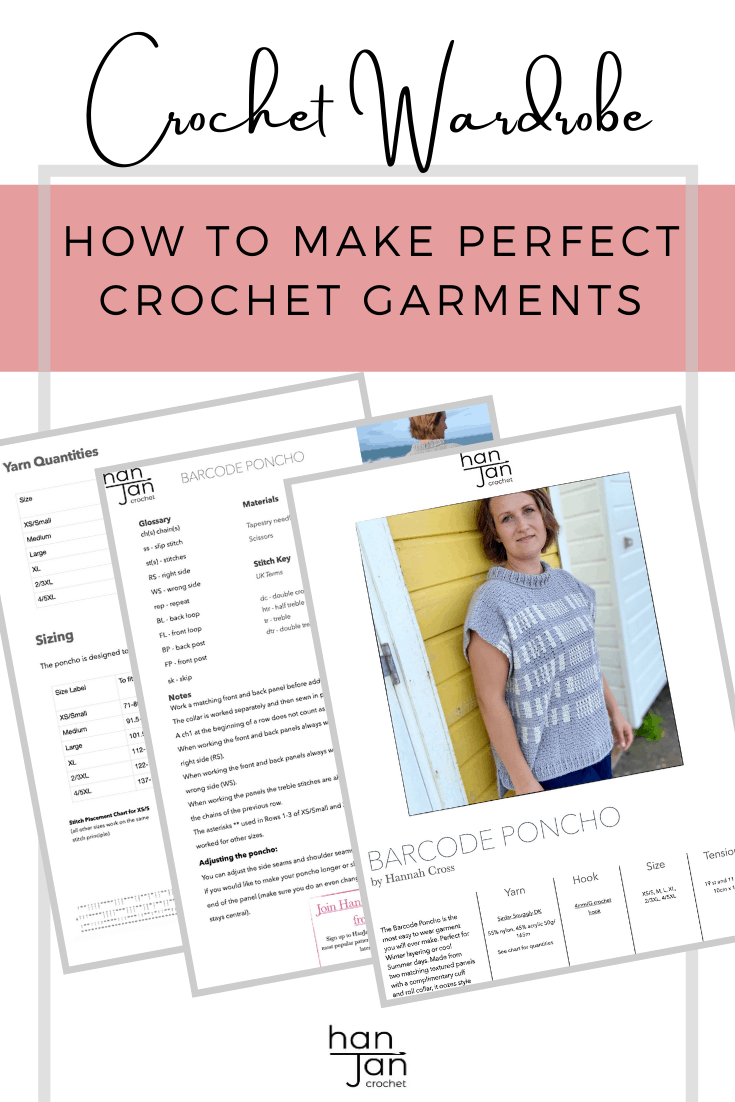 My name is Fran Morgan, I was asked by my friend Hannah to write a blog post for her website. I was really pleased to be asked and also a bit overwhelmed. What could I write about?
I am primarily a garment designer, so after some thought I decided to write about what I do best, no not tell awful jokes, although I must say that is the one thing that keeps me going through these mad days. Garment making, that's what this post will be about and hopefully it will encourage more people to step away from the blankets for a while and start work on a crochet jumper, top or sweater.
Anyone can make crochet garments!
The first point I would like to make is that anyone can make a garment, as long as you follow some simple rules. I used to work in a wool shop and as a designer it helped me understand my customers.
So many people talk themselves out of working on a garment. 'It's too hard', "I can't do that, it's so complicated', "I am better at making smaller items".
These are some of the things people say, so already they have created a mindset that expects to fail. If you are one of those people, stop right there. Flip that thought on its head.
These are the simple rules to follow that will enable you to make the perfect garment.
It's all about the maths
Every pattern is written by using simple maths. I said the bad word, didn't I, but I did say simple maths. We use maths in our everyday lives without giving it a second thought, when we work out how much food to buy, count the change in our purse or compare the prices in the supermarket. In order to understand the pattern a little better, I think it's important to spend a little time acquainting yourself with the way it has been written and how those numbers are arrived at.
Take a look at the example below. All the important information is there at the beginning of the pattern.
| | | | | |
| --- | --- | --- | --- | --- |
| TO FIT BUST (in) | 32/34 | 36/38 | 40/42 | 44/46 |
| TO FIT BUST (cm) | 82/86 | 92/97 | 102/107 | 112/117 |
| ACTUAL SIZE (cm) | 92 | 102 | 112 | 122 |
| LENGTH (cm) | 58 | 59 | 60 | 61 |
| YARN AMOUNTS (50g balls of A) | 4 | 4 | 4 | 5 |
| YARN AMOUNTS (50g balls of B, C, D, E, F) | 1 | 1 | 1 | 1 |
MATERIALS 3.75mm/US10/UK4 crochet hook.Rico Creative Cotton Dk 50g 115m, Shade White 001 (A), Shade Brown 018 (B), Shade 003 Light Yellow (C), Shade 012 Royal Blue (D), Shade Fir Green 017 (E), Shade Orange 007 (F).
ABBREVIATIONS: ch – chain; dc – Double Crochet ; tr – treble crochet
TENSION: 17tr x 8 rows to 10cm over tr patt using 4 mm hook.
SKILL LEVEL: Intermediate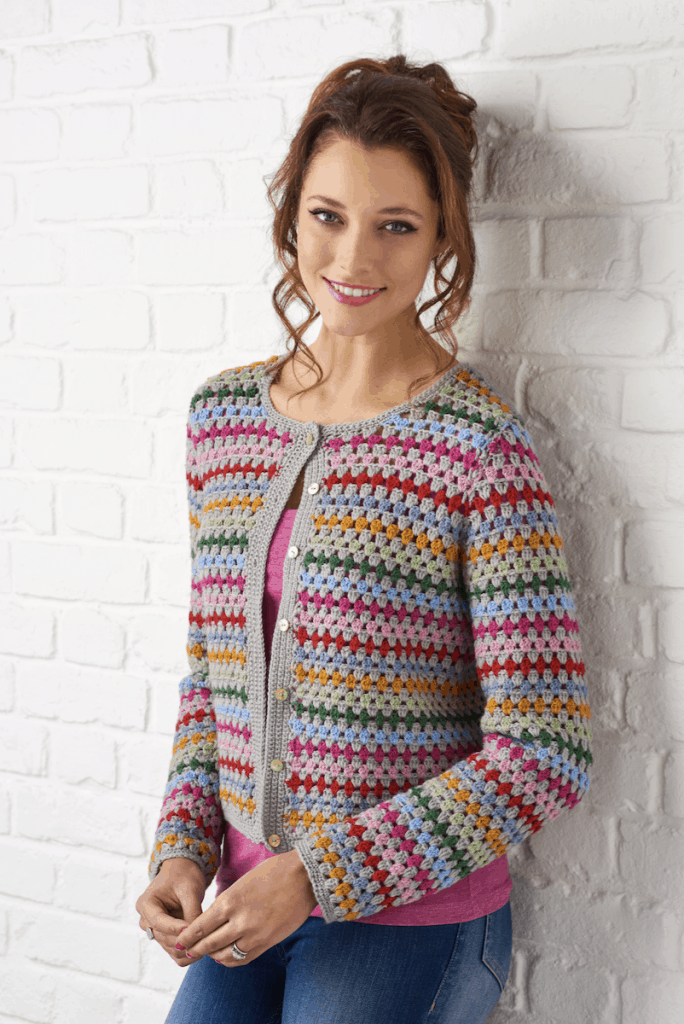 Let's look at each section at a time, I am sure you are already familiar with some of them.
Size
This can be a bit confusing. There are certain conventions that are used in pattern writing. The first line is a layout of standard sizes; i.e. 32/34, 36/38 etc, these are inches and although this country has been metric since the 70s, we still use these imperial measurements when talking about clothes sizes. Don't worry, the metric sizes are always included underneath.
The next section gives the finished measurement. The size of the actual garment. The difference between the two sizes is known as ease. Ease determines the shape of the garment. In this pattern the sizes are grouped together, so 32/34, finished size is 36 has two inches added. This means that the fit is slightly looser than your size.
Some patterns that have a looser fit can have up to 15cm/6in of ease. Always look at the finished measurement to decide what size to make. Some people may prefer to make a larger size, use the photo of the garment as a guide.
Materials
This is the recommended yarn and amount you need for your crochet pattern. If you want to substitute the yarn, use this as a guide.
In this pattern, Cotton was used and each ball has approx. 115m. If you choose to substitute the yarn, consider the drape of the garment. Drape is how the fabric feels and hangs. If you were to use Mohair for example, the drape and the look of the garment would be different.
The yardage is important here. Don't be tempted to buy 4 50g balls because the pattern asks for 4 balls. You have to compare the yardage/meterage.
Here is the maths, each ball has 115, so it's a simple sum. 4 x 115m = 460m. 460m of a similar yarn is the amount you need.
All the information is one the ball band, so look at the ball band to work out how much you need. If the yarn you decide on has 125m you will still need 4. To work this out, reverse the sum, 460/125=3.68.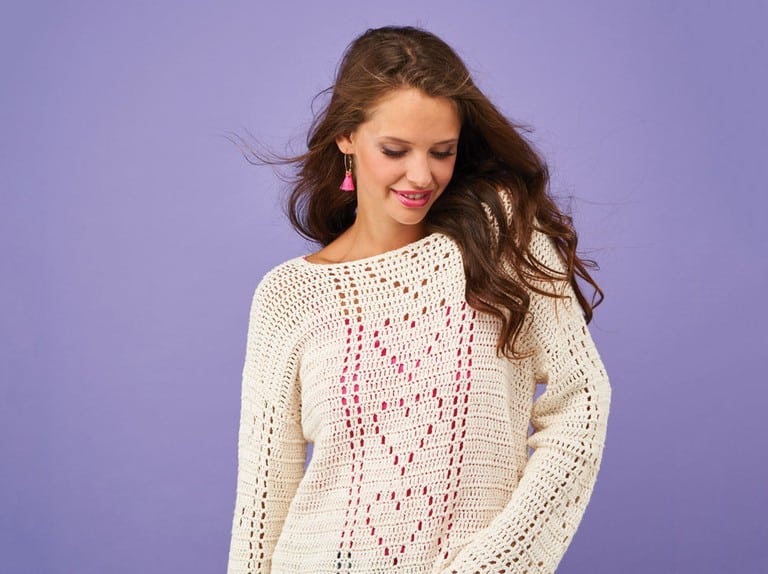 Abbreviations
This section details all the stitches used in the crochet pattern and gives the appropriate abbreviation. In this pattern the abbreviations are in UK terms. If you use US terms, then you can convert them using this handy crochet stitch conversion chart.
The next section is the one you really need to understand.
Tension
I am not sure why, but this section is liable to give some people a sense of dread. It is also the section that is most ignored. I cannot say it loud enough TENSION IS VERY, VERY IMPORTANT, especially for crochet garments. Well I tried.
The reason that the tension is so important is that all the maths, that go into writing this pattern is based on those numbers in the tension guide. Every stitch count, every row length, the pattern repeats, everything.
If you want to be a better garment maker, then take 5mins, that's all it takes to try to understand this fact. Don't worry, I am not asking you to do any maths, I just want you to understand how it works in every pattern.
Let's break it down in stages. In this pattern the stated tension is 17tr x 8 rows to 10cm square over tr patt using 4mm hook. In this pattern every row was worked in trebles. The designer used a 4mm hook and measured how many tr sts were worked across 10cm and how many rows for 10cm. Taking those numbers, the stitch count was calculated.
Starting with the back. The width of the back piece would be half the finished bust measurement, in this pattern the first size of 36//92, would be 18/46cm.
Working in cms, we know that 17tr equals 10cm, so 1.7st would equal 1cm. If we multiply 46 x 1.7 =78.2. Drop the decimal point and look that's the exactly the same as the ch in the first row.
It's that simple. The reason the tension is so important is if you don't match those numbers, for example if you use a 4mm hook and get 16tr to 10cm then, 1.6 = 1cm.
Using that number if we divide 78ch for the first size by 1.6, 78/1.6= 48.75. It's bigger, so your jumper would be bigger, the same is true if you get more sts using a 4mm hook, lets say you get 18. 78/1.8=4cm, your jumper would be smaller.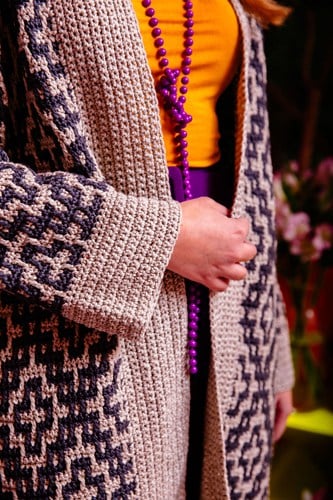 Hook Size
A really important point to make is that the hook size is a guide. There are so many ways crocheters hold a hook or how they tension the yarn. There is no right and wrong way. It doesn't make you a better crocheter if you can match the hook size. It makes you a better crocheter if you can match the tension.
I am a very loose crocheter and this means I may use a larger hook than you. I recently had the privilege of working with five great designers on a blanket CAL. We each did a tension square, using a 4mm hook and DK wool. The results were amazing. They ranged from 12st to 17sts. If you can't match the tension stated, then try different hook sizes until you can.
Don't worry too much about the row gauge, that is easily overcome by working less rows. Do this one thing and you can be sure you are on the way to making a perfect garment.
You can find Hannah's favourite Furls crochet hooks here if you need more for your collection.
Skill Level
This is a suggested skill level, don't let it put you off. This is a standard convention to make it easier for some people to choose a pattern. Be adventurous, try to stretch yourself. If in any doubt, take the time to read the pattern through and familiarise yourself with the stitches. Practise those stitches on some spare yarn until you perfect them.
Get Crocheting!
If you need to read this again and again to understand how it works then go for it. I hope this gives you the confidence to try to make a garment, maybe start out with something with an easy shape and stitch pattern. You can do this. Good Luck.
Thank you so much Fran! It's been a pleasure to have you on the blog. Read more about Fran and her fabulous crochet designs here.
Crochet Garments for you to try
Join HanJan and Share Your Crochet!
I'd love to stay connected with you so please do sign up for my subscriber list if you'd like to.
Looking forward to hearing from you and sending you your free gift!
Thank you so much for being here to share in my free crochet patterns and supporting my blog. It's such an honour to be able to create and share my craft with you.
I'd love to see your finished crochet projects and so please share them with me in one (or all!) of the following ways –