Perfect for relaxed fall days, the Mirabilis puff stitch crochet cardigan pattern is sure to become your favourite autumn staple this year and is a marvel as its name suggests.
Packed with texture and style, the clever stitch placement gives a knitted feel to the fabric that oozes sophistication and comfort, too. In 9 sizes from XS to 5X and with a full customisation section and notes, you'll be able to make it perfect for your taste. Go up a couple of sizes for a slouchy, oversized cardigan fit, make the collar deeper, add some length, whatever you like!
You can get a copy of the Mirabilis Crochet Cardigan Pattern in my stores here: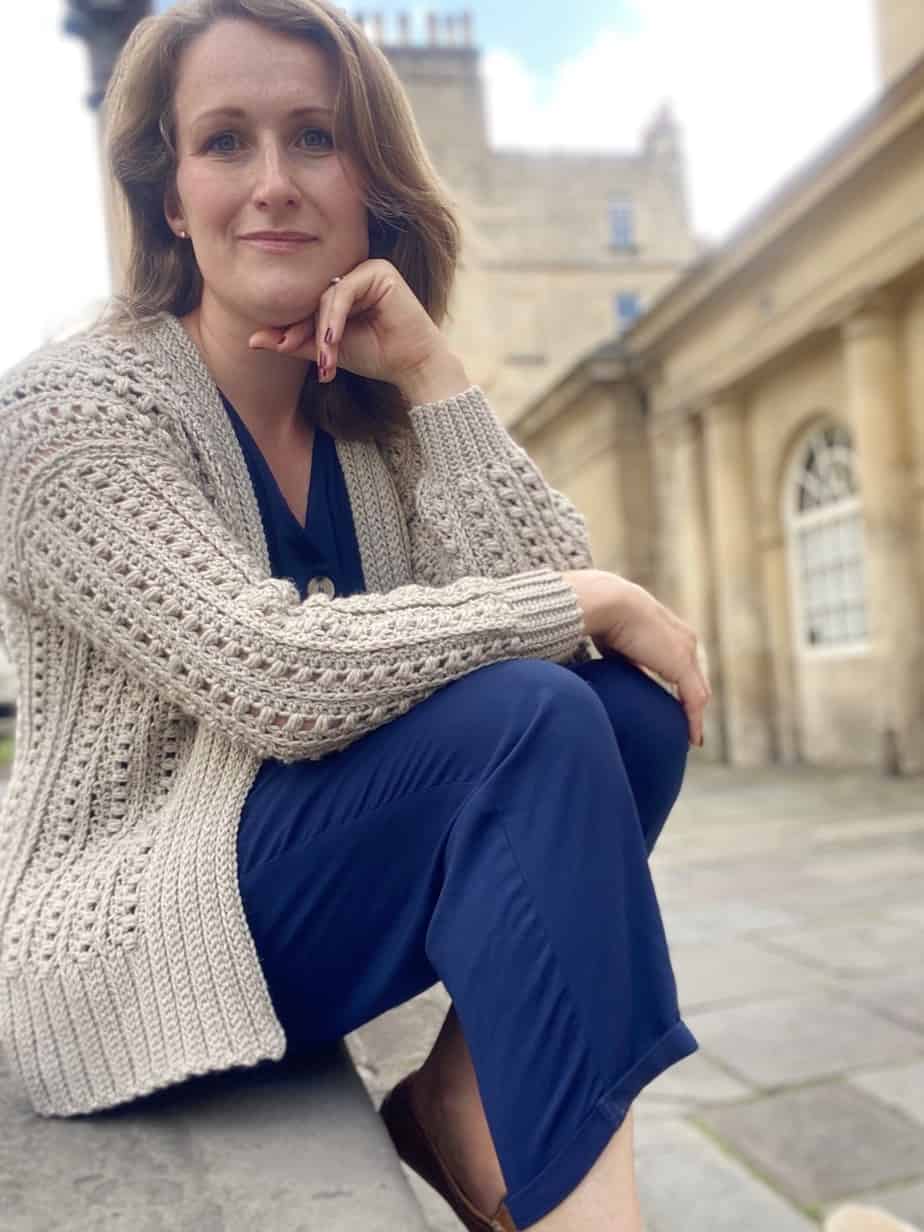 This post may contain affiliate links. Please see my full disclosure and privacy policy for details.
About this slouchy crochet cardigan pattern
I was honoured to design this cardigan for the Fall 2021 issue of Crochet Foundry and am even more delighted to be able to launch it as an individual pattern now!
When I design crochet garments I always have one thing in mind – simplicity.
Not necessarily in terms of stitches, look or style (you know I love a textured crochet pattern!) but in terms of construction and keeping things as simple as they possibly can be. Even if things look a bit tricky to start with I'll keep working at it until I find the easiest way to put it together.
I knew that I wanted to use crochet puff stitches in this cardigan, I knew I wanted a deep and knit look rib and a slouchy, comfy fit. Combining all of those things ended up way better than I thought they might in my head!
The cardigan is a delight to wear and can be styled so many ways – I wore it during the summer over t shirt and jeans and have recently been wearing it in the freezing cold over a roll neck jumper and jeans!
If you don't have time to make this right now then pin it for later using this image –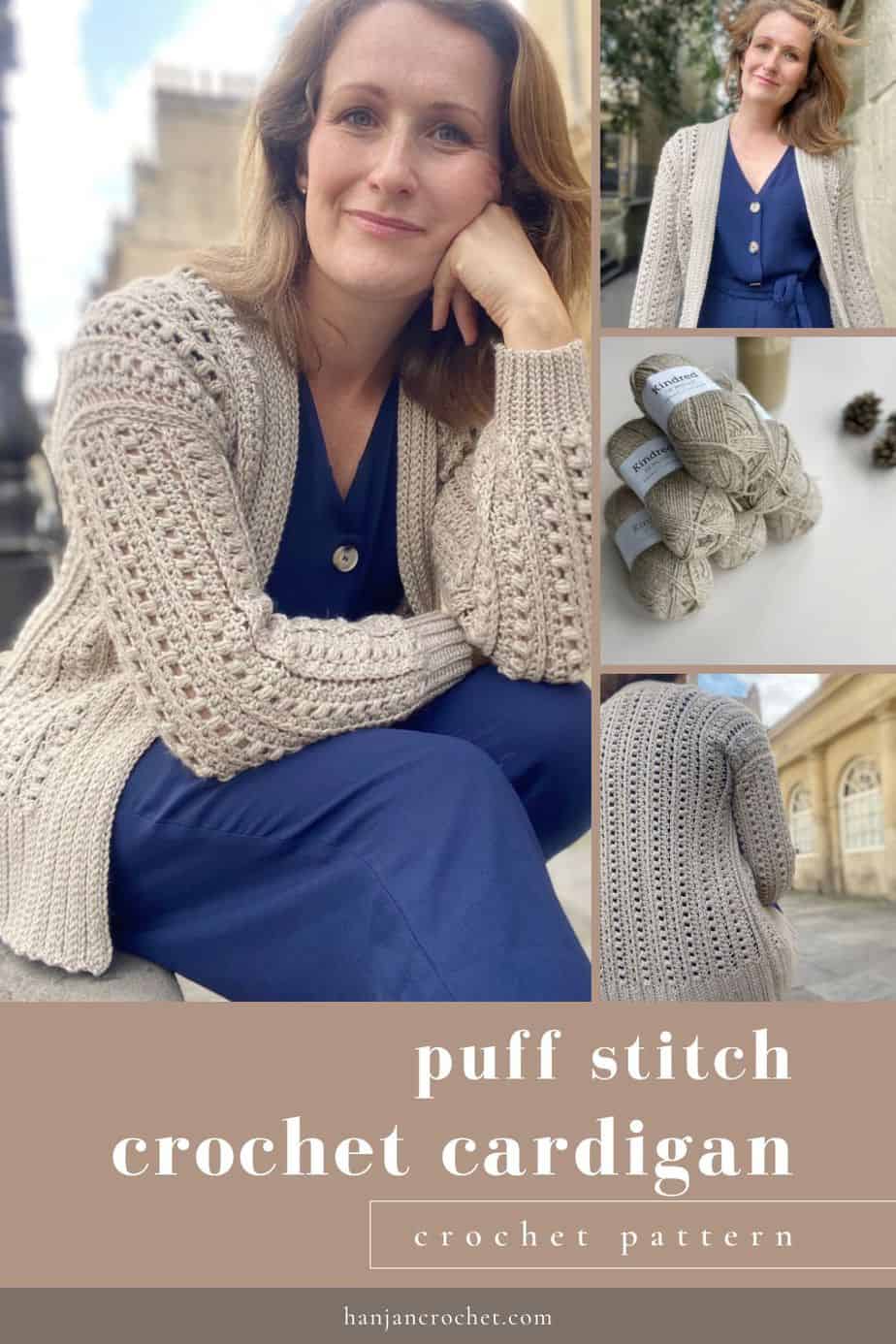 Join HanJan Crochet
I'd absolutely love for you to join me at HanJan Crochet so that we can connect and stay in touch! Sign up to receive a free PDF pattern and exclusive access to all of my patterns, offers and news. I can't wait to hear from you!
Are you new to garment making?
If you're new to crochet garment making then please don't worry! I have a fabulous guide on how to start your perfect crochet wardrobe and also learn garment making with 12 free crochet top patterns for different skill levels.
Other crochet sweater and cardigan patterns to try
I am starting to get quite the collection of crochet garment designs in my library – I love coming up with new constructions and stitch patterns to use for them. Here are some of my favourites you might enjoy too.
Yarn
To make the cardigan I used Kindred DK by WeCrochet which is 68% Baby Alpaca, 32% Peruvian Pima Cotton, 115 yds/ 50 g shown in Spice and Natural.
It was the first time I'd worked with it and I fell in love! The twist of cotton in it gives the most amazing texture to the work and really makes the stitches pop!
You will approximately need the following amounts of yarn for each size:
| | | |
| --- | --- | --- |
| Size | Balls of yarn (Kindred DK) | Approx yds of yarn |
| XS | 10 | 1125yds |
| S | 11 | 1250yds |
| M | 12 | 1380yds |
| L | 13 | 1490yds |
| XL | 14 | 1610yds |
| 2X | 15 | 1725yds |
| 3X | 17 | 1880yds |
| 4X | 18 | 2000yds |
| 5X | 19 | 2125yds |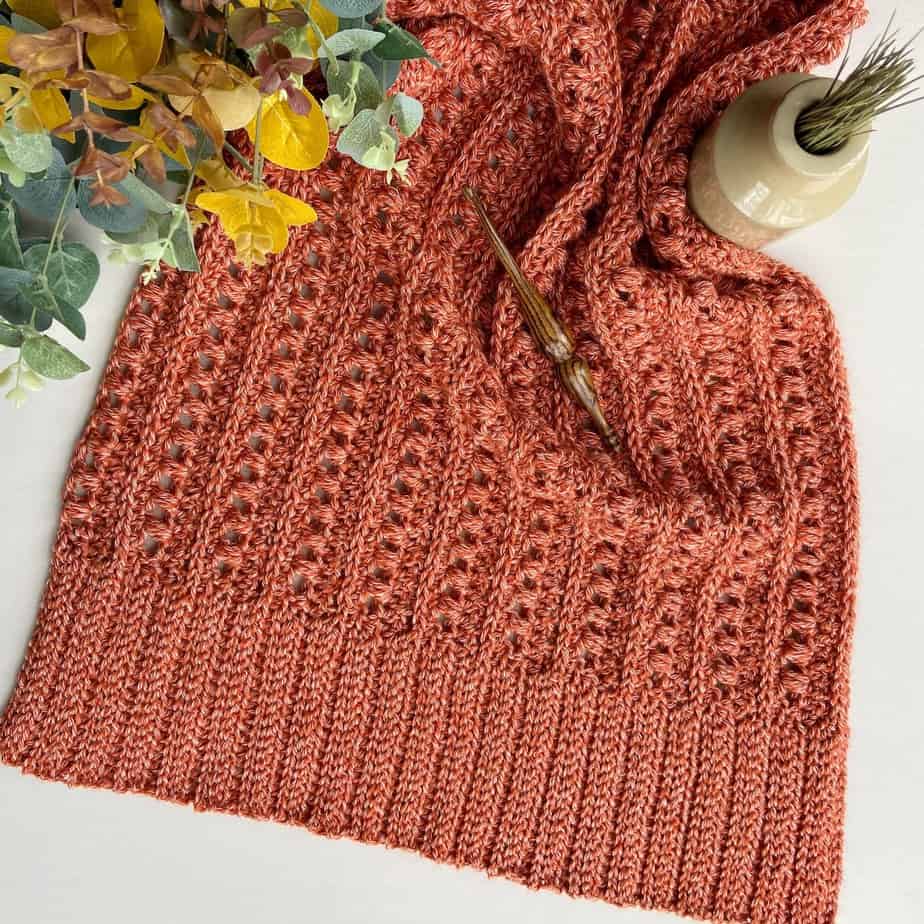 Choosing yarn is so important (and fun!) but I know it's great to have options depending on your budget, here are some great alternatives I've found.
Whatever yarn you choose, just make sure to check your gauge before starting your project as they will all be slightly different.
£££ – I'd go with Capra DK which is 85% Fine Merino Wool, 15% Cashmere, 123 yards/112m, 50g for a really luxurious garment.
££ – Another option is City Tweed DK 55% Merino wool, 25% Superfine alpaca, 20% Donegal tweed, 123 yards/50g, a great wool that has great texture.
£ – lovely option is Swish DK 100% fine super wash Merino wool, 123yds/50g.
Tension and Sizing
The crochet cardigan pattern comes in sizes XS (S, M, L, XL) (2X, 3X, 4X, 5X) to fit bust measurements of 76, (86.5, 96.5, 106.5, 117) (127, 137.5, 147, 157.5) cm.
The tension for this cardigan is 9 rows and 12 sts over main set pattern = 10cm by 10cm
Work a gauge swatch as given in the pattern and then block it lightly before measuring to make sure you meet the gauge.
If you have more stitches in your swatch than the tension states, try changing to a bigger hook.
If you have less stitches in your swatch than the tension states, try changing to a smaller hook.
Materials
Along with your yarn, you will need the following:
Glossary and Abbreviations
ch(s) – chain(s)
sp – space
ss – slip stitch
sk – skip
st(s) – stitch(es)
RS – right side
WS – wrong side
rep – repeat
blo – back loop only
flo – front loop only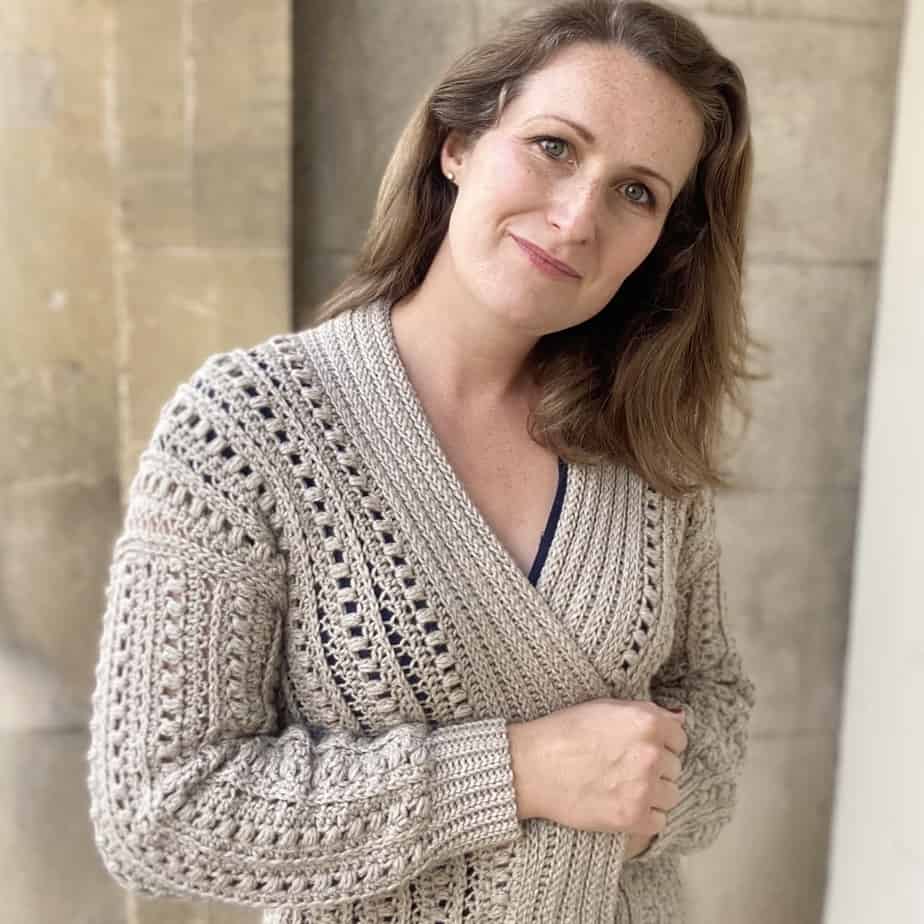 Crochet Stitches
The textured crochet sweater uses the following crochet stitches:
| | |
| --- | --- |
| Standard UK Crochet Term | Standard US Crochet Term |
| dc – double crochet | sc – single crochet |
| htr – half treble | hdc – half double crochet |
Crochet Puff Stitches
3rd loop –
Work only into the extra (3rd) loop created on the hdc of the previous row. This will always be the very first loop facing you.
UK 3htr Puff stitch (3htr-puff)/ US 3hdc Puff stitch (3hdc-puff) –
(Yarn over, insert hook in st indicated, yarn over and pull up loop) 3 times, inserting the hook in the same st each time, yarn over and draw through all loops on hook.
If you're a lover of puff stitches then you might also light to make a Mirabilis Beanie Hat to match your cardigan (or it might be a great warm up piece before you start!).
Mirabilis Cardigan pattern notes
A ch1 at the beginning of a row does not count as a stitch.
Turn your work after each row.
For sections where the pattern applies to all sizes it is written as follows: XS (S, M, L, XL) (2XL, 3XL, 4XL, 5XL).
There are times where sections only apply to certain sizes. These are set in bold before that section begins.
It may be useful to work though the pattern before beginning and select/highlight your size to make it easier to read.
I also wanted to show you this beautiful picture of my Mum wearing the sample I made for the magazine issue – doesn't she look amazing?!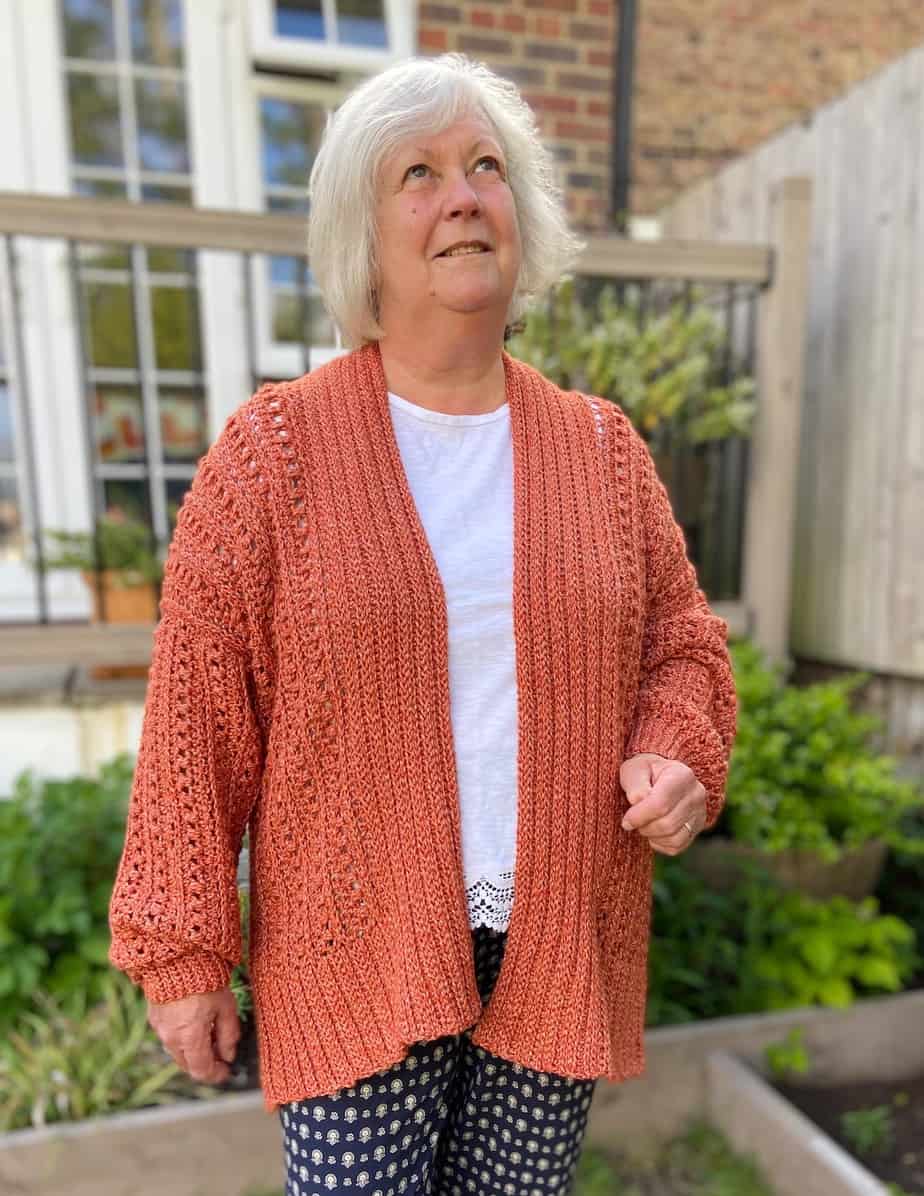 Pattern Options
There are a few ways you can access and enjoy this crochet pattern:
Option 1
Purchase the individual PDF pattern:


Option 2
Purchase it with other patterns: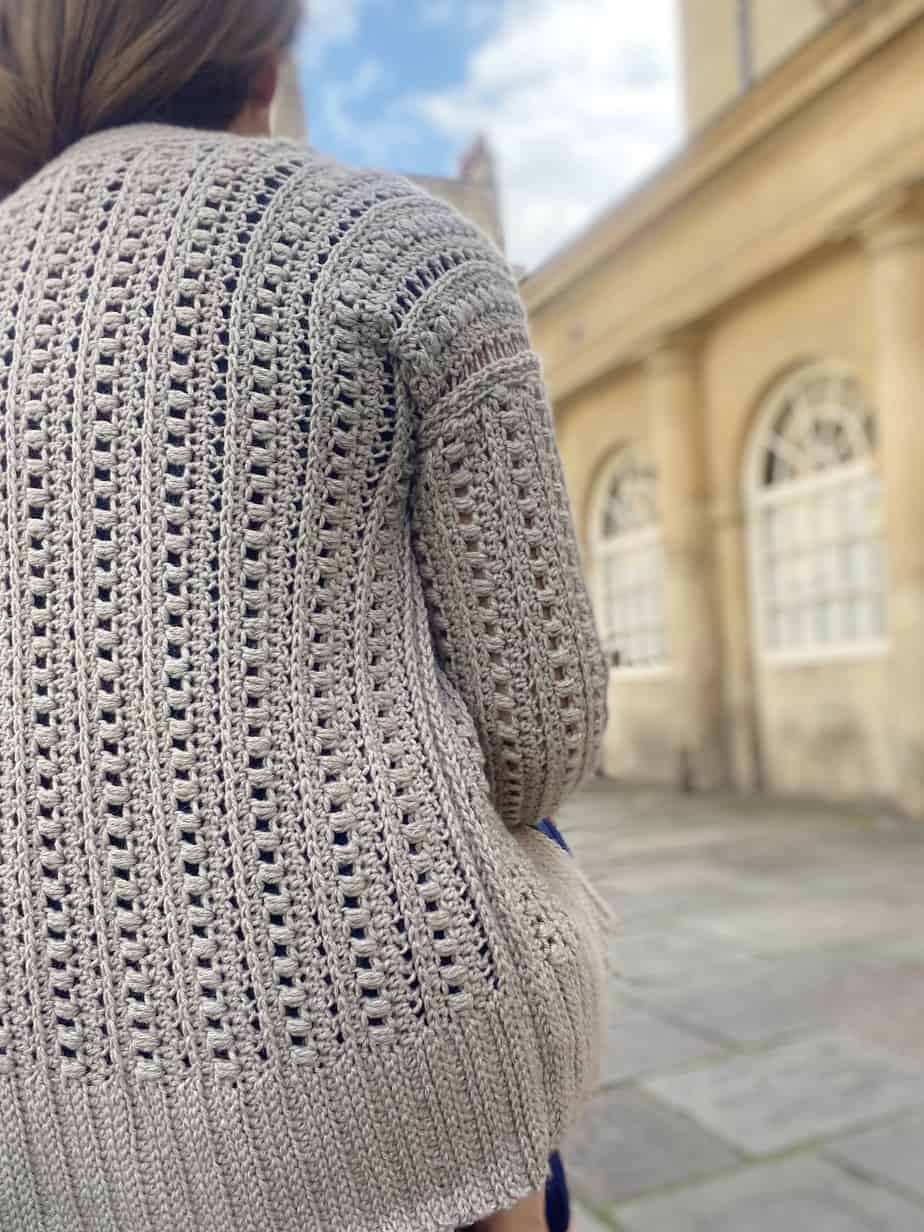 Join HanJan and Share Your Crochet!
I'd love to stay connected with you so please do sign up for my subscriber list if you'd like to. Looking forward to hearing from you and sending you your free gift!
Thank you so much for being here to share in HanJan Crochet with me. I'd love you to browse and enjoy my free crochet patterns. It's such an honour to be able to create and share my craft with you.
I'd love to see your finished crochet projects and so please share them with me in one (or all!) of the following ways –