This Ruffle Sweater easy crochet sweater pattern is everything you want it to be and more. Modern, wearable, effortless and adaptable. Make the simple beginners version using just long crochet stitches and slip stitches or go for it and add the ruffle to the front and back to make a real statement piece for your crochet wardrobe.
A beautifully fitted sweater with delicate touches of detail at the neck and hem that is sure to be admired wherever you wear it.
You can get a copy of the Ruffle Crochet Sweater Pattern in my stores here:
Or get it along with 6 other stunning patterns in the first issue of Studio Crochet – click on the image below to find out all about it!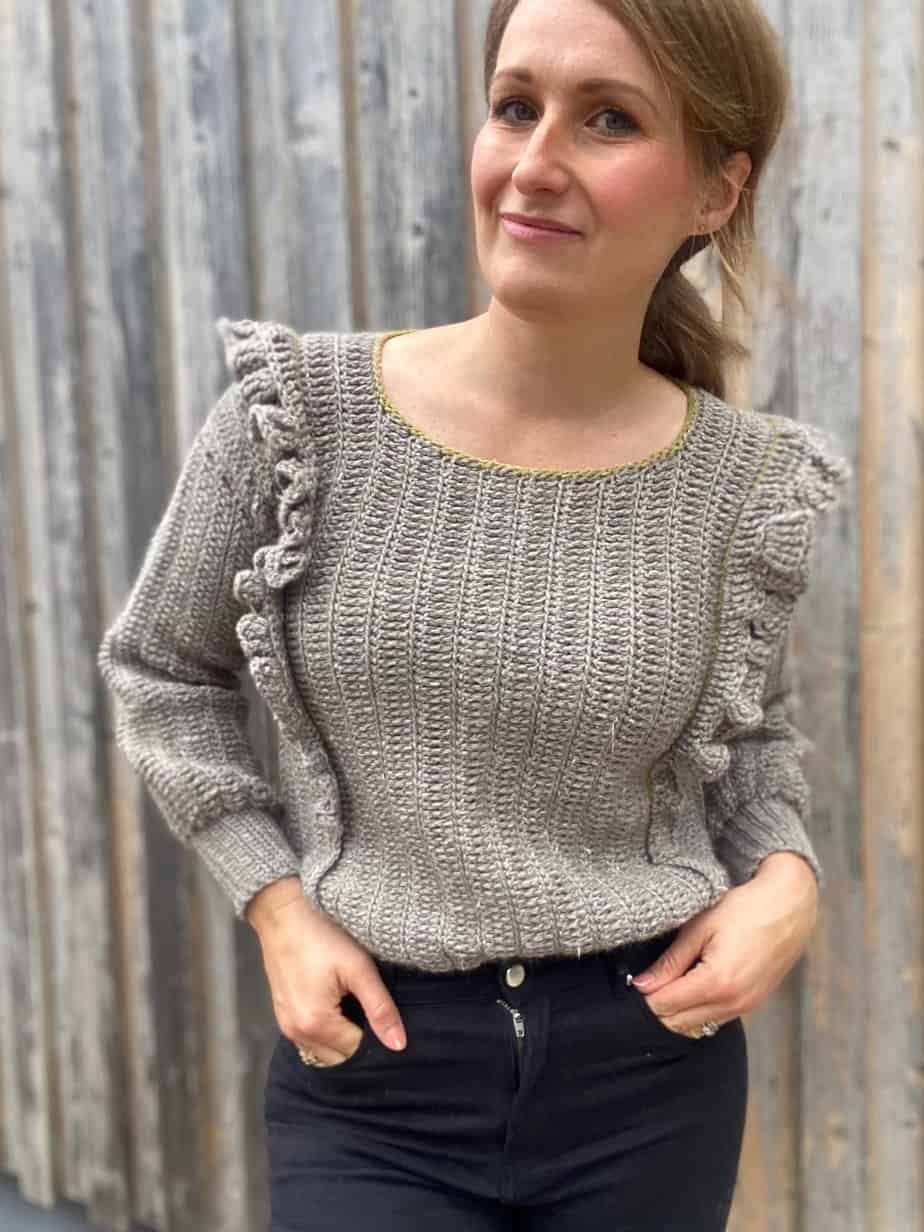 This post may contain affiliate links. Please see my full disclosure and privacy policy for details.
About the Easy Crochet Sweater Pattern
I love nothing more than using simple crochet stitches, clean lines and easy construction when it comes to garments (and anything else I design come to think of it!) and so I'm delighted to present the Ruffle Sweater!
I designed this sweater a few years ago for Simply Crochet Magazine and then completely forgot about it when I packed it away because it was too small for me. This summer I lost some weight and realised I might get back into some of my older clothes and so went hunting in the loft – this was the first thing I found!
I was so delighted and new instantly that I wanted to release the pattern. Better still, it was while I was working on the first issue of Studio Crochet and so also knew that it would fit the 'luxury' theme for that perfectly.
As far as the design goes, it's a really simple one with no shaping to worry about and the front and back of the body is made in one piece with the sleeves added after.
The best bit for me is that the ruffle is optional. I know that not everyone will fancy adding it so if it's not your cup of tea then just leave it off! Above all else I wanted it to have the feel of a modern crochet pattern and so hopefully I've achieved that!
For the stitch texture I went for a simple 2 row repeat of long crochet stitches and slip stitches that you might recognise if you've met the Sydney Cardigan.
If you don't have time to make this right now then pin it for later using this image –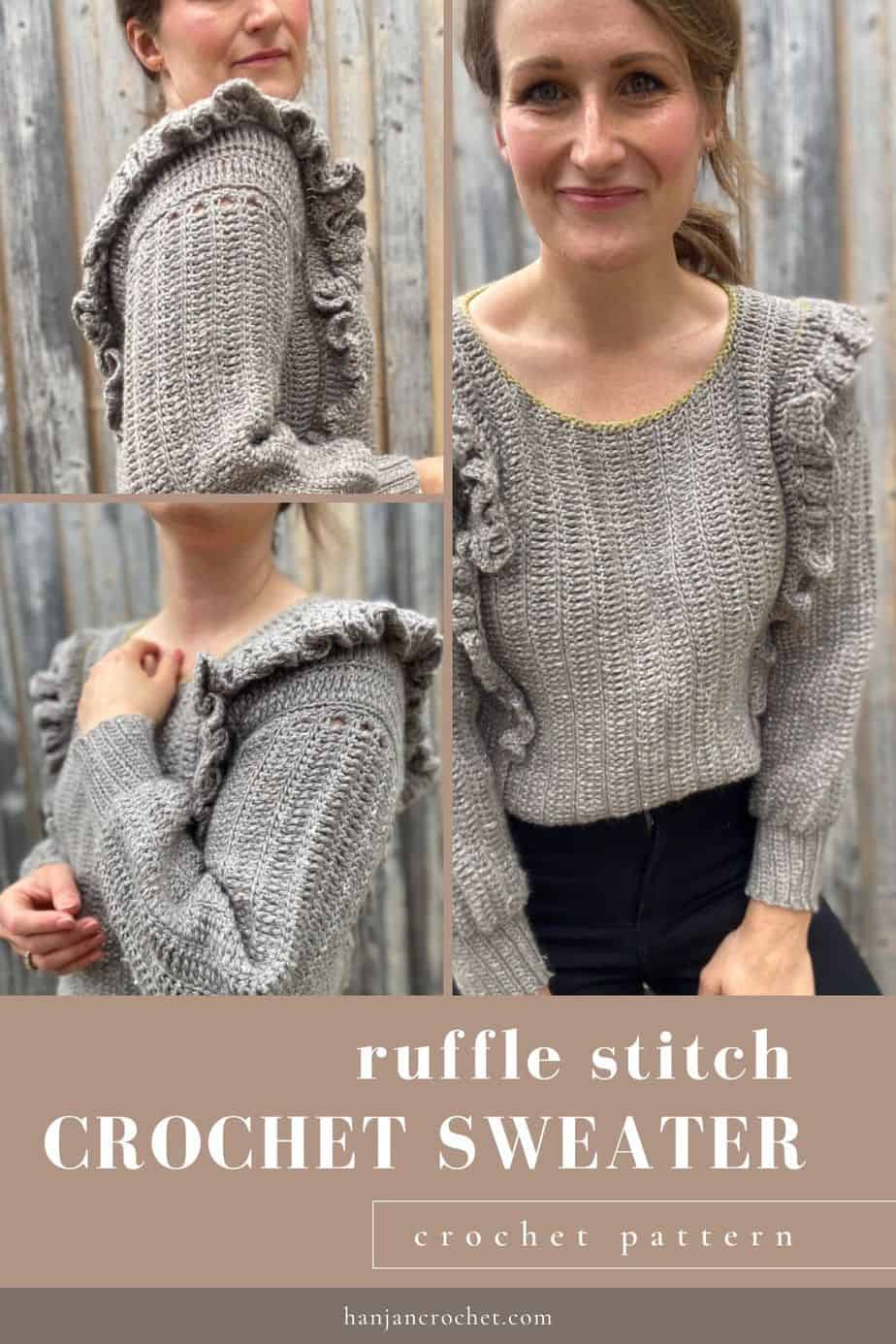 Join HanJan Crochet
I'd absolutely love for you to join me at HanJan Crochet so that we can connect and stay in touch! Sign up to receive a free PDF pattern and exclusive access to all of my patterns, offers and news. I can't wait to hear from you!
Are you new to garment making?
If you're new to crochet garment making then please don't worry! I have a fabulous guide on how to start your perfect crochet wardrobe and also learn garment making with 12 free crochet top patterns for different skill levels.
Other Easy Crochet Sweater and Cardigan Patterns You Might Enjoy
I am starting to get quite the collection of crochet garment designs in my library – I love coming up with new constructions and stitch patterns to use for them. Here are some of my favourites you might enjoy too.
Yarn
To make the Ruffle Sweater I used Rowan Hemp Tweed (103yds/95m per 50g skein; 75% wool, 25% hemp) but it's unfortunately not widely available anymore.
A great alternative is WeCrochet Wool of the Andes Tweed (110yds/100m per 50g skein; Weight: #4/Worsted weight; 80% Peruvian Highland wool, 20% Donegal tweed). I would suggest A: Flagstone Heather, B: Dill Heather as the closest colour matches.
You will approximately need the following amounts of yarn for each size:
| | | | |
| --- | --- | --- | --- |
| Size | Balls of yarn (Rowan Hemp Tweed) | Approx metres of yarn | Approx yards of yarn |
| S | 12 | 1200m | 1300yds |
| M | 13 | 1300m | 1430yds |
| L | 15 | 1500m | 1650yds |
| XL | 16 | 1600m | 1760yds |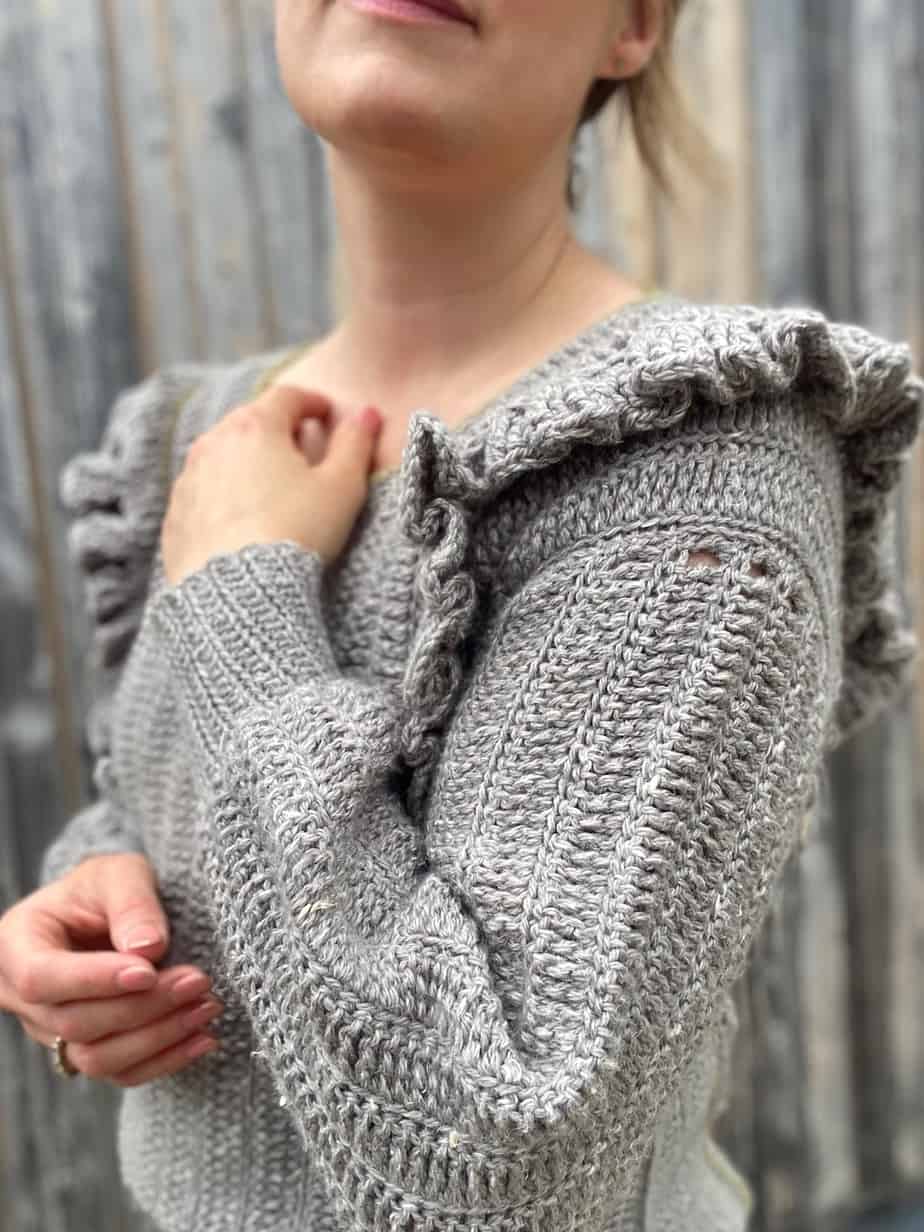 Tension and Sizing
The easy crochet sweater pattern comes in sizes S (M, L, XL)
To fit bust
S – 32 – 34″ / 81 – 86cm
M – 36 – 38″ / 91 – 97cm
L – 40 – 42″ / 102 – 107cm
XL – 44 – 46″ / 112 – 117cm
As boring as they are to make, gauge swatches will be the difference between an ill-fitting garment and a stunning one that makes you look and feel amazing!
17 sts x 8 rows = 4″ x 4″ / 10 cm x 10 cm measured over main set pattern (Rows 2 and 3).
Work a gauge swatch as given in the pattern and then block it lightly before measuring to make sure you meet the gauge.
If you have more stitches in your swatch than the tension states, try changing to a bigger hook.
If you have less stitches in your swatch than the tension states, try changing to a smaller hook.
Materials
Along with your yarn, you will need the following:
Glossary and Abbreviations used in the pattern
ch(s) – chain(s)
sp – space
ss – slip stitch
sk – skip
st(s) – stitch(es)
RS – right side
WS – wrong side
rep – repeat
blo – back loop only
flo – front loop only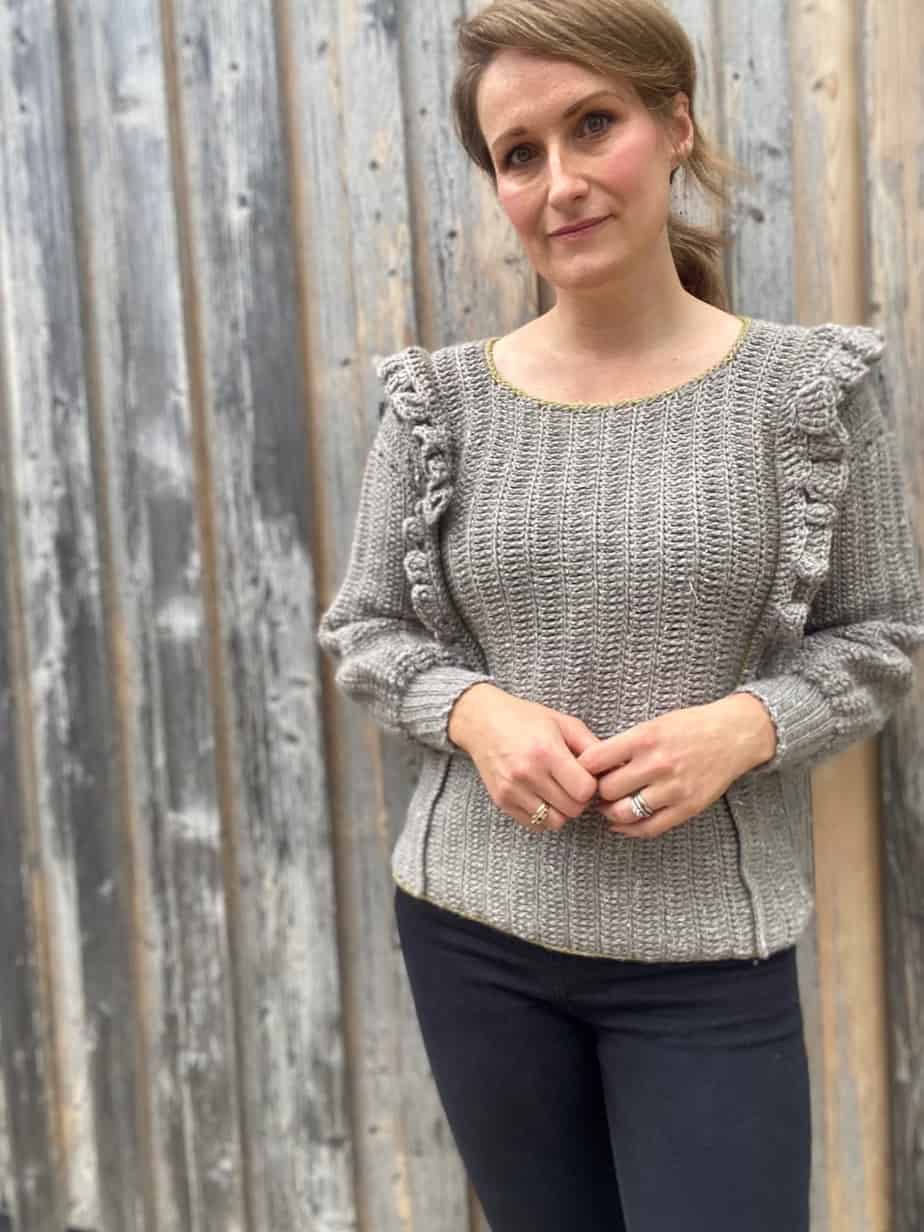 Crochet Stitches
The textured crochet sweater uses the following crochet stitches:
| | |
| --- | --- |
| Standard UK Crochet Term | Standard US Crochet Term |
| dc – double crochet | sc – single crochet |
| tr – treble | dc – double crochet |
| dtr – double treble crochet | tr – treble crochet |
| ttr – triple treble crochet | dtr – double treble crochet |
Crochet Ruffle Stitch
There are so many ways of creating a crochet ruffle stitch but usually it just involves squishing a lot of stitches into the stitches of the previous row so that it forces the edge to 'ruffle'! It really is that simple!
The ruffle I added to this sweater uses a few rows of increasing the amount of stitches in each stitch and as you can see from the pictures you also increase the height of the stitches too. It's so fun to do but is a real yarn eater!
If you fancy adding a ruffle to your sweater but don't want it quite so 'ruffle-y' then you can always just work extra stitches into every other stitch, or work less rows, or work shorter stitches. So many options! Have a go and let me know what you end up doing.
Special Stitches
There aren't any special stitches as such but if you haven't worked any of the longer stitches then here's how they work –
Treble crochet (tr) – US terms.
Step 1: Yarn over hook 2 times.
Step 2: Insert hook into desired stitch to work into.
Step 3: Yarn over hook and pull through (4 loops on the hook now).
Step 4: Yarn over hook and pull through the first two loops on the hook (3 loops on the hook now).
Step 5: Yarn over hook and pull through the first two loops on the hook (2 loops on the hook now).
Step 6: Yarn over hook and pull through the remaining two loops on the hook to complete the stitch (1 loops on the hook now).
Sweater pattern notes
Ch 1 at the start of a row does not count as a st.
Ch4 at the beginning of a row counts as a tr.
Instructions are given for the smallest size, with larger sizes in brackets ( ).
Stitch counts are given in [ ] at the end of each row. If no stitch count is given, then the count is the same as the previous row.
Sweater Construction Information
This sweater is worked form side to side in rows, so the first piece you will work will form the Front and Back piece running along one side of the neckline and will be folded at the shoulder.
The pattern has a diagram and schematic for the direction of work, and where you need to join the yarn after each section as it might not be a construction you've before ( I made it up so have no idea if anyone uses it too!).
The Sleeves are worked separately and joined.
The ruffles are added at the end once the sweater is constructed.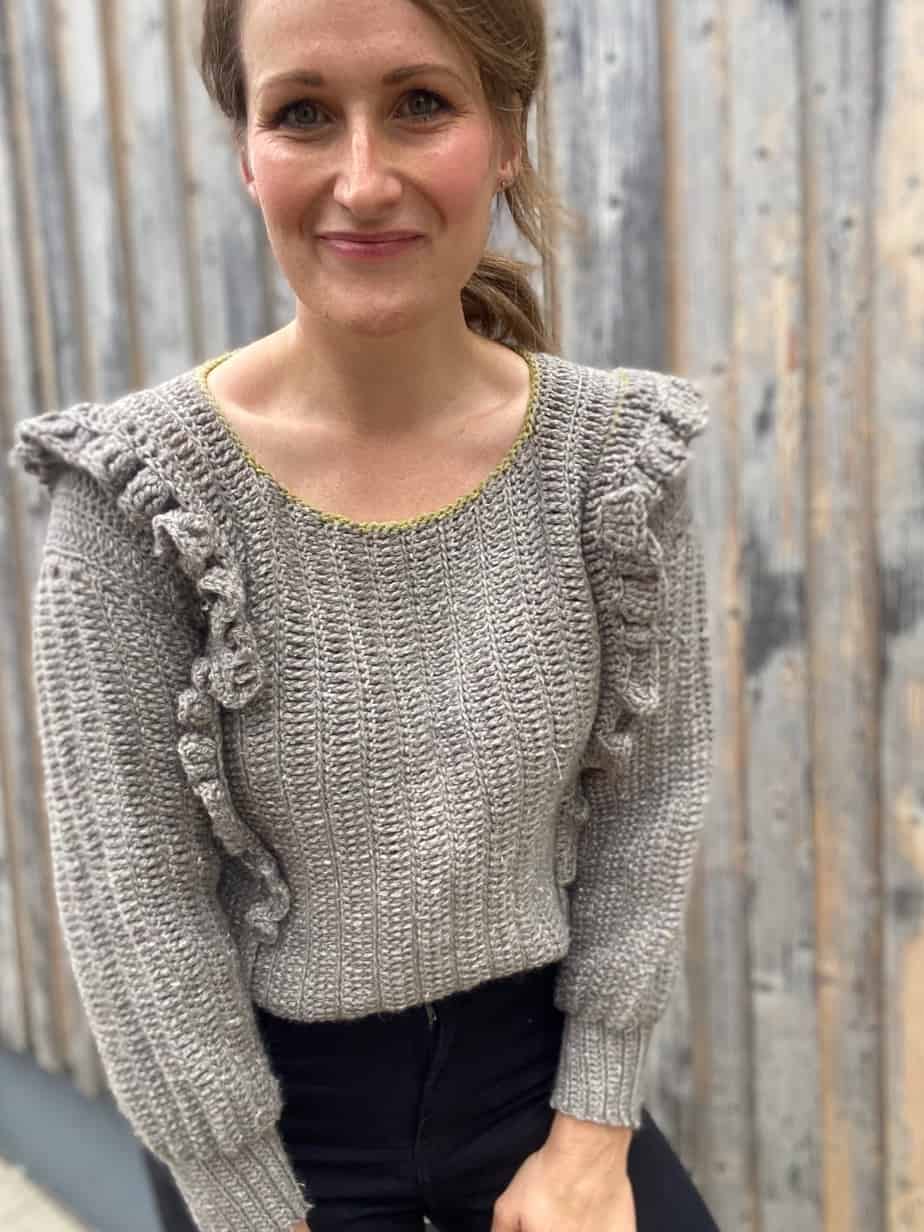 Pattern Options
There are a few ways you can access and enjoy this crochet pattern:
Option 1
Purchase the PDF pattern:


Option 2
Get the pattern in Issue 1 of Studio Crochet along with 6 other beautiful patterns and much more!

I have teamed up with the wonderfully talented RaeLynn Endicott of Ithcin' for some Stitchin' and Sarah Ruane of Ned and Mimi to bring to you 'Luxury' – we are so proud of it and hope you love it!

The magazine has 7 stunning patterns in it and so much more besides. There's an introduction to mosaic crochet, an expert guide to luxury yarn, a diamond stitch tutorial, feather stitch tutorial, meet and greet Studio Crochet and more.

The patterns range from sweaters and ponchos to much smaller makes like my feather stitch mittens and cowl. There's something for everyone and I'd love you to take a look and see.

It launches 3rd January 2022 and we have a special 20% discount for the launch week too!



Join us to celebrate the launch of
Studio Crochet!
Issue 1 of the digital magazine is out now and is all about luxury!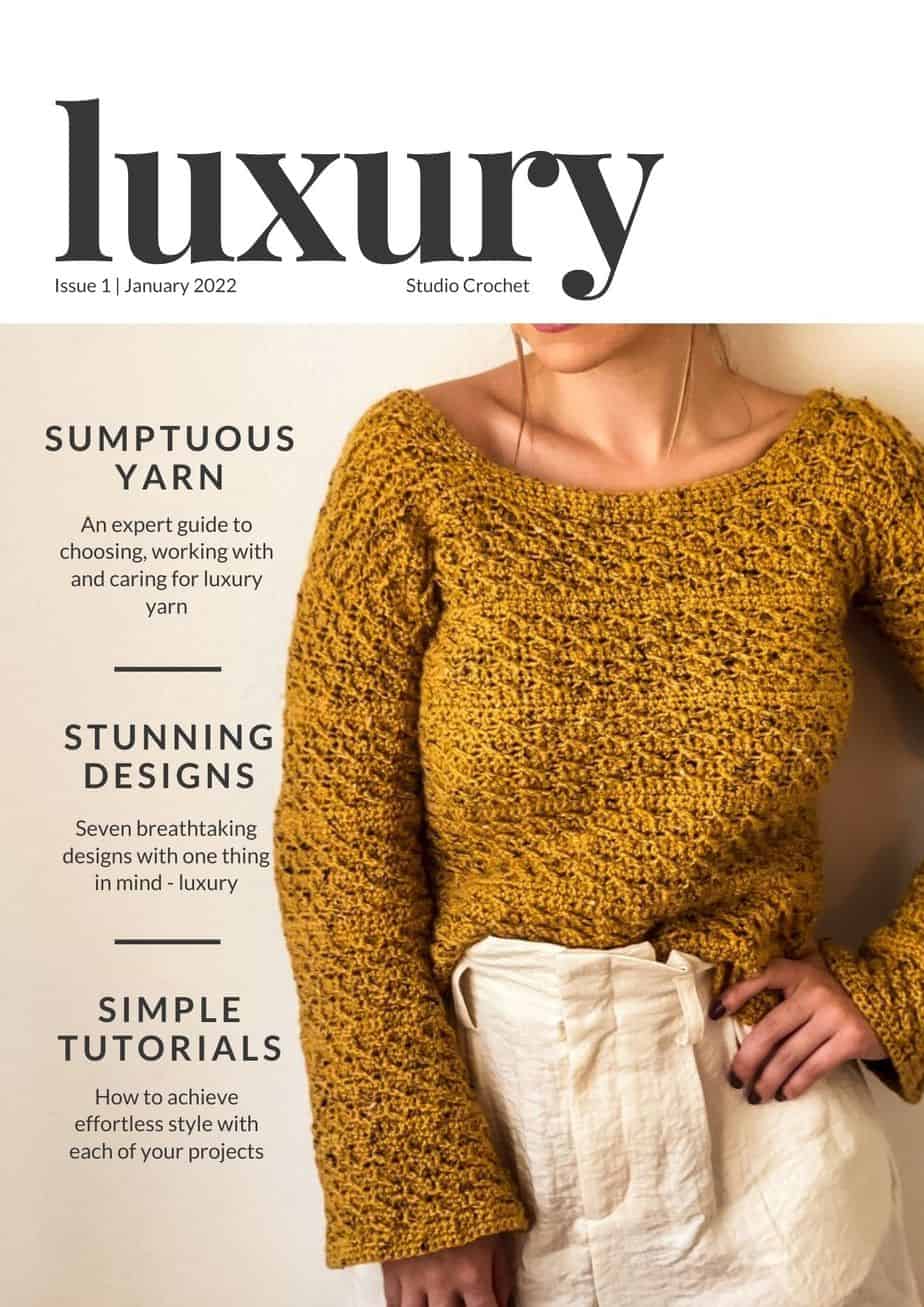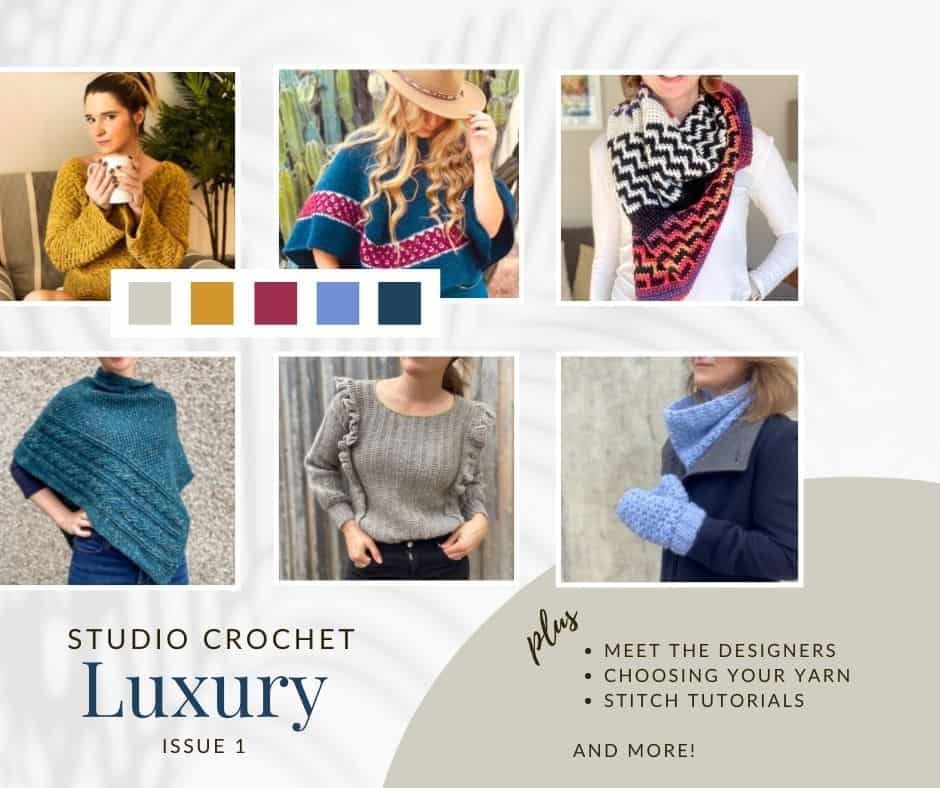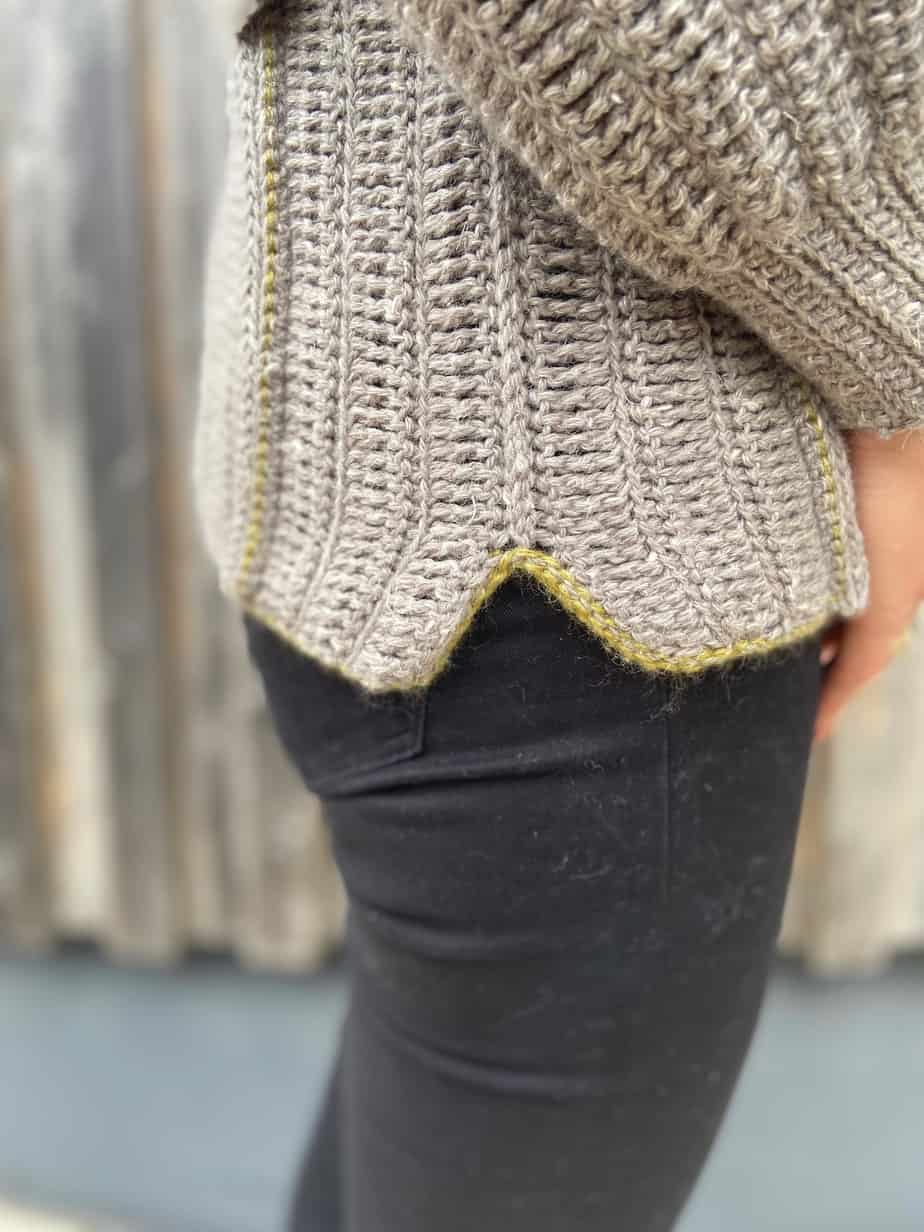 Join HanJan and Share Your Crochet!
I'd love to stay connected with you so please do sign up for my subscriber list if you'd like to. Looking forward to hearing from you and sending you your free gift!
Thank you so much for being here to share in HanJan Crochet with me. I'd love you to browse and enjoy my free crochet patterns. It's such an honour to be able to create and share my craft with you.
I'd love to see your finished crochet projects and so please share them with me in one (or all!) of the following ways –