Simplicity itself, this textured herringbone crochet backpack pattern is modern, easy and stylish. Made from just two matching rectangles, the real magic happens when you attach the straps and clasp to transform it into a stunning and useful accessory!
If you thought crochet backpack patterns were tough, I'm here to tell you they aren't as scary as you might think. If you can crochet a flat rectangle you can make this bag with me!
This bag is chic, it's classy, and it has that effortless sack look to it so you can stuff anything you want in it. Whether that's snacks for the road, books for a quiet day at the park, or a change of clothes before you hit the pool — hey, it's your backpack (or crochet rucksack!).
We'll be using the herringbone stitch to add subtle texture and you can decide whether you want to sew on leather straps or hand-make them with your own design.
Once you get the hang of the pattern, you can even do some fancy colorblock or stripes! But I just loved making it in one solid color because that really added definition to the stitch.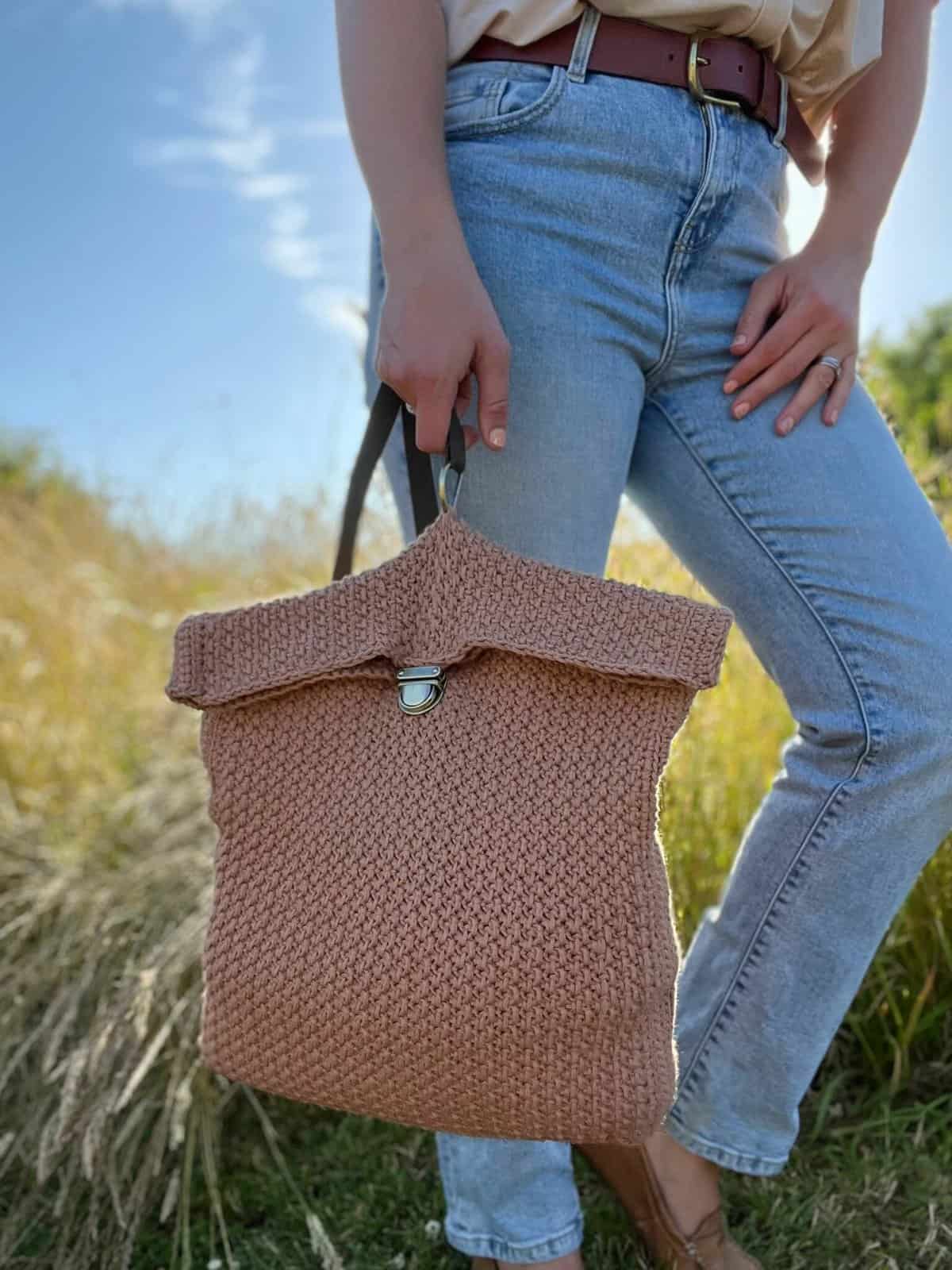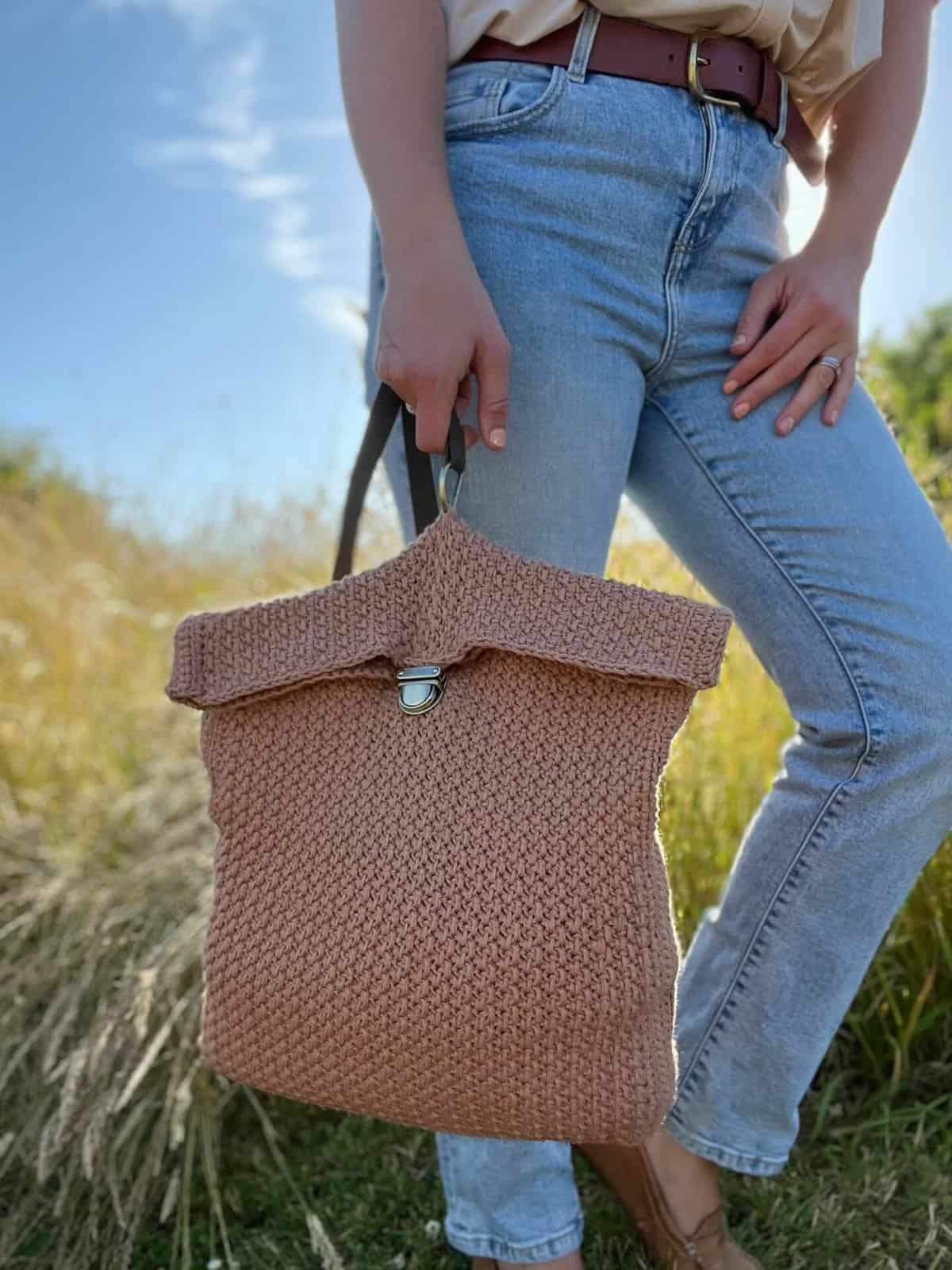 This post may contain affiliate links. Please see my full disclosure and privacy policy for details.
Scroll down and sign in to find the Herringbone Crochet Backpack Pattern, or purchase an ad-free, printable PDF version here:
More about this textured herringbone crochet backpack pattern
I love a good complex crochet project, with all sorts of beautiful stitches and techniques, but sometimes, it's great to find a simple pattern that you can kick back and relax to crochet.
Sure, this pattern requires a little getting-the-hang-of, but it's largely a two-row repeat and requires some seaming at the end and you're done.
Another reason why this crochet backpack pattern is currently on my favorites list is because I can add whatever I want to it! I'm talking about cute little appliqués, some enamel pins, maybe some macramé straps instead of leather ones — that's what's so great about crafting. You can add your bits of personality and character to whatever you're making.
And if you decide to accessorise and customise this backpack, I'd love to see it! You won't have to worry about how to style this one! Just throw it on with any outfit and it will work.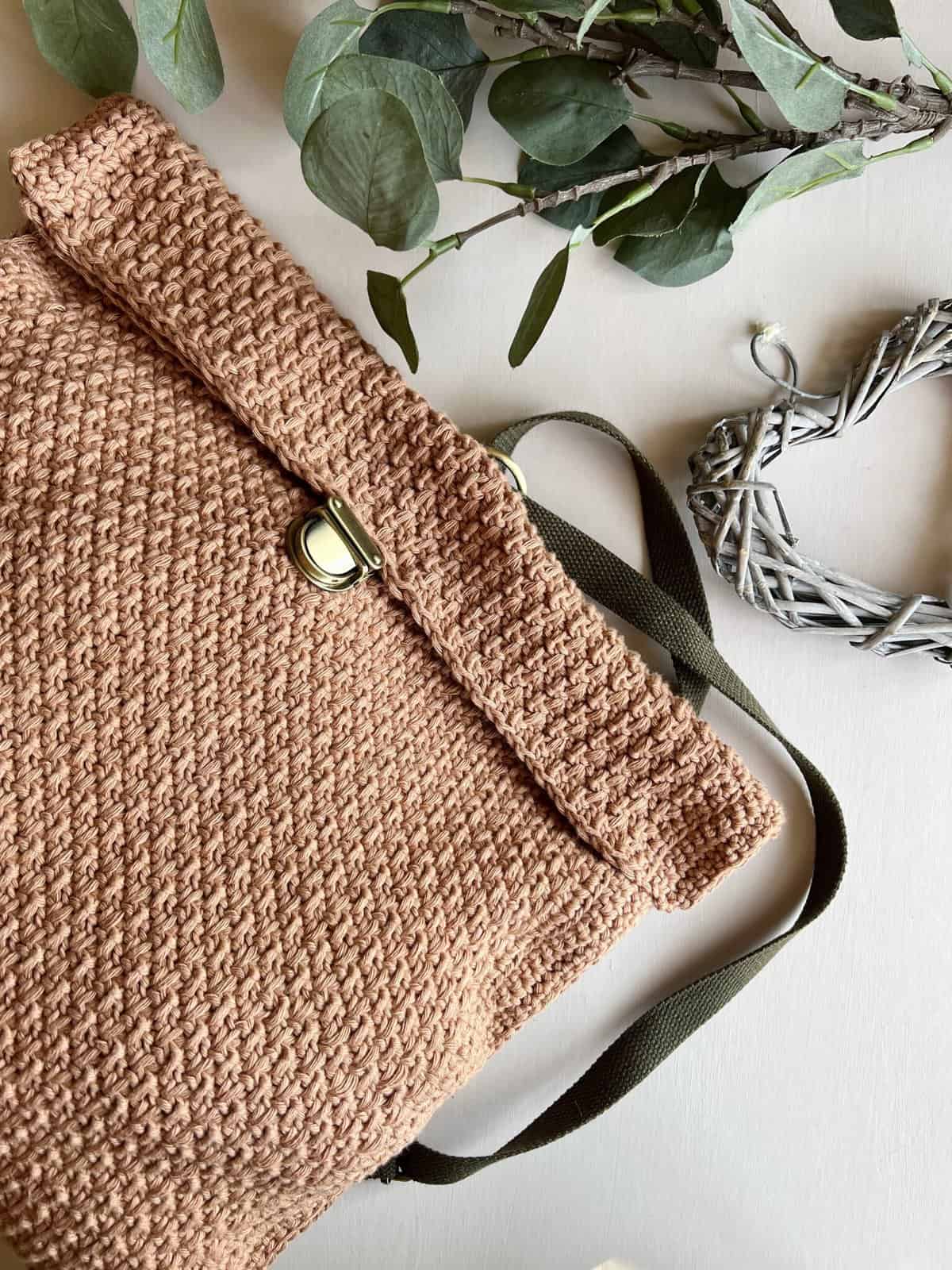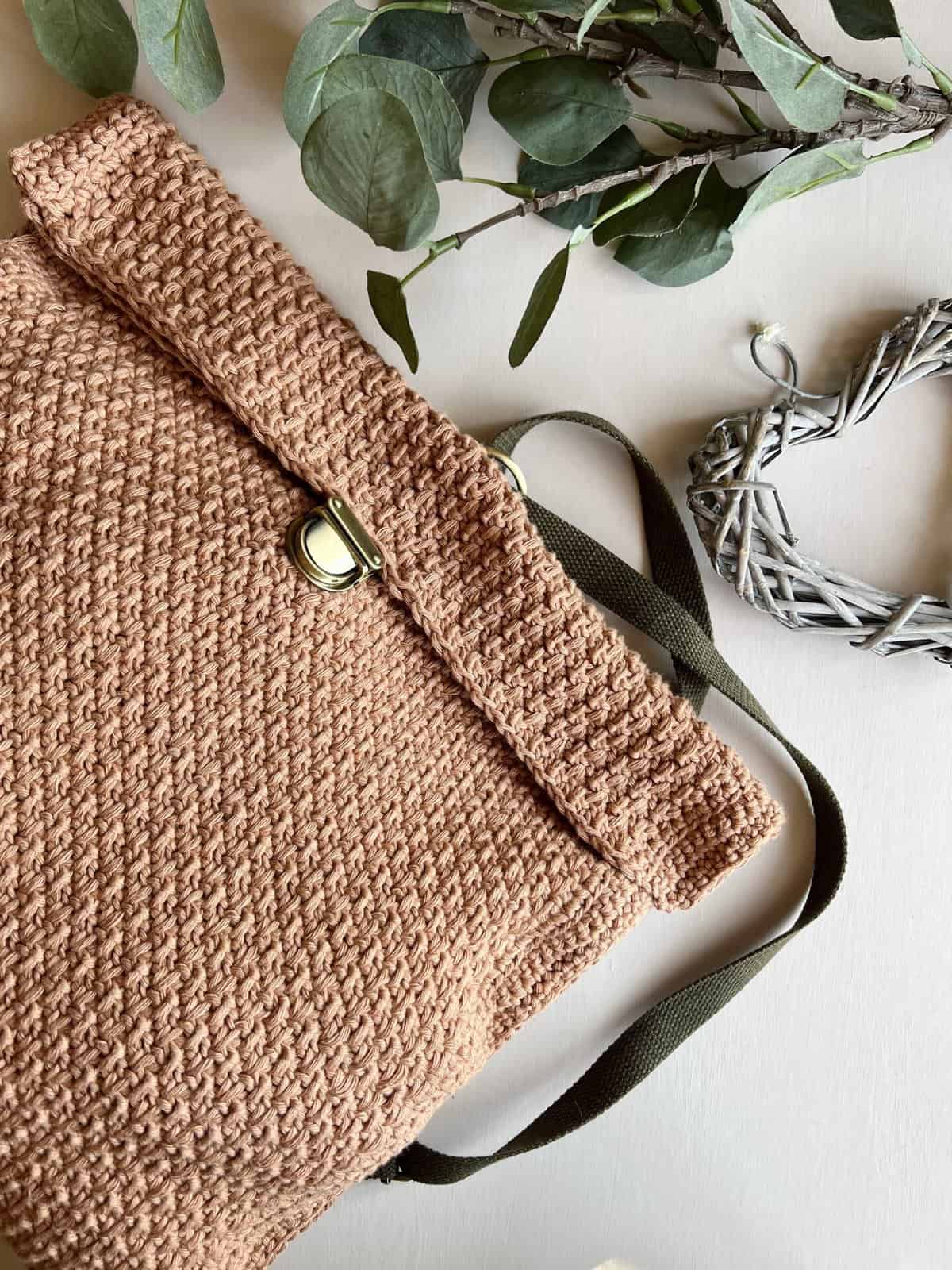 How do you crochet a textured backpack like this?
Two identical front and back panels, a little bit of yarn to seam it all together, and a strap and clasp to add the finishing touches — that's all this simple crochet backpack is made of! All you really need to know, aside from the basics, is the herringbone half double crochet.
There's a quick two-row repeat and the only tricky part is seaming the panels to get that nice backpack shape we want. But with the clear detailed instructions given below, you won't get lost for a moment!
Once you've made the panels, you'll add a few rows for the sides and bottom to give it volume (we want a backpack with good carrying capacity) and then you can stitch it together with a nice flat slip stitch seam (or use the whip stitch).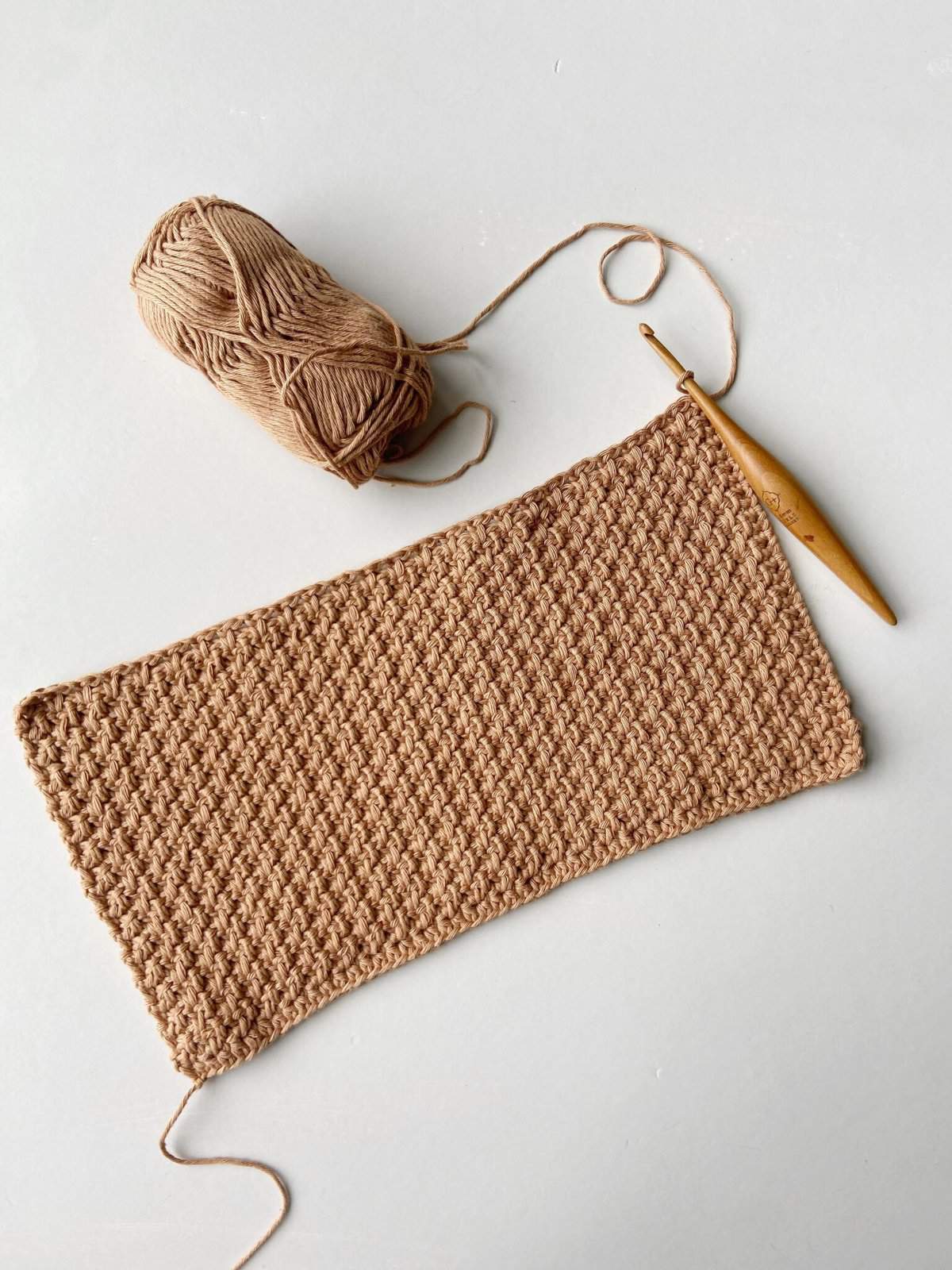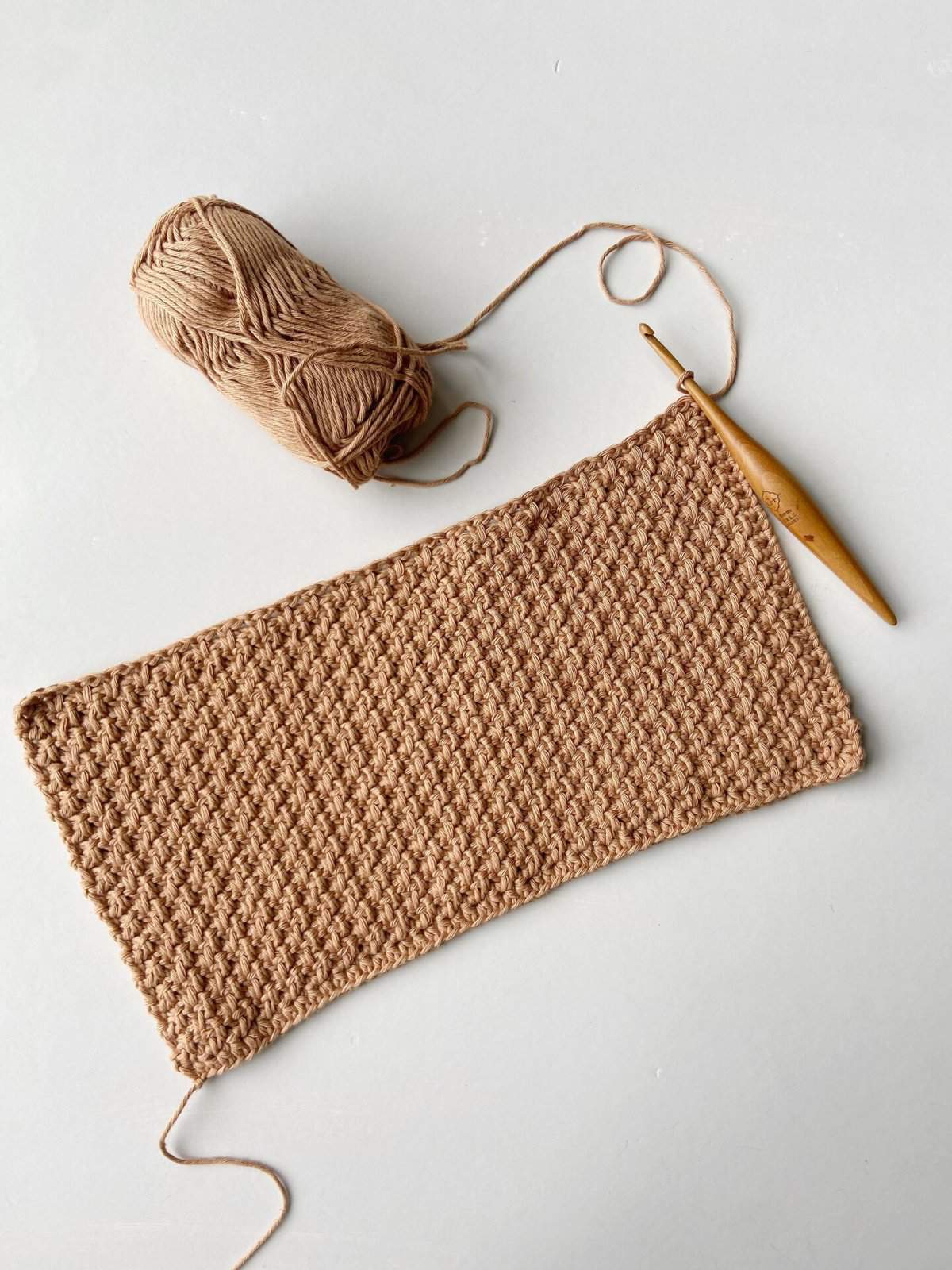 Yarn
To crochet this backpack, you can use any #4/ Aran or Worsted weight yarn.
I would recommend a cotton or sturdy acrylic so that it will wear well and can hold a good few items without stretching or losing its shape.
For my backpack, I used Paintbox Simply Cotton Aran in the color Soft Fudge (610).
You will need approximately 8 balls/400g for the backpack.
The amounts given here are for Paintbox Simply Cotton Aran (85m, 92yds per 50g skein; Weight: #4/Aran; 100% Cotton).
Alternatively, here are some fabulous yarns that would also work really well for this design:
Tension and Sizing
This backpack is made in one universal size and the dimensions are given below:
Width: 13.5″ / 34cm
Length: 13″ / 33cm
Depth: 3″ / 7cm
The gauge for this pattern is 15sts x 19 rows = 4″ x 4″ / 10 cm x 10 cm measured over main set pattern (Hhdc working into 2 rows below).
Materials
Along with your yarn, you will need the following:
4.5mm (G+) crochet hook (or hook required to meet gauge)
3 x D rings
1 x metal clip clasp
1 x bag strap of your choice, approx 120cm/ 47" long with metal clasp at each end
Pattern Options
Get this crochet pattern free in this blog post in US terms – just scroll down to find it in the exclusive members area! You can also purchase an ad-free, printable PDF in US terms with added extras in my pattern stores:
Purchase and Print
Get the ad-free, printable PDF with added extras in my pattern stores: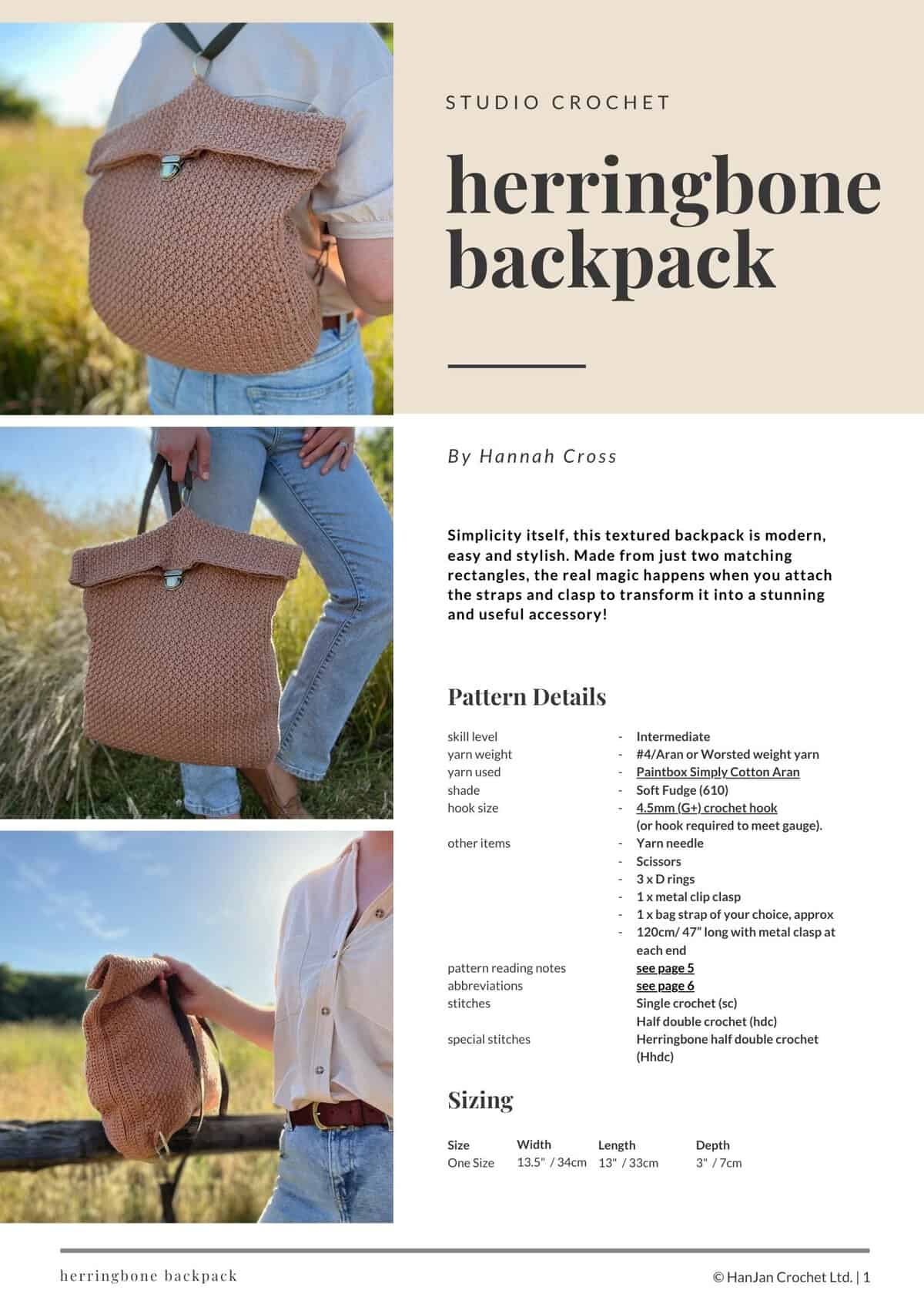 Don't forget to join HanJan Crochet to receive regular discount codes (and more free patterns!) and Pin this free crochet textured backpack pattern to your crochet Pinterest board!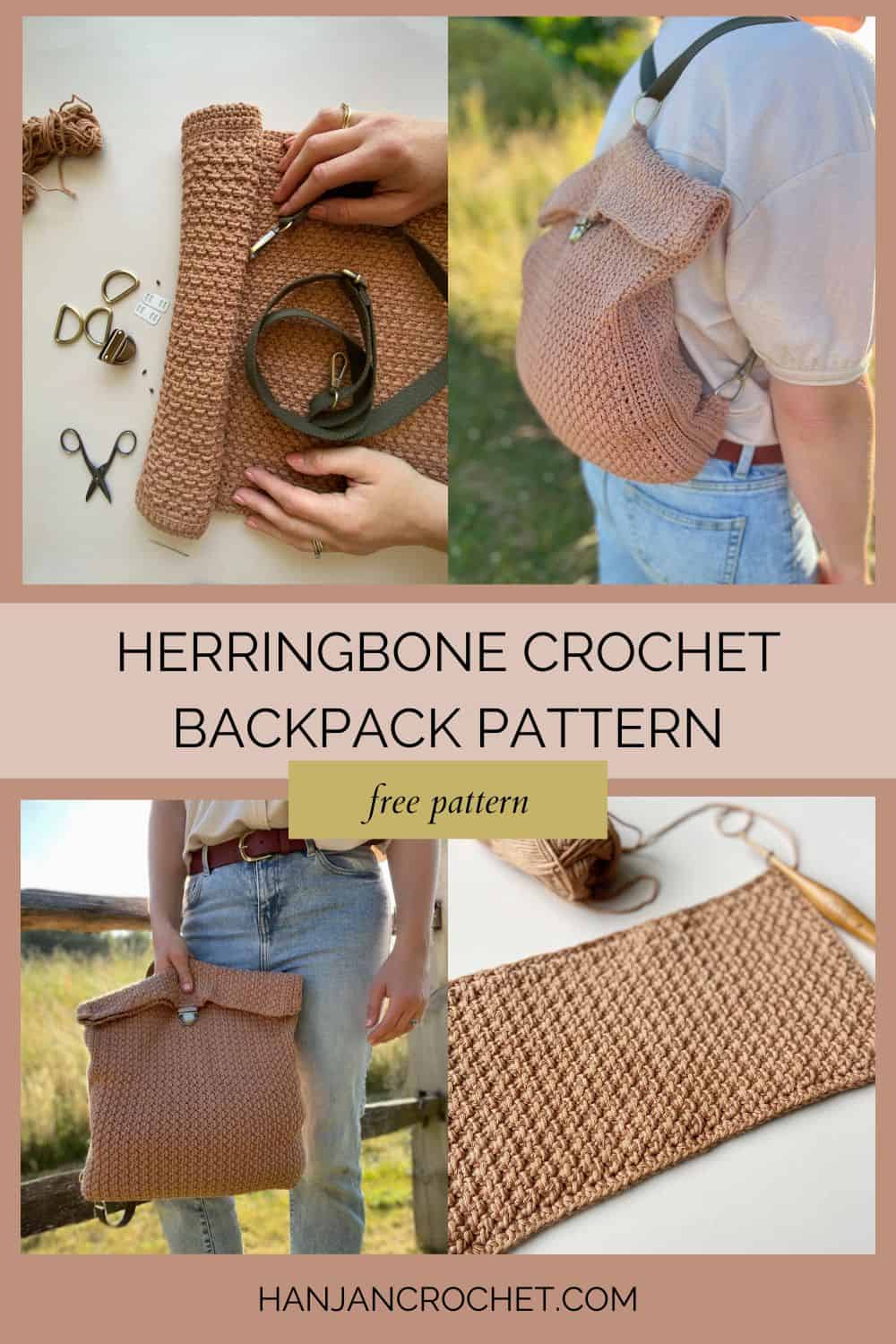 Glossary and Abbreviations
ch(s) – chain(s)
sp – space
ss – slip stitch
st – stitch
RS – right side
WS – wrong side
sk – skip
rep – repeat
yo – yarn over
Crochet Stitches
The stitches used are as follows:
sc – single crochet (UK dc – double crochet)
hdc – half double crochet (UK htr – half treble crochet)
Special Stitches
If you know the half double crochet stitch, it'll be very easy for you to learn the herringbone half double crochet which is a slight variation of this basic stitch.
If you want to make more crochet projects in this gorgeous stitch with its subtle texture and easy disposition, here are some suggestions: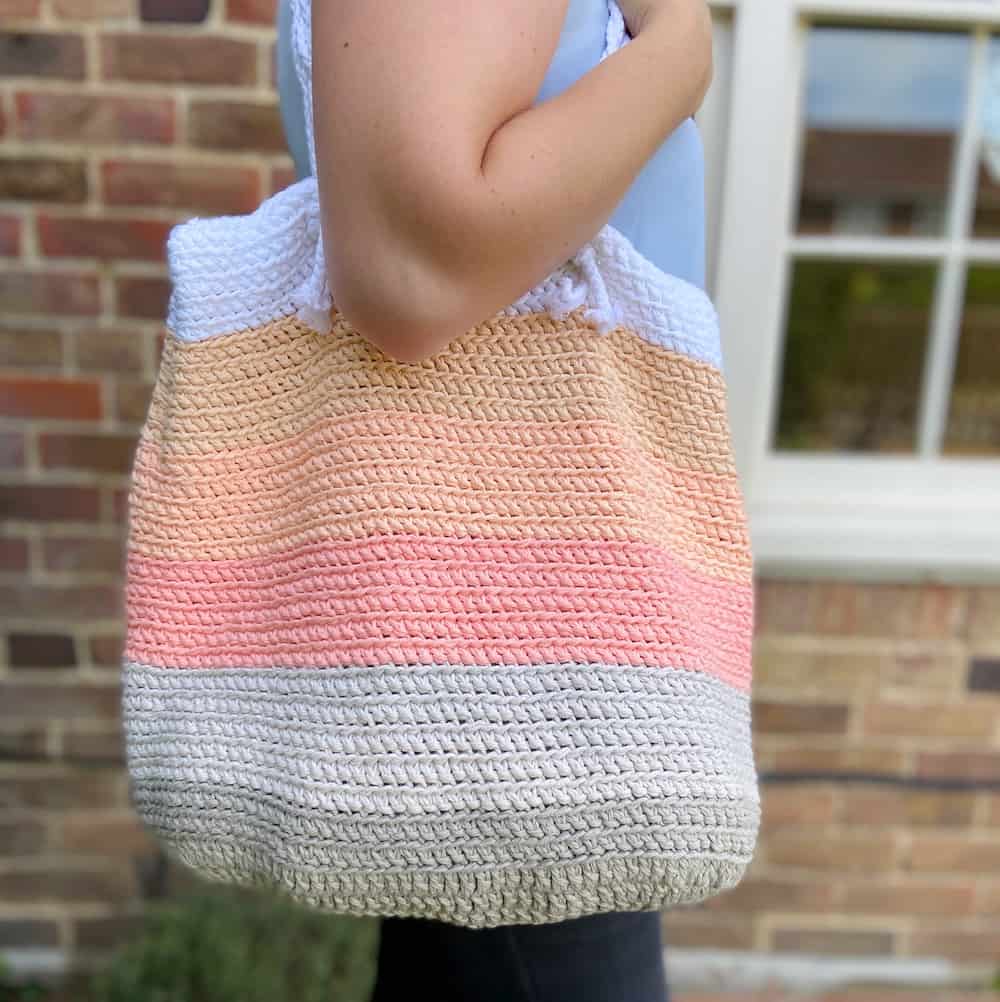 The special stitch used in this backpack is as follows:
Herringbone Half Double Crochet
Yarn over, insert hook into next stitch and pull up a loop (3 loops on hook). Pull first loop straight through the second loop (similar to a slip stitch). Yarn over, pull through two remaining loops on hook.
This stitch is used in the herringbone half double crochet moss stitch which gives amazing texture!
I love it so much that I've used it in lots of other designs like my herringbone moss stitch mittens and my cosy winter hat pattern too. It really is a brilliantly adaptable stitch that works for so many fabrics.
Pattern Notes
Please read through the entire pattern before beginning.
Ch 1 at the start of a row does not count as a st.
Turn the work at the end of every row.
Construction:
The backpack is made from just 2 panels of crochet that are seamed together to form the shape of the bag.
The clasps and strap are then added to complete.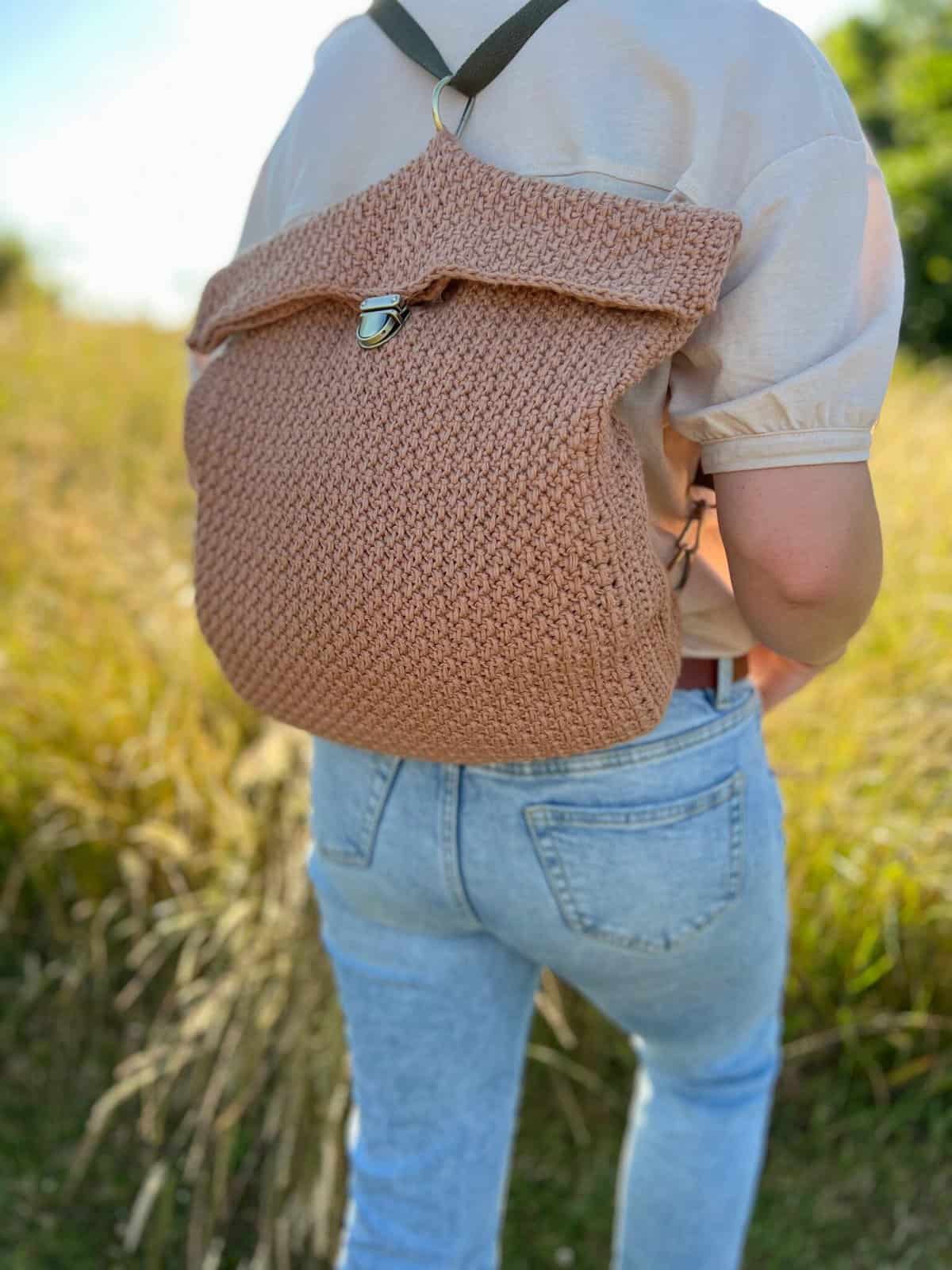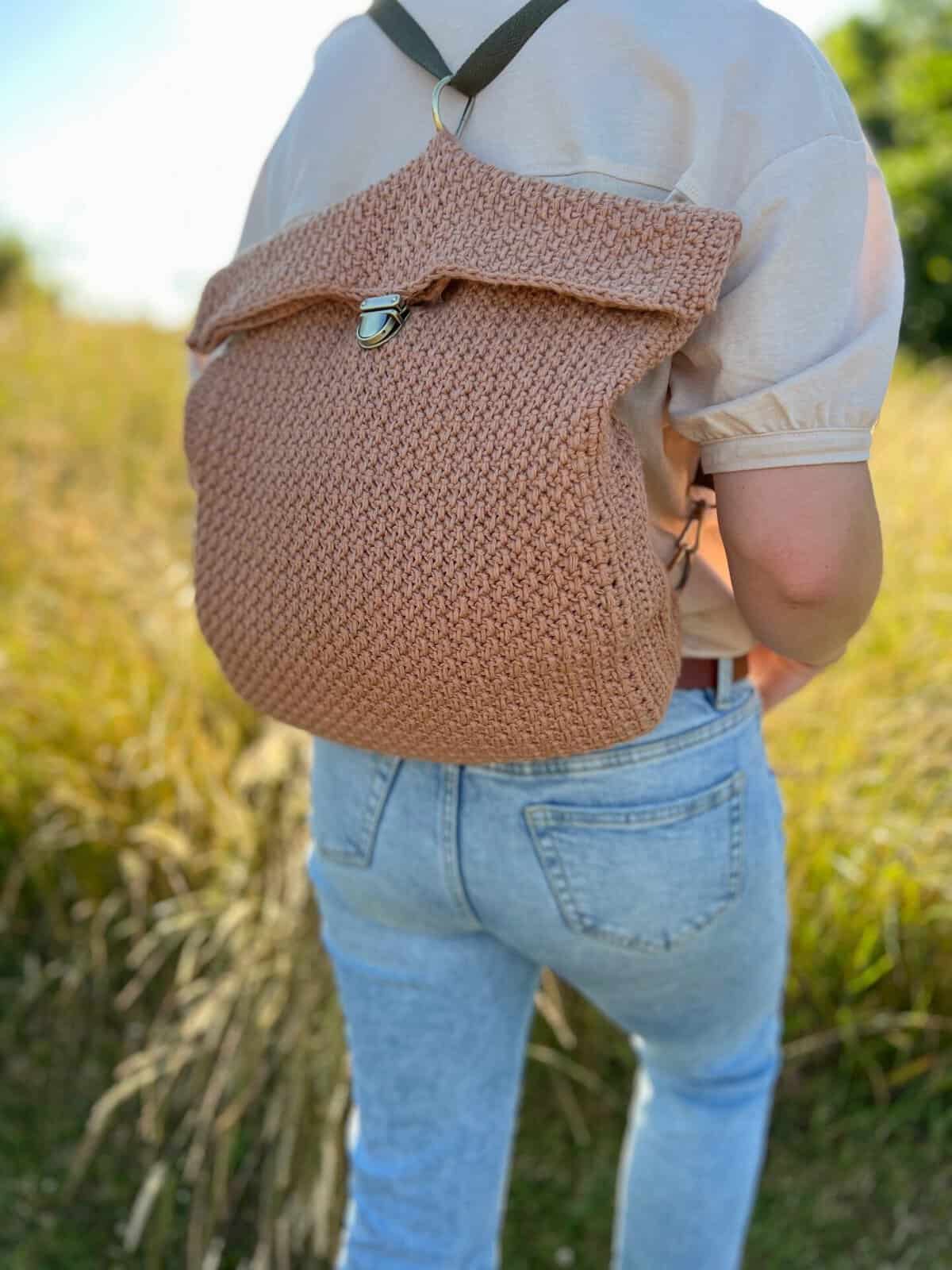 Herringbone Crochet Backpack Pattern
To unlock Exclusive Content on the HanJan Crochet Blog, all you need to do is click the box below and the Grow.me app will pop up, allowing you to enter your email and create a password.
Once you've created an account, every time you see Exclusive Content on my blog (or any others that use Grow), simply login to your Grow account. Be sure to switch to the login screen to enter your login credentials.
If you forget your password, click the "forgot password" link and follow the prompts. Please note that I'm unable to assist with resetting Grow passwords or accessing your Grow account, so be sure to save your login information in a safe place.
Thank you for subscribing and for joining me at HanJan Crochet! I hope you enjoy the exclusive content available on the site and I can't wait to see what you create 🙂
US Crochet Terminology
Make 2 matching panels. One for the Front and one for the Back.
Foundation chain: ch52
Row 1: hdc in 2nd ch from hook and each to end [51].
Row 2: RS: ch1, Hhdc in next st, *ch1, skip 1, Hhdc in next st; rep from * to end.
Row 3: ch1, sc in next st, Hhdc in next st 2 rows below, *ch1, skip 1, Hhdc in next st 2 rows below; rep from * to last st, sc in last st.
Row 4: ch1, sc in next st, ch1 skip 1, *Hhdc in next st 2 rows below, ch1, skip 1; rep from * to last st, sc in last st.
Rows 3 and 4 create the Set Pattern.
Rows 5-70: Repeat the Set Pattern.
Row 71: ch1, sc in next st, Hhdc in next st 2 rows below, *sc in next st, Hhdc in next st 2 rows below; rep from * to last st, sc in last st.
Continue to work the Side and Bottom Panel now:
Rotate to work along first long edge, along the bottom short edge and along second long edge now.
Row 1: ch1, sc in side of each row along first long edge (71sts), sc in each st along Row 1 (51sts), sc in side of each row along second long edge (71sts) [193].
Rows 2-4: ch1, sc in each st to end.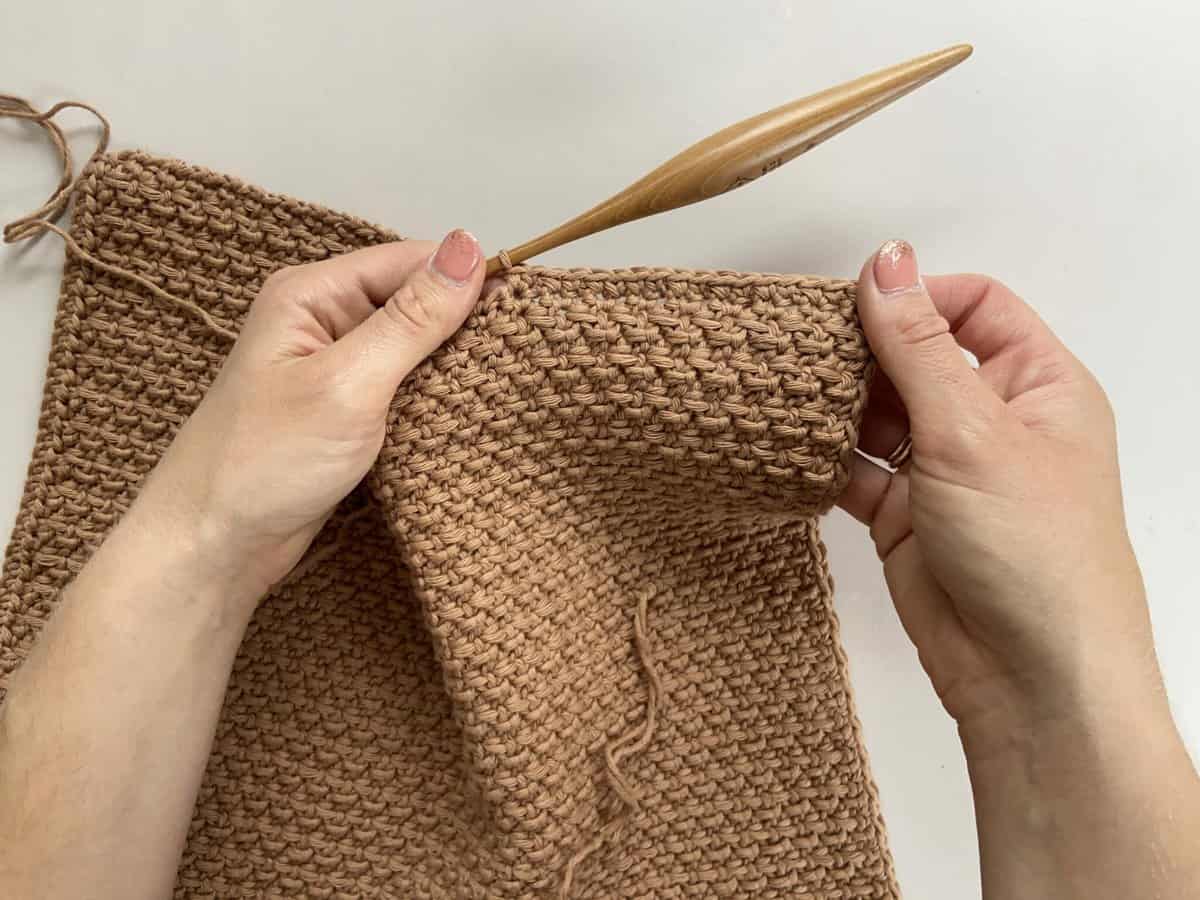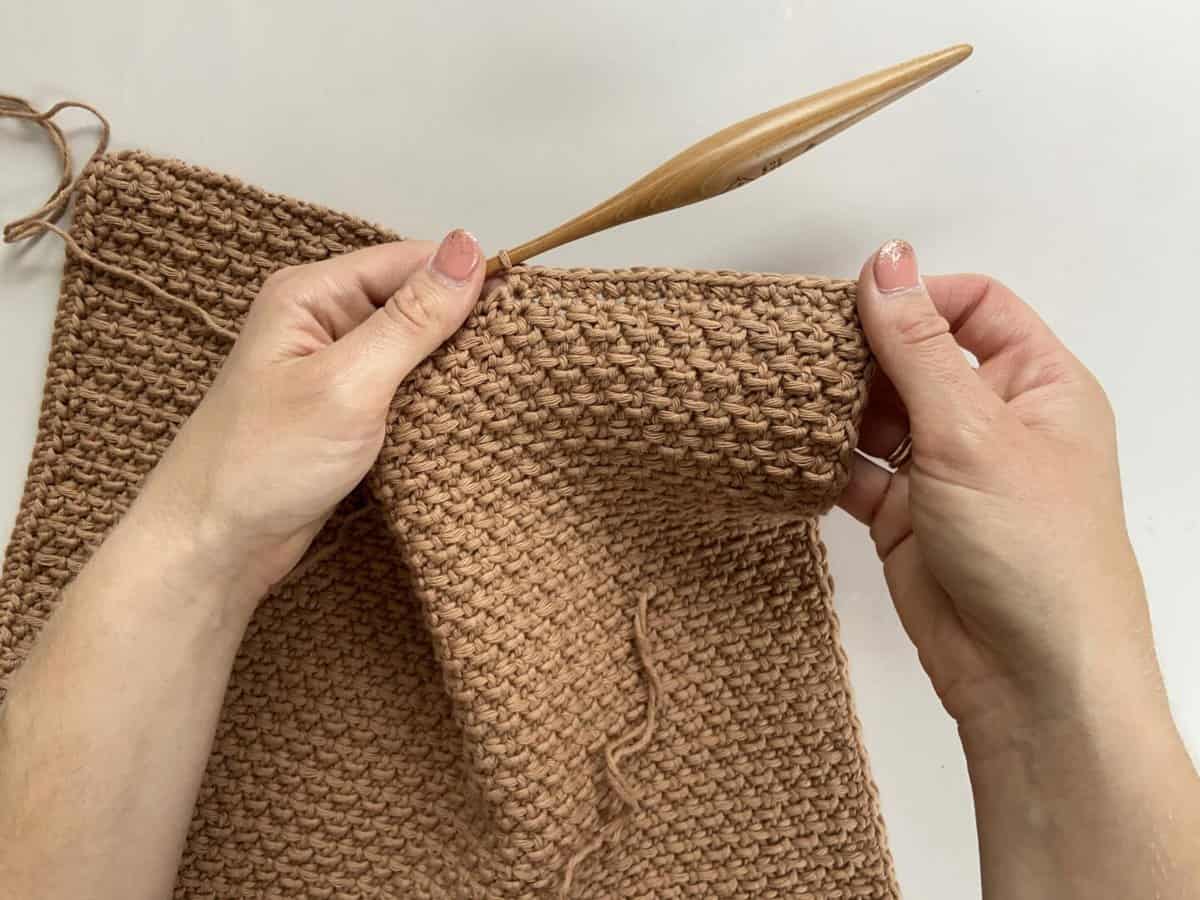 Joining the Front and Back Panels: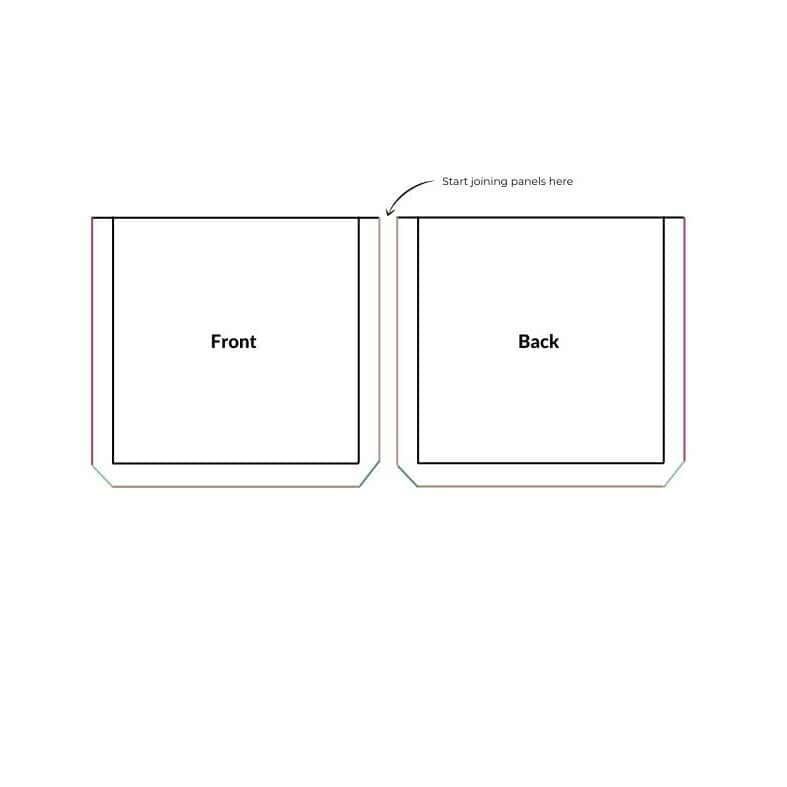 With RS facing you, join the 193 sts of the Side and Bottom Panels together with a flat slip stitch seam (or whipstitch them if you prefer) to create the shape of the bag.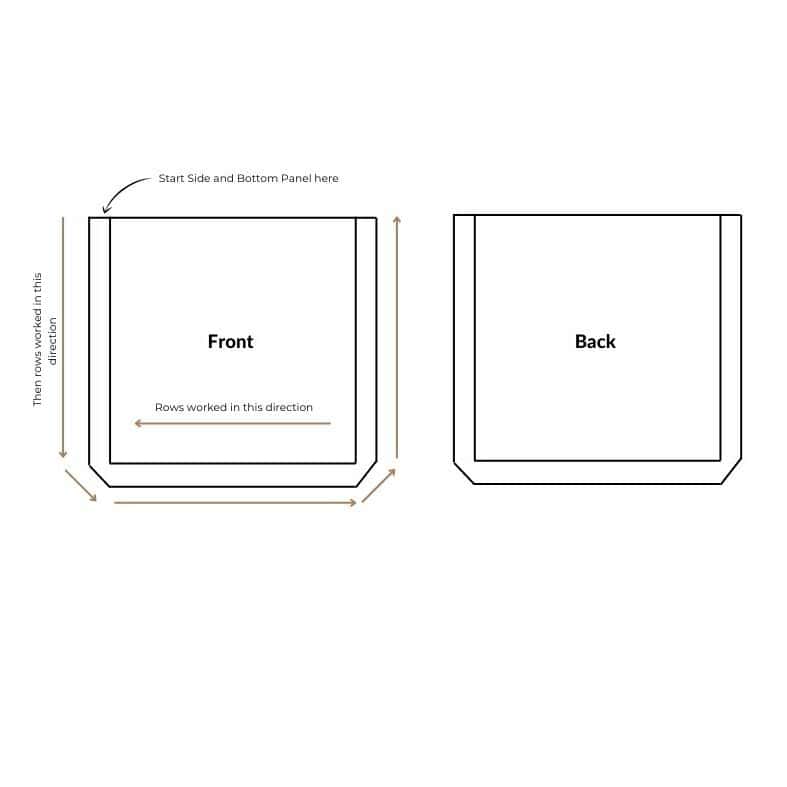 Lay your blocked squares in the format shown in the images and diagram with the WS facing you.
You can seam the squares together using whichever method you feel most comfortable with. I used a whip stitch to join mine but you could crochet them together using a slip stitch seam if you prefer.
Adding the Straps and Clasps: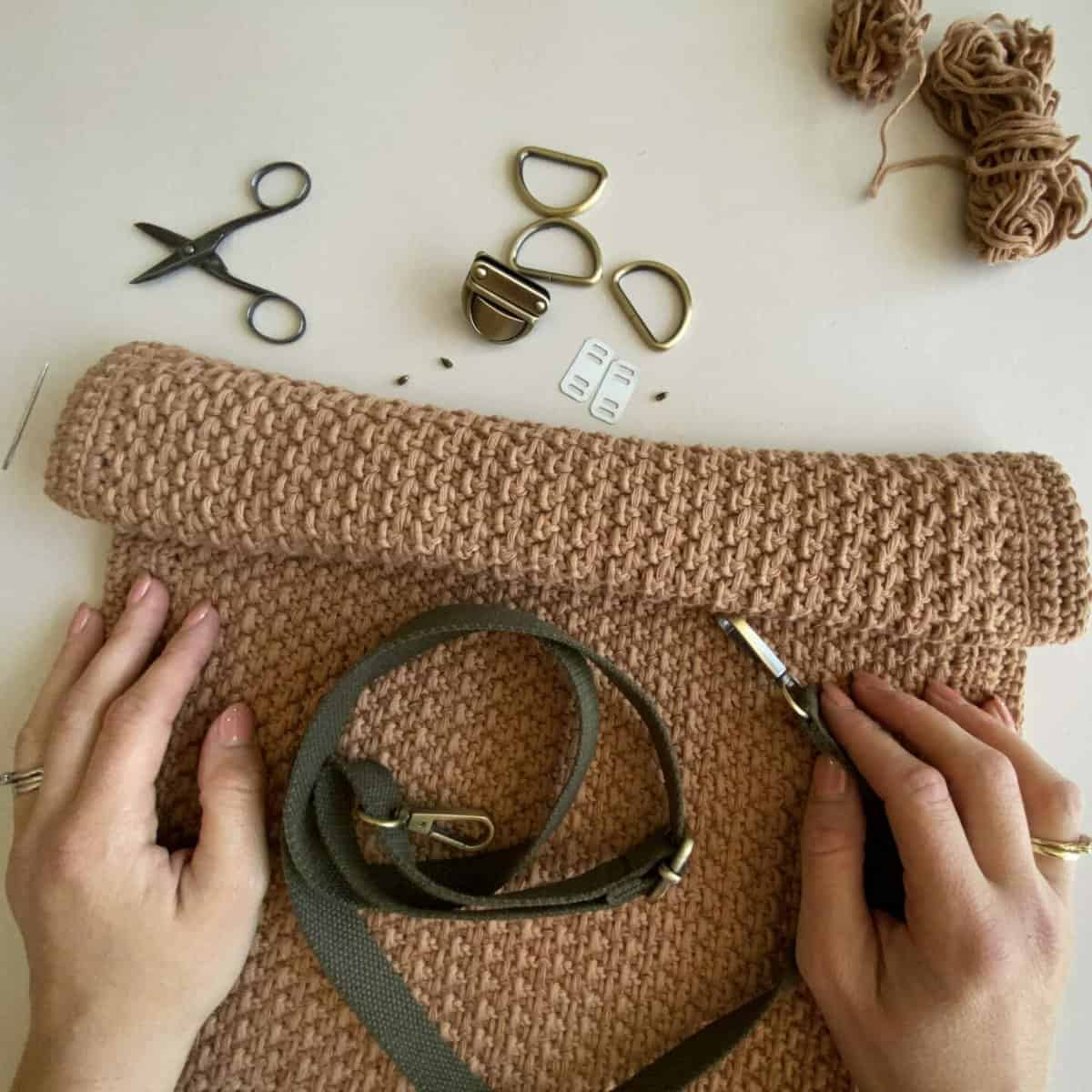 Gather your supplies together. Decide where you'd like to place your 'D'rings for your strap to attach to.
On back of bag, sew the 3 D rings in place (I used the same yarn as the bag) at the bottom left and right hand corners and then in the top centre, just below where you would like the bag to turn over to create the flap.
Attach the clasp clip through the front of the bag and secure in place as shown.
Attach the front of the clasp and test thoroughly to make sure you are happy with the placement.
Once your D rings and clasp are in place, clip one end of strap one corner D ring, thread strap through the centre D ring at top of bag and then clip opposite end of strap to D ring in opposite corner. Weave in ends to finish.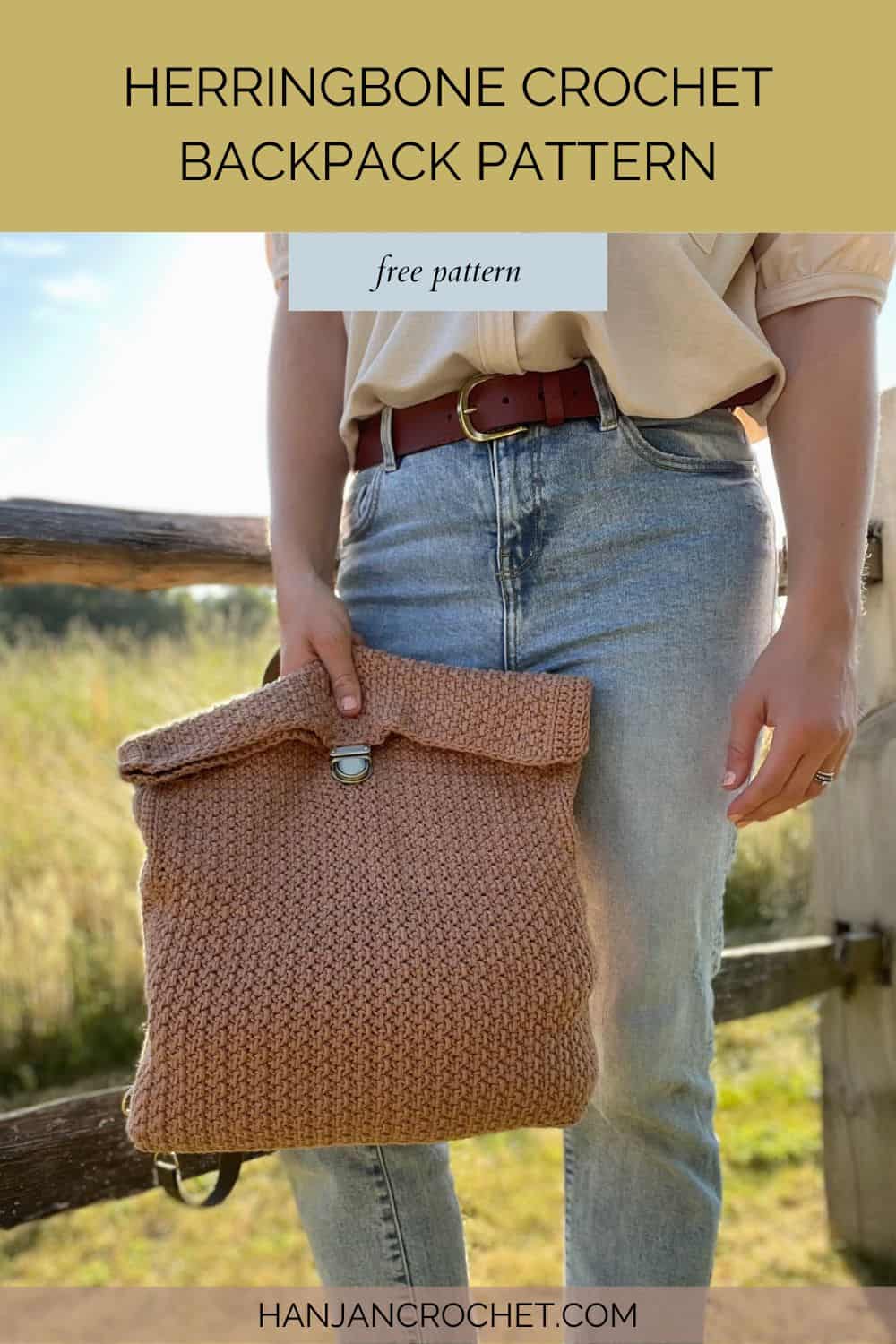 Join HanJan and Share Your Crochet!
It's an honour to be able to create and share my free crochet patterns with you. I'd love to stay connected and send you regular discount codes and free patterns! Please sign up for my subscriber list to get a free gift right now!
I look forward to seeing your finished crochet projects, especially this easy crochet pattern, so please share them with me in the HanJan Crochet Facebook group or on Instagram and tag #hanjancrochet.
Purchase and Print
Get the ad-free, printable PDF with added extras in my pattern stores: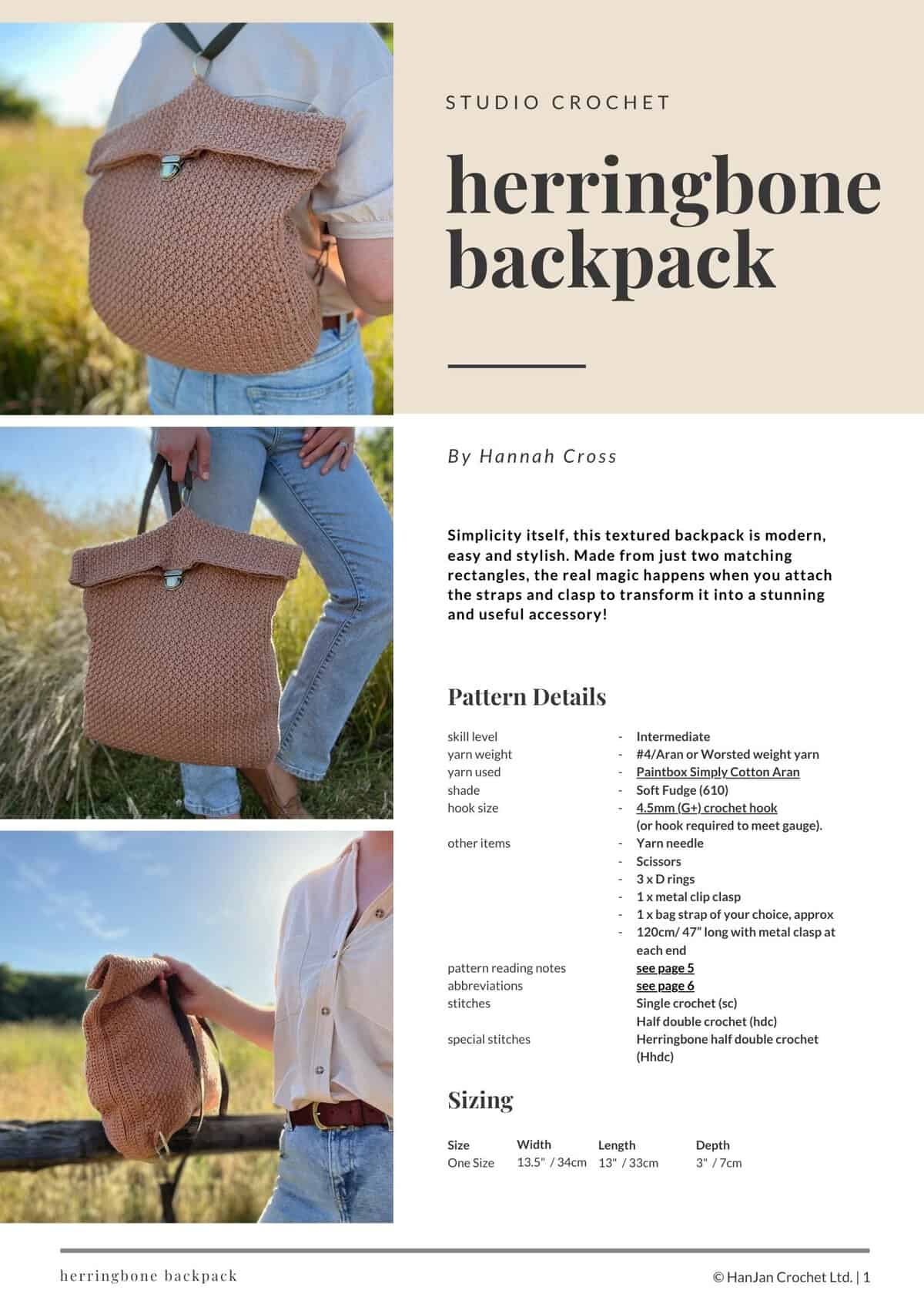 More Crochet Bag Patterns You Might Enjoy
If you enjoy making crochet bag patterns, here are a few more of my designs you might enjoy too!