Two of my most favourite things are a fabulous crochet blanket and a crochet along to help build a community and meet new crocheters on the way.
So when the guys at Deramores asked me to team up with some awesome crochet designers to create a crochet blanket to celebrate Mindfulness Day this year I jumped at the chance!
I am so excited to share all the details here with you and I can't wait for you to join us as we create many Mindfulness crochet blankets together! If you've never been involved in (or even heard of) a CAL or crochet along then you're going to love this!
As a group of designers we are also offering lots of crochet goodies along the way so make sure to read on to find out how to get yours!
If you're one of the fabulous people who have taken part in our CALs before and want to skip ahead to the yarn pack then go for it:
Find the Mindfulness Blanket Crochet Along yarn pack here.
Download the FREE Mindfulness Crochet Blanket Pattern here.

I'd love you to be the first to hear when the pattern goes live so make sure you subscribe to HanJan Crochet so that I can let you know! (I'll also send you a free PDF pattern to enjoy too!)
Most importantly – if you'd like to purchase the yarn pack then make sure to use my exclusive discount code 'HANJANCROCHET5' to get 5% off your entire order!
About Mindfulness Day – 12th September
Mindfulness Day is a relatively new annual event that has emerged to celebrate and raise awareness about the value and benefit of mindfulness. In 2011 Wisdom Publications designated 12th September as 'Mindfulness Day' and hosts a variety of workshops and meditation groups.
Mindfulness means different things to different people but it is essentially the ability to be present, aware and not overwhelmed by things around us.
There's a huge amount of research that shows that when you enable your brain to be mindful, you're helping with your cognition and wellbeing.
When I first read about mindfulness I realised that I have been practising it for years without realising – every single time I crochet!
If mindfulness is new to you or you'd like to know more about it the NHS website has lots of help and support for mindfulness. In addition, you can learn more about mindful meditation and much more at mindful.org.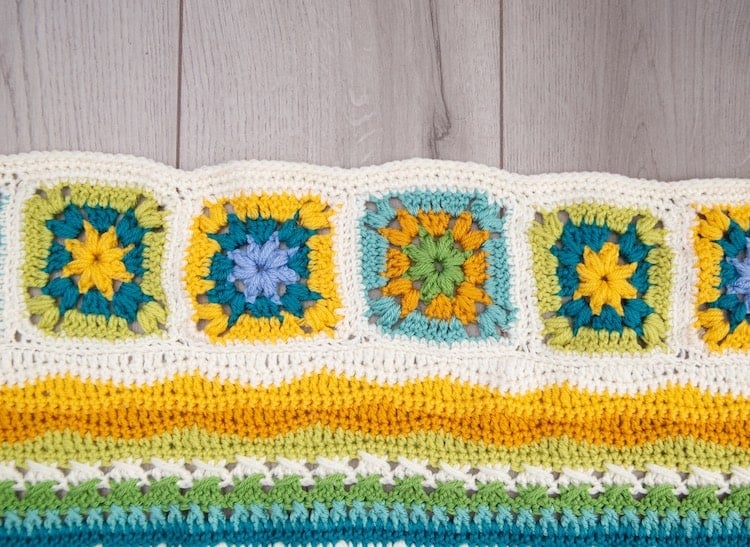 More About Mindfulness and Me
I knew mindfulness was a thing but until this year I didn't know quite how much mindfulness meant to me and how important it was to so many people.
As many of you know, late last year, my husband David collapsed and had to have emergency brain surgery. Our youngest son Oliver was only 5 weeks old. Elliot, our eldest, was still a toddler and as you can imagine it literally turned our world upside down.
Amazingly, everyone is happy and well now and David looks set to make a full recovery.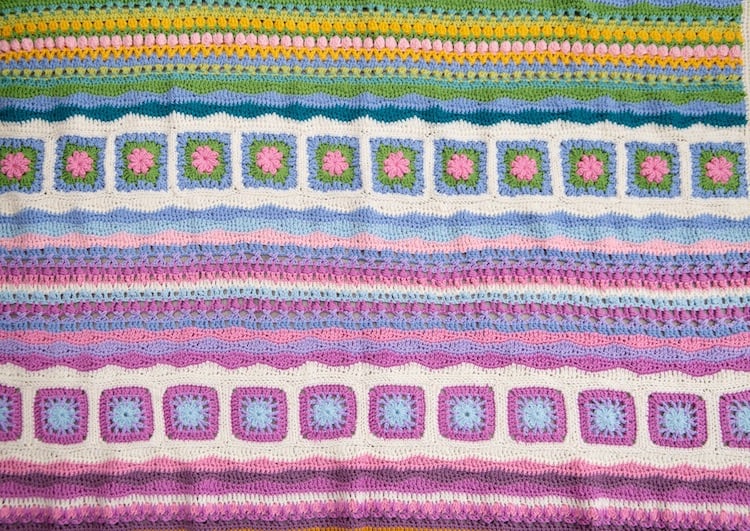 I have spent 17 years working for the National Health Service and have seen and done things in emergency situations that I can't even begin to tell you. I thought I was tough. I thought I would be strong enough to tackle anything like this.
Turns out that there is no telling what will be the thing or things in life that you struggle with. This was mine.
I have never experienced anything like it before and it really rocked me. It was all so very hard at the time but it got even worse. I started having flashbacks and nightmares which stopped me from being able to do pretty much anything, even crochet.
I asked for help and got diagnosed with PTSD (post traumatic stress disorder).
A long story short is that I got help, am in a much better place now and have a huge amount to thank crochet and mindfulness for! You don't need to have full blown PTSD, anxiety or depression to benefit from being mindful though, it helps in so many ways for so many people and so I'm so very happy (and a bit emotional) to be able to share this beautiful project I've been working on with you today.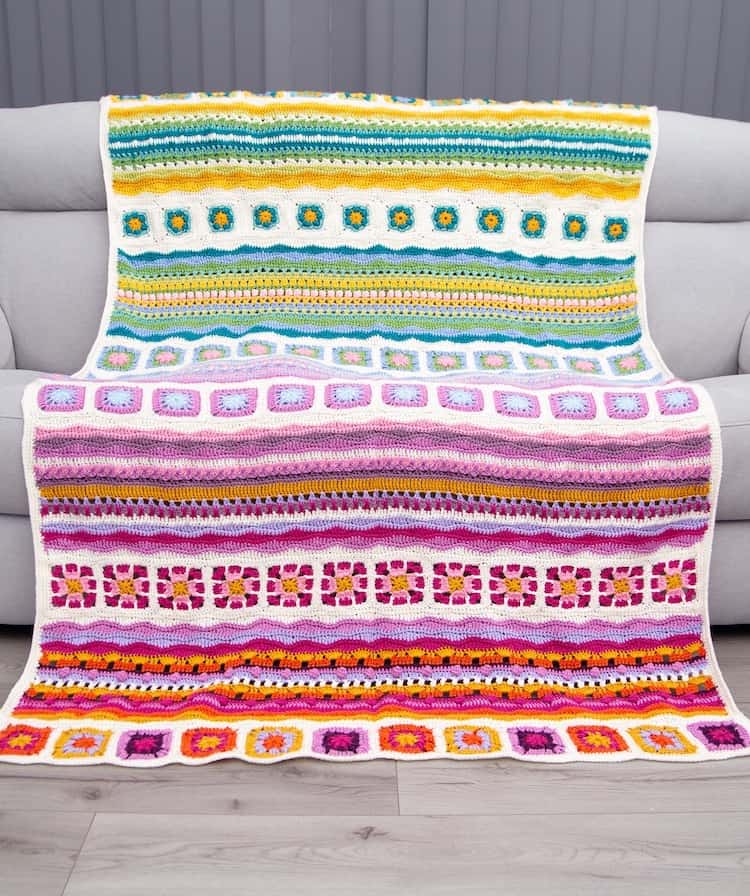 About The Mindfulness Crochet Blanket
The Mindfulness Crochet Blanket has been a long time in the making (we started planning it well over a year ago) because we wanted to get it just right for you.
It had to be the right balance of colours, textures, stitches so that it was truly mindful and soothing to make but not so repetitive that it wasn't a challenge or fun to do!
Find the Mindfulness Blanket Crochet Along yarn pack here.
Download the FREE Mindfulness Crochet Blanket Pattern here.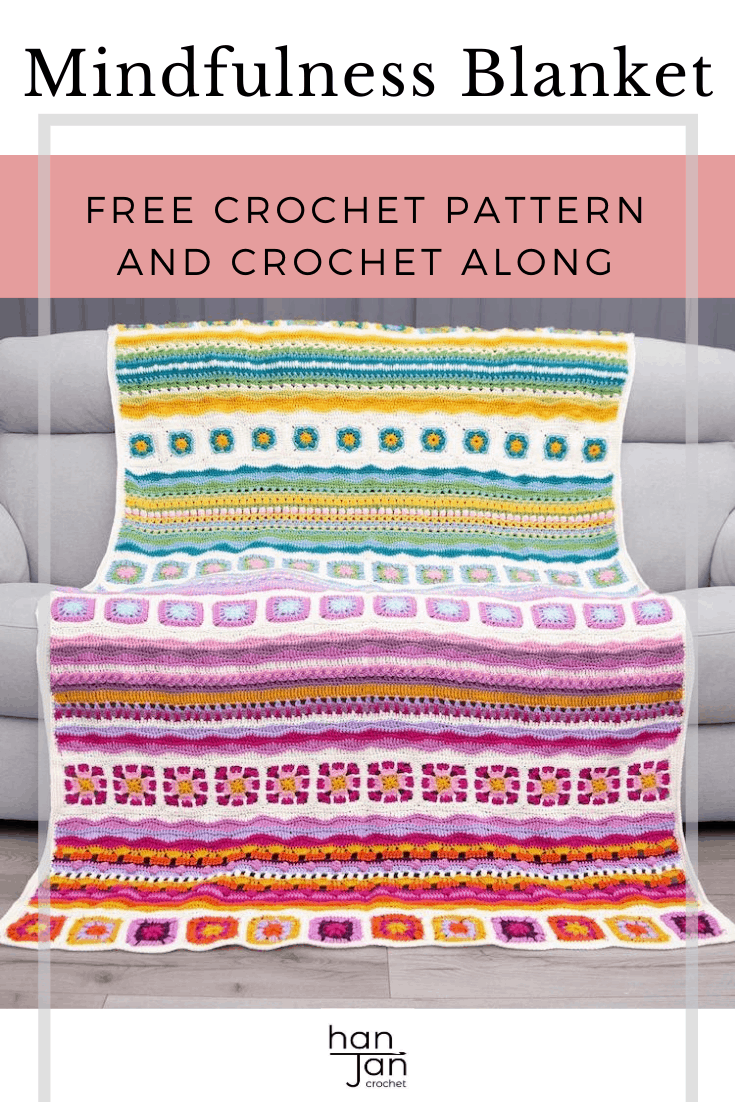 The team of designers came together after some of us (Veronika Cromwell, Zoe Potrac and myself) worked on the Four Seasons Blanket CAL last year and this year we welcomed Cassie Ward and Fran Morgan.
It was so wonderful to bounce ideas and work together to create something that we are really proud of and hope that everyone enjoys.
Each designer worked on a section of the blanket that includes a row of small square motifs and then a horizontal section bordered by a soothing wave stitch at the beginning and end.
The colour play between the sections and the rhythm of the wave stitch make the blanket a joy to make and a stunning piece of creativity to admire too.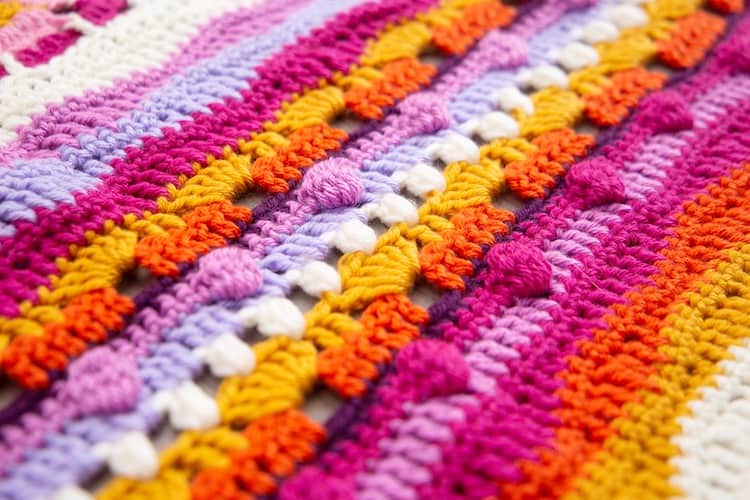 The finished blanket measures 165cm by 114cm.
There is a repetitive theme running through the stitches. The 8-row wave pattern is repeated twice each week, so as you work each section it will become easy to remember and help you to relax as you crochet each stitch.
Granny squares are perfect for mindfulness, and these strips of small squares are nice and easy, blending pretty colours and textured stitches.
The stitch count for the rows stays the same throughout, to keep it simple and enjoyable.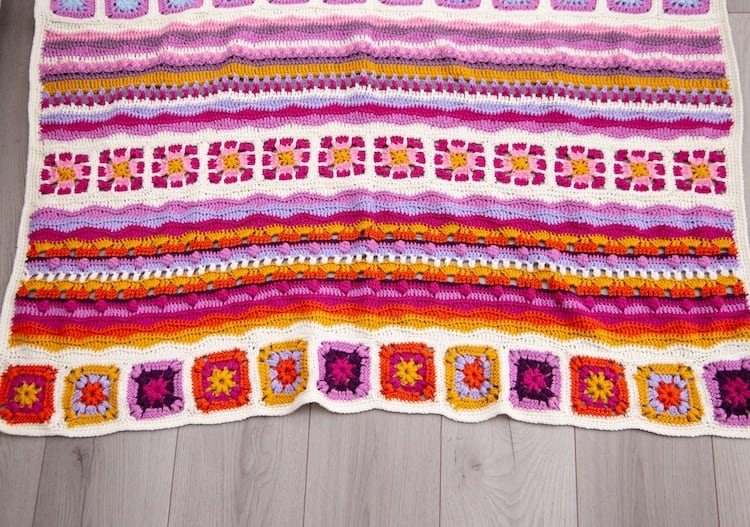 It is classed as an intermediate pattern but the great thing about a CAL is that if you are uncertain about anything then you can just ask someone else – there will always be someone who knows the answer!
About the CAL Yarn Pack
Find the Mindfulness Blanket Crochet Along yarn pack here.
Download the FREE Mindfulness Crochet Blanket Pattern here.
In each yarn pack you will get the following Deramores Studio DK yarn collection:
5 x 100g Pearl
2 x 100g Mustard
1 x 100g Lavender
1 x 100g Citrine
1 x 100g Lime
1 x 100g Fir
1 x 100g Aqua Green
1 x 100g Jade
1 x 100g Sky
1 x 100g Peridot
1 x 100g Light Pink
1 x 100g Burnt Orange
1 x 100g Fuchsia
1 x 100g Aubergine
1 x 100g Peony
1 x 100g Rose
Other Materials You Will Need
Other things you will need:
Essential equipment you might already have but just in case here are some ideas:
This comes as part of a lovely set.
For sewing in the ends of your project.
Make sure you block your blanket.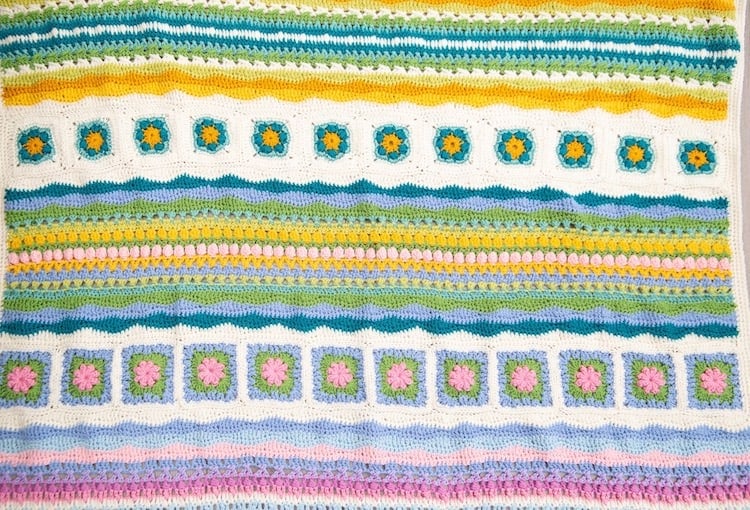 Meet the Designers
Here is a little bit about each of the designers of the Mindfulness Crochet Blanket CAL and where to find out more about them.
More About Joining a Crochet Along
Exciting news – each week when the next part of the pattern is released I will be posting an interview with each of the designers and they are all offering a pattern for you to download for free for the entire week! Make sure to subscribe to HanJan Crochet so that I can let you know as soon as it becomes available.
Read about the wonderful Zoe Potrac and Week One of the CAL here.
Find the Mindfulness Blanket Crochet Along yarn pack here.
Download the FREE Mindfulness Crochet Blanket Pattern here.
More Mindful Crochet Ideas
Mindfulness Books
A selection of beautiful mindfulness books you might enjoy.
50 Motifs & 15 Projects for Mindful Relaxation
Calming Projects for a Harmonious Home
100 Crochet Exercises For Health, Growth, Connection, Inspiration and Honoring Your Inner Artist