This week I've been thinking about all the things we have in our house that we can repurpose, reuse and re-love. A while ago I cut up some old jeans to make some jeans yarn to crochet with and it was so much fun! I decided to turn it into a recycled jeans bag and I love it!
There are loads of ideas out there about what you can use but it really can be anything. Some great ideas are old t shirts, plastic bags, and of course jeans. The same principal of creating the yarn applies to them all and it's so easy you won't believe it.
I posted a tutorial years ago about how to make yarn from jeans and it's so popular that I know you all love doing it so today I thought I'd refresh your memory and also add the free pattern for the clutch I made with it too.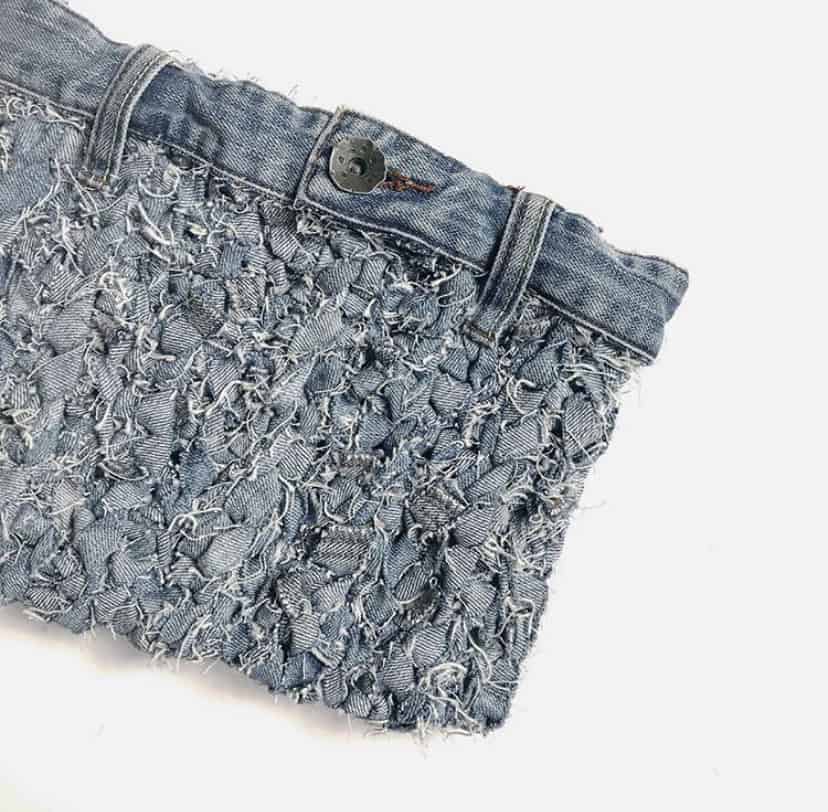 If you don't want to download the PDF then that's absolutely fine too – read on for the full pattern for free here on this blogpost.
Other things you can do before you start –
Add the Recycled Jeans Bag to your Ravelry queue here.
Pin the Recycled Jeans Bag for later.
What you will need to make the recycled jeans bag –
Size and Tension
The finished bag measures 29cm by 22cm but you can make yours as bug or small as you like.
Tension isn't essential for this project.
How to make jeans yarn – a tutorial
Step One
Cut both legs off the jeans, as close as you can without cutting the pockets – save these for other fabulous craftiness!
Lay each leg out flat and cut 2cm strips as far as the side seam – do not cut through the side seam.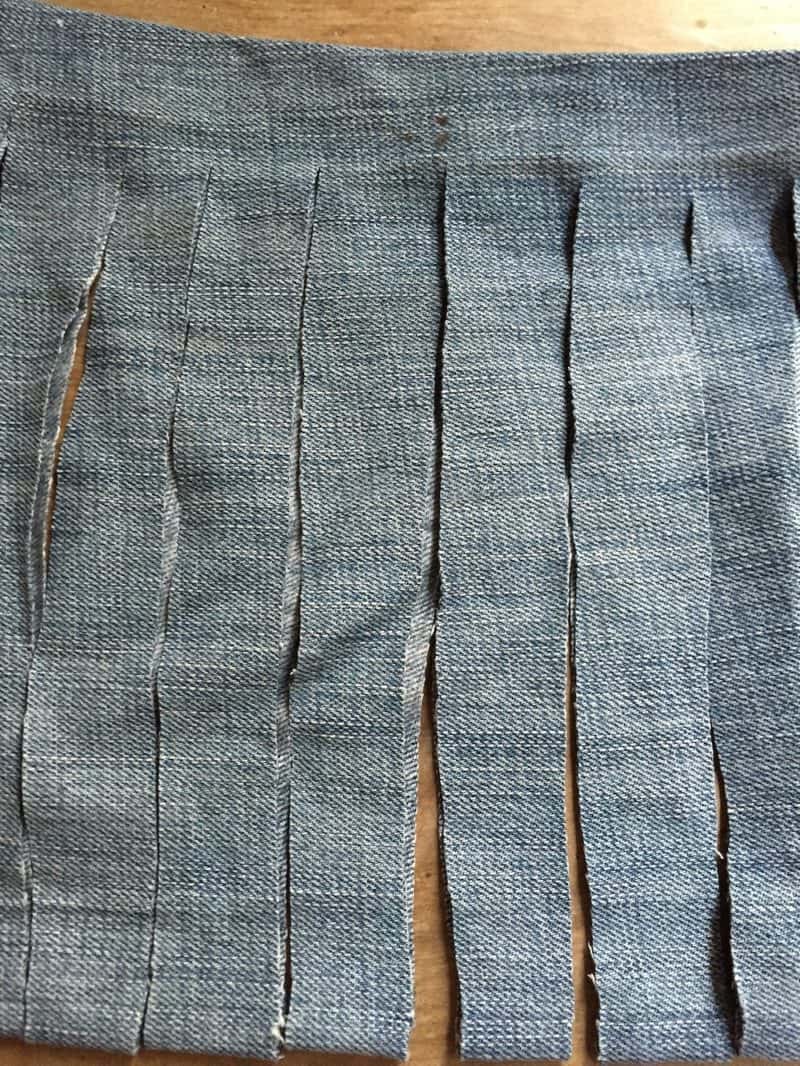 Step Two
When you have cut the strips the whole way up the leg, snip the first seam so that you can work in spirals up the leg to make a long strand of yarn.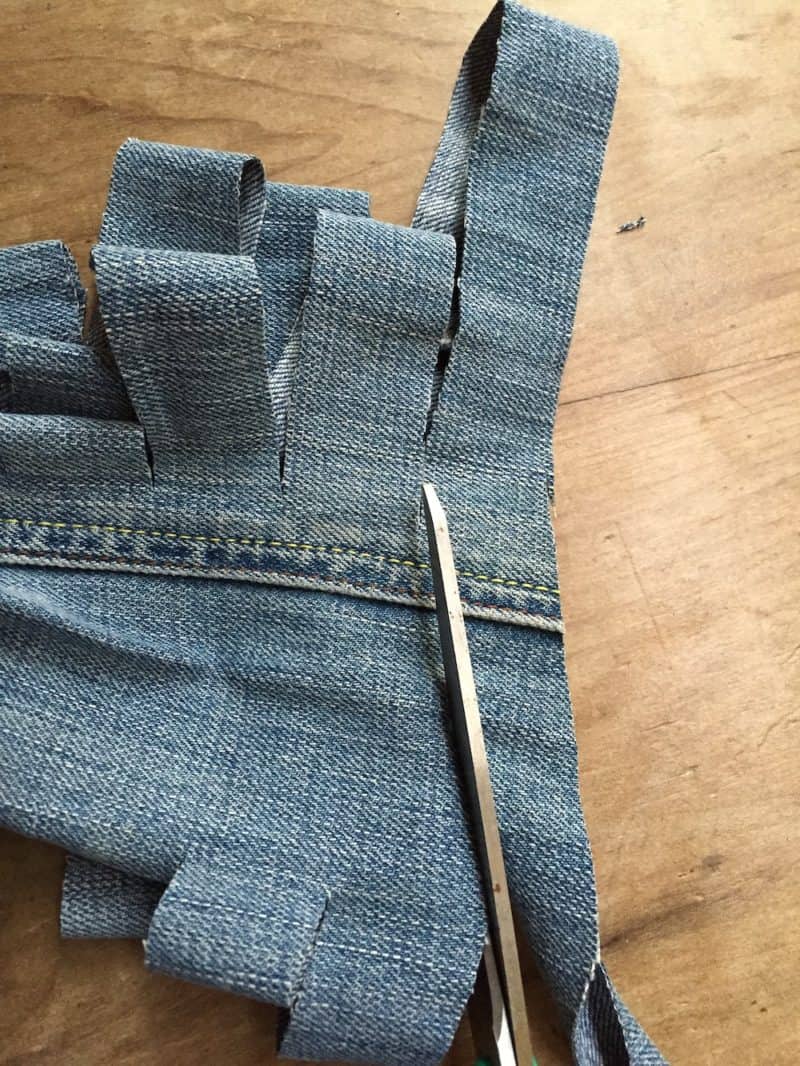 Step Three
Once you have finished, cut the yarn in half again to get 1cm wide yarn. It doesn't matter too much if the fabric is a bit wiggly – it will add more character this way!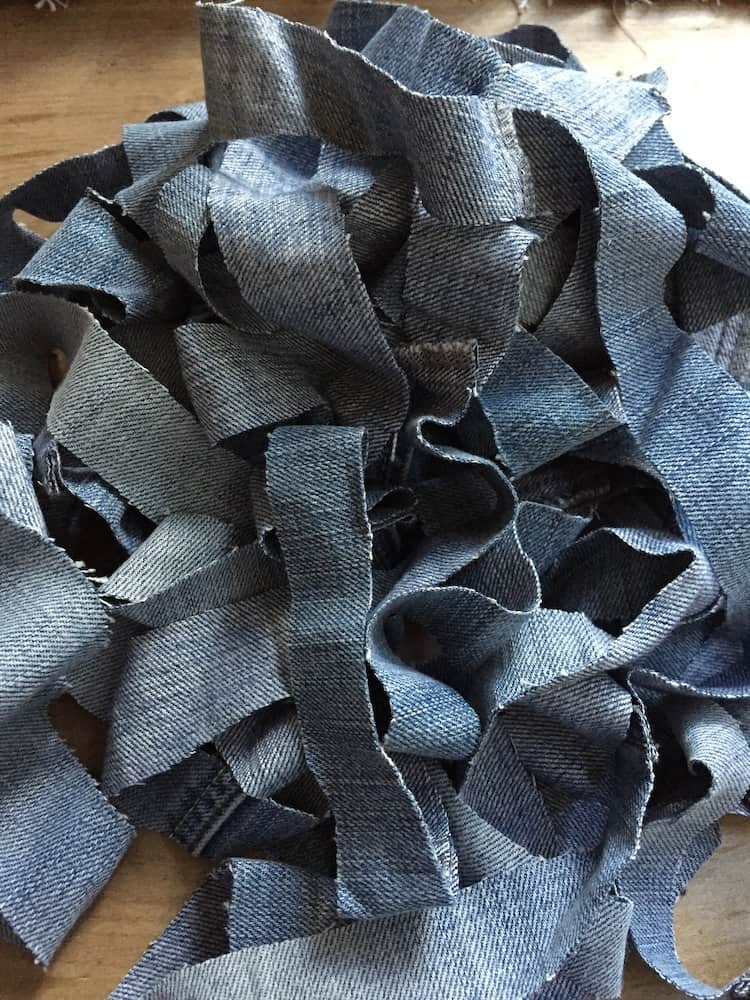 I've made a little video of the process and I'll pop the link at the bottom of the post for you to find it if you'd like.
How to make the recycled jeans bag – the crochet pattern
Stitch key and glossary
ch(s) – chain(s)
st(s) – stitch(es)
RS – right side
FL – front loop
BL – back loop
sc – single crochet (US terms)
dc – double crochet (UK terms)
Notes
The ch1 at the beginning of a row does not count as a stitch.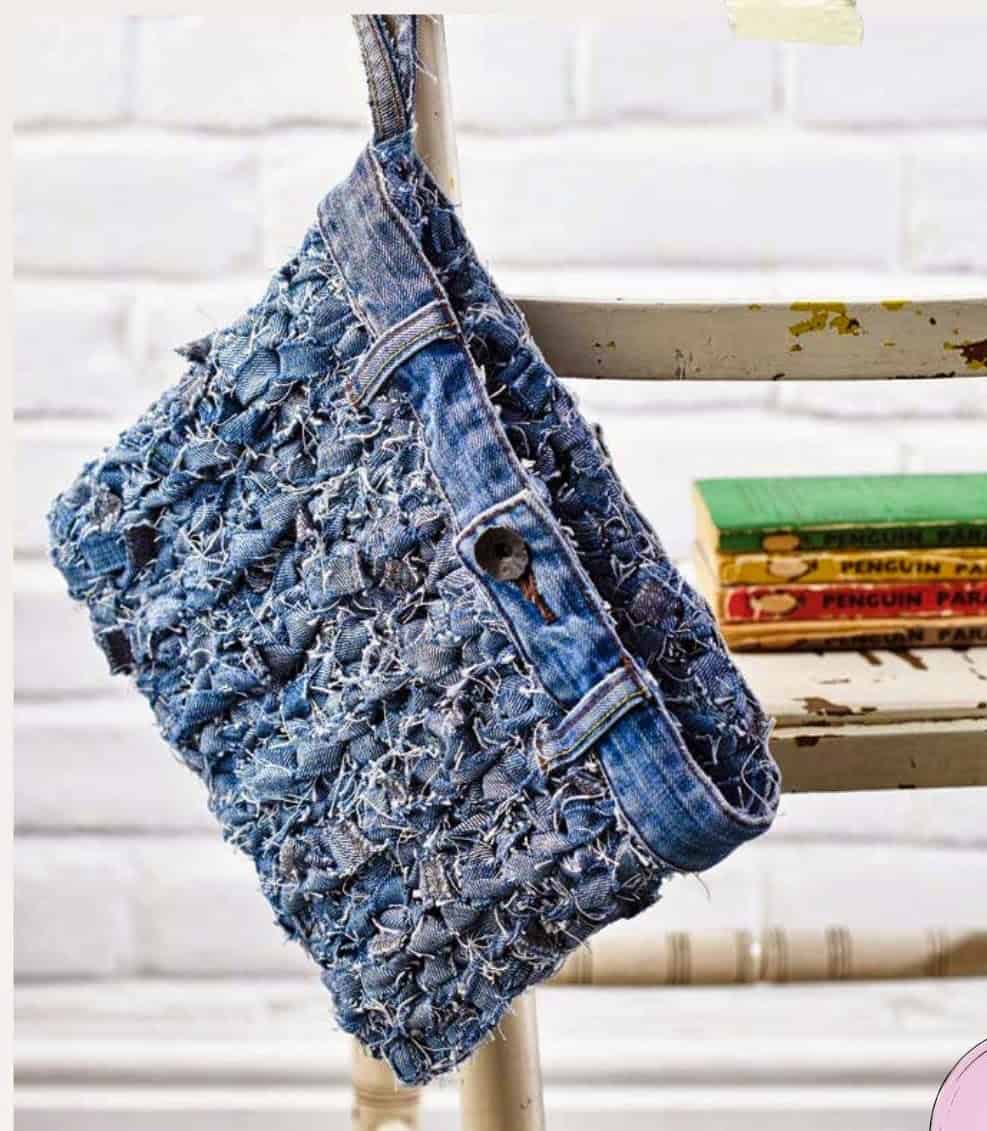 Pattern – UK and (US terms)
MAKE THE RECYCLED JEANS BAG:
Foundation chain: ch26
Row 1: RS – dc (sc) in 2nd chain from hook and each across [25]
Row 2: ch1, dc (sc) in BL of each across
Row 3: ch1, dc (sc) in FL of each across
Rows 2 and 3 create the pattern
Row 4-12: Repeat the pattern
With RS facing inwards, fold the work in half and sew up sides.
ADD THE WAISTBAND:
Carefully cut the waistband from the jeans. Cut to size to fit around the top of the bag. Pin in place and sew securely in place.
ADD THE STRAP:
Cut one of the seams from the gusset of the jeans for the strap. It needs to be about 30cm long so that when you double it over it sits neatly over your wrist. Sew in place to one side on the inside of the bag to complete.
That's all there is to it. What will you make with your jeans yarn? I think a rug would be amazing, or some cushion covers, or a backpack! So many ideas and possibly not enough jeans!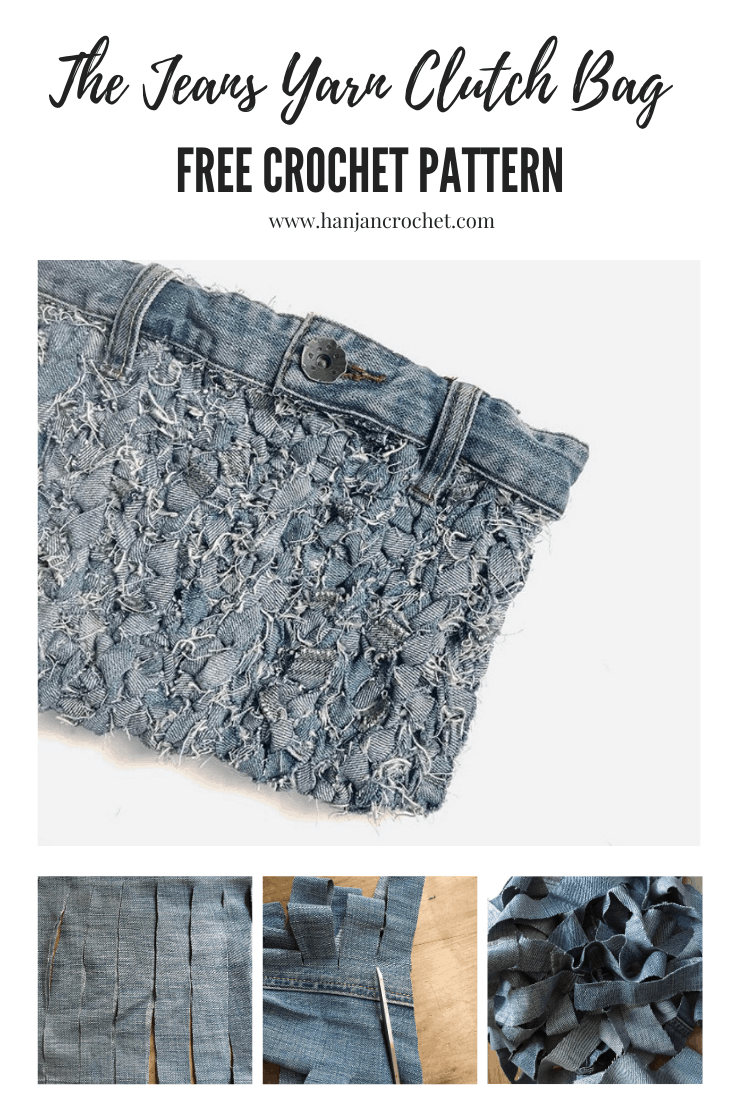 If you've enjoyed this then I'd love to share my other tutorials and free patterns with you too – here are some fun stitches you might like to learn: