Using block stitch crochet is a great way to play with colour and create a really stunning crochet colorwork stitch that's great for beginners too.
Essentially just a granny stitch in rows, this version has the twist of the next set of double crochet stitches being worked into the stitches from two rows below. This creates a more closed crochet stitch so is great for blankets and homeware.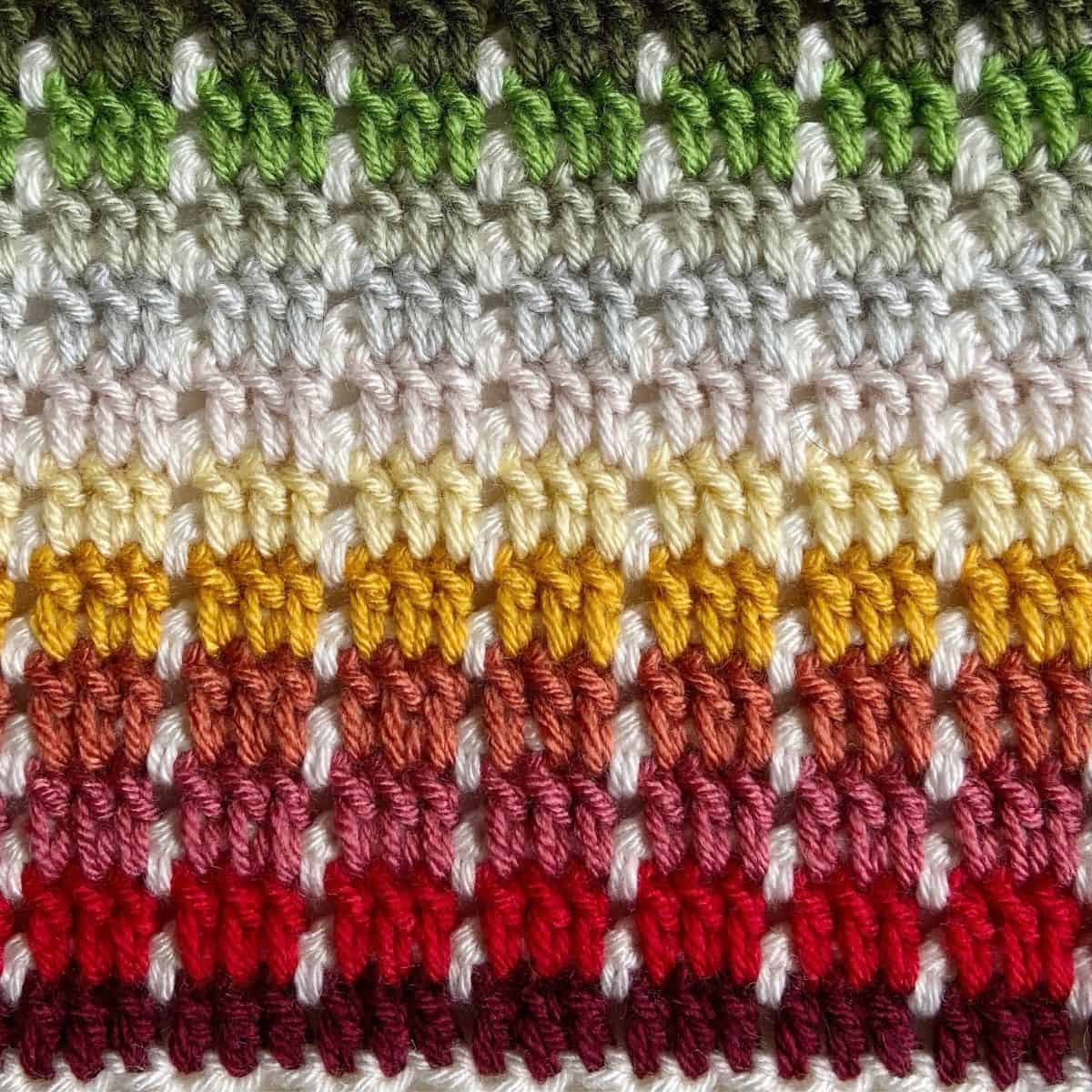 This post may contain affiliate links. Please see my full disclosure and privacy policy for details.
Block stitch crochet pattern
US crochet terms.
Foundation chain: using Yarn B, chain a multiple of 6+2.
Row 1: dc in 4th ch from hook (the skipped 3ch counts as 1dc), dc in each ch across. [multiple of 6 sts]
Change to Yarn A.
Row 2: ch1, hdc, ch2, skip 2 sts, hdc in space before next st, *ch2, skip 3 sts, hdc in space before next st; rep from * to last 3 sts, ch2, skip 2 sts, hdc in last st (this is the 3ch at end). Change to Yarn C.
Row 3: ch1, hdc in next st, dc in next 2 sts of two rows below (always working over the ch2 from previous row), skip hdc, *dc in next 3 sts of two rows below, skip hdc; rep from * to last 3 sts, dc in next 2 sts of two rows below, hdc in last st. Change to Yarn A.
Rows 2 and 3 create the pattern.
You can alternate colours however you like!
Make a crochet block stitch blanket
If you'd like to make a block stitch blanket just work a chain of a multiple of 6+2 to decide on the width of your blanket.
Then repeat the pattern as above for as many rows as you'd like to create the length of the blanket.
Strawberries and Cream sampler crochet blanket pattern
This stitch is used in my Strawberries and Cream multi stitch crochet blanket free pattern.
You can also purchase the 29 page PDF Ebook or the full online crochet course with bonus videos, downloads and more to help you conquer all things crochet colorwork!


Yarn used for sample
I used Paintbox Simply Double Knit 100% Acrylic, 276m, 302yds/100g which works perfectly and comes in such beautiful colors.
The colours you see used in the blanket are:
A (Champagne White)
B (Pear Green)
C (Pine Green)
D (Pistachio Green)
E (Misty Grey)
F (Vanilla Cream)
(Light Caramel)
H (Mustard Yellow)
I (Vintage Pink)
J (Blush Pink)
K (Rose Red)
L (Red Wine)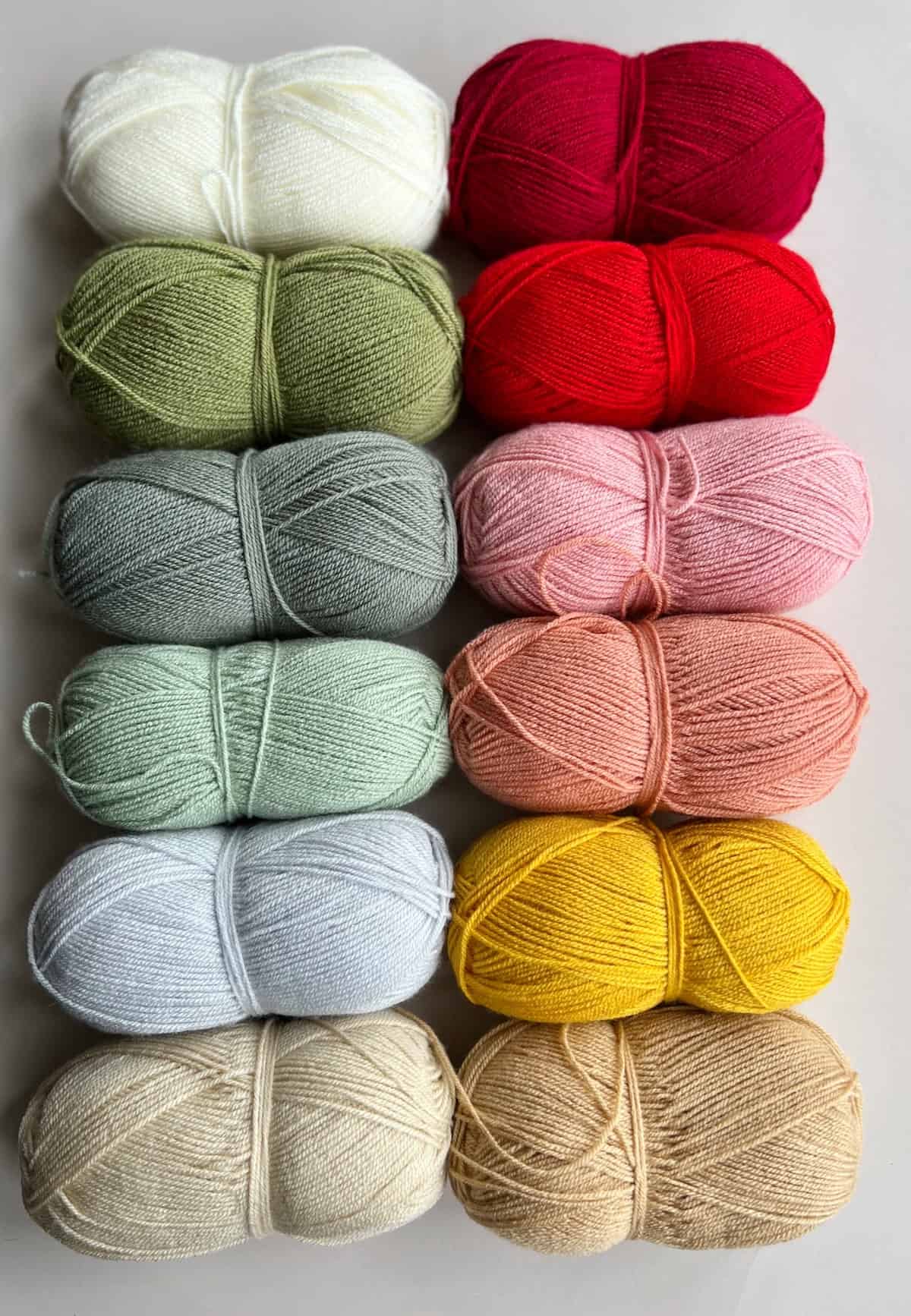 Materials
Along with your yarn, you will need the following:
Don't forget to join HanJan Crochet to receive regular discount codes (and more free patterns!) and Pin this striped crochet blanket pattern to your crochet Pinterest board!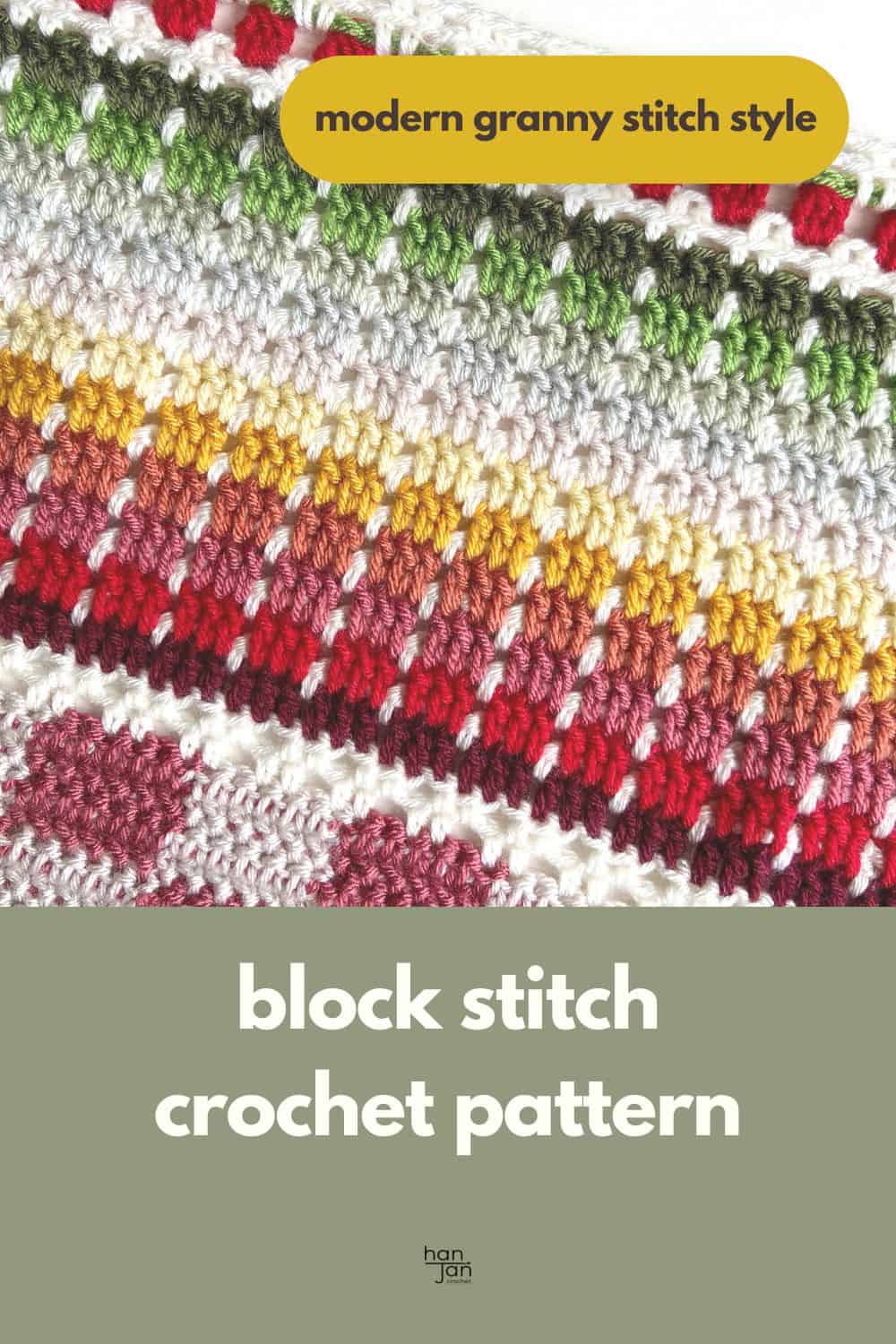 Glossary and Abbreviations
ch(s) – chain(s)
ss – slip stitch
st(s) – stitch(es)
RS – right side
rep – repeat
Crochet Stitches
| | |
| --- | --- |
| UK Crochet Terminology | US Crochet Terminology |
| htr- half treble crochet | hdc – half double crochet |
| dtr – double treble crochet | tr – treble crochet |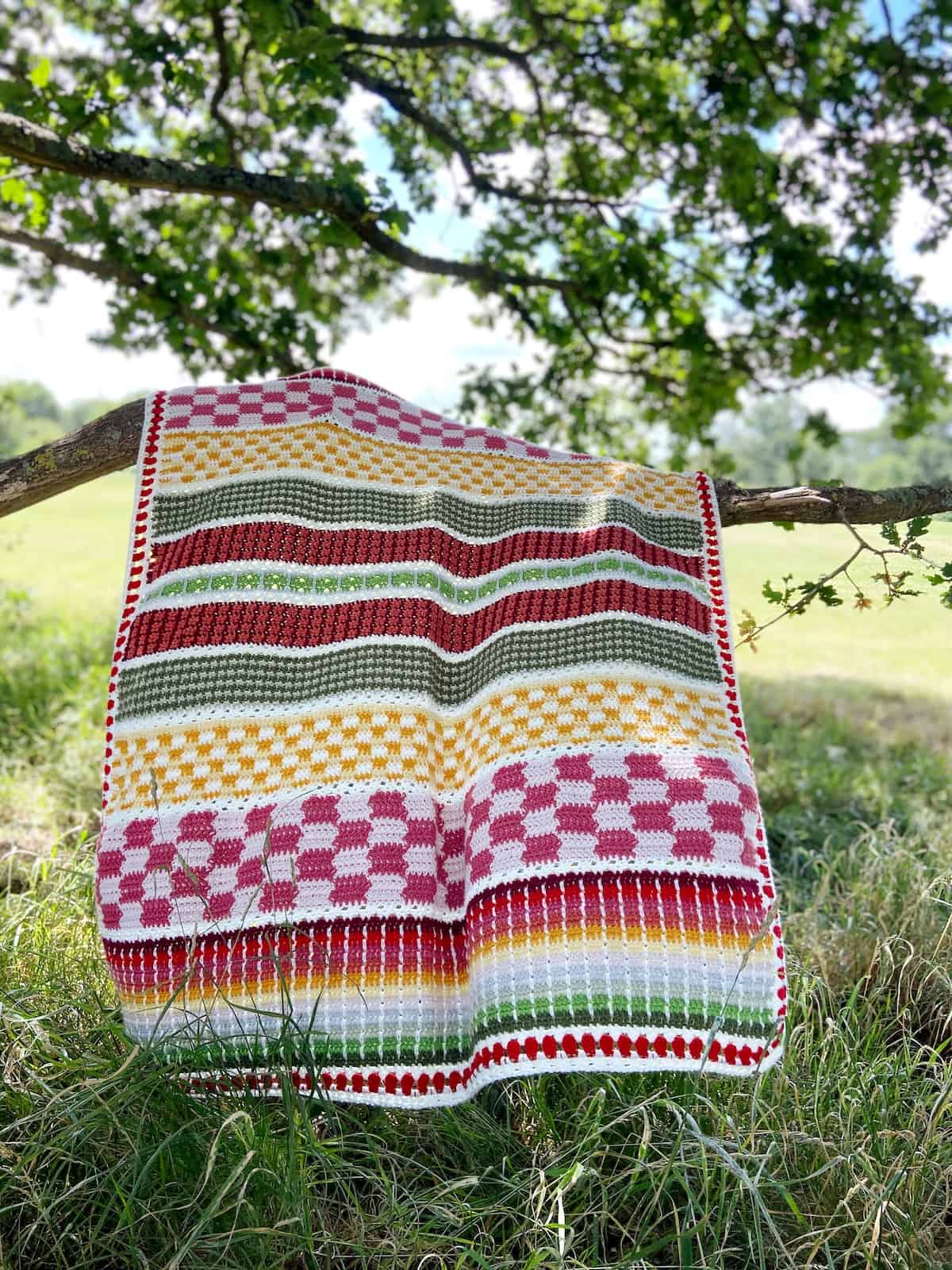 Join HanJan and Share Your Crochet!
It's an honour to be able to create and share my free crochet patterns with you. I'd love to stay connected and send you regular discount codes and free patterns! Please sign up for my subscriber list to get a free gift right now!
I look forward to seeing your finished crochet projects, so please share them with me in the HanJan Crochet Facebook group or on Instagram and tag #hanjancrochet.
Other easy crochet stitches to use for blankets
Easy crochet stitches for blankets
Here are some of my favourite easy crochet stitches to use for blankets.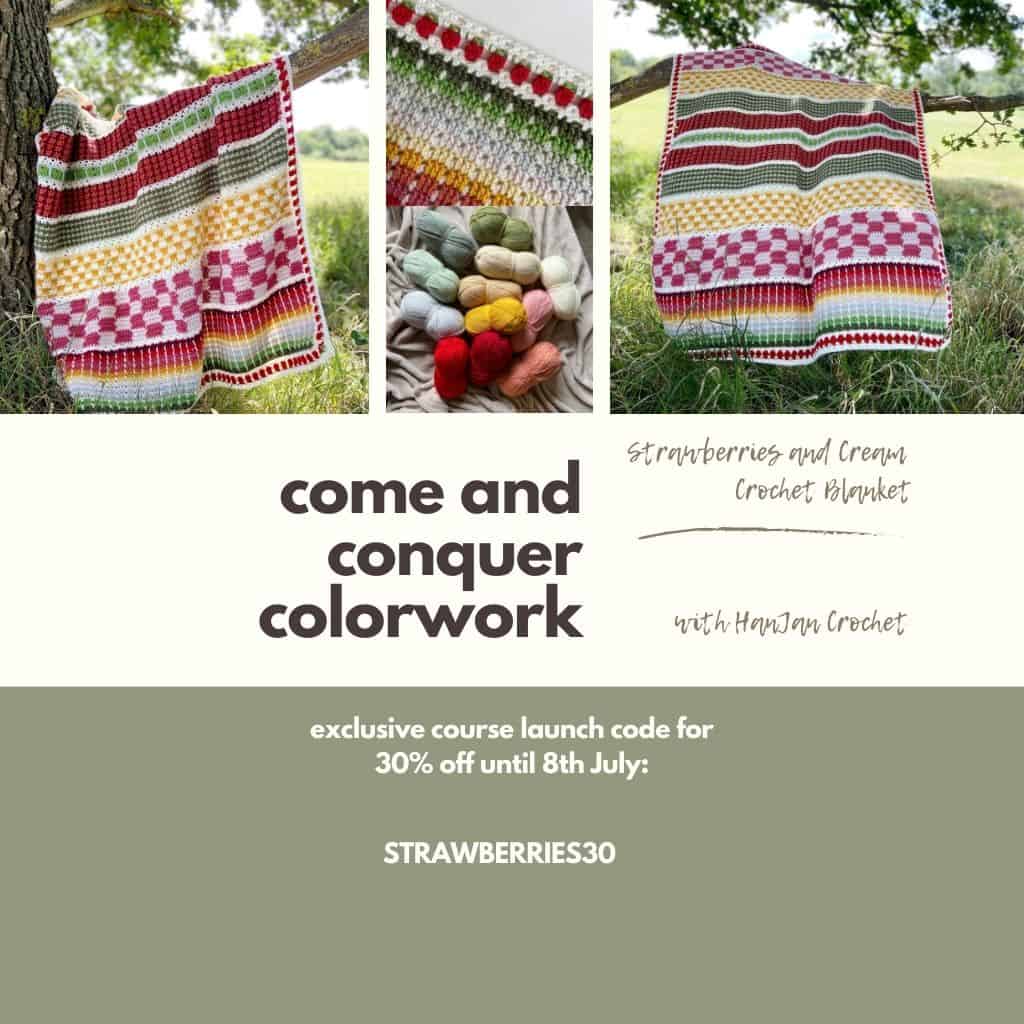 Get everything today!
Get the ad-free, printable PDF Ebook or course option and get making today.