I had no idea how much I would fall in love with the world of micro crochet until I met Steffi Glaves earlier this year. Steffi specialises in designing and making the most exquisite micro crochet jewellery and really pushes the boundaries of what crochet is capable of and the result is amazing. I can't wait for you to meet her and inspire you with a stunning crochet flower pattern or two of hers.
More about Steffi and Micro Crochet
Steffi is a jewellery maker specialising in fine crochet lace. She uses a 0.5-0.6mm hook and fine sewing cotton to make tiny delicate pieces and finishes them with sterling silver findings. Though known for her crochet flower designs, Steffi also makes popular crochet motifs and turns them into jewellery too, like nostalgic blanket squares, rainbows and snowflakes.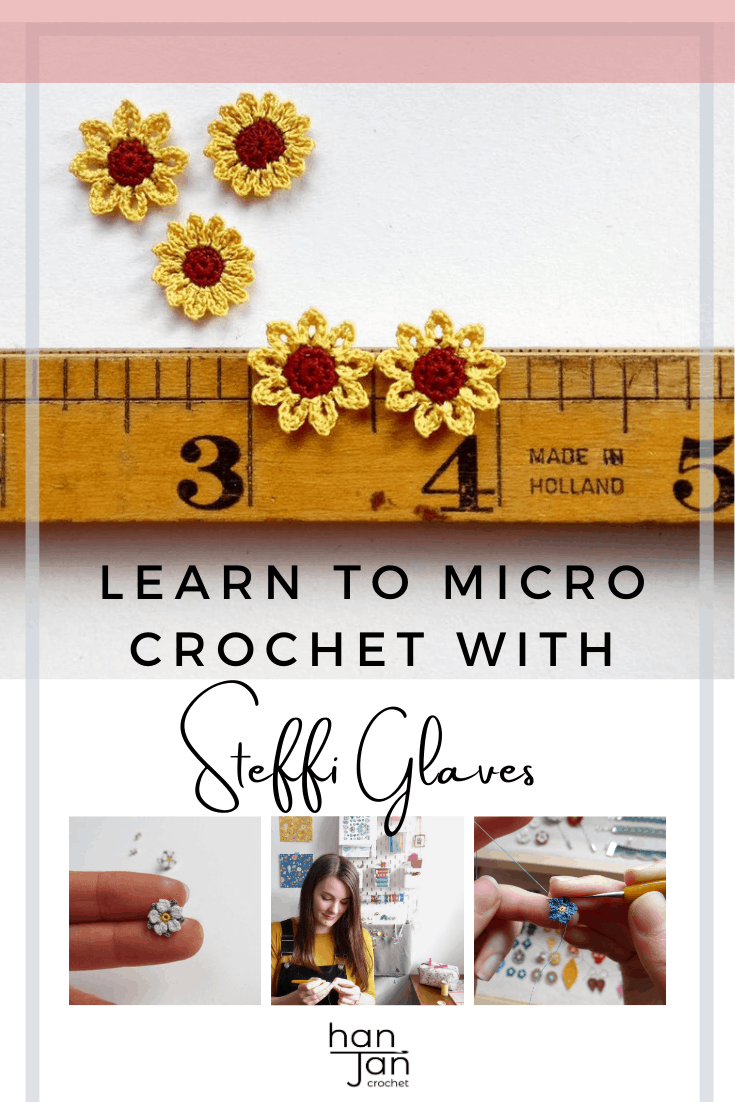 Over the past year, Steffi has been designing patterns for magazines and published some of her own in her Etsy store. She lives in North Yorkshire, UK and teaches secondary school design and technology alongside her crochet business.
You can see more of Steffi's work and connect with her @steffi_glaves – I know she would love to hear from you!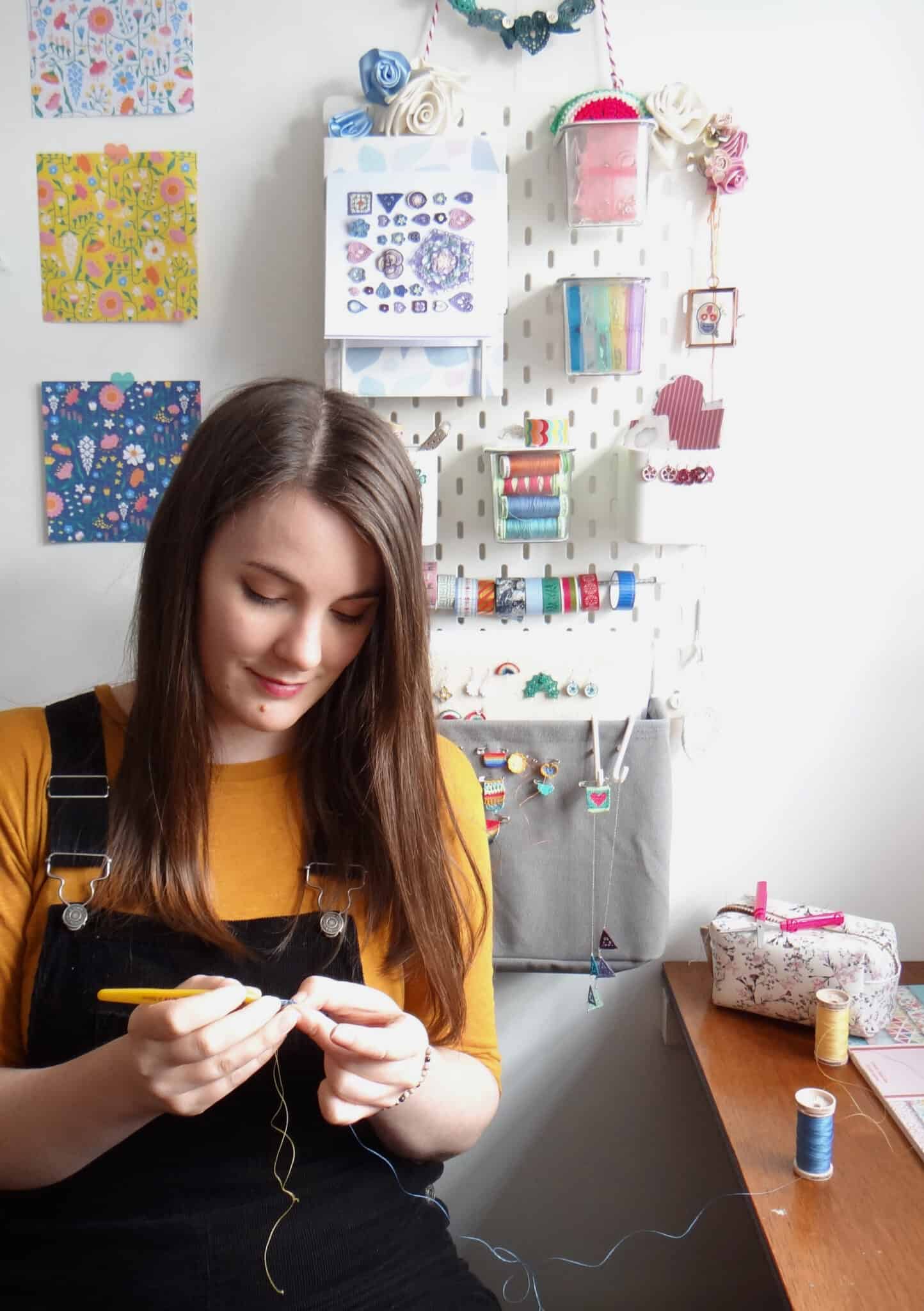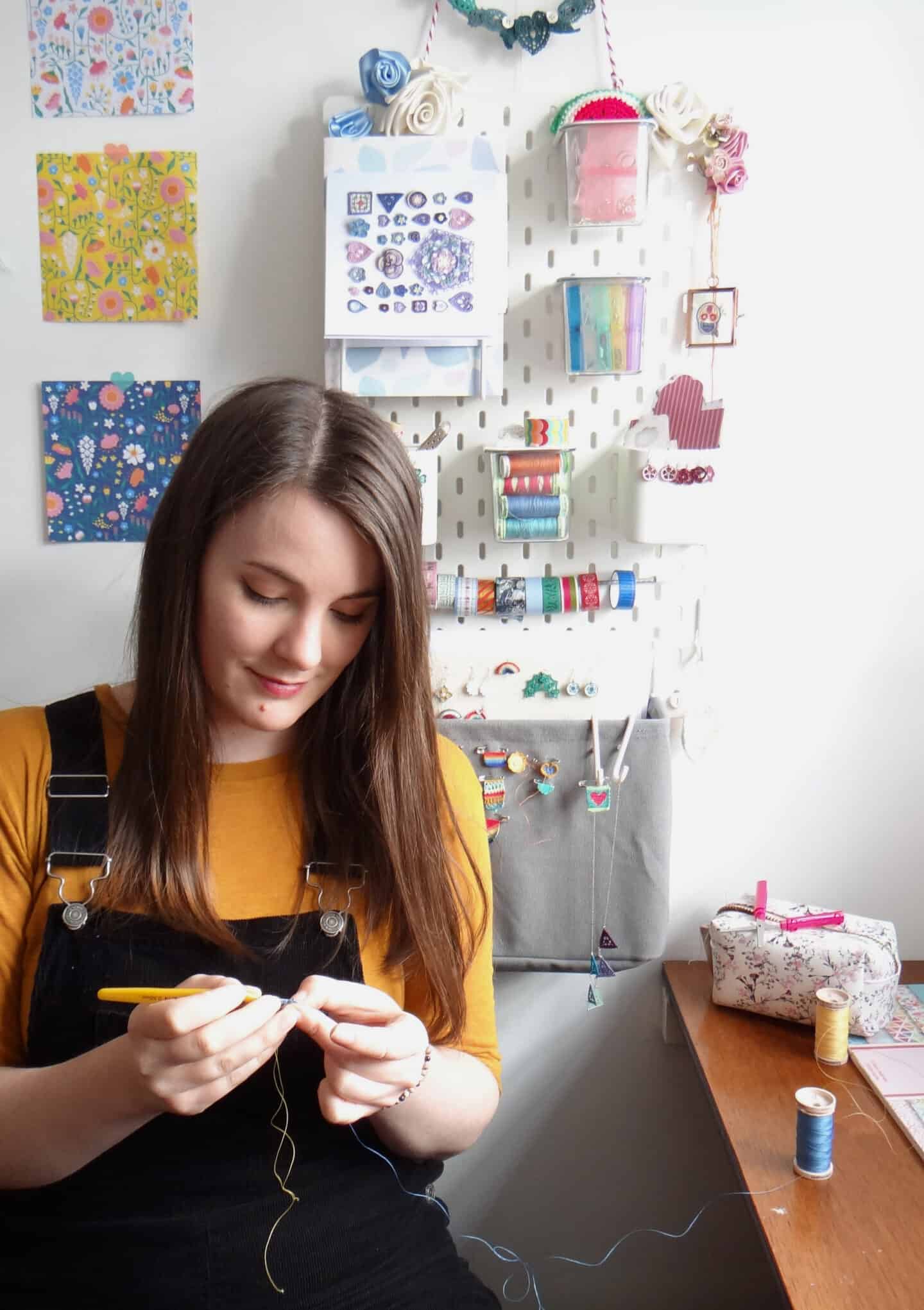 Designing and making micro crochet patterns
Steffi credits her North Yorkshire surroundings as the inspiration for much of her work. Exploring flowers in nature is the perfect way to spark the design process. Most of the design process for Steffi is just getting right down to the making though. She rarely sketches or plans but experiments with different stitches and colour schemes until she gets it just right.
Normally it involves a little tweaking and then gets added to her record of sketches and diagrams so she can recreate the pattern. People often wonder if the work is stiffened in any way but it's not. Steffi tells me her tight tension and lightly waxed cotton gives just the right stitch definition and the perfect structure to form the intricate fabric.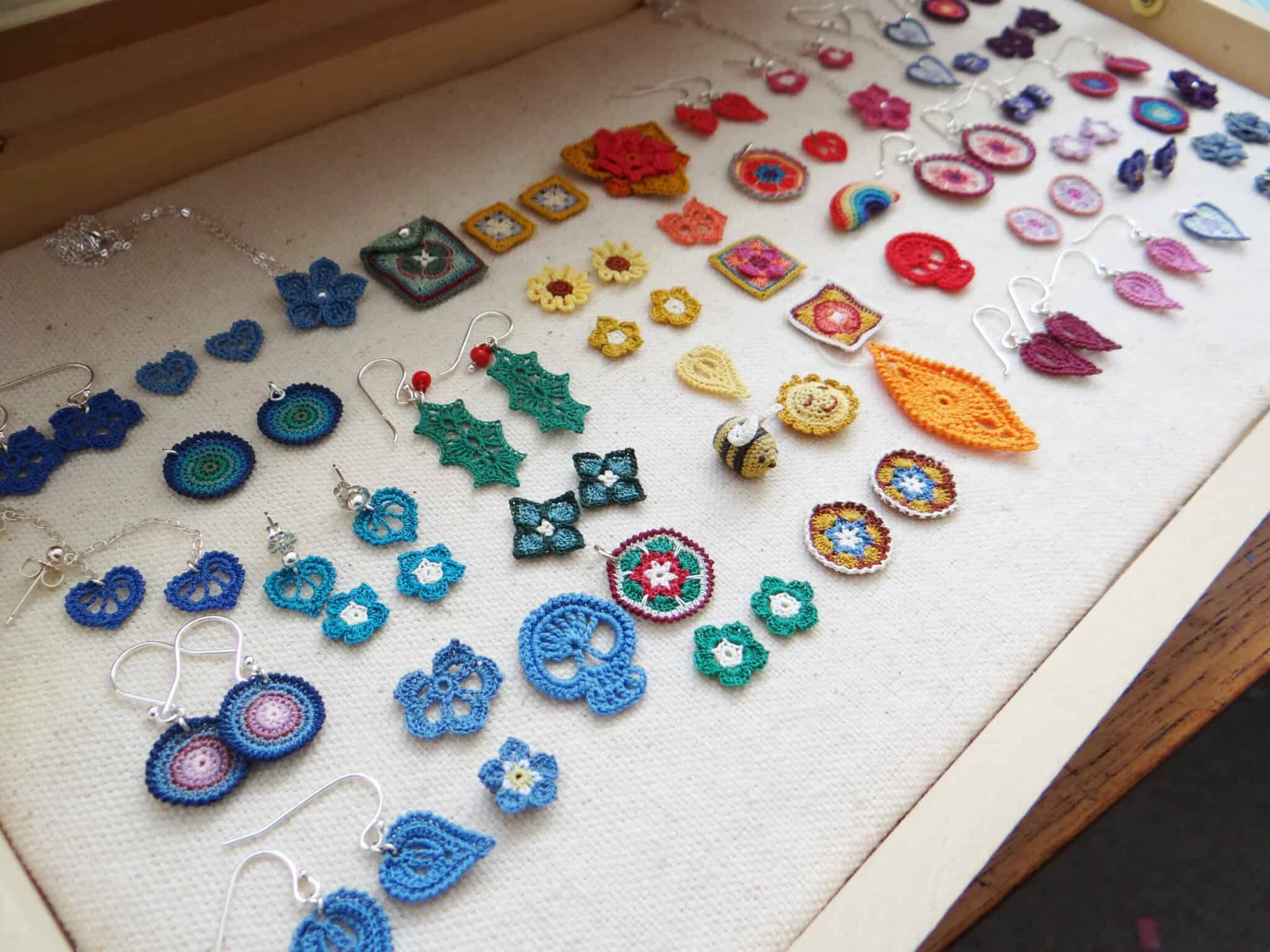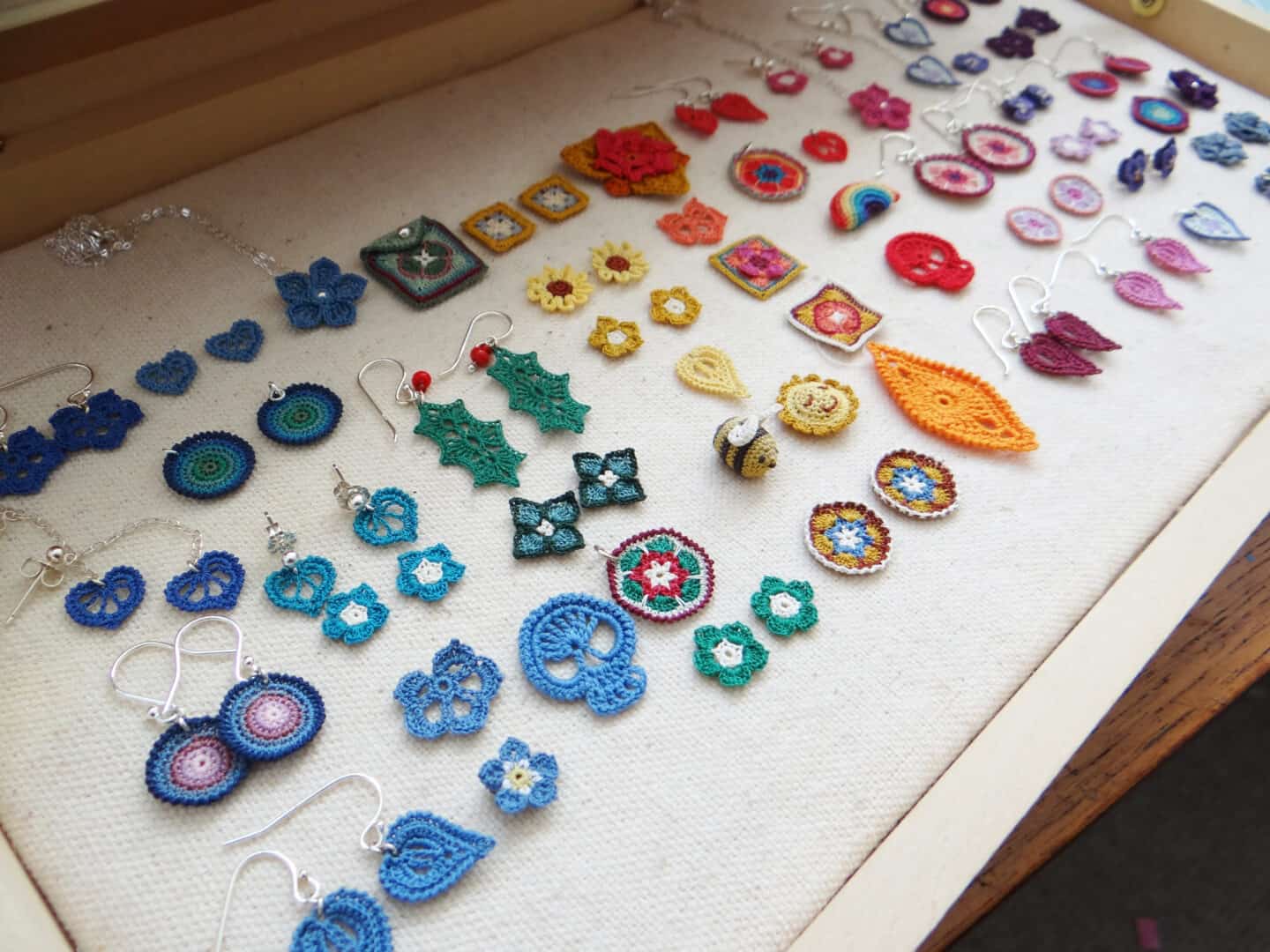 Can anyone try the technique?
Absolutely. Steffi promises me that anyone can master the technique of micro crochet. All you need is time and practise, just like any other craft. A great idea of hers is to start with a simple crochet flower pattern, your usual yarn and hook to make a piece and then work your way down yarn gauges and hook sizes. You end up with tangible items that show your progress and the size difference isn't so much of a shock this way too!
Join HanJan Crochet
I'd absolutely love for you to join me at HanJan Crochet so that we can connect and stay in touch! Sign up to receive a free PDF pattern and exclusive access to all of my patterns, offers and news. I can't wait to hear from you!
What yarn and equipment do I need for micro crochet?
You don't a huge amount of fancy equipment to get going with learning to micro crochet, just a few key items is all you need to make your very first tiny crochet flower (or whatever tiny thing you choose!).
Any set of tiny crochet hooks will work well but ones with a good handle to grip will help keep your hands comfy.
You'll also need some fine sewing needles to weave in your ends.
Whether you have reading glasses or a craft magnifying glass it will help so much with seeing those tiny stitches! (These beautiful glasses are eco friendly too!)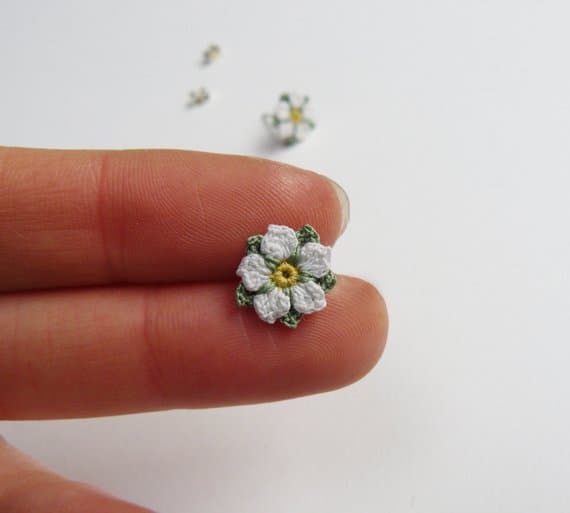 What crochet flower pattern should I use?
Although you can technically use any pattern you like, I would recommend using a specific micro crochet pattern. This is because they are far more intricate, detailed and written especially for tiny sizing and so the end product will be so much better.
Here are some of Steffi's best selling micro crochet patterns that would be great for you to learn with.
Photo Credit: Image: Steffi Glaves
Perfect to create memorable crochet gifts.
Photo Credit: Image: Steffi Glaves
Photo Credit: Image: Steffi Glaves
A brilliant idea for Remembrance Day
Photo Credit: Image: Steffi Glaves
Delicate and sophisticated
Photo Credit: Image: Steffi Glaves
Perfect for that time of year!
What are the challenges of micro crochet?
Funnily enough micro crochet has most of the same challenges as regular crochet! Keeping your tension just right, weaving in those fiddly ends, making sure you work into the right part of the stitch, all the woes of crochet we already overcome with every project we make.
One of the trickiest things Steffi finds is making identical pieces so that a pair of earrings actually match. Making multiples of the same piece and then picking out matching pairs from them solves this, but means she has a whole box of singletons waiting for their partner to be created!
In terms of design, Steffi also faces the same issues as any crochet designer – mathematics! For example, working out how many stitches she needs in the centre of a piece for it to split evenly into 5 or 6 petals. She sometimes ends up making pieces that are wonky or have one-too-many petals more often than she dares to admit!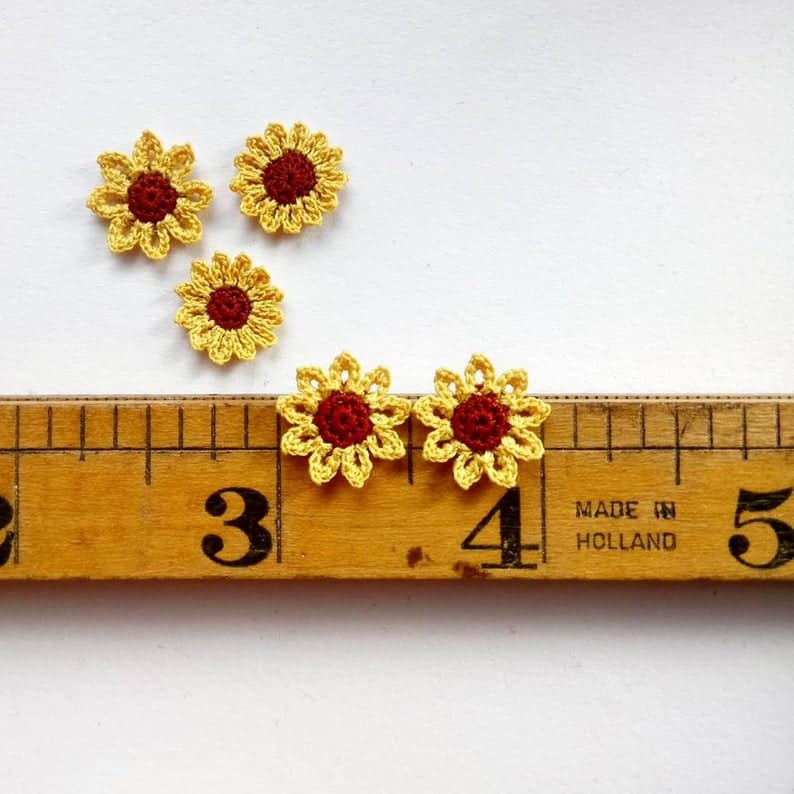 10 top tips from Steffi Glaves
So now that you have all the equipment and crochet patterns that you need, it's time to start the micro crochet!
When I speak to people about micro crochet though they often worry that hand dexterity, grip or eyesight might be a challenge but Steffi assures me that this shouldn't be the case, anyone can try their hand (and hook) at it!
Steffi was so kind to give me her top 10 tips for success with micro crochet and I'm so happy to share them here with you today. Here goes:
Good lighting first and foremost, I used to crochet to my heart's content in rubbish lamplight and now I have a permanent furrow brow. Don't do that – work in daylight!
Go for a hook with a comfy handle. When using a fine hook, working so small is too uncomfortable with a fine handle.
Don't go for dark thread at first, go for a lighter thread so you can work out where to place your stitches more easily.
In terms of patterns, I would start with flat motif pieces where you work between the stitches rather than in the stitches themselves. that way, you don't have to strain your eyes for correct stitch placement.
Crochet in your excess thread as you go along when making your piece to save yourself from fiddly sewing in at the end.
When it comes to threads there are lots of types that you can try out and see what is best for you. Different ones will work differently depending on how you crochet.
Needles for sewing in the ends are important too. They need to be super fine but strong so they won't disturb the stitches as you push the needle through the work.
Start with your usual yarn at first and work your way down the yarn gauges and hook sizes. That way you have tangible pieces that track the progress you're making.
Make multiples of the same design to make sure you find a matching pair out of what you have made if you're making earrings for example.
Practice makes perfect – it took me a long time to get to where I am now, I've been doing micro crochet for years and I still make mistakes!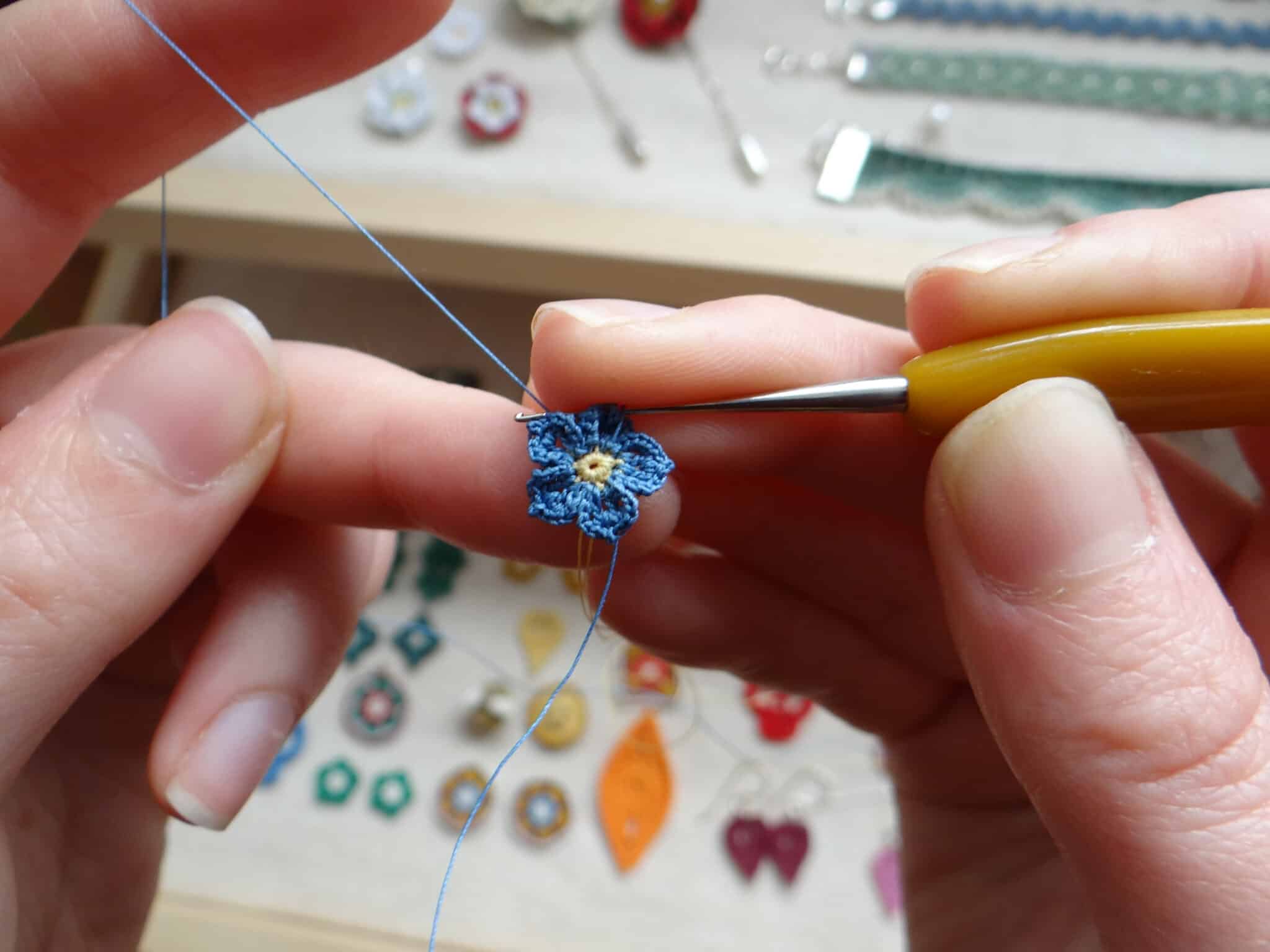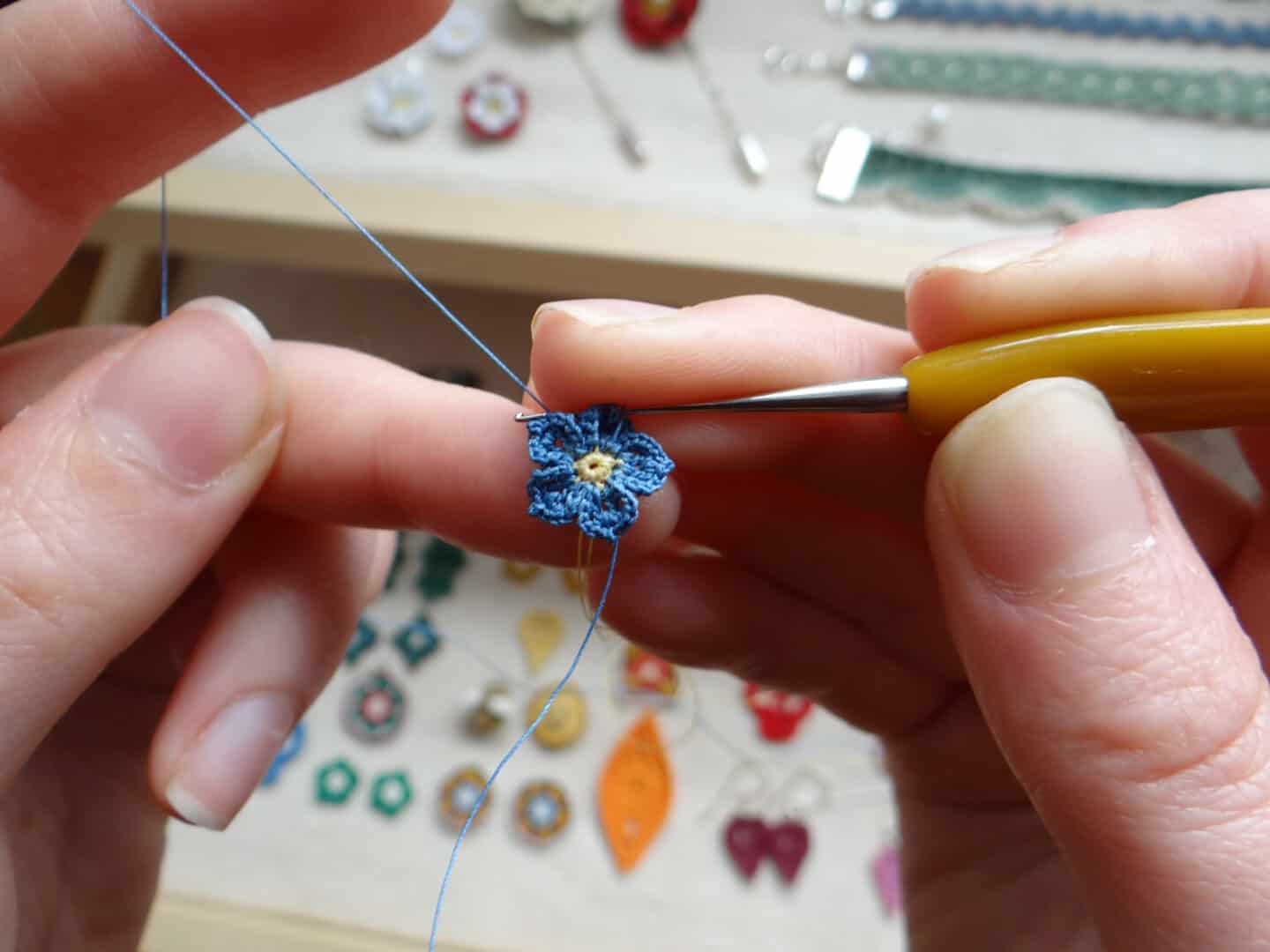 Other crochet articles you might enjoy
I've been lucky enough to interview some awesome designers like Steffi for my blog and here are some I thought you might enjoy reading about:
Veronika Cromwell from Blue Star Crochet talking about mindful crochet
Lucy from Attic24 talking about Yarndale, colour and coffee
Zoe Potrac of Zoe Potrac Designs talking about crochet design and mindfulness
Fran Morgan talking about garments, swatches, blocking and more