We've still got some time before April sets in and I'm sure you're all crocheting away to get ready for Easter. Last time, I released a roundup of easter bunny crochet ideas and for this roundup, I'm bringing you free easter egg crochet patterns.
My childhood was full of the little brightly-colored plastic ones but since diving into the world of crochet, I've found there's so much more you can do! From mini amigurumi to carrot sacks and appliqué, there's a world of ideas out there and I'm introducing you to some of its most brilliant patterns.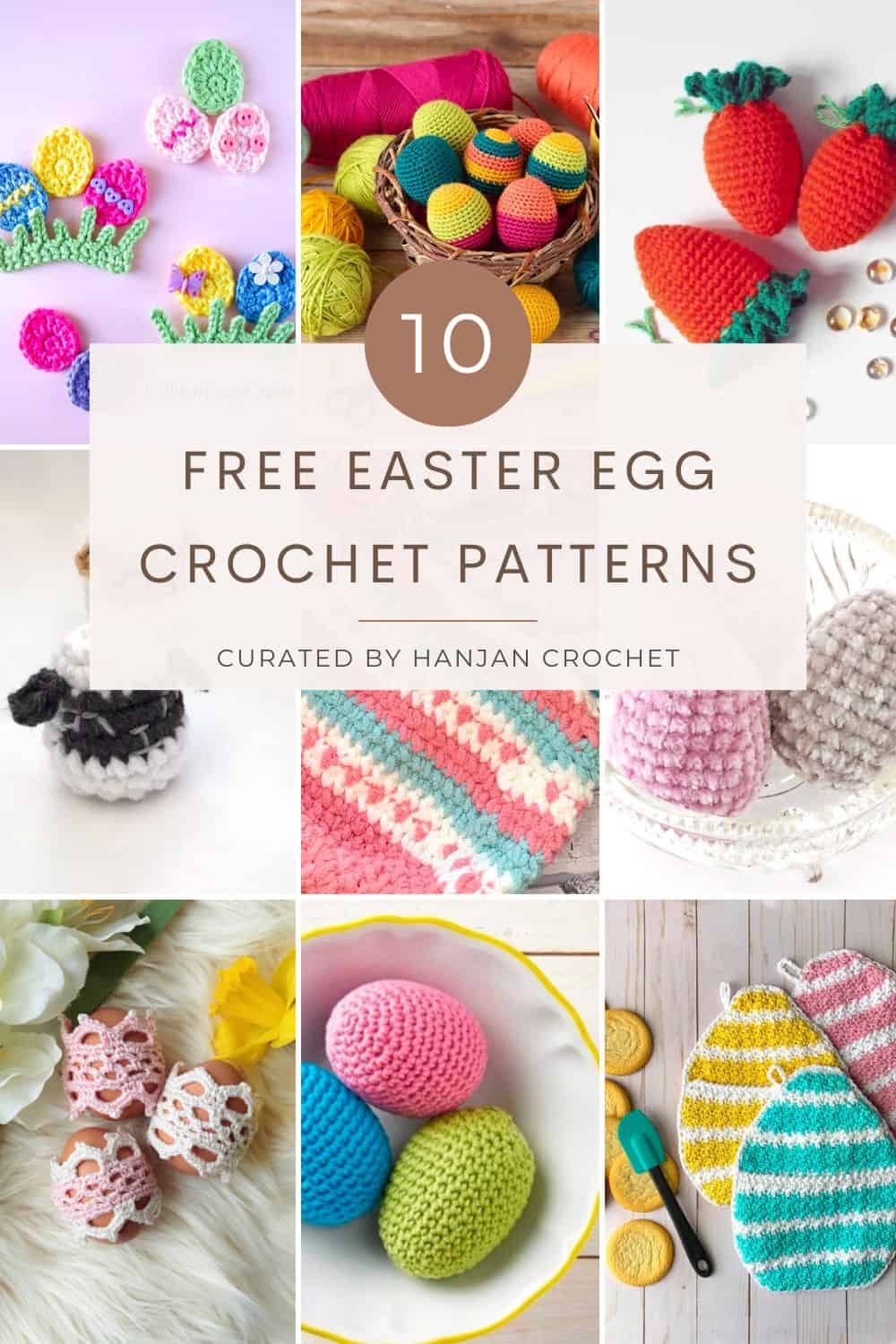 How do you crochet an egg pattern?
The key to success is choosing a pattern that uses simple stitches and a construction that you feel comfortable with. I've chosen all sorts of projects with patterns ranging from beginner through to more advanced with colorwork that you can really get your teeth (or hooks!) into.
Since these are mainly oval-shaped egg patterns, there's not a lot of seaming to do (most of them don't even have a lot of weaving). You won't have to worry about getting all of the bits together and you can work up a lot of these in a short amount of time.
Each of the patterns has such a varied style that they are all made very differently but one thing you can be sure of is there's going to be a unique touch to every egg this Easter!
The other thing I noticed of course is that there are certain colors I see a lot of too including soft pinks and blues, pastels, very subtle hues. Which made me think that these would also make perfect crochet baby shower gifts!
How do I choose the right pattern for me?
Choosing the right crochet egg pattern to make completely depends on what you'd like to make, who you're making it for and what experience you have with crochet.
Firstly, you need to make something that you know you have a use for and have been wanting to make. There is no point in crocheting something that you don't love.
For instance, if you're making a bunch of eggs, I hope you'll know what to do with them (whether they're gifts or a part of a scavenger hunt).
Secondly, you need to choose a pattern that sits with your skill level and experience. I've added various details to all the patterns to save you the work of delving into them and finding out if they are right for you.
It's vital that you find a pattern that has been tech edited and tested and I know that each and every one of these has been. Some of them have video tutorials too which is an amazing bonus for beginners.
What crochet stitches will I need to know?
Each of the patterns that I've included use mostly single crochet, half double crochet and double crochet stitches.
There are a few that use more advanced techniques like colorwork and shaping because I didn't want you to limit yourself if you've already encountered or would like to learn these stitches.
Supplies for Crochet Eggs
Pattern
As I've said, choosing the right pattern for you is essential and I have 10 for you to choose from! All of them are free to view on the designer's blog which is a great way to try out a pattern without committing any money.
If you find one (or more!) that you love, they all come with a premium PDF option that will mean you can download and print a copy which is great for making notes and remembering where you are!
Plus, you can keep the pattern saved with you for the future so you won't have to scratch your head to figure out how you made something.
Yarn
The pattern will let you know the recommended yarn that the designer used, the weight (referred to as category) and the amount of yarn you'll need for each size. I've added the information about the yarns with each pattern for you to take a look.
One of the most important things when choosing yarn is usually to make sure that you work a gauge swatch. But since most of these patterns aren't wearables, you don't really have to worry about that.
Hook
Your pattern will let you know the hook size that the designer used but you can always adjust according to the yarn you're using or if your stitches are tighter/looser than most people's.
Notions and Other Materials
The other essentials you might need while making some of these patterns are:
Scissors to break your yarn.
Stitch markers are often helpful for keeping count of stitches, especially when you're making amigurumi
Easter Egg Crochet Patterns – The List
Now, without further ado, here's the much awaited list of easter egg crochet patterns. There are so many fun options to choose from and once you get the hang of the pattern, you can always adjust it according to your own tastes and yarn stash!
Here are 10 adorable egg crochet patterns to get ready before Easter!
Photo Credit: www.jenhayescreations.com
I just love the colors used in this pattern! The stripes can be made with all sorts of funky yarns in your bucket and you can customize each egg for the person who's receiving it. This is another great quick beginner friendly pattern. With some embroidery floss, you can also add flowers, stems, and other designs to the eggs.
Item Type: Amigurumi
Yarn Weight: Worsted
Suggested Yarn (Colour): Yarnspirations Caron Simply Soft (Gold, Pagoda, Chartreuse, Persimmon, and Fuschia)
Hook: 3.5mm
Skill Level: Advanced Beginner
Photo Credit: blackstone-designs.com
The Easter Egg Pot Holder can be used as both a decoration as well as practically while you're cooking dinner for your guests. You can use batting for heat resistance or make two layers and sew them together for a thick potholder.
Item Type: Potholder
Yarn Weight: Worsted
Hook: 5.5mm
Skill Level: Easy
These cute little beginner friendly crochet Easter eggs are just the thing to complete your seasonal decorations and make perfect gifts too. Using the amigurumi crochet technique, you can whip some up in no time with only the basics of crochet.
Item Type: Amigurumi
Yarn Weight: 4-ply (Sport)
Suggested Yarn (Colour): DROPS Safran (Lime, Turquoise, and Medium Pink)
Hook: 3mm
Skill Level: Easy
Photo Credit: bluestarcrochet.com
Look at how intricate these lacy egg hugs are! If you plan on using real eggs this year, these would look fabulous on them. They add just the right bit of pizzazz to your everyday breakfast item!
Item Type: Cosy
Yarn Weight: 4-ply (Sport)
Suggested Yarn (Colour): King Cole Giza (Cream and Petal)
Hook: 3mm
Skill Level: Easy
Photo Credit: www.onceuponacheerio.com
Another great cosy pattern, these ones are shaped like carrots! If you've crocheted some bunnies this year, these will go great with them and you can store all sorts of items inside (not just eggs!) because these function as a drawstring bag.
Item Type: Cosy
Yarn Weight: Worsted
Suggested Yarn (Colour): Loops & Threads Impeccable Yarn (Orange Crush and Kelly Green)
Hook: 4mm
Skill Level: Advanced Beginner
Photo Credit: www.stitchbyfay.com
If you're in need of a quick last minute gift or beginner friendly seasonal decor, you can crochet one of these velvet eggs in 30 minutes or less! By using velvet yarn, these eggs come out very unique and luxurious.
Item Type: Amigurumi
Yarn Weight: Medium
Suggested Yarn (Colour): Lion Brand Vel-Luxe Yarn (Silver and Lilac)
Hook: 4mm
Skill Level: Easy
Photo Credit: hookedonpatterns.com
How adorable are these crocheted lamb egg cosies? They add a special, cute touch to your typical egg cosy and you can crochet them to set your eggs apart from all the others! The pattern walks you through every step, from making the pieces to sewing them together and adding that cute face!
Item Type: Cosy
Yarn Weight: Chunky
Suggested Yarn (Colour):
Paintbox Yarns Simply Chunky
Hook: 5mm
Skill Level: Intermediate
Photo Credit: www.cosyrosieuk.co.uk
This giant crochet egg is great for home decor or as a gift for a child. You can add it to your sofas as a cushion and it's super soft and huggable. If you get lost in between, there's a video tutorial as well.
Item Type: Amigurumi
Yarn Weight: Super Bulky
Suggested Yarn (Colour): Bernat Baby Blanket Sparkle (Rose Glow Sparkle, Moonlight Sparkle, and Seafoam Sparkle)
Hook: 8mm
Skill Level: Advanced Beginner
Photo Credit: www.goldenlucycrafts.com
Add the seasonal charm to your other items, such as bags, cushions, headbands, and more, with this crochet egg appliqué pattern! You can also add little buttons, lace, etc. to make them really stand out.
Item Type: Appliqué
Yarn Weight: DK
Hook: 2.75mm
Skill Level: Advanced Beginner
Photo Credit: craftingeachday.com
This crochet egg pattern is perfect for an advanced beginner and to use up all of the yarn scraps you have laying around. You'll get to use the magic loop method, working in the round, and single crochet decreases.
Item Type: Amigurumi
Yarn Weight: Sport, DK, or Worsted
Suggested Yarn (Colour): Scheepjes Stone Washed (Turquoise) and KnitPicks/WeCrochet Mighty Stitch Bubblegum and Canary)
Hook: 3mm or 3.5mm
Skill Level: Advanced Beginner
Conclusion
So which one will you choose first from these 10 easter egg crochet patterns? I really hope you found the perfect pattern for you in the list and would love to know if you make one (or some!).
Don't forget to join HanJan Crochet to receive regular discount codes, hear about all my new patterns first and get exclusive access to events!
Other Easter Crochet Patterns to Enjoy
If you are looking for more seasonal inspiration then here are a few more ideas to try –