Make this easy crochet necklace pattern in under 20 minutes using left over yarn and any necklace chain you like! Perfect for beginners and a great little crochet gift project to make in an evening.
Using just a few rows of the beautifully textured crochet ruffle stitch, you can create your very own crochet necklace, bracelet or any other accessory you like.
If you can crochet a US double crochet (dc) / a UK treble crochet (tr) then you'll have no problems mastering this fabulous and fun crochet stitch. Better yet – you only need to work 4 rows to make the crochet necklace like I did!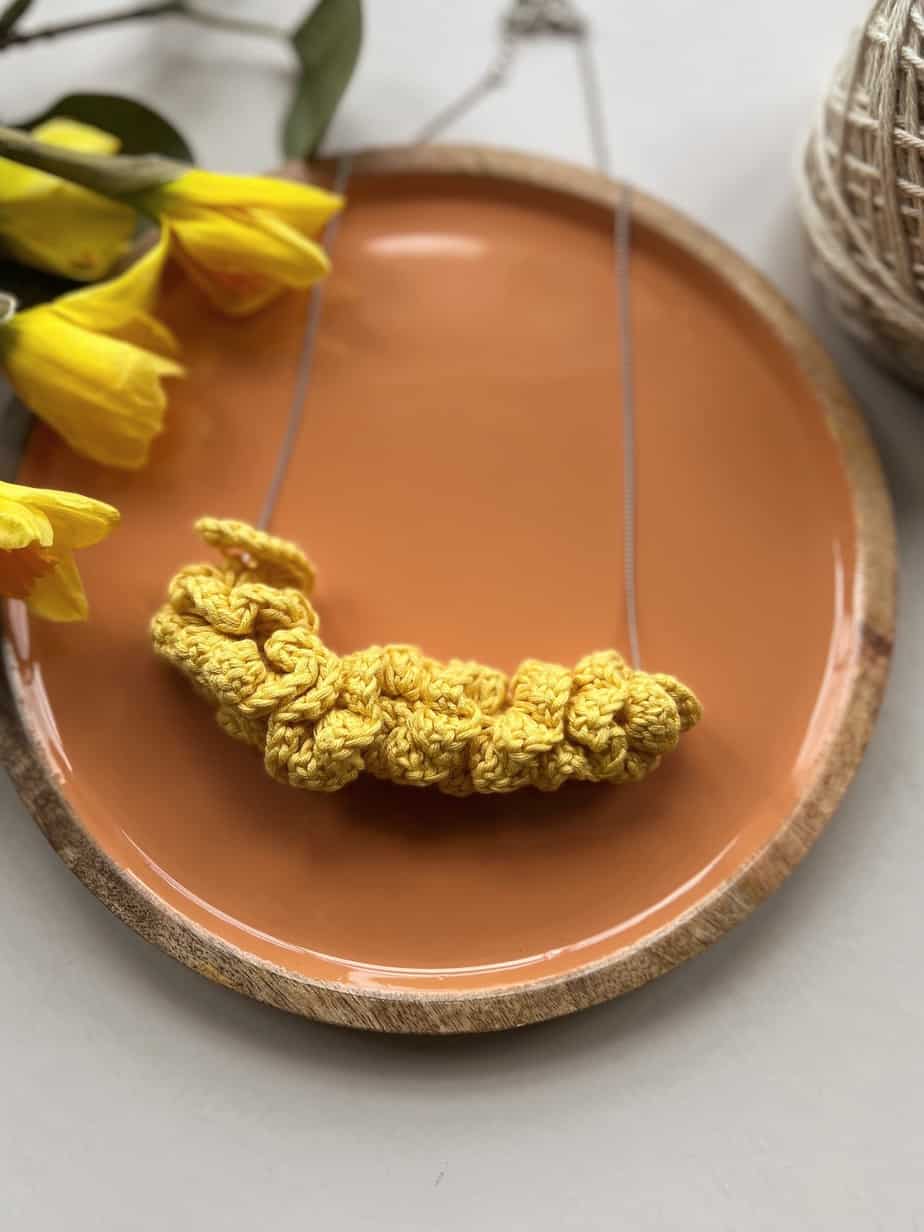 How to make a crochet necklace
I've seen so many crochet necklace patterns over the years and my mother-in-law bought a kit last year for a chunky one in flowery fabric that looked beautiful when it was made but was so heavy to wear!
After she had shown me it I suddenly remembered that I had designed one years ago to showcase the beautiful crochet ruffle stitch for a publication and I knew that I had it stashed away somewhere.
After much searching I finally found the necklace that I made (about 7 years ago I think!) and it was perfect!
It's so delicate and light yet the texture of the crochet stitch really makes it bold and modern. Plus of course, you can can use whatever colour you like to add a pop of colour to your outfit or co-ordinate, whatever you prefer.
Why are crochet necklaces good to make?
Well, I think there are so many reasons that crochet necklaces (and any kind of jewellery) are great to make. Here are just a few reasons –
They are super quick to crochet
They hardly use up any yarn
They make the most wonderful crochet gift
You can almost guarantee nobody will have one like it!
You can make one to match any outfit
They are much cheaper than buying a new one from a shop
You can make them out of yarn and a simple necklace that you already have
Not only are they a great small crochet project to make as a gift but would be awesome to sell at markets or online.
I bet you could even sit at a market and crochet bespoke coloured crochet necklaces all day! People would love them.
I don't know about you but I also love little projects like this that give you a nice quick break from a larger one that's taking forever. I think we all have that blanket that's been on the go for years or a sleeve that just won't ever end! Well this can be your little evenings break away to recharge and refresh.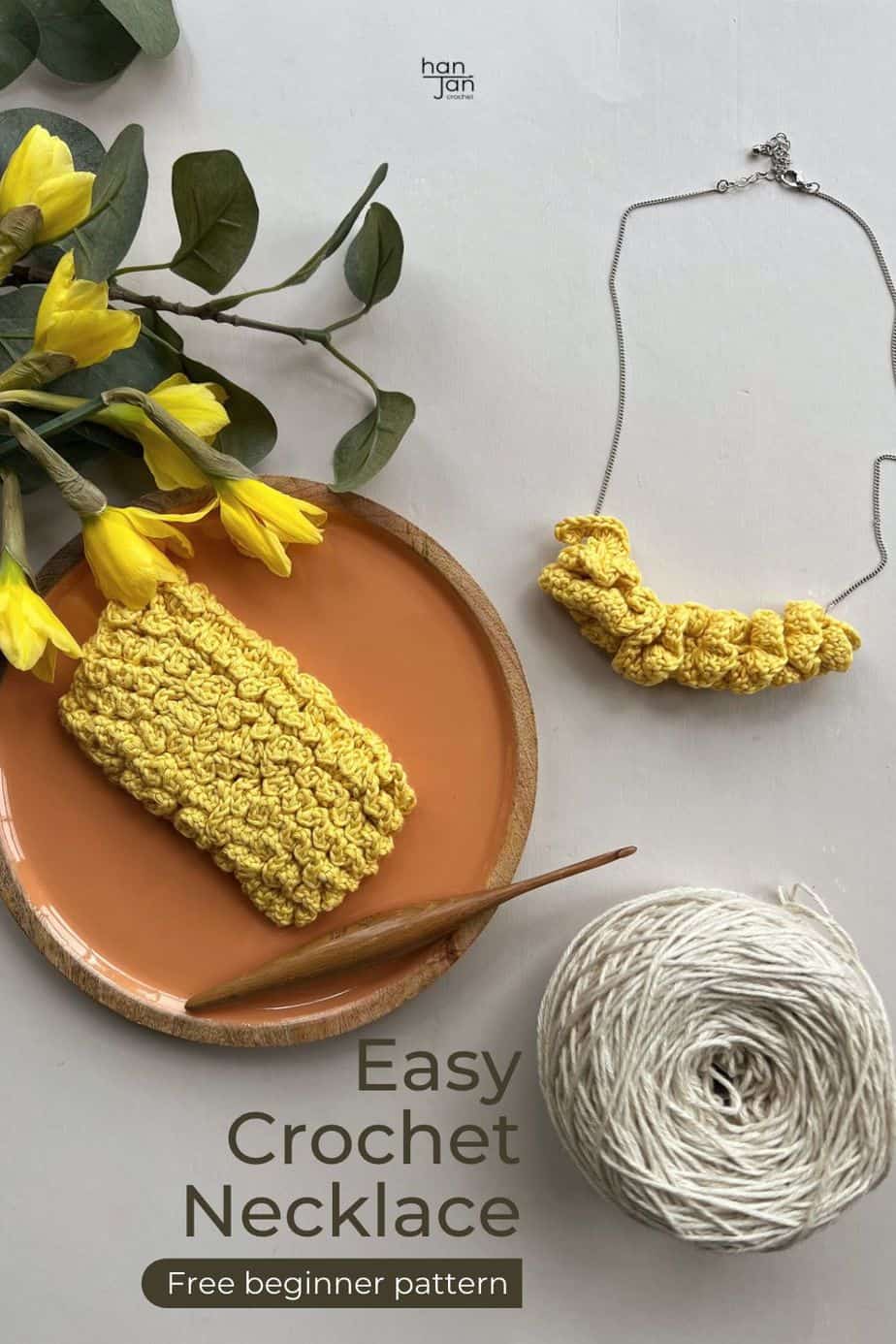 Crochet Ruffle Stitch – the perfect textured stitch
The crochet ruffle stitch simply uses a number of stitches in the same stitch to create a 'wave-like' fabric that is dense, textured and really tactile.
There are a few ways of creating the feel of a ruffle stitch.
My preferred method uses just US double crochet (UK treble crochet) stitches. You work a row of stitches then turn your work. The following row you work into the back loops only and squash a number of double crochet (5 in this case) into each stitch along the row.
This means of course that at the end of that row you have loads more stitches than you started out with.
Because they are all squashed together they almost take on a life of their own and create the most wonderful shape to the ruffle stitch.
After each row of 'ruffles' you work another row like the first of just one stitch per stitch in the remaining unworked loop of 2 rows below. (This will be much clearer once you are making it I promise!).
Here's what a larger swatch of the crochet ruffle stitch looks like: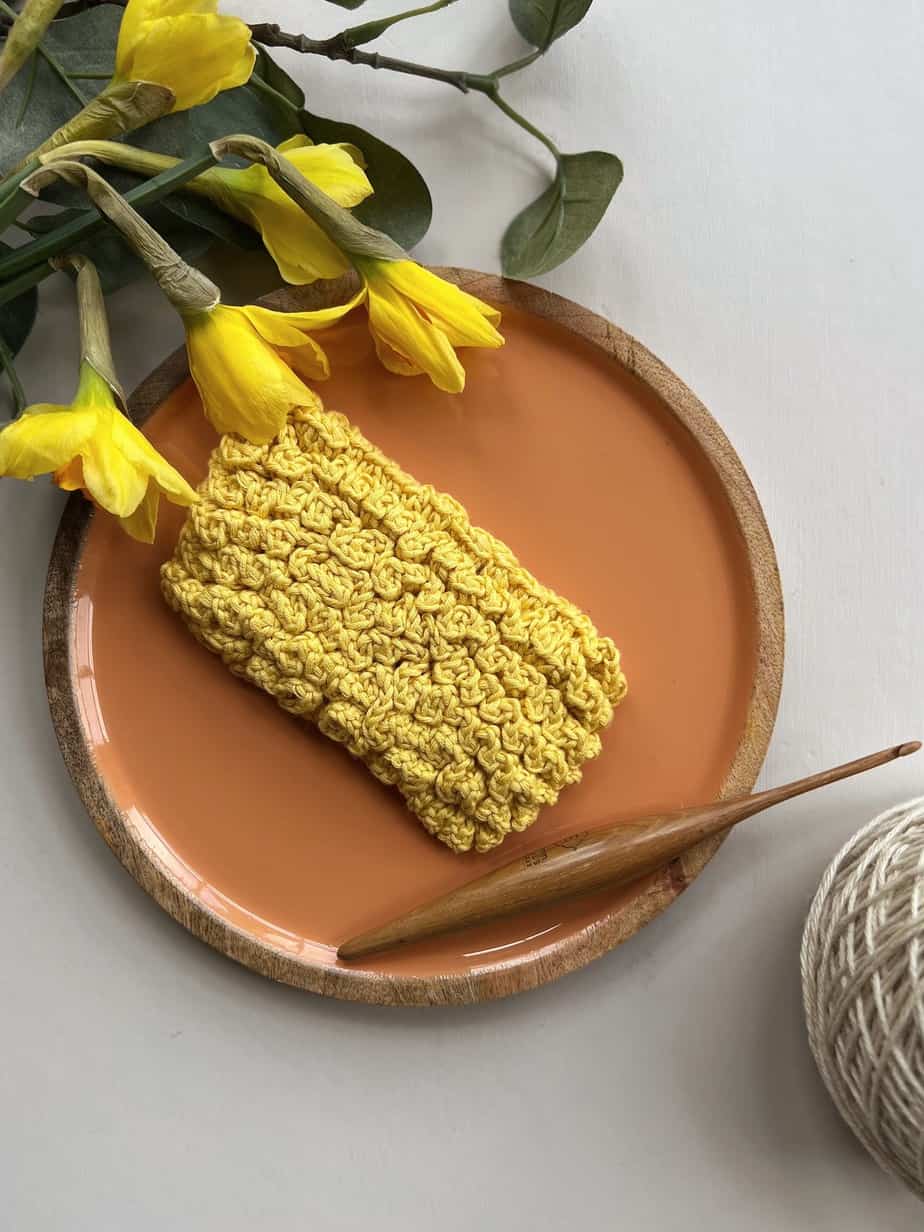 If you fall in love with all things ruffle too and want something bigger to work on then you might enjoy my Ruffle Sweater. It's a really simple sweater design with a great big ruffle on either side! Here's what it looks like –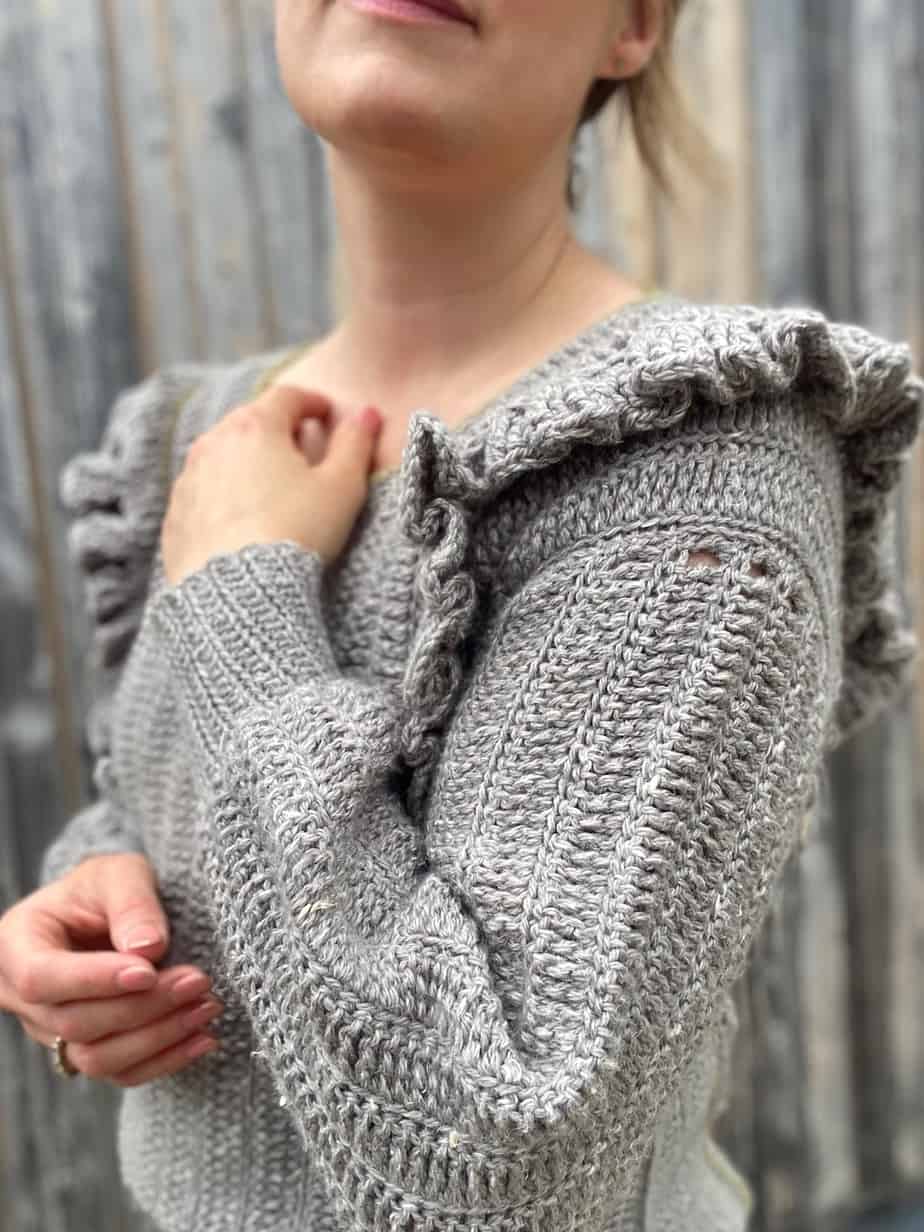 The Crochet Necklace Tension and Sizing Options
Tension (gauge) is not essential for this project so don't worry about it at all!
The size of the necklace and ruffle is entirely up to you. I'd encourage you to make yours to the size of the necklace chain you choose and have fun!
They can be as big and bold or small and delicate as you'd like.
Yarn
To make this crochet necklace I used DMC Natura Just Cotton which is a lovely 4ply/fingering weight yarn but you can use whatever you like of course.
You will only need about 5 – 10 grams of yarn to make a necklace so perfect for all of those leftovers in your stash!
Other Materials You Will Need
Along with your yarn, you will need the following:
Crochet Abbreviations and Glossary
ch(s) – chain(s)
ss – slip stitch
RS – right side
rep – repeat
blo- back loop only
flo- front loop only
Crochet Stitches used in the Necklace
The ruffle necklace uses the following crochet stitch.
| | |
| --- | --- |
| Standard UK Crochet Term | Standard US Crochet Term |
| tr – treble crochet | dc – double crochet |
Other techniques you'll need to know: how to fasten off and weave in your ends in crochet.
How to get the Crochet Necklace Pattern
This easy crochet necklace pattern is in US and UK terms on the blog for everyone to enjoy, just scroll down to find it.
Pattern Notes
A ch3 at the beginning of a row counts as a stitch.
Turn the work after each row.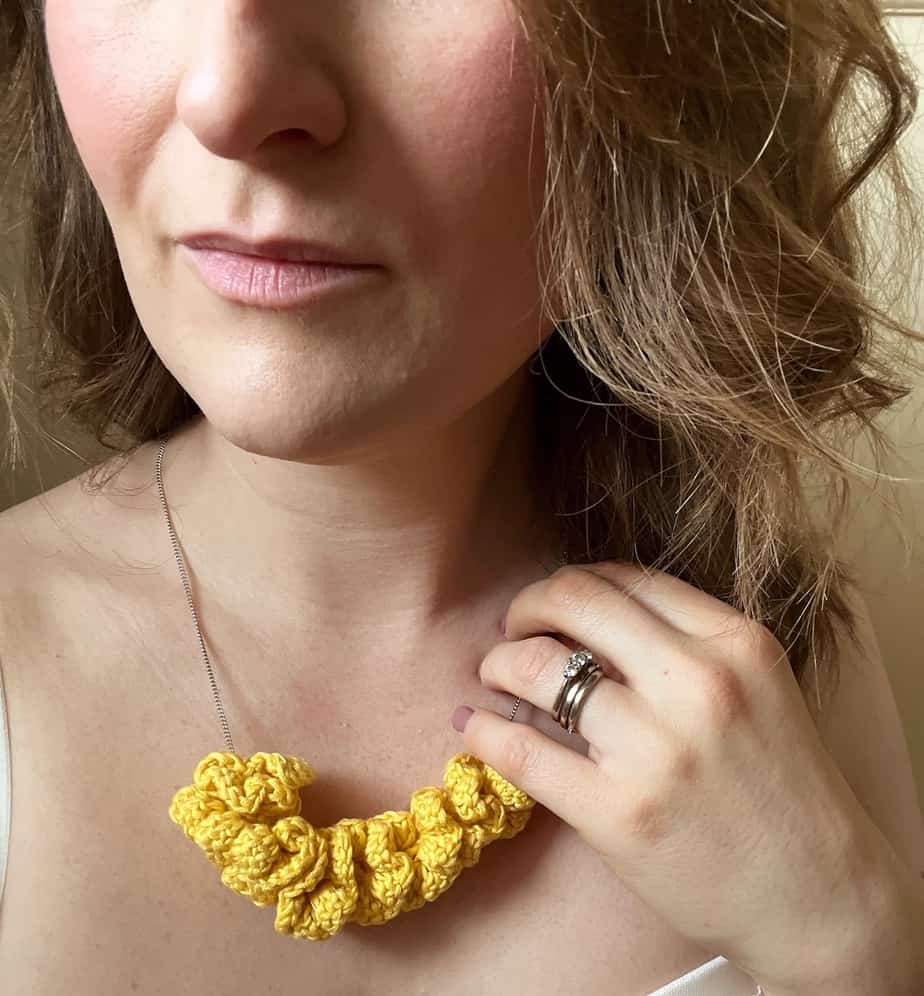 Do you prefer crochet video tutorials?
No problem! I know that reading a crochet pattern is so confusing for some people so I've created a short little video to take you through the steps of ruffle stitch and how to join it around the necklace.
Adjusting the Ruffle Stitch and Necklace Size
It's really easy to adjust the width of your stitch swatch and necklace by adding any number of stitches to your starting chain that you would like.
I only worked four rows before joining it around my necklace but if you are using a different yarn weight you might find that you need to work more or less rows to get the size you want.
Ruffle Necklace Crochet Pattern
Standard US and (UK) Terms
Foundation chain: chain any number you would like for the width of your necklace.
Row 1 (RS): dc (UK tr) in fourth ch from hook and in each ch to end.
Row 2: work in blo for this row, ch3, 4dc (UK tr) in same st, *5dc (UK tr) in next st; rep from * to end.
Row 3: work in unused front loops of row before last for this row, ch3, dc (UK tr) in next st; rep from * to end.
Row 4: Repeat Row 2.
Rows 3 and 4 create the set pattern.
Repeat the set pattern as many times as you like. (I finished at Row 4 for my necklace).
To Finish
Place the necklace across the ruffle stitch.
Slip stitch in the unused front loops of row before last and the foundation chain to join. Make sure that you encase the necklace chain within your crochet.
Weave in all ends to finish.
Other Textured Crochet Stitches to Try
If you are looking for more textured crochet stitches and patterns, check out this list!
Join HanJan Crochet and Share Your Crochet!
I'd love to stay connected with you so please do sign up for my subscriber list if you'd like to. Looking forward to hearing from you and sending you your free gift!
Thank you so much for being here to share in my free crochet patterns and supporting my blog. It's such an honour to be able to create and share my craft with you.
I'd love to see your finished crochet projects and so please share them with me in one (or all!) of the following ways: