I have been lucky enough to know and work with crochet and knitwear designer Fran Morgan for many years.
She is well known for her amazing garment designs and she teaches both beginner and advanced techniques too. Fran also knows everything there is to know about yarn, if ever I have a question, I ask Fran!
I had the pleasure of working with Fran again on the Mindfulness Crochet Blanket CAL team and am delighted that this week sees the launch of her section of the blanket.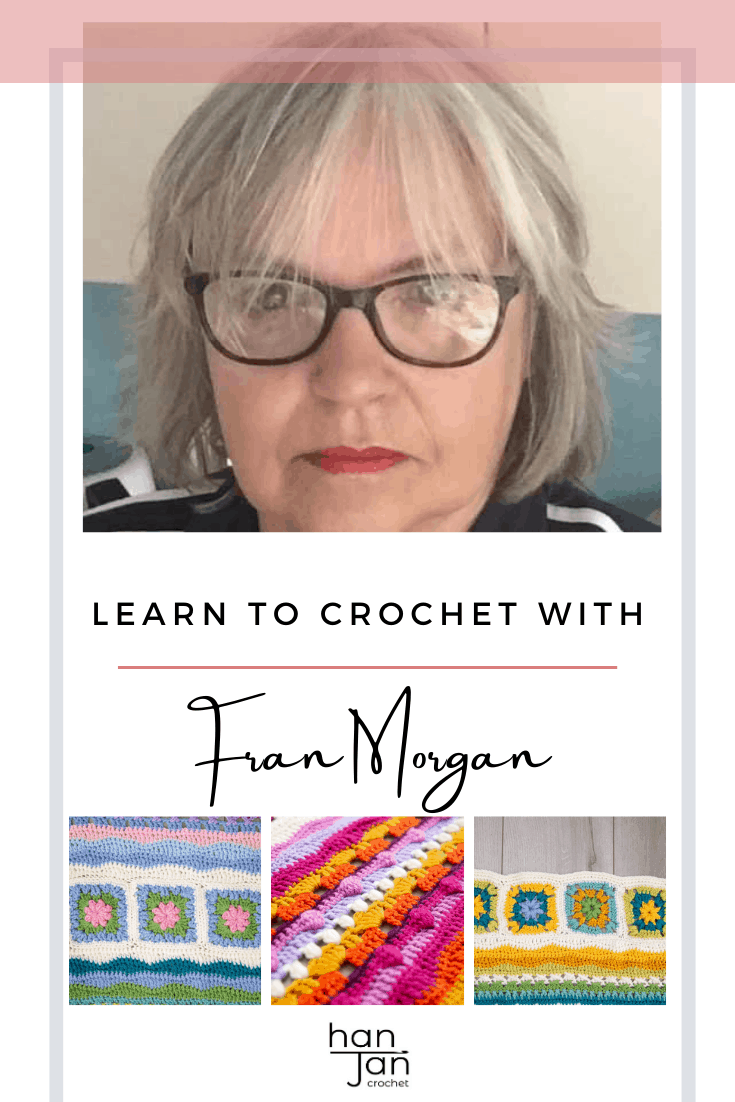 About Fran Morgan
It all started when Fran was six or seven and her mother taught her to knit. She made clothes for all of her dolls and teddy bears and she also loved to sew, so would make the entire outfit.
When Fran left school she bought a sewing machine and a knitting machine. Every Saturday she would make a new outfit to wear out that night and also taught herself to crochet then too.
Jump forward forty years and Fran began knitting for her local wool shop and from there went on to become a knitwear and crochet designer. Her work is regularly featured in Simply Knitting, Simply Crochet, Inside Crochet and also in her own online stores too.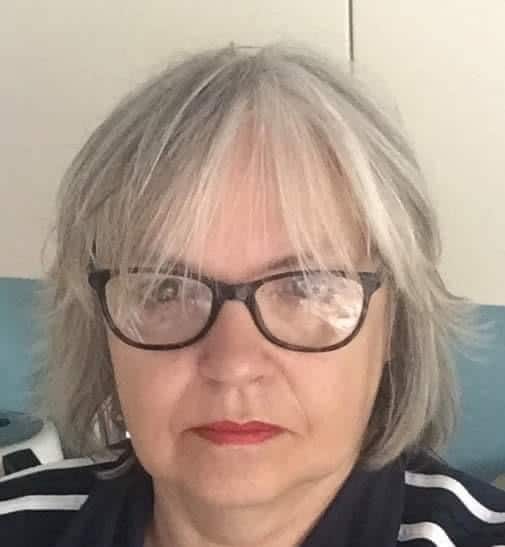 Some of Fran's Designs
Here are some of Fran's fabulous crochet garment designs.
Fran on Mindfulness, Design and More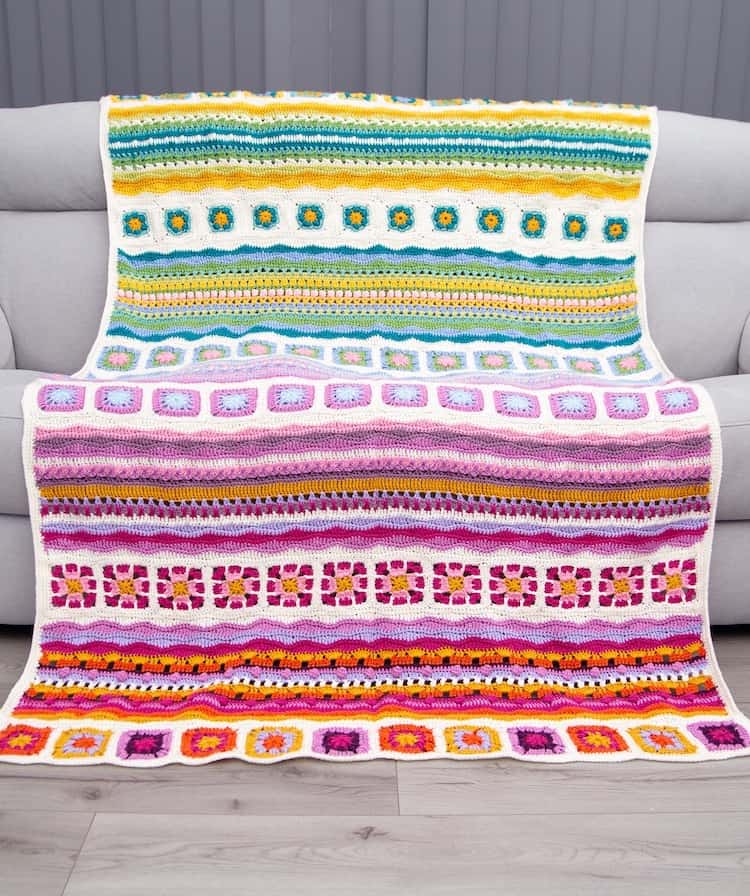 Whilst working on the Mindfulness Crochet Blanket CAL with Fran, I was lucky enough to be able to chat to her about what her thoughts are on crochet design, mindfulness and her top crochet tips too!
Here is what she thought about it all.
What does mindfulness mean to you?
Mindfulness for me means living in a relaxed and thoughtful way. It's a bit of a cliche, but 'being in the moment'. Taking time to relax and enjoy a calm state of mind. Appreciating each step of everything we do.
How did you go about designing with mindfulness in mind?
When I crochet, I love to be in rhythm with the stitches, so I wanted to create something that would capture that process, of repetition and concentration. It's quite hard putting that feeling into words, but I am sure we can all relate to it.
What else do you do (other than crochet) to be mindful?
As well as crochet, I knit. I love going for long walks. Reading and during the pandemic I have spent a lot of time, sitting in the garden and listening to birdsong.
What's your favourite project to design?
I love to design garments.
If you could design anything, what would it be?
That's a tricky one, because I enjoy making everything. I would love to do more kids stuff though.
Which of your designs are you most proud of?
It's always the latest one!
What colours make you calm?
Funnily enough bright colours make me calm, because I love the way they lighten up my life.
What colours make you happy?
All the colours!
Your number one top crochet tip?
Everyone will hate me, but it's take time to swatch and get the tension right. It's so important.
Meet the Rest of the Mindfulness CAL Team
Read about each of the fabulous deisgners and get their section of the Mindfulness Blanket crochet pattern for free too!
A Free Crochet Along - find everyhting you need to know here to join
Week One of the Crochet Blanket CAL
Week 2 of the Crochet Blanket CAL
Find Out More About Fran
You can find out more about Fran and all of her wonderful designs in these places –
Fran Morgan's Deramores Designer Store
Fran Morgan's Ravelry Store
Fran Morgan's Crochet LoveCrafts Store
You can connect with Fran @fran.morg on Instagram, I know she would love to hear from you!
If you are taking part in the Mindfulness Blanket Crochet Along then we would love to know! Make sure you tag us #mindfulnesscal on social media so we can enjoy seeing your progress too!
Next week is my turn for the CAL and I can't wait to share it with you!
If you'd like to have early access then I'd love you to sign up for my subscriber newsletter so I can let you know.