The boxed moss crochet stitch is a really fun way to incorporate colors in crochet without having to change yarn in the middle of a row. Using just one color per row, you can achieve a really complex looking crochet stitch with beginner stitches.
Technically crochet colorwork uses the technique of changing yarn color during a row but I love being able to get the look of that without actually having the fiddly task of carrying yarn or using bobbins!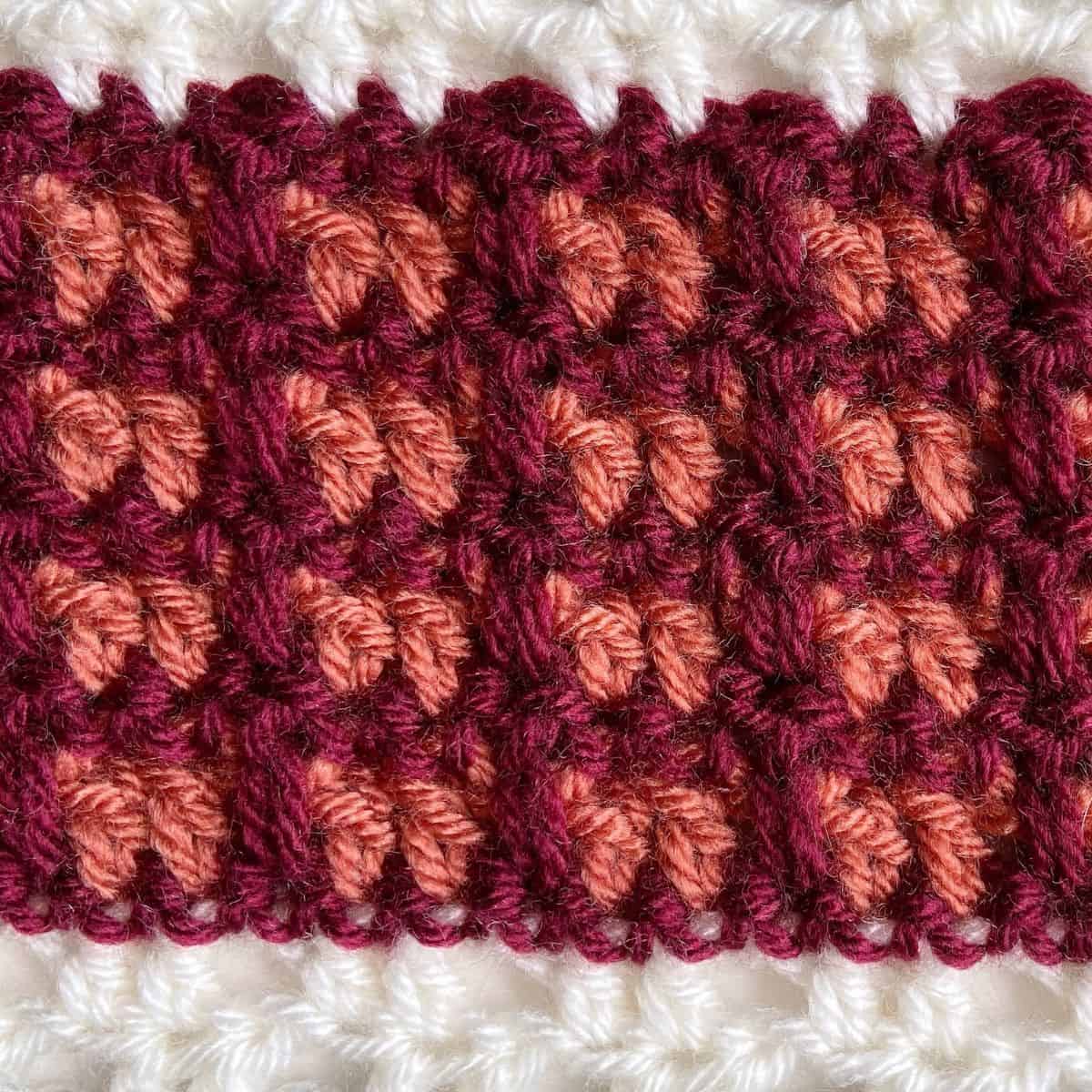 This post may contain affiliate links. Please see my full disclosure and privacy policy for details.
Boxed moss crochet stitch pattern
US crochet terms.
Using 2 colors of your choice. (I used the shades detailed below).
Foundation chain: using Yarn L, create a chain of any multiple of 3+1.
Row 1: using Yarn L, sc in 2nd ch from hook and each st to end.
Change to Yarn I.
Row 2: ch4 (counts as st and ch), skip 1 st, *dc in next 2 sts, ch1, skip 1 st; rep from * to last st, dc in last st, change to Yarn L.
Row 3: ch1, sc in next st, dc in skipped st two rows below (working over ch from previous row), *sc in next 2 sts, dc in skipped st two rows below; rep from * to last st, sc in last st.
Change to Yarn L.
Rows 2 and 3 create the pattern.
Repeat Rows 2 and 3 as many times as you would like to create the boxed moss stitch.
Make a boxed moss stitch blanket
If you'd like to make a dishcloth or blanket using this stitch just work a chain of a multiple of 3+1 to decide on the width of your project.
Then repeat the pattern as above for as many sets of the color sequence as you'd like to create the length of the blanket or dishcloth.
Is this the same as the traditional crochet moss stitch?
The boxed moss stitch isn't quite the same as the traditional crochet moss stitch.
There are a couple of ways to create the moss stitch with the main difference being whether you work the longer stitches down into the chain space below or whether you pop it into the stitch 2 rows below.
It doesn't drastically change the look of the fabric but working into the stitches rather than the chain spaces gives you a firmer and more closed fabric which is great for blankets and homeware I think.
I also have a version called the herringbone hdc moss stitch which I love too!
Strawberries and Cream sampler crochet blanket pattern
This stitch is used in my Strawberries and Cream multi stitch crochet blanket free pattern.
You can also purchase the 29 page PDF Ebook or the full online crochet course with bonus videos, downloads and more to help you conquer all things crochet colorwork!


Yarn used for sample
I used Paintbox Simply Double Knit 100% Acrylic, 276m, 302yds/100g which works perfectly and comes in such beautiful colors.
The colours you see used in the blanket are:
A (Champagne White)
B (Pear Green)
C (Pine Green)
D (Pistachio Green)
E (Misty Grey)
F (Vanilla Cream)
(Light Caramel)
H (Mustard Yellow)
I (Vintage Pink)
J (Blush Pink)
K (Rose Red)
L (Red Wine)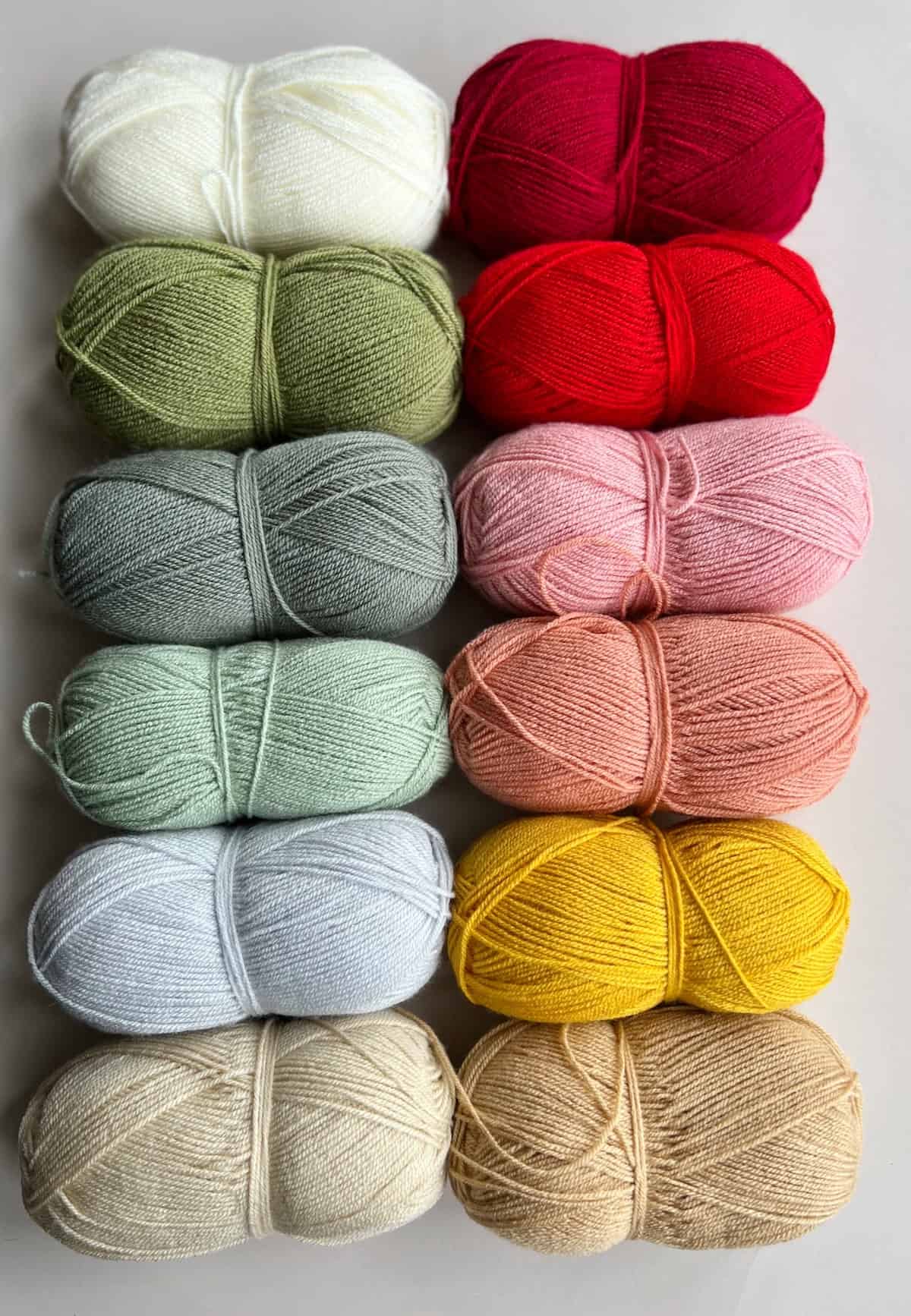 Materials
Along with your yarn, you will need the following:
Don't forget to join HanJan Crochet to receive regular discount codes (and more free patterns!) and Pin this striped crochet blanket pattern to your crochet Pinterest board!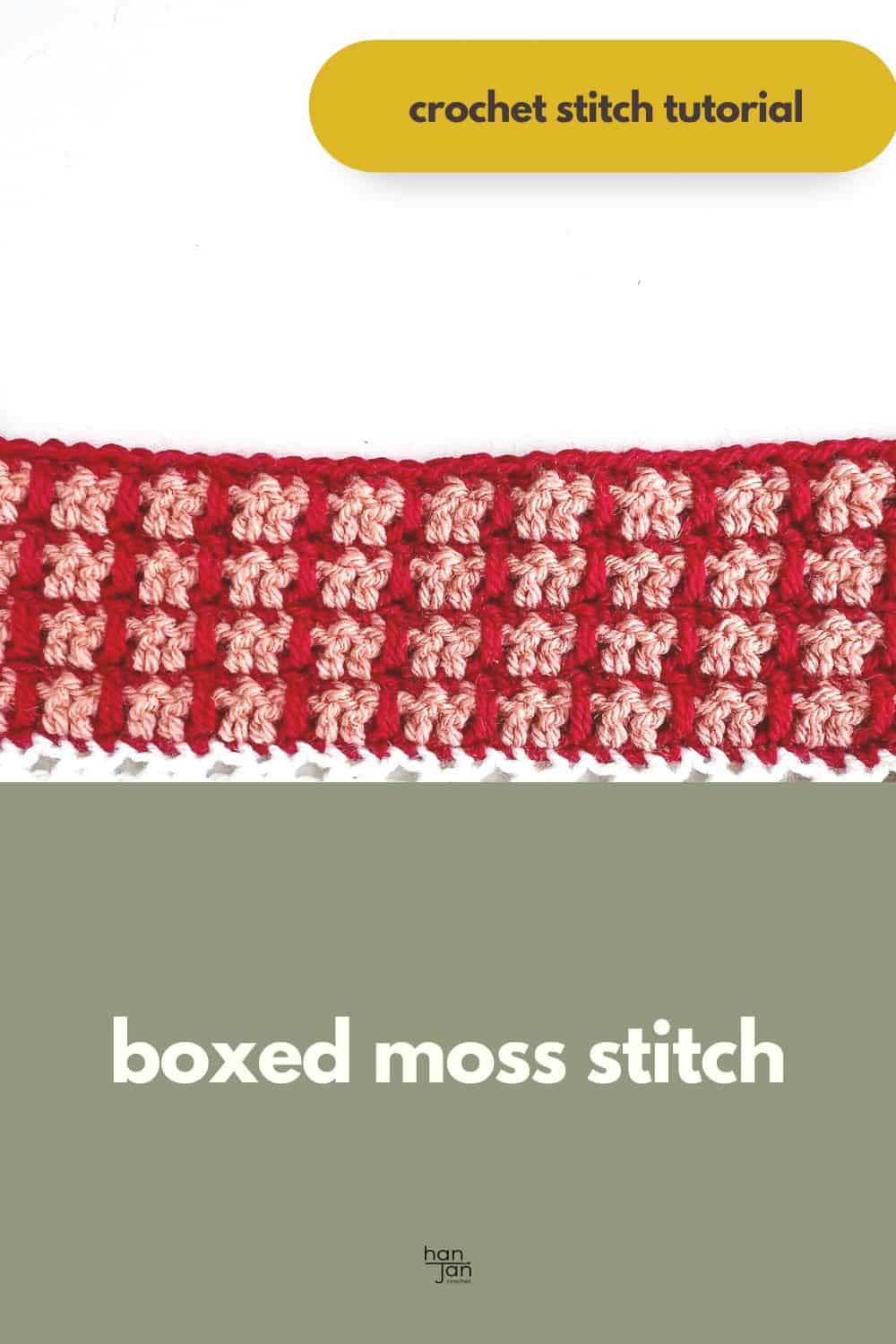 Glossary and Abbreviations
ch(s) – chain(s)
ss – slip stitch
st(s) – stitch(es)
RS – right side
rep – repeat
Crochet Stitches
| | |
| --- | --- |
| UK Crochet Terminology | US Crochet Terminology |
| dc – double crochet | sc – single crochet |
| tr – treble crochet | dc – double crochet |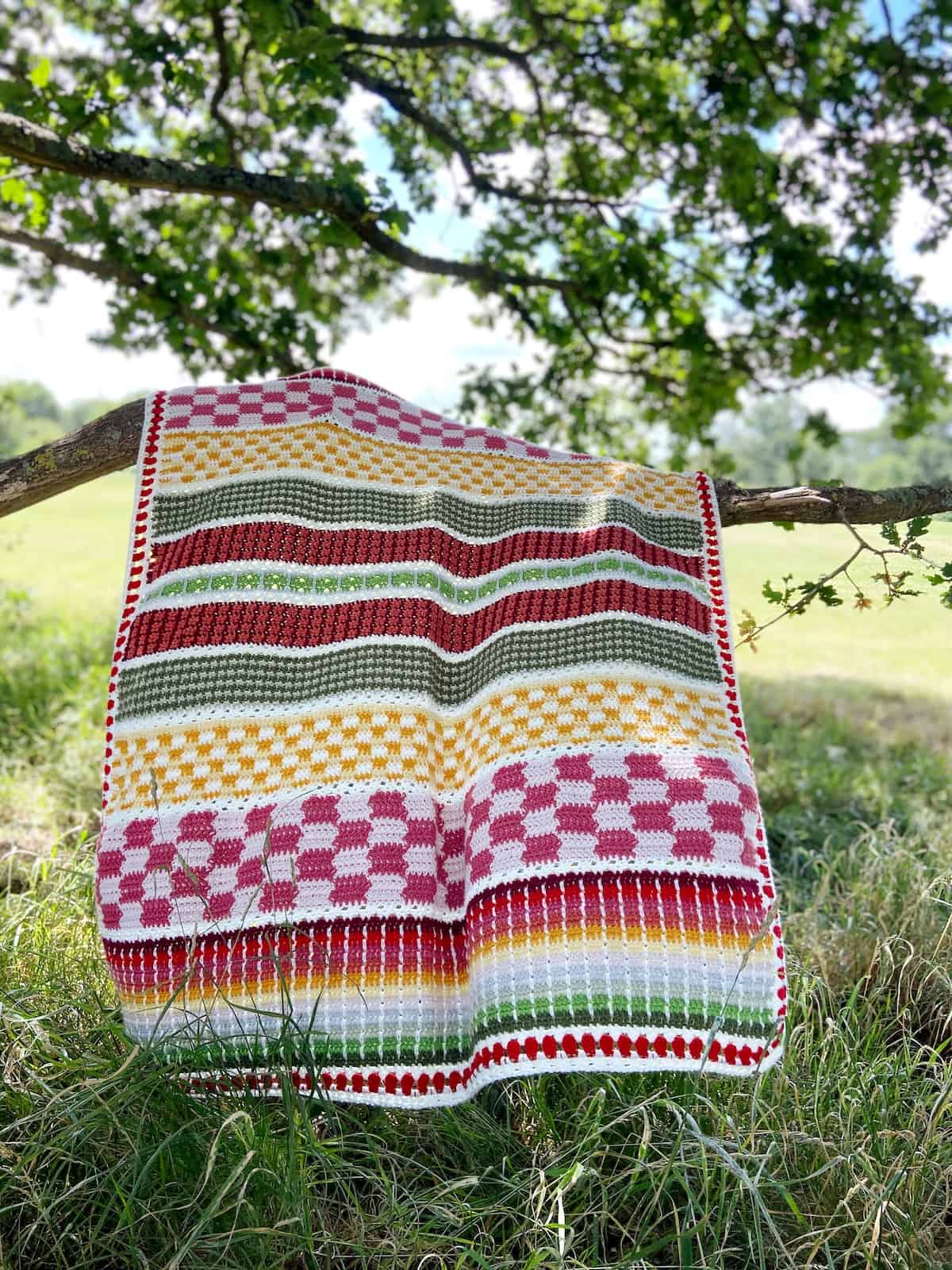 Join HanJan and Share Your Crochet!
It's an honour to be able to create and share my free crochet patterns with you. I'd love to stay connected and send you regular discount codes and free patterns! Please sign up for my subscriber list to get a free gift right now!
I look forward to seeing your finished crochet projects, so please share them with me in the HanJan Crochet Facebook group or on Instagram and tag #hanjancrochet.
Other easy crochet stitches to use for blankets
Easy crochet stitches for blankets
Here are some of my favourite easy crochet stitches to use for blankets.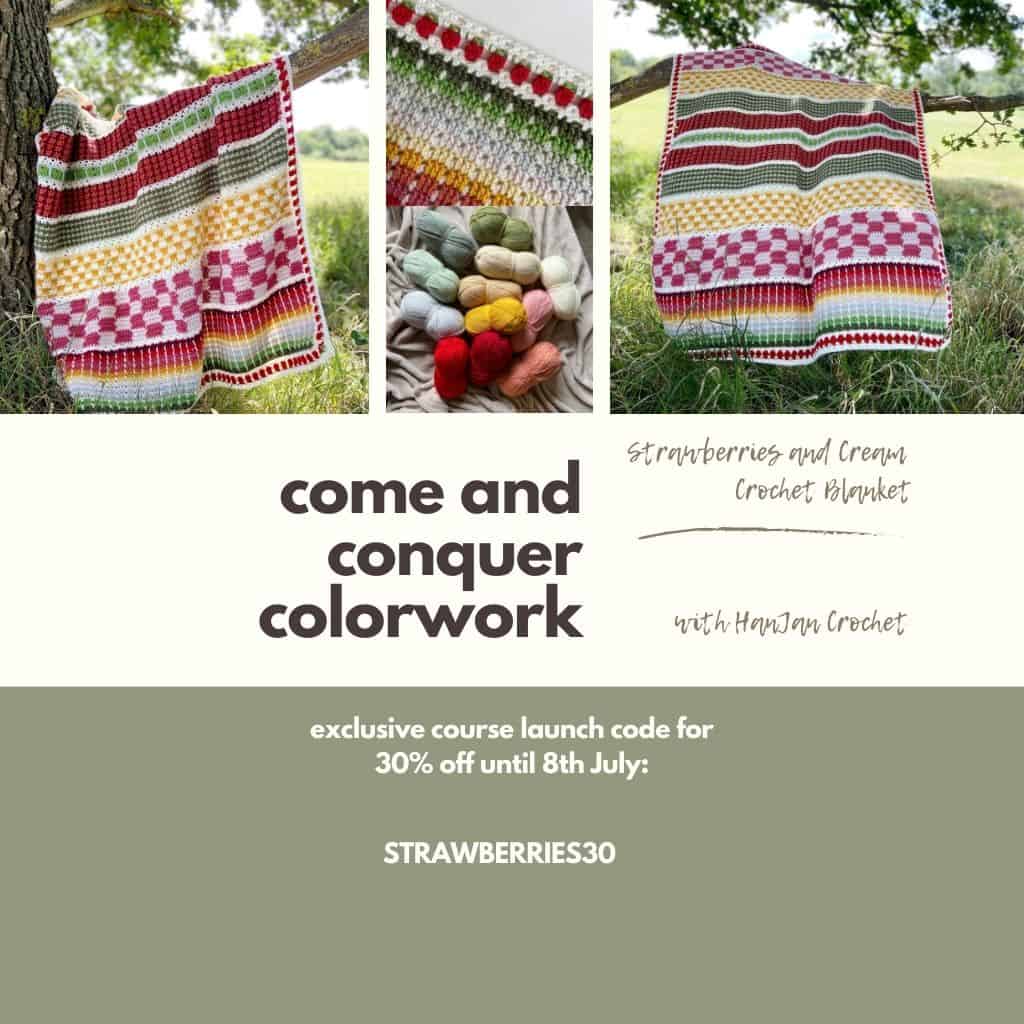 Get everything today!
Get the ad-free, printable PDF Ebook or course option and get making today.