Christmas is so nearly upon us and I'm so delighted with the little crochet Christmas gnomes and woodland wreath that I designed for Simply Crochet Magazine Issue 38! There have been so many popping up all over social media and I just love them all – thank you so much for sharing.
I'm also delighted to be able to share some crochet Christmas decoration and gift idea inspiration with you too today. I just love making festive crochet decorations and each year unpacking the old ones and hanging them is such a joy.
For me, Christmas is also a time for making to give. I love making a stash of crochet mitts, hats, scarves, socks and more to give as gifts and so I have some ideas for you here too. So much to crochet for Christmas time!
Firstly though, back to the crochet gnomes and the wreath!
I'd love for you to join HanJan Crochet so that I can send you a free PDF copy of my most popular pattern! I send regular newsletters that always contain loads of crochet goodies, tips, articles and so much more. Can't wait to hear from you!
The Woodland Crochet Wreath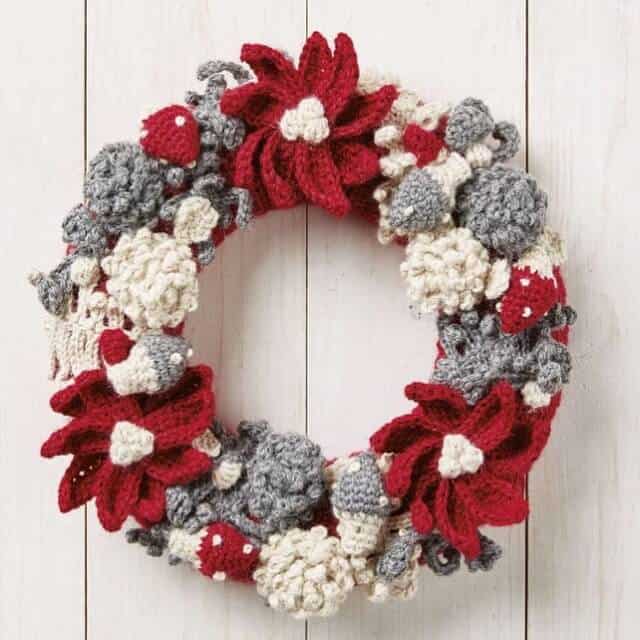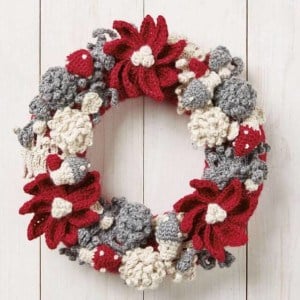 This woodland crochet wreath might just be one of the favourite things I've ever designed. I was so delighted with how the Scandi inspired colour palette and details worked so well and was perfect for keeping the style simple and clean. The wreath is bursting with poinsettias, pine cones, toadstools, mistletoe, ferns and little stars too.
The best thing yet is that my wonderful mum loved it so much that she's made one too – best praise ever!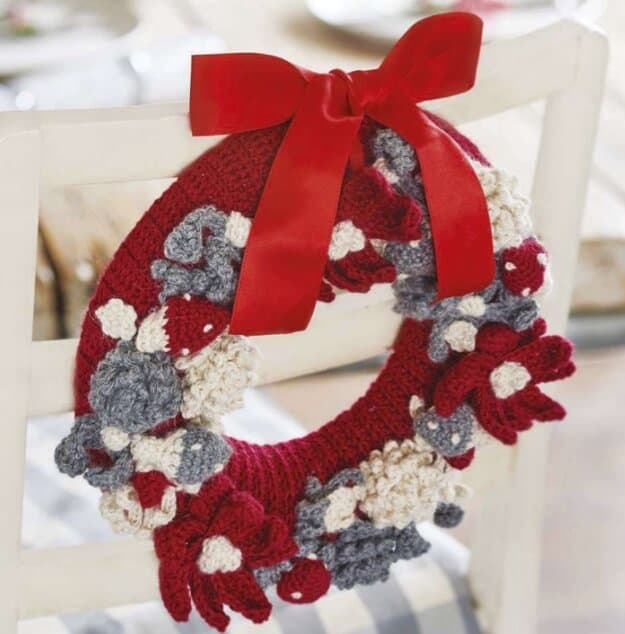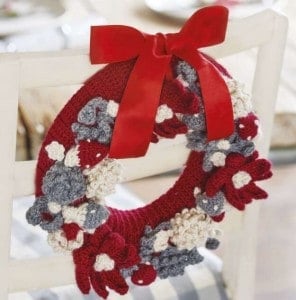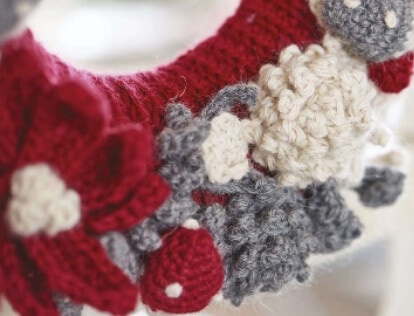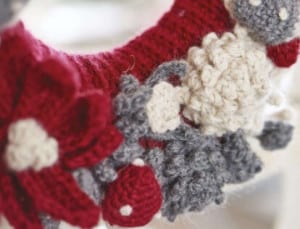 As a top tip for all you wreath makers – once you've made your cover and all your little bits and pieces, lay them out on the wreath how you'd like them, take a snap on your phone then use it as reference to make sure you don't run out of room when you're sticking it all down.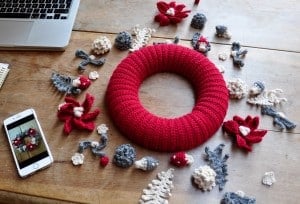 The Crochet Christmas Gnomes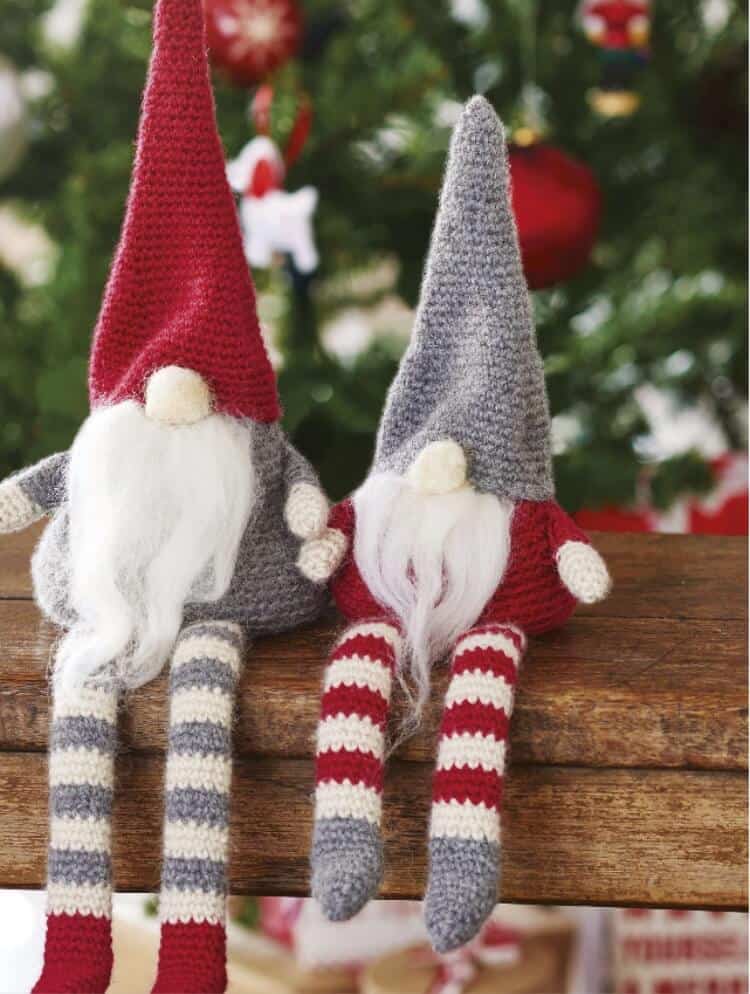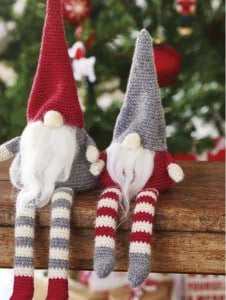 On reflection then, maybe these guys are my favourite thing I've ever designed…….meet Toby and Ted. My Christmas crochet gnome pattern. They literally just flew off the hook and I loved every minute of designing and making them!
They are created using the amigurumi crochet method (where you work continuously in rounds) so there are no ugly seams and only a little bit of sewing up at the top and bottom of things.
I stuffed mine with a mixture of dry beans and toy stuffing/ends of yarn scraps to make them sit nicely, but you could just go with stuffing if you are making them as a toy to play with instead.
The beard and nose are made by needle felting a tiny bit of wool roving but again which is super easy (and fun to stab things with a tiny needle!) but again, you can change this if you prefer. I've seen people make them with just strands of yarn for the beard sewn on and a little crochet button for the nose.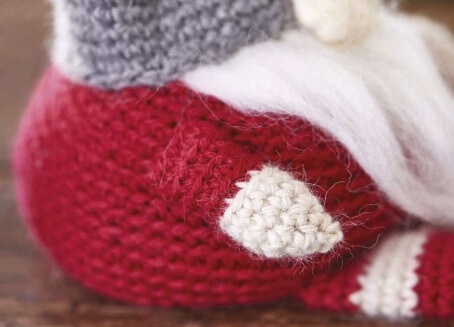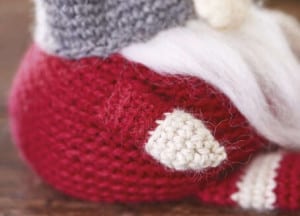 Hope you like them too and that you're still busy with all your Christmas makes, keep posting them, I just love seeing what you're making!
The Yarn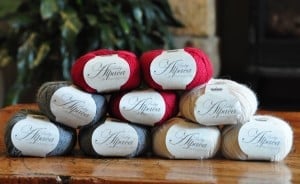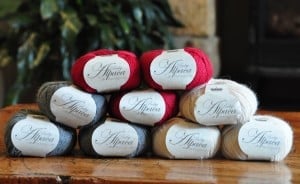 We used the glorious King Cole Baby Alpaca in double knit for these projects, it is just the nicest, softest, squishiest yarn you could ever wish for and I'll definitely be adding it to my list of favourites.
Something else to ask Father Christmas for….
Crochet Christmas Gnomes Pattern
Crochet Festive Wreath Pattern
Other Christmas Crochet Patterns You Might Like
I love crochet Christmas decorations and so here are some other festive patterns you might like:
Delicate, stylish and much easier than it looks!
Photo Credit: Image: Simply Crochet
Super quick, fun and easy to make.
Photo Credit: Image: Simply Crochet
Gingerbread and candy? Yes please!
Photo Credit: Image: Simply Crochet
The simplest of crochet shapes jazzed up with some bling and beads!
Photo Credit: Image: Simply Crochet
Add some bling to your fireplace this Christmas.
Christmas Crochet Gift Ideas
If you also like to crochet Christmas gifts for your loved ones then here are a few ideas and inspiration for you:
Stylish, quick and easy crochet Christmas gift to make.
A simple cable crochet stitch set of mitts perfect for a Christmas stocking filler.
Just the thing for the little ones this year! Made in sturdy cotton yarn they are snuggly, warm and cosy.
Photo Credit: Image: Simply Crochet
Fun, quick and perfect for using up your yarn stash!
Photo Credit: Image: Simply Crochet
It won't quite fit in the stocking but is too cute not to make, right?
Photo Credit: Image: Simply Crochet
A stunning cable hat that is comfy, stylish and fun to make.
Photo Credit: Image: Simply Crochet
Front post stitch texture creates this fabulous effect on this yarn stash busting cowl.
Photo Credit: Image: Simply Crochet
No ends to sew in with these, I promise!
Photo Credit: Image: Simply Crochet
Why not make a hat to match the plaid mitts?
Photo Credit: Image: Simply Crochet
Because everyone needs a pair of Christmas socks!