It's hard to believe that it's almost 7 years since David and I married, we've done so much since then! Looking back at our wedding is so wonderful and I find that rather than the normal questions that people ask like, 'how much did you spend on your wedding?', or 'what was your wedding theme', they ask one thing 'how much wedding crochet did you do?!'
My answer is simple, literally everything! I crocheted until I could crochet no more and was awake until 1am of the actual day glue gunning and ribbon tying to make it all happen. I'm not normally a leave it to the wire kind of girl but for my most important deadline I'm afraid I was!
I did manage to get it all done though and I was so happy with the results. David saw some elements of it beforehand but I kept my bouquet a secret from him. Weirdly I think I would rather him have seen my dress before than my bouquet! It was wonderful because he knew how much it meant to me and so supported me every step of the way.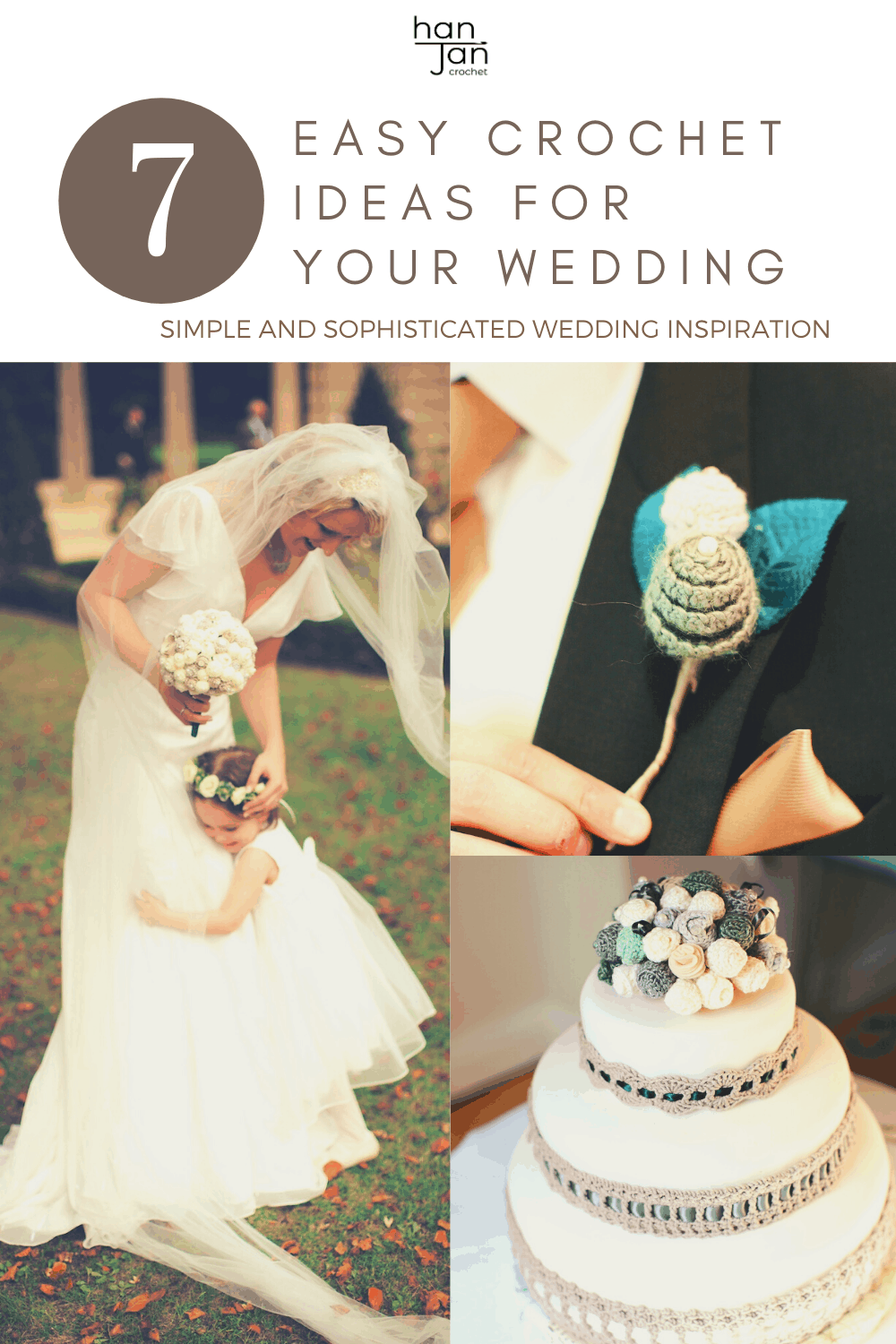 Click here to Pin this post for later.
When we were planning the wedding we decided against a real 'theme' and instead aimed for a sophisticated wedding that had everything and everyone we love all together being the most important aspects of the day. It might sound like it here but by no means was it a 'crochet wedding', there were loads of other aspects that we made and included but it was certainly an important part of it.
Another reason for including all the crochet was that we didn't want to spend money that we didn't need to and were really keen to reuse and repurpose things as much as possible. All of the yarn was from my stash, the beads and brooches from my Mum and I, the ribbon from a charity shop and the music manuscript from my old music collection.
I'd love to share just a few of our wedding crochet ideas and inspirations with you here and also a free crochet pattern for the favour pouches that I planned to make but ran out of time for!
I'd also love to stay connected with you so please do sign up for my subscriber list if you'd like to. Looking forward to hearing from you and sending you your free gift!
Our Wedding Crochet Ideas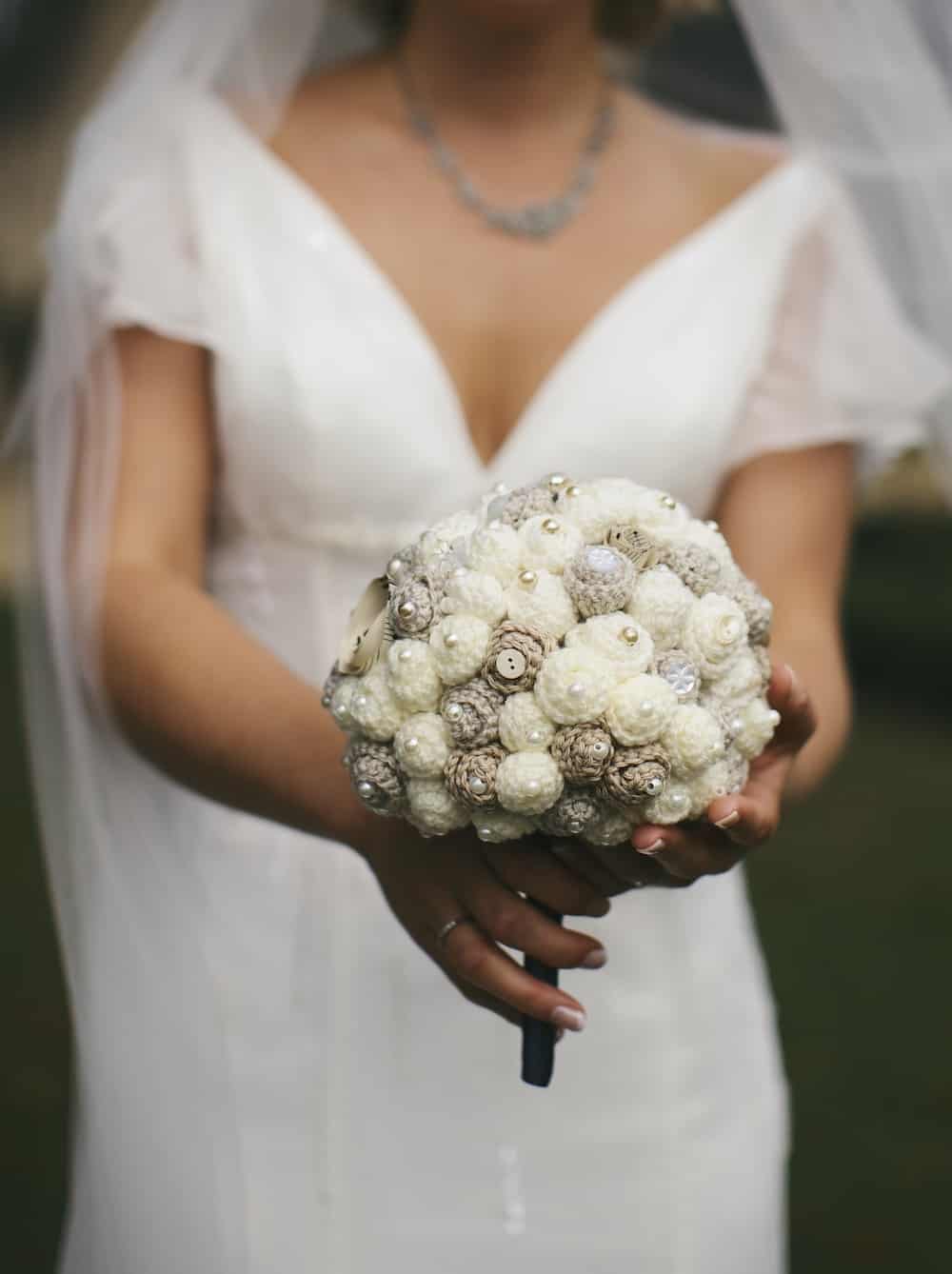 When we sat down to plan the wedding crochet really wasn't an initial part of the plan. It was about the big things like venue, food, music and guests. We decided that if we got those right then we were all good.
The idea to add crochet into the mix came as a bit of joke when I had a quick look at the average cost of wedding flowers. Oh my gosh. I couldn't believe it! I think I said something like 'well I'll just have to crochet them instead then!', little did I know David would take me seriously. I think he was mostly excited about saving the money and not the idea of wedding crochet!
So, onto the wedding crochet ideas. As I said, our aim was for a simple, sophisticated wedding and so I decided to keep the colour palette fairly neutral and just to add a few embellishments to some of the pieces. My wonderful Mum produced a collection of my grandmothers costume jewellery that was perfect for this and made it so special too.
1. Wedding Crochet Ideas- The Bouquet
My bouquet had cream and white crochet roses all embellished with a button or bead from my Grandmothers collection, it had music manuscript flowers, family heirloom brooches and more. It was the item that took the longest and typically I left it until last as I wanted to make sure I had finished the others first! It was worth every second though and is a fantastic lasting memory of the day.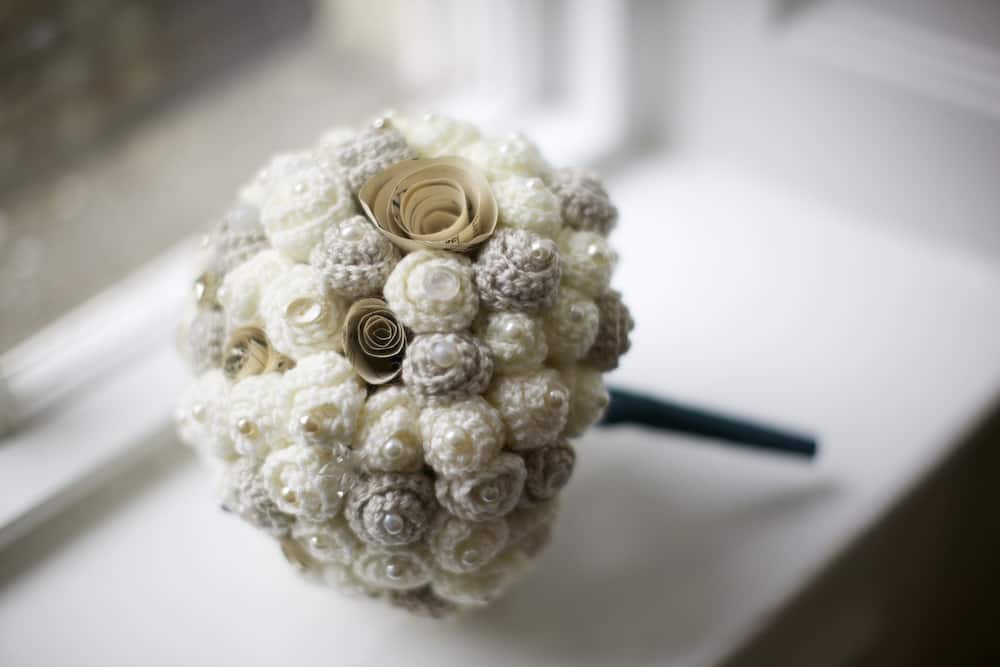 How to Crochet the Flowers:
The flowers themselves were so simple to make. I used both acrylic and cotton yarn from my stash but would recommend this kind of yarn.
I just crocheted a random length of crochet chain. Then I crocheted a treble (UK)/double crochet (US) in the 3rd chain from the hook and in each chain to the end. I twisted it into a spiral and secured with a little dab of glue. They literally took no time at all to make.
I secured each flower onto a strand of florists wire and then used some dry foam in a bouquet holder to put them into. I added the beads, brooches and jewels and then finally wrapped the bouquet stem in ribbon and glued in place to finish.
My 5 top tips for making your own wedding crochet bouquet:
If you're thinking about creating your own bouquet then here are my top tips and recommendations:
Don't overthink it and plan too much – go with your instinct and just create.
Make loads and loads of flowers in different colours from your yarn stash and see how they work together for you. Then you can decide on your final arrangement.
Think about adding other textures and craft media into the bouquet – I added music manuscript flowers as I love singing and jewels from my family too. What else do you love? What could you add?
Give yourself time! Don't do what I did and leave it until the last minute. Give yourself time to enjoy the process of putting it all together.
Get all of your materials ready before trying to assemble it. It will make life a lot easier this way!
2. Wedding Crochet Ideas – The Buttonholes
For the buttonholes, I used exactly the same simple crochet flower design but added some dried leaves at the back for them to sit against. Again, they were all just attached to florist wire that I disguised with ribbon once I was happy with the look of them. The wedding party all had 2 flowers in theirs but I added 3 to David's to make it a bit more special for him.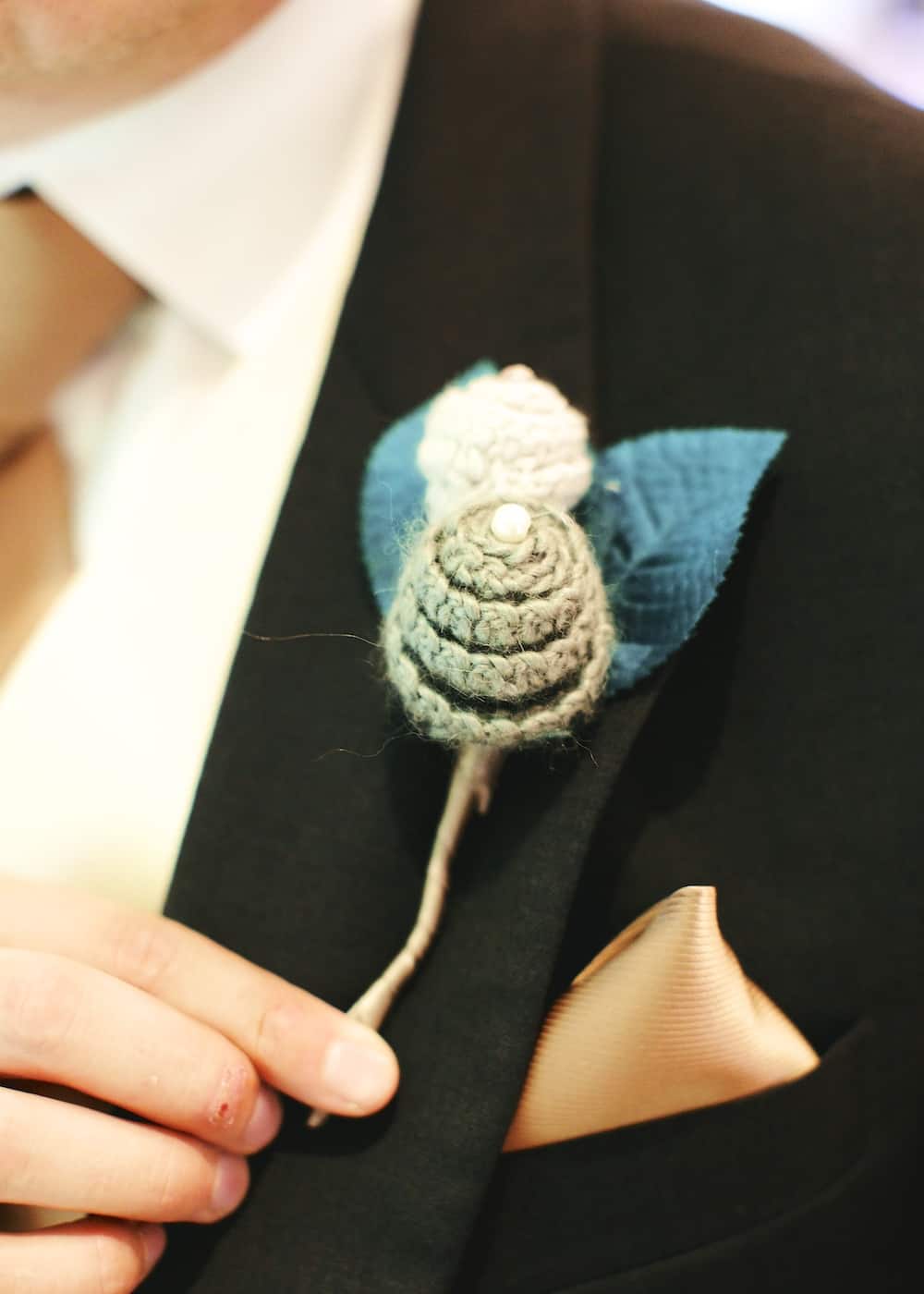 3. Wedding Crochet Ideas – Bridesmaid Bouquets and Flower Girl Hearts
We had 3 adult bridesmaids and 2 little flower girls. For the adult bridesmaids I made a much smaller version of my bouquet and added some coloured flowers in to change the look slightly.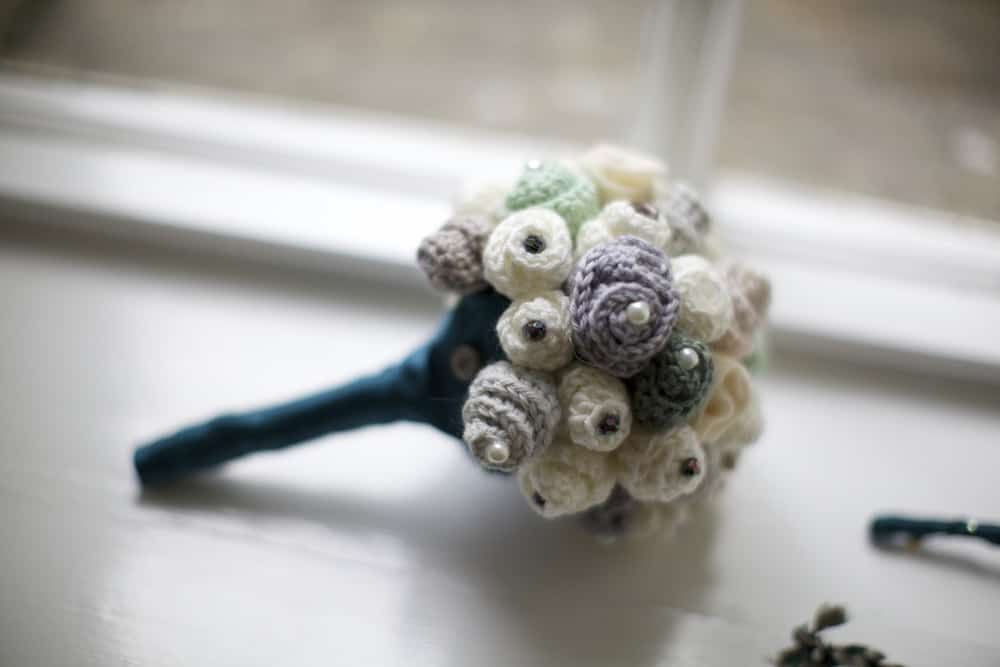 For the little flower girls I thought a bouquet might be tricky to carry so I found some cute willow hearts and just added a few crochet flowers and ribbon to them. They turned out brilliantly apart from the fact that I intended them to just loop them over their wrist but they spent most of the day swinging them around! Everyone found it amusing though and the flowers stayed on so they were a success!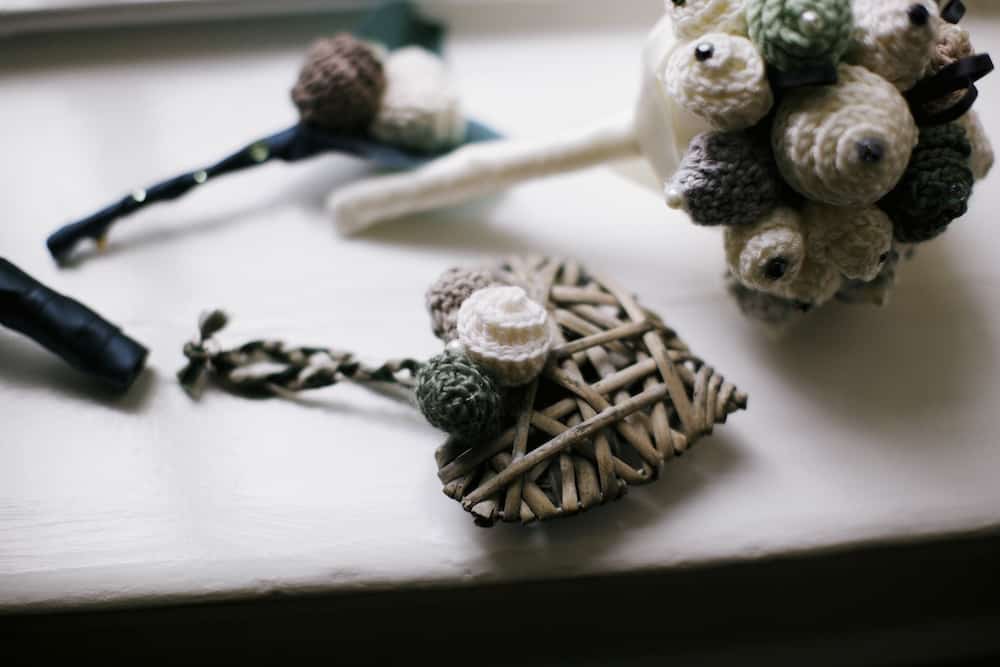 4. Wedding Crochet Ideas – The Cake Topper
Our cake topper was another little collection of glue gunned crochet flowers but this time in a little terracotta plant dish I already had at home. I tried to buy as little as possible to make everything and so searched high and low for things that might be useful!
I made sure that the flowers spilled over the side enough to cover the terracotta dish and literally just plonked it on top of the cake. It was so simple!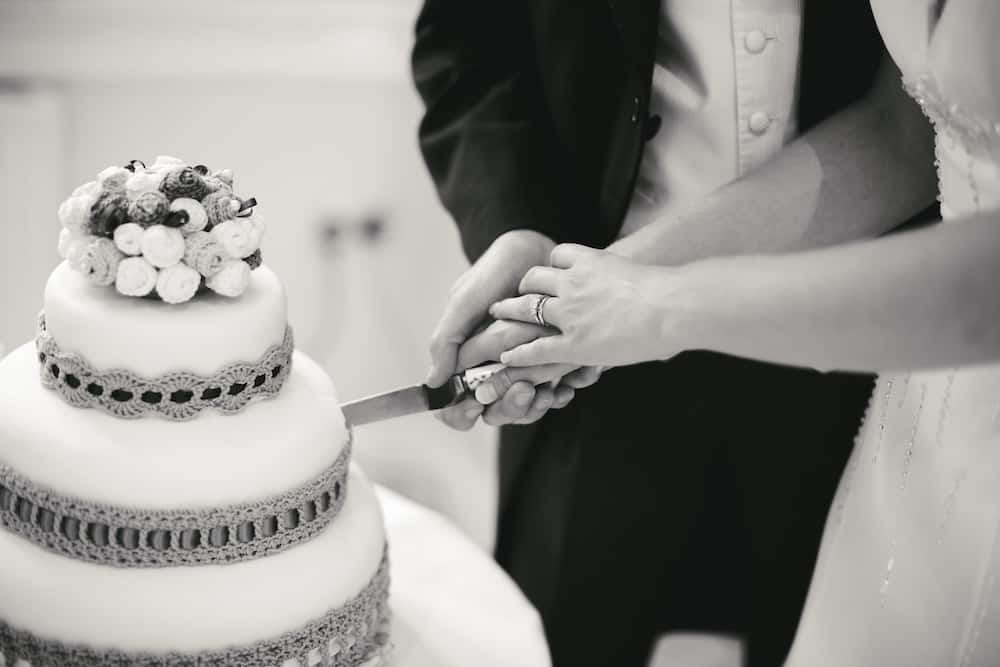 5. Wedding Crochet Ideas – The Cake Collar
I really wanted a sophisticated wedding cake and so felt like 'less is more' would be the way to go. Again, to save money we made the actual cake ourselves and my Mum and I iced it with plain white roll out icing a couple of days before the wedding.
Icing the cake was easily the most stressful part of the entire wedding process! We both ended up in tears and still can't talk about it now. We didn't argue at all, we both just wanted it to be perfect but icing is so tricky if you don't know what you're doing! My best advise would be to practise on a smaller cake ahead of time………..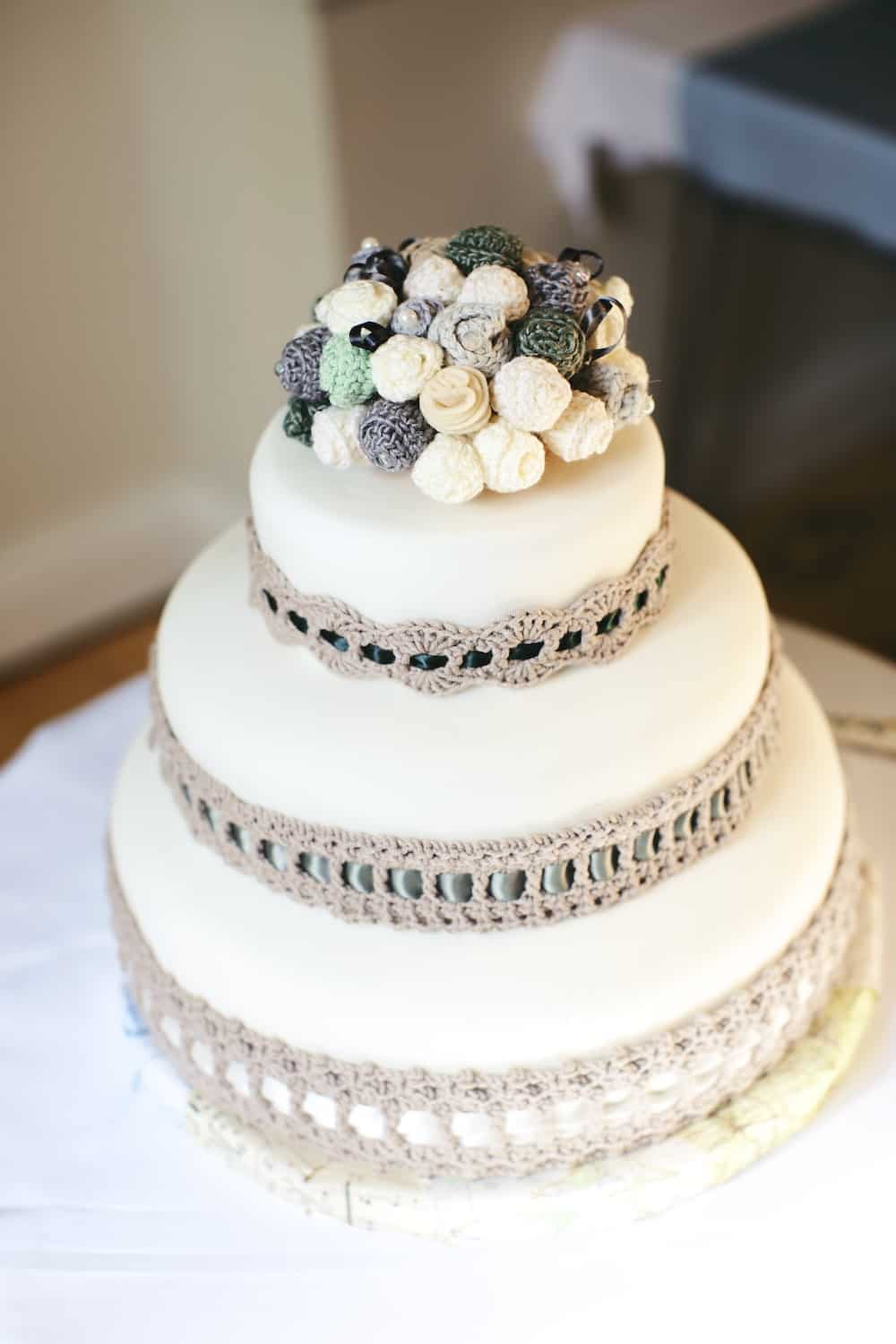 6. Wedding Crochet Ideas – The Table Centrepieces
After deciding not to have any fresh flowers at the wedding we had to think of an alternative for the table centrepieces. In the end we just opted for a really simple silver candelabra and I crocheted a mandala to sit underneath them to add a little bit of colour and for another pop of wedding crochet.
They really added to the whole look of the reception and meant that we hardly spent a penny on decorations. The candelabras were our only expense that we hired from a company for the day at a really reasonable cost.
I'm honestly not sure if I ever wrote the pattern down but I definitely have the mandalas still so plan to dig them out and work out what I did for them one day to share with you!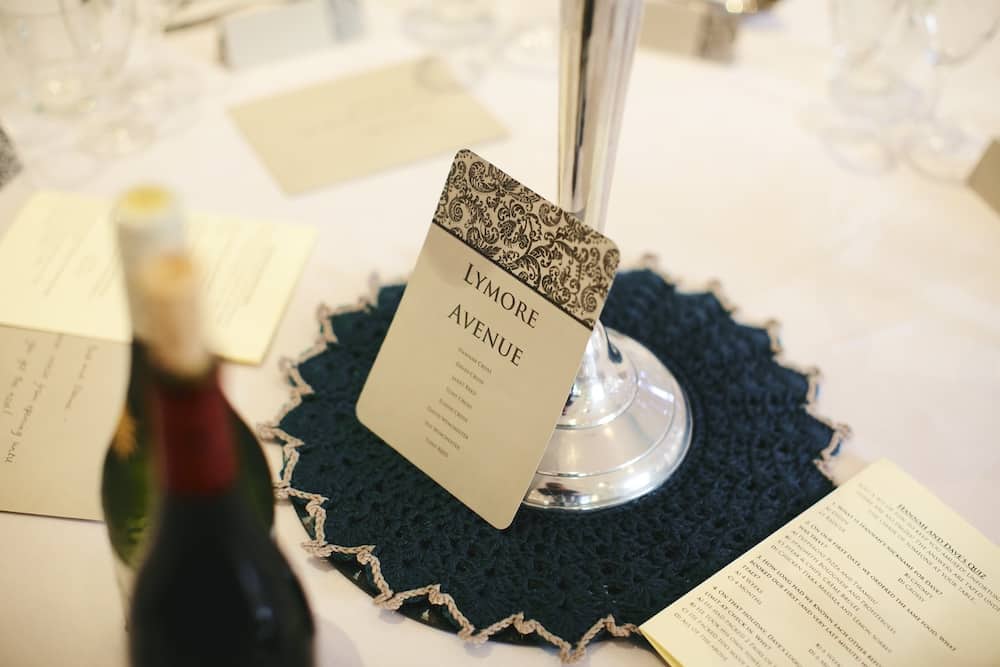 7. Wedding Crochet Ideas – Favour Bags
I so wanted to make some little favour bags for our wedding but just ran out of time! I had the idea all set in my head and so when Simply Crochet Magazine asked me to design one for them I was delighted – I could finally make one!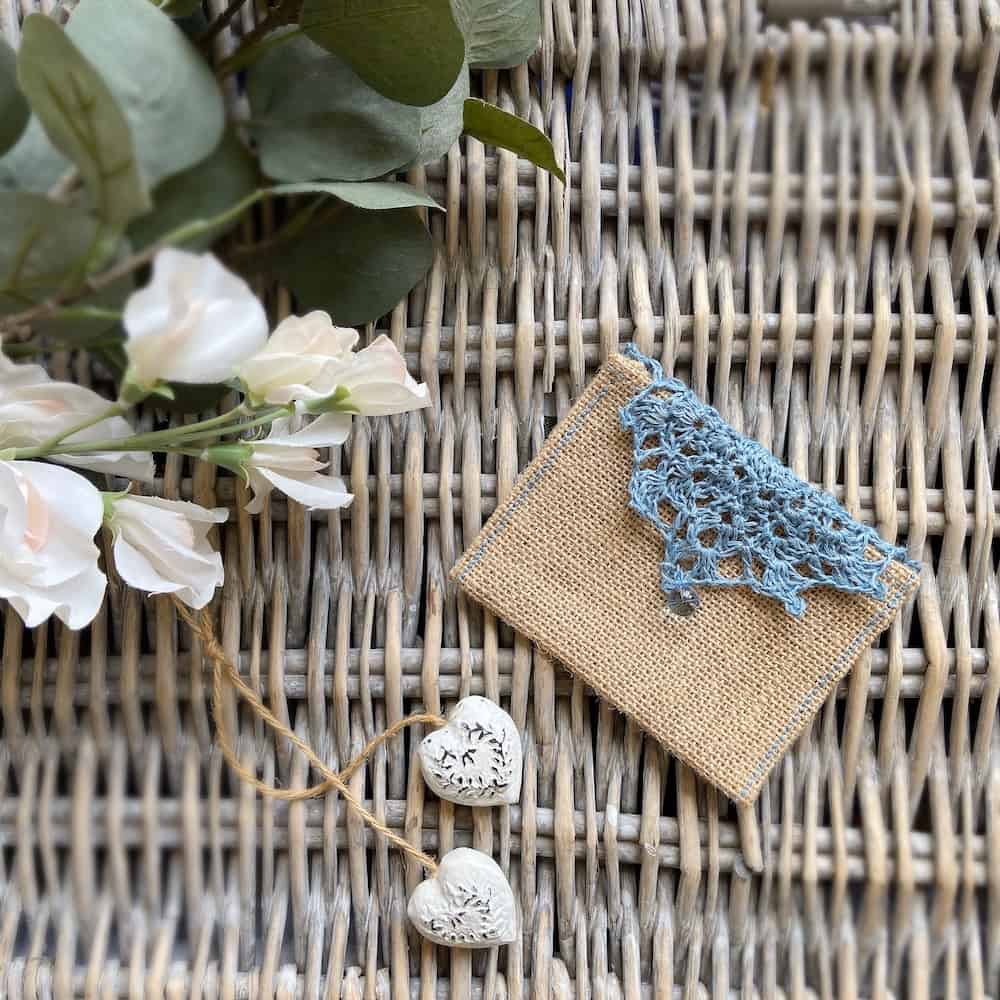 If you'd like to find the free pattern for the wedding crochet favour pouch then you can find it here.
Find the free wedding crochet favour bag pattern here.
It's a simple thread mandala that you sew onto a hessian pouch, add a button and it's done!
Tools and materials I used for my wedding crochet ideas:
Over the years the thing I've been asked most about is not how I crocheted all the items but how I constructed everything. With that in mind, I've put together a list of the sorts of things that I used (most of which I already had at home but I'll add links to the kinds of things I mean) and what I used them for.
A hot glue gun – I used one of these for just about everything I made. I had lots of blisters to show for it too!
Florists Wire – I used this for pretty much everything too. It was perfect for attaching each individual flower too and for joining things together.
Dry florists foam – I used a piece of this for each bouquet I made and they are still fine now almost 7 years later!
Bouquet holders – I also used one of these for each bouquet and then covered them with some ribbon so that you didn't see them.
Wire cutters – I raided the tool box for these!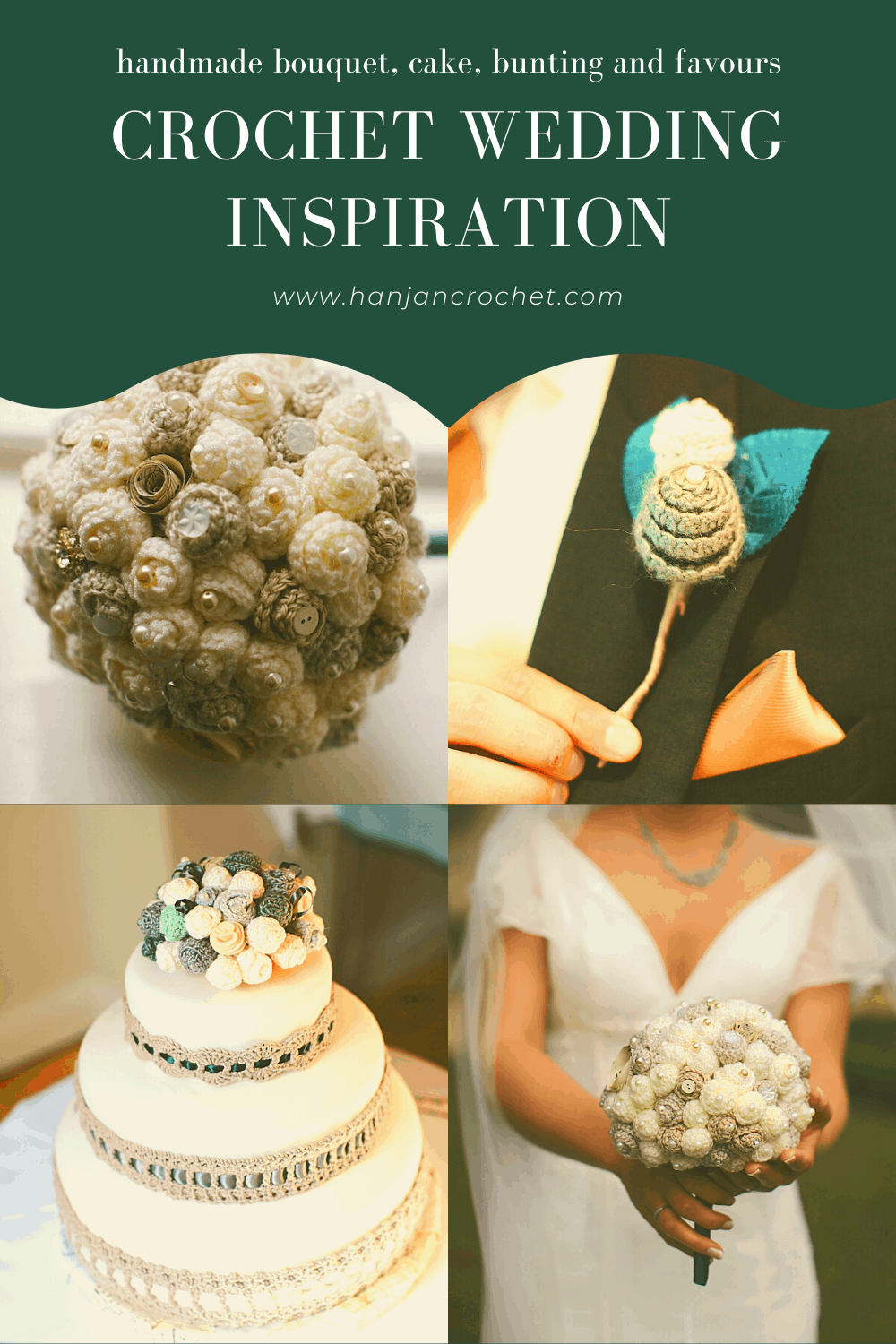 So that's it. My top 7 sophisticated wedding crochet ideas. I really hope you like them. I've enjoyed sharing them so much with you and hope I've given you some inspiration and courage to have a go at making something for your wedding or for someone else's.
In recent years I've missed my wedding crochet so every time we get invited to one I'm most excited about what I can make for us to wear! I've made and worn many wraps and shawls for myself to wear at weddings and last year I made a little peacock bow tie for our boy Elliot to wear at a wedding and it was such a hit!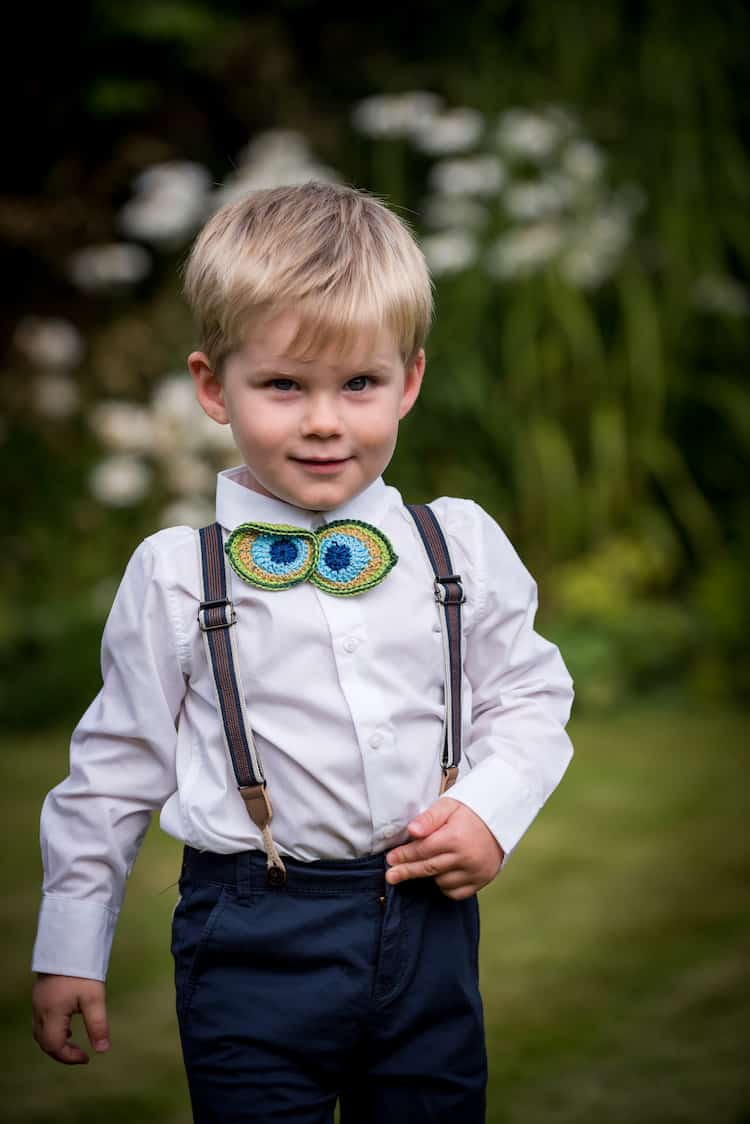 Thank you so much for being here to share my crochet and supporting my blog. It's such an honour to be able to create and share my craft with you. If you'd like to, I'd love for you to sign up to my subscriber list so that I can share more with you.