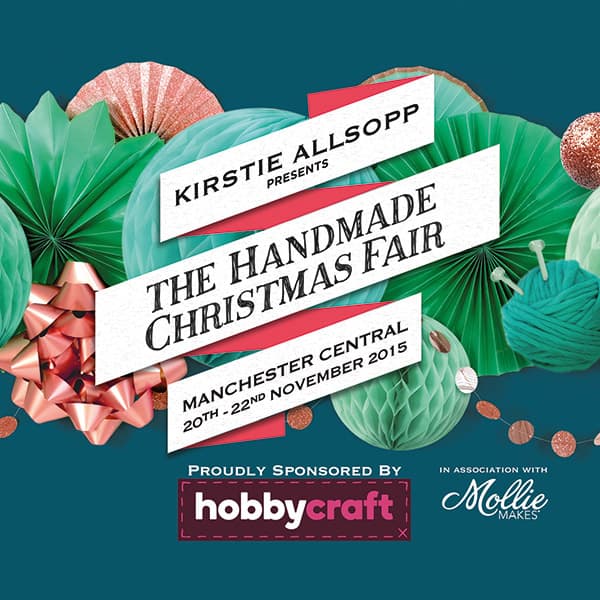 I'm so excited to have been invited along to this years Handmade Christmas Fair in Manchester – the fabulous Kirstie Allsopp and the wonderful Mollie Makes gang are putting together an amazing festive treat for everyone. I've got my very own treat for you all too, you can get 20% off your tickets by using the discount code HANJAN20. How fab is that?!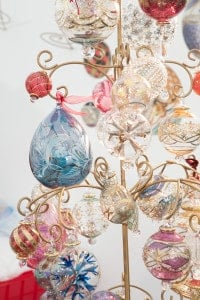 My Mum and I went to the very first Handmade Fair at Hampton Court last year and had such great time – you can read all about what we got up to here.
This time around I'm taking my great friend Charlotte with me who has her very own craft cabin at the end of her garden (not jealous at all, obviously) so she will be in heaven!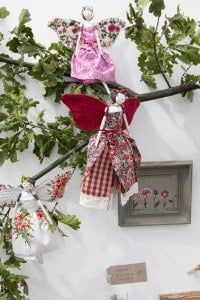 For those of you grabbing this fab offer (HANJAN20 don't forget) you get a Full Experience ticket which means you get:
Entrance to the show on your choice of day
Includes 1 x Super Theatre session,
1 x Skills Workshop
1 x Grand Make of your choice,
Access to the boutique Shopping Village, the Artisan Marketplace and fabulous food and drink.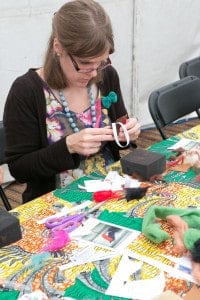 To help you plan your day I thought I'd share my top tips that we learnt from last time….
1. PLAN YOUR SESSIONS:
Once you've booked your ticket make sure you spend plenty of time picking your super theatre, skills workshop and grand make. There is so much to choose from and you don't want to get mixed up on the day with having to make decisions, plus lots of the sessions get booked up quickly so make sure you get your dibs on the ones you want to do before you go.
I still can't decide what to do but my favourites so far have to be the Mollie Makes Mash Up (these were hilarious fun last year), Lucy from Attic24 talking about her amazing crochet career (can't miss that can I?!), Christmas Cocktail Class with Kirstie, Book Folding with Jenny Kemp (they look amazing!), and Needlefelt Baubles with Jayne Emerson (I need these for my tree this year). How to choose?!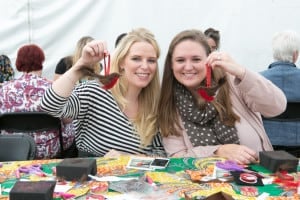 2. TRY SOMETHING NEW:
Mum and I have tried loads of crafts between us and when we were looking at what to do last year we decided to go for something neither of us had ever tried. We joined Poppy Chancellor for her paper cutting session and absolutely loved it! It was so great to try something new and refreshing to step outside our comfort zone of crochet and knitting. We were really awful at the practise sheets – it's so hard to be accurate, but by the time we got going on the real thing we didn't do a bad job at all. By all means if you fancy building on skills you already have then there's lots out there but I say go for it and try crafts that you wouldn't normally get chance to do.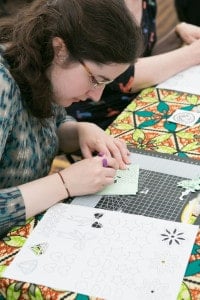 3. GET THERE EARLY AND CASE OUT THE JOINT
I know I said to plan ahead and everything, but you'll also find that there are so many extra things to do on the day that you won't know which way to turn. Last year Mum and I arrived nice and early but we made the fatal error of just bumbling around for ages without really looking at things – once we got going we were fine but we missed out on some great extra sessions because we did the whole 'oh we'll pop back later' thing. If you like the look of something – go for it!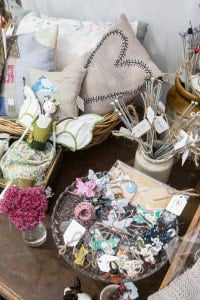 4. GO FOR FLATS…
So I'm exempt from wearing fancy footwear at the moment anyway (unless you count my very snazzy post surgery boot as fancy…) so am a little biased, but I would totally recommend flats for the day. Nobody wants to worry about sore feet when you really want to concentrate on learning, crafting, shopping, eating and everything else that you're going to get up to. If you're one of those annoying people who can wear heels from dawn til dusk though and not suffer then go for it, the rest of us will just stare longingly at you in envy…..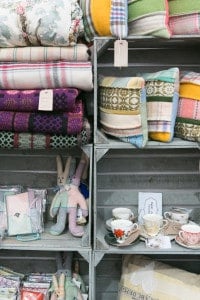 5. DON'T FORGET TO SHOP!
There was so much to do and choose from last year that we almost forgot to leave enough time for shopping. There is so much to do but I highly recommend retail therapy as a very important part of the day too, I mean you need to treat yourself to some early Christmas pressies surely?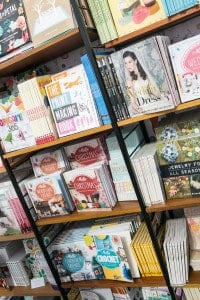 So all you need to do is pop on over to The Handmade Fair and book your tickets. Don't forget to use HANJAN20 to get your discount (T&Cs: Booking and transaction fees apply. Offer applies to Full Experience tickets purchased in advance only and offer ends 21st November.)
I'll definitely be popping by the Mollie Makes tent again too – they had awesome tea and cake last year, plus there was yarn to play with, what more could you need? Maybe this year we'll be lucky enough to catch a glimpse of Kirsty too!
Give me a shout if you're planning to go and what you'll be doing for the day, I'd love to catch up with anyone that fancies a cuppa and talking crochet!