This lace crochet dress pattern is simple, elegant and sophisticated enough to be worn as a crochet wedding dress! The easy top-down design makes the length easy to customise and the pattern comes with options to make it from a short crochet lace top all the way to a maxi dress length.
With an all over delicate lace crochet stitch that uses simple stitches and chains, it's a pattern that everyone can enjoy both to make and to wear.
In sizes XS, S, M, L, XL, 2XL, 3XL, 4XL and 5XL with added instructions for customising, construction, seaming and gauge you'll find everything you need to make a stunning crochet dress or top for Summer.
I designed and made this version to wear at my brothers wedding and it was so comfortable to be in all day! I am also dedicating this design to my wonderful Godmother, Cynthia, who passed away just before the wedding.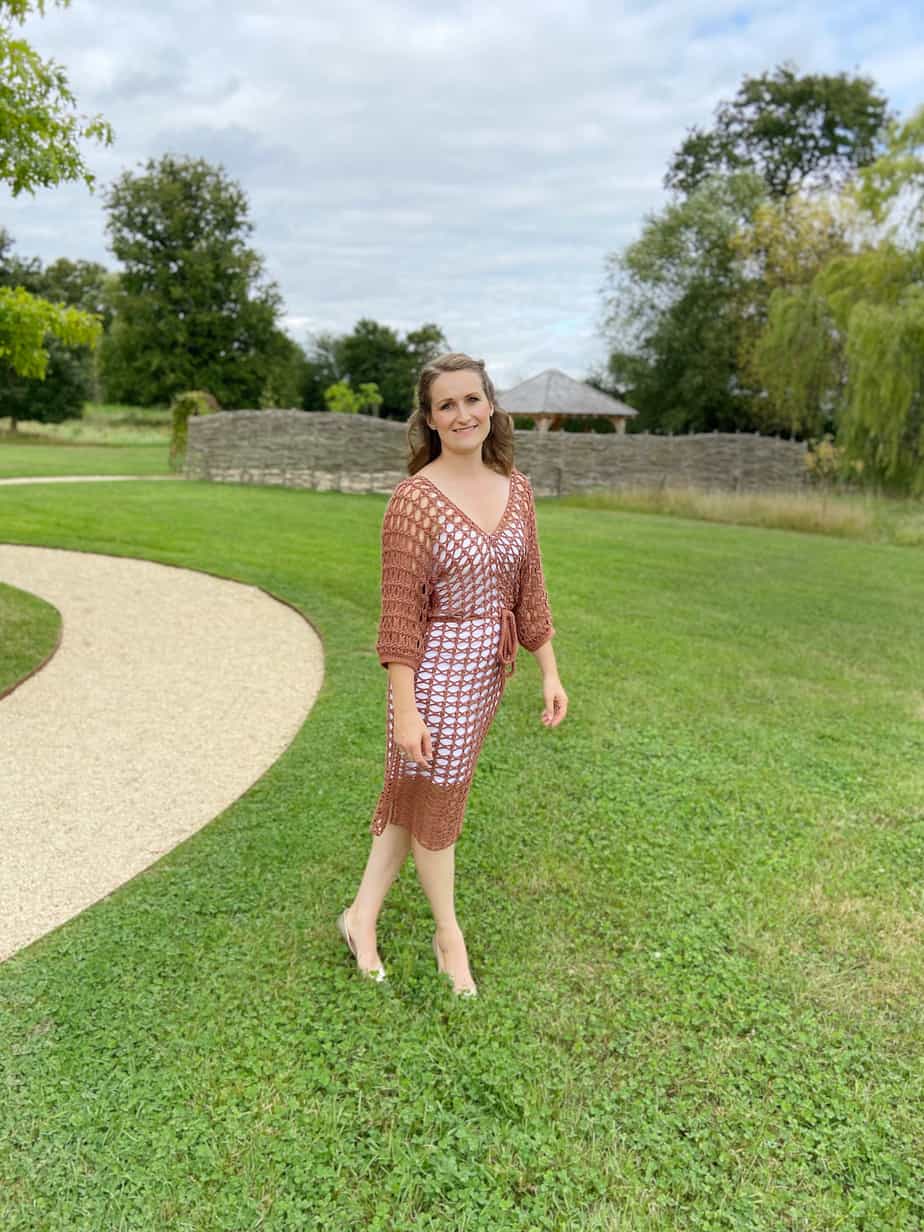 This post may contain affiliate links. Please see my full disclosure and privacy policy for details.
How to get the lace crochet dress pattern
You can purchase a printable PDF version of the Cynthia Lace Crochet Dress and Top Pattern in my stores to download and print. You can also get a copy of it in the 2nd issue of Studio Crochet – an exclusive digital crochet magazine that we are so proud the present!
Find the pattern here:

About the Cynthia Garment Pattern
I'm calling this one a garment pattern and not just a crochet dress or top because it's so adaptable and you can make it any length you like!
In the pattern I've given instructions for how to make it a top, tunic, below the knee dress and maxi dress but the beauty of the top down design means that you just continue to follow the lace stitch until it's the length you'd like.
The pattern is classed as intermediate because it contains cluster stitches but I completely believe that a beginner could work this pattern no problems! There is no shaping to worry about and the only counting you'll need to do is when you start working the body section – everything is made from rectangles that slot together!
My Crochet Wedding Dress Inspiration
My husband and I got married in 2013 and I desperately wanted to crochet my own wedding dress. Looking back I'm so sad that I didn't but I just didn't have the confidence in my skills back then and so added finishing touches of crochet to the day instead (you can read all about how I yarn bombed our wedding if you like!).
So when my younger brother got married last year I knew that I had to design and crochet a dress to wear that could also be a wedding dress (one that I would have worn if I had been braver back then!).
I didn't tell anyone what I was doing, not even my husband until the last minute and most definitely had a back up plan in case I lost my nerve!
As you can see I was brave enough to wear it and loved it! One of the reasons that I added all the different lengths to the pattern is that I would love for it to be made into an evening gown or crochet wedding dress – if you do that please let me know!
Dedication
Another thing that I don't often do is worry too much about what my patterns are called but this one is special. My wonderful Godmother Cynthia passed away just a few days before I wore the dress. I saw her the weekend before and we knew that we were saying goodbye.
I told her all about the dress and top design, my plans to wear it for the wedding and how excited I was about it. She was beaming as we spoke and told me that she was so proud of not only my creativity but of what my crochet business had become in such a short time.
She never got to see me wear the dress and so I'm dedicating it to her knowing that she knew how much it meant to me to hear her say what she did.
Will you make the Dress or the Top?
Whichever option you choose to make I would love to know. My testers tried it in all sorts of lengths and one of them even adapted it to become a stunning lace cardigan!
If you don't have time to make this right now then pin it for later using this image –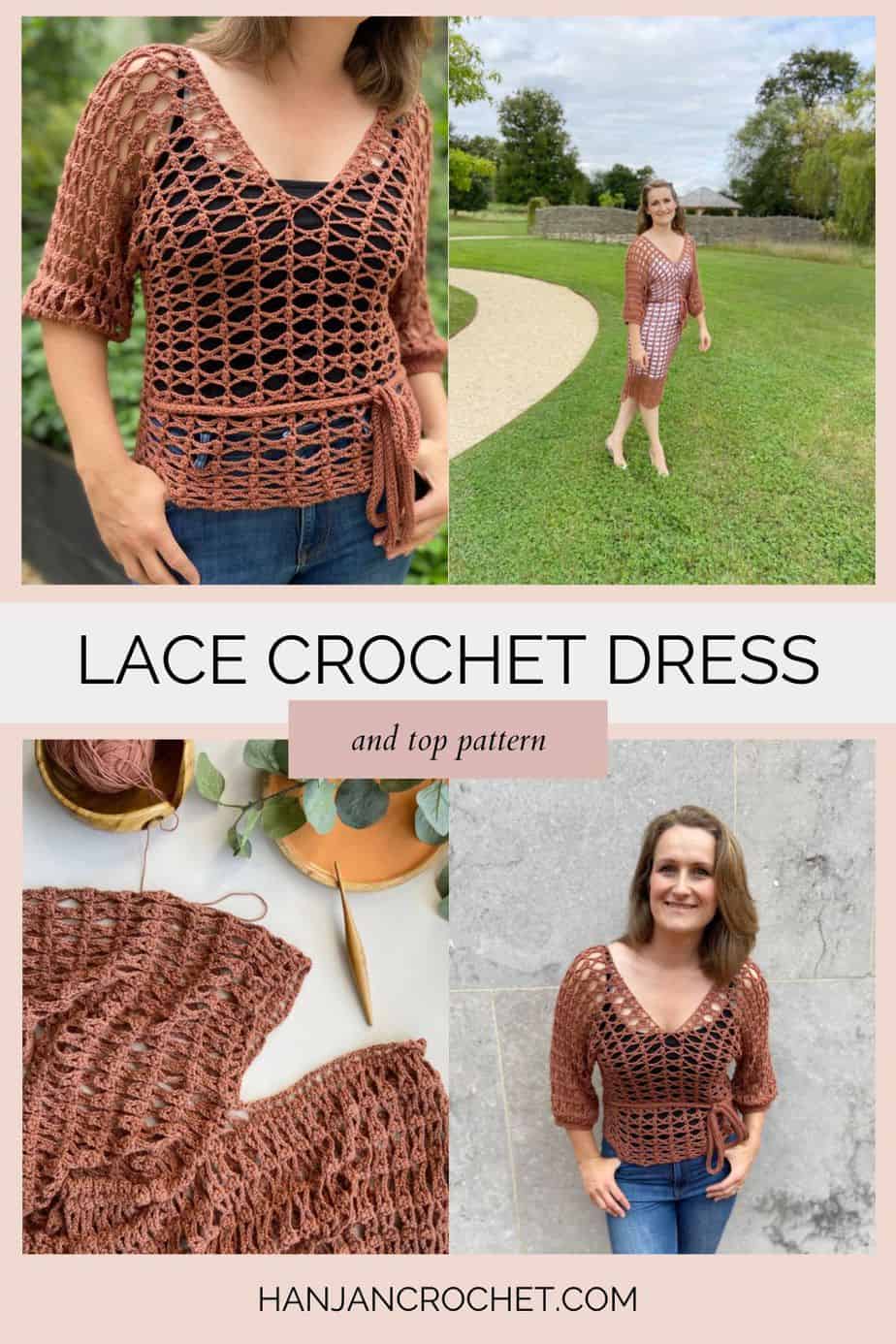 Join HanJan Crochet
I'd absolutely love for you to join me at HanJan Crochet so that we can connect and stay in touch! Sign up to receive a free PDF pattern and exclusive access to all of my patterns, offers and news. I can't wait to hear from you!
Are you new to garment making?
If you're new to crochet garment making then please don't worry! I have a fabulous guide on how to start your perfect crochet wardrobe and also learn garment making with 12 free crochet top patterns for different skill levels.
Are the crochet lace stitches hard to do?
I often get asked about how hard crochet lace stitches and patterns are and as I mentioned earlier I really believe that a beginner could make this crochet dress. My tops tips for working crochet lace and making it look professional are –
Check your gauge – the pattern has a really detailed section on how to work a gauge swatch and then check that it's the right size. This is super important with crochet lace designs as they rely so much on the spaces between the stitches as well as the stitches themselves.
Block your swatch – once you've made your swatch you need to make sure to block it (wet or steam depending on your yarn fibre) to get it to size. You'll be amazed at how much the lace motif grows and transforms when you do it!
Don't rush the chains – as tempting as it is to rush through a pattern I find that the chain stitches (there are lots in this) can easily get untidy if you don't take your time or focus. Unless you have a silly deadline (like I did for the wedding!) then make sure you go at a steady pace. You'll enjoy it more that way too!
Make sure not to let it twist – often lacy crochet stitches work into chains rather than stitches and they are really easy to twist if you're not careful. Nothing terrible or drastic will happen if they do but it will look much neater if you make sure things aren't twisted as you work.
Other Crochet Garment Patterns You Might Enjoy
I am starting to get quite the collection of crochet garment designs in my library – I love coming up with new constructions and stitch patterns to use for them. Here are some of my favourites you might enjoy too.
If crochet lace is your thing but you don't want to make a full garment then you might like my lace crochet cape pattern. It can be worn as a top, cape or shawl by changing where you tie it up!
Yarn
To make the Cynthia Top and Dress I used Rainbow Bamboo by Hobbii. It is 60% Bamboo viscose, 40% cotton, 250m, 274yds/100g
It's a dream to work with, really budget friendly and comes in such a great range of colours!
You will approximately need the following amounts of yarn for each size for the top version:
| | |
| --- | --- |
| Size | Approx metres/yards of yarn |
| XS | 590m/645y |
| S | 600m/660y |
| M | 680m/745y |
| L | 720m/790y |
| XL | 785m/860y |
| 2X | 890m/975y |
| 3X | 910m/995y |
| 4X | 930m/1015y |
| 5X | 1015m/1110y |
You will approximately need the following amounts of yarn for each size for the Tunic version:
| | |
| --- | --- |
| Size | Approx metres/yards of yarn |
| XS | 800m/875y |
| S | 835m/915y |
| M | 935m/1025y |
| L | 1000m/1095y |
| XL | 190m/1190y |
| 2X | 1240m/1355y |
| 3X | 1285m/1400y |
| 4X | 1300m/1425y |
| 5X | 1410m/1540y |
You will approximately need the following amounts of yarn for each size for the below the knee dress version:
| | |
| --- | --- |
| Size | Approx metres/yards of yarn |
| XS | 995m/1090y |
| S | 1050m/1150y |
| M | 1175m/1285y |
| L | 1260m/1380y |
| XL | 1370m/1500y |
| 2X | 1565m/1710y |
| 3X | 1610m/1760y |
| 4X | 1650m/1800y |
| 5X | 1775m/1945y |
You will approximately need the following amounts of yarn for each size for the maxi dress version:
| | |
| --- | --- |
| Size | Approx metres/yards of yarn |
| XS | 1280m/1400y |
| S | 1370m/1495y |
| M | 1520m/1665y |
| L | 1640m/1795y |
| XL | 1780m/1945y |
| 2X | 1835m/2225y |
| 3X | 2080m/2275y |
| 4X | 2150m/2350y |
| 5X | 2310m/2530y |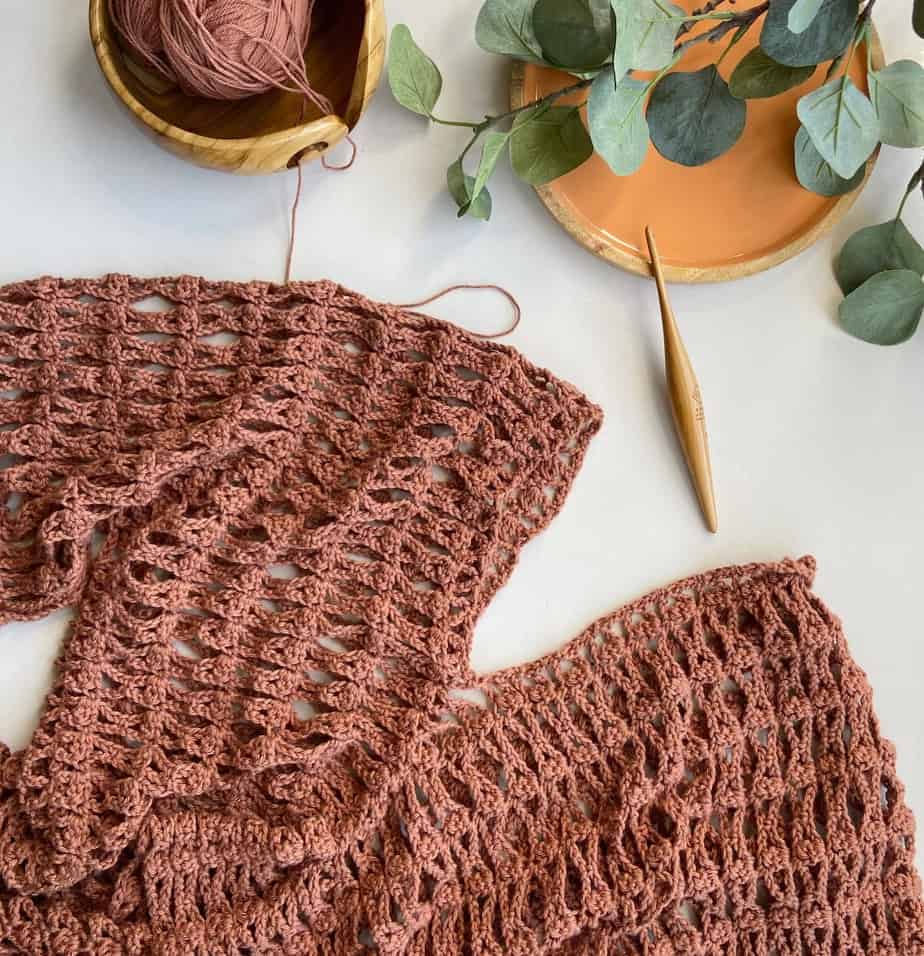 Choosing yarn is so important (and fun!) but I know it's great to have options depending on your budget, here are some great alternatives I've found.
Whatever yarn you choose, just make sure to check your gauge before starting your project as they will all be slightly different.
Alternative Yarn 1
50% Bamboo 50% Cotton, 230m, 252yds/100g.
This is a great yarn that feels soft and delicate next to your skin so perfect for a lacy crochet dress or top.
Alternative Yarn 2
50% Cotton, 50% Rayon from Bamboo, 212m, 232yds/100g.
This yarn has a similar lovely mix of cotton and bamboo so great for wearables and lightweight too.
Alternative Yarn 3
100% Rayon from Bamboo, 220m, 241yds/100g.
I love the beautiful sheen you get on this yarn! The bamboo feels so natural but it's somehow glossy too, perfect for a showstopper of a dress!
Tension and Sizing
The crochet garment pattern comes in sizes XS (S, M, L, XL) (2X, 3X, 4X, 5X) to fit bust measurements of 76, (86, 96, 106, 117) (127, 137, 147, 157) cm.
As boring as they are to make, gauge swatches will be the difference between an ill-fitting garment and a stunning one that makes you look and feel amazing!
The tension for this sweater is 10 rows and 18sts over main pattern = 10cm by 10cm.
Work a gauge swatch as given in the pattern and then block it lightly before measuring to make sure you meet the gauge.
If you have more stitches in your swatch than the tension states, try changing to a bigger hook.
If you have less stitches in your swatch than the tension states, try changing to a smaller hook.
Materials
Along with your yarn, you will need the following:
Glossary and Abbreviations
Ch – chain
Cl – cluster
Sts(s) – stitch(es)
Rep – repeat
RS – right side
WS – wrong side
Tog – together
Ss – slip stitch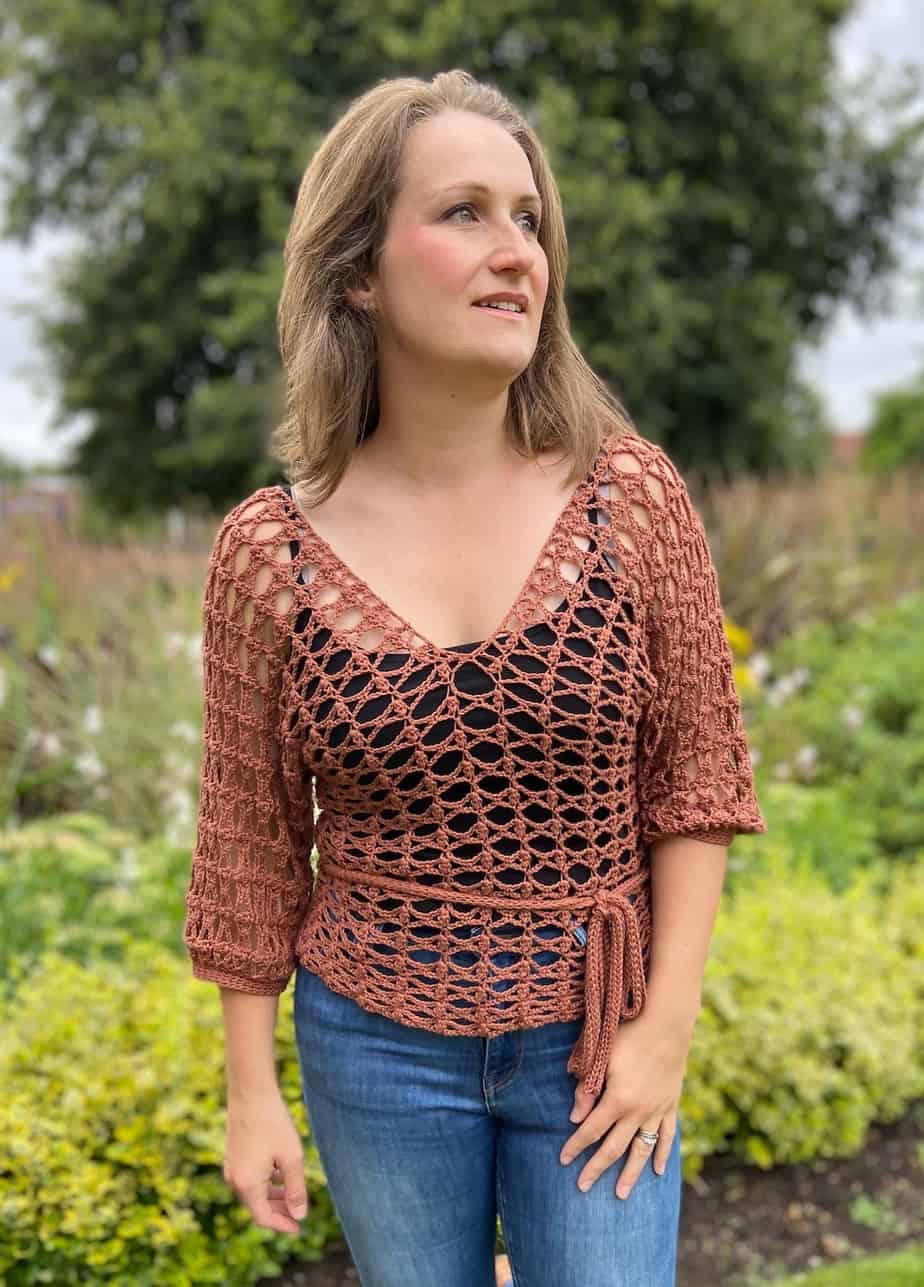 Crochet Stitches
This lace garment uses the following crochet stitches:
| | |
| --- | --- |
| Standard UK Crochet Term | Standard US Crochet Term |
| dc – double crochet | sc – single crochet |
| tr – treble | dc – double crochet |
Special Stitches
You'll also need to work the following special stitches:
Special Stitch 1 – stacked stitches
Stacked UK tr/US dc
Insert your hook into the first stitch, yarn over, and pull up a loop. Yarn over and pull through both loops on the hook. *Insert your hook into the vertical bar below (of the stitch you just made), yarn over and pull up a loop. Yarn over and pull through both loops on the hook; rep from * once more.
Special Stitch 2- cluster stitches
UK 3tr-cl/US 3dc-cl
Yarn over and insert hook into the next stitch. Yarn over and pull through the first 2 loops on the hook. *Yarn over and insert hook into the same stitch. Yarn over and pull through the first 2 loops only. Repeat from * then yarn over and pull through all the loops on the hook to complete the stitch.
Special Stitch 3- foundation stitches
UK Fdc/US Fsc
Chain 2. Insert your hook into the first chain, yarn over and pull through a loop. Yarn over and pull through one loop. You should still have two loops on the hook. Yarn over and pull through both loops on the hook.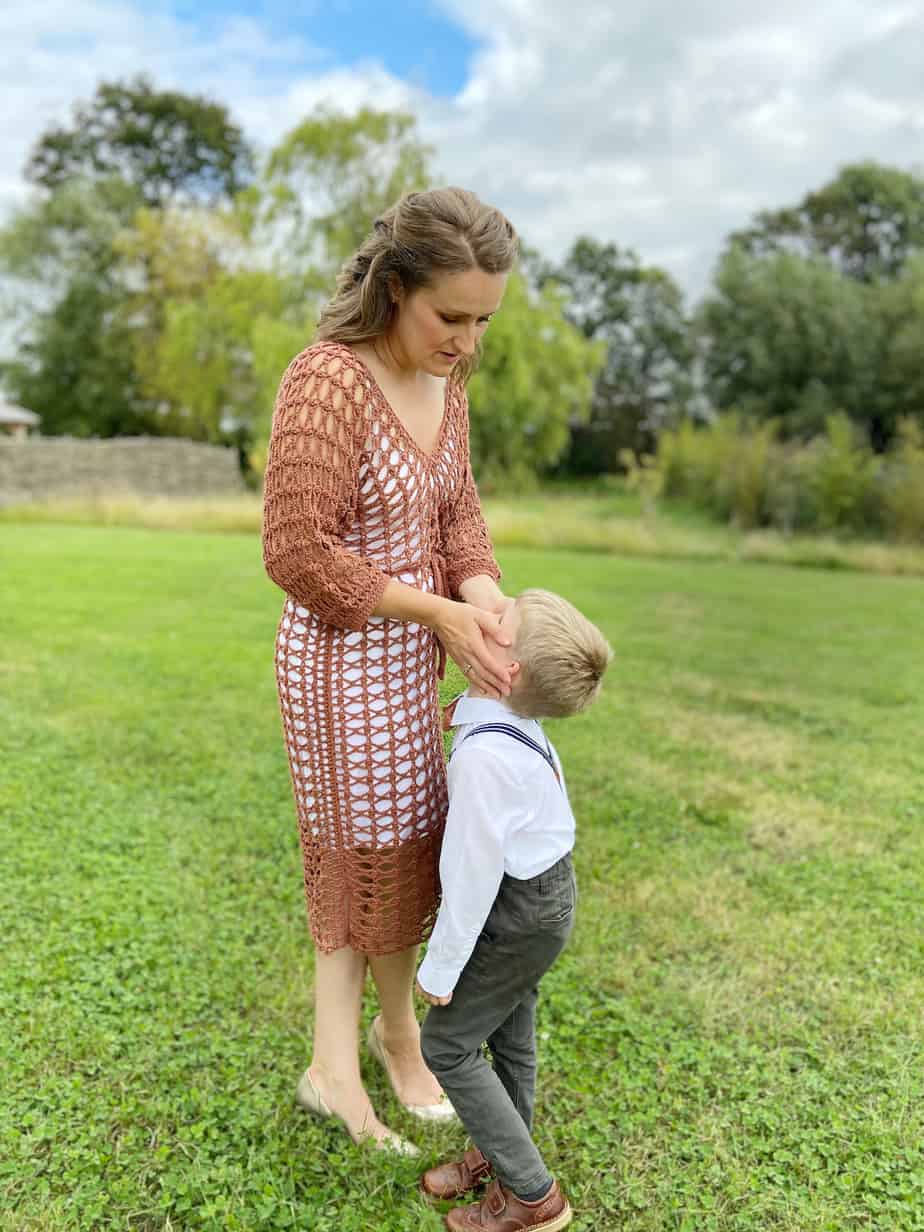 Pattern Options
Cynthia Collection
Purchase the PDF pattern:

Here are the other stunning patterns in the issue of Studio Crochet – it's all about lace crochet!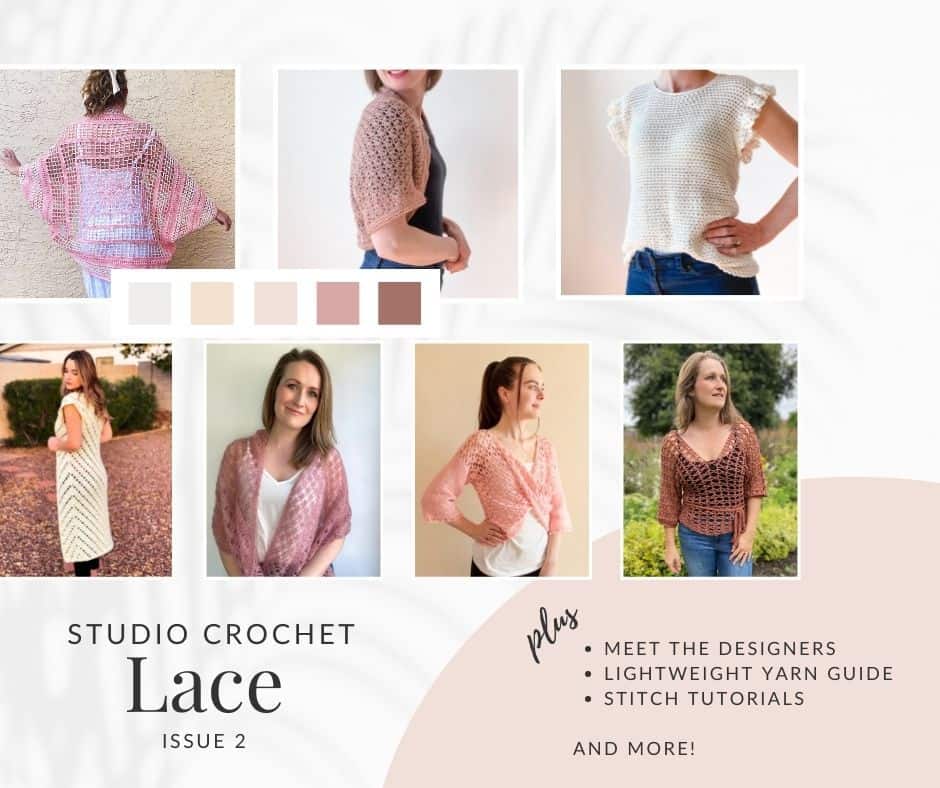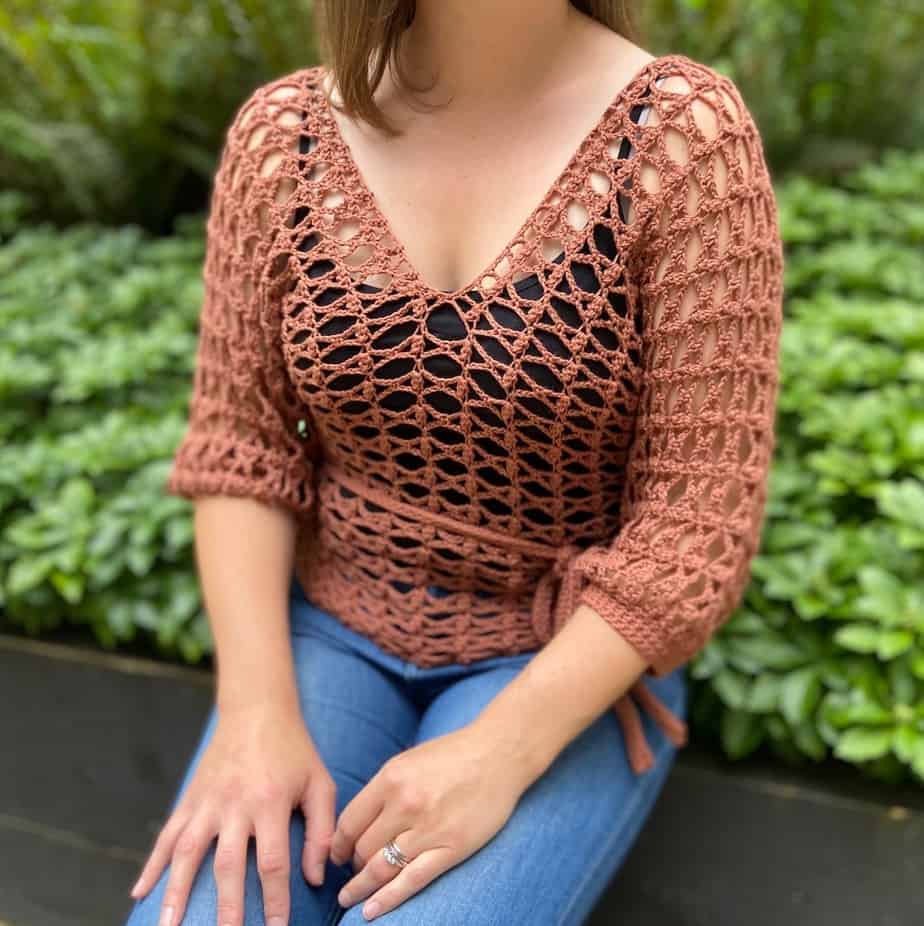 Join HanJan and Share Your Crochet!
I'd love to stay connected with you so please do sign up for my subscriber list if you'd like to. Looking forward to hearing from you and sending you your free gift!
Thank you so much for being here to share in HanJan Crochet with me. I'd love you to browse and enjoy my free crochet patterns. It's such an honour to be able to create and share my craft with you.
I'd love to see your finished crochet projects and so please share them with me in one (or all!) of the following ways –