In our house, we have piles and piles of cushions and pillows. They're for both for comfort and decorative purposes and crocheting them is something I really enjoy. And I love getting my hands on some great modern crochet pillow patterns.
Not only do you get a functional item at the end of it but one that's very pretty and pulls the space together. Magic.
We've collected together our favourite free crochet pillow patterns to give you ideas and inspiration to get making for your home!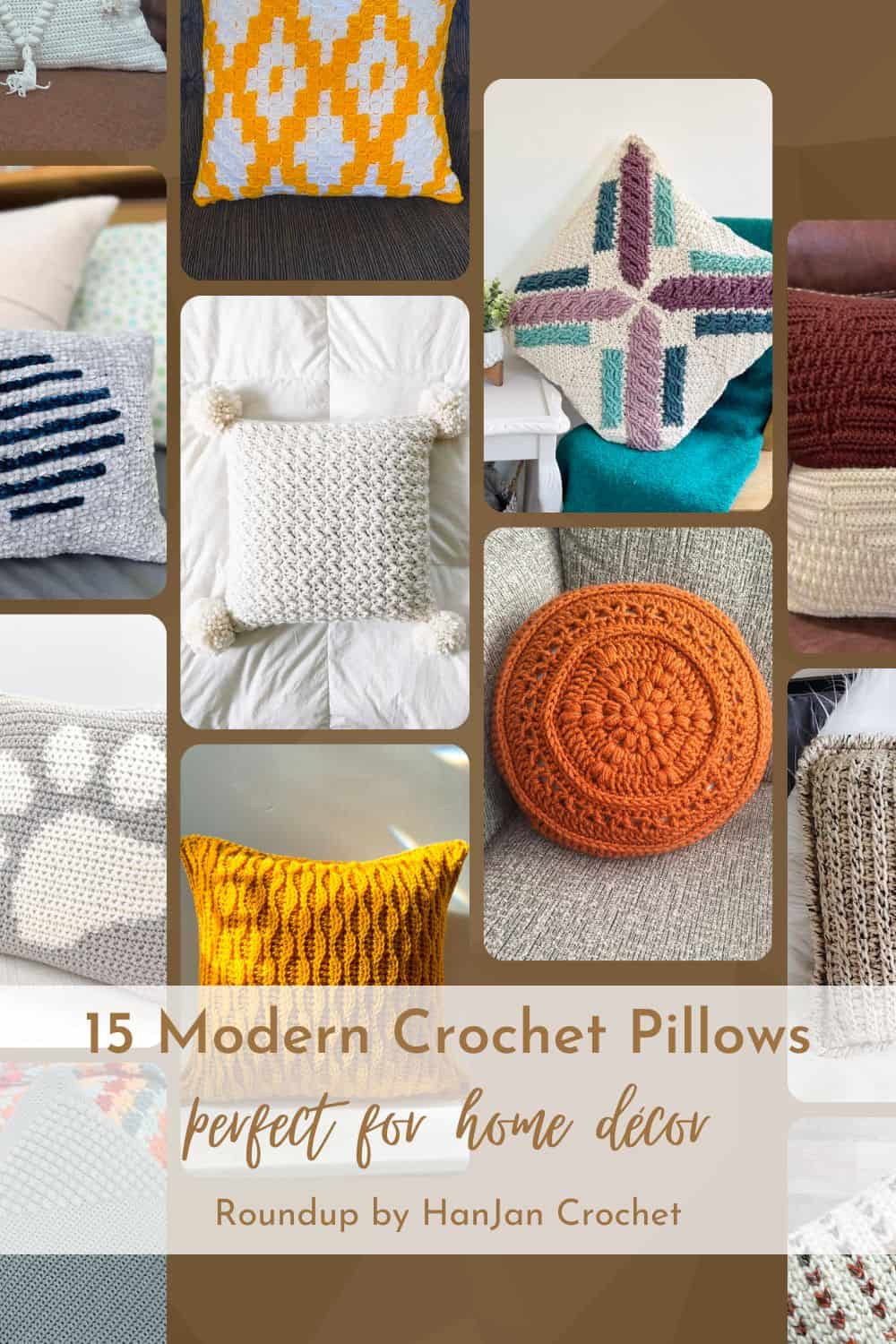 Great Crochet Pillow Ideas
Once you've found the perfect pattern it's time to make it your own! There are so many things that you can adapt and here are just a few crochet pillow ideas before we take a look at the patterns:
You can size these up to make floor cushions and make them in different colors to suit the theme of your room. If you make them with a zipper or buttons, you can easily remove and wash.
A couple of these put together make a fabulous housewarming gift!
One of the best parts is that you can change these around for the area you're crocheting them for. If you want to use them as throw pillows or for your garden swing, you can take inspiration from these patterns and then decide what suits you.
Another fun thing to do is make these cushions reversible. Take the front off of one and the back of the other (after matching dimensions) and you'll have 2-in-1!
There are so many possibilities when you're crocheting your own pillows.
Before you choose your favourite pillow pattern
Here are a few things to keep in mind before starting your next project with one of these amazing crochet patterns:
These patterns are designed according to specific sizes of cushions (some give instructions on adjusting) and list the hook size and yarn accordingly. It's always helpful to gather everything first before getting into the pattern. This helps ensure you have the correct filling.
Be sure to read the pattern before you decide to go for it because many of these patterns may have new techniques for you. To make sure you don't get stuck midway, have a read-through first.
If you want to be able to remove your pillow or cushion from the cover, make sure to check for zipper or button instructions. If there are none, you might have to tweak the pattern.
It's all about experimentation! You might like some textures and other techniques and that's what makes crochet so fun! You can tailor all of these modern crochet pillow patterns according to your own preferences.
Now that we've gotten that in order, scroll on down to see all 15 patterns and click the button that says "Find the Pattern Here" to view the blog post with all of the information about that specific pattern. Enjoy!
Photo Credit: jewelsandjones.com
This is a beginner-friendly cottage-inspired crochet pillow pattern. Made with soft yarn, it's cozy and has the fluffiest pompoms to give it wonderful character.
Photo Credit: bananamoonstudio.com
This is a C2C pillow which uses two contrasting colors to make a bright geometric design. It's perfect if your room theme has multiple colors and if you've never tried C2C, the post has a video to help out!
Photo Credit: thispixiecreates.com
This cushion pattern is almost like a mandala with the different stitches, textures, and unique rows in between! It's not a square pillow and you can use a round pillow insert or stuff it with cotton as you prefer.
Photo Credit: www.caabcrochet.com
The Cascades pillow is made with the waistcoat stitch worked in the round to create a knit-look texture. The use of fair isle crochet and changing colors mid-stitch creates the floating 'v' shapes throughout the design. Don't worry -- the tutorial will walk you through every part!
Photo Credit: www.stitching-together.com
You only need to know how to do 4 basic stitches to make this pillow: chain, half double crochets, single crochets, and slip stitches! The perfect easy crochet pillow pattern.
The Diamond Bobble Cushion is a great bobble stitch cushion pattern packed with texture and geometry. Playing with mirror images and negative spaces, the bobble designs are simple yet striking!
Photo Credit: desertblossomcrafts.com
This is a great tutorial if you're making a throw pillow for the first time and don't know how to go about it. The post will walk you through the different types of pillows and their construction as well as how to crochet the Serenity Pillow.
Photo Credit: jototheworld.com
If you have a pet at home or know someone who loves their cats and dogs, this is the perfect pillow! It's simplistic but sends a sweet message that your house is open to all kinds of furry little friends.
Photo Credit: spottedhorsedesignco.com
Named after the crocheter's mother, this reversible crochet cushion would be a statement piece in any room. You can make a pair in the same color or use the same design with lots of vibrant yarns -- the choice is all yours!
This crochet cushion is made with a burst of colors to make that beautiful flower. You can spot it in the center of each square. This pattern is a crochet geometric colourwork adventure!
Photo Credit: onelittlehook.com
This is a Tunisian crochet pillow cover pattern made with the Tunisian Crochet Straw Stitch. The post has all the details you'll need to make this gorgeous piece!
Photo Credit: knittingwithchopsticks.com
This striped pillow has a super easy construction to crochet. The tutorial comes with pictures to guide you through the tricky steps and make sure you have a beautiful personalized pillow at the end of it.
This cable crochet pillow pattern is stylish, boho, and modern. You simply crochet 4 matching squares each for the front and back and seam them together. That gives you this stunning cross cable design!
Photo Credit: simplymelaniejane.com
This is a free crochet along for a two-sided textured pillow. Each side (made of 4 squares) has a different design made from treble post. One shape is a diamond and the other is an hourglass. You can mix and match the squares on each side according to what you like!
Photo Credit: www.keju-crochet-design.com
This free crochet cushion pattern is made from just the single crochet and bobble stitches and comes with a stitch tutorial video to make things easier! It's a classic solid color cushion.
How beautiful are these modern crochet cushion patterns? And they're all easy, free patterns to try too!
You can make them for your own home or to gift to your loved ones. I challenge you to give one (or many!) a try and share it with us on social media by tagging me @hanjancrochet AND the designer so we can enjoy your beautiful creation!
Other Recommended Patterns You Might Enjoy
I'd love for you to explore my free crochet patterns on the blog and if you enjoy roundups like this, here are some more you might like to read too: