In our house, we have piles and piles of cushions and pillows. They're for both for comfort and decorative purposes and crocheting them is something I really enjoy. And I love getting my hands on some great modern crochet pillow patterns.
Not only do you get a functional item at the end of it but one that's very pretty and pulls the space together. Magic.
We've collected together our favourite free crochet pillow patterns to give you ideas and inspiration to get making for your home!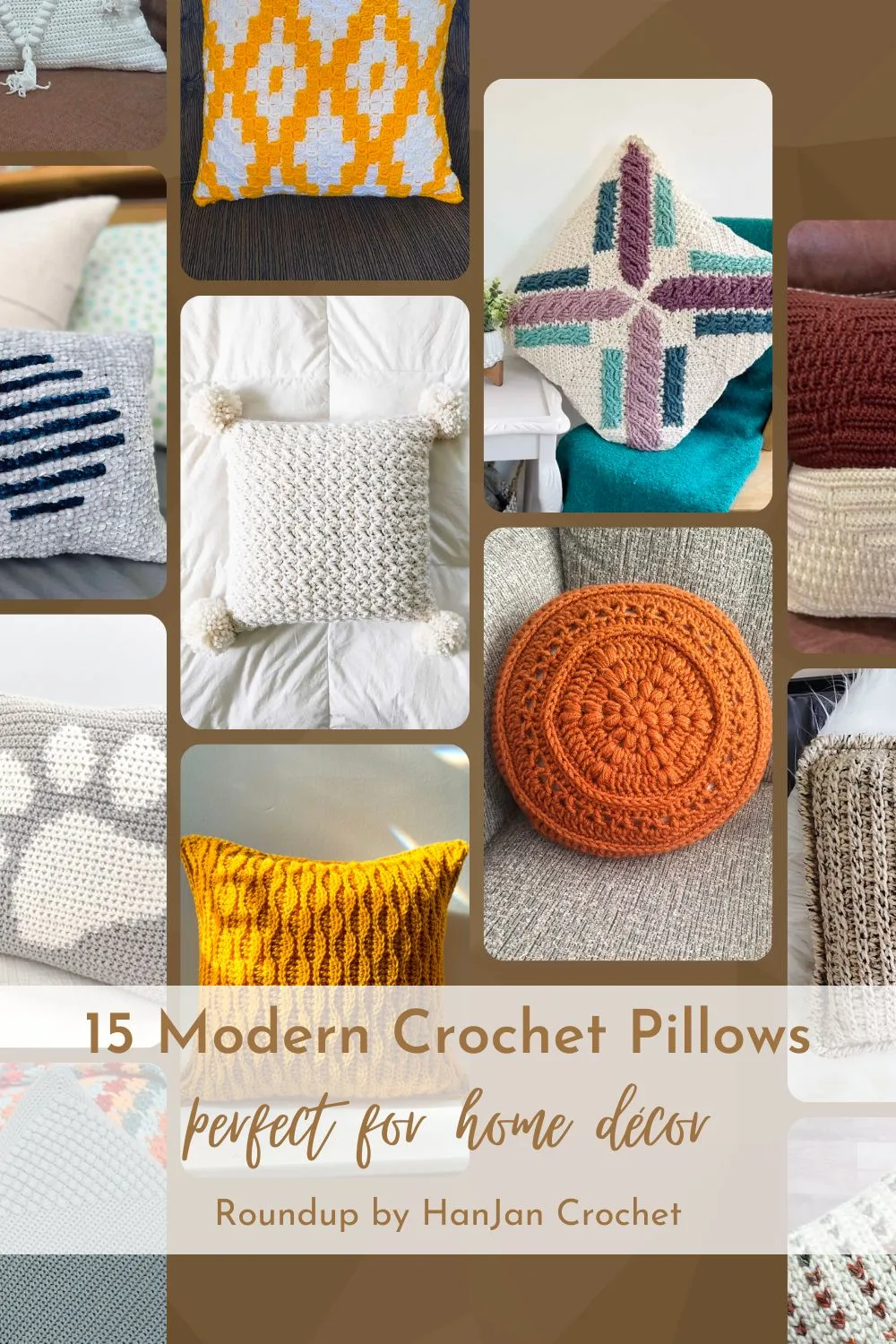 Great Crochet Pillow Ideas
Once you've found the perfect pattern it's time to make it your own! There are so many things that you can adapt and here are just a few crochet pillow ideas before we take a look at the patterns:
You can size these up to make floor cushions and make them in different colors to suit the theme of your room. If you make them with a zipper or buttons, you can easily remove and wash.
A couple of these put together make a fabulous housewarming gift!
One of the best parts is that you can change these around for the area you're crocheting them for. If you want to use them as throw pillows or for your garden swing, you can take inspiration from these patterns and then decide what suits you.
Another fun thing to do is make these cushions reversible. Take the front off of one and the back of the other (after matching dimensions) and you'll have 2-in-1!
There are so many possibilities when you're crocheting your own pillows.
Before you choose your favourite pillow pattern
Here are a few things to keep in mind before starting your next project with one of these amazing crochet patterns:
These patterns are designed according to specific sizes of cushions (some give instructions on adjusting) and list the hook size and yarn accordingly. It's always helpful to gather everything first before getting into the pattern. This helps ensure you have the correct filling.
Be sure to read the pattern before you decide to go for it because many of these patterns may have new techniques for you. To make sure you don't get stuck midway, have a read-through first.
If you want to be able to remove your pillow or cushion from the cover, make sure to check for zipper or button instructions. If there are none, you might have to tweak the pattern.
It's all about experimentation! You might like some textures and other techniques and that's what makes crochet so fun! You can tailor all of these modern crochet pillow patterns according to your own preferences.
Now that we've gotten that in order, scroll on down to see all 15 patterns and click the button that says "Find the Pattern Here" to view the blog post with all of the information about that specific pattern. Enjoy!
How beautiful are these modern crochet cushion patterns? And they're all easy, free patterns to try too!
You can make them for your own home or to gift to your loved ones. I challenge you to give one (or many!) a try and share it with us on social media by tagging me @hanjancrochet AND the designer so we can enjoy your beautiful creation!
Other Recommended Patterns You Might Enjoy
I'd love for you to explore my free crochet patterns on the blog and if you enjoy roundups like this, here are some more you might like to read too: