If you're anything like me, you love an easy crochet hat or beanie pattern! There is something so fun and practical about them. Not only do they keep you warm and cosy on cool days, but they are great statement pieces as well and these 7 patterns I'm sharing with you today are no different!
I have always been a huge fan of crochet baby hats as they are so quick and perfect for yarn stash busting, but this selection of beanies and hats are for all ages and all sizes so that you can make some for all the family.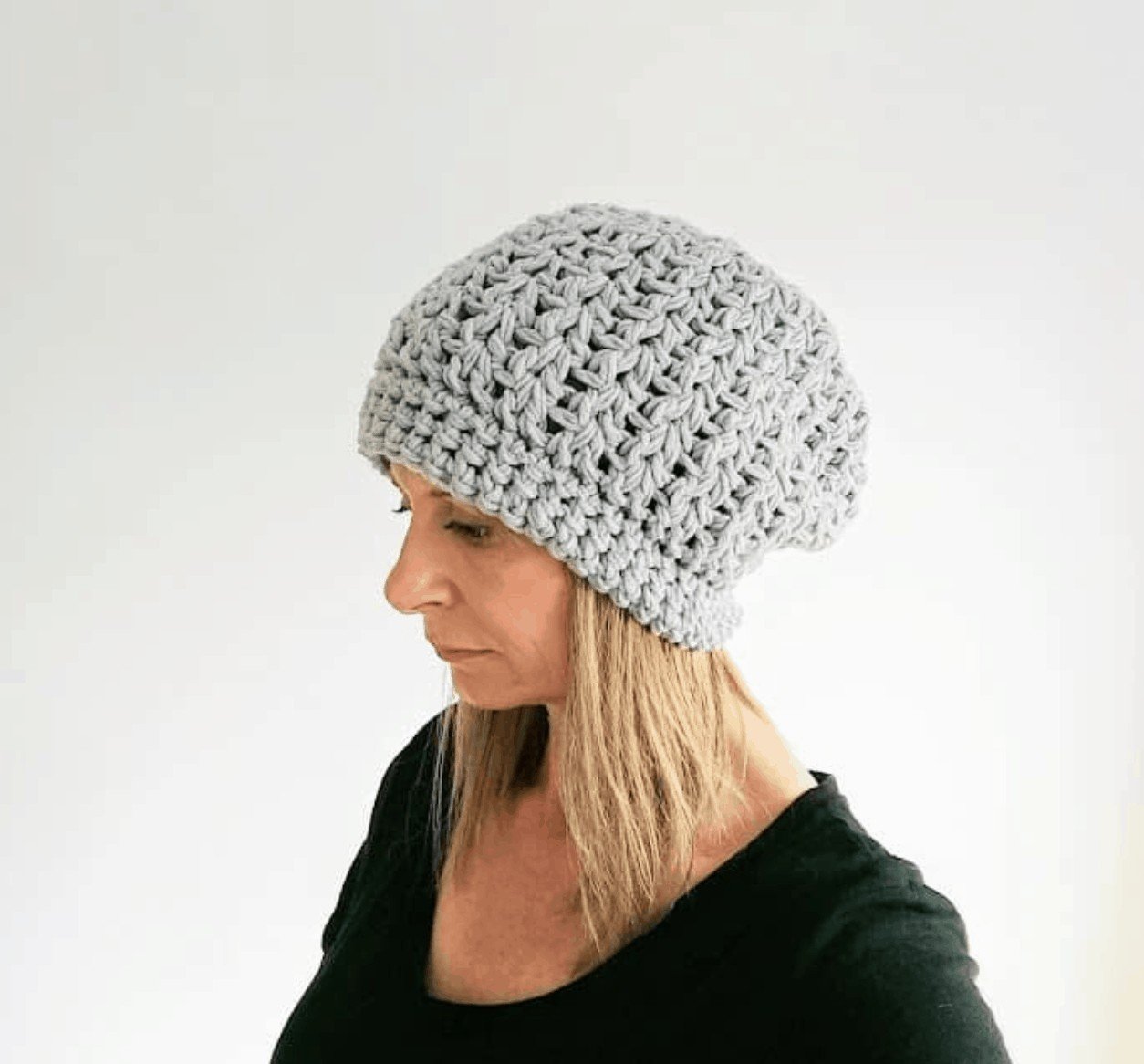 Within this post you'll see patterns by multiple talented designers that have so graciously agreed to let me share them with all of you! These patterns include: HanJan's fan favourite Baby Bunny Hat, Slip Stitch Beanie, Spiral Baby Hat, Dreamer Beanie, Rosebud Beanie, Slouchy Hipster Beanie, and the Two Toned Beanie.
What's the best yarn for my crochet hat pattern?
The best yarn to use to make a crochet hat or beanie really depends on a few things.
Firstly, you need to check what yarn weight the crochet pattern suggests you use. Most hats are made using double knit weight yarn and bigger but you must always check as using the wrong size yarn will mean that your hat won't come out at the right size!
The next thing to think about is your yarn fibre. You need your hats to be warm, comfy and cosy. So make sure that you choose a yarn which isn't thin or scratchy (my little boy hates anything itchy!) and think about who your hat is going to be for. If it's for a baby or child then perhaps think about using acrylic yarn so that it doesn't irritate or react with their skin.
Finally, as with any project, you need to consider your budget for your crochet hat. I tend to use yarn from my stash for small projects like hats and beanies but if you are purchasing yarn then as hats take relatively little yarn then you can perhaps treat yourself to some slightly more fancy yarn than you would for a larger project.
Whatever your decision is here are some of my suggestions for lovely yarn in different weights, fibres and budgets that you might like to check out.
Yarn Weight 3 suggestions:
£ – Paintbox Simply DK Yarn is a great double knit (yarn weight 3) that is 100% acrylic and lovely and soft too.
££ – Lion Brand Touch of Merino Yarn is a fabulous double knit choice at 90% acrylic and 10% Merino wool.
£££ – WeCrochet Capra DK Yarn is a stunning yarn with 85% fine Merino and 15% cashmere for a really luxurious feel.
Yarn Weight 4 suggestions:
£ – King Cole Big Value Aran, a wonderful 100% acrylic choice for a quick and easy crochet hat.
££ – Sublime Extra Fine Merino Worsted is a lovely bouncy, soft yarn with 100% merino wool.
£££ – Lion Brand Touch of Yak is super soft and luxurious at 90% acrylic and 10% Yak.
Yarn Weight 5 suggestions:
£ – WeCrochet Brava Bulky Yarn is a super 100% acrylic, inexpensive choice, perfect for hats and accessories.
££ – Lion Brand Hue + Me Yarn is a beautiful option at 80% acrylic, 20% wool in a range of wonderful colours.
£££ – Cascade Alpaca Chunky is the perfect choice for a really treat at 100% baby alpaca.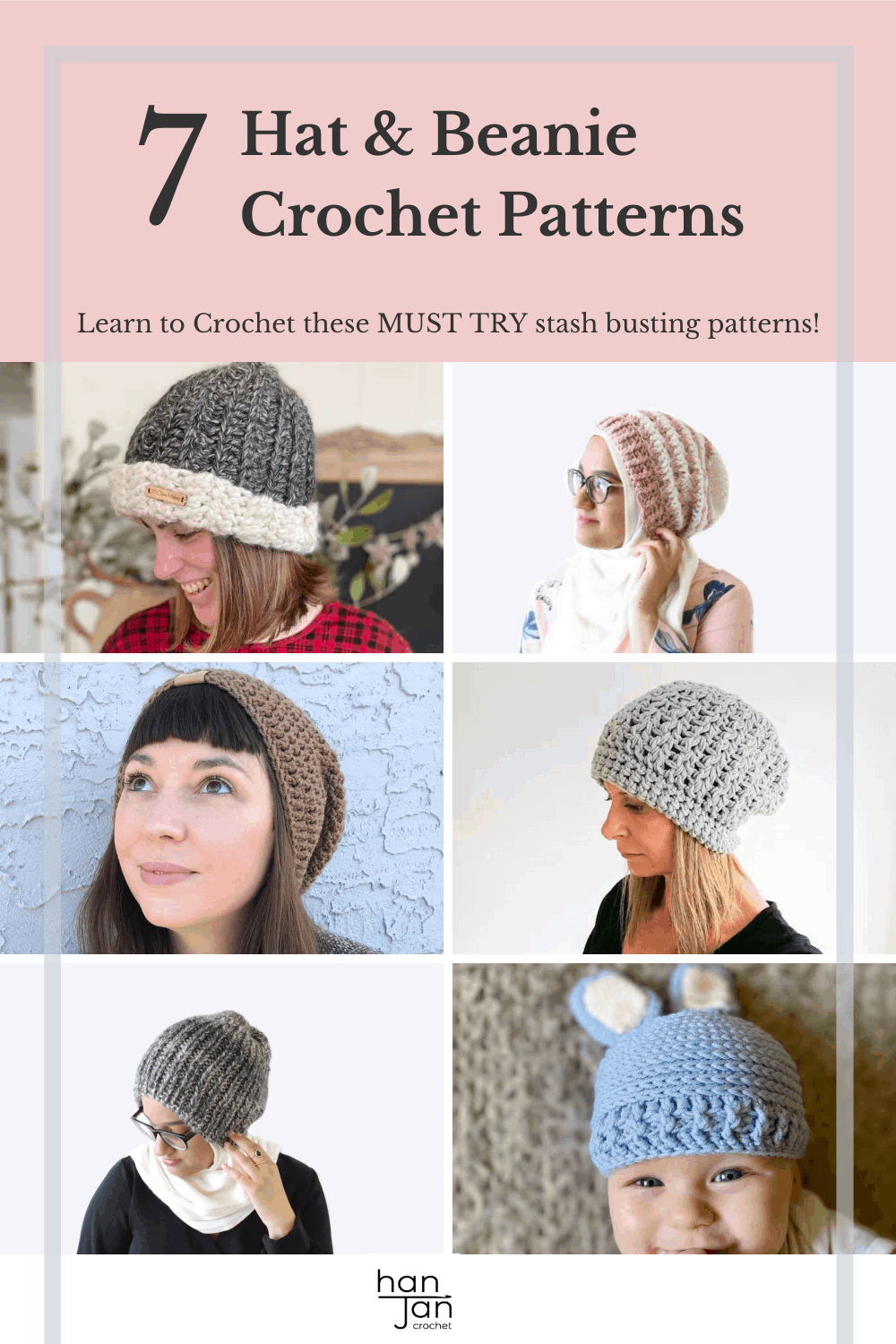 Join HanJan Crochet (and get a free pattern!)
I'd absolutely love for you to join me at HanJan Crochet so that we can connect and stay in touch! Sign up to receive a free PDF pattern and exclusive access to all of my patterns, offers and news. I can't wait to hear from you!
Take a scroll through the list below and click the button that says "Find the Pattern Here" to be redirected to the coordinating designers website for more information. I hope you enjoy them as much as I do.
7 Easy Crochet Hat Patterns
They were all such great patterns, don't you agree?! If you're looking for more patterns to try that aren't hats or beanies, check these out…
9 Easy Crochet Dishcloth, Washcloth and Scrubbie Patterns
Free and Quick Crochet Projects
Yarn Stash Buster Challenge – projects to use up your stash!
19 Stunning Cozy Crochet Patterns – from the Fall Wearables Blog hop.
6 Modern Crochet Fingerless Gloves and Mitts Patterns
Join HanJan and Share Your Crochet!
I'd love to stay connected with you so please do sign up for my subscriber list if you'd like to. Looking forward to hearing from you and sending you your free gift!
Thank you so much for being here to share in my free crochet patterns and supporting my blog. It's such an honour to be able to create and share my craft with you.
I'd love to see your finished crochet projects and so please share them with me in one (or all!) of the following ways –
Thank you for being here and choosing to be a part of the HanJan community, you make my "job" so enjoyable! See you next time!