There is something so calming and fun about a good pair of crochet fingerless gloves or mitts, don't you agree?!
Yes, it may be the middle of August and still not necessarily cool enough to wear these (even though they're fingerless gloves!), it's never too early to start working a new pair for Autumn, Winter or even for Christmas gifts!
I personally am a HUGE fan of crochet gloves and mittens because they give you all the warmth you need with all the flexibility you need at the same time!!
All of the patterns I'm sharing with you here in this blog post are fingerless patterns because they are my favourite! As a busy Mum I just don't have time to keep taking gloves on and off all the time to do/sort/wipe/pick up and other Mum stuff so fingerless gloves are always the way to go for me!
Another exciting part of today's post is that these patterns aren't all mine. I am sharing three patterns from fellow designers that I adore and cannot wait for you to see.
Scroll down to see all 6 patterns and click button that says "Find the Pattern Here" to view the blog post with all of the information about that specific pattern!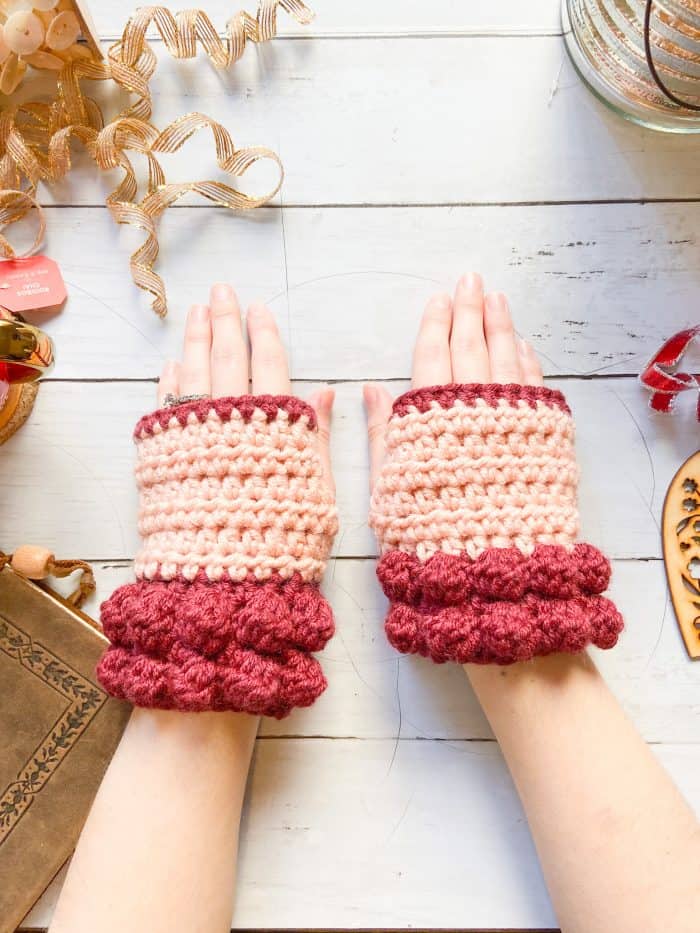 What Yarn Should I Use To Crochet Fingerless Gloves and Mitts?
I often get asked what sort of yarn works best for crochet gloves, mittens or indeed any small accessory like a headband, cowl or hat that goes close to your skin.
The answer for me is simple, something that feels soft and luxurious. I know that lots of people find yarn with a high wool content quite irritating but you can get some really beautifully soft yarns that won't be scratchy at all.
Merino Yarn
For many years I've tried to convince my Mum to treat herself and use some nice luxurious yarn for a change, especially when it's a small project (not too expensive that way) and even more especially when it's for her!
I would recommend going for a yarn like Sublime Baby Cashmere Merino Silk which is 75% Merino Wool, 20% Silk, 5% Cashmere, 50g/170m and will feel so soft and gentle on your skin! (They also do a double knit weight too).
Another great option would be King Cole Merino Blend 4 Ply which is 100% wool, 50g/180m and very definitely not scratchy at all!
A fairly new yarn is Deramores Studio merino double knit yarn which is soft and bouncy and 100% extra fine super wash merino at 50g/115m and great if you're looking for a slightly thicker yarn to work with.
Acrylic Yarn
Until recently I think lots of us thought of acrylic yarn as the squeaky, poor relation to 'real wool' but there are some amazing products out there now that are soft, a joy to work with, come in a huge range of colours and are also really inexpensive too!
I love working with Stylecraft Bambino double knit acrylic yarn, which is 100% acrylic and so great for sensitive skin. (100g/268m).
For it's huge range of colours and that fact that it's sooooo soft I'd also encourage you to try another of my favourite yarns – Deramores Studio double knit acrylic which again is 100% acrylic and 250m/100g so you can easy make a pair of crochet gloves from just one ball!
If you're looking for a yarn with a mix of merino and acrylic then Lion Brand Touch of Merino 3ply is perfect! It's a beautiful yarn to crochet with and with just 10% merino and 90% acrylic it has the best of both worlds!
Join HanJan Crochet (and get a free pattern!)
I'd absolutely love for you to join me at HanJan Crochet so that we can connect and stay in touch! Sign up to receive a free PDF pattern and exclusive access to all of my patterns, offers and news. I can't wait to hear from you!
6 Stash Busting Gloves & Mitts Patterns:
How fabulous are all of these patterns?! If you decide to try your hand at any (or all!) of these crochet fingerless gloves, make sure you share it with me by tagging me (& the creator) in a post on social media. I absolutely love seeing your crochet creations!
I'm also so excited that the release of this blog post coordinated perfectly with the launch of my brand new "Mystical Mitts!" Did you spot them in the patterns above? These mitts were created for a book & I'm so excited to continue sharing them for you all to try and love!
And if you don't feel like searching the blog yourself, I've put together a list of a couple other pattern round ups and creations I think you'll LOVE! Check them out below.
Other Winter Crochet Hats and Hood Patterns You Might Enjoy
A selection of some of my crochet hats and hoods to keep you warm and toasty!
Join HanJan and Share Your Crochet!
I'd love to stay connected with you so please do sign up for my subscriber list if you'd like to.
Looking forward to hearing from you and sending you your free gift!
Thank you so much for being here to share in my free crochet patterns and supporting my blog. It's such an honour to be able to create and share my craft with you.
I'd love to see your finished crochet projects and so please share them with me in one (or all!) of the following ways –
As always, thanks for being here and being such a huge part of the HanJan community! Happy crocheting!