When you first start crocheting, you discover the classic granny square and it seems like a whole new world of possibilities has opened for you.
They're simple to make, work up quickly, and just look so classy in any project. And once you read up on how this granny square came about, its ease and flexibility make all the more sense.
But have you yet traversed the domain of solid granny square patterns? Because I'm here to tell you there's so much more you can be doing with those squares!
I've put together this roundup of 10 solid granny square patterns which incorporate all sorts of shapes, motifs, colors, textures, geometries, and more!
Some of them even lead to projects you can make out of them if you're looking for crochet inspiration.
In my time, I've seen our fabulous community of crocheters make marvellous things out of granny squares from afghans, cushion covers, potholders, table runners, and stockings to bags, pumpkins, wreaths, and even entire bedsheets and curtains! Have you ever made a unique piece from granny squares?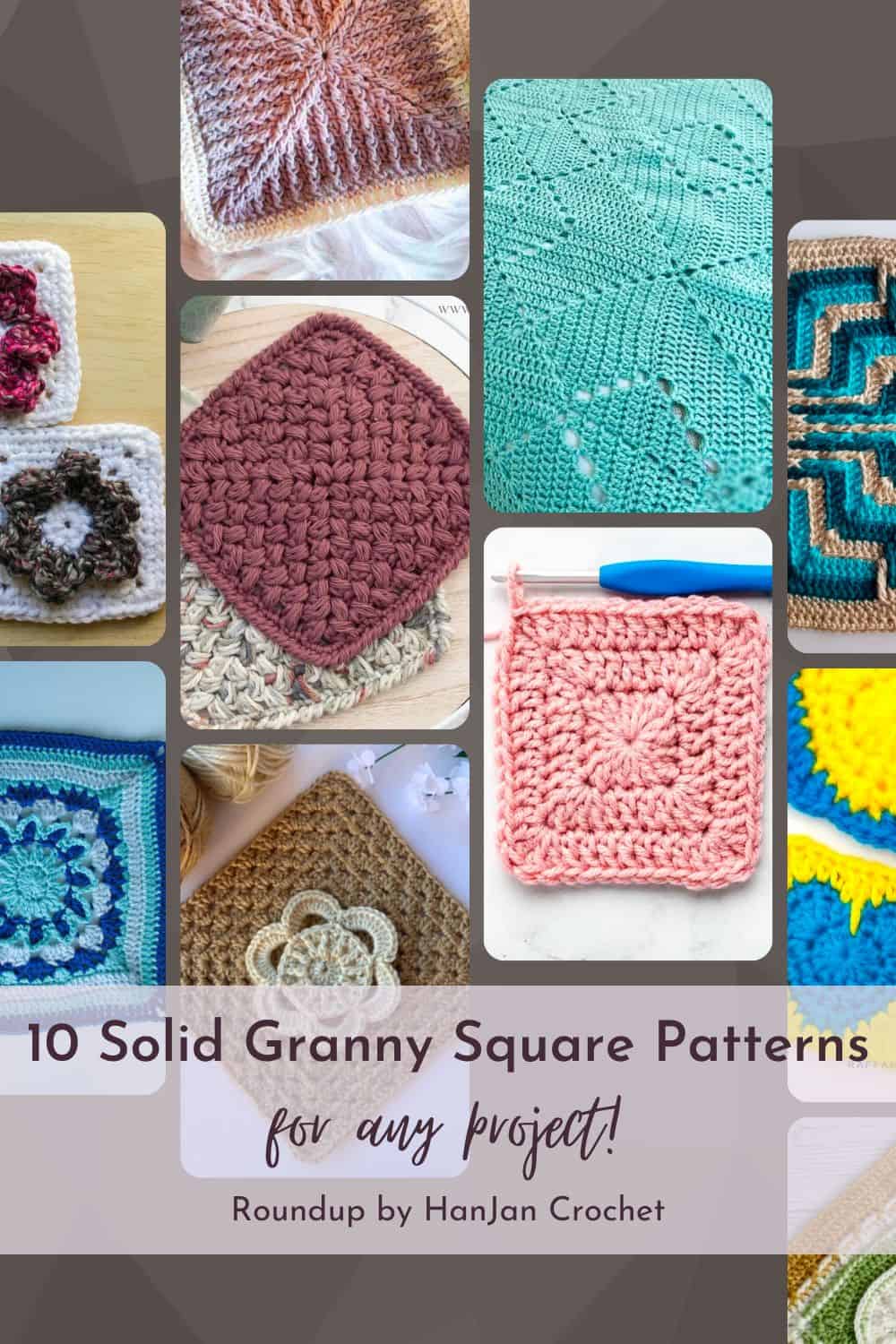 Some Things to Keep in Mind
Before starting your next project with one of these amazing solid granny square patterns, here are a few things to keep in mind:
If you're worried about your squares not ending up straight or having wonky edges, I've got a detailed tutorial which will start you off with the classic square and then dive into how you can make your squares looking nice and sharp.
Be sure to read these patterns through before you decide which one to go for because most of them use basic stitches and teach you new techniques. But if you feel like you might get stuck somewhere, it's better to figure it out before you start the square rather than midway!
It's all about experimentation! You might like some textures and other techniques and that's what makes crochet so fun! You can tailor all of these patterns according to your own preferences.
Now that we've gotten that in order, scroll on down to see all 10 patterns and click the button that says "Find the Pattern Here" to view the blog post with all of the information about that specific pattern! Enjoy!
10 Solid Granny Square Patterns
Photo Credit: keepcalmandcrochetonuk.com
Can we talk about all that's happening in this square? We've got texture, all sorts of gorgeous stitches, different colors to make it pop, and it even has a circle in the center before branching out into a square! And it uses only your basic stitches so you don't have to worry about getting lost in between.
Photo Credit: raffamusadesigns.com
If you want to add a bit of character to your project, but also stick to a simple crochet square pattern, this is the one for you. It works up quickly and you can use it to express your love to a dear one.
Photo Credit: sarahmaker.com
While the classic granny square is great for all types of projects, sometimes you want to make a cardigan without any holes or a warmer afghan. That's why it's always good to know how to crochet a solid granny square with no gaps.
Photo Credit: www.caabcrochet.com
The bean stitch gives this crochet square pattern a nice warm squishy feel to it and the way the stitches are aligned create neat diagonal lines. While this creates a washcloth, you can make a bunch of these squares for a cozy project of your own.
Photo Credit: www.hanjancrochet.com
This beginner friendly crochet blanket pattern (one of my very own!) is super easy to make and comes with a video tutorial on both how to crochet motifs and how to join to create this fabulous criss cross design. It's got a bit of a lacy texture but is warm enough to wrap up in while watching your favorite show.
Photo Credit: craftingeachday.com
This free textured granny square pattern is just poppin' with color and geometry! The ombre yarn accentuates the post stitches and the neat border makes it easier for you to stitch these together for a bigger project.
Photo Credit: www.stitching-together.com
The flowers are worked into the square, instead of being sewed on, making them extra sturdy. And you can decide whether you want to put them on every square of your project or just a few because the motif is added after you've finished the base.
Photo Credit: crochetinstinct.com
This colorwork afghan square may look a little daunting but it combines the most basic stitches with some great colors to give you something magical! Just looking at it seems like a great adventure is awaiting you behind its door. If you have a fantasy fan in your circle, they're sure to love something made out of this crochet block!
Photo Credit: bluestarcrochet.com
This is a stashbusting granny square because you can grab all of the different shades of any color you have and put them together in this one. The center part takes a little bit of working but the outside borders are very simple and quick to crochet up!
Photo Credit: simplymelaniejane.com
If you prefer a floral appliqué, this is a great pattern with clear instructions on how to add a textured flower to a traditional granny square.
How awesome are these patterns? And they're all free too!
Crocheters just love spreading the joy of great patterns to everyone. Which one will you be using in your next project? I challenge you to give one (or many!) a try and share it with us on social media by tagging me @hanjancrochet AND the designer so we can enjoy your beautiful creation!
Other Recommended Patterns You Might Enjoy
I'd love for you to explore my free crochet patterns on the blog and if you enjoy roundups like this, here are some more you might like to read too: