I had the most amazing luck to be able to have a sneaky chat to the lovely Lucy ahead of The Handmade Fair next weekend. I'm so excited to see her on the stage with Kirstie and find out all about how to make your passion your livelihood and increase your social network. Before the big day, find out how she fits it all in, what her tops tips are for anyone starting out in craft blogging and how I made her snort into her coffee…..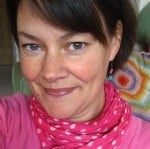 Lucy of Attic24 is one of the most renowned and established crochet and craft bloggers out there – her blog http://attic24.typepad.com/ has a fabulous mix of personal lifestyle, crochet patterns, and creative inspiration, with more than a million followers sharing Lucy's colourful, cheerful chatter every month.
Lucy writes and designs for magazines and teaches crochet workshops from her small studio above a local cafe. During the past year her crochet designs have been made into a range of colourful kits which have become popular all over the world. Lucy is also one of the organisers of Yarndale – a creative yarn festival held every September in her home town of Skipton on the edge of the Yorkshire Dales.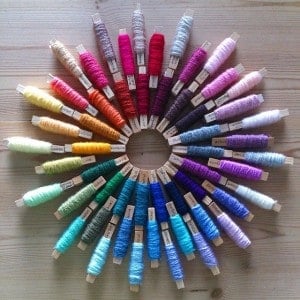 I can't wait to hear her chat to Kirstie Allsopp at The Handmade Fair next week so couldn't believe my luck when she took the time to chat to me about what to expect and all things crochet – here's what she had to say….
Lucy, how do you manage to fit Attic24 all in and is there ever a danger of crochet just feeling like a day job?
Yes, I guess I am a busy bee these days, but the honest truth is that I really don't manage to fit it all in. When you juggle so many balls, things do begin slip and right now I confess that it's my poor house that is suffering. The de-cluttering and decorating is just not "fitting in" all by itself! I can say that crochet never, ever feels like a day job though, I just love it so much.
It is everything to me – my days are filled with it, it is my relaxation, my therapy, my social life. I am also very careful at choosing my projects and never taking on anything that won't deliver maximum pleasure on all fronts. I am lucky to work for myself too, being my own boss gives me such a wonderful sense of freedom, it is priceless.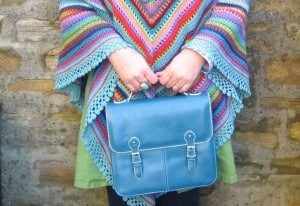 I hope you're looking forward to the Handmade Christmas Fair too – will you get the chance to join in any of the classes too? Which other crafts do you enjoy?
I am really looking forward to the fair, it promises to be very inspiring. I do enjoy all sorts of creativity, in particular I love embroidery and stitching which was my first love before I discovered the hook.
With Christmas around the corner – what's your favourite quick crochet gift you love to make for people?
I really love to make little smelly things to give as gifts! I have a bag of Yorkshire lavender here in my studio which smells divine and I love to stuff it into crochet hearts decorated with flowers or give my cute little bower birds some scented filling. This year I'm going to be crocheting needle-keepers which you attach to scissor handles for all my creative friends – pretty and practical.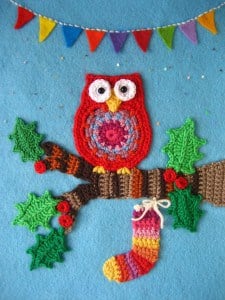 Huge congratulations on the success of Yarndale again this year – how did it all begin back in 2012? What can we expect to enjoy there next year?
Thank you for the congrats! This was the third Yarndale, and it went really well, the best yet. We had 195 talented exhibitors this year and welcomed more than 7,000 yarny visitors through the doors over the weekend. Back in 2012, Yarndale was born out of chatter and wishful thinking at a weekly knit and natter group in a local cafe. It was one of those things that started out as an "if only….." and ended up a few months later with an enthusiastic " lets do it…..!". A small group of us took the idea and formed it into a viable plan, it took 18 months to make the first festival happen in 2013.
It's a lot of work for just a small group of five of us, but we have terrific support from the both our local community and the wider yarn community. Next year, you can expect more of the same – a terrific selection of merchandise, demonstrations, exhibitions, workshops, talent and passion. There will also be another big community creative display (crochet of course), but to be honest I've not decided what that is going to be yet – need to get my thinking cap on!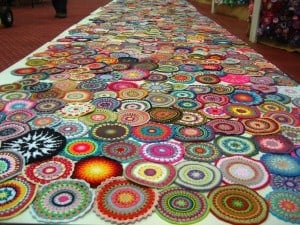 I just adore your blankets and always have so many friends making them – which is your personal favourite design and colour scheme?
Oh I am addicted to blanket making, I love them so much. I love designing them, making them, draping them about the place and seeing my family use them every day. They make up such a familiar and much loved part of my life.
My favourite design tends to be the one I'm currently obsessed with/working on. Right now I am loving the bright, happy Sunny colour palette, it's just so cheerful when we are having so much dull grey, wet weather here in Yorkshire. This is also the first time I have ever worked on two blankets a the same time using the same set of colours, which is very exciting. I get to chop and change depending on my mood – easy, soothing granny stripes, or more complex log cabin blocks. It's a fun way to work.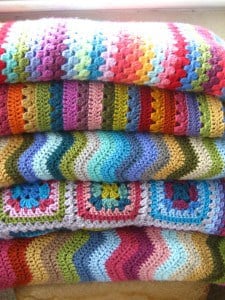 Do you have a major strategy to your online presence? With so much to manage in terms of the blog and social media do you have to be strict with your content or do you just let your inspiration take you places?
I have to confess that I have just snorted into my coffee at the word "strategy" – I am most definitely not that way inclined! I don't have schedules or rules or timetables or strategies, I am a very spontaneous and impulsive type of blogger. I do take photos almost every day and these will always form the basis of my blog/social media content – if there are no images to hand, I don't blog/write.
I have learnt that blogging does have it's own kind of rhythm and some times of year are more prolific than others in terms of delivering content. For example, I have to think harder about it at this time of year as the light is quite poor which makes taking good photographs a challenge. As for other forms of social media (I use Facebook and Instagram), they are much easier to keep up with as they are quicker and I try and post on there every day if I can. After 7+ years of blogging, I have a huge archive of of projects/posts/photos which I can draw on and that can be useful for Facebook.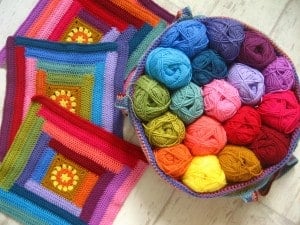 If you had to choose, which would be your favourite social media platform and why?
Oh blogging, of course, without a doubt! I think the speed of Facebook and Instagram can be very seductive during times when things are hectic – it can be seen as a form of "micro-blogging" if you like, but really it is a poor substitute for the real thing in my opinion. Good blogging takes time and commitment, but it is so rewarding.
I use my blog a bit like a diary too, it provides a very valuable record of my life which I often dip into and re-read (I've got over a thousand blog entries now, spanning almost 8 years). I love the writing process, it's a form of creativity for me and allows me to express my ideas, thoughts, feelings and inspirations with a fabulous global community. I love it very much, it's become a vital part of my everyday life.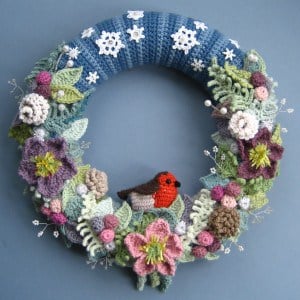 What would be your one best piece of advice to anyone wanting to start their own craft blog?
I think I would say that there are four main things to keep in mind…
1. Honesty. Think about how much of yourself and your life that you want to share, define those boundaries and keep it honest and real. Are you just going to share crafts, or something of your personal/home life as well? Whatever you decide to blog about, make sure you are blogging for yourself first and foremost, that you have a genuine passion for creating and sharing and finding your own voice.
Don't try to make yourself or your blog adopt a personality or a direction that isn't completely true to you. You should create, write and share from your heart, and this whole process should always feel like a pleasure, like having coffee, cake and a good natter with a dear friend.
2. Creativity. Craft blogs need to ooooze creativity, even if you are just chatting about the weather or the colour of your jumper. Good photography is an absolute essential – my favourite blogs always have amazing photos. New, original ideas, shared with passion are a must too. It's often harder than it seems to be original as there is so much inspiration and influence out there.
3. Consistency. I have learnt that the very best thing you can do to establish yourself in the blogging world is to be consistent with your content and your presence. Keep at it, day after day after day. Blog regularly, build your audience and your online friends by giving as much as you can as often as you can.
In my early days of blogging, I was lucky enough to have lots of time on my hands and wrote a new blog post every day Monday to Friday. I had so much to say, I couldn't go a day without needing to share what was going on in my little creative world! It's harder to find the time now, but I still aim for at least three good blog posts a week.
4. Community. The creative blogging community is amazing and it's a true pleasure to be a part of it. A great way to establish yourself is to create a list of blogs you love and regularly visit those blogs. Leave comments, write to people, give feedback, be an active part of the community. Don't be shy!Remember that every time you visit a blog, you leave your name and URL behind you, like a trail so that others can come and find you.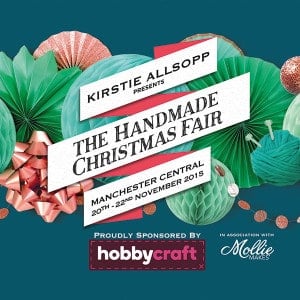 Thanks so much Lucy – such an amazing chat and so many great tips, I'm off to make sure I put it all to good use!

I don't know about you but I can't wait to see what Lucy and Kirstie chat about on the 21st at The Handmade Fair in Manchester!

Hope we see you there!