Autumn or Fall? Whatever you prefer to call it it's such a special time of year, especially if you crochet! I'm so excited to be able to share the 'Fall in Love with Autumn crochet pattern bundle' – it's such a fabulous collection of cosy crochet patterns.
The Fall in Love with Autumn event is being hosted by Itchin' for some Stitchin' from 1st – 31st August 2020. Each day there will be a new fantastic pattern that is completely free to download for 24 hours! Scroll down to find out more about the blog hop and where to find the free patterns.
You can get all of these wonderful patterns for free through the blog hop but that means you need to remember to visit each day to redeem the code. If, like me, you'd definitely forget to do that before the 24 hours runs out then there is another option! You can purchase the entire pattern bundle (with 5 extra bonus patterns) and download them all immediately. It's so easy.
Find the Fall In Love With Autumn Pattern Bundle Here!
What's Included In The Autumn Pattern Bundle?
A group of amazing designers have come together to offer a huge discount to our readers – you save 90% on the regular price of the patterns!
You will receive all 37 patterns that are prefect to make for the upcoming season at the cost of just $0.35 per pattern. That's crazy!
Here is the wonderful group of designers and images of the beautiful patterns that you can find in the pattern bundle: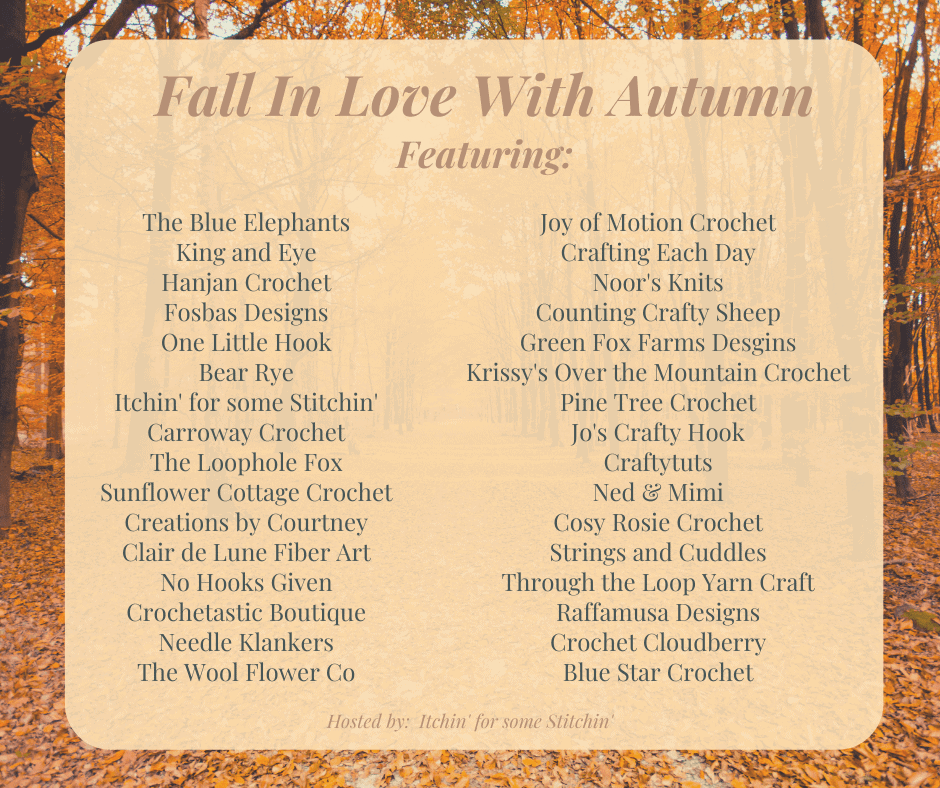 Find the Fall In Love With Autumn Pattern Bundle Here!
Bonus Patterns Included:
Find the Fall In Love With Autumn Pattern Bundle Here!
YOU ONLY HAVE UNTIL 11:59PM PST ON 7TH SEPTEMBER TO GET THIS BUNDLE!
So make sure you get it while you can!
Find the Fall in Love With Autumn Bloghop for the free patterns here!
Join HanJan Crochet For Free Patterns
At HanJan I see it as my mission to share as much crochet goodness, free patterns, tutorials and news as I can with you. After all, we share such a mutual passion and I am bursting to share things with you that I hope you will enjoy to both make and learn. If you would like to, I'd be honoured to welcome you to HanJan Crochet – just sign up below and I'll take care of the rest!