I love nothing more than a bag to carry my crochet around in and what could be better than a bag you've made yourself?! Today I'm sharing my favourite free crochet backpack patterns because they're easy to take everywhere with you, are very handy for everything and look fabulous too!
This roundup features all sorts of backpacks you can crochet, from very advanced bag patterns made with the tapestry crochet method to simple ones you could make in an evening. You will also learn extra skills through these patterns such as how to attach a zipper to your crochet project, how to create a cord or firm drawstring, etc.
If you find a pattern you want to get into it, be sure to pin this roundup to keep it safe with you!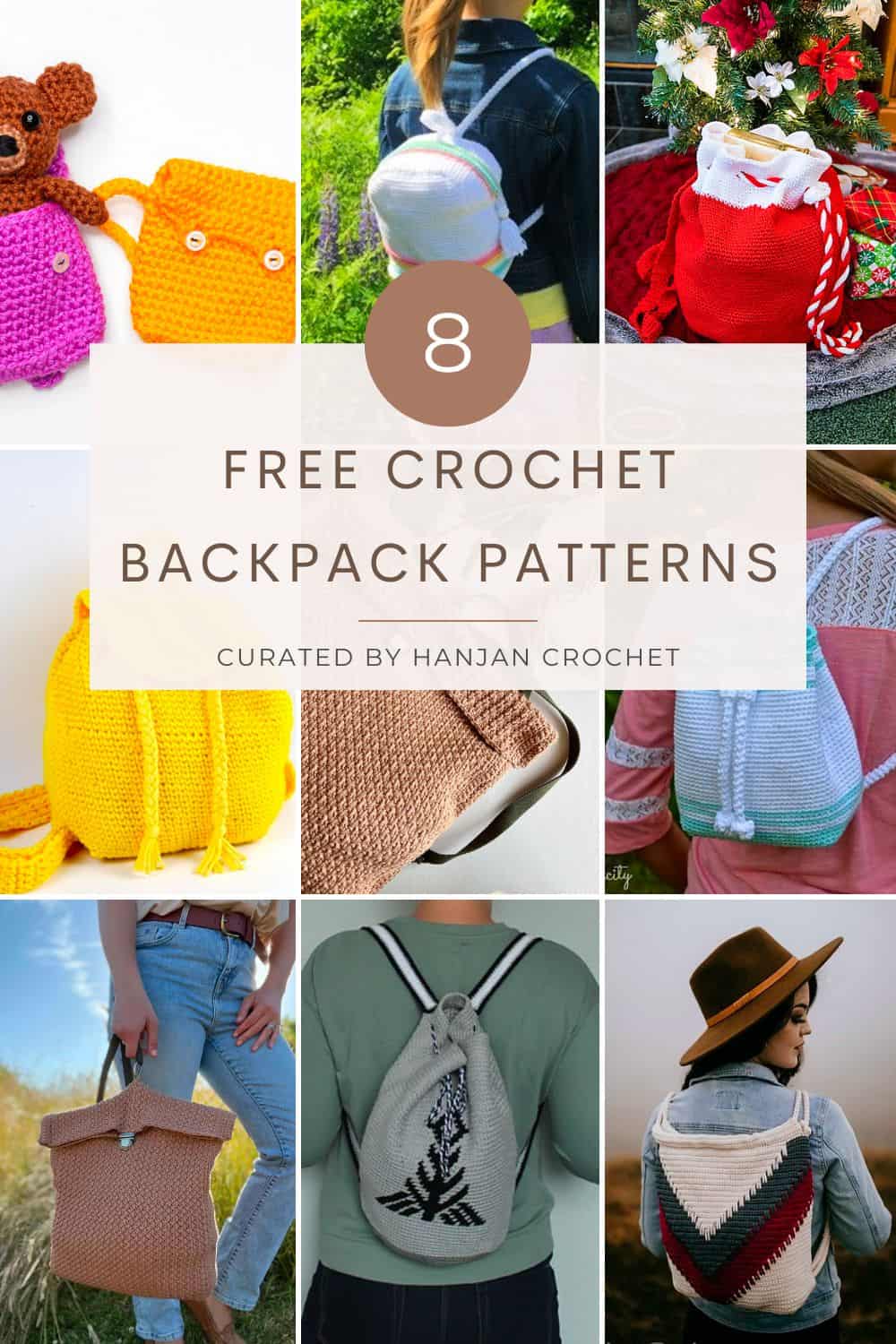 How do you crochet a backpack pattern?
The key to success is choosing a pattern that uses stitches and construction techniques that you feel comfortable with. I've chosen all sorts of backpack projects with patterns ranging from beginner through to more advanced with colorwork that you can really get your teeth (or hooks!) into.
Since backpacks have a lot of parts including straps, clasps, buttons, fronts, backs, bottoms, etc., these patterns require seaming. It'll be good to keep a tapestry needle on hand as well as making sure you have all of the extra materials you'll need.
Each of the patterns has such a varied style that they are all made very differently but one thing you can be sure of is they're all useful in their own way! You can see the dimensions to determine the capacity and decide what would suit your need. For instance, if you want to use your backpack for heavier items, you might need to reinforce the bottom to keep it from deforming or stretching out.
How do I choose the right pattern for me?
Choosing the right crochet backpack pattern to make completely depends on what you'd like to make, who you're making it for, what experience you have with crochet, and what you'll be using the bag for.
Firstly, you need to make something that you know you have a use for and have been wanting to make. There is no point in crocheting something that you don't love.
Secondly, you need to choose a pattern that sits with your skill level and experience. I've added various details to all the patterns to save you the work of delving into them and finding out if they are right for you. Since backpacks are usually crocheted in parts, it's important to know whether you're able to make everything (especially if the straps and cords are handmade too).
It's vital that you find a pattern that has been tech edited and tested and I know that each and every one of these has been. Some of them have video tutorials too which is an amazing bonus for beginners.
What crochet stitches will I need to know?
Each of the patterns that I've included use mostly single crochet, half double crochet and double crochet stitches.
There are a few that use more advanced techniques like colorwork and tapestry because I didn't want you to limit yourself if you've already encountered or would like to learn these stitches.
Supplies for Crochet Backpacks
Pattern
As I've said, choosing the right pattern for you is essential and I have 8 for you to choose from! All of them are free to view on the designer's blog which is a great way to try out a pattern without committing any money.
If you find one (or more!) that you love, they all come with a premium PDF option that will mean you can download and print a copy which is great for making notes and remembering where you are!
Plus, you can keep the pattern saved with you for the future so you won't have to scratch your head to figure out how you made something.
Yarn
The pattern will let you know the recommended yarn that the designer used, the weight (referred to as category) and the amount of yarn you'll need for each size. I've added the information about the yarns with each pattern for you to take a look.
One of the most important things when choosing yarn is usually to make sure that you work a gauge swatch. But since most of these patterns aren't wearables, you don't really have to worry about that. Just make sure that you are happy with the density of the fabric as you'll want a nice sturdy backpack to keep everything in.
Hook
Your pattern will let you know the crochet hook size that the designer used but you can always adjust according to the yarn you're using or if your stitches are tighter/looser than most people's.
Notions and Other Materials
The other essentials you might need while making some of these patterns are:
Scissors to break your yarn.
Stitch markers are often helpful for keeping count of stitches, especially when you're shaping different pieces
Free Crochet Backpack Patterns – The List
Now that we've gotten all of that sorted and you're set to go, here are eight fabulous free crochet backpack patterns. There are so many great options to choose from and you can make them to gift to someone special too. They would be just right for anyone of any age to receive!
Here are 8 crochet backpack patterns featuring a variety of stitches, techniques, and methods.
Photo Credit: www.acrochetedsimplicity.com
This beautiful backpack is great for holding bigger items and comes with a chart to navigate the chevron portion as well as useful images to guide your seaming and shaping. Constructed with basic stitches and an added colorwork technique, you'll be happy to have this one handy on your adventures!
Special Technique: Single Crochet, Back Post, Spike Stitch Chevron
Yarn Weight: Worsted
Suggested Yarn (Colour): Lion Brand Yarns 24/7 Cotton (Ecru, Magenta, and Charcoal)
Hook: 3.5mm and 4mm
Skill Level: Advanced Beginner
Two identical front and back panels, a little bit of yarn to seam it all together, and a strap and clasp to add the finishing touches — that's all this simple crochet backpack is made of! All you really need to know, aside from the basics, is the herringbone half double crochet.
Special Technique: Herringbone Half Double Crochet
Yarn Weight: Worsted
Suggested Yarn (Colour): Paintbox Simply Cotton Aran (Soft Fudge)
Hook: 4.5mm
Skill Level: Intermediate
Photo Credit: www.nickishomemadecrafts.com
This little crochet backpack is great for carrying specific items (particularly personal ones). It's easy to crochet and quite sturdy without added seaming because its parts are hot-glued on. Due to the stitches used to construct it, its nice and thick and doesn't need additional lining.
Special Technique: Waistcoat Stitch and Thermal Stitch
Yarn Weight: Worsted
Suggested Yarn (Colour): Premier Yarns Anti-Pilling Everyday Worsted (Lemon) and Bernat Maker Dec (Gold)
Hook: 5mm
Skill Level: Advanced Beginner
Photo Credit: bluestarcrochet.com
Here's an adjustable backpack pattern where you can change the length and width according to your need. There's also a helpful chart and video tutorial to guide you through the colorwork and if you're a beginner wanting to try tapestry crochet for the first time, both would be great aid!
Special Technique: Tapestry
Yarn Weight: Worsted
Suggested Yarn (Colour): Scheepjes Cahlista (Metal Grey, Bridal White, Jet Black, and Mercury)
Hook: 3mm and 4.5mm
Skill Level: Intermediate
Photo Credit: www.nickishomemadecrafts.com
This one's a little more on the festive side but that doesn't mean it won't be handy year-round! You can change up the colors and the stitches used make it retain its shape while being able to hold plenty of items. If you aren't comfortable with the waistcoat stitch, the designer recommends using good ol' single crochet.
Special Technique: Waistcoat Stitch
Yarn Weight: Worsted
Suggested Yarn (Colour): Lion Brand 24/7 Yarn (Red and White)
Hook: 4mm
Skill Level: Advanced Beginner
Photo Credit: www.acrochetedsimplicity.com
This is another smaller backpack option which is in the more classic shape we see. If you don't want to lug around a bigger bag, you can choose this cute mini one and switch up the colors according to what you like. The crocheted ropes also add to its sturdiness.
Special Technique: Inverse Single Crochet
Yarn Weight: Worsted
Suggested Yarn (Colour): Lion Brand 24/7 Yarn (White, Aqua, Yellow, and Pink)
Hook: 4mm
Skill Level: Advanced Beginner
Photo Credit: theloopylamb.com
Unlike the other patterns mentioned in this list, this bottom-up backpack is for the dolls! If your little one has dolls with accessories or personal items, these would be a great way to carry them around. You can also make a few for your amigurumi. The backpack is made up in one piece with just a bit of a seaming to add the button.
Special Technique: Invisible Finish/Join
Yarn Weight: Worsted
Suggested Yarn (Colour):
Brava Worsted
Hook: 3.5mm
Skill Level: Easy
Photo Credit: www.acrochetedsimplicity.com
Last but not least on this list of fabulous crochet backpack patterns is another drawstring one. You can adjust the accents according to your own color choice and there isn't any fancy maneuvering in this pattern. The assembly is clearly explained and there are tips to make sure your crochet project ends up looking just right.
Yarn Weight: Worsted
Suggested Yarn (Colour): Lion Brand 24/7 Yarn (White and Aqua)
Hook: 4mm
Skill Level: Advanced Beginner
Conclusion
So which one will you choose first from these 8 fun backpack crochet patterns? I really hope you found the perfect one for you in the list and would love to know if you make one (or some!).
Don't forget to join HanJan Crochet to receive regular discount codes, hear about all my new patterns first and get exclusive access to events!
Other Crochet Bag Patterns to Enjoy
If you are looking for more crochet bag inspiration beyond just the realm of backpacks, here are a few more ideas to try: