As soon as I met Veronika Cromwell of Blue Star Crochet a few years ago whilst working for Deramores I knew that we would be great friends. She is a fabulous crochet designer who has two young boys like I do and has a wicked sense of humour too!
I had the pleasure of working with Veronika on the Four Seasons Blanket CAL last year and am thrilled to be on the Mindfulness Crochet Blanket CAL team with her this year too!
To launch her section of the Mindfulness Blanket CAL, Veronika is kindly offering you the chance to download her Easy Crochet Cottage Blanket pattern for free this week! Just read on to find out how.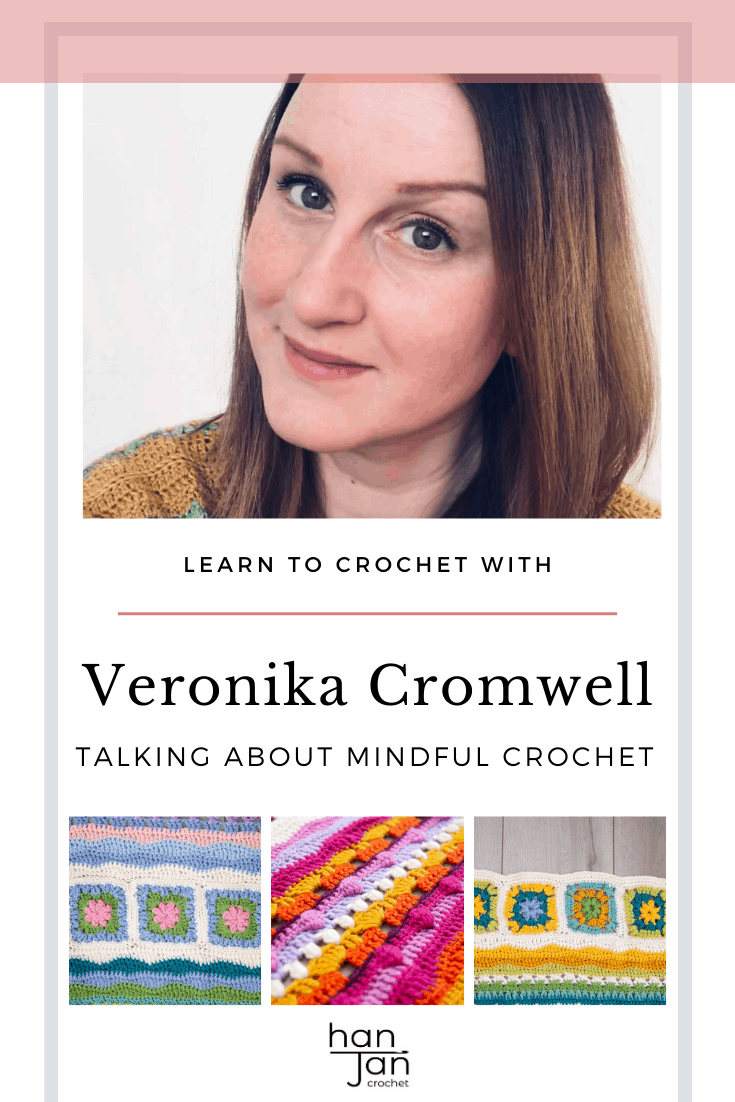 About Veronika Cromwell (and Blue Star Crochet)
Veronika is the crochet fashion designer behind Blue Star Crochet Company. She was taught to crochet as a young girl by her mum, but it wasn't until she was expecting her son when she found a real passion for designing and creating patterns for garments and accessories for the whole family.
The lack of cool and fun clothes for boys has led her to come up with her own designs. She set up Blue Star Crochet Company in December 2016.
Her wide range of garment and homeware designs have since been published in all major UK crochet magazines including Inside Crochet, Crochet Now and Simply Crochet. She set up Blue Star Crochet blog in May 2020 to enjoy creative freedom and share free patterns and tutorials.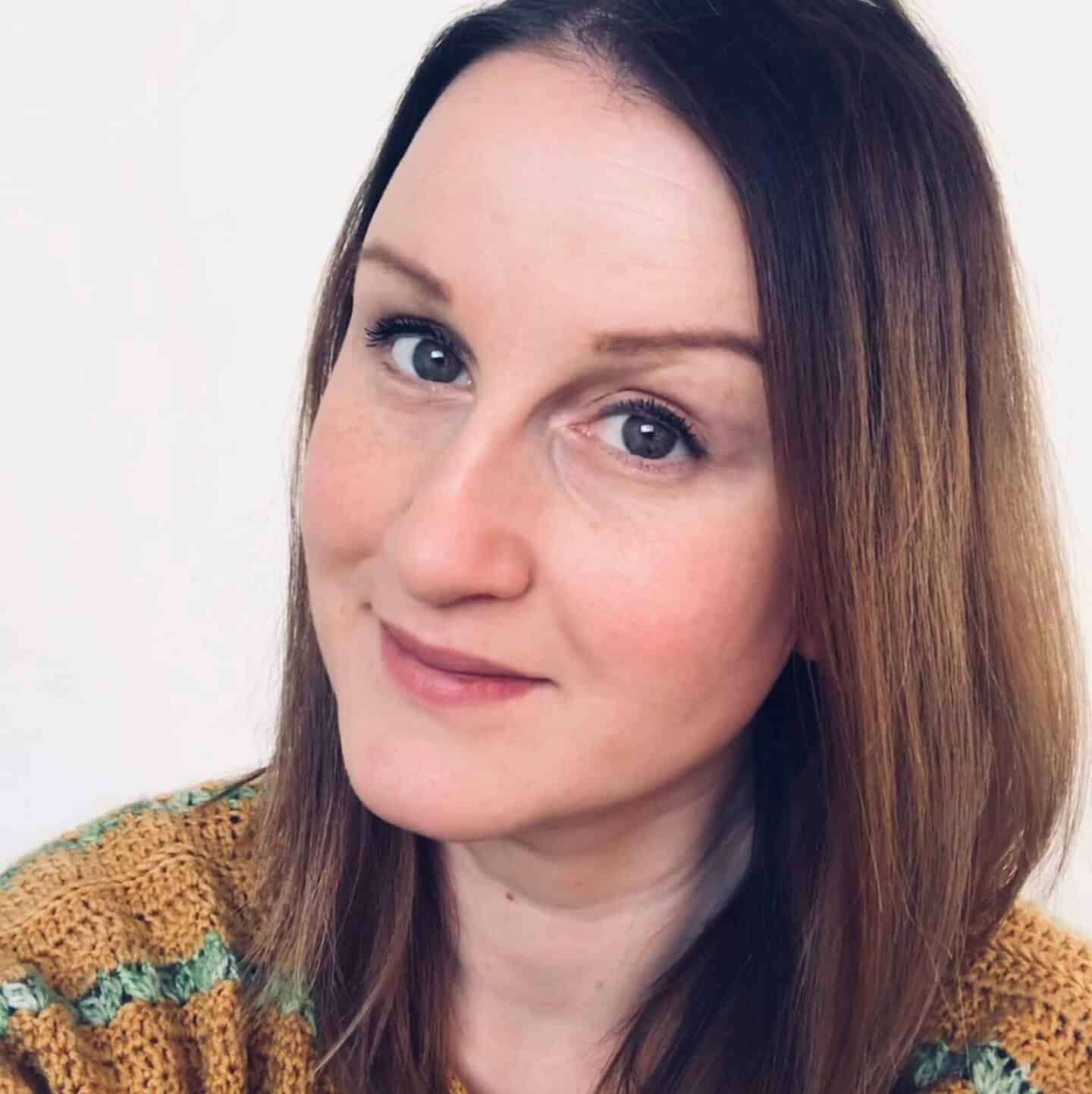 Some of Veronika's Designs
Here are some of the beautiful Blue Star Crochet patterns
Quick and satisfying crochet project for a lacy crochet corner bookmark- Lotte Lace Bookmark.
Make one for yourself or as a quick gift for friends, family or a teacher's gift
Chunky slouchy hat designed in 5 different sizes- newborn, 6-12 months, 2-3 years, adult woman and adult man.
The Sideways Crochet Jumper is a lovely fitting jumper designed in sizes from XS through to 5XL
Veronika on Mindfulness, Design and More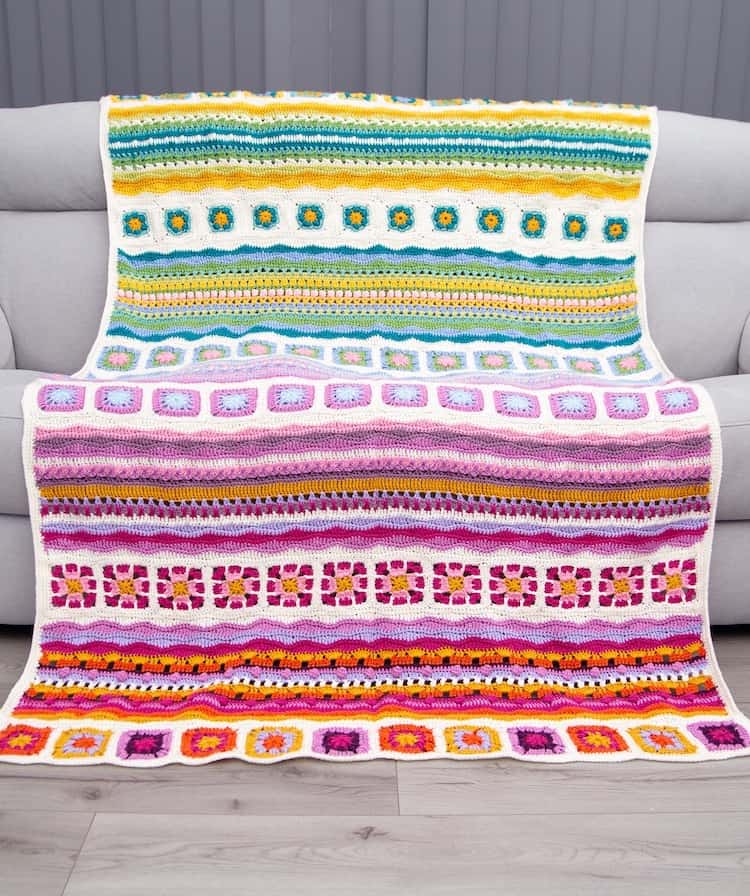 Find the Mindfulness Blanket Crochet Along yarn pack here.
Download the FREE Mindfulness Crochet Blanket Pattern here.
Most importantly – if you'd like to purchase the yarn pack then make sure to use my exclusive discount code 'HANJANCROCHET5' to get 5% off your entire order!
Whilst working on the Mindfulness Crochet Blanket CAL with Veronika, I was lucky enough to be able to chat to her about what her thoughts are on crochet design, mindfulness and her top crochet tips too!
Here is what she thought about it all.
Read all about designer Zoe Potrac from week 1 of the CAL here too.
What does mindfulness mean to you?
I'm a busy mum of two boys so mindfulness for me means time when I can relax and switch off, enjoy the quiet moment. Take the time to really immerse myself into what I am doing and enjoy the process.
How did you go about designing with mindfulness in mind?
Crochet is a very mindful craft in itself. The wave pattern incorporated into this blanket reminds me of the sea which has a very calming effect.
The blanket uses simple stitches that add to its mindfulness but grouped in innovative ways to challenge you at times.
What else do you do (other than crochet) to be mindful?
I enjoy listening to music and reading a good book.
What's your favourite project to design?
I love designing women's garments- sweaters, tops and cardigans in particular.
If you could design anything, what would it be?
I would love to design a bespoke one off wedding dress! But not worry about writing and grading a pattern!
Which of your designs are you most proud of?
I love my Adelaide Lace Sweater and the pineapple lace neckline.
What colours make you calm?
Muted neutral colours- beige and grey- make me calm and create cosy makes.
What colours make you happy?
I love a good mustard, blue and coral for a splash of colour!
Your number one top crochet tip?
Enjoy the process! Whether you are learning to crochet or playing around with an idea to design, enjoy it!
Your Free Pattern From Veronika Cromwell
Veronika is offering you the chance to download her Easy Crochet Cottage Blanket pattern for free this week!
Just visit her blog and find the link to the pattern on Ravelry. Use the code COTTAGE at checkout and it's yours!
Download the free Easy Cottage Blanket crochet pattern here.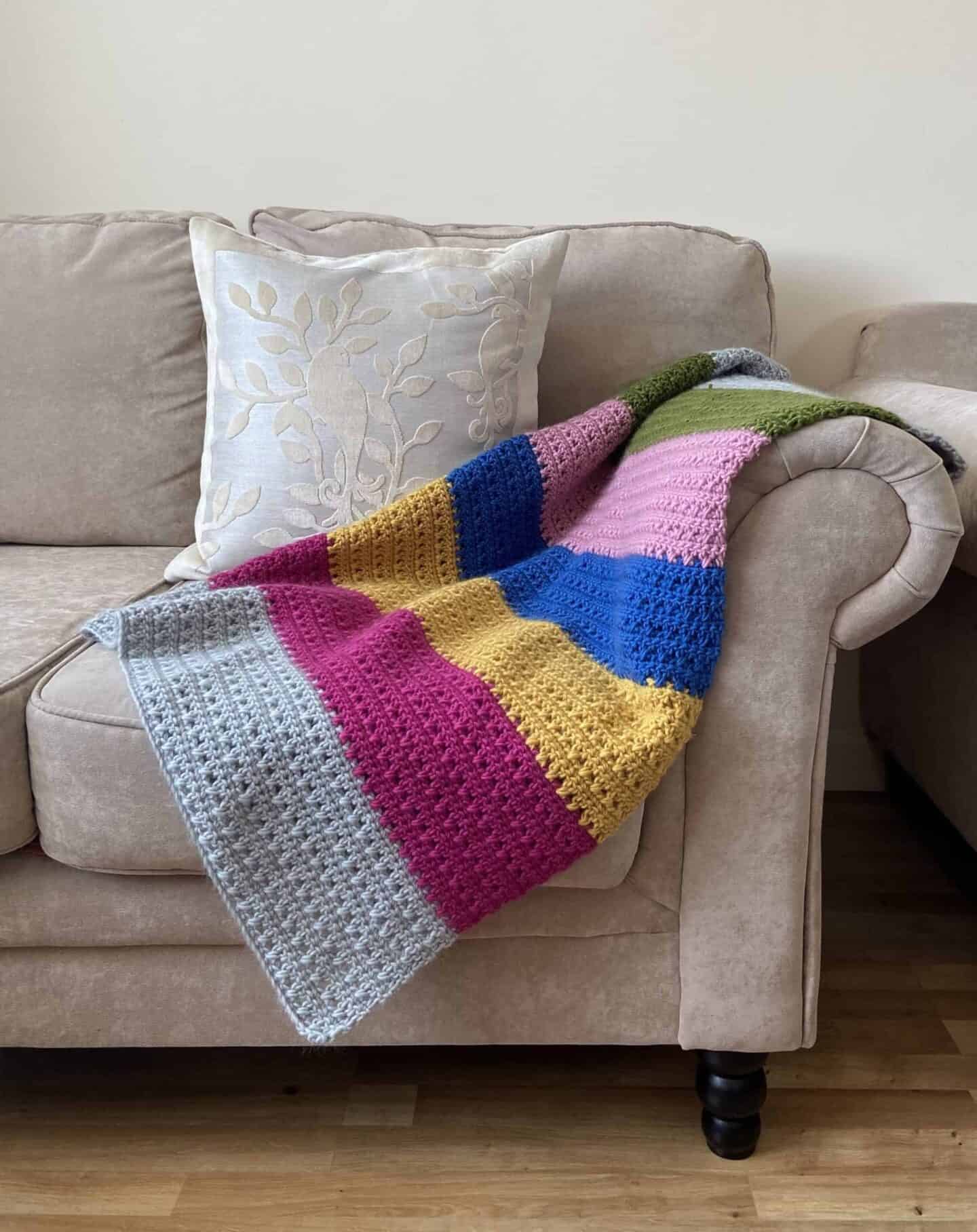 Find Out More About Veronika
You can find out more about Veronika and all of her beautiful Blue Star Crochet designs in these places –
Veronika Cromwell's Blue Star Crochet website
Veronika Cromwell's Blue Star Crochet Etsy Store
Veronika Cromwell's Blue Star Crochet Deramores Designer Store
Veronika Cromwell's Blue Star Crochet Ravelry Store
Veronika Cromwell's Blue Star Crochet LoveCrafts Store
You can connect with Veronika @bluestarcrochet on Instagram, I know she would love to hear from you!
If you are taking part in the Mindfulness Blanket Crochet Along then we would love to know! Make sure you tag us #mindfulnesscal on social media so we can enjoy seeing your progress too!
Find out more about the Mindfulness Blanket CAL and how to join here.
Next week is the turn of designer Fran Morgan and I can't wait to let you know what she's sharing with you!
If you'd like to have early access then I'd love you to sign up for my subscriber newsletter so I can let you know.