I first met Zoe of Zoe Potrac Designs when we both started working for Deramores a few years ago.
I had the pleasure of working with Zoe on the Four Seasons Blanket CAL last year and am thrilled to be on the Mindfulness Crochet Blanket CAL team with her this year too!
To launch her section of the Mindfulness Blanket CAL, Zoe is kindly offering you the chance to download her Super Squishy Crochet Wrist Warmers pattern for free this week! Just read on to find out how.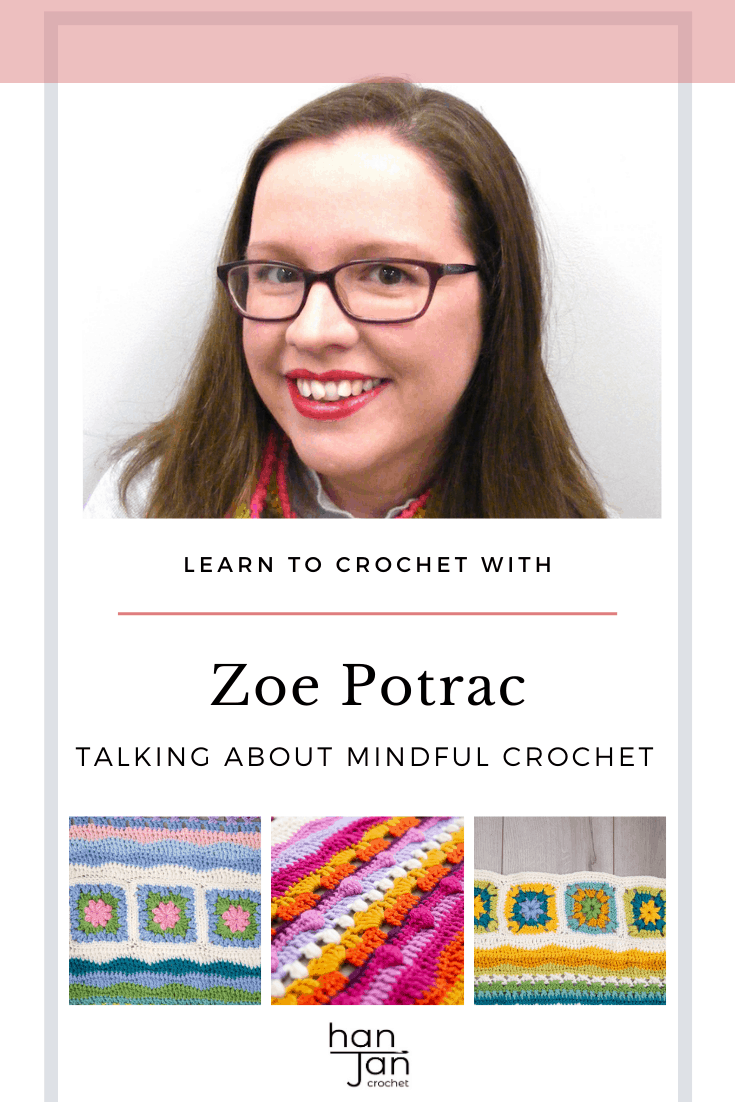 About Zoe Potrac
Zoe designs colourful crochet homeware and accessories and loves experimenting with combinations of simple stitches.
Her designs are regularly featured in Crochet Now, as well as on Ravelry,Lovecrafts and Etsy, where you can find exclusive new designs, as well as re-releases of favourites that you might have missed.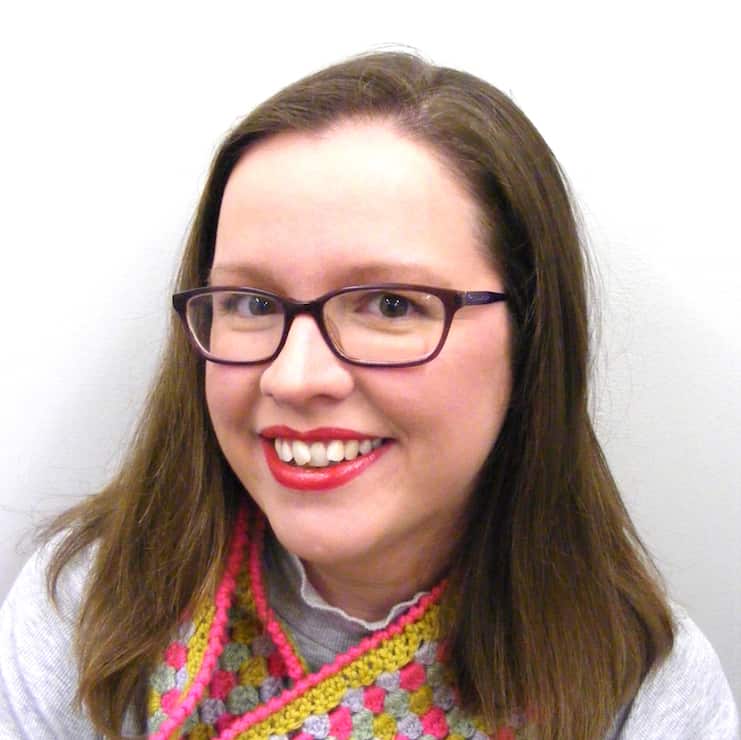 Some of Zoe's Designs
Here are some of Zoe's designs that you might enjoy -
This cushion pattern uses crocodile stitch and a charming seaspray colour palette to recreate the look of crashing waves.
A crochet ribbed beanie hat, using easy stitches suitable for beginners.
Pattern for a fiery and vibrant bonfire cushion, measures 30cm square when completed. Quick and easy crochet project.
Zoe on Mindfulness, Design and More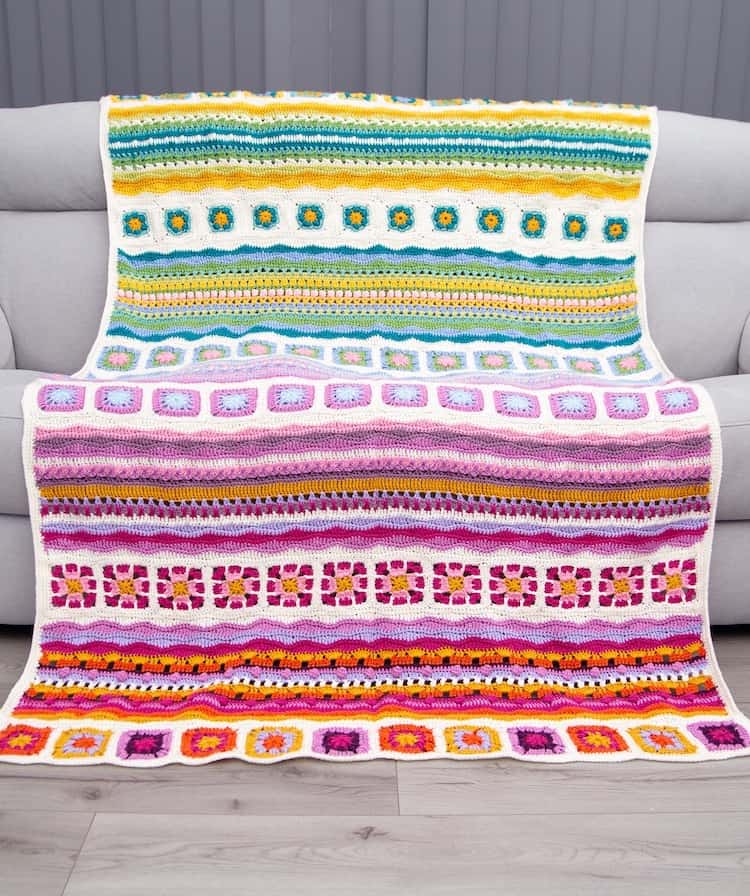 Find the Mindfulness Blanket Crochet Along yarn pack here.
Download the FREE Mindfulness Crochet Blanket Pattern here.
Most importantly – if you'd like to purchase the yarn pack then make sure to use my exclusive discount code 'HANJANCROCHET5' to get 5% off your entire order!
Whilst working on the Mindfulness Crochet Blanket CAL with Zoe, I was lucky enough to be able to chat to her about what her thoughts are on crochet design, mindfulness and her top crochet tips too!
Here is what she thought about it all.
What does mindfulness mean to you?
For me, mindfulness is a state of being in the moment, a sort of relaxed alertness, if that makes sense? That feeling when you are immersed in what you are doing so that other thoughts and everyday worries are crowded out and you can focus entirely on the project in hand. I've heard it described as being in a flow state, and I find it so important for creativity to be able to step into that space.
How did you go about designing with mindfulness in mind?
I looked for stitch patterns that had the right amount of challenge; I wanted them to be detailed enough to be interesting and hold the attention, without being too complicated that the crocheter could get frustrated and have to concentrate too hard on not losing their place.
What else do you do (other than crochet) to be mindful?
I like to take a walk and soak in the sounds and colours around me while I'm thinking up new designs.
We've not long moved house and there are lots of new walks to discover. I'm lucky that as well as being close to fields and countryside, there are some quite pleasant routes through the housing estates nearby where everyone seems to keep beautiful gardens with all kinds of interesting and colourful flowers.
What's your favourite project to design?
It has to be a cushion. Just the right length of project (not too short, but can be finished in a few days), is usually a simple base shape and then has infinite possibilities for embellishment.
If you could design anything, what would it be?
I haven't really ventured into designing garments yet, I'd love to have a go and learn the skills needed to shape and grade clothes.
Which of your designs are you most proud of?
I'm still really proud of the first thing I had published, the White Horses Cushion; that was quite mindful too, once you've got the hang of the stitch pattern, it's a really simple repeat, and I love the colours in it, all sea greens and white wave tops.
Plus, it was the beginning of my design adventures and led on to so many more projects!
What colours make you calm?
The greys and blues of ocean and sky.
We spent a lovely few months living by the sea in Orkney in 2019, and just being able to walk along an often deserted beach listening to the waves is absolute heaven for me.
What colours make you happy?
Hot pink, tango orange, sunshine yellow; I've got a chair from Ikea in all the colours and it makes me smile every morning when I get to my desk!
Your number one top crochet tip?
Don't worry too much about perfection, especially when you're getting started. Just jump in and try things out, you'll learn from your mistakes and though your first project might not be a masterpiece, you'll be able to do it better next time.
Your Free Pattern From Zoe
Zoe is offering you the chance to download her Super Squishy Wrist Warmer pattern for free this week!
Just use the code MINDFULNESSCAL at checkout and it's yours!
Download the free Super Squishy Wrist Warmer crochet pattern here.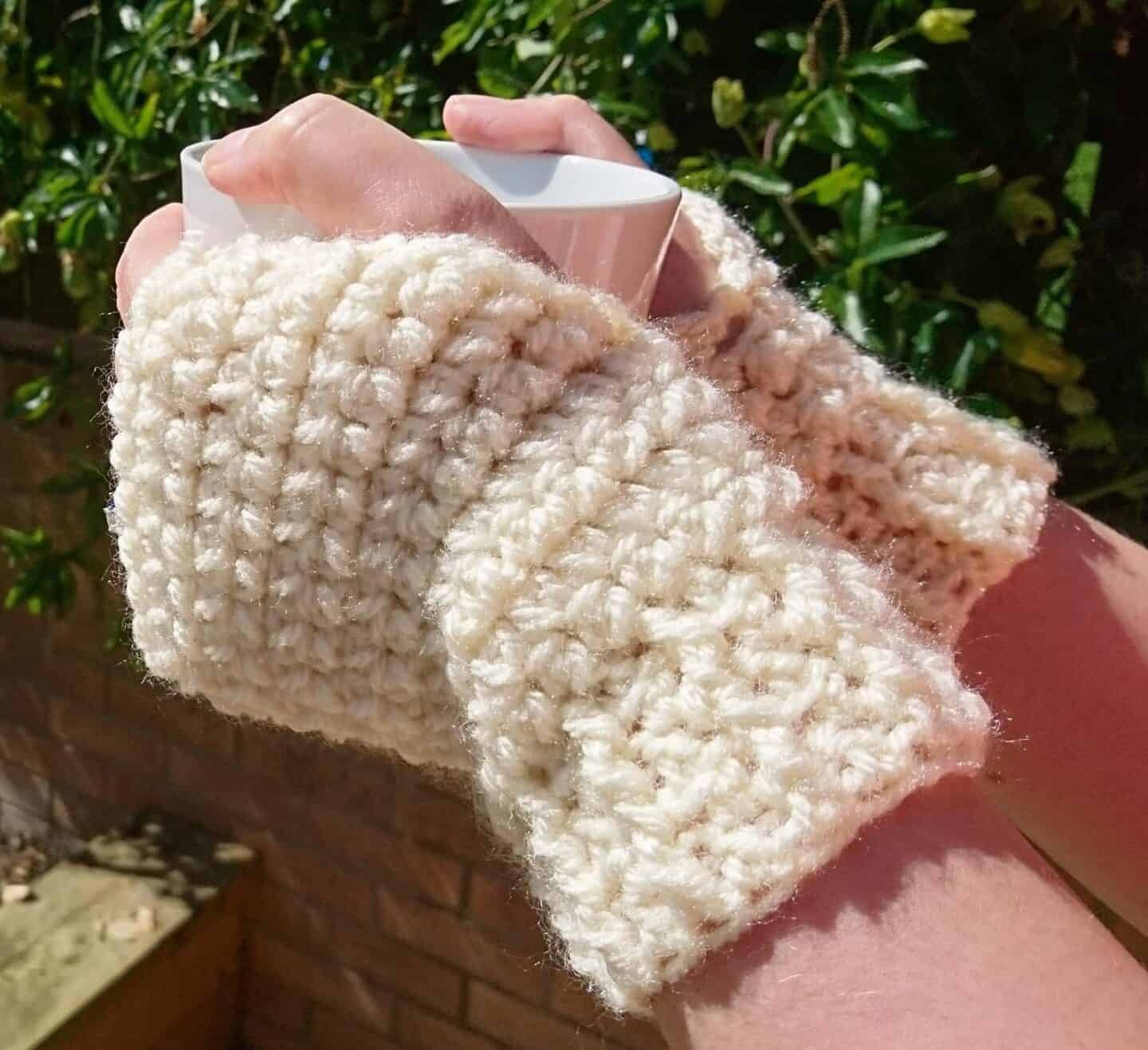 Find Out More About Zoe
You can find out more about Zoe and all of her beautiful designs in these places –
Zoe's Deramores Designer Store
You can connect with Zoe @zoepotrac on Instagram, I know she would love to hear from you!
If you are taking part in the Mindfulness Blanket Crochet Along then we would love to know! Make sure you tag us #mindfulnesscal on social media so we can enjoy seeing your progress too!
Find out more about the Mindfulness Blanket CAL and how to join here.
Next week is the turn of designer Veronika Cromwell of Blue Star Crochet and I can't wait to let you know what she's sharing with you!
If you'd like to have early access then I'd love you to sign up for my subscriber newsletter so I can let you know.