I don't know about you, but I love this time of year when we have an excuse to start crocheting all the warm and cosy things for winter! I can't tell you how excited I am to share the Mystical Mitts with you today – a free fingerless gloves crochet pattern to get you in the mood for the cooler months ahead.
Scroll down for the free crochet pattern for fingerless gloves, or purchase an ad-free, printable PDF version in my pattern stores: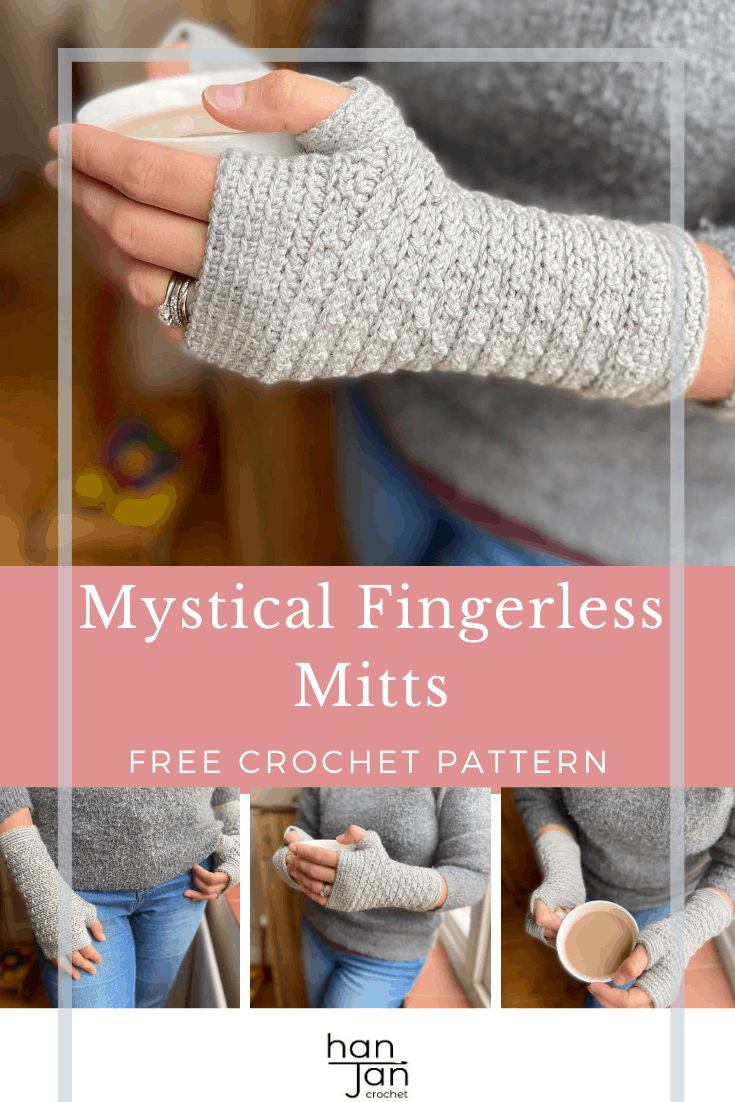 This post may contain affiliate links. Please see my full disclosure and privacy policy for details.
About the Mystical Mitts
The Mystical Mitts are a simple pair of crochet mittens packed full of crochet stitch texture, luxury and style. They are a dream to make, simply seam a rectangle and add a thumbhole – a quick and easy pattern perfect for gifts and for yourself!
The pattern includes instructions for adult sizes Small, Medium and Large and are easily adjustable to fit most people.
I can see these fingerless crochet gloves as awesome stocking fillers this Christmas or as a great addition to your online crochet store – I'm more than happy for you to make and sell as many of these as you like! I'd love to know if you do, so make sure you join HanJan to let me know!
After years of designing fingerless crochet gloves and mittens, I'm delighted to say I've finally got around to making a full fingered pair! My herringbone moss stitch crochet mittens are such fun to make (but you can make a fingerless version too of course!).
Yarn
I used King Cole Merino Blend 4 Ply to create my Mystical Mitts which is 100% wool, 50g/180m and so luxuriously soft to work with!
You will need 2 balls of your chosen colour for the crochet fingerless gloves.
I used a type of yarn to make these gloves feel lovely and luxurious. A great alternative would be to use We Crochet Alpaca Cloud 100% Superfine Alpaca, 200yds/50g that will feel so soft and gentle on your skin!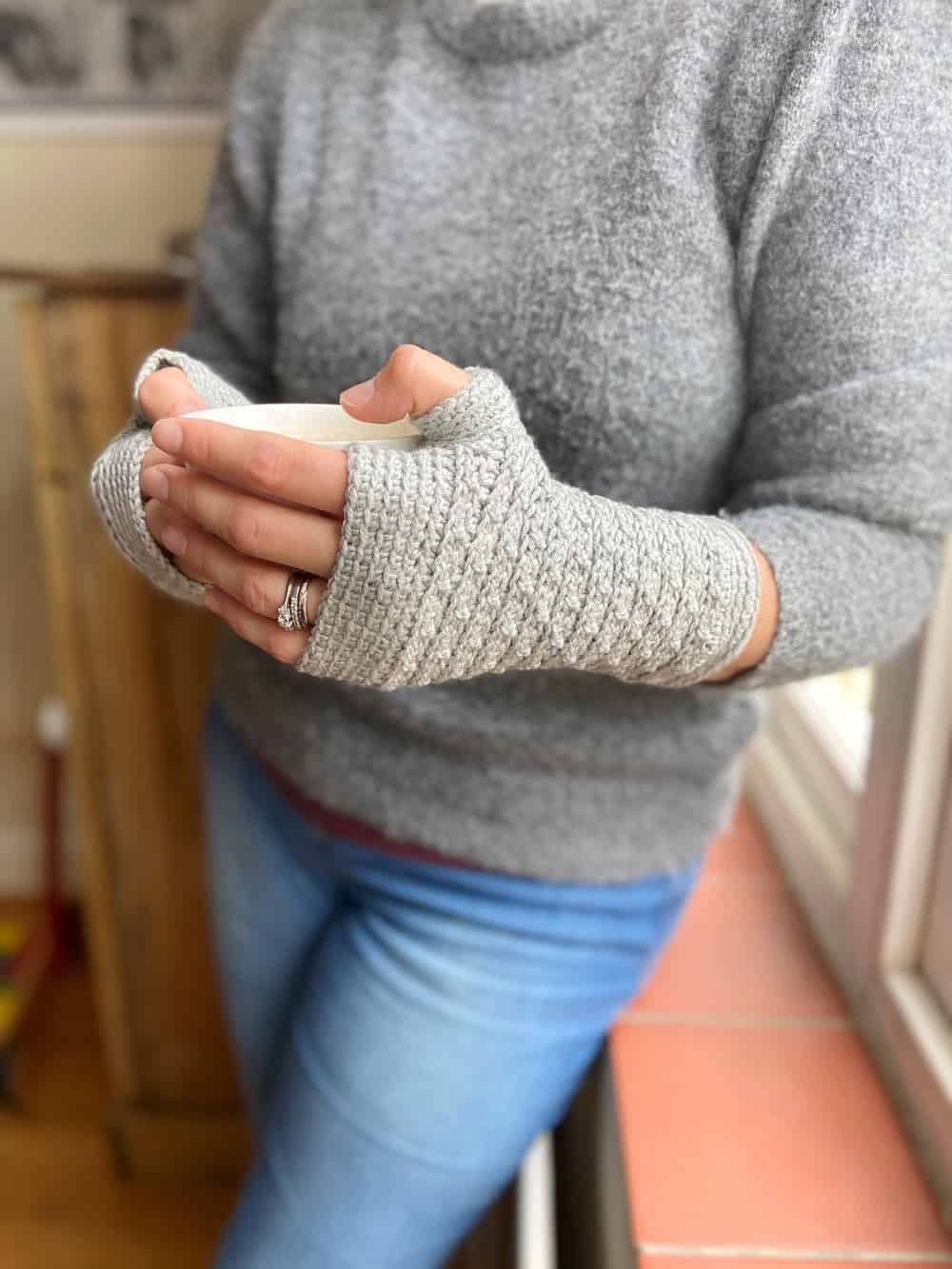 Tension and Sizing
16 st and 15 rows = 4in x 4in
Sizes: S (M, L)
Length: 7.5 (9, 10.5) in / 19 (23, 27) cm
Circumference: 7 (7.75, 8.5) in / 18 (20, 22) cm
Materials
Along with the yarn to make your crochet fingerless gloves you will also need:
Pattern Options
Get this fingerless glove crochet pattern free in this blog post – just scroll down! You can also purchase an ad-free, printable PDF with added extras in my pattern stores:
Don't forget to join HanJan Crochet to receive regular discount codes (and more free patterns!) and Pin this Mystical Mitts crochet pattern to your crochet Pinterest board!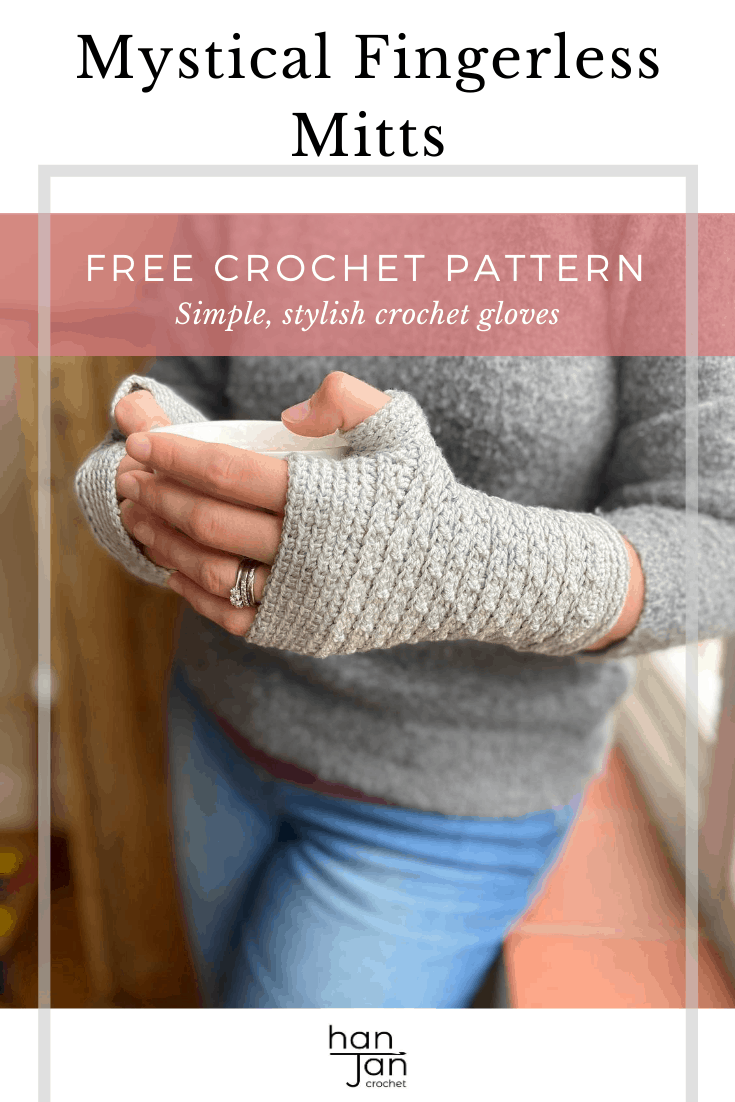 Glossary/Abbreviations (US terminology)
sc – single crochet
hdc – half double crochet
ch(s) – chain(s)
ss – slip stitch
st(s) – stitch(es)
RS – right side
WS – wrong side
rep – repeat
FL – front loop
BL – back loop
Working into the 3rd loop: The 3rd loop is behind the front and back loops of the hdc stitch. Work as indicated into this loop.
Stitch Pattern for the Fingerless Crochet Mitts
I love experimenting with texture in crochet and so was so p[leased to come up with this stitch pattern! It uses beginner stitches (half double crochet) in various loops of the stitch. You alternate the front loop only, back loop only and 3rd loop to create a wonderful texture that looks far more complicated than it really is!
I love it so much that I've also used it on my sweater scarf with sleeves and my simple crochet top pattern, plus I have more designs in the works coming soon!
Pattern Notes
A ch1 at the beginning of a row does not count as a stitch.
For the first 5 and last 5 rows of each mitt, fasten off yarn at the end of the row and join again with RS facing for next row.
Pattern is written for size S, with adjustments for larger sizes in parentheses.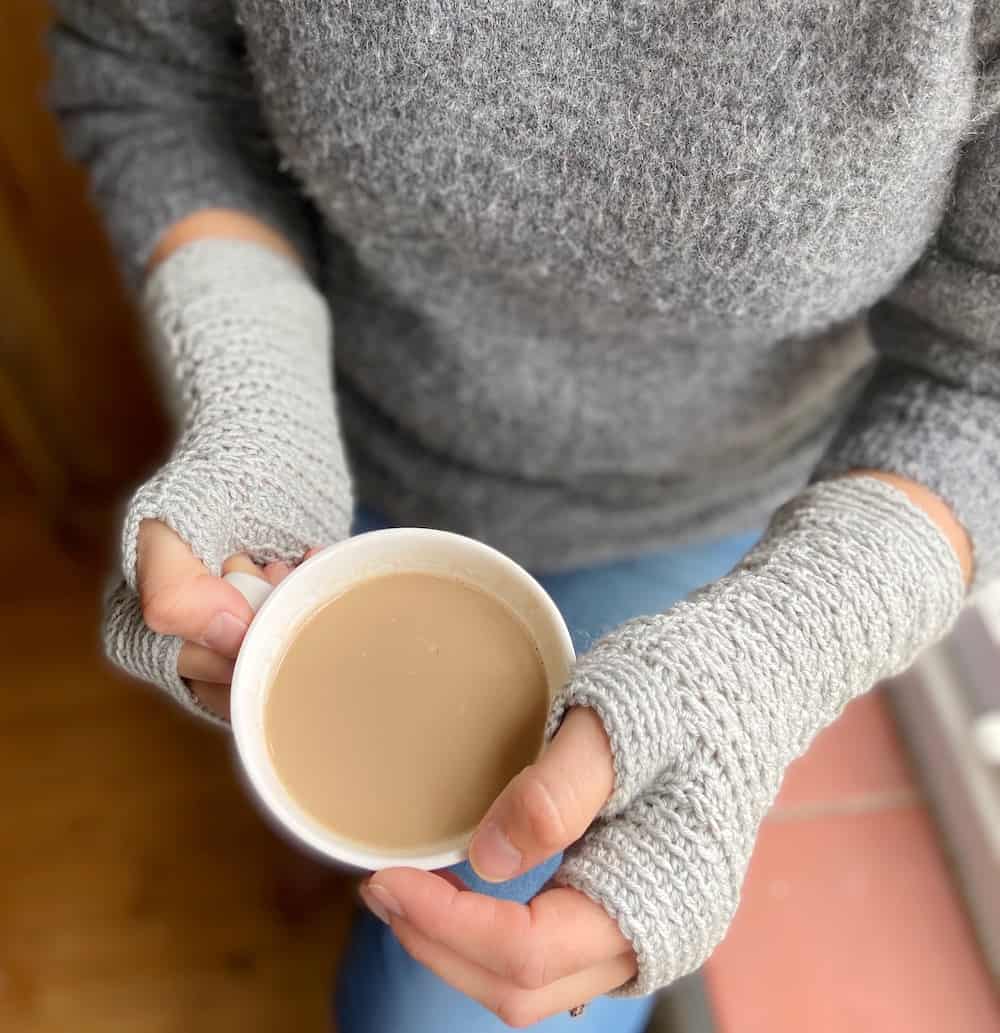 The Mystical Mitts Crochet Fingerless Gloves Pattern
This free pattern is in standard US crochet terms. The printable PDF has both US and UK terms.
To unlock Exclusive Content on the HanJan Crochet Blog, all you need to do is click the box below and the Grow.me app will pop up, allowing you to enter your email and create a password.
Once you've created an account, every time you see Exclusive Content on my blog (or any others that use Grow), simply login to your Grow account. Be sure to switch to the login screen to enter your login credentials.
If you forget your password, click the "forgot password" link and follow the prompts. Please note that I'm unable to assist with resetting Grow passwords or accessing your Grow account, so be sure to save your login information in a safe place.
Thank you for subscribing and for joining me at HanJan Crochet! I hope you enjoy the exclusive content available on the site and I can't wait to see what you create 🙂
Make two matching mitts:
Foundation chain: ch 34 (37, 40)
Row 1: RS: sc in 2nd ch from hook and in each ch across [33, (36, 39)] Fasten off.
Row 2: Join yarn for first st of previous row, ch1, BL only sc in each st across. Fasten off.
Rows 3-5: Repeat Row 2
Row 6: ch1, hdc in BL of each st across, turn
Row 7: ch1, *hdc in BL, hdc in FL, hdc in 3rd loop; rep from * across, turn
Row 8: Repeat Row 6
Row 9: ch1, *hdc in FL, hdc in 3rd loop, hdc in BL; rep from * across, turn
Row 10: Repeat Row 6
Row 11: ch1, *hdc in 3rd loop, hdc in BL, hdc in FL; rep from *across, turn
Rows 12 – 23, (29, 35): Repeat Rows 6-11
Row 24 (30, 36): Repeat Row 6. Fasten off.
Rows 25 (31, 37) – 29 (35, 41): Repeat Row 2.
Seaming
With WS facing, whipstitch as follows to form mitts and thumbhole:
Small: Rows 1-17, Rows 23-29
Medium: Rows 1-23, Rows 29-35
Large: Rows 1-29, Rows 35-40
Fasten off. Turn RS out.
Thumb
Join yarn to bottom st of thumbhole.
Round 1: ch1, 18sc evenly around thumbhole, ss into first sc to join [18]
Rounds 2-5: ch1, hdc in BL of each st around, ss in 1st to join
Fasten off and weave in all ends.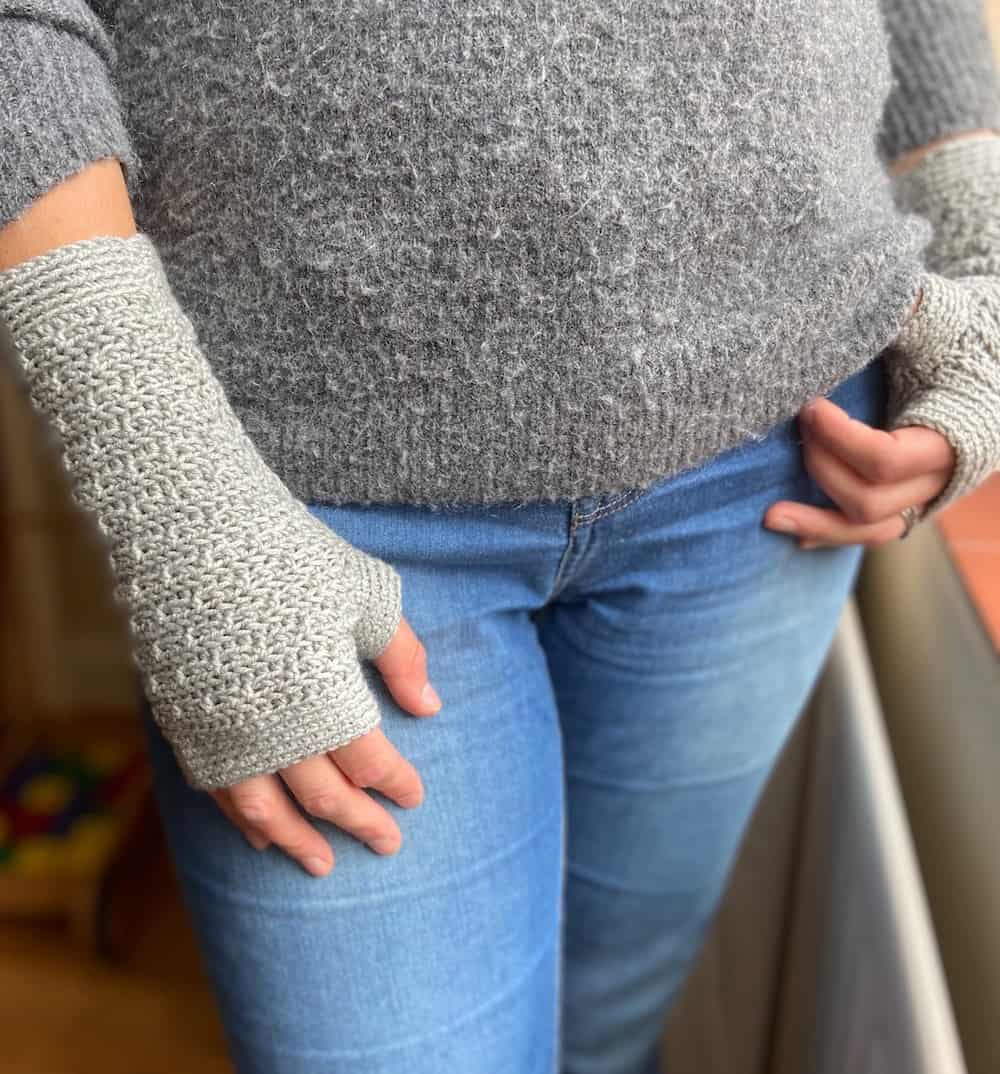 Join HanJan and Share Your Crochet!
It's an honour to be able to create and share my free crochet patterns with you. I'd love to stay connected and send you regular discount codes and free patterns! Please sign up for my subscriber list to get a free gift right now!
I look forward to seeing your finished crochet projects, especially this easy crochet pattern, so please share them with me in the HanJan Crochet Facebook group or on Instagram and tag #hanjancrochet.
Share your projects on Ravelry
Share your projects on LoveCrafts.
More Winter Crochet Patterns You Might Enjoy
Other Patterns You Might Enjoy - Fingerless Crochet Mitts and Gloves
A selection of free crochet fingerless gloves patterns from HanJan Crochet!
Other Winter Crochet Hats and Hood Patterns You Might Enjoy
A selection of some of my crochet hats and hoods to keep you warm and toasty!