Etsy is a world in itself with so many amazing patterns, ideas, items, and more. I know it can be easy to get lost amidst it all when you're trying to find just the right thing to make or buy. That's why I thought it was high time to put together a comprehensive list of the 73 best crochet designers on Etsy to save you all the searching and scrolling to find them!
These top crocheters all have something unique about them and here you have details about them and their stores to help you find the perfect crochet pattern for your next project. Whether it's fashion, accessories, blankets, organisers, home decor, amigurimi and anything else in between, you'll find just what you need to get inspired for your next fabulous piece of crochet.
To make sure you have this list on hand to refer back to whenever you're looking for awesome crochet designers and their patterns, pin this roundup!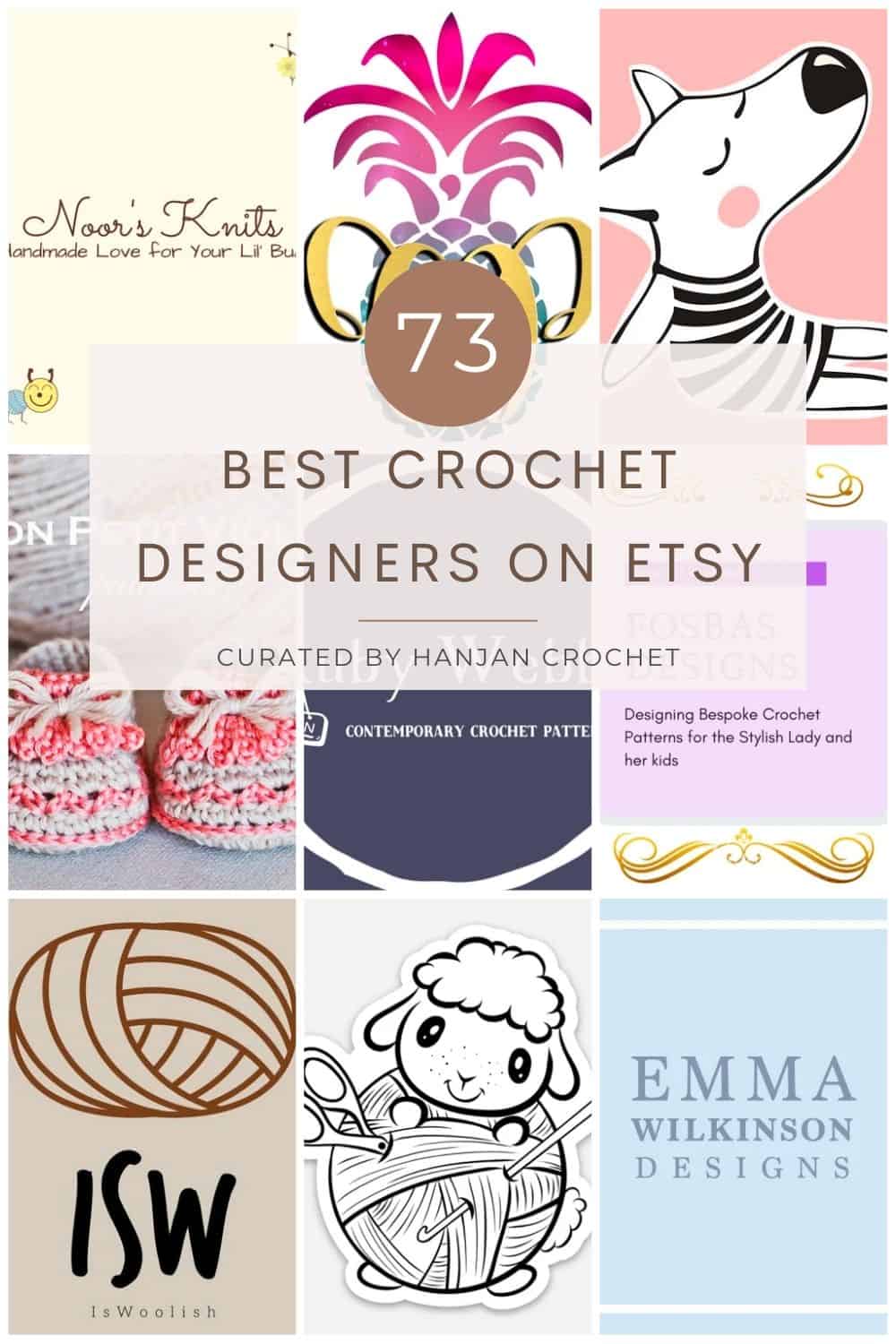 How do I choose the right crochet pattern for me?
Choosing the right crochet designer to buy from completely depends on what you'd like to make, who you're making it for, what experience you have with crochet, and what you'll be using the finished product for.
If you're not sure about what kind of item you want to make, you can browse their stores and even if you do have an idea of what you want I'd encourage you to have a look around. There are thousands of top class crochet patterns in these designers stores that have built up over years and years of businesses and so getting to know each of them is a great idea!
Top tip – if you find a designer with a style you love but you're not quite ready to make any of their patterns yet then you can 'favourite' their store and save the designs you want to come back to. Etsy will save them for you and let you see them whenever you're ready 🙂
Most of these top crochet designers mention all sorts of important details in their pattern listings, including difficulty level, materials required, sizes, etc. It's good to choose a pattern that sits with your skill level and experience so be sure to go through the listings thoroughly.
You can also contact the designer so you don't end up buying something you're not ready to make. I know they're always ready to help!
Why should I buy a crochet pattern if there is a free version?
Seeing as many of the designers in the list also offer free versions of their patterns on their blogs and websites I thought it would be good to mention what the difference is and what the point of purchasing a PDF pattern is.
Many crochet designers (myself included) offer free to view versions of patterns on our blogs with the PDF pattern as an upgrade in our stores. The blog versions are supported by advertising so that as designers we still earn some money from you being on our site and using the patterns that way.
For you as a maker I think it comes down to personal preference as to which version to choose. If you view on the blog then you have to be comfortable that you will have to work from a screen and will have adverts interrupting you as you work through the pattern. You may also need to create an email login to view the pattern too (this will be free to do though).
Purchasing a PDF version of a pattern means that:
You can print it out and work from paper anywhere
You can add your own notes to the pattern
You are uninterrupted as there are no ads
You often get extra charts, diagrams and bonus info included that aren't on the blog.
As a designer I am super happy with however people choose to access my patterns – the choice is yours !
What materials do I start off with?
While yarn and crochet hooks are something that will definitely vary from project to project, other essentials you might need while making a lot of these patterns are:
Scissors to break your yarn.
Stitch markers which are helpful for keeping count of stitches, especially when you're shaping different pieces
Top Tips for Buying a Crochet Pattern on Etsy
There are so many stores on Etsy that I know it can be overwhelming at times to figure out which to go for. Especially when you have in mind that these are paid crochet patterns, you want to invest your money wisely and get the best PDF pattern that you can. Here are my top tips for you:
Make sure to look over the designers store, their feedback, their sales and their store policies.
Search the internet for the designer and find them elsewhere – do they have a blog and newsletter you can sign up to so that you can get to know them better?
Check to see if they are a "Star Seller' on Etsy. It's not a problem if they're not but it's a great sign that they are doing well with their sales, feedback and customer service on there 🙂
Check what language the pattern PDF is offered in. Etsy will translate the listing description into your chosen language BUT that doesn't mean that pattern will be in that same language.
Find out if the pattern uses UK or US terminology, if it's just a chart etc. Use the information to figure out if it will suit you 🙂
I know it's easy to say that most of the crochet patterns on Etsy are just the price of a coffee and nice slice of cake (depending on where you get coffee of course!) so many people would say don't worry about putting all of this effort in. But I really do think it's worth it, especially if you then intend to purchase new yarn and spend hours making something with the pattern.
I feel it's worth getting to know the crochet designer because that will make you more confident in their design, connect with them, enjoy their other patterns and ultimately create beautiful crochet with their PDF pattern.
73 Best Crochet Designers on Etsy – The List
Now that we've gotten all of that sorted, here are the 73 best crochet designer stores on Etsy that I've found. These modern crocheters have stores full of fabulous patterns for you to choose from, depending on your price range.
You can also go through their inventory to get inspiration for all the marvellous things you can do with crochet. I know that even though I've been crocheting for so many years, I'm always learning new things from my fellow crochet designers!
There are obviously countless more designers offering beautiful PDF crochet patterns on Etsy so make sure you use my 'top tips' above to continue searching and finding them too!
Of course I should also mention that all of my patterns are available in the HanJan Crochet Etsy Store too 🙂
Best Crochet Designers on Etsy
These amazing designers on Etsy are listed alphabetically with a little info on what kind of patterns they have created.
Click on the 'Visit Store' to take a look at their fabulous PDF crochet patterns on offer.
Conclusion
How many of these Etsy crochet pattern stores did you already know about and have purchased from? I'd love to hear stories about your experiences!
Don't forget to join HanJan Crochet to receive regular discount codes, hear about all my new patterns first and get exclusive access to events!