Let's explore some cozy and quick crochet hat patterns together and learn how to crochet a hat! I've found 15 free crochet hat patterns listed below, that are cozy, cute and so easy to crochet and wear.
For such a long time I avoided making crochet hats – I just couldn't seem to get the fit right or I chose the wrong yarn or maybe it's because I don't always like how I look in hats!
I'm not sure what happened but I got over it recently and now I can't stop making and designing crochet beanies, hats, toque hats, slouchy hats, bun hats, you name it – I'm wearing them!
I really struggled to figure out which style of hat suited me best so I thought I'd share with you all sorts of styles of hat and constructions here so that you can go and experiment and find the perfect one for you.
Another great thing – all of the crochet patterns here are free on the designers blogs too 🙂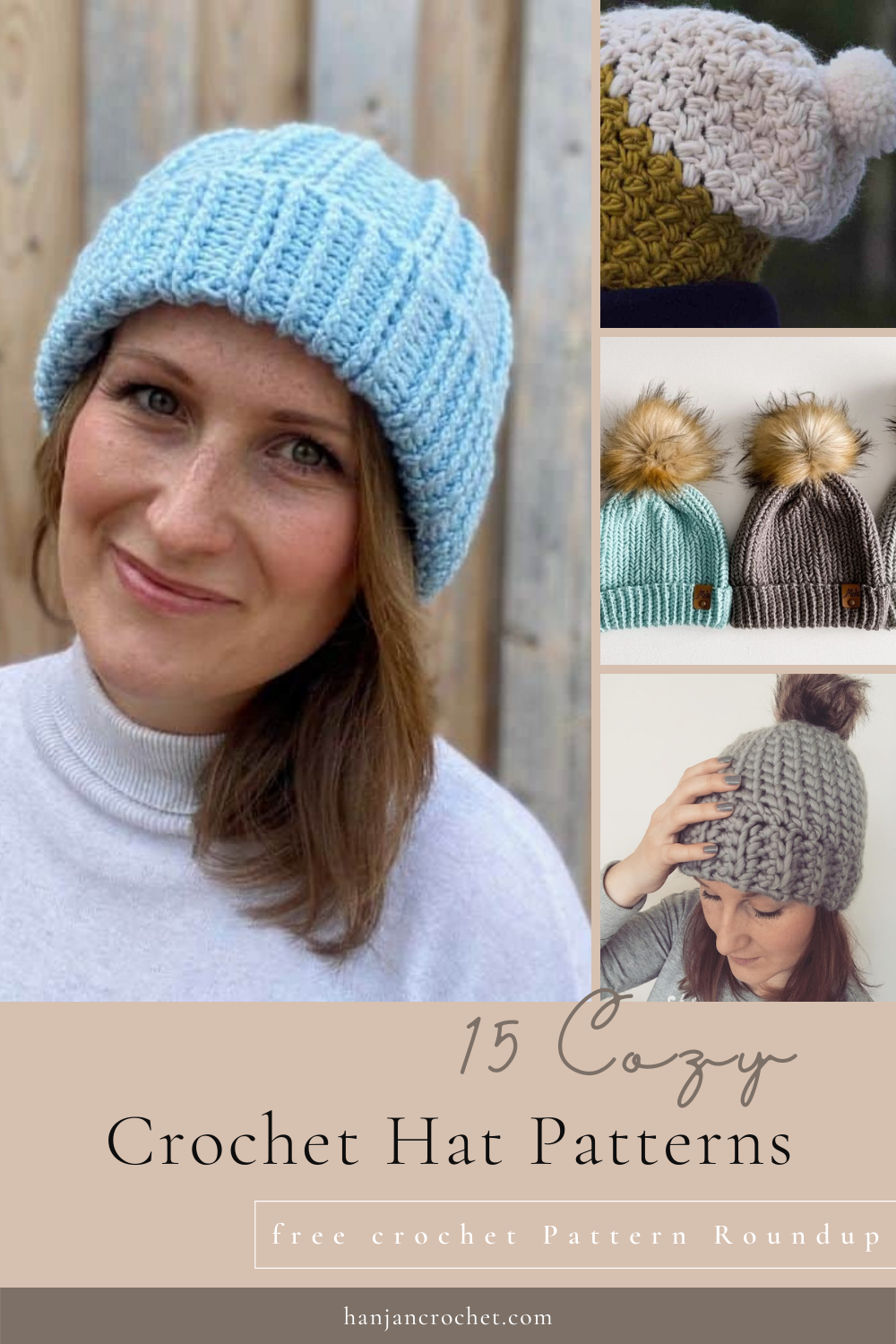 This post may contain affiliate links. Please see my full disclosure and privacy policy for details.
How to crochet a hat – in the round or flat rows?
Often people think that crochet is completely different to knitting but just like when you knit a hat, you can use any construction method you like to achieve the final result of a beautifully fitting hat.
As a designer, the goal is to make the process as easy as possible for the maker but to incorporate the design features you'd like. This might mean that your chosen stitch or colour design dictates whether the hat is worked in flat rows, in the round or side to side.
As a maker, I'm sure you'll have a preference for hat construction but if you've not encountered the different options then let's have a quick run through now –
Firstly, like with any crochet project, you'll need to know whether your hat is crocheted in the round or crocheted in flat rows. This will change how (or indeed if) you seam the hat when you're finished crocheting it.
My Weston bobble hat is an example of a hat crocheted in rounds so there's no seam to join at the end and my Mirabilis beanie is made in flat rows and then joined along the side and top to create the shape.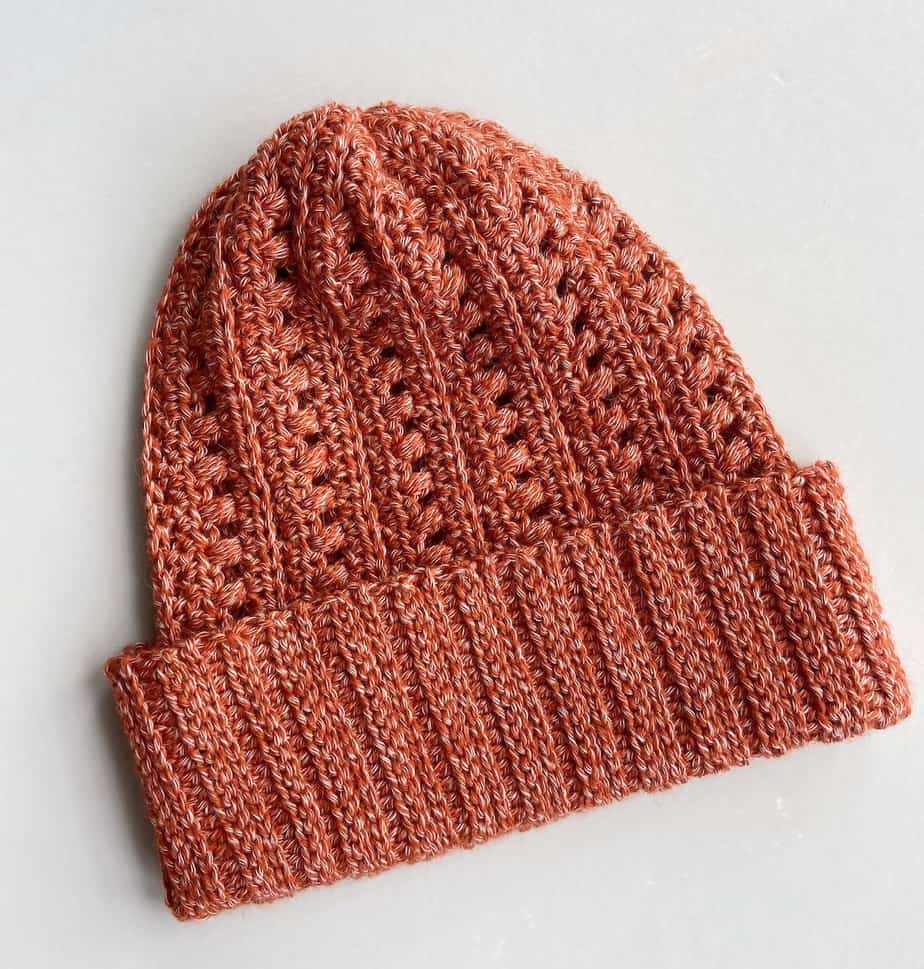 How are crochet hats seamed together?
The simple answer to this is that not all crochet hats are seamed together. Some of them are completely seamless with the brim and everything joined into them (yay!) and some are sewn or crocheted together at the end and brims added afterwards.
You need to know which direction you're making your crochet hat in – it dramatically changes how you crochet it and I know that people either love or hate certain types of construction so here's a run through of most of the options. (I say most because there are always people coming up with new ideas!).
Top down crochet hats –
These are generally worked in the round, with a circle that increases in stitches until it's the size of your crown and then continues to work in that set number of stitches until it's the right height. You can then add the brim in rounds or in 'join as you go' rows so is lovely and versatile.
Some examples of this are my Walcot beanie which is worked in rounds with a join as you go brim, and my Basketweave beanie that is also in rounds but with the brim worked into more rounds at the bottom of the hat.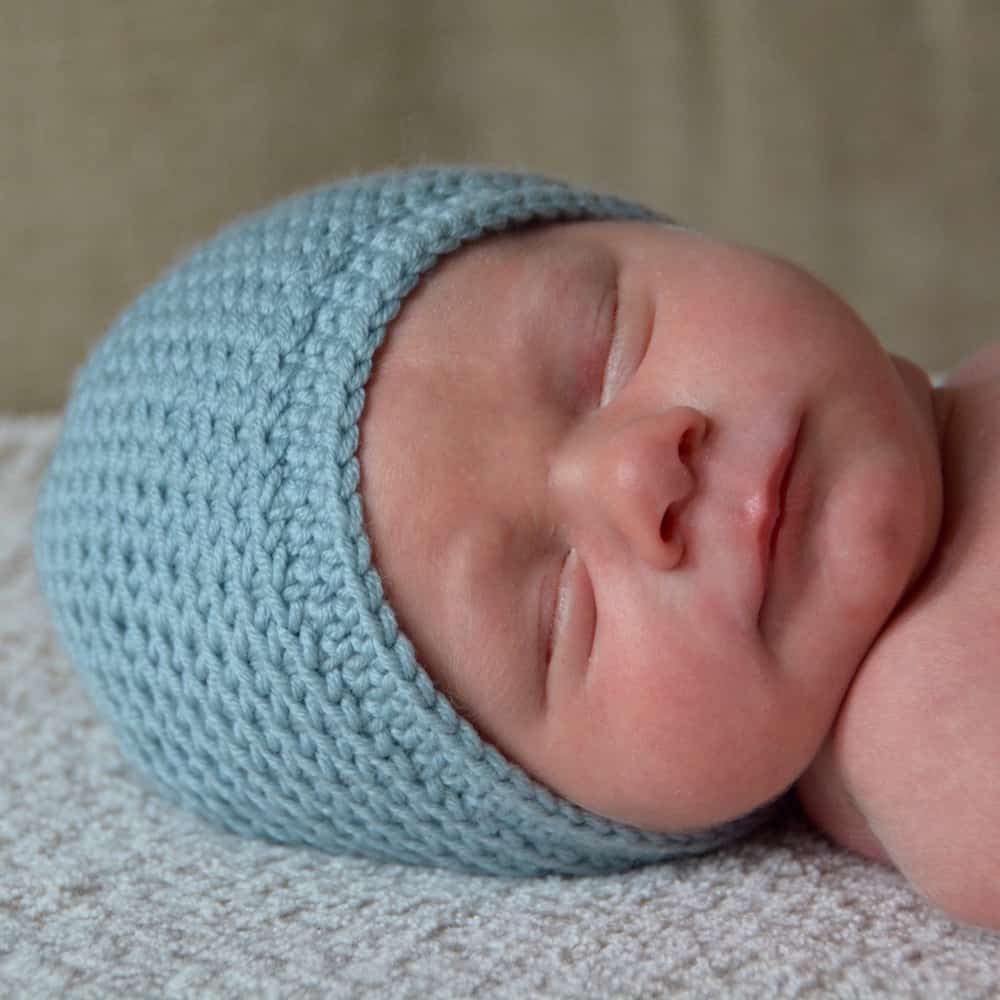 Pros and Cons –
This style of construction is great because you can try it on as you go, customise the crown size and the length of the hat. You can really see how it's going look and make adjustments as you go which I love.
The only downside is that it mostly does involve increasing in the round which could be a little tricky for beginners but grab some stitch markers and I'm sure you'll be fine!
Bottom up crochet hats –
These hats are also mostly worked in the round (but can be worked flat) and can either start with making the brim in rows or rounds and then making the main body of the hat from that brim. You can also add the brim afterwards too so lots of choices with this style!
An example of this is my Neo mint cable hat which has the brim worked in rows that is then joined to make a band, then the main body of the hat is worked in rounds upwards from the bottom to the top. It's a really fun way to make a hat!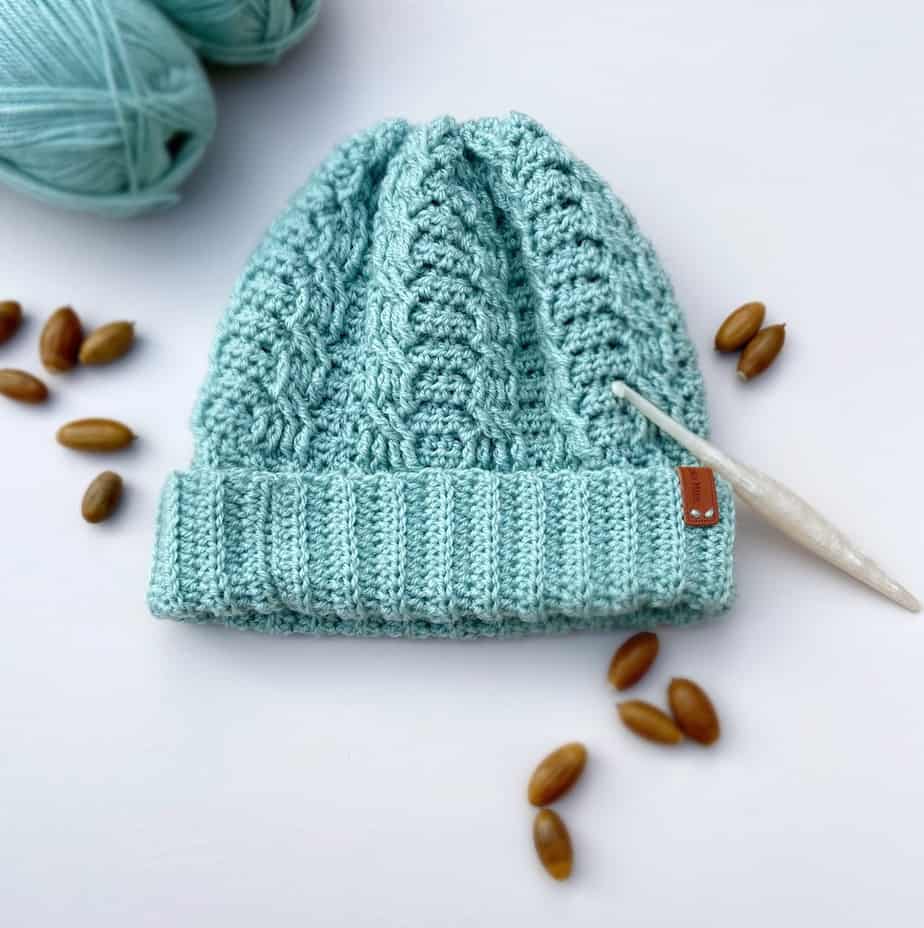 Pros and Cons –
This type of hat construction is great if you want to get the circumference of your hat right to start with. You can make the band section first and make sure it fits you well and then go from there.
The direction of work also means that your stitches are facing up and so works great for things like cables and cluster stitches.
You can also add more or less decreasing and therefore shaping at the top of the hat too which is always a bonus!
The main downside is that it's trickier to try on as you go than top down hats. You can end up finding that the top of the hat is either too tall or too short for you (depending on the style you like) so make sure that you meet the gauge before starting your project.
Side to side crochet hats –
These hats are for anyone that doesn't like crocheting in the round! They are worked as a flat crochet rectangle of fabric that is then seamed along a short edge and gathered at the top to shape the hat. You can add the brim into the rectangle as it's worked in rows or you add a join as you go brim afterwards. It's a really versatile style!
Some examples are my Slip Stitch beanie which doesn't have any brim to worry about at all so is a perfect beginner crochet hat pattern but if you fancy a bit more of a challenge then my Widcombe c2c crochet hat is the one for you – it's a c2c rectangle with a join as you go brim.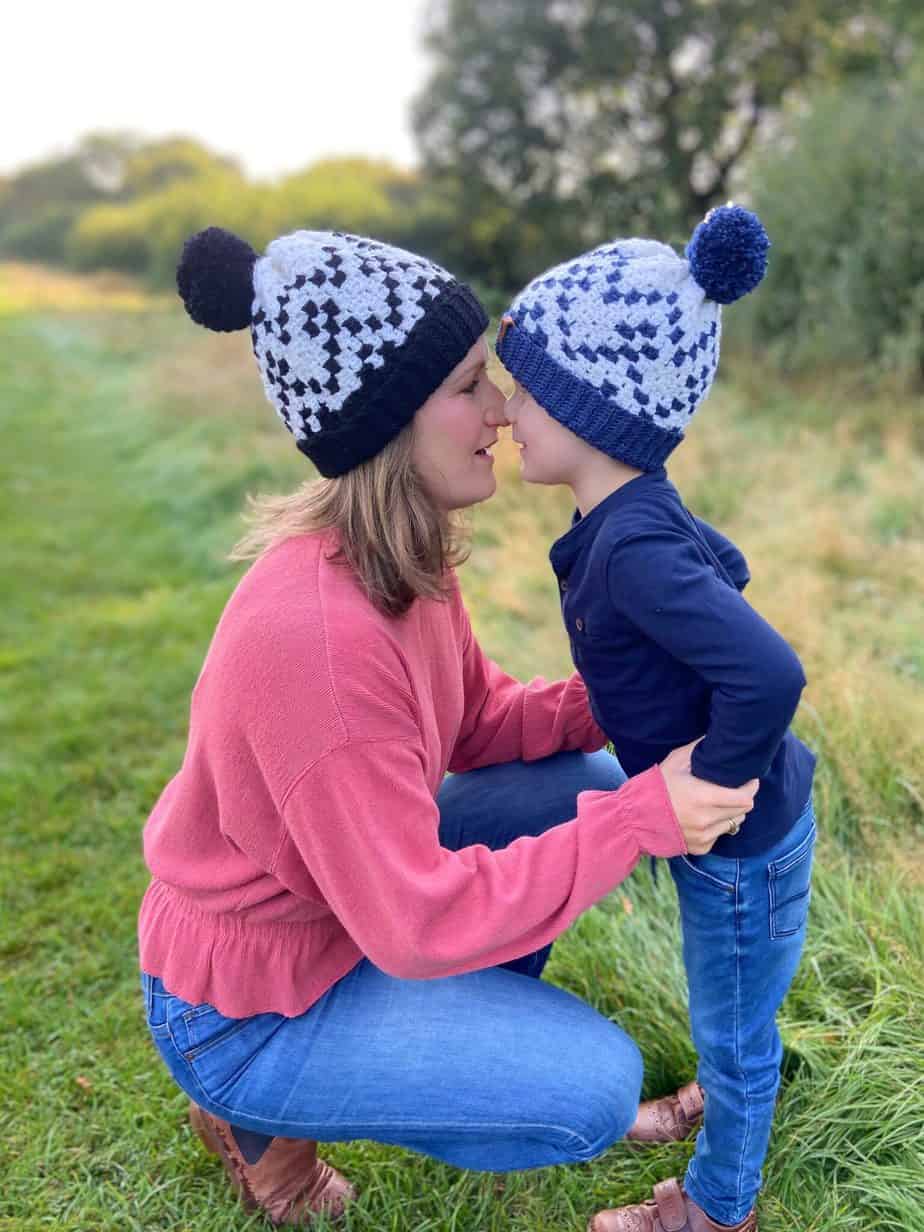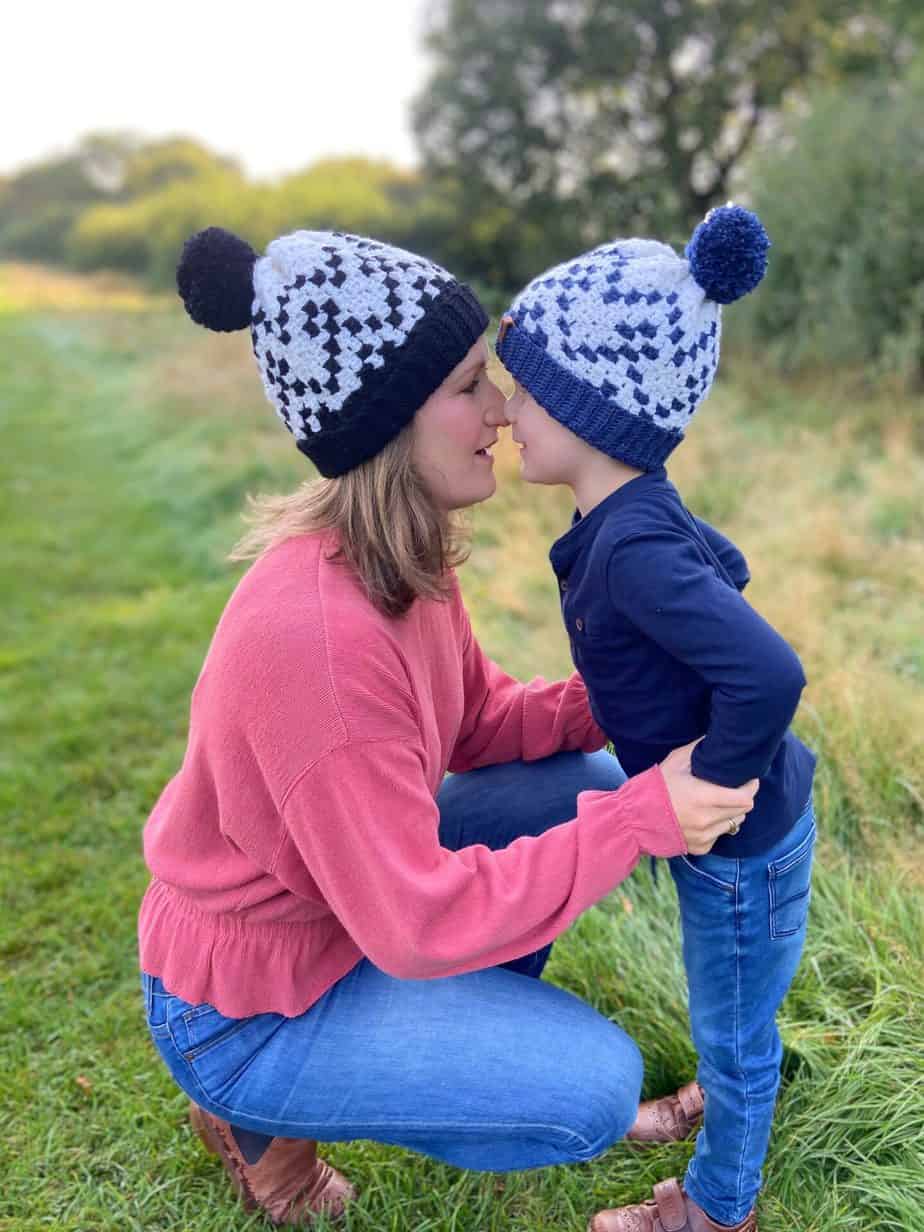 Pros and Cons –
This type of hat is great if you're not a fan of working in the round! It's perfect for beginners as you just need to make a rectangle of stitches to the dimensions in the pattern and then seam up the side and top.
They also look really trendy hats and appear knit-like because of the direction that the stitches are worked in.
The biggest downside to these hats I think is that they have quite a bit of fabric to gather at the top so can appear bulky. This can be overcome though by making sure to have it long enough to allow for that (they are great as slouchy hats) and also add some shorter stitches in at the top to decrease the size.
What style of hat should I crochet?
There are so many different styles of hat to choose from and I would honestly say that if you can – try making one of them all!
Like any clothing or accessories, you never know which is going to suit you best until you try. If you make one and don't like it then don't worry – they make awesome crochet gifts or your local charity would love them.
The main categories that you see in crochet are –
Crochet Beanie Hats
A beanie hat is one that fits closely or snuggly to your head. They are often worn towards the back of the head and have a brim.
I've often wondered what's the difference between a beanie and a toque and after looking it up the answer is – not much! A toque is a synonym for beanie, meaning it's similar or the exact same thing.
Crochet Slouch Hats
A slouchy hat is generally much longer than a beanie hat so that it can be worn further back on the head and 'slouch'. They often have much more drape and so aren't as stiff as a traditional hat.
This makes them great as a unisex style hat and the length makes them really adaptable to wear at the front or back of you head, with a short brim or roll it up to make a wider brim. I love how versatile they are.
Crochet Messy Bun Hats
Messy bun hats have become so popular in recent years! They are basically a beanie hat that doesn't have the top seamed together so that you can pop your hair through it.
They are really trendy and with a bit of thought you can adapt any construction of hat to become a messy bun hat!
What types of crochet hat patterns are best for beginners?
The best crochet hat pattern for a beginner is a tough one to choose. It depends on so many things. In terms of construction I would go with a whichever style that you like the sound of best and have perhaps crocheted something else in too.
I would also make sure that the pattern uses only 1 or 2 types of crochet stitches that are easy to learn. Like any beginner project, I'd also avoid going for any really fine yarn as this might take a long time and make you feel disheartened.
Here are my top 3 beginner crochet hat patterns I hope you'll love –
Cozy and Quick Crochet Hat Patterns
There are so many fabulous hat patterns out there, so I wanted to share some of my favourite cozy and quick patterns with you!
This round up will feature free crochet hat patterns of all different styles and levels of coziness for you to try out and decide which style and construction you like best.
The Weston Hat is a top down crochet hat has a fold over brim, that will keep your ears nice and warm! It use front post crochet stitches in a clever placement from the top to create lots of lovely texture.
Photo Credit: brianakdesigns.com
Messy bun hats are great to stay warm even with your hair up! This one is a great version and uses beginner stitches.
This extra wide brim hat worked from the bottom up in rounds features beautiful crochet cables so you will stay stylish and warm!
Photo Credit: www.mjsoffthehookdesigns.com
This hat gives off great texture! It's worked side to side in the herringbone single crochet stitch. Another great fold up brim option.
This is a great side to side chunky hat pattern perfect for beginners.
Photo Credit: bluestarcrochet.com
This hat uses super bulky yarn from the top down to make you extra cozy!
This is a fun C2C hat pattern worked in a flat rectangle that is seamed at the side at top!
Photo Credit: itchinforsomestitchin.com
This sweet heart hat is perfect for Valentine's Day and shows how adding colour can make such an impact!
This hat has a deep brim worked in short rows that you can make as deep as you like to style your look.
Photo Credit: nedandmimi.com
This fun striped hat is super cute, cozy and can be as slouchy as you like!
Keep your little ones warm with this adorable beginner pumpkin hat!
Photo Credit: brianakdesigns.com
A joyous celebration of crochet colour work that looks like knitting in this top down Fair Isle crochet hat pattern.
If you are looking for a quick cozy hat this is a great one!
Photo Credit: www.mjsoffthehookdesigns.com
Worked from the bottom up into the band this mosaic crochet hat pattern is such a beautiful statement!
Photo Credit: joyofmotioncrochet.com
This beanie has so much texture thanks to the clever use of stitch placement but it's not as tricky as it looks!